When it comes to Disney World, there's an idea floating around that it's just for children.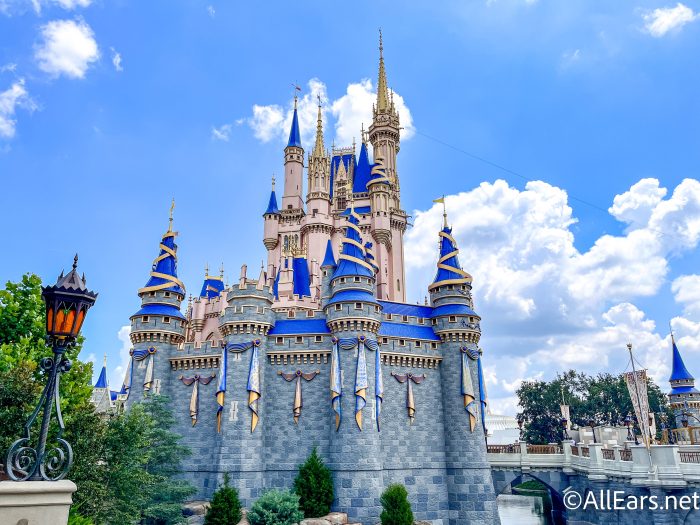 While there are definitely a lot of things at Disney World that appeal to children, there are a lot of things to do for adults who don't have any children, as well. If you're planning an adults-only trip to Disney World, but don't know where you want to stay, then you're in luck, because we're rounding up some of the best Disney World hotels for childless millennials (or childless adults of any age!).
Port Orleans — French Quarter
First up is Port Orleans — French Quarter. This hotel is one of the smallest Disney World hotels and therefore has a much more quaint and intimate feel than some of the other, bigger hotels.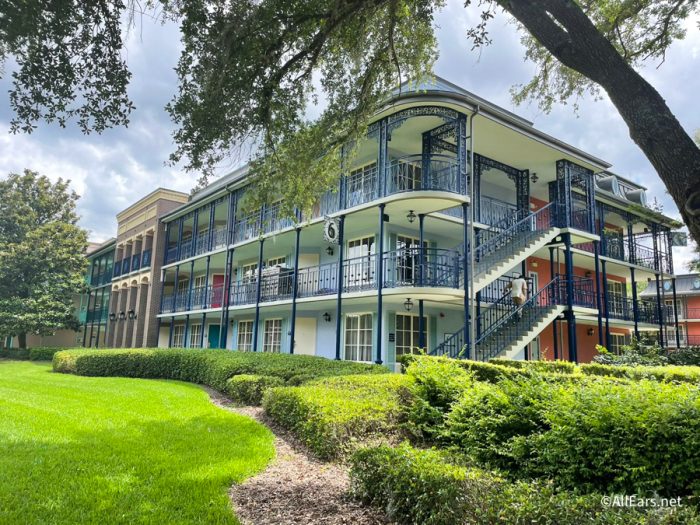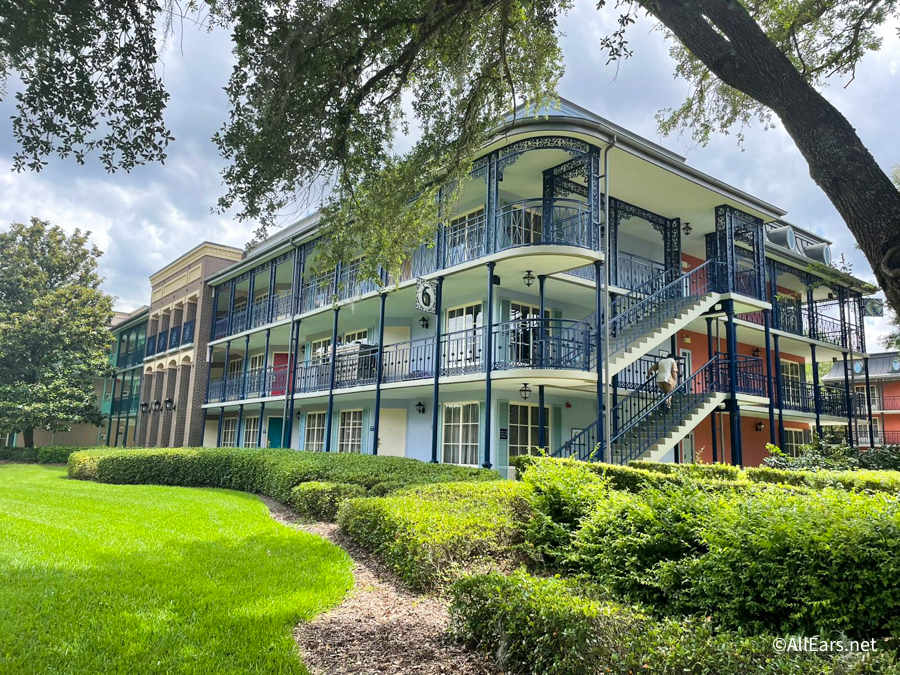 This hotel tends to be quieter than its sister hotel, Port Orleans — Riverside, making it a great option for an adults-only trip. It also has a boat that will take you to and from Disney Springs, which is a great place to grab a bite to eat or a few drinks.
Coronado Springs
Coronado Springs is a really great choice for a childfree trip. Because it's a convention hotel (which means that a lot of business events are held at the hotel), it tends to be on the quieter side.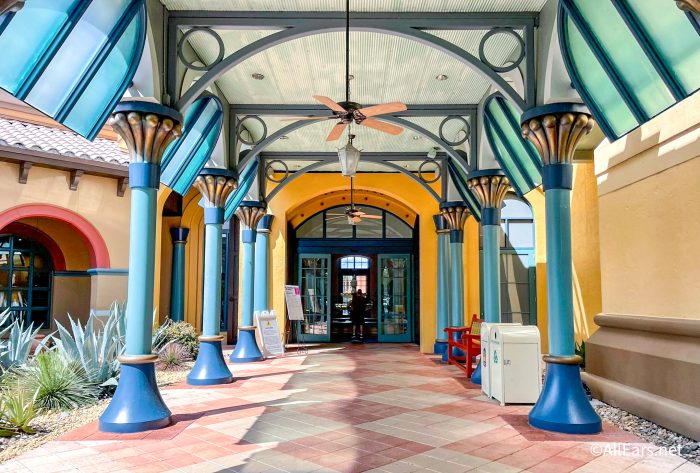 It's also not over-the-top with its theming, which means that families with young kids who want to be immersed in all things Disney may not have this hotel as their first choice. Another great thing about Coronado Springs is that, partially due to the fact that it hosts conventions, it has a lot of amenities that you would only find at Disney's "Deluxe" (or Disney's most expensive) hotels, despite the fact that Coronado Springs is classified as a "Moderate" (the word used for Disney's mid-priced hotels) hotel.
The hotel also has Gran Destino Tower, which is a newer tower full of hotel rooms that also has a gym and a lounge.
EPCOT Hotels
There are three Disney World hotels close enough to walk to EPCOT. There's the BoardWalk Inn, Yacht Club, and Beach Club.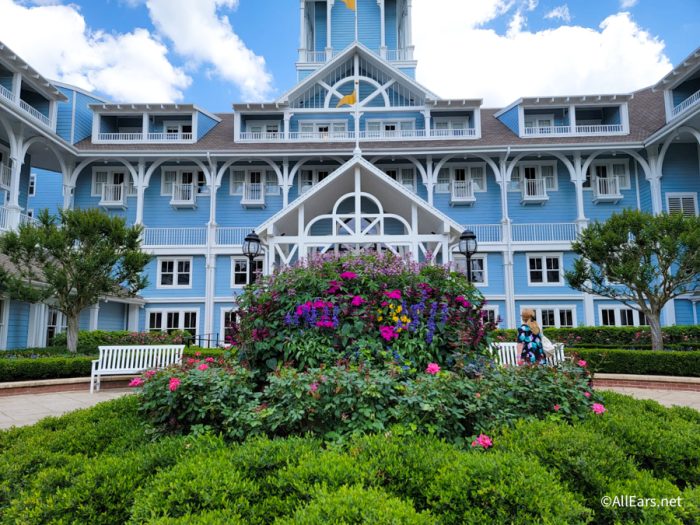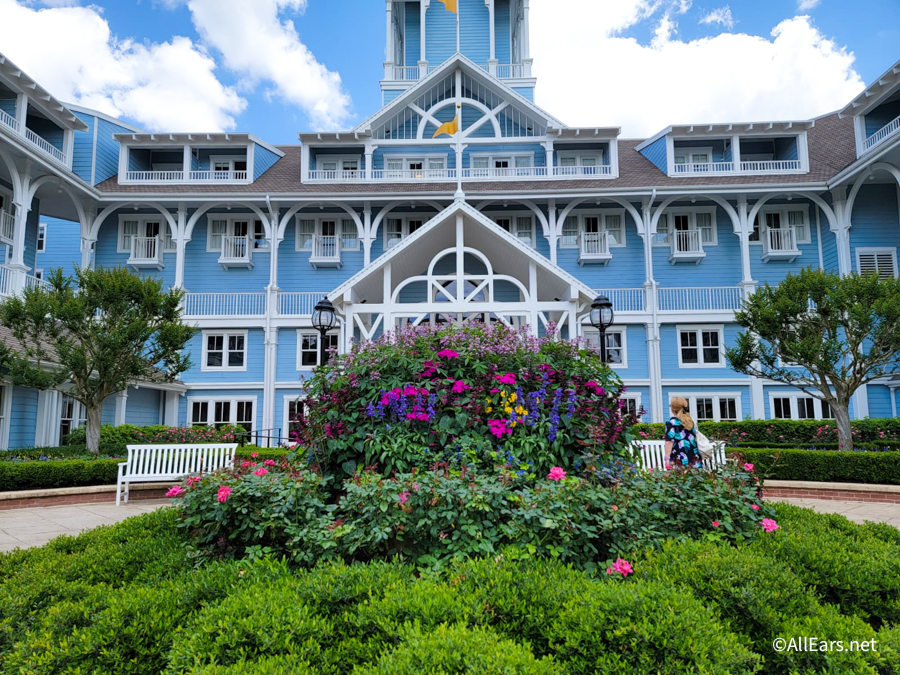 By staying at one of these hotels, you are close enough to EPCOT to walk to the park and enter through the International Gateway into World Showcase. This is especially nice during one of the many EPCOT festivals, so you can access the park easily.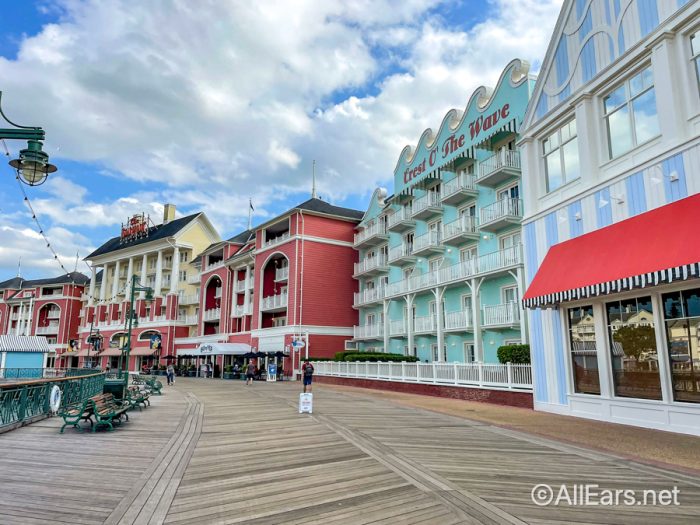 You can also walk to Disney's Hollywood Studios, and there are a lot of things you can do at the BoardWalk Inn itself. There are multiple bars and lounges, restaurants, and more. You could spend an entire evening at the BoardWalk without even having to go to the parks.
Swan and Dolphin
If you're looking to stay close to EPCOT but not at one of the above restaurants, then the Swan and Dolphin, along with the Swan Reserve could be a good choice for you and your group.
At these hotels, you have all of the amenities of staying close to Disney World often for less money. These hotels can be cheaper than many of the Deluxe Disney World hotels but have the same amenities. As an added bonus, because they don't have Disney theming, they tend to not have as many families with young kids, making them a good choice for an adults-only trip.
If you stay at one of these three hotels, you're still within walking distance to EPCOT and Hollywood Studios and you have access to Disney World transportation, like the Skyliner and Friendship Boats (which go between Hollywood Studios and EPCOT), as well.
Disney's Grand Floridian Resort & Spa
For a really upscale vacation, you can stay at the Grand Floridian Resort & Spa. This hotel has tons (and we mean TONS) of dining options, and a Beauty and the Beast-themed bar, plus a spa, and recently renovated rooms with light theming inspired by Mary Poppins Returns.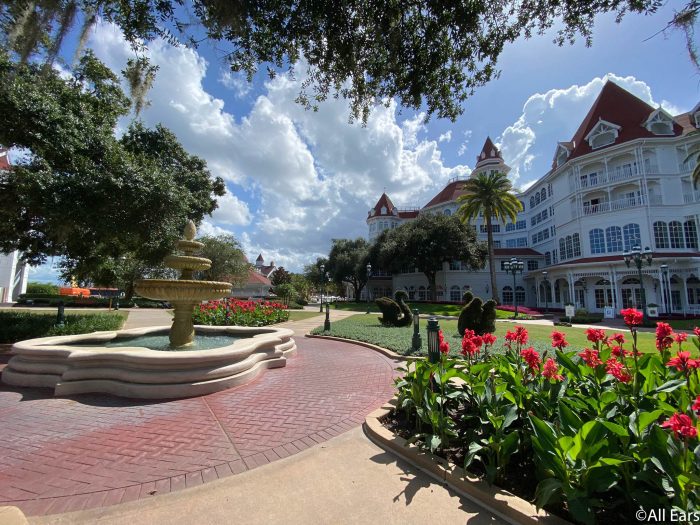 It also has direct transportation to Magic Kingdom via the Monorail and transportation to EPCOT via the Monorail, as well (though you'll need to transfer at the Transportation and Ticket Center). In addition to the Monorail, you can walk to Magic Kingdom, too.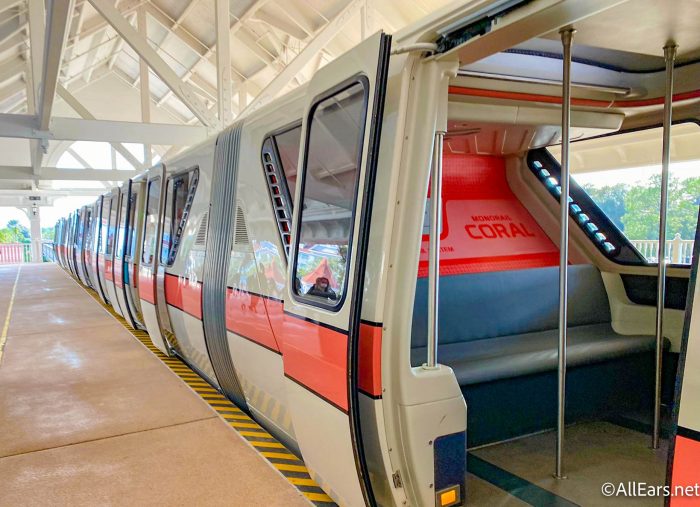 This hotel is one of the most upscale hotels at Disney World, and is a great option if you're looking to splurge on your next Disney trip. Because of its proximity to Magic Kingdom and because it's so iconic, we can't say that Grand Floridian won't be busy or won't have any kids like some of the other hotels on this list, but it can still be a good choice given all of its amenities and its sheer elegance.
Fort Wilderness
And the last one on our list is one that's very easy to forget about, but you definitely shouldn't. Fort Wilderness includes both cabins and campgrounds, but we want to talk about today is the cabins.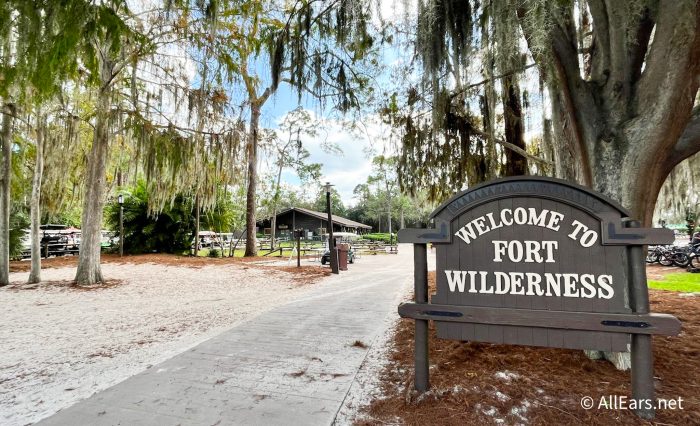 If you book a cabin at Fort Wilderness, then you get the entire cabin to yourself and your group. The cabins can sleep up to six adults and comes with a full kitchen inside and a charcoal grill outside so you can cook your own meals. You an also do lots of recreation activities at Fort Wilderness like rent golf carts, bikes, or kayaks, go for a walk, go horseback riding, and more.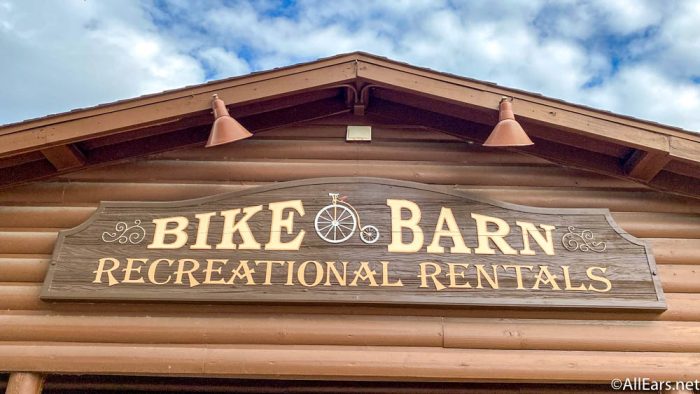 All of those recreational activities make Fort Wilderness a good choice if you're looking for a slower Disney vacation — you know,  a vacation where you want to enjoy the amenities Disney World has to offer outside of the parks. Fort Wilderness is also pretty big, so you won't feel cramped or crowded during your stay.
If you're planning a trip to Disney World as a childfree adult and aren't sure where to stay, the above list should help you get an idea of what's available. Really, almost any of the Disney World hotels could work for the vacation you're hoping to have with one caveat: the Value hotels. The Value hotels are Disney World's cheapest hotels and also the hotels with the most over-the-top Disney theming.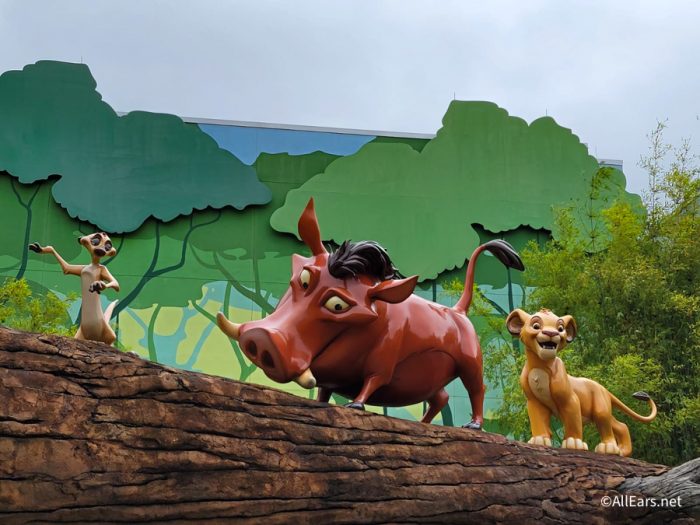 The Value resorts are All-Star Sports, All-Star Music, All-Star Movies, Pop Century, and Art of Animation. Because they are the cheapest and so immersive, they tend to be pretty busy all the time and have the most families, so if that's not what you're looking for, we suggest booking a hotel room elsewhere.
Make sure to keep reading AllEars for more Disney World tips and tricks!
Join the AllEars.net Newsletter to stay on top of ALL the breaking Disney News! You'll also get access to AllEars tips, reviews, trivia, and MORE! Click here to Subscribe!

What's your favorite Disney World hotel? Let us know in the comments!