Disney World hotels have been getting a LOT of changes in the past few years!
We got updated rooms at the Polynesian Resort with a Moana theme, new Incredibles-inspired designs in the rooms at the Contemporary Resort, and we've seen some wide-scale room makeovers at Disney World's Value Resorts. Now, the Disney Vacation Club rooms at Disney's Grand Floridian Resort have been updated, and we're taking you on a FULL room tour of the Enhanced 2-Bedroom Villas!
The main change made to Disney's Grand Floridian Resort was to add 200 new Resort Studios to the Big Pine Key building. However, during that process, the Deluxe Studios and villas were updated as well, with "cleverly redesigned living areas and the finest Victorian design touches, including grand new textiles."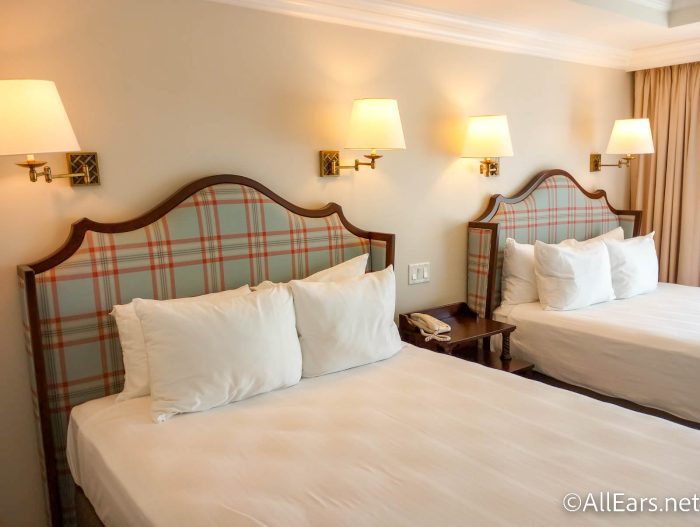 During our visit, we got the opportunity to tour the 2-Bedroom Enhanced Villa, where the renovations were already complete. These villas sleep up to nine guests with two bedrooms, two full bathrooms, and common living space. One bedroom has two queen beds, along with a TV, dresser storage, table with two chairs, and balcony access.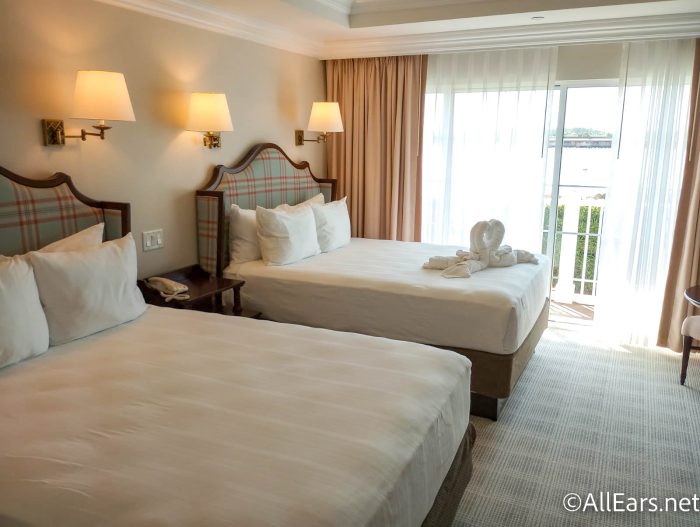 Right next door to this room, you'll find the first of two bathrooms. It's a split layout with a toilet and tub/shower on one side…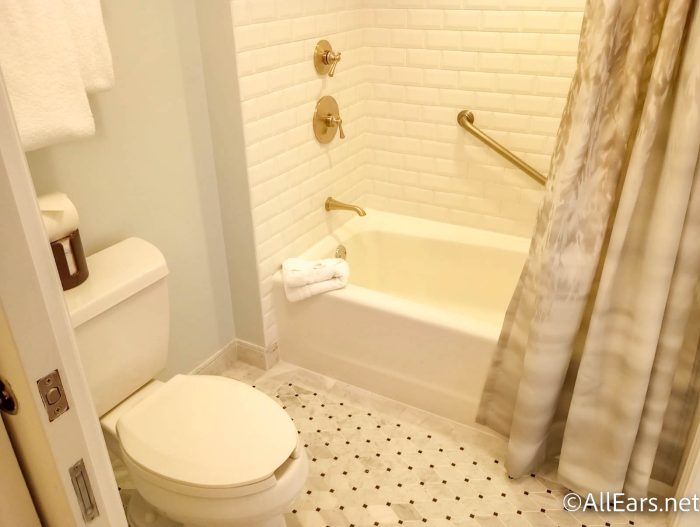 …and a sink with vanity and a walk-in shower on the other side. Each of these two rooms has its own entry, as well as a privacy door in-between, so two guests could shower at the same time. No need to get up extra early and plan those bathroom schedules!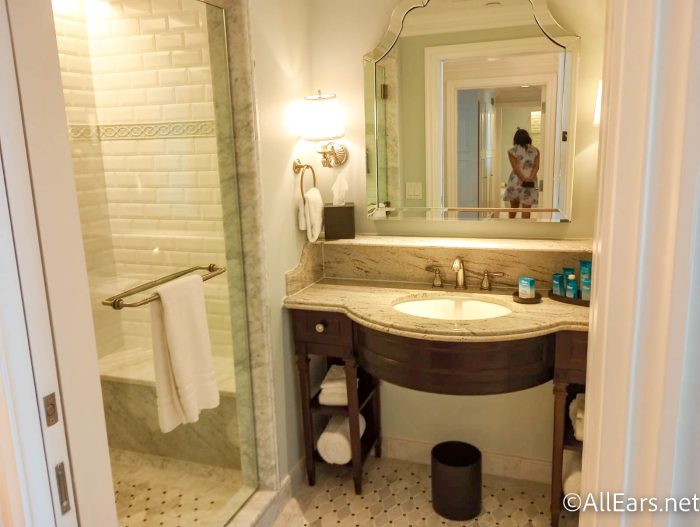 In the hallway next to the bathroom, there's a small table and chair setup, which would be convenient if you needed a place to work while on vacation.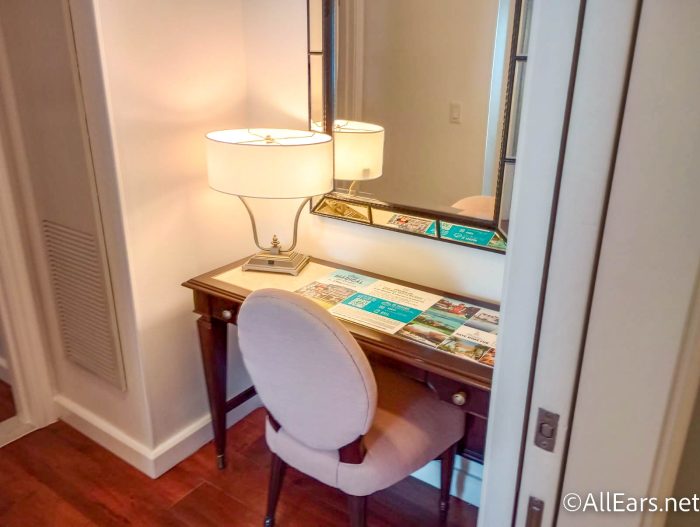 From there, you can continue down the hallway and past the main entry door, where there is ample storage with closed-door closets.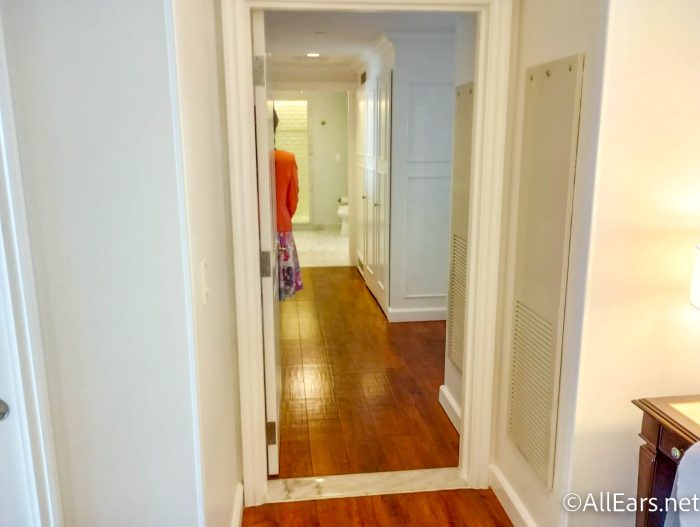 Following that path leads you to the second bathroom, with entry from both the hallway and the master bedroom.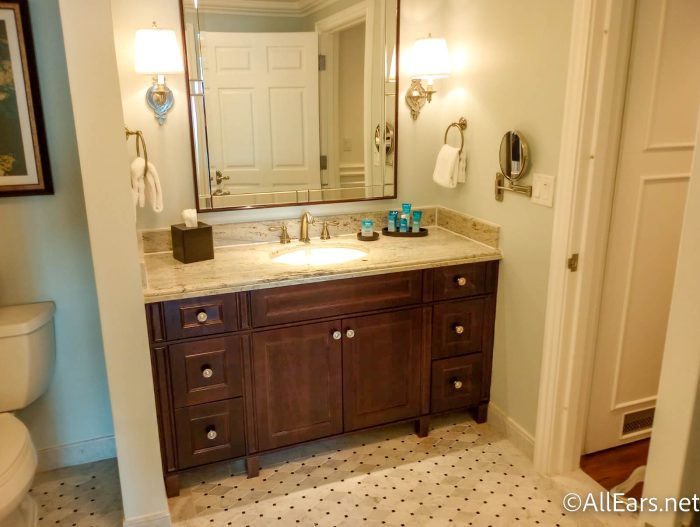 The main part of the bathroom is large, with a sizable vanity (with multiple drawers and cabinets!) as well as a toilet and walk-in shower.
There's a door that separates this toilet/shower room from the second part of the bathroom. The side that is closest to the master bedroom has another vanity…
…as well as a beautiful bathtub! This looks like the perfect place to relax after a long day in the parks — just grab some bath bombs from the Basin store inside the Grand Floridian's main lobby and you're all set.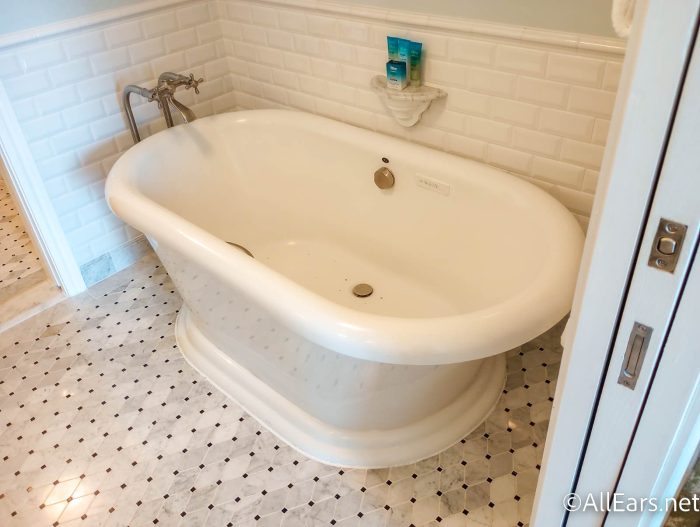 Walking through the next doorway lands you in the master bedroom, where you'll find a king-sized bed. There are also two bedside tables with matching lamps, and of course, we hope the room always comes with that adorable Mickey towel creation!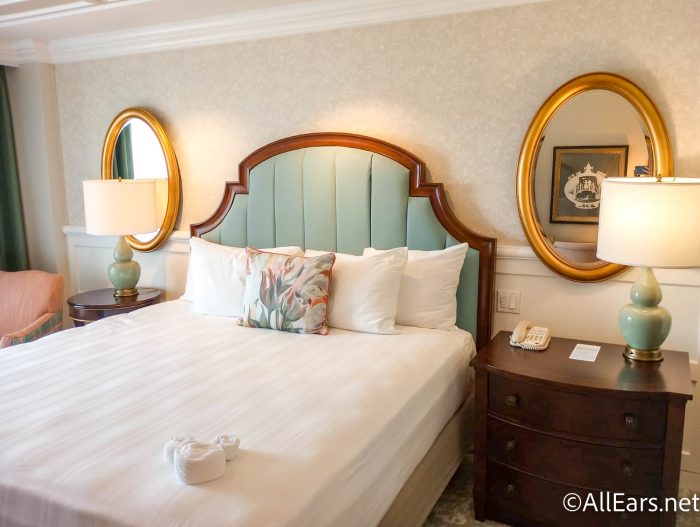 Across the room, there's a plush chair, a dresser with a TV, and access to the balcony. Better close those curtains at night because it gets BRIGHT in here in the morning!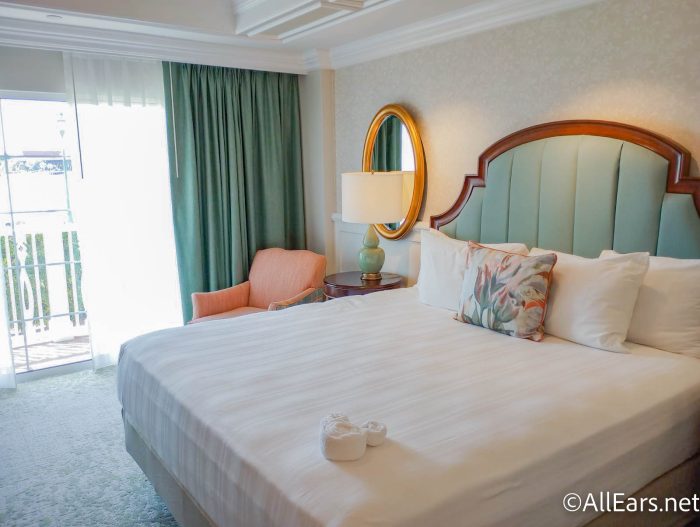 But we have to admit that the balcony access is pretty nice — the view from the room we toured was phenomenal! (Just imagine drinking your morning coffee out here.)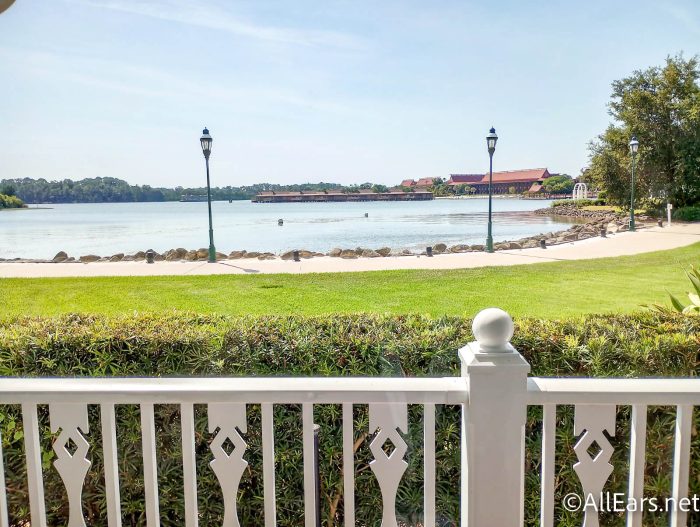 Finally, let's head back inside and check out that living area. The living room portion has a couch that transforms into a queen-sized murphy bed at night.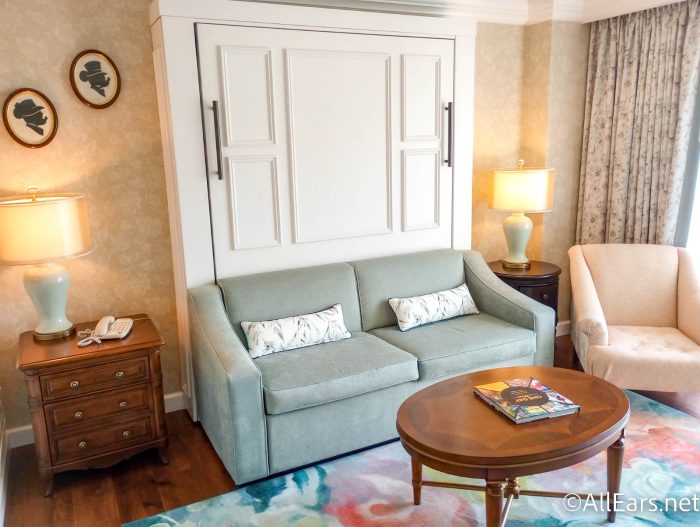 There is also plenty of seating and storage in here, plus another balcony access area. That makes three in total!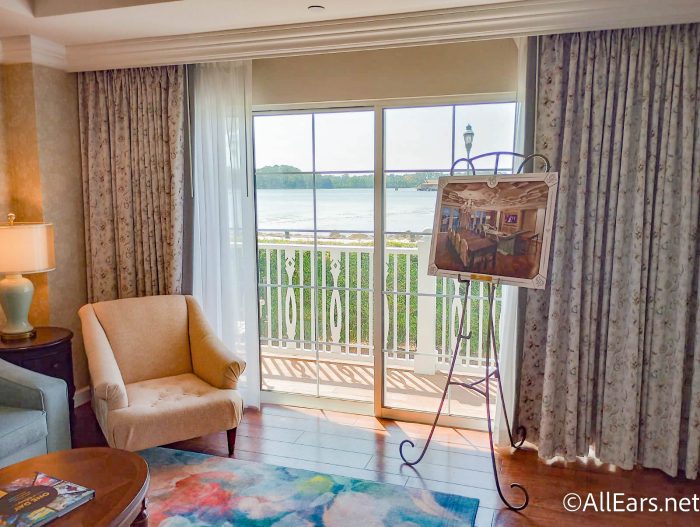 And during our visit, Disney had put a photo of the 3-bedroom Grand Villa on display. Now THAT'S a luxurious room!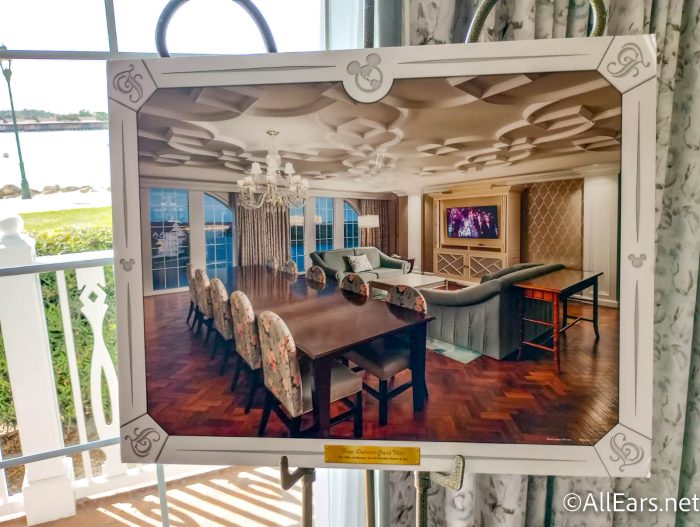 On the opposite wall, there's another TV, along with a TV stand that transforms into a smaller pull-down bed for that 9th guest.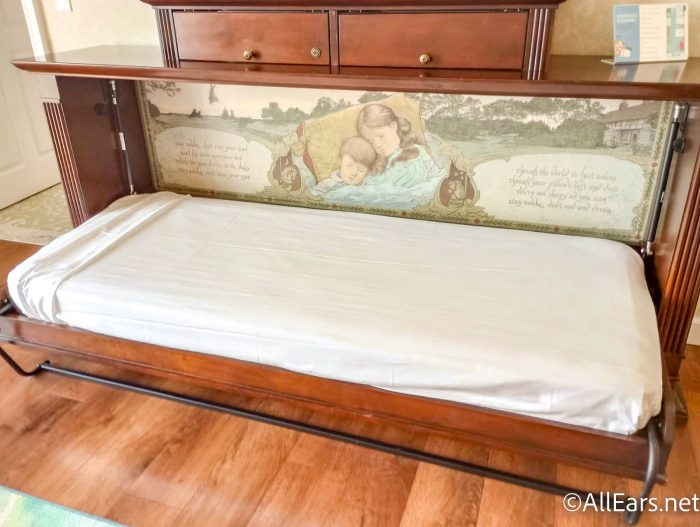 And we can't forget about the kitchen! These 2-Bedroom Villas come equipped with a full kitchen, including a refrigerator, microwave, oven, stove, dishwasher, and sink.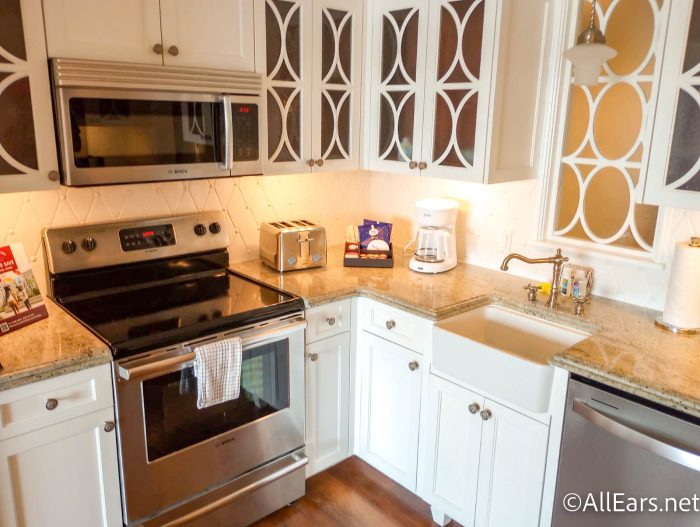 There's also ample cabinet storage for any food that you bring or cooking utensils. These rooms typically come stocked with some basic utensils, pots, pans, and the like, but if there's something specific you need — bring it along just in case.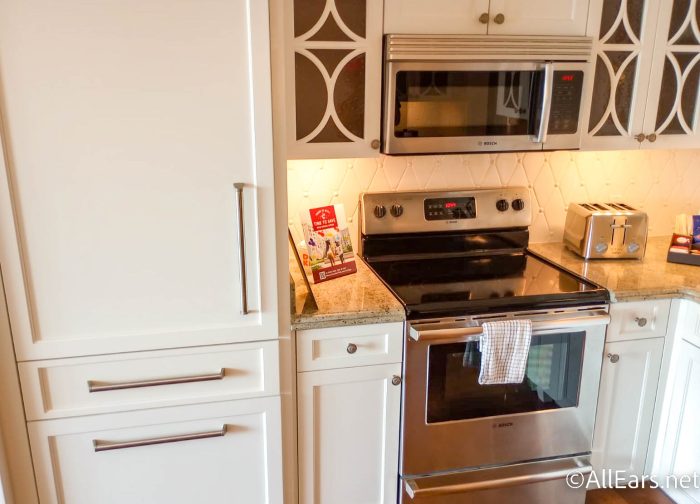 Last but not least, these villas have a table with two chairs and banquette seating. It might be hard to fit nine people around this table, but you could spread out to dine throughout the living area, or even enjoy your meal on the porch. (If the weather is nice enough!)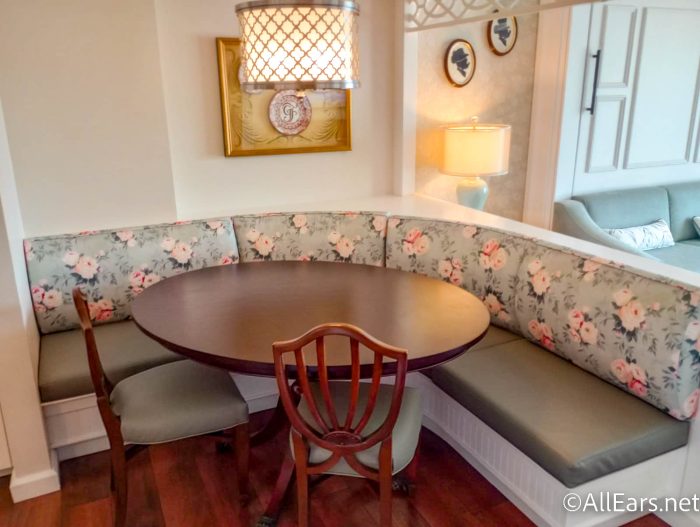 So that's a full tour of the 2-Bedroom Enhanced Villas at Disney's Grand Floridian Resort & Spa. This resort is also home to 1-bedroom and 3-bedroom villas, as well as Deluxe Studios. The new Resort Studios added to the Big Pine Key Building are the first of their kind, and are great for a smaller party of five people or less.
We'll make sure to keep you updated with any more resort changes, including ones coming in the future to Disney's BoardWalk Inn and Disney's Polynesian Village Resort. We can't wait to see all the new rooms and offerings!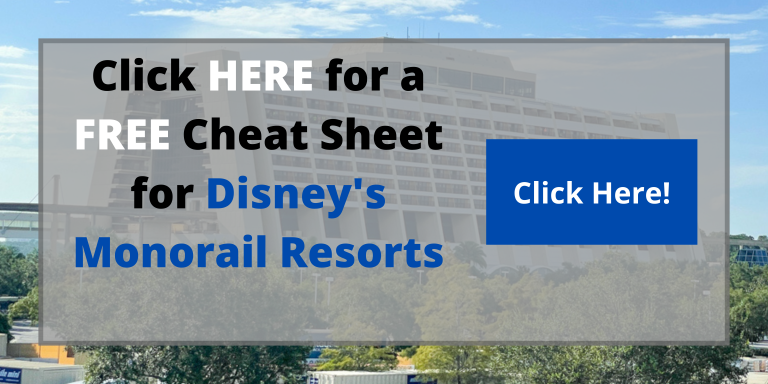 Have you ever stayed at the Grand Floridian before? Tell us in the comments!
Disclosure: We were invited by Walt Disney World to attend the grand opening of the new DVC Villas at Disney's Grand Floridian Resort & Spa. This did not affect our reporting of the event — our opinions are our own