DISCLOSURE: This post may contain affiliate links, meaning when you click the links and make a purchase, we receive a commission.
You're headed to the Happiest Place on Earth or The Most Magical Place on Earth and you're thinking about bringing a stroller (for help deciding, check out our Ultimate Stroller Guide), but you have questions.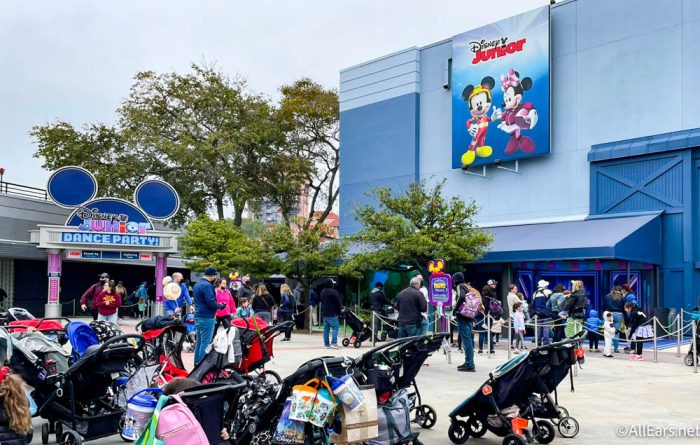 What can I bring? What makes a good stroller for Disney? What are my best options?
Before settling on a stroller, you should know Disney has the following rules about strollers in in Disney World and Disneyland parks:
Strollers larger than 31" (79 cm) in width and 52" (132cm) in length are not permitted. Stroller wagons are also not permitted.

Strollers are not allowed on escalators. Use of strollers is permitted on elevators and ramps, available at certain locations.

A child must be removed from his or her stroller while riding on a parking lot tram.
Next, what features can help make your trip stay magical?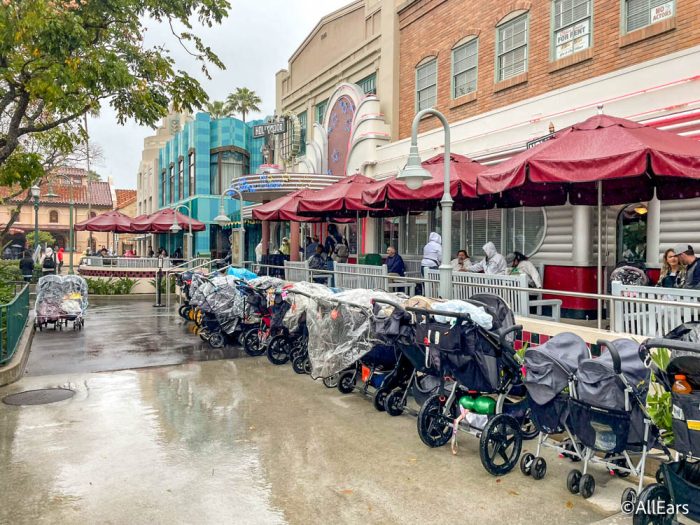 The main thing to consider is that whatever your child is most comfortable in is best. If you don't want to be back and forth between the parks and your room for naps, having your little one comfy and happy is a trip saver! After that, there are plenty of other features to look for in a stroller. Here are some of the most important:
Compact and easy to fold

– Running to catch your bus to park hop or make it to your dinner reservations on time?  Make sure you can get that stroller folded quickly!

Turn radius/how well does it maneuver

– Think about moving through large crowds and how you'll need to be able to push your stroller in and around those tight spaces.

Wheels

– Especially if you have a kid who is trying to sleep, wheels can be important. A lot of the walkways are pretty smooth but there are some rougher patches and cracks that could be a rough ride with plastic wheels, which can even get stuck. 

Shade

– On top of lots of SPF, coverage from the sun is huge, especially in Disney World. Keeping your kid free from sunburn and having a nice shaded area for napping is super helpful. 

Breathability

– Along with shade, having a stroller with good airflow will help you beat the heat!

Size

– Keep in mind both the width and length of the stroller. This isn't a deal breaker for us, but some visitors prefer small umbrella strollers, especially on crowded days.
Keeping your needs in mind, here are our picks for best strollers in these categories: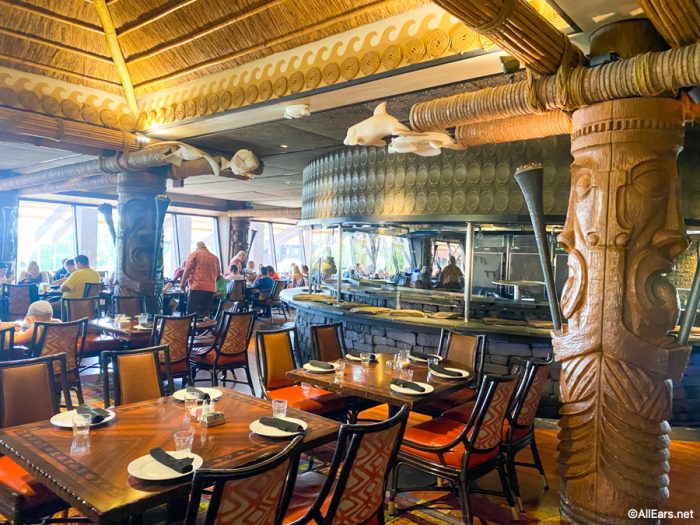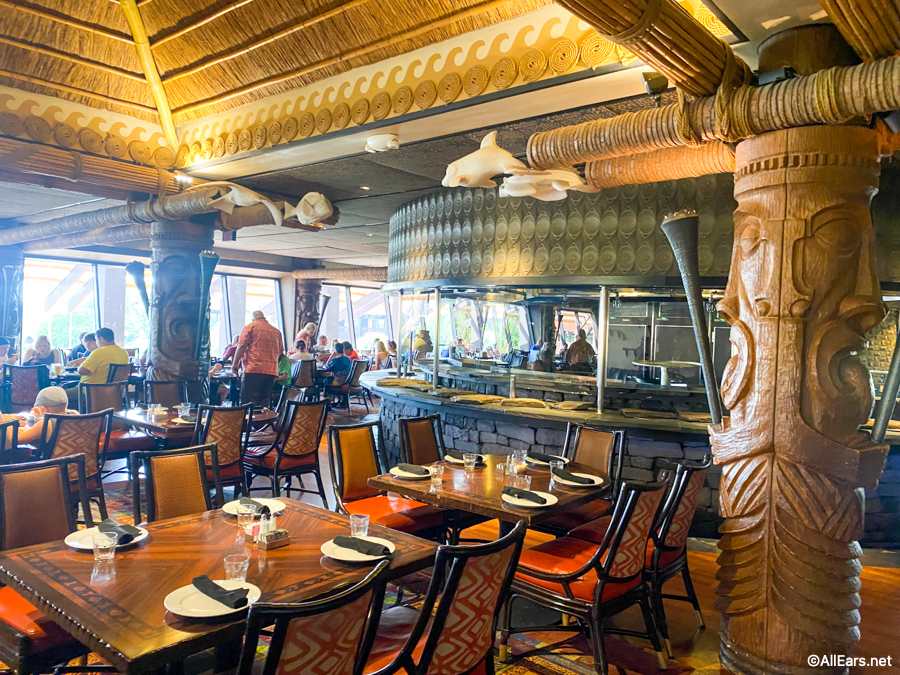 Travel System Strollers
Travel systems are a favorite for traveling to Disney with an infant because the car seat is removable and can be taken into restaurants and other areas where strollers may not be allowed. This is great for sleeping babies you don't want to disturb!
Doona
– Best All in One
The Doona Stroller is a convertible all-in-one car seat and stroller. There is no car seat and stroller base; the car seat simply extends into a stroller in seconds. Another plus with this stroller is the variety of colors it comes in, which can come in handy when trying to find your stroller in the sea of strollers at stroller parking. (The flame red one will go with all your Mickey and Minnie decorations!)
Specs:
Weight limit is 4-35 lbs.

Rear-facing only

FAA approved for those flying 

Lightweight; only 16.5 lbs.

The canopy does offer some protection against the sun, but Doona also offers a

separate sunshade extension
Cons:
Only for use up to 35 lbs., so kids can quickly grow out of this. 

The handle extends, but isn't great for caregivers over 6' tall

The built-in canopy is relatively small, so you will want to purchase the sunshade extension.

No built-in storage 

Cost
This travel system stroller has the best canopy. The mesh privacy shade zips to a car seat as well as the toddler seat. Reviewers state this stroller is easy to fold and lightweight. If you are looking for a travel system that isn't too cumbersome, this may be the one for you!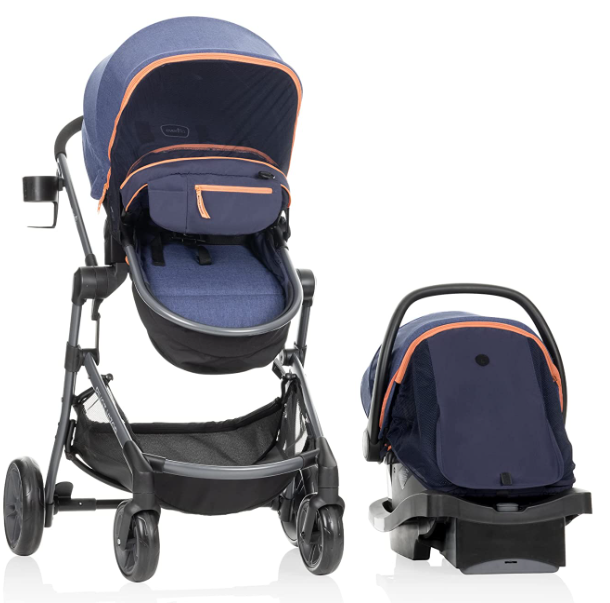 Specs:
6 different modes – toddler seat can also be a bassinet and can face in or out 

Large canopy with peek-a-boo window

Oversized storage basket

Car seat is up to 35 lbs. 

Toddler seat is up to 55 lbs.

Easy to fold 

Lightweight
Cons:
Biggest complaint from reviewers is the wheels- they tend to stick

Some reviewers also say the car seat is hard to unlatch from base.
If you are looking for a travel system stroller and you're on a budget, this is a great choice! Even seasoned parents with multiple children said in their reviews that this stroller is a great option. If you aren't entirely sure if a travel system is for you, this could also be a relatively inexpensive way to test it out without having to commit to a more expensive system.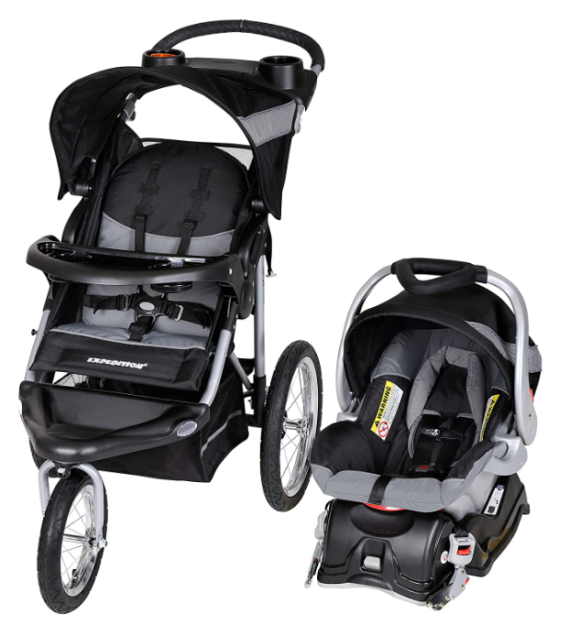 Specs:
Under $200

Best wheels for all terrains 

Easy to maneuver

Folding is easy with a simple trigger.

If you're using the car seat, the canopy on the stroller meets up with the canopy on the car seat, giving your baby lots of coverage.

Canopy also has a sunroof to easily check on your little one.

Cup holders for parents and snack tray with cup holder for your little one

Able to use stroller from infant to toddler 

Multi-position padded seat
Cons:
It is a little heavier at 27 lbs.

Canopy for toddler seat doesn't offer much shade, but it is adjustable to turn in sun's direction.

Handles don't adjust for different heights.
Best Single Strollers
If you only have one child who needs a stroller, and you are looking for something smaller, single strollers are a great option. While single strollers are easier to maneuver through the parks, you typically are giving up storage space for the size reduction, so this is something to keep in mind. 
You will see this stroller all over Disney and there is a reason for it! This is a great stroller that easily folds and will be easy to navigate through park crowds. 
Specs:
Rubber wheels with all-wheel suspension provide a comfortable ride for your little one.

The handlebar is adjustable for different heights. 

The parking brake is located in the handlebar for easy access.

Large UV 50+ canopy with a peek-a-boo window

One-handed folding makes it super easy to quickly board that bus you are running to catch.

Has adjustable leg support and reclines to almost flat position

Max weight is 65 lbs.
Cons:
Weighs 21.4 lbs.

Seat is always at an angle and does not sit straight up.
Reviewers call this stroller "luxurious yet practical" and "magic on wheels"! It does live up to the luxurious description, and priced at just under $700, it is on the higher end of the stroller price spectrum. Despite this, fans of this stroller state that it is worth every penny, so if you are willing to shell out the cash you will be getting your money's worth!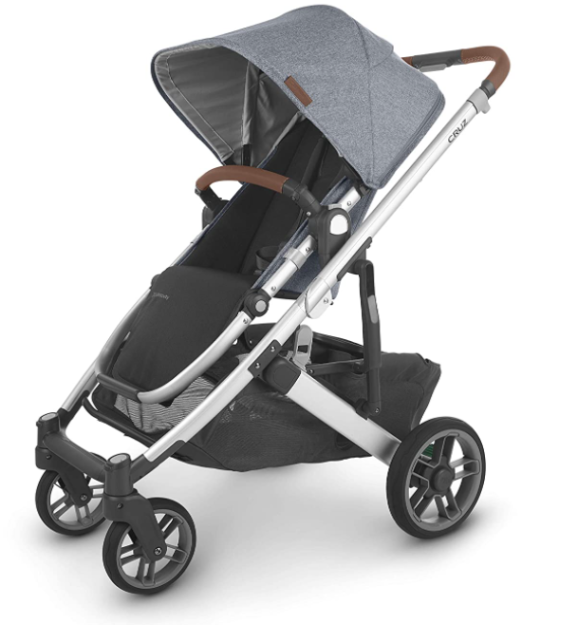 Specs:
Toddler seat can face in or out.

Seat reclines all the way.

UV 50+ canopy that can zip out to extend for more coverage; peek-a-boo window

When folded it stands on its own.

Comes with a rain cover and bug cover

Adjustable leg rest 

Folds easily with handle 

Maneuvers and turns great 

Storage basket holds up to 30 lbs. 
Cons:
Weight is 25.5 lbs.

When rear-facing, it isn't collapsible.

Doesn't come with cupholders, which you think it should have at the price.

Cost; much more expensive than most single strollers
Check out our tips for having the perfect morning in Magic Kingdom!
Lightweight Single Strollers
A lightweight stroller is the way to go if you are flying or plan on using a lot of Disney transportation. These fold up into a portable size and are easily held while holding your child. Go with a lightweight stroller to save time getting on and off transportation and avoid the headaches you get trying to hurry and pack up bulkier strollers while trying to make a Disney World bus. 
If you want a smaller stroller but are also concerned about making sure your baby is comfortable during long days in the sun, this one is a great choice. The gb Pockit Air is great for keeping your little one as cool as possible on top of being super compact – it's the size of hand luggage when folded!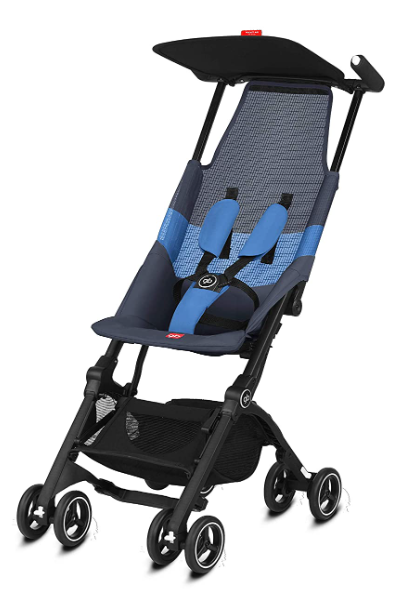 Specs:
Super lightweight at only 10.4 lbs.

Compact

Folds down to hand luggage size and can easily be stored in overhead bin for airplane travel.

Chair is made out of mesh breathable fabric – perfect for those hot days in the theme park.

Double wheels for all-terrain make this stroller easy to maneuver. 

Holds up to 55 lbs.
Cons
Those on a budget will love this one. The Summer Infant 3Dlite is under $100, and it's larger and taller than basic umbrella strollers. Reviewers say the size and carrying strap makes it great for travel. 
Specs:
Weighs 13 lbs.

Anti-shock front wheels

4-position reclining chair

Mesh sides for breathability 

Canopy also has a flip out sun visor for added coverage.

XL storage basket 

Cup holder on handle 

Storage pocket on canopy for smaller items such as keys or wallet

Carry strap for when folded – perfect for maintaining while on a crowded bus or tram

Weight limit is 50 lbs.
Cons 
2 separate handles

Wheels are okay.

Canopy does not offer a ton of shade; lower body will still be exposed.

Some reviewers find the cup holders are flimsy.

Bonus: If you aren't concerned much about the reclining feature or the carry strap, the Summer 3D Mini is about $40 cheaper.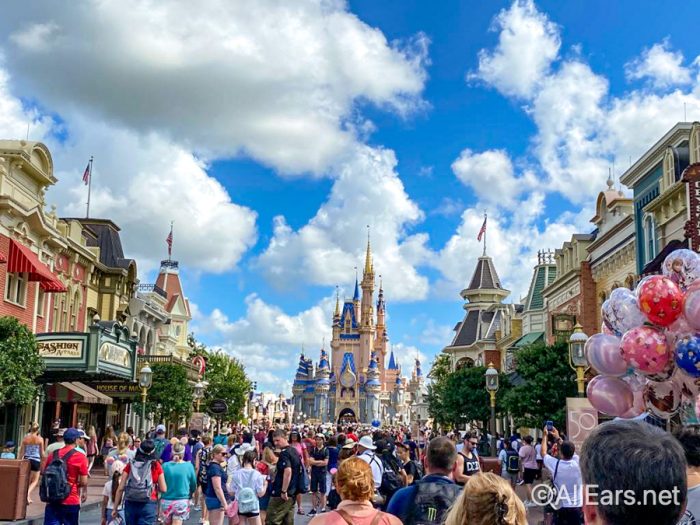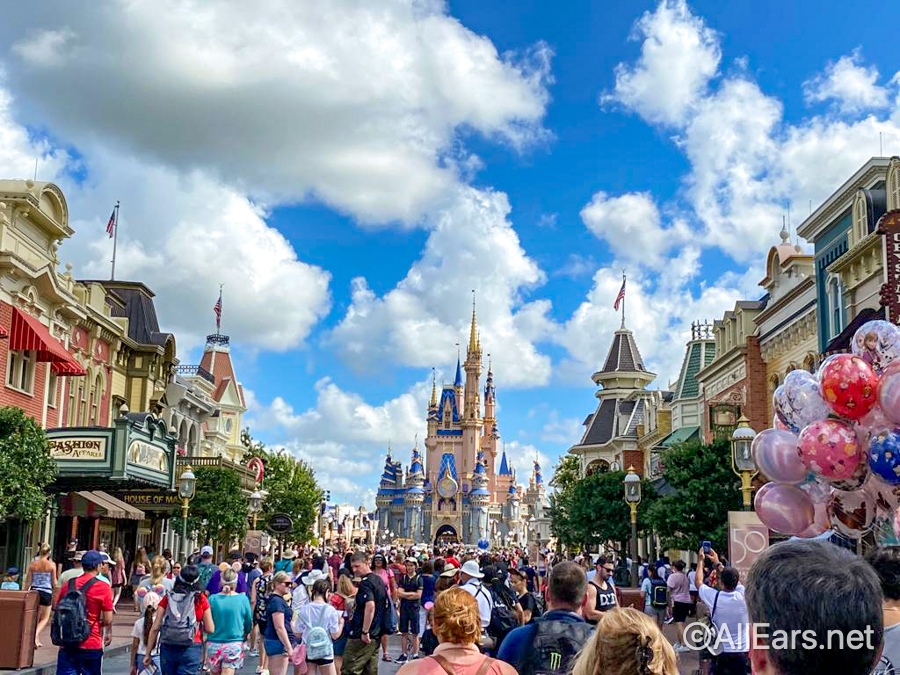 Best Double Strollers
Whether you have twins or two who are just close in age, save space and avoid lugging around two strollers with a double stroller! Double strollers are obviously more bulky than singles, so it will be more difficult to make your way through the parks, but the convenience of only having to push around one stroller as opposed to two individuals may outweigh that. 
Out of the double strollers, we found this one to be the best lightweight one. This stroller is foldable and also can grow with your children as their needs change. So if you're looking to save space while still fitting both kiddies in, try this one!
Specs:
Side-by-side seating

Lightweight for a double stroller at 23 lbs.

Each seat reclines individually.

Compact fold and carry handle – perfect for navigating Disney transportation

2 storage pouches, one on the back of each chair

2 large storage baskets, one under each chair

Parent cup holder

Adjustable canopy with flip-out visor

Weight limit 50 lbs. per child
Cons:
Plastic wheels

2 individual handles for pushing – not adjustable for different parent heights 

Side-by-side seating can be cumbersome.
With tons of positive reviews, we had to include this double stroller on the list. Many reviewers recommend the Baby Jogger City Mini for traveling, and love how the wheels are smaller than other strollers, which can be a plus when navigating busy Disney walkways. If you are just looking for an all-around great double stroller we suggest the Baby Jogger City Mini.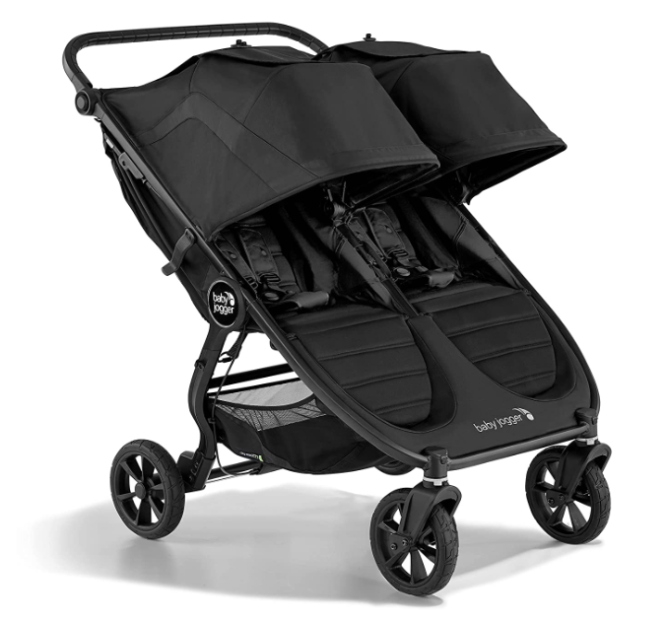 Specs:
Side by side

Adjustable handlebar to fit parent multiple heights

One-handed fold

Each seat reclines and has adjustable positions for legs.

Large UV 50+ canopies with peek-a-boo window

Max weight 50 lbs. per kid
Cons:
Storage basket isn't huge.

Cost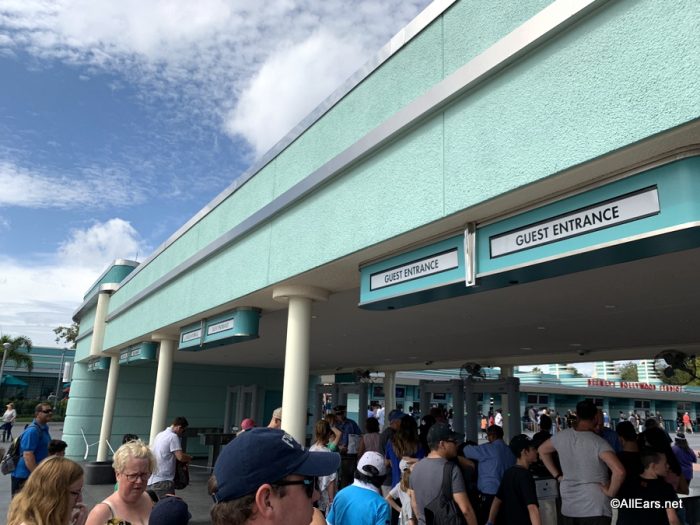 Best Sit and Stand Strollers
Have two little ones where one doesn't need a ton of rest in a stroller, or they can be comfortable rotating off and on depending on who needs a walking break? Maybe your child would rather stand than sitting in a seat getting hot. Sit and stand strollers offer the ability to stroll sitting or standing, plus can hold 2 kids. 
The Baby Trend Sit and Stand is both budget-friendly and versatile — can't go wrong with that! Reviewers did suggest to avoid putting beverages with no lid in the cup holders, as they are right over the baby and a hot beverage spill could be dangerous!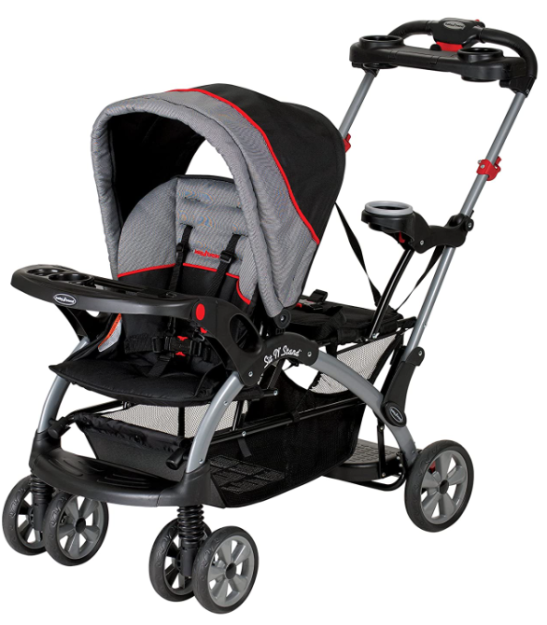 Specs:
Comes with 2 seats; one regular seat and one jump seat

Will hold compatible car seats 

Canopy rotates to help cover in direction of sun

Easy one-handle fold

Child tray and parent tray

Removable cup holders on back seat 

Max weight 50 lbs. per kid

Lightweight for what it is

Versatile – 2 car seats can be held at one time, car seat and toddler seat, toddler seat and bench seat, toddler seat and standing 
Cons:
Biggest reviewer complaints were about the compatibility of car seats. 

Not much space for rear seat if front seat is reclined

The wheels did not get great reviews.

No canopy for rear seat 
With reviews stating it is "the best double stroller out there", the Joovy Caboose Too Ultralight is our pick for best all-around sit and stand stroller. We love that despite its size and versatility, it is still lightweight and easy to carry. Plus it comes with a handy car seat adapter, so no need to purchase one separately!
Specs:
2 seats; rear seat is full size removable seat, and a bench seat for the rear is included.

Compatible with some car seats to hold infants; adapter is included.

Both full seats recline

Large canopy on the front seat and small, removable canopy covers rear seat 

Max weight for each child 45 lbs.

Parent organizer with zipper pouch with cup holders 

Ultra lightweight at 23.5 lbs.
Cons:
Only comes in black, which could be really hot in the sun

Rear full seat does not offer a ton of room to sit.

Storage basket does not offer a lot of space.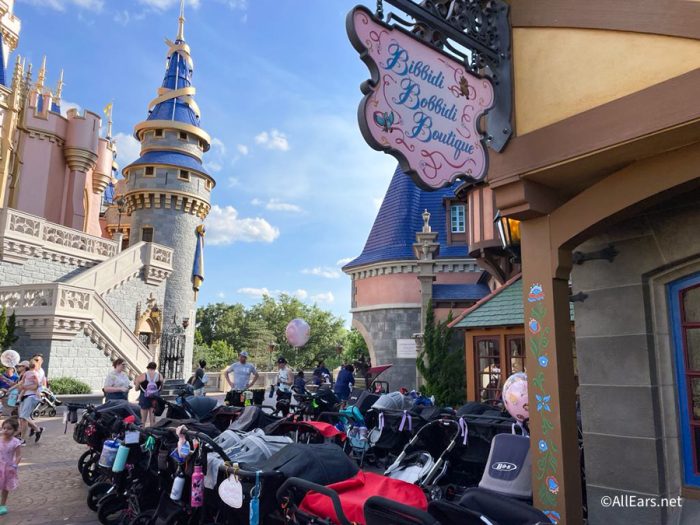 Have a great stroller but need some accessories to make it REALLY ready for the parks? We have you covered!
Looking for tips on making the most of your trip, even with little ones? Check out our Ultimate Guide to Strollers at Disney World. 
Click here to subscribe
Do you have a stroller recommendation to share with other parents? Leave it in the comments!