DISCLOSURE: This post may contain affiliate links, meaning when you click the links and make a purchase, we receive a commission.
If you have an infant or toddler and are heading to Disney, you most likely have a stroller. And as you probably well know — there is a LOT more to a stroller than just wheels.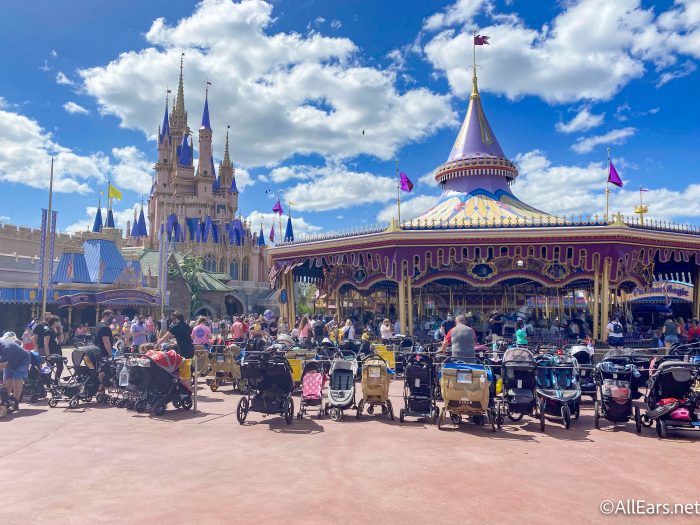 In addition to all your stroller options and baby gear, you might also be wondering what stroller accessories are necessary for a Disney trip! So we're here with a list compiled of some of the most useful accessories and Disney cuteness to help you with your next trip.
So you have a stroller, but did you know there are tons of accessories you can get to make your life in Disney Parks a LOT easier?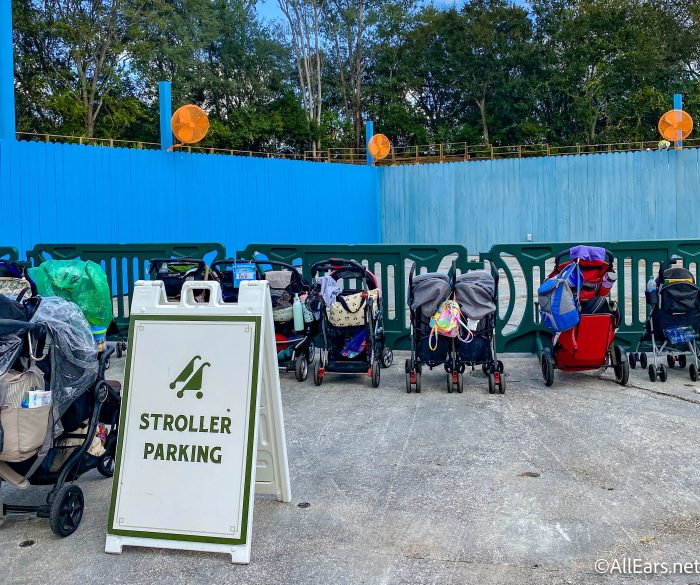 We're going to go over the following stroller accessories so you can decide what might benefit your personal needs. Keep in mind that you probably don't need everything here, but you don't know what you don't know so read on to find out!
Stroller fan
Hook
Cup holder
Portable sound machine
Milk Snob cover
Rain cover
Organizer/caddy
Toy Safety Straps
Travel bag
Baby Carriers
Stroller Fan
In Disney World it gets HOT and a stroller fan is pretty much a requirement. We have personally used this Battery Operated Stroller Fan and love it! It has three different speeds and an LED light (which is super helpful when in the park at night), and it's also rechargeable with a USB port.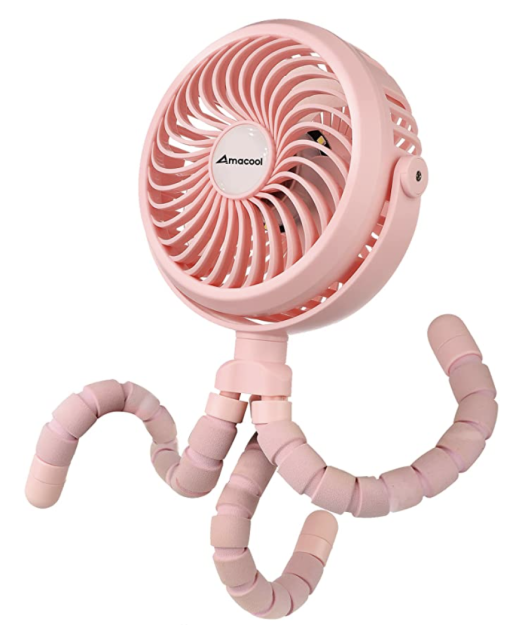 After securing the fan on the stroller, you can also adjust the angle of the fan with its 360-degree feature, and the cover will keep your little one's fingers out of it. As a bonus, it comes in three different colors! It costs $35.99 but you may be able to find it on sale for $24.64.
And this Mini Handheld Stroller Fan has a stronger battery, but it does not have the LED light feature. The fan itself does not rotate either, but it can be positioned by the flexible legs that secure to the stroller.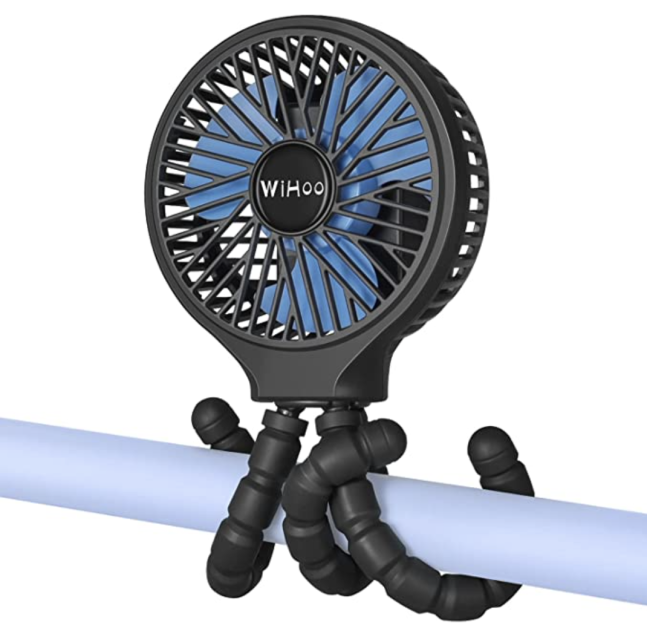 It comes in 4 different colors and you can order it for $23.99!
Stroller Hook
Carrying a diaper bag can get annoying and heavy, especially on a HOT day, and a stroller hook can be a great accessory to hold your bag or water bottle. And what better option than a Mickey-shaped one like this Petunia Pickle Bottom Mickey Stroller Hook!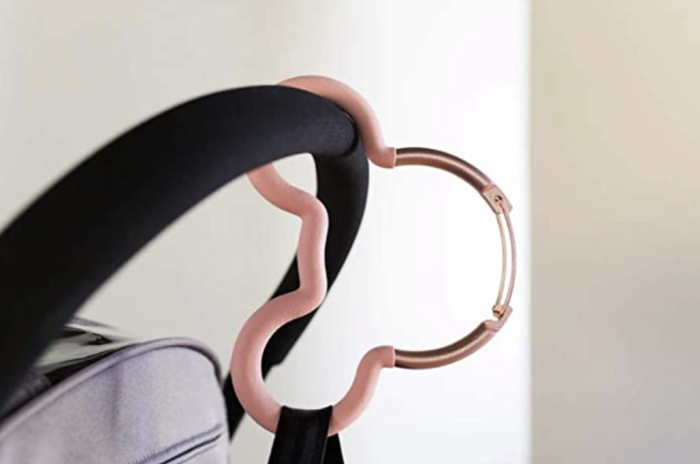 This hook is durable and from personal experience, it can hold some pretty heavy items. The opening of the hook is large and will fit wider straps, such as a cooler bag or backpack straps. This one comes in rose gold for $19!
Instead of one large hook, you can also opt for a pair of two smaller hooks that have adjustable straps with a non-slip grip. This Pair of Mickey Stroller Hooks can make for better weight distribution on the stroller, but they tend to hold less weight than the bigger hook.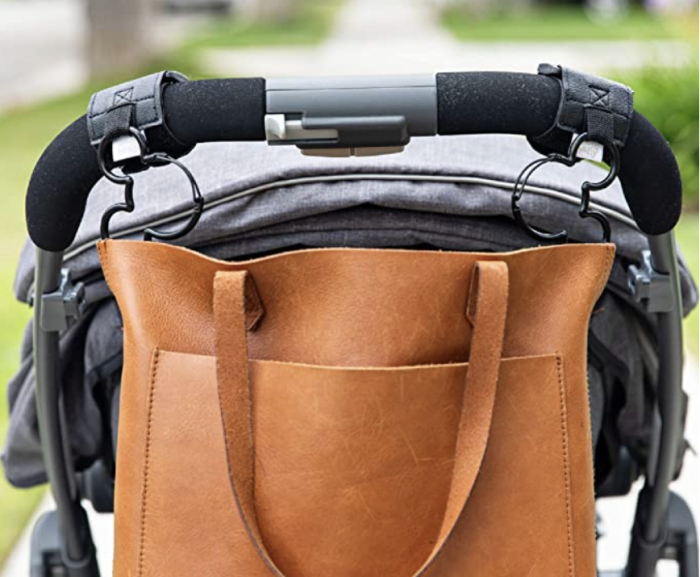 These hooks are adjustable depending on the size of your stroller handle, and you can get them both for $14.99.
Cup Holders
To beat the heat, hydration is key, but who wants to hold their drink and push a stroller?! If your stroller doesn't come with a cupholder, don't worry! We have you covered. This Stroller Cup Holder comes in different colors, should fit most strollers, and even has a phone holder.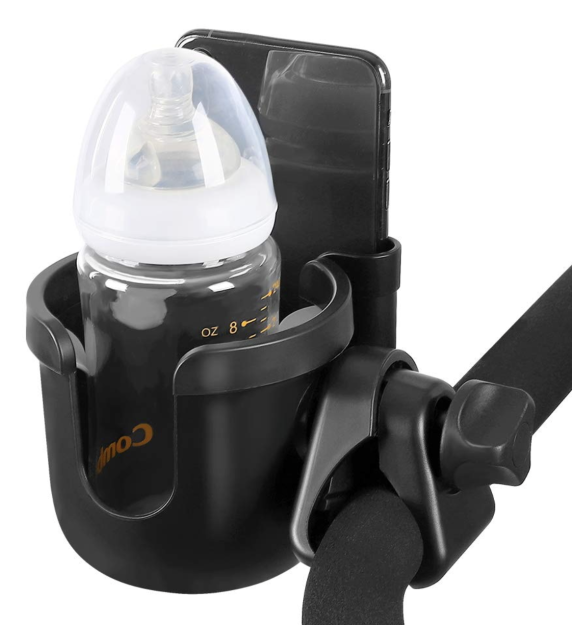 It also features an open side to accommodate handles on cups and a clamp that rotates. You can get it for $18.99 regular price, but you may be able to find some colors on sale ranging from $9.99 to $11.99.
If you don't need a place for your phone and want an extra cup holder, here is a Stroller Cup Holder Two-Pack! These cup holders rotate so they can be placed at an angle, and they should fit most strollers and different size cups.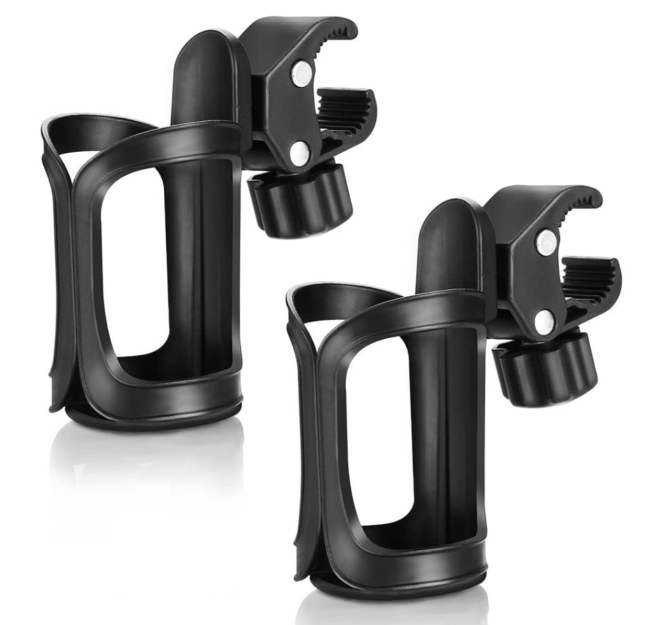 Regular price you can get this two-pack for $18.99, but you might be able to find them on sale for $12.98!
Portable Sound Machine
If you follow any kind of sleep regimen for your little one, chances are you use a sound machine while they sleep, and you don't have to give up on that comfort just because you're strolling around Disney!
This MyBaby SoundSpa On-The-Go-Portable White Noise Machine offers 4 sounds, auto shut off times, a clip that lets you can easily secure it near your baby, and it's battery operated.  You can get it for $16.95.
If you don't want to worry about having batteries, this Portable White Sound Machine is USB rechargeable, and it offers 16 different sounds and a clip as well.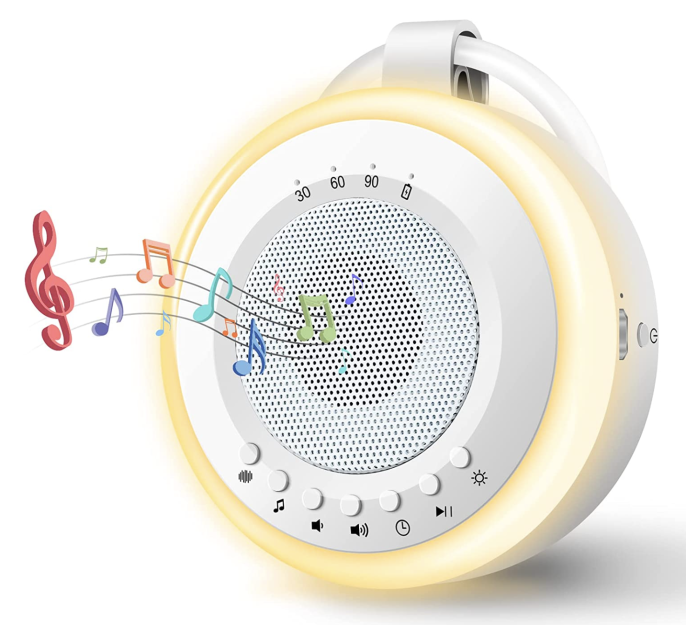 You can get it for $25.95, and right now you can save 12% with a coupon!
And finally, the amazing (and yes, a little odd) Baby Shusher is another great way to soothe your little one while traveling or strolling through the parks. The rhythmic sounds will put anyone to sleep!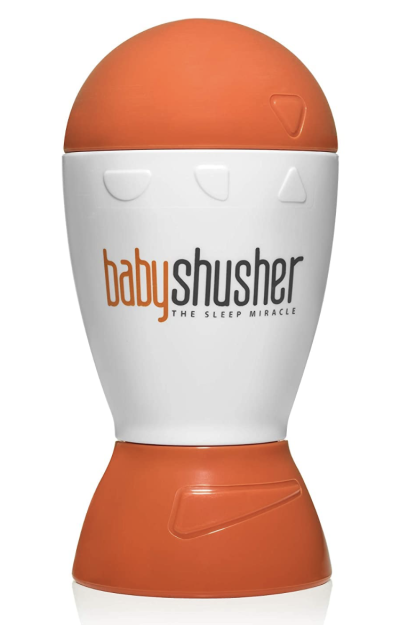 It has a real human voice that shushes in 15 to 30-minute timers and it's much better than YOU having to shush. The Baby Shusher is $34.99,
Milk Snob
If you're looking for ways to keep your baby out of the sun or if you need some privacy, Milk Snob covers are a great multi-purpose item for your car seat, breastfeeding, or even as a cover for a high chair. An added bonus is that they come in many Disney, Pixar, and Star Wars designs! You can get one with a Baby Yoda pattern…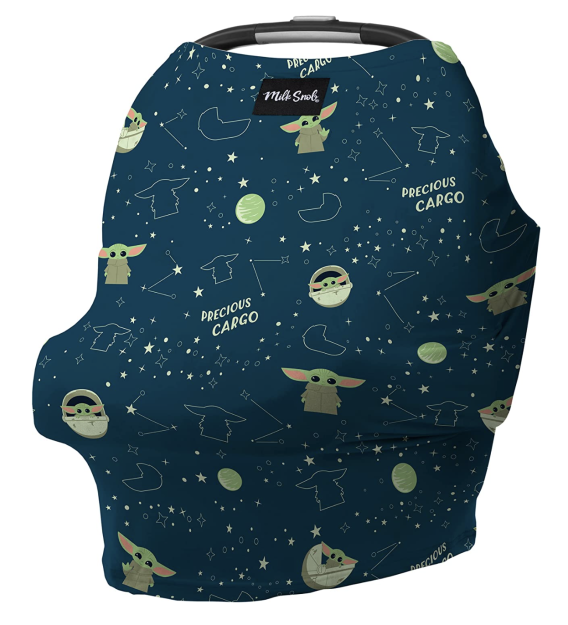 ….a Toy Story pattern…
…or a Minnie Mouse pattern!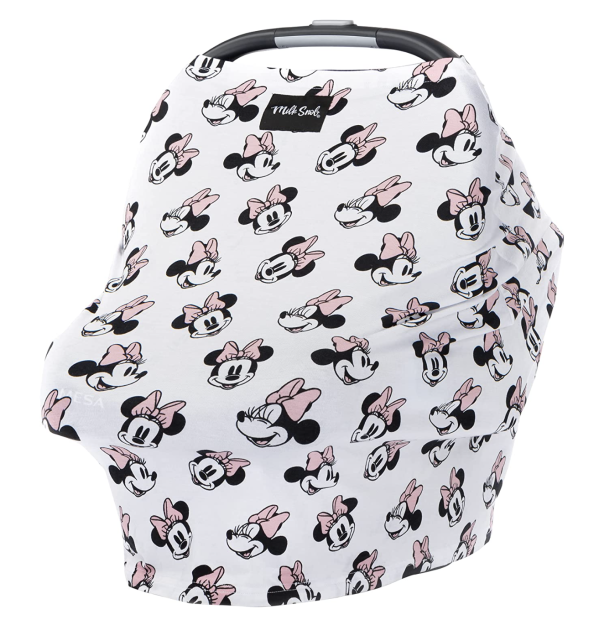 Milk Snob covers are made with a rayon blend material, and each one costs $39.99.
Rain Cover
If there's anything you can count on in Florida, it's RAIN. Rain gear is essential for your visit and we want you to be prepared. This Single Stroller Rain Cover fits most single strollers, has velcro straps for easy attachment, a large see-through window, and a good ventilation system to keep your baby safe and dry.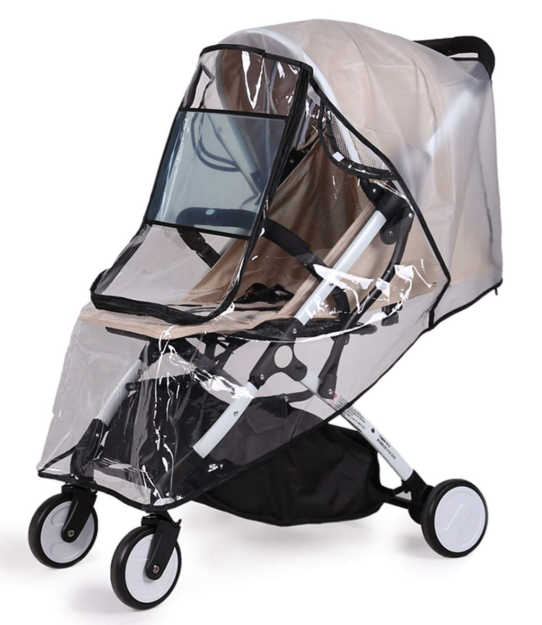 You can get it for the regular price of $25.99, or on sale for $17.98!
For side-by-side double strollers, this Double Stroller Rain Cover even includes two waterproof bags on the back of the stroller, and there's a big waterproof zipper window to easily get to children if needed.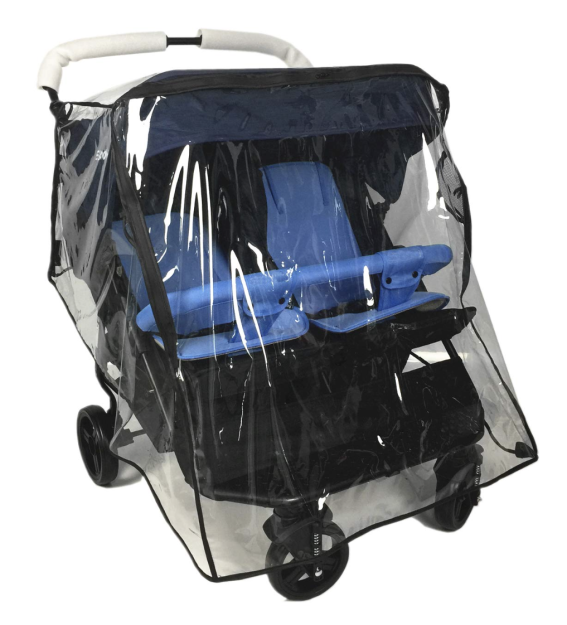 This rain cover is $48 regular price, or $30.88 on sale!
And for you Mickey Fans out there, this Disney Baby Stroller Rain Cover is a universal fit for most strollers and even some double in-inline strollers. It snaps and straps to your stroller to keep it secured through wind and rain, and it also has ventilated sides for airflow!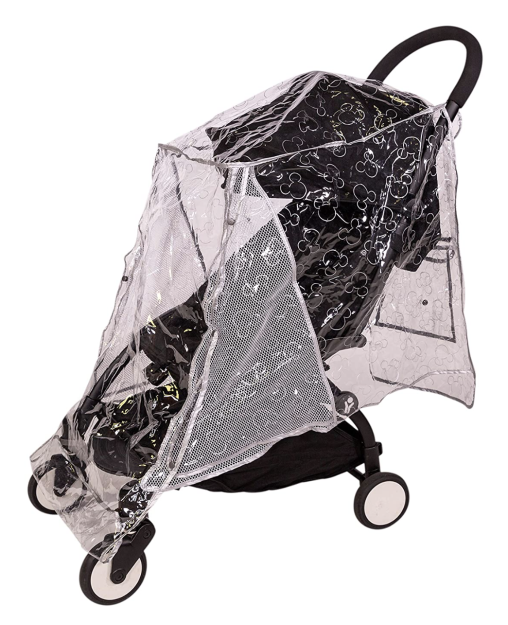 It also has a pouch for storage on the back of the stroller, and we love the metallic Mickey pattern.
Stroller Caddy/Organizer
A stroller organizer can seriously change your life! We love this Universal Stroller Organizer because it's decorated with Mickey, but it really is a good stroller caddy. It comes with 2 expandable cup holders so you don't have to worry about your Starbucks or Joffrey's fitting, and it also features universal adjustable straps to fit most strollers.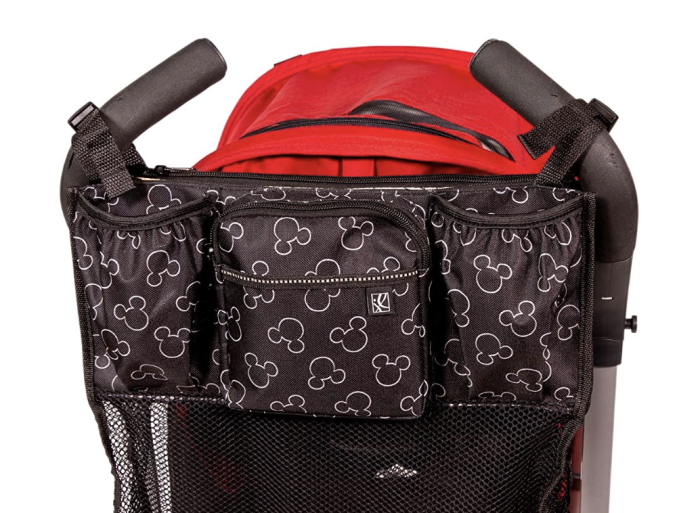 You'll also find a wide pocket for wipes and diapers, a smaller pocket for keys or a wallet, and a large mesh compartment. You can get it for $29.99.
This Stroller Organizer doesn't offer as much room, but it does have an insulated cup holder and additional stroller hooks for other items. It also has adjustable velcro tabs and a detachable wristlet pocket.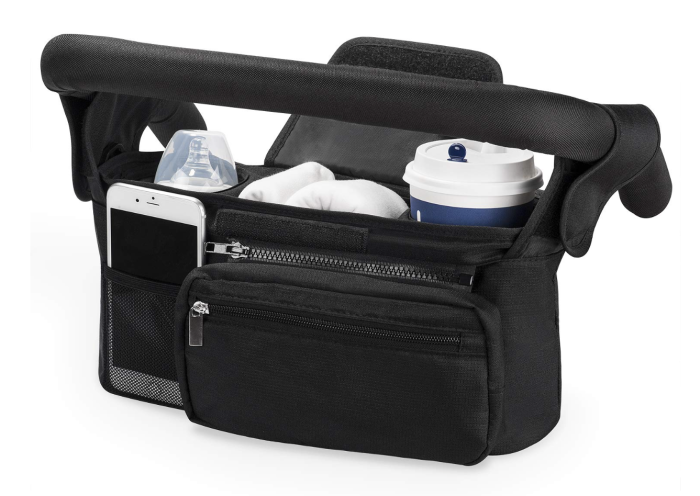 This organizer is $31.99 regular price or $25.99 on sale, with an option to save an extra 5%!
Toy Safety Straps
To keep those beloved pacifiers and teethers in the stroller and not in Echo Lake next to Gertie, toy safety straps are a must. They lock around the stroller and the toy, paci, teether, cup, etc. to ensure your items remain secure and your baby is happy. Also, you don't have to scramble to get the item clean!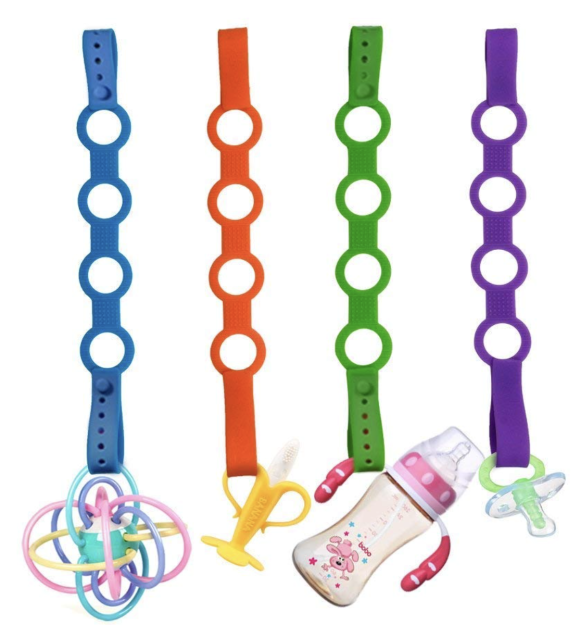 This a 4-Pack of Silicone Toy Safety Straps can easily double as teethers (let's be real — everything is going in baby's mouth anyway!). They are also food-grade silicone and most reviews are positive, noting these are long-lasting and durable and they don't stretch out. They cost $15.99 full price, but you might find them on sale for $9.99.
For a little different design and color scheme, try this Toy Safety Strap 4-Pack. Each strap is double-sided with a different color on each side, including yellow and white, blue and orange, green and gray, and pink and light blue.
These straps might not work well with bottles, but they are a great option for cups with handles, pacifiers, toys, and more!
Airplane/Travel Bag
To help keep your stroller clean and all together, a stroller bag is a great option for flying to check at the gate of your flight. For bigger strollers, this Stroller Travel Bag is a bright blue which makes it easy to spot, as well as a name card slot to personalize.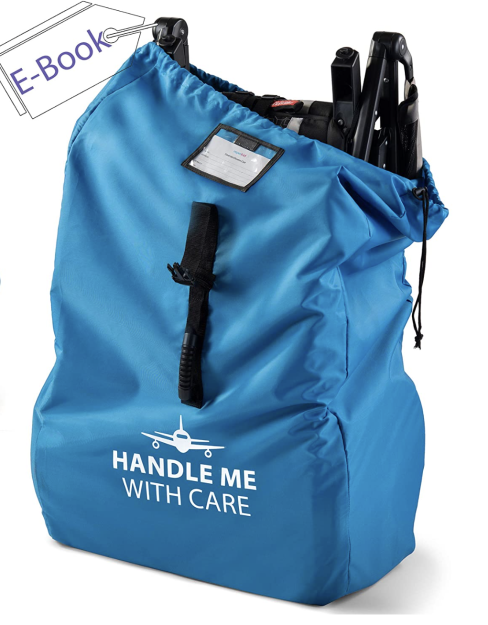 It's a lightweight, water, and tear-resistant material, and it has backpack straps making it easy to carry. It also comes in a pouch to keep folded up while not in use, which means it's easy to store while vacationing. It's yours for $32.99!
For smaller strollers (like single or umbrella type strollers), this bright red Gate Check Stroller Bag is another one easy to spot at baggage claim. It's water-resistant and double-stitched seams to make it more durable and it comes in a pouch to make it easy to carry and store when not in use.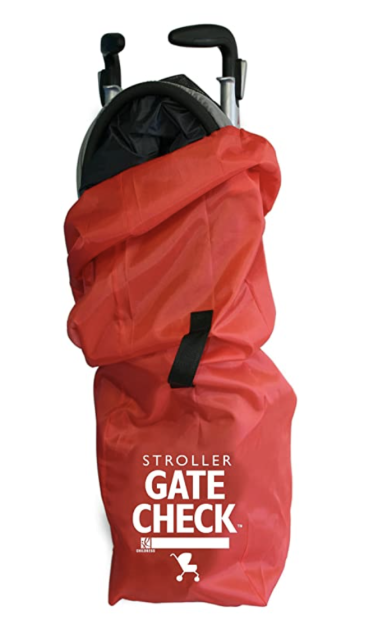 You can get it for $17.99!
Baby Carriers
And while strollers are great, sometimes your baby just wants to be held — especially if it's the end of the night and you have to fold up your stroller to board a Disney bus. There are different types of baby carriers including wraps, soft-structured, and a combination of both that you can use, and we highly recommend trying them out BEFORE visiting the parks.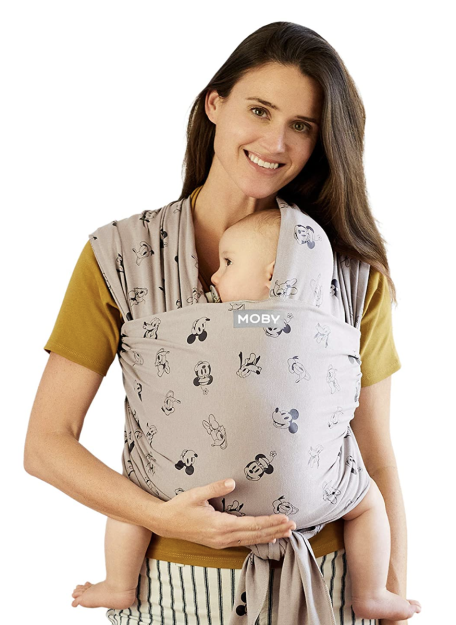 This Moby Wrap Baby Carrier is a wrap-style carrier and as a bonus, it comes in cute Disney prints! With this wrap, the fabric comes in one long piece and you maneuver it around your body and fit it as tight or loose as needed to make you and your baby comfortable. And don't worry — instructions are included!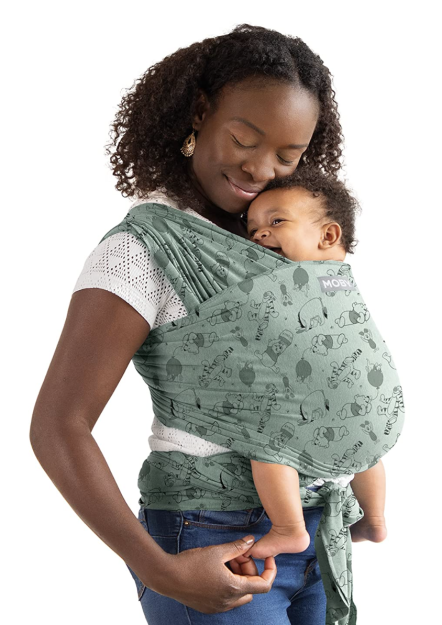 The recommended weight range is 8 to 33 pounds and it adjusts to fit you! This Winnie the Pooh Wrap is $49.99.
If the idea of a wrap stresses you out, the Ergobaby Omni 360 offers a more structured (less assembly required) carrier option, which isn't too different from a backpack. The straps can be adjusted to fit you and your baby, and the recommended weight range is 7 to 45 pounds.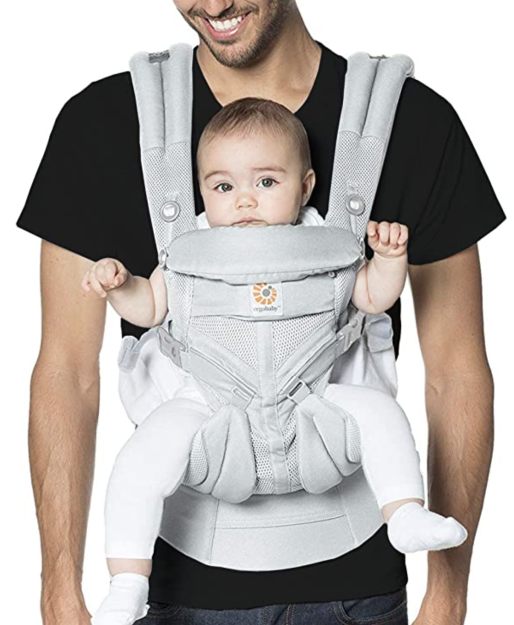 This carrier offers the option for the baby to face four different ways, including front inward facing, forward-facing, hip carry, or back carry. It even has breathable fabric for a hot day! It costs $180 regular price but you may be able to get it on sale for $139.
And this Baby K'tan Active Oasis Baby Carrier is pretty much a combination of a wrap and a structured carrier. It's made of a wrap-like fabric but the fabric is linked together for a simple assembly. Just slip it over your head and on like a t-shirt! It works for babies up to 35 pounds.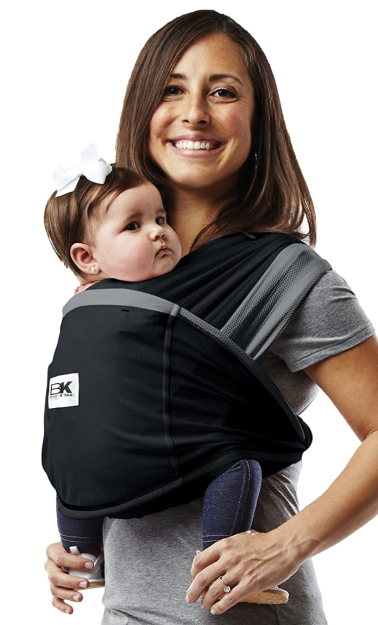 This carrier allows for 5 different front positions and the material is great for a hot day! It's made out of high-tech performance material that offers a cooling effect and wicks away sweat, along with some UVA and UVB protection. Get it for $74.95.
Phew! There are SO many stroller accessory options! Remember that you don't need all of them, but you might want to take advantage of some of them on sale. Keep reading AllEars for more shopping news!
Join the AllEars.net Newsletter to stay on top of ALL the breaking Disney News! You'll also get access to AllEars tips, reviews, trivia, and MORE! Click here to Subscribe!

What's your favorite stroller accessory? Tell us in the comments!