There's a LOT of walking in Disney Parks and it can be really exhausting for anyone — especially for young kids with tiny legs. Although you might think it's no big deal to hold your kid occasionally throughout the day, you may regret not having a stroller. After all, most people walk an average of 7 to 10 miles per DAY in Disney World!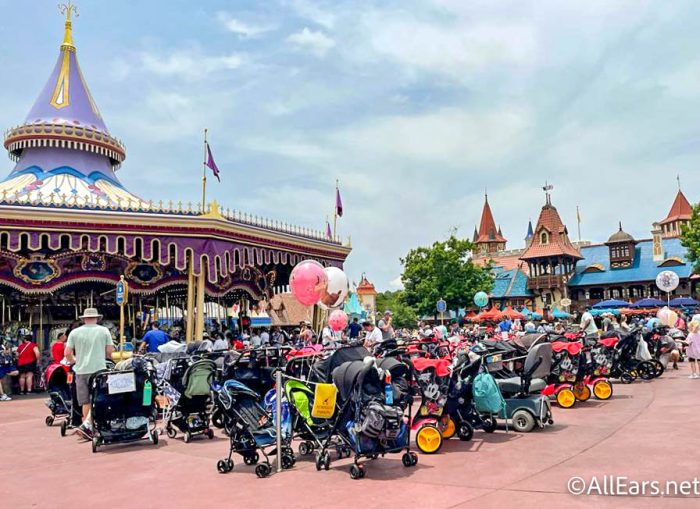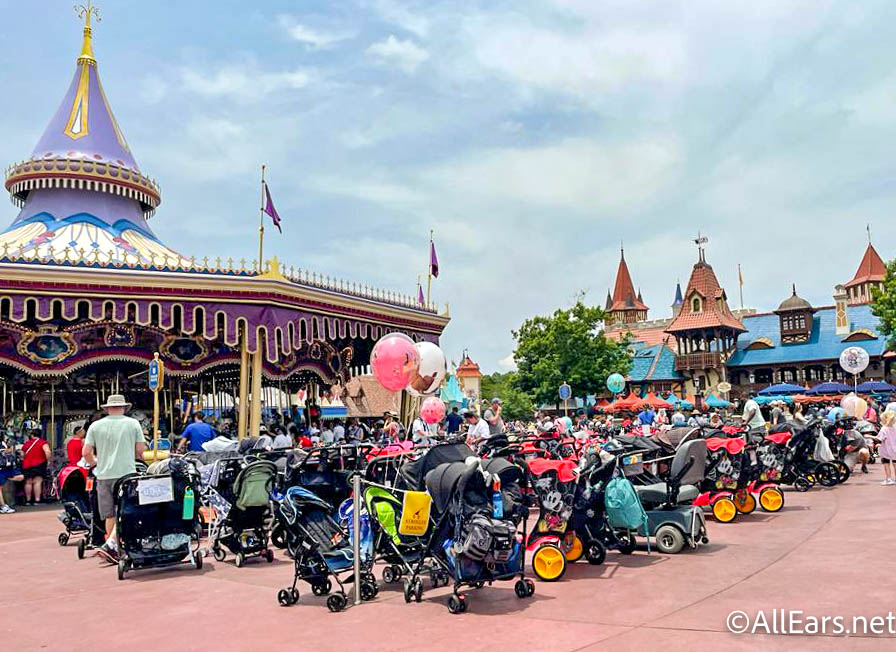 Since you're probably going to feel tired and it's often hot (and we mean HOT) in Florida, it's simply not always an option to carry your kiddo all day, especially if you have multiple tiny humans. A stroller can be a must-have for a day in the parks so — ta da! We're here to help you decide what option is best for you when it comes to using a stroller in Disney Parks, and there are a few ways to do so. Find out whether you're interested in buying, renting, or bringing!
We've been there when a toddler whines "my feet hurt" five minutes into the day in a Disney Park, and as much as strollers can be annoying, they can also be a lifesaver. Instead of taking that risk and planning your visit without one, we've got a complete guide so that you can plan your best trip — with less toddler whining and more infant sleeping (hopefully).
You have four main choices when it comes to strollers in Disney Parks and each option comes with its own set of pros and cons. We're going to break down ALL your options for you so that you can make the best decision for your family (and your toddler's tiny feet). These four choices include the following:
Bring your own
Rent from Disney
Rent from a 3rd party
Buy when you arrive
Let's get right into it!
Bringing Your Stroller
If you're going to bring your own stroller, you need to know Disney's stroller policies, such as size limits and approved strollers. Strollers can't be bigger than 31 inches wide by 52 inches long, and stroller wagons are not permitted.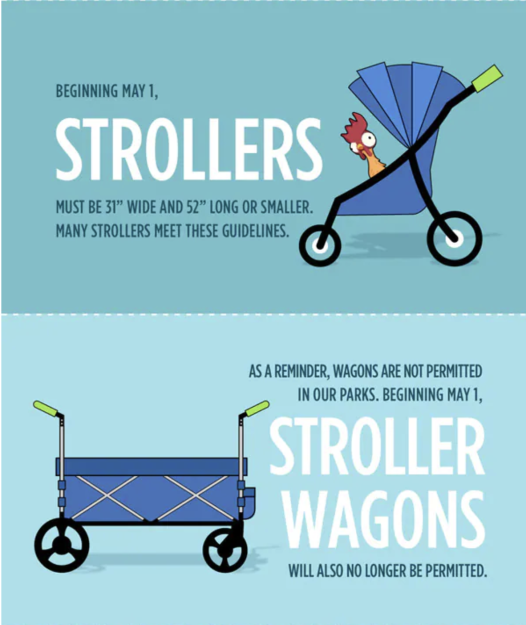 While strollers are allowed in most areas around Disney World, they must be folded on the trams as well as on Disney buses, so it's really important to know how your stroller works. This can also be majorly inconvenient when your kiddo is fast asleep and you have to manage both holding them (or worse, waking them up) as well as folding up your stroller.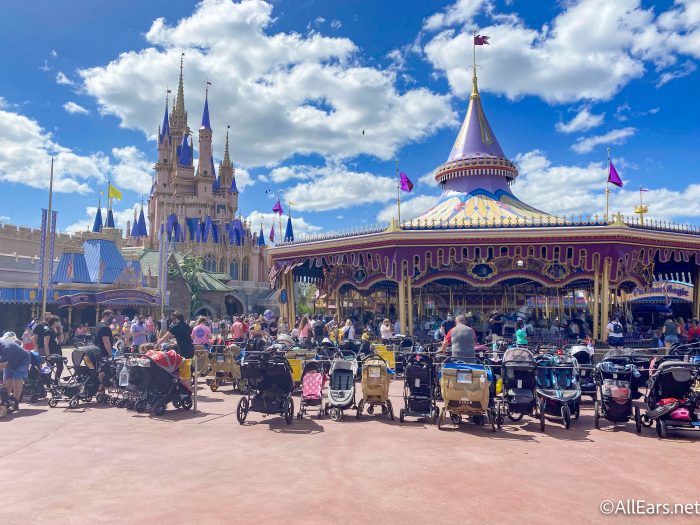 Of course, bringing your own stroller comes with its own set of other issues, including how to transport it to Disney World. If you're flying, for example, most airlines check strollers and/or car seats for free, but that also means you might need to check your stroller. While that can be annoying, it also comes at no added expense. Check with your airline for their stroller and car seat policies!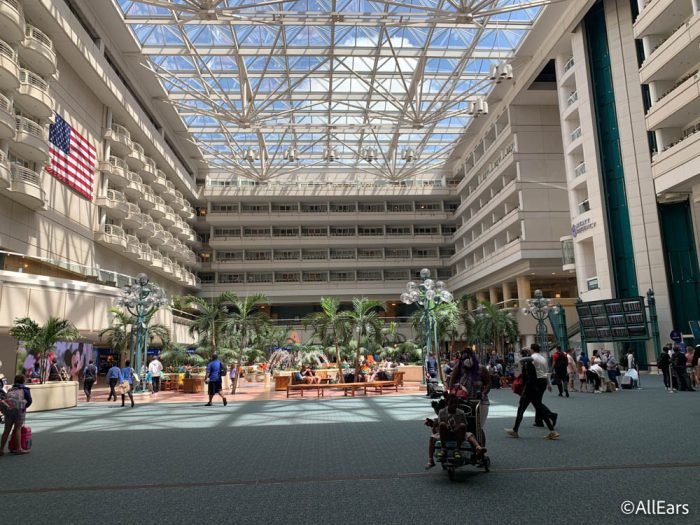 And if you're driving or using a rideshare option like Uber or Lyft, you need to make sure your stroller fits in your car along with your luggage. You may have to size up on the vehicle you need when you book!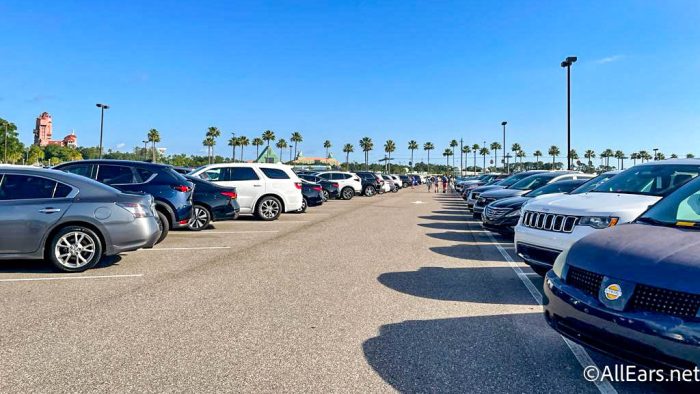 Once you arrive at the parks, there's a separate security line for strollers, which can take added time since Cast Members need to check any bags you have, your stroller's pockets, and the bottom of the stroller. You must also go through the metal detector separately, so there's another wait. Don't get us wrong, though — Disney security is usually very efficient! It's just that there are limited security officers checking strollers one at a time.
But on a positive note, the best part of bringing your own stroller is that it's FREE and familiar. Your kids know their stroller (which could mean easier nap time!), you know all its features (which is REALLY important when you're trying to get on the bus quickly), and you can even decorate it to your heart's content!
Pros:
Least expensive option
Most likely best option for infant
You AND your kid(s) are familiar with your stroller
You can decorate it!
No complicated stroller planning
No daily lines for stroller rental
Cons:
Air transportation can be tricky
You're responsible to fold and manage your stroller on  Disney transportation
Security check can take longer
Another thing to bring on your trip
Might be uncomfortable leaving your own stroller parked
Renting a Stroller from Disney
Renting a stroller is another option if you don't have one or want to bring your own. In Disney World, the cost of a single stroller is $15 per single day or $13 per day if you're paying for your entire length of stay. Double strollers cost $31 per day or $27 per day for your length of stay. In Disneyland, it's $18 per day for a single stroller and $36 per day for a double stroller.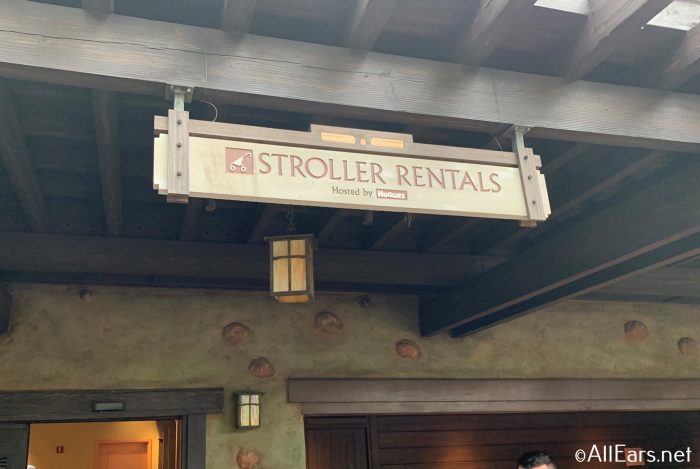 In Disney Springs, a $100 credit card deposit is required.
In Disney World, each park has a stroller rental location not far from the entrance, and it's important to note that you can't take your stroller rental out of the park. You must pick up and drop off your stroller rental at each park.
In Disneyland, the stroller rental is located outside Disneyland Park's main entrance, and the strollers can be used in both Disneyland Park and Disney California Adventure.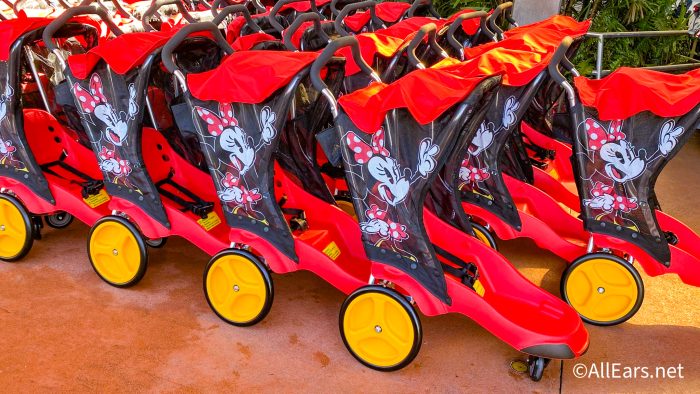 Disney stroller rentals are recommended for kids who weigh 50 pounds or less and they're not meant for infants, so the rentals might not work for you if your little one can't sit up on their own. Also, keep in mind that there's a finite amount of strollers available daily — so it's possible that there might not be a stroller available for you to rent.
Pros:
No worrying about transporting your stroller
Your personal stroller won't be at risk for any damage
Hassle-free Disney Parks transportation (since you can't take the strollers out of the park)
Hard plastic seats mean easily cleaned
No concerns about stroller theft
Cons:
Another line to stand in daily
Another expense to plan for
Your kid might not like it
Weight limit/not for infants
You can't bring it back to your hotel
Strollers can sell out
Renting 3rd Party
If you prefer to rent a stroller but you want to be able to use it everywhere in Disney World (not just in the parks), you can consider renting through a third-party company. Disney's preferred third party is Scooterbug, while Buena Vista Rentals is another popular rental company.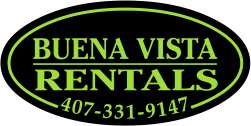 These stroller rentals are typically delivered to your hotel for free (but not always), so you don't have to worry about waiting in line at the park, but you will be responsible for folding it on Disney transportation. Scooterbug also offers Disney Springs as a pick-up and drop-off location.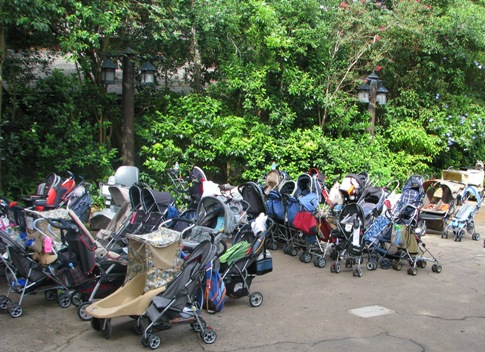 Prices can range anywhere from $75 to $90 for 4-7 days, and depending on the company you choose, some rentals can be for up to 22 days. If you're staying for a long trip or planning to visit other places outside Disney Parks, third-party rentals might be a better option for you.
Pros:
No worrying about packing
Usually free delivery to resort
Higher quality strollers (not plastic)
Offers accessories like rain covers and cup holders/snack trays
Freedom to take stroller all over Disney as well as outside the parks
Can be a cheaper option for a long stay
Cons:
Can be more expensive
You're responsible for transporting the stroller during your visit
Not all companies provide free shipping
Some companies require your presence for pick-ups and drop-offs
You might be responsible for damages
Your kid might not like the stroller
Buying a Stroller
This option might sound odd but many people opt to purchase a stroller solely for their trip. You could visit a nearby store or order through Amazon to be delivered to your hotel, but you want to check your hotel's policies on deliveries to be sure if that's an option. In Disney World, you'll be charged $6 per delivered package, and you might have trouble getting to your package if you try to pick it up at an odd time.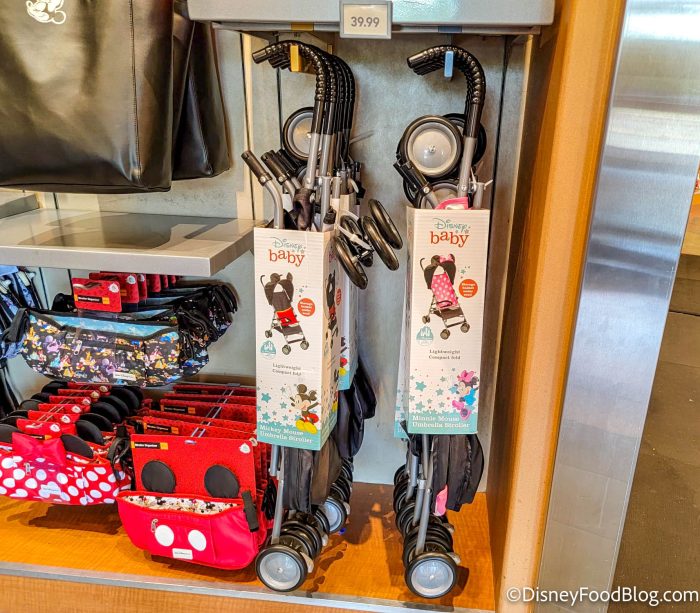 You can also purchase a stroller IN Disney World! They sell a variety of umbrella strollers, which means you can also use your Annual Passholder or Disney Vacation Club discounts if you qualify. We've seen them in hotels and around the parks for around $39.99 each.
Pros:
No packing or storing on the way there
Discounts in Disney World (if you qualify)
Several options are nearby including Walmart and Target
Added souvenir from your trip if you take it home
Can order from Amazon and have it shipped directly to the resort
Cons:
The most expensive option (especially if purchasing for an infant)
Umbrella strollers aren't the most comfortable
Have to make a trip to a store to purchase
Delivery to your hotel costs a fee
Find a way to discard it or take it home
Double Stroller Tips
If you have two little ones needing a stroller and normally use a double stroller, you might need to make special considerations. For example, not all double strollers meet the requirements for airlines to be checked for free or to be boarded with you, so make sure you check your stroller's dimensions and your airline's policy. Not all of them qualify for Disney's stroller size requirements, either.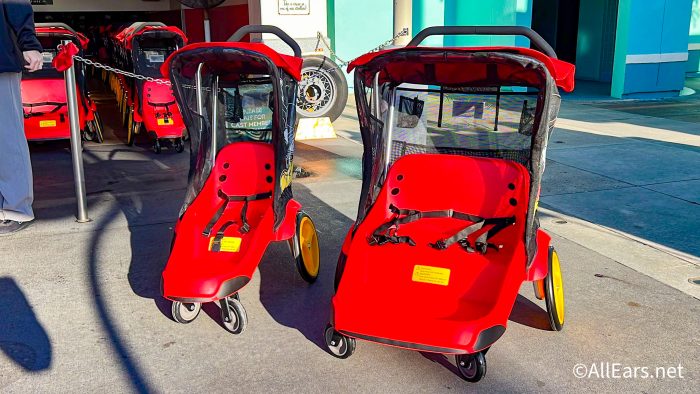 Double strollers can be difficult to maneuver around a crowded Disney Park. Going in and out or even moving around stores can be even harder! Instead of using a side-by-side stroller, you might want to look into bringing/renting multiple single strollers or using an in-line/tandem double stroller.
Just remember that regardless of what kind of stroller you have, if you're able to take your stroller outside of Disney Parks it must be folded up on parking trams and Disney buses.
Stroller Parking
Both Disneyland and Disney World are busy places and thousands of strollers are pushed through the parks every single day. Strollers are not permitted everywhere and you will find yourself parking your stroller (in a designated stroller parking area) throughout your day. In order to make room, Cast Members will sometimes move strollers around, which means it can be very easy to "lose" yours in the crowd.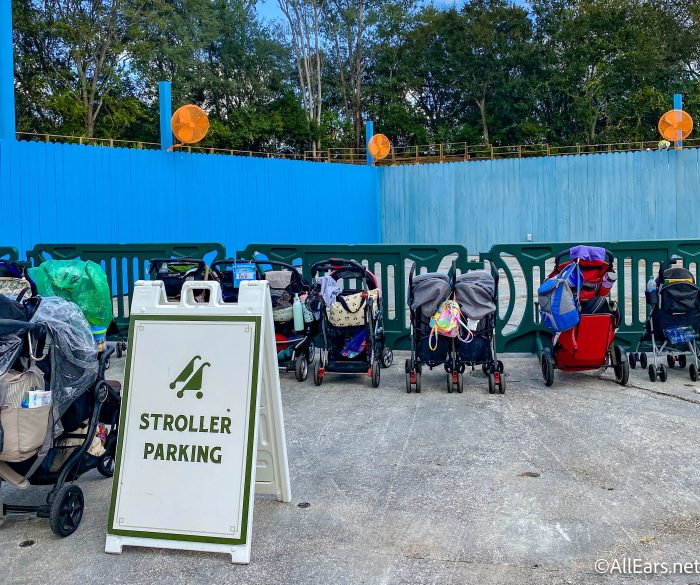 So what's the solution? Make your stroller recognizable! You can add decorations, a nameplate, or tie a balloon to the handle (but keep in mind that said balloon might hit you in the face for the rest of the day). You can even add a string of lights!
Just remember to NEVER leave valuable items behind in your stroller. Things can fall out or be stolen, so you never want to leave your wallet or diaper bag in the stroller.
Rainy Days
Florida is pretty much synonymous with rain, and even if the forecast doesn't say rain — it can change in an instant. Whether you're renting or bringing a stroller, you might want to consider also bringing a rain cover. Some stroller rental companies will allow you to purchase this as an add-on and trust us — you don't want a soggy stroller.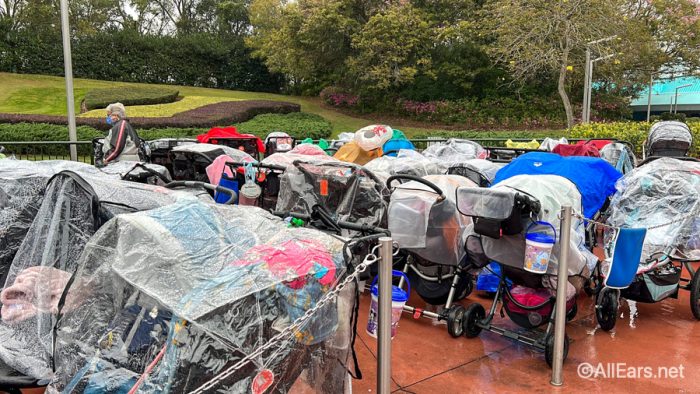 The benefit of Disney's strollers is that they're hard plastic, so you can easily wipe them down after a rainstorm, but other strollers made with soft fabric can stay wet for hours. You can find rain covers in stores like Walmart and Target or on Amazon, and we've even seen people use shower curtain liners in a pinch!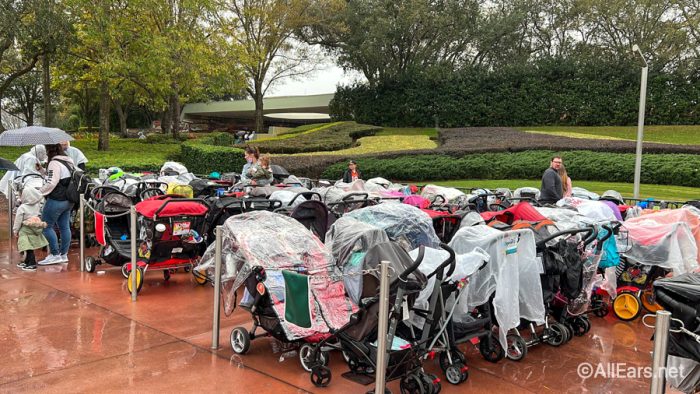 There are very few stroller parking areas under cover, so don't wait until your stroller is all wet!
You have lots of stroller options in Disney Parks and it's a good idea to think about what would work best for your family. Consider all these pros and cons when you're deciding how you want to deal with strollers, and keep following AllEars for more Disney planning tips!
Join the AllEars.net Newsletter to stay on top of ALL the breaking Disney News! You'll also get access to AllEars tips, reviews, trivia, and MORE! Click here to Subscribe!

How do you prefer to bring strollers to Disney Parks? Tell us in the comments!