DISCLOSURE: This post may contain affiliate links, meaning when you click the links and make a purchase, we receive a commission.
Whether it's your first time bringing your family to a Disney park or you are a seasoned pro but looking to up your stroller game, this guide will give you all the information you need to have a smooth trip.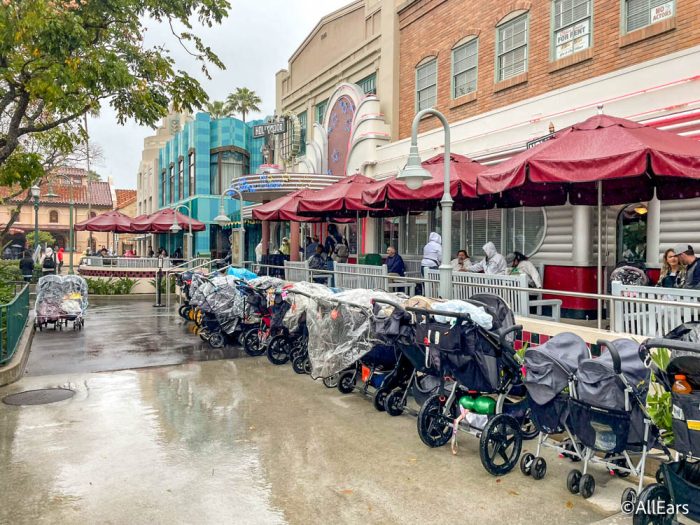 Read below to learn about stroller options, restrictions, and more!
Decide if you need a stroller or not
Now the first step to choosing a stroller is … deciding if you need one! You know your child best, and they might be at an age where a stroller in their daily life is no longer necessary. However, it's important to consider that even if your child has outgrown their stroller at home, you will be doing a ton of walking in the parks. Coupled with the heat, it might be a smart move to use a stroller even if you don't think you will need one. If you are still unsure by the time you are leaving for your trip you do have options to buy or rent once you arrive, but planning ahead is always best! For those who have chosen to stroller it up ahead of time, decide if you want to bring your own or rent. Need help making a choice? Read our Ultimate Guide to Strollers where we go over the best options no matter what you're looking for!
Now for those who decided to use a stroller, read below for Disney's rules and guidelines on using them at their parks and resorts so you know how to use your stroller safely and wisely. We have also included our own tips that make sure your stroller is a helper instead of a hassle.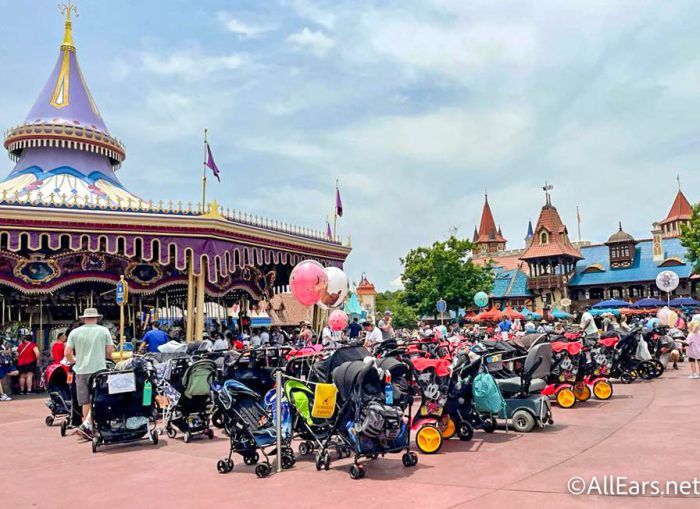 Bringing your own — what you can and can't bring
There are some restrictions on what flies when it comes to strollers (and for information on actually flying with your baby or toddler, check out our article detailing everything you need to know here). Before getting your heart set on the perfect stroller, make sure to review these rules from Disney on stroller specifications:
Strollers larger than 31" (79 cm) in width and 52" (132cm) in length are not permitted.
Stroller wagons are also not permitted, even if they fit within the permitted dimensions. This includes any items pulled behind you.

Tip: If you are unsure about your stroller meeting the required dimensions, try using painter's tape and make a 31"X52" rectangle on the ground. Park your stroller in it and make sure it fits within the lines.

Stroller boards are not allowed, but sit and stand strollers are.
Where and when you can use a stroller
Now that you know what is and isn't allowed, review the rules below for where and when you can use a stroller while at Disneyland or Disney World. There are different rules for parks, transportation, restaurants, and resorts, so read below to make sure you're prepared no matter where you go!
Parks
Strollers are not allowed on most rides or in lines for rides. Although, if you are traveling with an infant you may be able to bring your car seat attachment to some shows and slow moving rides.
There are designated stroller parking areas located around each of the parks where you can leave your stroller while on rides, in certain restaurants, or in any other area where strollers may not be permitted.
Strollers are not allowed on escalators. Strollers are permitted on elevators and ramps, available at certain locations.
If your little one is not big enough to ride the attraction or doesn't want to board, take advantage of the rider switch program, which allows adults to watch little ones and still enjoy the rides. For information on how this works, see our full guide to rider switch. Keep in mind not all rides have this program, so check out the list ahead of time to plan.
Transportation
On buses, trams, and water transportation strollers need to be folded and maintained by you (meaning there is no designated area to leave the strollers once you board).

Tip: Although strollers make great shopping carts and storage units, make sure you can carry everything. Emptying out your stroller and getting it folded before transportation arrives is a thoughtful gesture as well as efficient.

On the Skyliner, if you have a stroller that can fit and everyone can ride comfortably, it does not need to be folded.
The ferry and monorails also allow strollers to be in use when on board.
A child must be removed from his or her stroller while riding on a parking lot tram.
If you plan on driving to and from the parks, be prepared to maneuver your stroller in and out of your car. Parking can get a little tight sometimes, so make sure you have room!
Restaurants
Most quick service restaurants allow strollers.
Be prepared to not be able to use your stroller inside of a table service restaurant; most have a no stroller policy. If you have a car seat, you may be able to use this on top of a high chair. There will be stroller parking areas nearby so you can drop it off while you eat.

Tip: Use of a wrap or other carrier could come in handy if dining with an infant.

All restaurants are child friendly, except Victoria and Alberts, which does have a limit to ages 10 and up.

Tip: Remember when making dining reservations to include your entire party, even children under 3.
Resorts
Strollers are allowed in lobbies and all main areas of the resorts.
You can take your stroller to the pool, but it may need to be kept in certain spaces away from the pool. Lifeguards can help you find the designated stroller areas.
If you plan to rent a stroller from Disney, these cannot be taken out of the parks. This means you can't bring your Disney-rented stroller back to your resort. If you need a stroller for the resort and are not planning on bringing your own, there are 3rd party rental companies or you can purchase your own. For our list of the best strollers for renting or purchase for your trip, check out our Ultimate Guide to Strollers!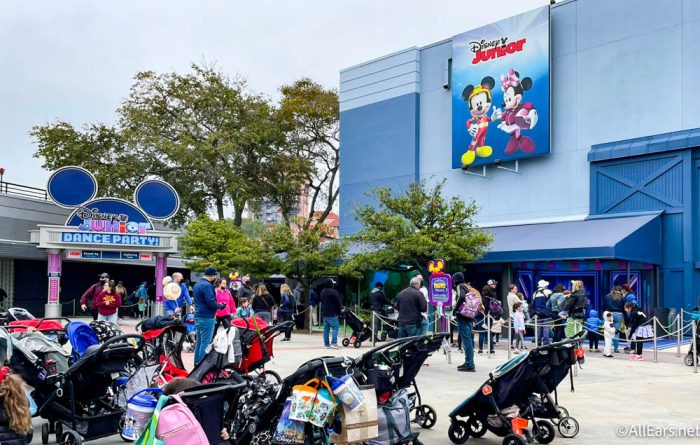 Keeping your stroller visible
In a sea of strollers, it can be easy to lose track of yours, especially when parking them to go on a ride or have a meal in a table service restaurant. Here are our tips for making your stroller standout so you aren't wasting your precious trip time on a stroller hunt:
Tie balloons or colorful ribbons to the handle. Remember: balloons are not allowed in Animal Kingdom, so make sure to remove those before heading into that park.
Attach a battery-powered string of lights or glow sticks to your stroller for easy visibility at night time.
Hang your popcorn buckets on the handles for identification.
Add your family name on a name tag or plate.
If you are looking to purchase a new stroller, look for one that has a pattern or color different from the standard black.
For those looking to go more technological, consider purchasing some type of electronic tracker for your stroller.
Flags are not allowed at the Disneyland Resort, even biker flags.
Accessorizing your stroller
Accessories can also be practical, so don't be afraid to do what you can to ensure your little one stays happy and your trip stays magical.
Stroller fans are an absolute must. You will be grateful for the breeze!
Rain covers are worthwhile, especially in hurricane season (June 1st – Nov 30th). The sunshine state has its fair share of downpours!
If your stroller doesn't come with a cup holder or you plan on staying extra hydrated, add an additional one with a clamp-on cup holder! These can double as snack holders, and they give you a good place to set your food and drinks in if you need your hands free.
Other important stroller tips and info
Do not leave personal belongings in an unattended stroller. Theft does happen, even in the most magical place on earth. Take your wallet, keys, and phone with you. 

Strollers may be moved by a Cast Member due to operational needs. 

In stroller parking, you cannot lock your stroller to any park property. You can use a lock for your wheels, which would prevent someone from being able to turn the wheels, but allows cast members to move it if needed.   

If you can't locate your stroller, notify the nearest cast member. Usually there is one attending the stroller parking area or very close by. They will assist in the next steps.

Keep your receipt if you rent a stroller from Disney, just in case something happens or if you are park hopping (you only pay once per day).

Don't leave open food in your stroller when unattended. The squirrels and birds of Disney might want a snack and they won't ask permission! Tightly close or seal food when possible, or layer under other objects to discourage tiny thieves. 

Making sure your little one is comfortable is important. With that being said, a narrow stroller with a good turn radius that can be easily collapsed is extremely beneficial. Weigh the pros and cons and consider what is best for your family.

Pay attention to the flow of traffic. It can get CROWDED. Having everyone move together helps your group move faster. If you need to make a stop, try to get to the side first to avoid blocking other visitors.

If you want to catch a parade or a fireworks show, planning ahead helps! If you know you want to leave right after the fireworks or if you are unsure how your little one might do during the show and want the option of a quick exit, you may want to get a spot early and keep your stroller with you. If you want to catch a parade before hopping on a ride right after, park your stroller in the nearest stroller parking, watch the parade, and then hit your ride without worrying about finagling your stroller. Your little one may be able to see better in your arms or on your shoulders anyway! 

If you are traveling with a large group of kids and need extra hands there are sitter services in the Orlando area.
After reading this you should be a stroller expert! Do you have any other stroller tips or tricks you have learned? Share them below!
While on the topic of staying prepared, check out our article on Rainy Day Essentials!