Getting Your Groceries at Walt Disney World
When planning a Walt Disney World vacation, dining is a big consideration. Guests opt to bring in (or have delivered) their own groceries for a variety of reasons. The most common of these are to save money and to ensure they've got specific food or beverage items that they need for comfort and enjoyment.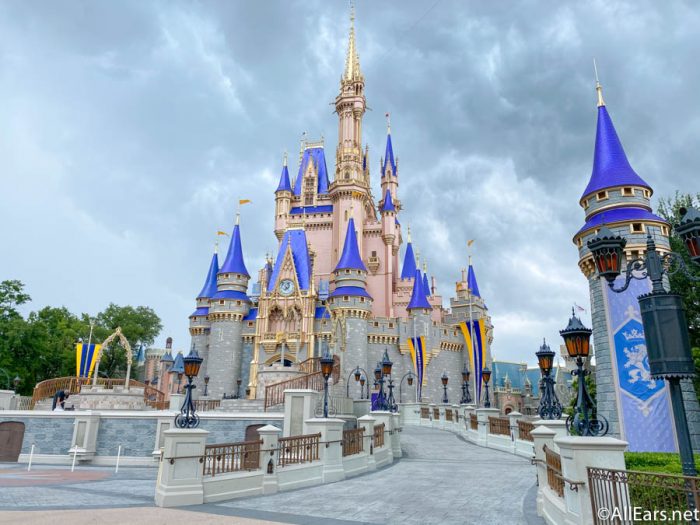 If you're
planning to get your own groceries for your stay at Walt Disney World

, we've got tips and information to help you decide how to do just that.
Options for Grocery Shopping
Use Your Own or a Rental Car
The most efficient way to get to a nearby grocery store is to drive yourself. You can achieve this whether you've driven yourself to the World or you've rented a car for your vacation. Just use your GPS or map app to search up a nearby grocery store, and you're good to go!
You might stop on your way to your Disney Resort or head out some time after you've settled into your room. (AllEars Tip: We like stopping on the way in so we don't have to leave the Disney bubble too soon after arriving!)
Summon a Taxi or Rideshare
If you won't have access to a vehicle during your trip, it's still pretty straightforward to get around. You'll want to summon a taxi (the front desk at your Resort can help!) or use an Uber or Lyft app to request a rideshare.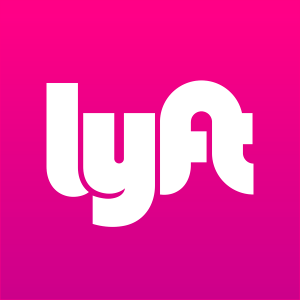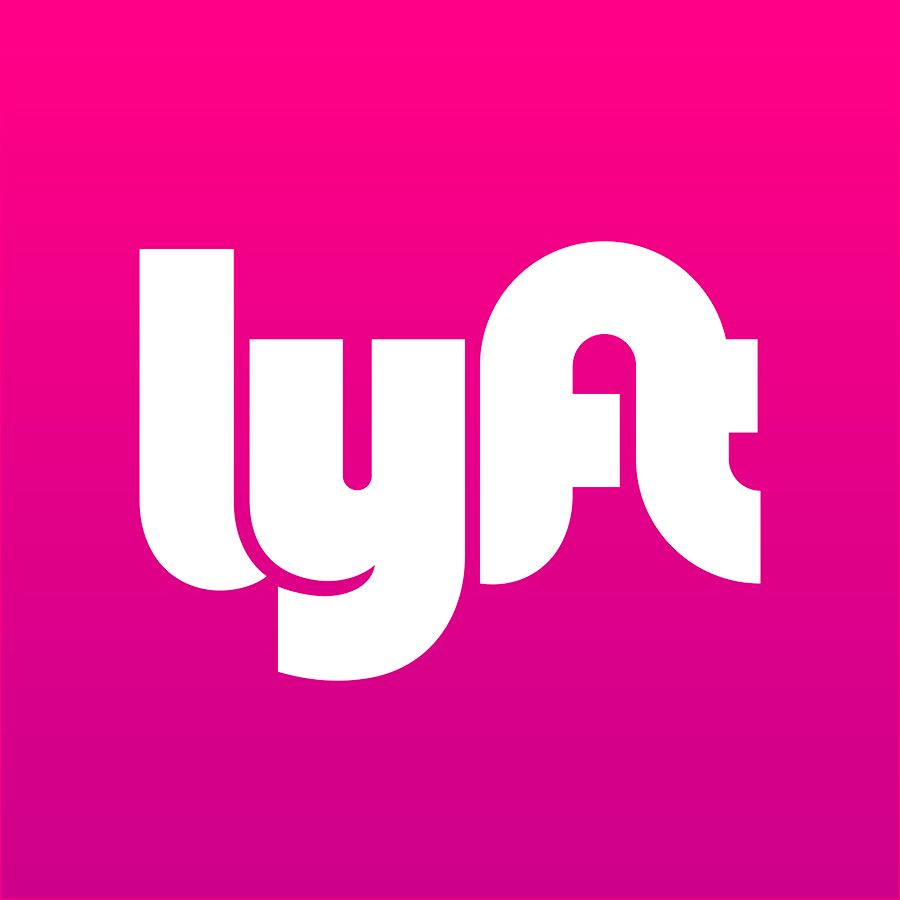 Note: Disney operates its Minnie Van rideshare program via the Lyft app, but you won't be able to use it for grocery shopping. Minnie Vans operate only on Disney property or to/from Orlando International Airport.
Grocery Stores Near Walt Disney World
We've gathered information on grocery stores proximal to Walt Disney World here.
Options for Grocery Delivery
Grocery delivery has become increasingly popular and common, and getting a delivery to your Disney Resort is typically fairly straightforward. Some things to keep in mind:
All of the delivery services listed below allow you to submit your order and select your delivery window before you even leave home. If you know your travel day will be too hectic to worry about placing an order for bottled water and Goldfish crackers, check that to-do off your list before you leave.
Bell services at the Disney Resorts will receive your orders for you. However, if you place an order with alcohol, the grocery delivery service might have its own policy requiring an ID check and/or a signature. Plan accordingly if that's the case.
You won't pay a fee for Bell Services to accept your grocery order on your behalf, but know that in some cases (Amazon Prime Now, in our experience), your order may not be labeled clearly with your name, and that might lead to a bit of a delay when you pick it up.
Bell Services can store your grocery items in a cooler and/or freezer. We have had them make the error of storing only in AC, though, so beware that could be an issue.
If you want Bell Services to deliver your order to your room, you will need to arrange that with them, and there likely will be a $6 charge for the service.
Instacart
Instacart is a service that allows you to create a shopping list for specific, participating stores in your area (in this case, your area is Walt Disney World and stores include options like Publix and Costco). You select a two-hour window for delivery, and a personal shopper selects your groceries for you and delivers them. In our experience, the delivery window is generally accurate.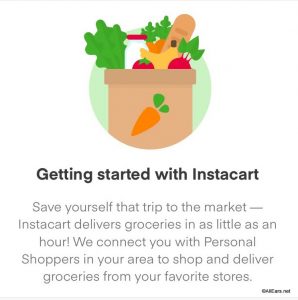 Benefits: You can build your list from almost anything in the store you choose, including alcohol. Delivery windows are typically available same-day. And your personal shopper can reach out via chat and/or text to ask you about substitutions.
Drawbacks: The Instacart app can be glitchy and lag, particularly when changing quantities and editing your shopping list. A delivery fee, a 10% service fee, and a tip can easily at $10+ to your order. We have also experienced confusion with shoppers delivery alcohol; at times they require a signature — but not always. So you may want to plan to be on-site at your Resort when the delivery window rolls around.
Garden Grocer
For a number of years, Garden Grocer was the way to get groceries delivered to your Disney Resort hotel, so it's a familiar face in the grocery delivery game in the World. You can order online or on the Garden Grocer app and select your delivery date and time.
Benefits: Garden Grocer is an established delivery service in central Florida. If you order far enough in advance, you may be able to score a discount.
Drawbacks: Garden Grocer prices tend to be noticeably higher than other delivery services, and we have had several experiences with them selecting the wrong items or poor substitutes. In one notable instance, it took them three days to right an order for one of the AllEars team member.
Amazon Prime Now
Amazon Prime Now is an available perk for Prime members. Prime now orders are shopped at Whole Foods Market, with some members finding they can order from other stores as well in certain markets.
Benefits: Prime Now is included in the cost of your Prime membership, so you won't pay an additional fee to access it. Delivery is free on orders over $35, and deliveries can be made in advance or same-day (usually with a delivery window within two hours of your order. Because items are typically from Whole Foods Market, if you are a regular shopper of Whole Foods you should be able to select items you know you'll like.
Drawbacks: In our experience, some replacements made by Prime Now shoppers don't make sense, and while the company is good about issuing a refund and trying to make it right, it can take time and be inconvenient if you have plans.
Walmart Delivery
Walmart offers both Pick-Up and Delivery that use the same app and pull from the same inventories. Note that Walmarts in central Florida may be Supercenters or Grocery locations, and your options may be different depending which location you select. Play around with this option before you leave home so you know all the ins and outs.
Benefits: Walmart prices tend to be lower than other grocery stores, and they contract their delivery drivers (as opposed to using Instacart as some other grocery stores do). Walmart employees pull the groceries, and if they're out of something when they're shopping, they'll often upgrade your replacement without an additional fee.
Drawbacks: Walmart delivery fees can fluctuate depending on the date and/or time you choose, perhaps adding upwards of $9.99 to your order (plus tip).
Options for Grocery Pick-Up
Target Drive-Up
Target Drive-Up is a popular option for getting items almost on-the-go. With Drive-Up, you place an order in the Target app or online at Target.com. When the order is ready, you Drive-Up to the store, park in one of the designated spots near the store entrance, and wait for an employee to bring your order to your car.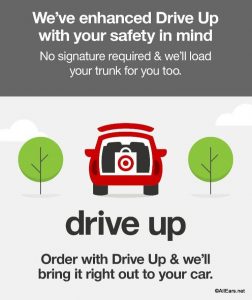 Benefits: Drive-Up is super convenient, and you can even submit your order before you leave home. You can Drive-Up for most of Target's offerings. If you're trying to keep physical distance, you can do that pretty effectively with Drive-Up.
Drawbacks: Drive-Up does not include perishable items, so you can't use it if you need things like milk, deli meats, yogurt, etc.
Walmart Pick-Up
Walmart Pick-Up is similar to Target Drive-Up. You can place your order via the Walmart app or online at Walmart.com. In central Florida, you will likely find both Walmart Supercenter and Walmart Grocery store options. Depending on what you need, you'll choose the category that works for you.
Benefits: You can order anything the store carries, including perishable items. If the store runs out of something in your order before they pull your items, they'll usually replace it without an upcharge, even if the replacement is significantly more expensive.
Drawbacks: In our experience, Walmart Pick-Up can take more time than Target Drive-Up, and the app isn't always as user-friendly. Plus you have to select a Pick-Up window of one hour, which might not be convenient.
Various Curbside Pick-Up
Lots of retailers now offer curbside pick-up, so be sure to explore your options before you leave home. Some will require use of their app to place and pick up your order, so you'll want to be prepared for that in advance.
Resort Grocery Options
The Resort hotels of Walt Disney World do sell some basic supplies, but generally these are significantly marked up in price. For example, expect a half gallon of milk to be upwards of $4.
You can expect to find a selection of packaged goods, including small boxes of cereal and crackers, popcorn pouches, and jarred fruits. Shopping in your Resort gift shop is super convenient, and if cost and selection don't matter much to you — or you just want to grab something quickly on your way to the bus stop — this option may be just fine for you.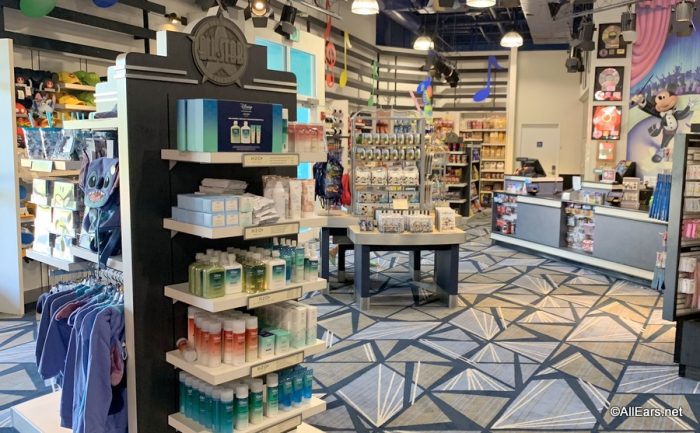 DVC guests can expect to find a wider selection of grocery items at their Resorts, and they can pre-order their groceries for pick-up at the Resort when they arrive. Access the order form on the Resort's Amenities page online before you leave home.
Storage for Groceries in Walt Disney World Resort Rooms
Disney Resort hotel rooms offer some storage, but anyone who's stayed for more than a couple of nights will tell you that it typically ends up not being enough. Add a full grocery order, and you're talking about a tight squeeze — most of the time.
Here, we're taking a look at refrigerator sizes, shelving options, and alternatives.
Refrigerator Sizes
Value Resorts: All Value Resorts now have mini-fridges in place. (In the past, these had to be requested, and guests had to pay a fee to have one.) The mini-fridge is small. AllEars team members report being able to store a half gallon of milk, assorted bottled beverages, leftovers, and some fresh fruit. But think dorm room-size refrigerators. You can expect they may have around two cubic feet of space inside.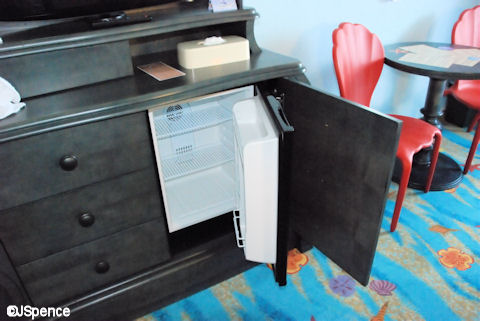 Note: If your mini-fridge has a freezer, expect it to be small and inefficient. We have not had much luck with keeping things solidly frozen any time we have had a freezer.
Moderate Resorts: Moderate Resorts have basically the same refrigerator availability as Value Resorts. Some may be newer, but the sizes are essentially the same.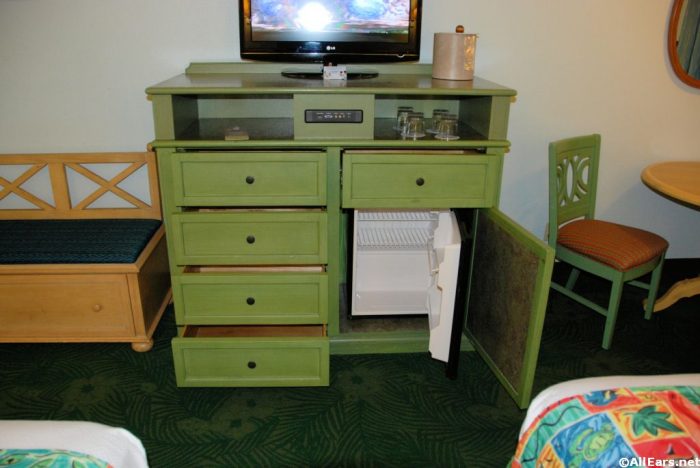 Deluxe Resorts: Like the Values and Moderates, standard Deluxe Resorts also have mini-fridges.
Deluxe Villas/Cabins at Fort Wilderness: Here's where the refrigerator size gets real. If you stay in a cabin at Fort Wilderness or in many of the Deluxe Villa (DVC) Resorts, you will have larger refrigerators.
Studios typically have mini-fridges. These are often slightly larger than those at Value, Moderate, and standard Deluxe Resorts. These may have a freezer.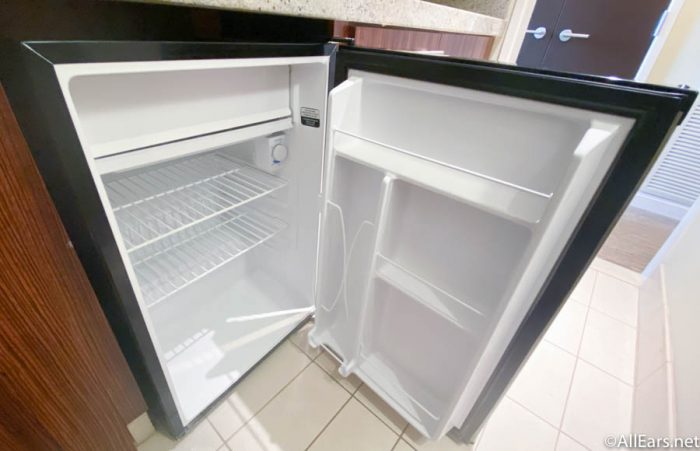 One-bedroom villas and larger will have full kitchens with larger refrigerators.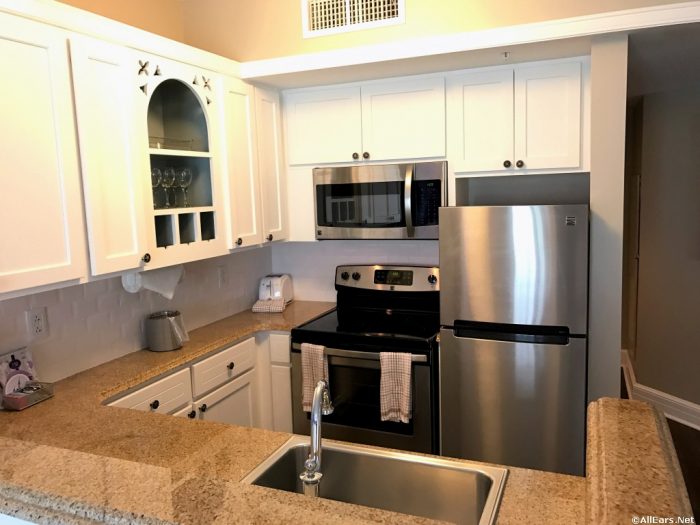 Shelves
Every Disney Resort hotel room has some shelf storage. Typically this is found on the entertainment stand and/or within the bathroom vanity. Updated rooms seem to be gaining some additional shelf space, as seen in All-Star Movies' refurbished rooms.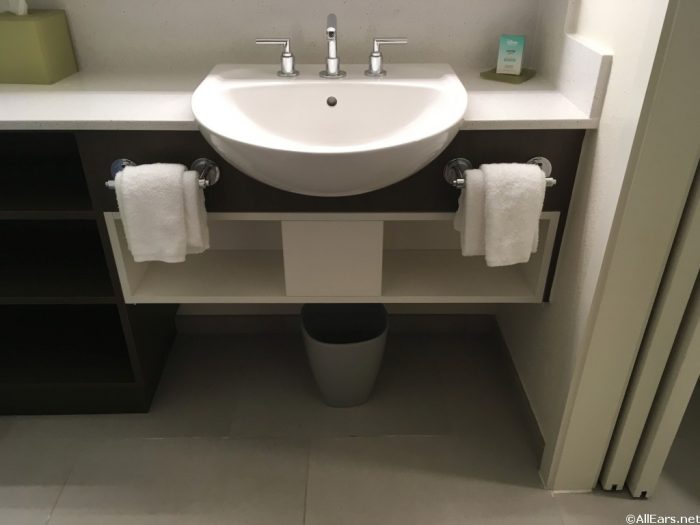 Of course, the larger the room, the more opportunities for storage, built in or otherwise. For those looking to bring a lot of their own groceries or who plan to prepare food for much of their vacation, Deluxe Villas by far offer the most space.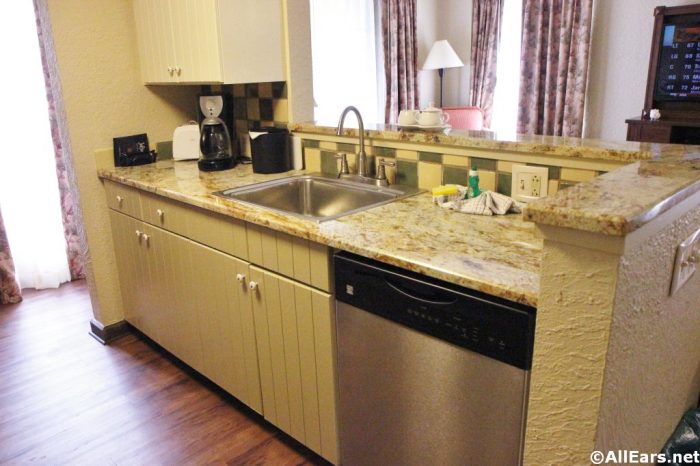 Be sure to research the storage options in your room before you decide how much you'll purchase in terms of groceries (or, perhaps, how much you'll pack overall).
Alternative Storage
In addition to built-in storage options, you can also create storage opportunities yourself. If you plan to settle into your room by emptying your suitcase into the provided dresser drawers, you may toss packaged snacks into your luggage for safe keeping throughout your stay.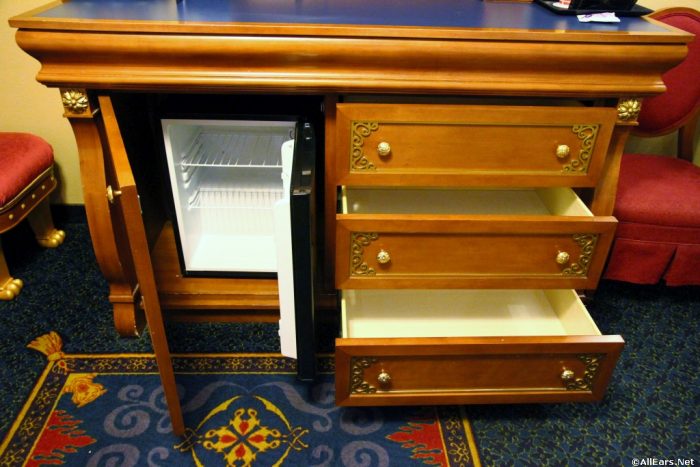 You could also consider bringing some collapsible bins to organize your groceries, too. These can be found at any box store, online, or in your kids' toy storage at home.
If you're driving to Disney World, a few milk crates stacked up can make an impromptu shelving unit, which you can squeeze into a free corner of your room.
Recommended Grocery Items
Most people who purchase grocery items for their Disney World vacations will look for some standard things:
Bottled Water (by the case so you can carry it into the Parks with you)
Goldfish Crackers, Applesauce Pouches, and Kid-Approved Snacks
Gum (you won't find this at Disney World)
Bottled Beverages (like Gatorade and Pepsi, which can't be found at Disney World)
Juice Pouches
Small Packaged Snacks (bags of chips and crackers, granola bars, etc.)
If someone in your traveling tribe has an allergy and is more comfortable with familiar snacks, packing those or getting a load of appropriate groceries might be worth the peace of mind.
Otherwise, the financial savings can be significant, even if you're only purchasing snack items to carry with you and are still eating full meals in the Parks. Snacks at Disney World typically start at $5 and go way up from there, and that adds up quickly no matter the size of your traveling party.