Watching your tiny tykes experience Disney for the first (or even the umpteenth) time is pretty great . . . for the most part.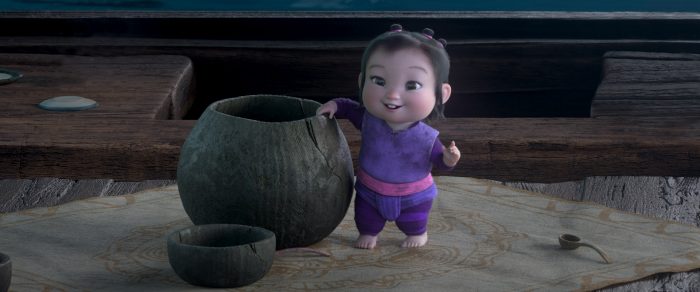 If you have children, you probably already agree with us. Meltdowns, diaper changes, and naps in the middle of Fantasyland are all part of the Disney-with-kiddos norm.
So are strollers. So. Many. Strollers.

Strollers can be a pain. From lugging them around the parks to locating them within the stroller masses, sometimes you might've wished you chose to carry around your child rather than deal with the extra set of wheels.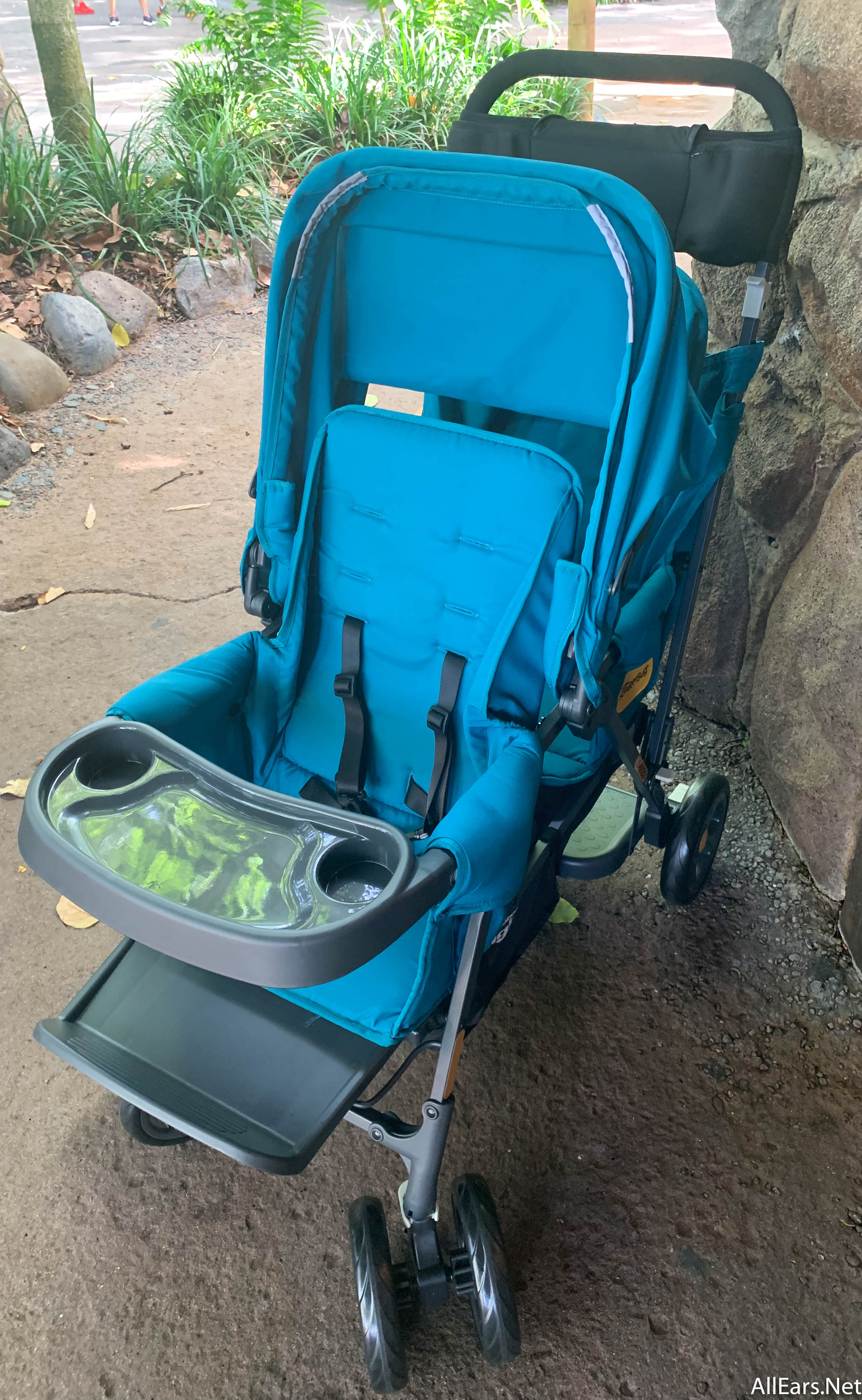 Don't worry — you made the right decision. You do *not* want to carry around a kiddo all day at a Disney park.
We're going to give you our best navigating-Disney-with-a-stroller tips so the process becomes more of a blessing and less of a burden.
Before You Leave for Vacation
While you're playing Tetris with your luggage to make sure everything fits in the trunk juuuuust right, make sure the stroller you're trying to squeeze in meets Disney regulations.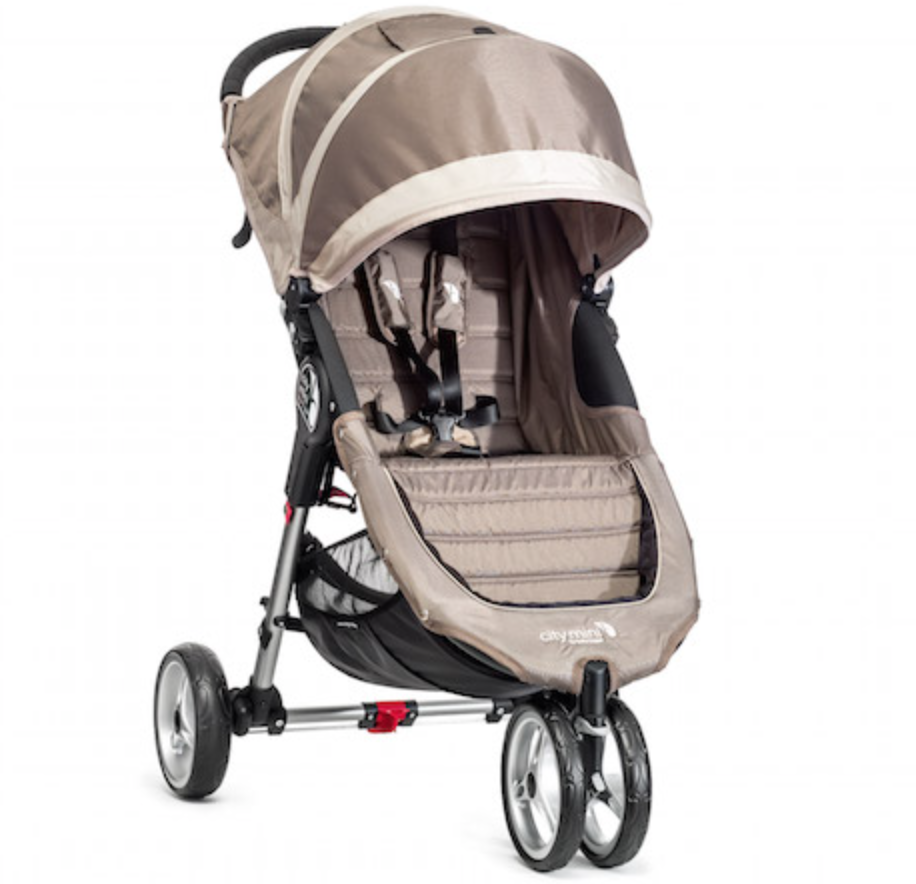 Back in May of 2019, Disney implemented stricter stroller guidelines to help prevent overcrowding and traffic jams while walking around the parks. Now, strollers must be 31 inches wide and 52 inches long or smaller to be allowed into the parks.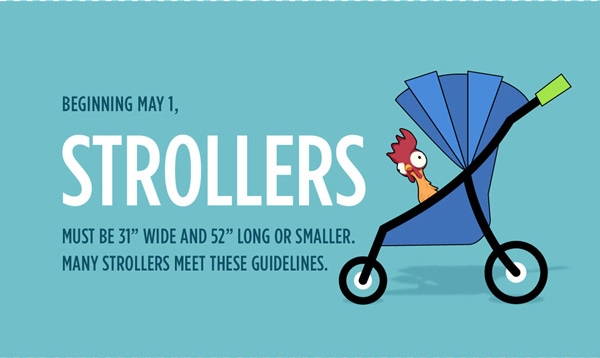 Wagons and stroller wagons are no longer allowed.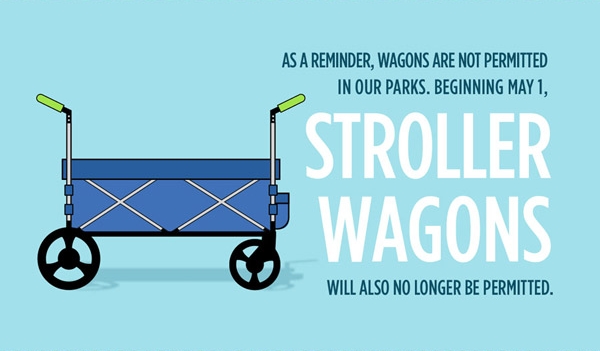 To prevent confusion and future arguments, make sure your stroller meets those guidelines. Disney assures that most strollers will fit these guidelines — even double joggers.
But if you still manage to accidentally take a stroller with you that doesn't meet Disney standards, Disney does have strollers on the property to rent.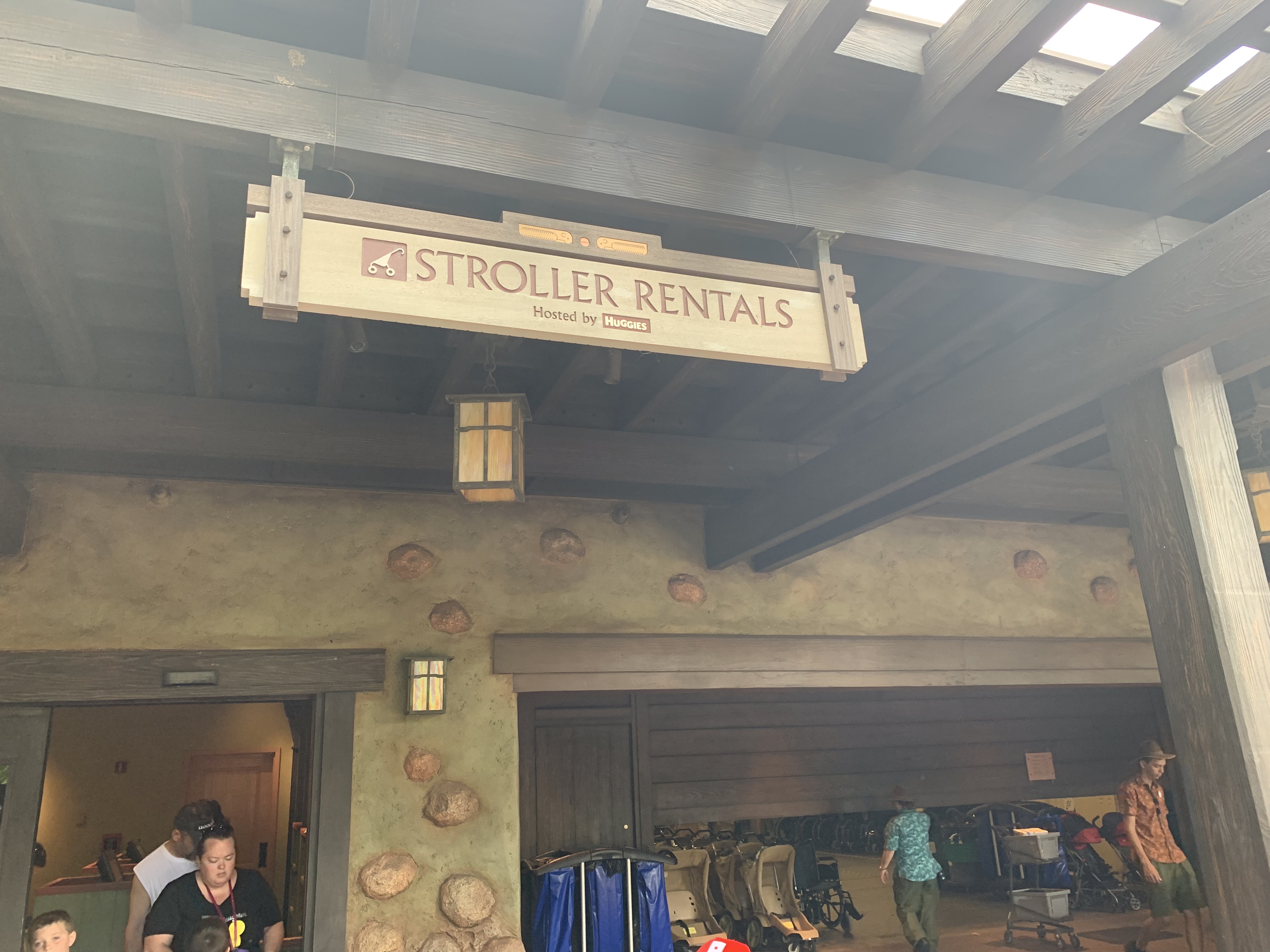 Single stroller rentals are $15 daily or $13 for multiple days (paid up front for length of stay), and double strollers are $31 daily or $27 for multiple days.
When It Rains
You're vacationing in Florida — so it WILL rain! This means your stroller will get wet!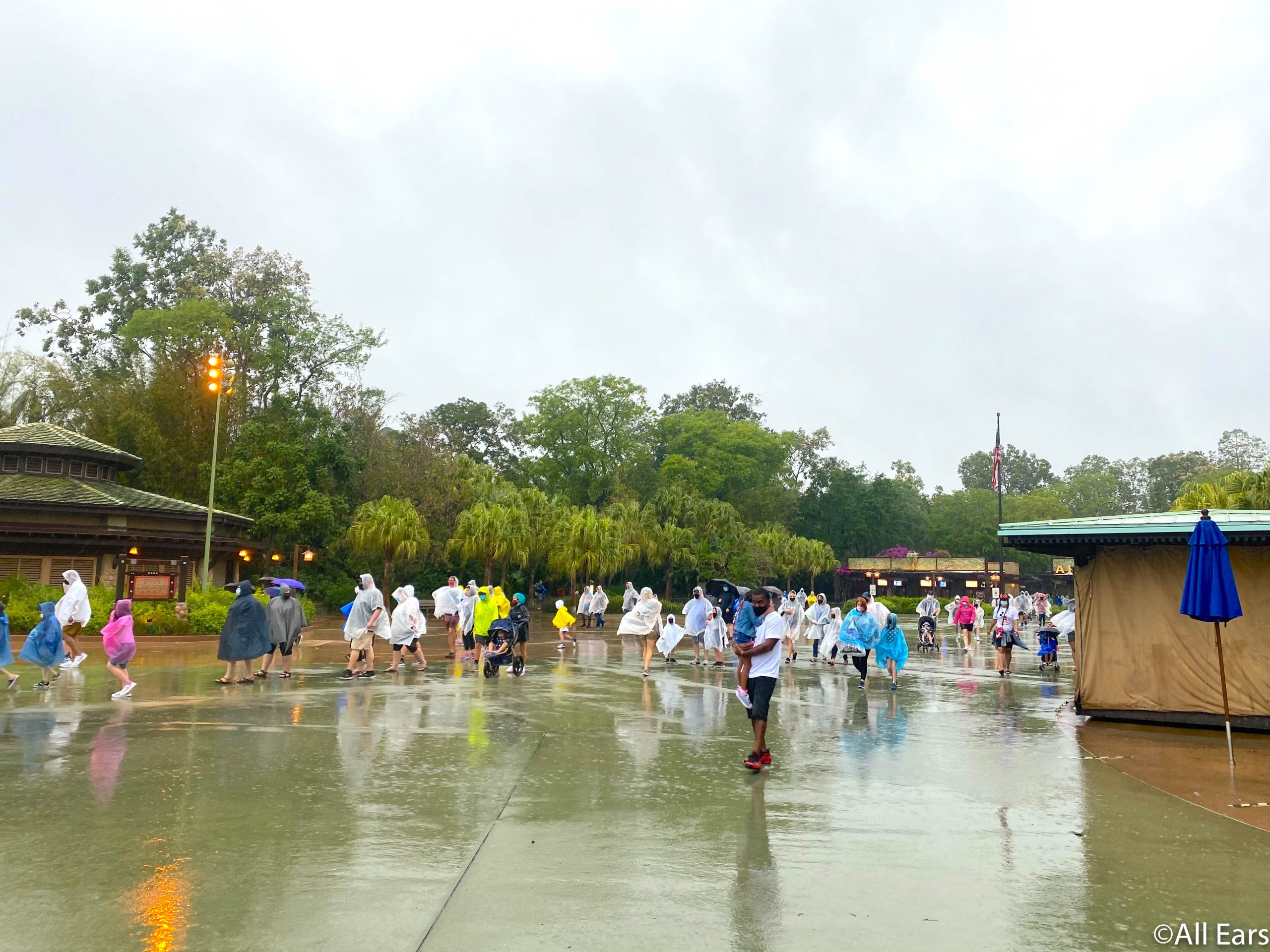 Consider investing in a stroller poncho. These usually run around $15-$25, depending on the retailer, and are a great option for guests who not only want to keep their kiddo nice and dry but also for guests who want to protect their snacks, electronic devices, and other miscellaneous items that might get shoved into those netted stroller pockets throughout the day.
(One thing can be said about a stroller — they make an EXCELLENT oversized purse!)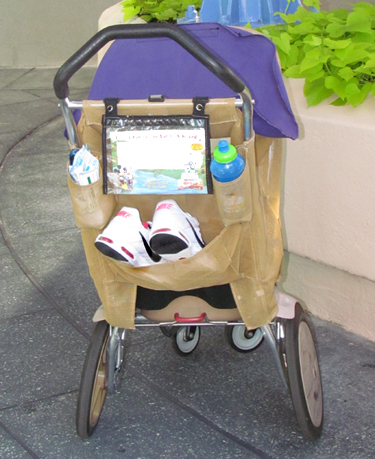 If your stroller is already pretty water-resilient, just make sure to utilize that stroller hood when the afternoon Florida storm strikes. You don't want to forget and leave your kiddo soggy the rest of the day!
For When It's HOT
Strollers — especially the ones with the darker colored fabrics — will catch that Florida heat and get HOT.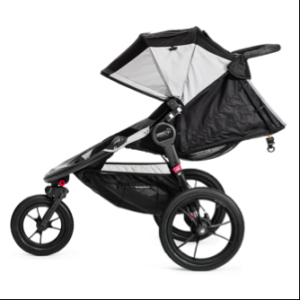 To prevent your kiddo from getting all roasty-toasty during the day, make sure you keep that stroller hood down to block out any unwanted rays from giving tiny noses a sunburn.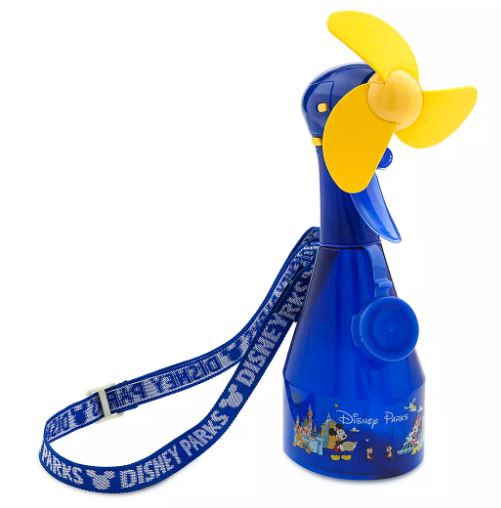 Also consider investing in a clip-on fan or a handheld misting fan. Fans usually range from $15-$25 and are a nifty way to help your kiddo beat the heat (or, at the very least, tolerate it).
For When The Stroller Is Parked
Strollers are not allowed to go inside queue lines for almost all attractions (again — to help improve the flow of traffic), meaning you'll have to park your stroller outside of the rides and show buildings in designated Stroller Parking zones.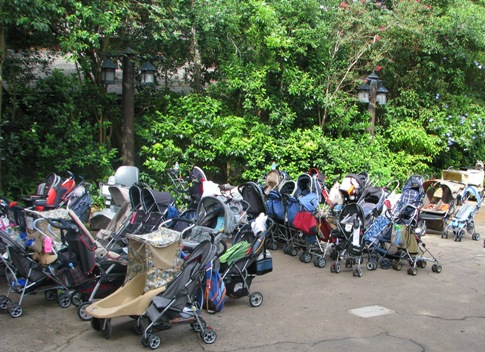 There are designated Stroller Parking areas at pretty much every attraction, but there will be a LOT of strollers using this space alongside your own. To prevent wasting time searching for your stroller every time you exit an attraction, consider adding a little decorative flourish to your stroller to help it stand out from the crowd.
Here are a few of our favorite ideas:
Tying a Disney balloon to your stroller handle
Purchasing a stroller that's a unique/bright color
Wrapping battery- or solar-operated Christmas lights around the sides (which will REALLY be handy in the evening)
Creating a personalized sign to post on the back
You get the gist. Think of something eye-catching that'll make you go, "Hey! There's my stroller!"
For When You're Uncomfortable With The Idea Of Leaving Your Stroller Behind
If you don't like the idea of abandoning your stroller in the stroller-masses, you may want to think about using Rider Switch.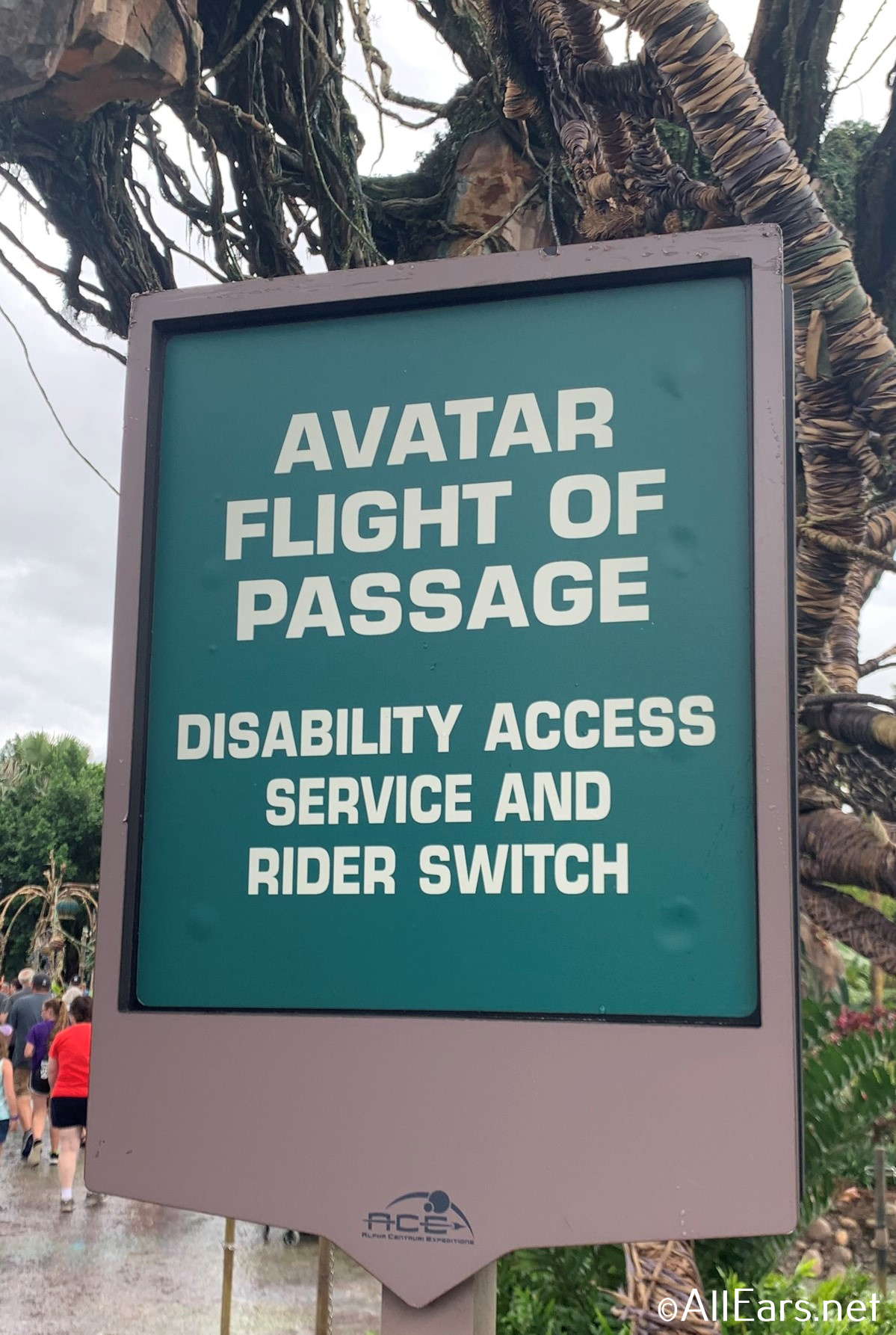 Disney's Rider Switch Service (often referred to by other guests as "child swap") allows travel parties to take turns experiencing a ride without the entire party having to wait in the queue — meaning you could stay with the stroller (and your kiddo, if they don't reach the height requirement) while the other members in your party experience the ride.
Then, after they're finished, your party will tag-team you, so to speak, so that you can experience the ride as well while the rest of your party watches the stroller/kids.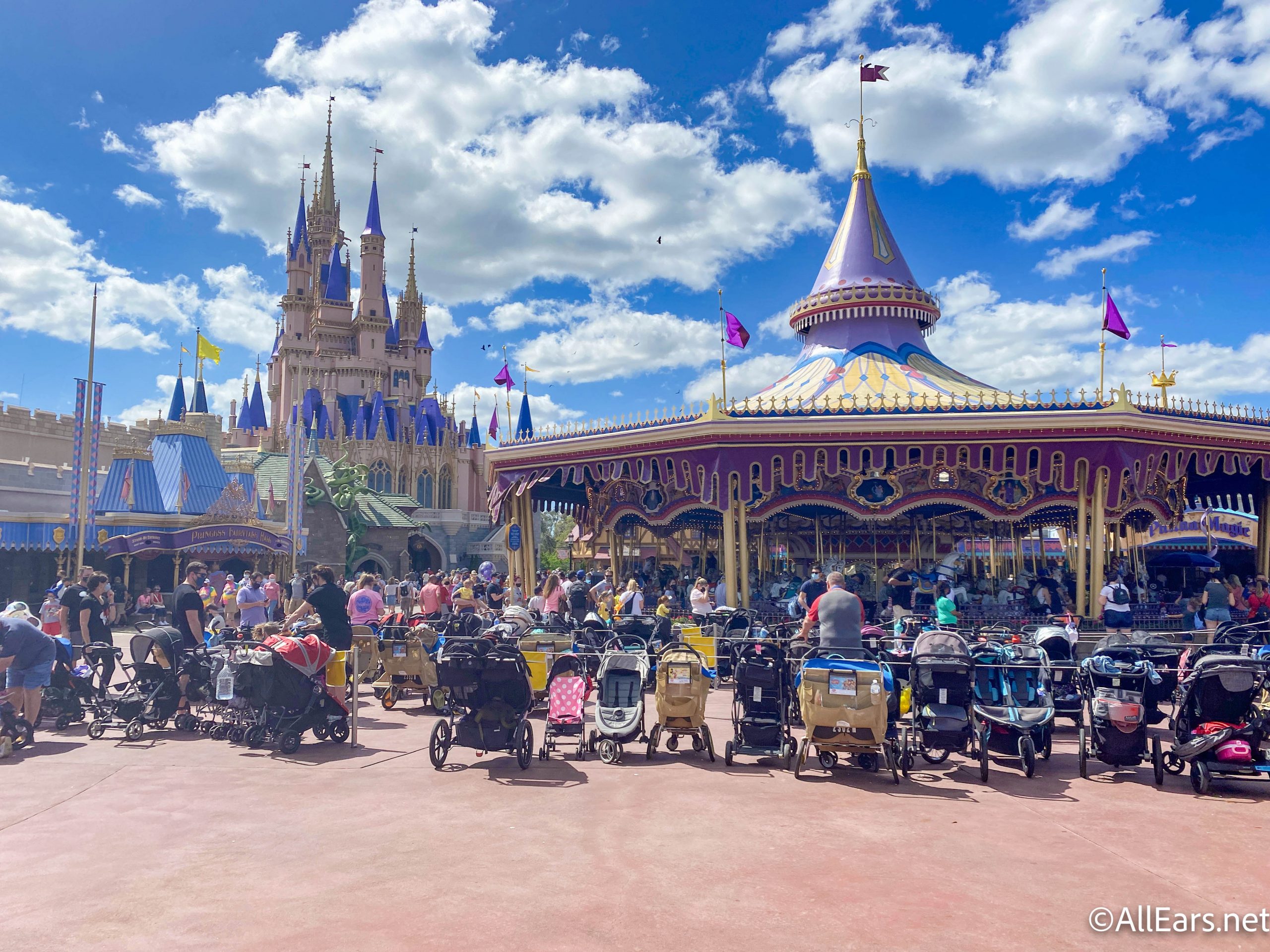 How does it work? Just follow these five easy steps:
First, talk to a Cast Member and make sure the attraction offers Rider Switch. Most rides on the property do, but you always want to double-check!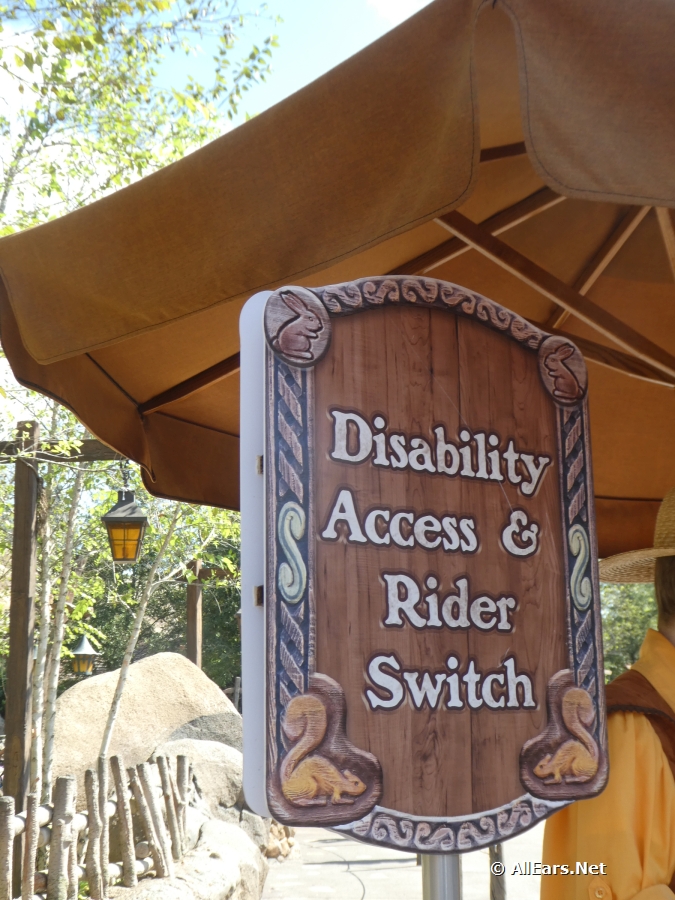 Second, arrive at the attraction with your entire group and approach the Cast Member stationed at the front of the queue. Anybody who will be staying behind first in your party will be given a Ride Switch pass (typically scanned onto your MagicBand) and be asked to wait in a reserved area nearby.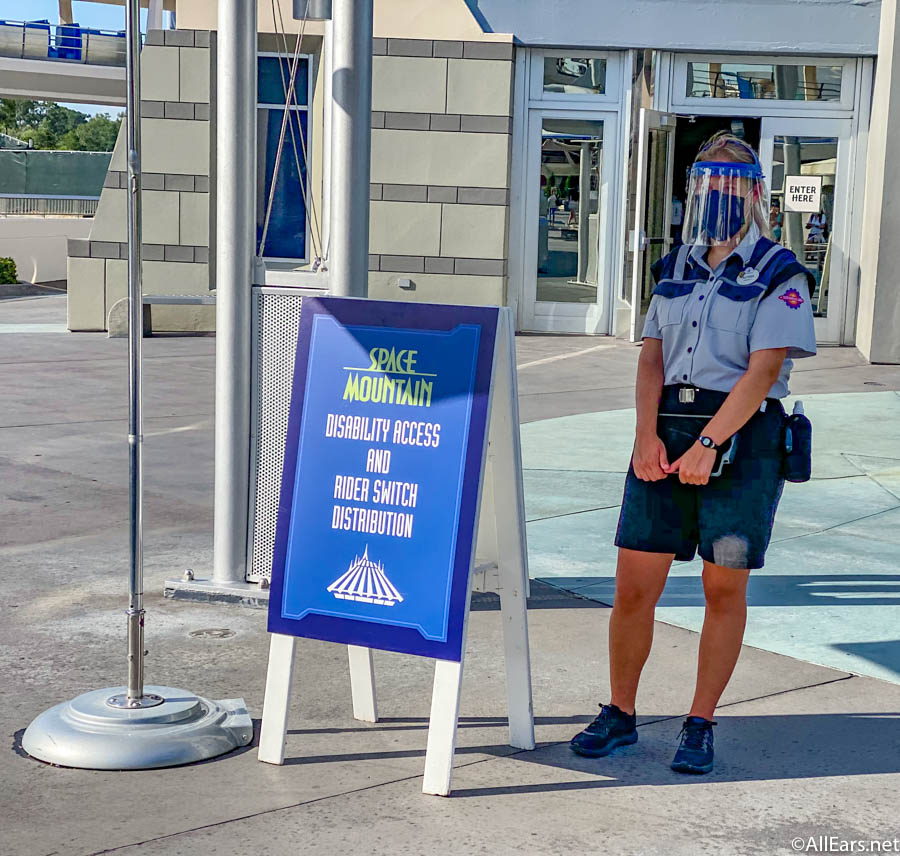 Third, the first part of your party will ride the attraction while you and anyone else waiting with you will, well, wait. (This is a good time for a snack break!)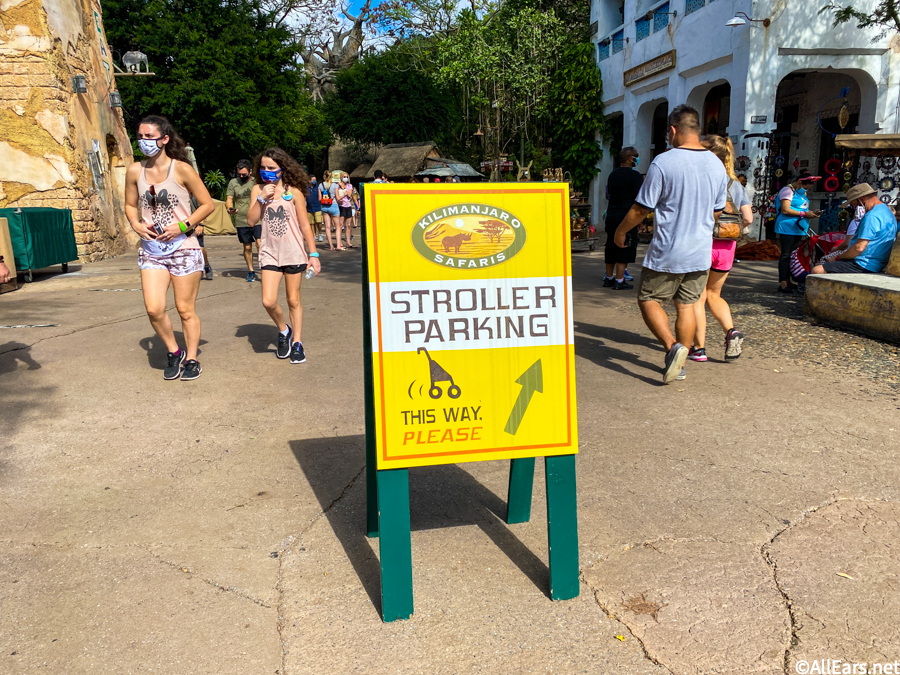 Fourth — once the first part of your group has experienced the attraction, it'll be your turn to ride! Hooray!
Fifth (and finally), you and anybody who has a Ride Switch pass will present the pass to the Cast Member at the attraction. The CM will use this pass as if it were a "Fastpass" and allow you to skip the queue and jump right on the ride. Easy peasy! Learn more about Rider Switch here.
For When The Parks Are Crowded
Remember to be mindful of other guests while driving your stroller around the park! We can't tell you how many times our ankles have been accidentally nicked by a stroller. We know you don't mean to (at least, we sure HOPE you don't!), but ankle-biting strollers can hurt! Make sure you leave plenty of room between you and the guests in front of you, and if you want to take a look at your surroundings and soak in the Disney Parks atmosphere, pull off to the side and stop to avoid accidentally ramming into the folks in front of you.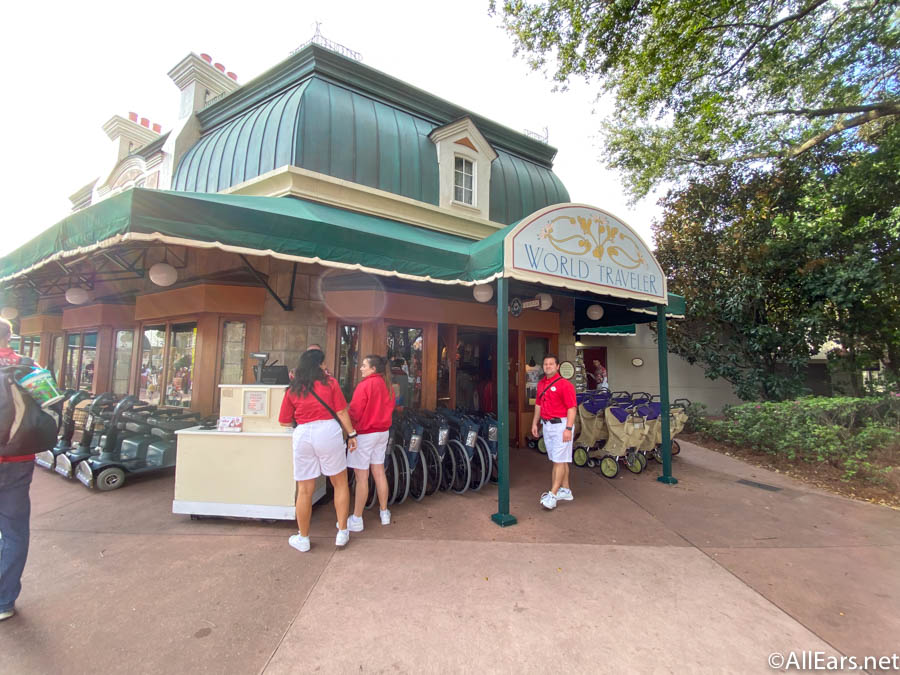 Also, if you have a squirmy toddler riding in your stroller, make sure their "hands and feet remain inside while the ride is in motion." When parks are busy, it'll be easy for you to get distracted by other pressing issues (like how to get to Seven Dwarfs Mine Train when you're still over in Adventureland grabbing a Dole Whip).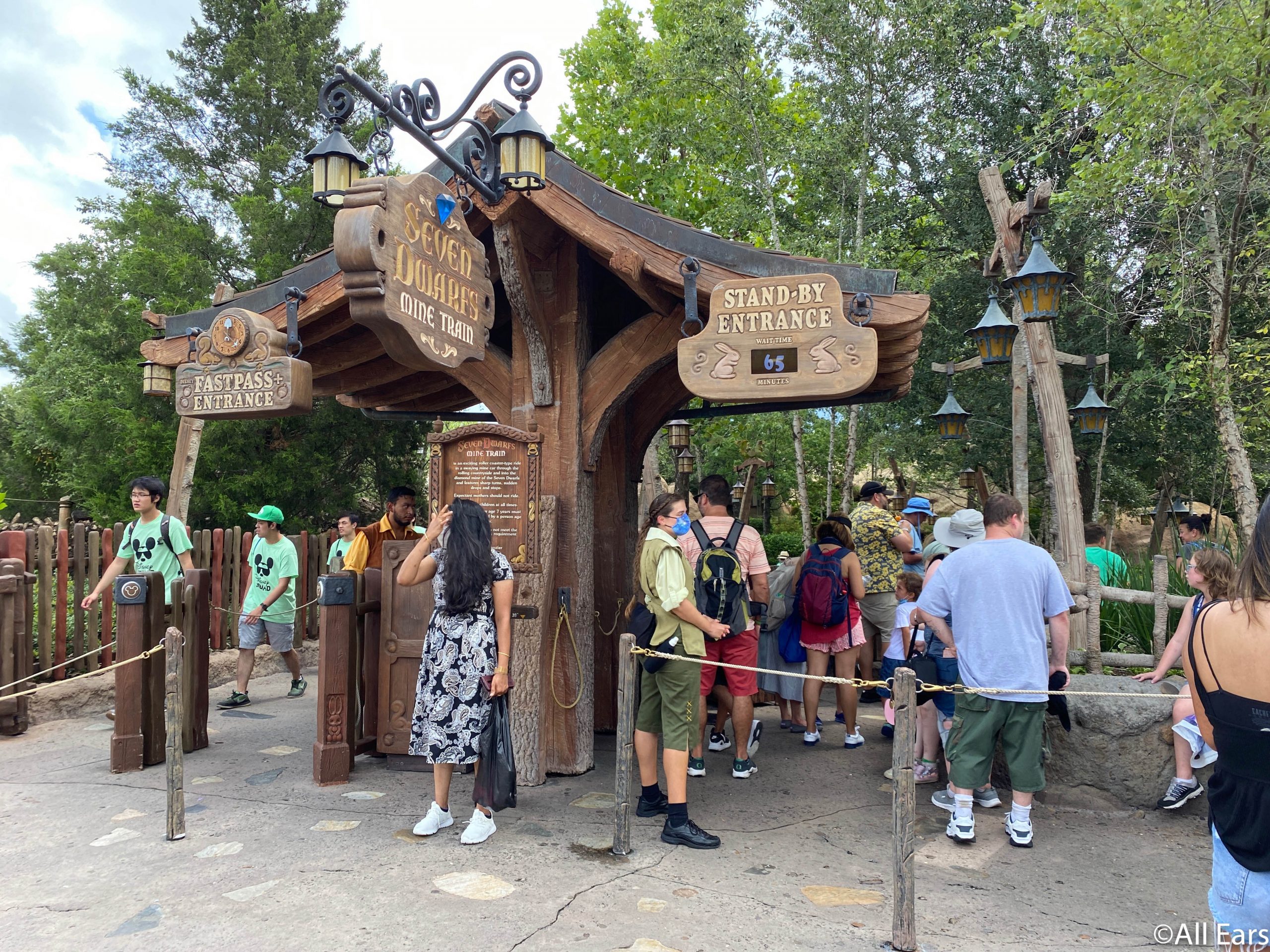 Have a designated person in your party keep a close eye on the stroller, just in case Little One decides to reach out and touch one of the wheels or slip out of the vehicle while it's moving.
You can also help keep track of your kiddo by asking them questions from time-to-time. Even if they don't answer back, it helps them know you're still there and aware of where they are.
For When You're Standing In Line To Board Disney Transportation
Boarding Disney transportation can be a hassle when you've got a stroller.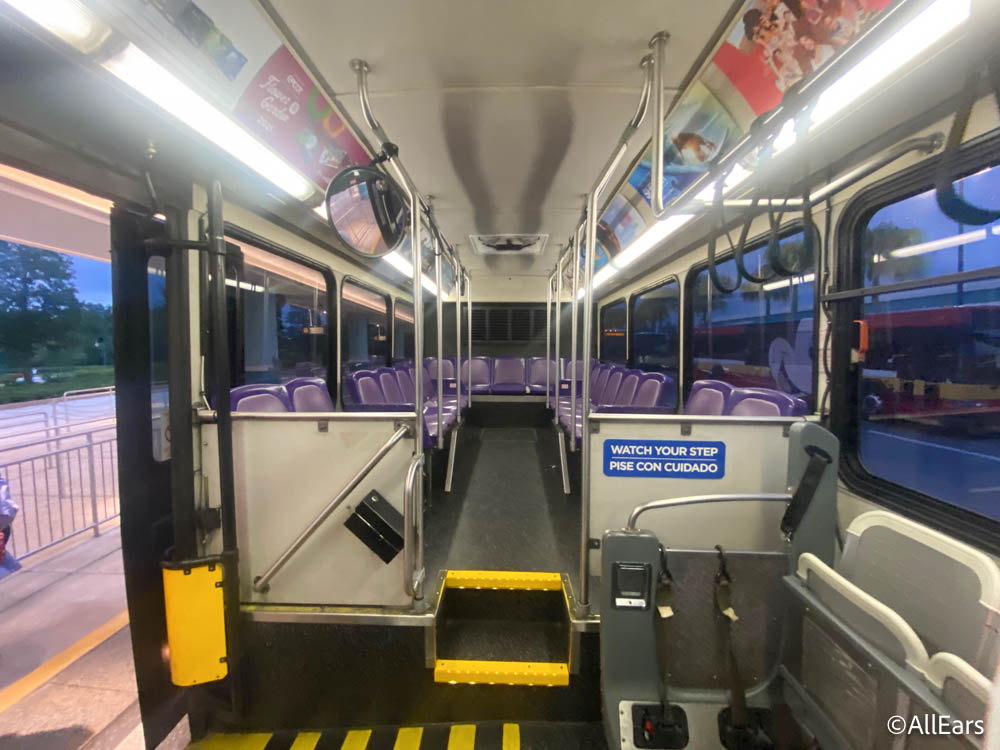 Strollers must be folded up before boarding a Disney bus to allow more passengers aboard. Don't wait to start folding up your stroller until you are at the front of the line! You don't want to hold up the line for the Cast Members, other guests, or even yourself.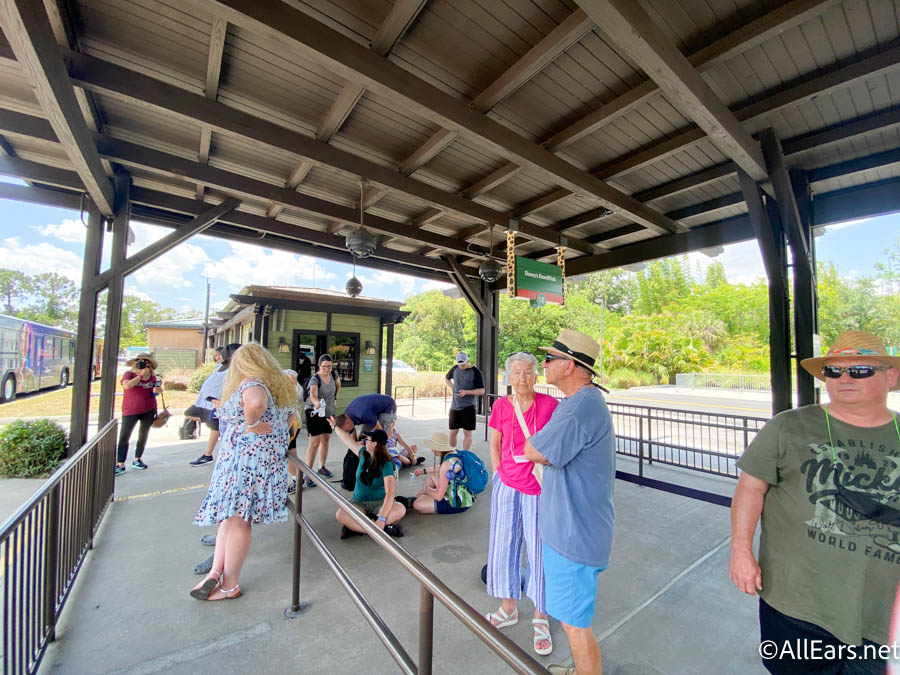 It usually takes a bit for a Disney bus to show up, so use this time wisely and start preparing your stroller for the boarding process ahead of time. (Just make sure all kiddos have taken a step or two away from the stroller so you don't accidentally pinch any tiny fingers!)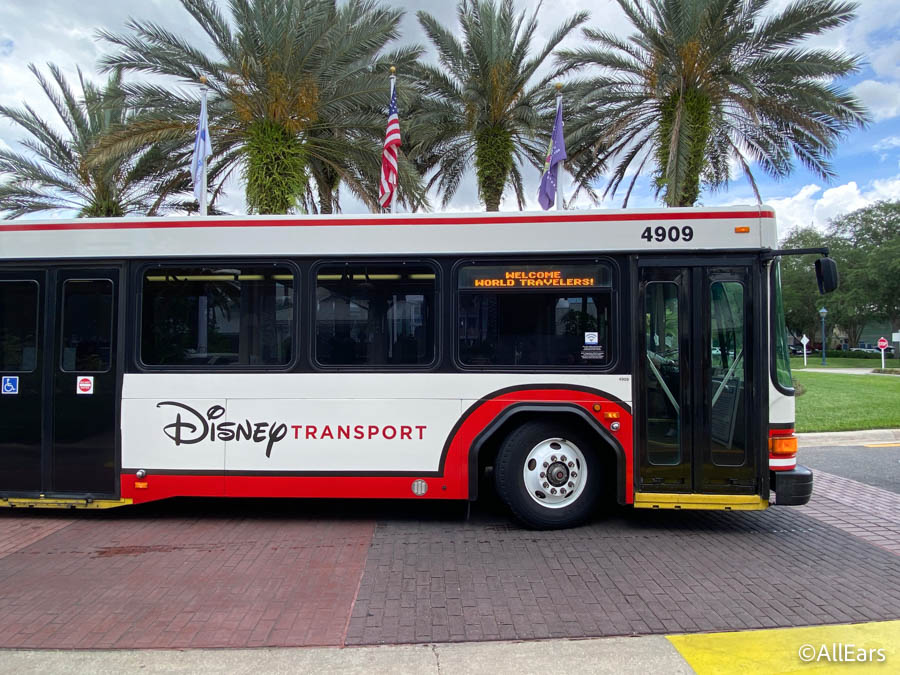 If you have a double jogger stroller that you're bringing onto the Disney Skyliner, the same rules apply — just make sure to have it folded before you board. However, if you have a single-seat stroller, you may push it onto the Skyliner as is, just as long as everyone else on board will be able to sit comfortably.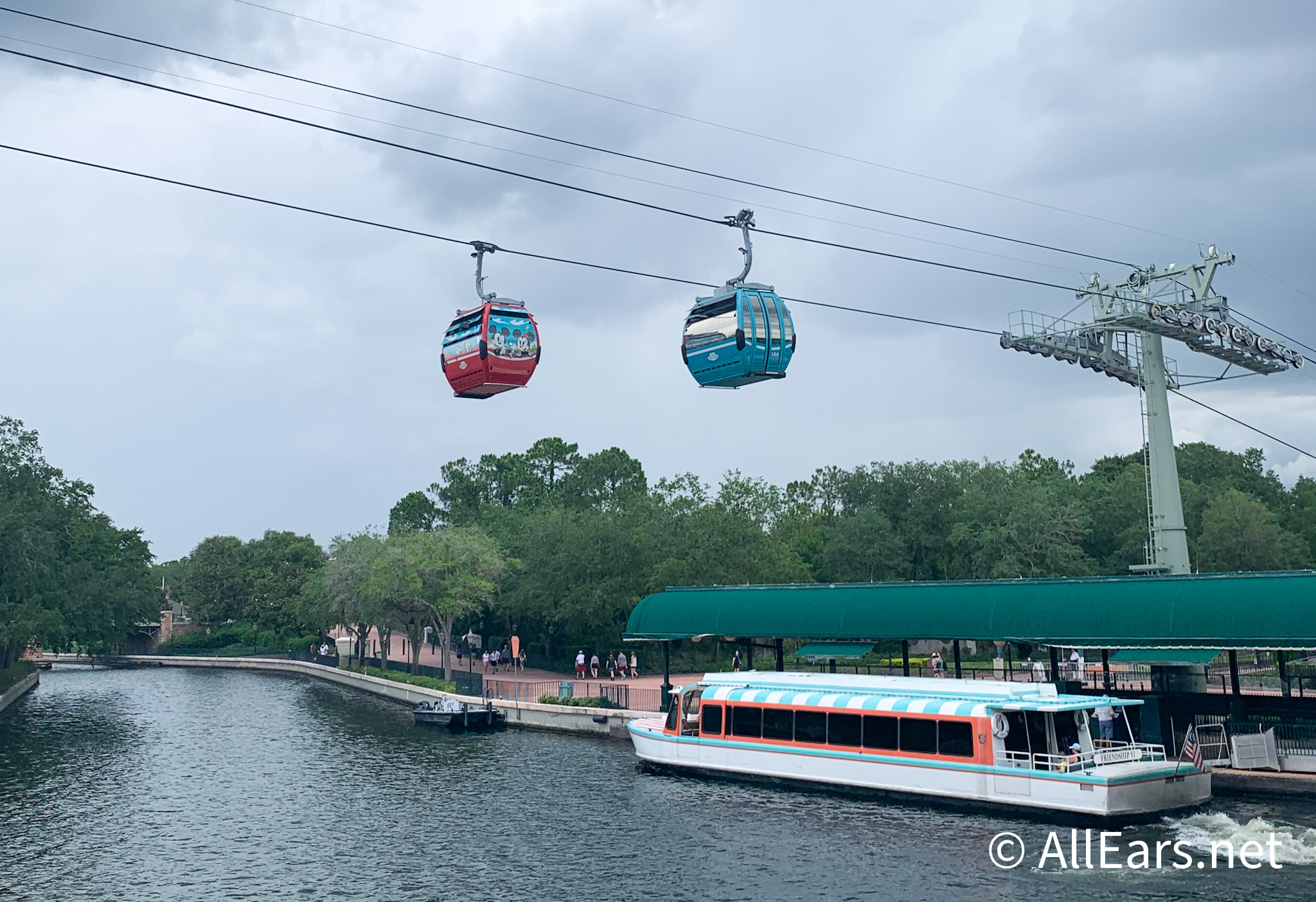 Time to take on the Disney Parks by storm with your trusty stroller-steed at-the-ready!
Join the AllEars.net Newsletter to stay on top of ALL the breaking Disney News! You'll also get access to AllEars tips, reviews, trivia, and MORE! Click here to Subscribe!

What are your best tips and tricks for navigating Disney World with a stroller? Drop your advice in the comments below!