The age old question actually isn't "to be or not to be," it's "to bring a stroller to Disney World or not?"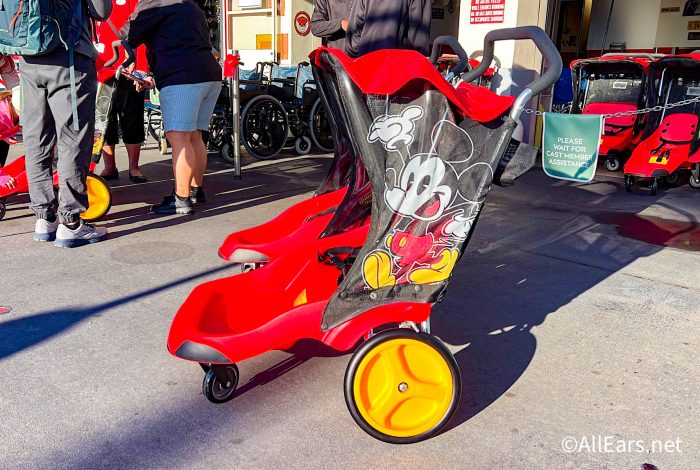 Many people wrestle with the question of whether they will actually need their stroller in the parks or whether it would just be a hassle to deal with. This becomes even more difficult to decide when your children are old enough to walk!
You may think that because they are capable of walking just fine in their day-to-day lives that bringing a stroller would be a waste, but many parents will tell you that's not the case! Disney World is a beast, and it isn't unusual for adults to hit 20,000-30,000 steps each day. While your little one may not use the stroller the entire time, it can be extremely helpful to have it on hand for when they need a break. If you're still not sold on the idea of bringing your own,
an easy way to use a stroller only when you need it is by renting one from Disney
!
Renting a Stroller in Disney World
Disney World offers rental strollers, which can come in handy when you didn't bring your own but find yourself needing one. Another positive to renting is that you won't have to figure out whether your stroller follows Disney's guidelines.
Stroller rental locations are available at each park and in Disney Springs, usually right at the entrance. To rent a stroller in Disney World, simply head on over! A single stroller costs $15 per day, but if you want to commit to renting for multiple days the cost goes down to $13 per day. These are best for children 50 pounds and under. For children 100 pounds and under they have double strollers for $31 per day, and $27 per day for a commitment to renting for several days. If you are renting for more than one day you'll have to pre-pay, but you won't have to keep it with you the entire trip! At the end of your theme park day, return your stroller, and the next day you can head back with your ticket to pick up another.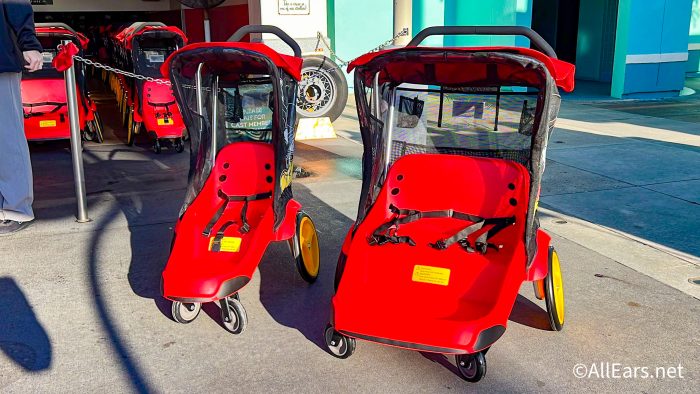 One thing to keep in mind is that Disney World cannot ensure there will be strollers available. Sometimes they do run out, particularly on busy days when the parks are near capacity. If you have paid for multiple days and know you'll need a stroller each day, we recommend arriving early to the parks for the best possible chance of receiving a stroller for the day. Of course, if you are unable to get one when you visit the stroller rental in the morning, you can always check back later to see if any have been returned.
Disney World Stroller Rules
Even though you don't have to worry about Disney's stroller dimension guidelines, there are some other rules you'll need to be aware of when using a stroller in the parks. Here are some of the most important:
Strollers are not allowed on most rides or in lines for rides.
There are designated stroller parking areas located around each of the parks where you can leave your stroller while on rides, in certain restaurants, or in any other area where strollers may not be permitted.
Strollers are not allowed on escalators. Strollers are permitted on elevators and ramps, available at certain locations.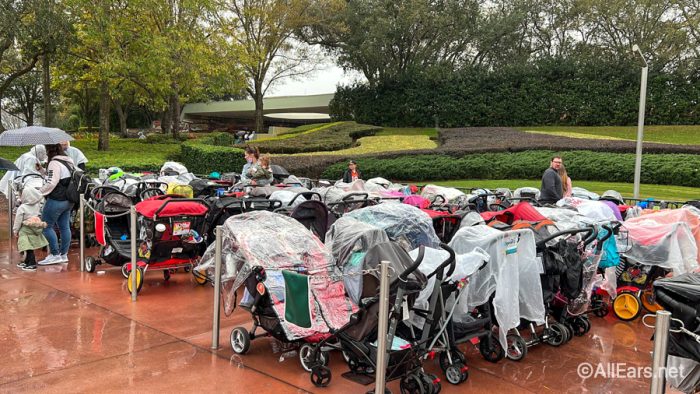 Most quick service restaurants allow strollers.
Be prepared to not be able to use your stroller inside of a table service restaurant; most have a no stroller policy.
If you plan to rent a stroller from Disney, these cannot be taken out of the parks. This means you can't bring your Disney-rented stroller back to your resort. If you need a stroller for the resort and are not planning on bringing your own, there are 3rd party rental companies or you can purchase your own.
For more in depth information on Disney World's stroller rules and guidelines, you can check out this post!
What Ages Need a Stroller in Disney World?
This is when you have to consider your child's needs. You know them best! Consider how they've done on other trips, especially any vacations you have taken them on that required a lot of walking. We cannot emphasize how exhausting Disney World can be, between the long days, excessive walking, and heat. This is why you'll often see older children in strollers who wouldn't normally use one outside of the resort.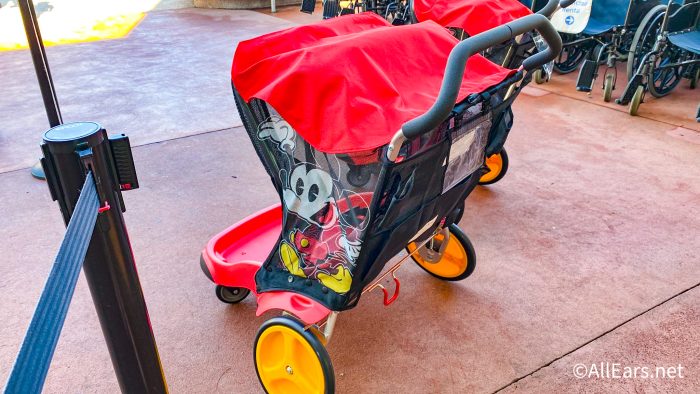 Remember, using a stroller can be for the comfort and convenience of both the child AND the family. Instead of having to cut your day short and head back to your resort (and perhaps have others miss out on in-park experiences), a stroller can allow for someone to sit with the toddler while they relax or even nap. Strollers can also provide some much-needed shade for little ones who can easily become overheated. Plus, if you are planning on carrying a lot of necessities into the park (water bottles, snacks, sunscreen, spare clothes, etc.) or doing some shopping, a stroller can alleviate the burden!
Tips For Strollers in Disney World
We've learned some hacks that can make your stroller experience much easier. Check out these tips:
When renting Disney World's stroller it's easy to lose them in the sea of other identical strollers. While the Disney strollers have a pocket to add your name to the back, this can be difficult to see from far away, and when you need to pick up your stroller from a parking area after dining or getting off of a ride you'll want to spot it quickly so you can get on your way. Some different ways you can personalize your rented stroller are by added colorful ribbons to the handle, hanging your popcorn bucket off the side, or even added a battery-powered string of lights for easier visibility at night!
You can also add detachable accessories to personalize your stroller even more and make it work for you. Stroller fans are a great way to keep your little one cool and can clip right onto the handle. A rain cover is something else they might appreciate, especially because the seat area is so open! We've also seen guests add detachable cup holders too, which is a great way to free up your hands.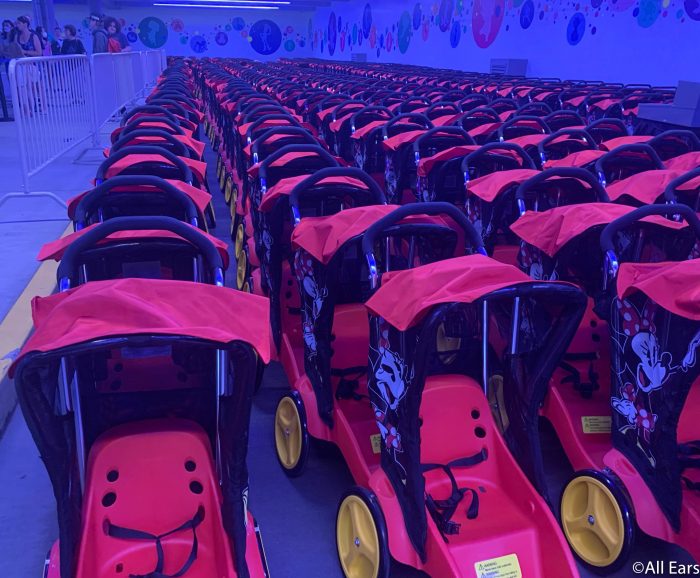 When you park your stroller to go into a ride queue or restaurant, you may be able to come back out and retrieve it yourself. If it isn't where you last left it don't panic! Strollers may be moved by a Cast Member as they retrieve them for other guests, so it's probably just been placed in another area.
Another tip when leaving your stroller for a moment: Don't leave open food in your stroller. The squirrels and birds at Disney World are cute, but they aren't necessarily polite and may come by to grab a snack! Tightly close or seal food when possible, or layer under other objects to discourage tiny thieves.
A lot of what we shared comes from experience, and you'll also learn more about what works best for you and your family as you go. Don't be afraid to try new things (and make mistakes!). Ultimately, what's most important is that you all enjoy your trip! We hope this provided you with some helpful information for your next trip, and be sure to keep checking our site for more tips and tricks for Disney vacations!
Comment below what your strategy is for taking smaller children to Disney World!