Welcome to the 2022 EPCOT International Flower & Garden Festival! The 2022 Festival of the Arts just ended, and now it's time for some blooming flowers and tasty eats!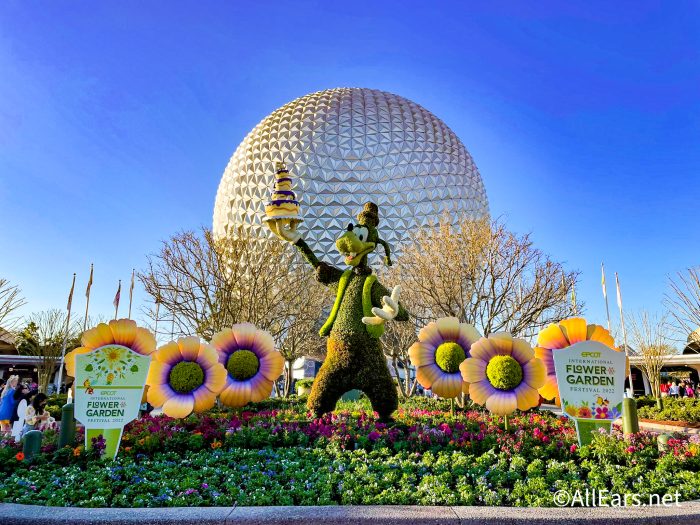 The festival is set to run all the way through July 4th, 2022 and we're checking out ALL the new and returning merchandise, eats, topiaries, and more as the festival kicks off, so come along with us at the Flower & Garden Festival today!
Let's take a look at this year's Flower & Garden Festival!
EPCOT opened bright and early at 8:30AM this morning, so we arrived a few minutes early to be sure that we were there when it all began. The first day of a festival tends to be pretty busy with crowds, but we were surprised to find that there weren't any lines to scan in at the entrance when we got there.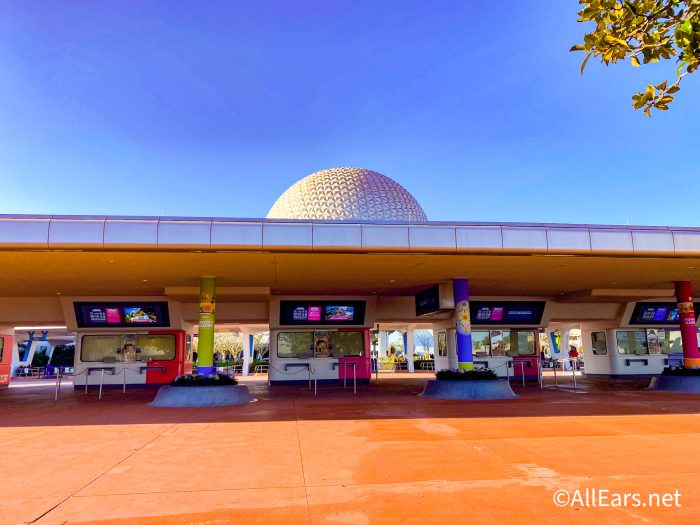 We did stumble upon a larger group of people waiting to be fully let into the park near Spaceship Earth though.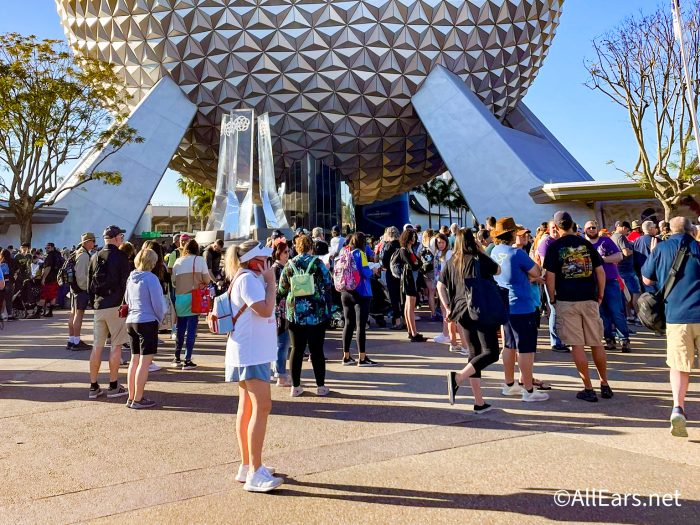 But, we didn't mind waiting around because it gave us plenty of time to take in all the new decorations including the Goofy Topiary at the entrance!
Good morning from the first day of EPCOT's Flower & Garden Festival! 🌻

Follow along today as we explore the festival! pic.twitter.com/uTRwOXS4zK

— AllEars.Net (@AllEarsNet) March 2, 2022
We also picked up a Festival Passport which features details on all the eats and drinks and details on merchandise and activities.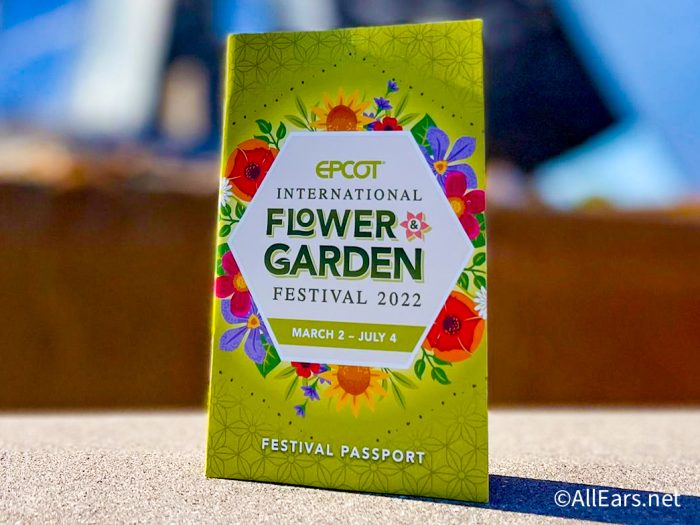 Once the park opened, everyone seemed to be headed to the same spot — the stores. There were long lines to get into Creations Shop…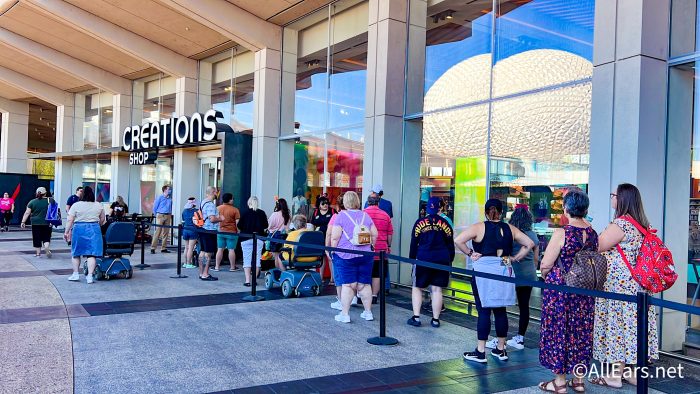 …and Port of Entry.
The festival booths didn't open until 11AM, so that could have contributed to the crowds that we were seeing. But, once the clock struck the hours, we were off to eat!
EPCOT Flower & Garden Food Booths
EPCOT Farmers Feast
Our first stop around World Showcase was EPCOT Farmers Feast which is located near Test Track. The menu here will rotate throughout the entirety of the festival this year and will feature a variety of "hearty" dishes and "savory" sides that are made with farm-fresh ingredients.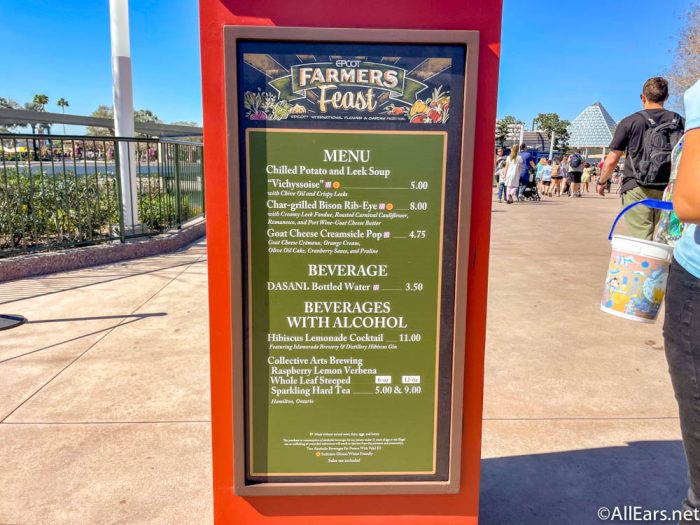 There are FOUR new items at the booth available now through April 9th including the Chilled Potato and Leek Soup "Vichyssoise" with chive oil and crispy leeks for $5…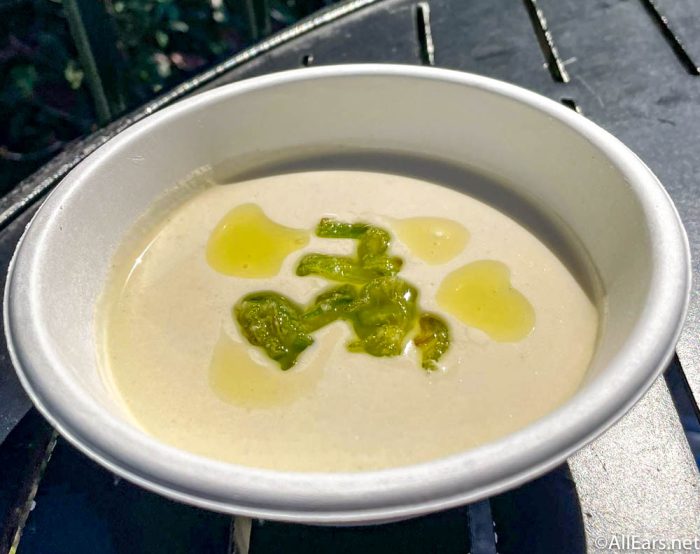 …the Char-grilled Bison Ribe-Eye for $8…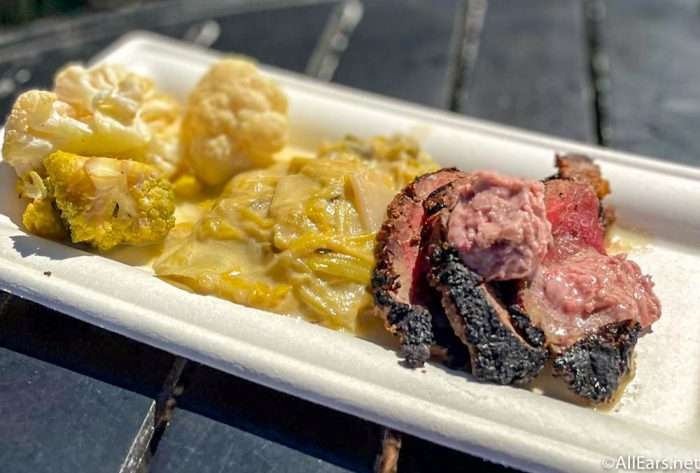 …the Raspberry Lemon Verbena Whole-Leaf-Steeped Sparkling Hard Tea (which you can get in a 6oz cup for $5 or a 12oz for $9)…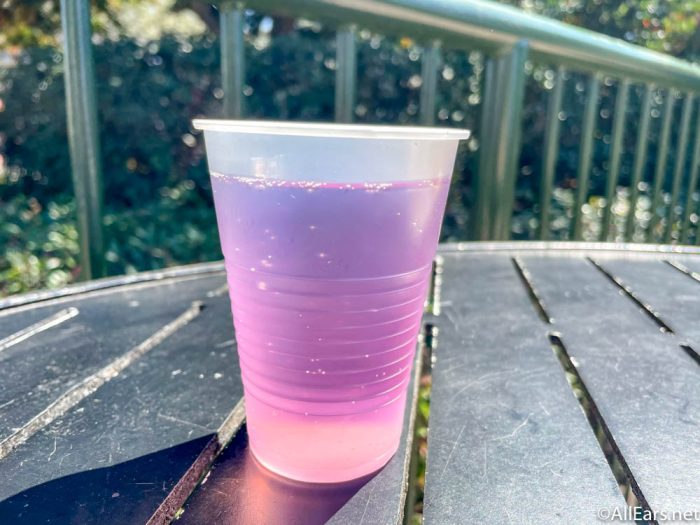 …and the Goat Cheese Creamsicle Pop for $4.75.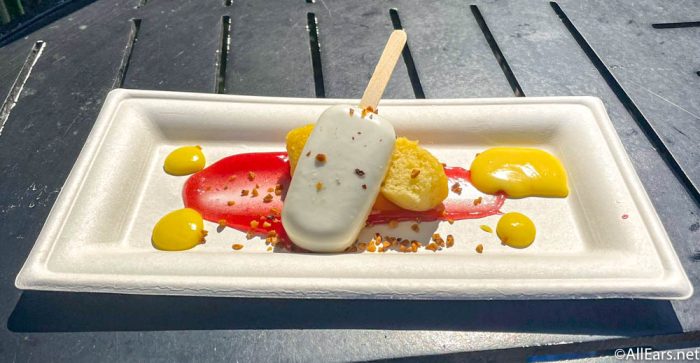 Plus, we also found the Spike The Bee Spork here for $2.50!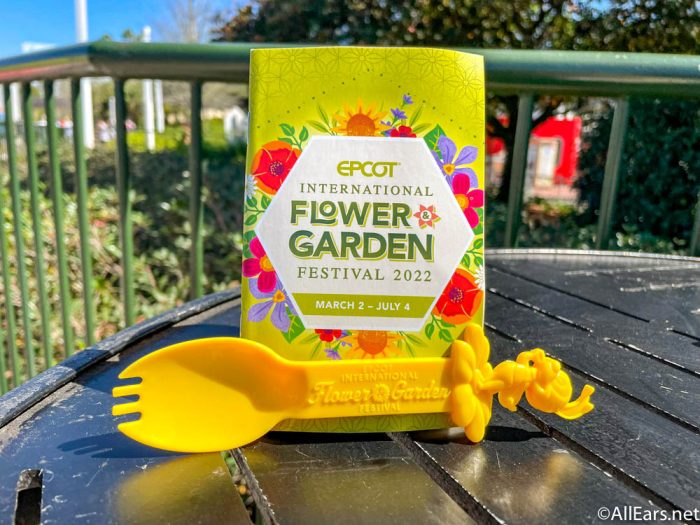 You can pick up this inexpensive souvenir at several festival booths and use it to chow down on all your festival eats!
EPCOT Sunshine Griddle
Also near Test Track is the EPCOT Sunshine Griddle booth. You'll probably recognize this one as the former Donut Box booth, but it has transformed for this festival season.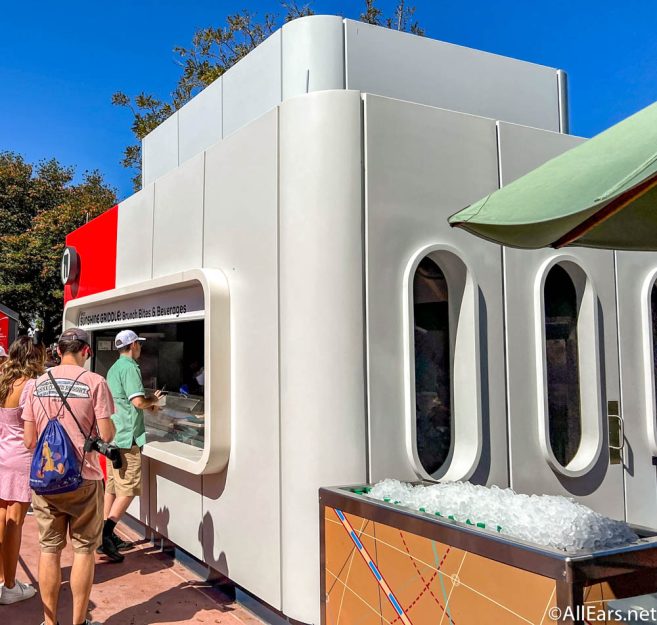 And, if you're a big breakfast person, you're going to want to check out the eats and drinks here!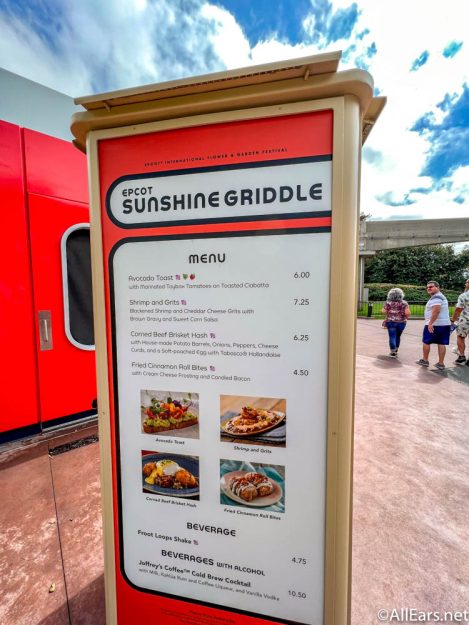 We tried the Avocado Toast with marinated toybox tomatoes on toasted ciabatta, which is a plant-based option that is also part of the Garden Graze food crawl activity. It costs $6.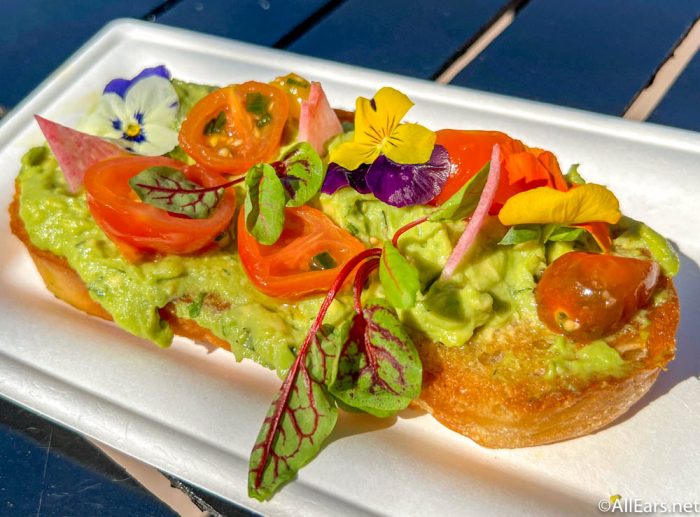 Plus, we also got the returning Fried Cinnamon Roll Bites with cream cheese frosting and candied bacon for $4.50…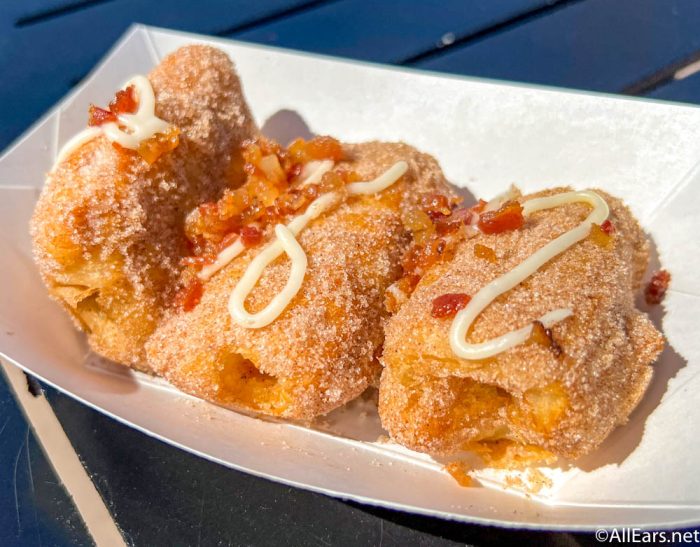 …and the Froot Loop Shake for $4.75. This shake was a different color this year (it was blue at the 2021 festival) and we thought that it tasted even better!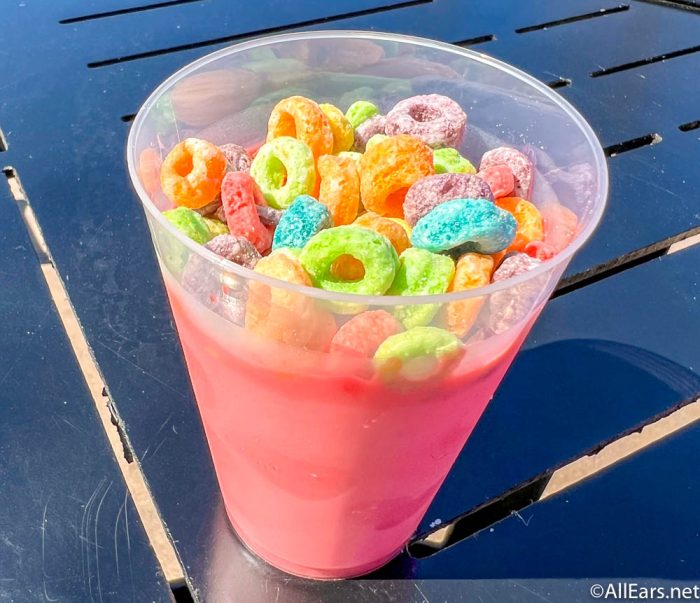 The Citrus Blossom
On the way into World Showcase, we stopped at The Citrus Blossom booth. It is located near the Port of Entry store and the menu is packed with citrus flavors including lemon, orange, and grapefruit.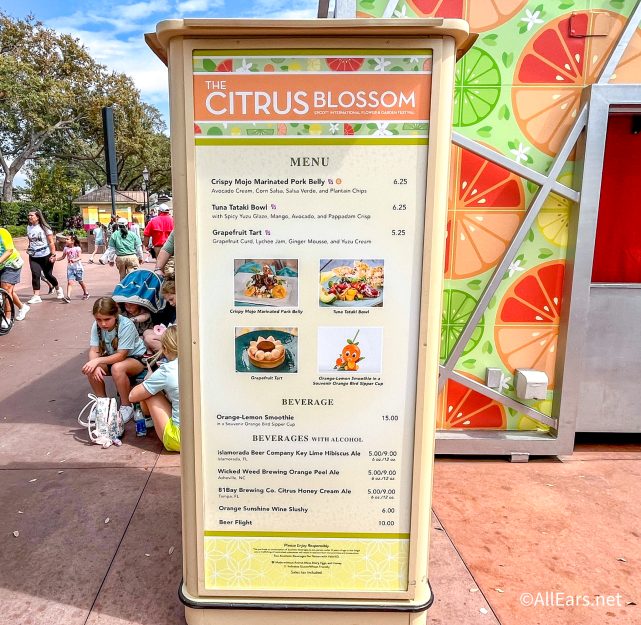 Returning from the 2020 Flower & Garden Festival is the Tuna Tataki Bowl with spicy yuzu glaze, mango, avocado, and pappadam crisp…
…and the Crispy Mojo Marinated Pork Belly, with avocado cream, corn salsa, salsa verde, and plantain chips is new!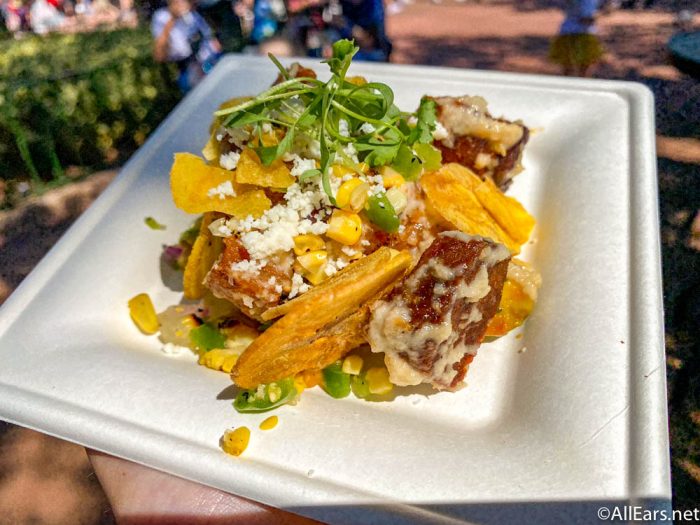 Want something a bit sweeter? There's also the new Grapefruit Tart which is made with Grapefruit curd, lychee jam, ginger mousse, and yuzu cream. All the food here costs $6.25 each.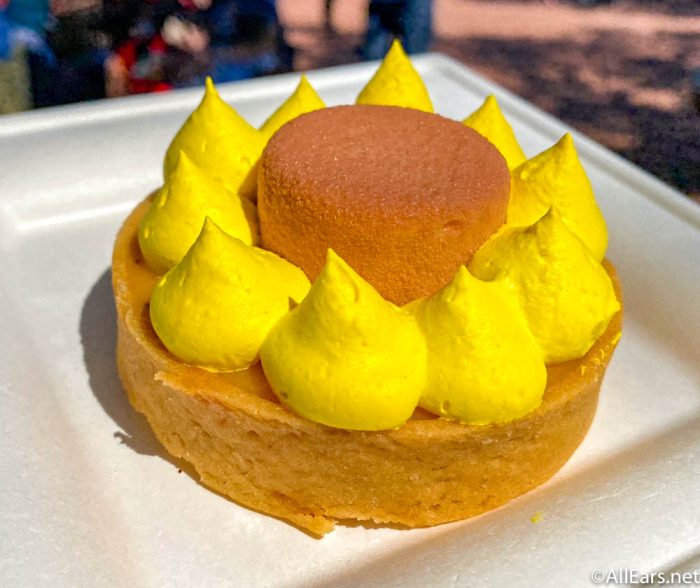 We also picked up the Beer Flight for $10. It includes Key Lime Hibiscus Ale, Orange Peel Ale, and Citrus Honey Cream Ale.
Cheers! 🍻 Beer Flight from The Citrus Blossom Booth pic.twitter.com/c9qVgQ3LPO

— AllEars.Net (@AllEarsNet) March 2, 2022
Pineapple Promenade
Just a few steps away is the Pineapple Promenade booth, which features an AllEars favorite — DOLE Whip!
There's regular DOLE Whip, DOLE Whip with Fanta, and even DOLE Whip topped with mango cream liqueur along with other pineapple flavored eats.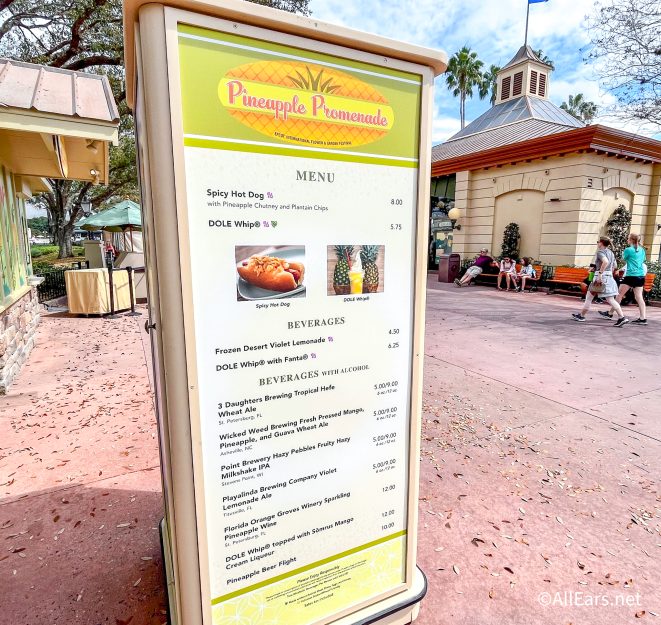 Of course, we had to give one of these creations a try and opted for the DOLE Whip topped with mango cream liqueur for $12.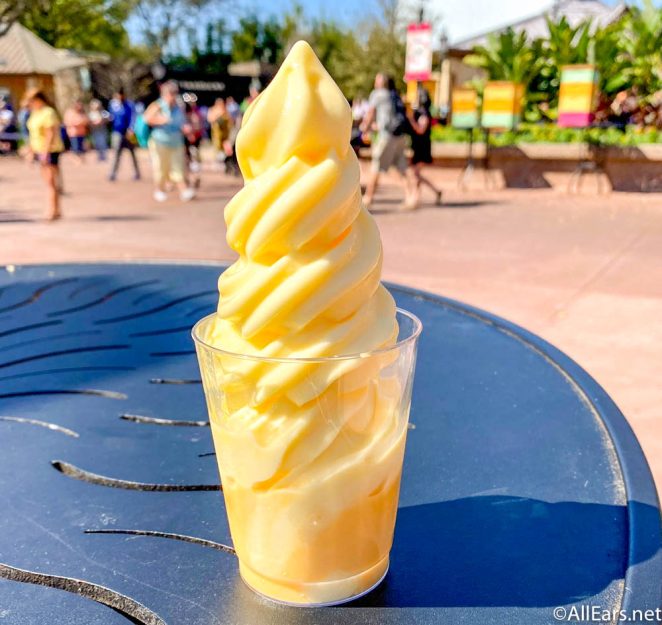 Trowel & Trellis Hosted By Impossible
Also near the entrance of World Showcase (by Disney Traders) is the Trowel & Trellis booth.
This spot is hosted by Impossible, so everything on the menu is completely plant-based!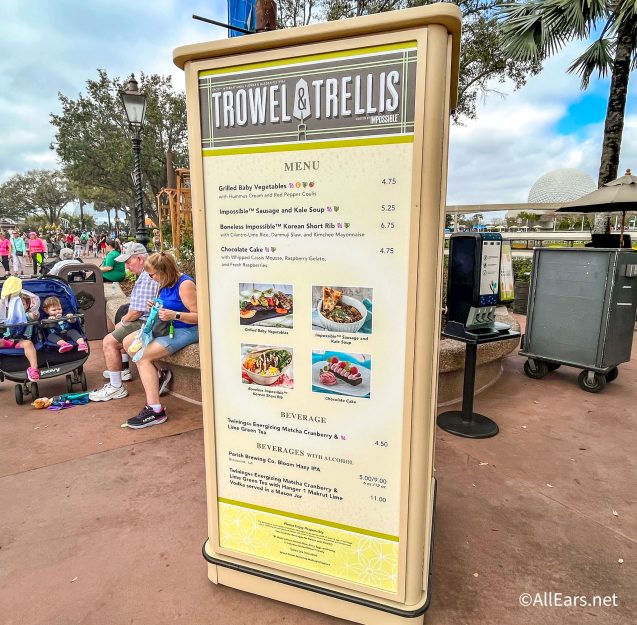 Here you'll find dishes like the Grilled Baby Vegetables with hummus cream and red pepper coulis for $4.75…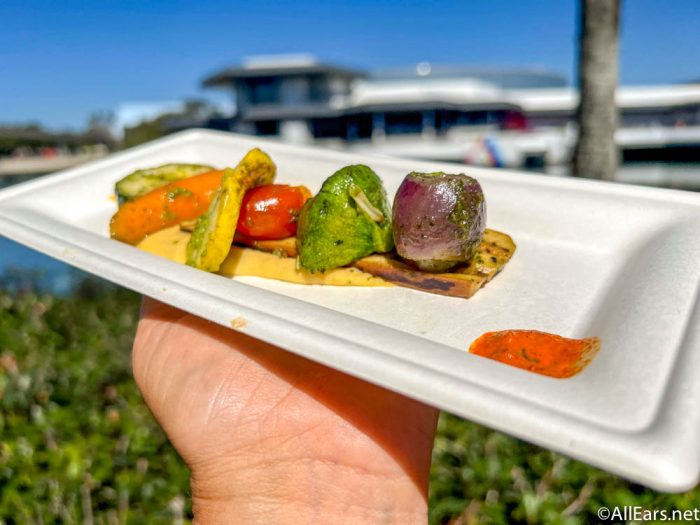 …and the Chocolate Cake with whipped cassis mousse, raspberry gelato, and fresh raspberries for $4.75.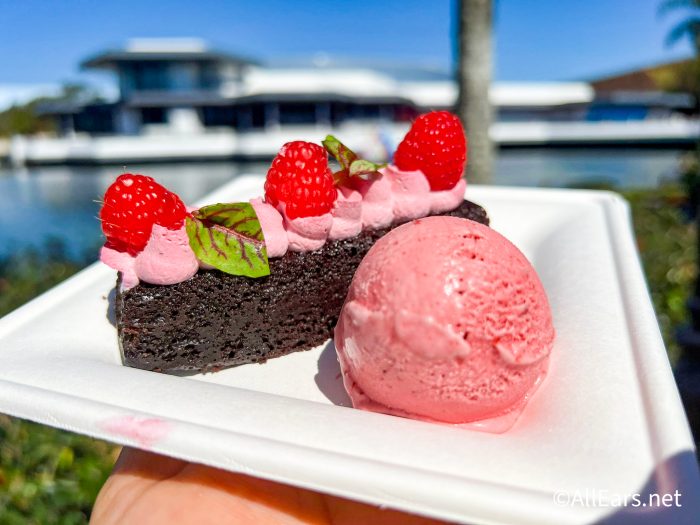 Northern Bloom
Once again, the Canada Pavilion is home to the Northern Bloom booth!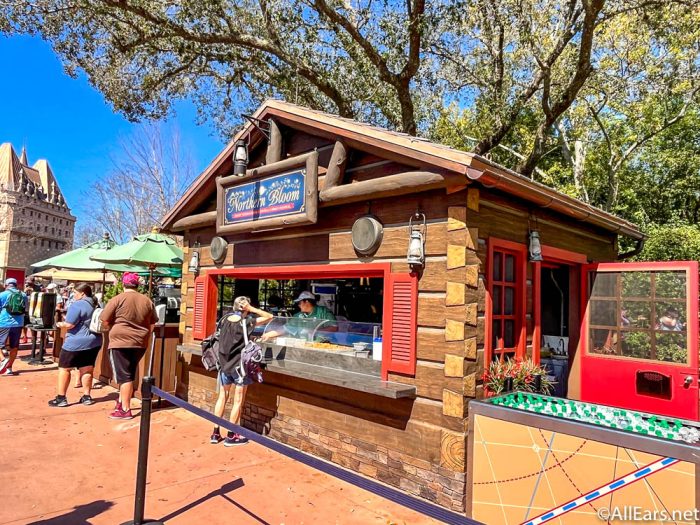 None of the dishes here are new (though some of the drinks are), but we couldn't resist trying a few of our favorites!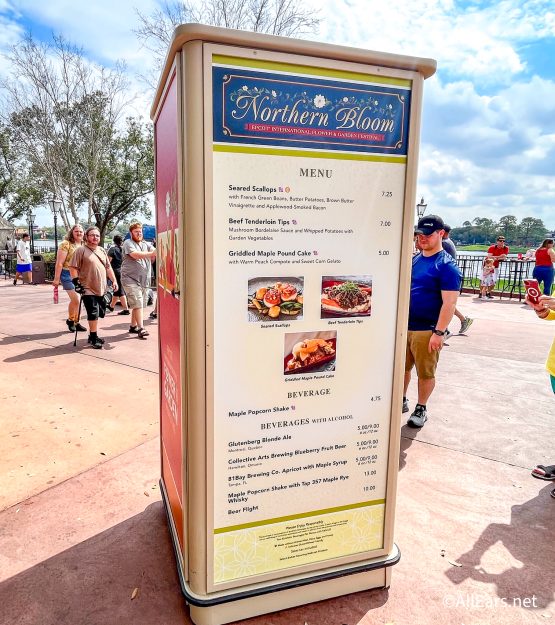 So, we picked up the Seared Scallops with French green beans, butter potatoes, brown butter vinaigrette, and applewood-smoked bacon for $7.25…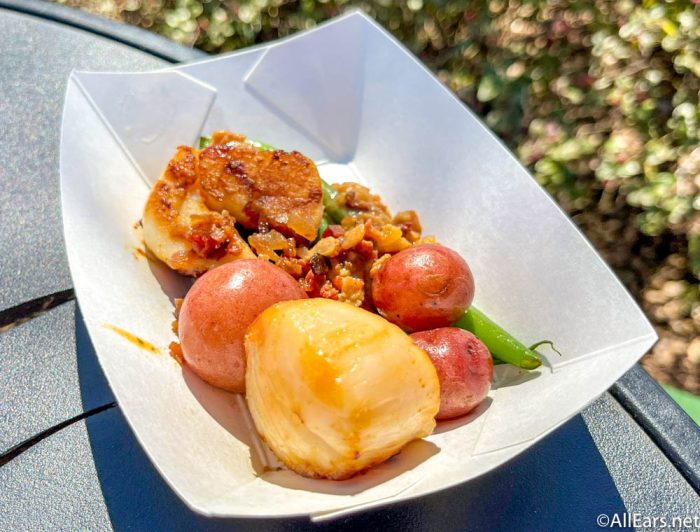 …and opted for the Griddled Maple Pound Cake with warm peach compote and sweet corn gelato for dessert. It costs $5.
We also tried the new beers on the menu including the Blonde Ale, Blueberry Fruit Beer, and Apricot with Maple Syrup Blonde Ale. Each can be purchased separately, but we went with the Beer Flight for $10 to sample them all.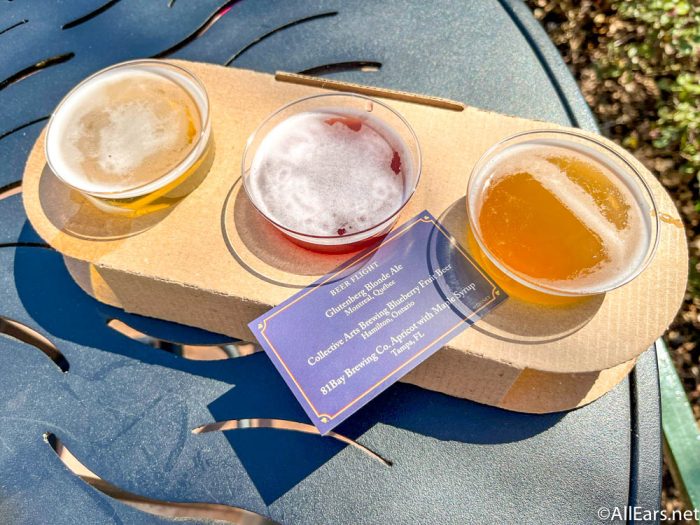 Jardin de Fiestas
If you're going the opposite way around World Showcase, you'll stumble upon the Jardin de Fiestas booth in the Mexico Pavilion!
If you're in the mood for something a little spicier, you'll want to stop by here! The menu features the Enchilada de Mole Negro (which is chipotle chicken in a corn tortilla with mole negro, avocado mousse, crema Mexicana, and queso fresco) for $7.50…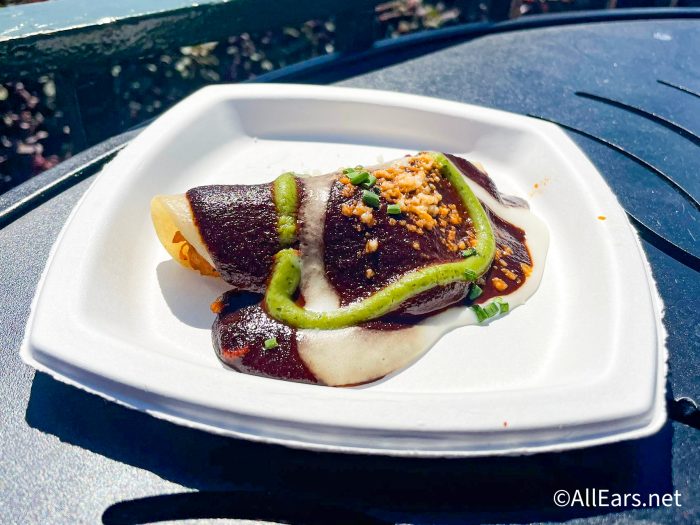 …Tostada de Chorizo (which is made with Plant-based Chorizo and black beans on a crispy corn tortilla with avocado mousse and queso fresco) for $7.75…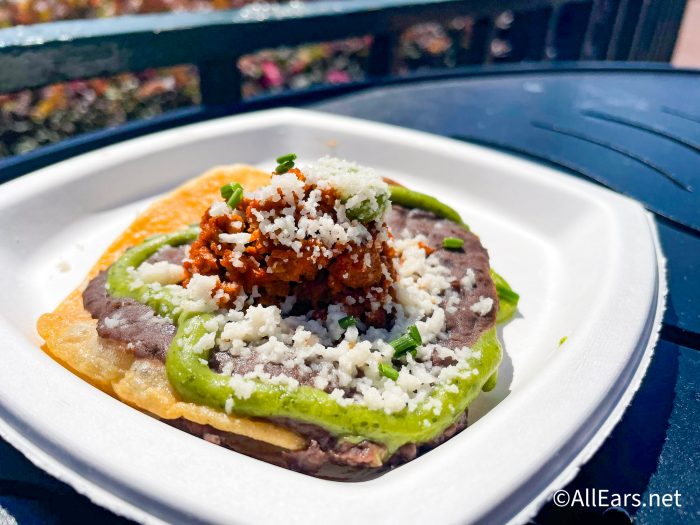 …and one of our favorite dishes, the Taco Vampiro. It costs $8 and is made with Barbacoa beef in a corn tortilla with crispy grilled Monterey jack cheese, salsa ranchera, and esquites.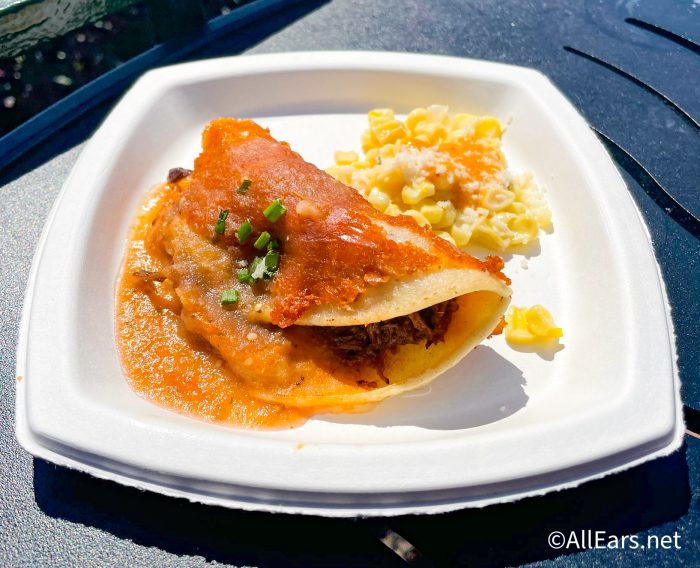 Of course, we couldn't resist trying some of the drinks here too, so we got the Poppy Flower Margarita (which is a mix of Tequila blanco, hibiscus flower tea, cucumber juice, aperitivo, and blackcurrant liqueur with a chile salt rim) for $13.75…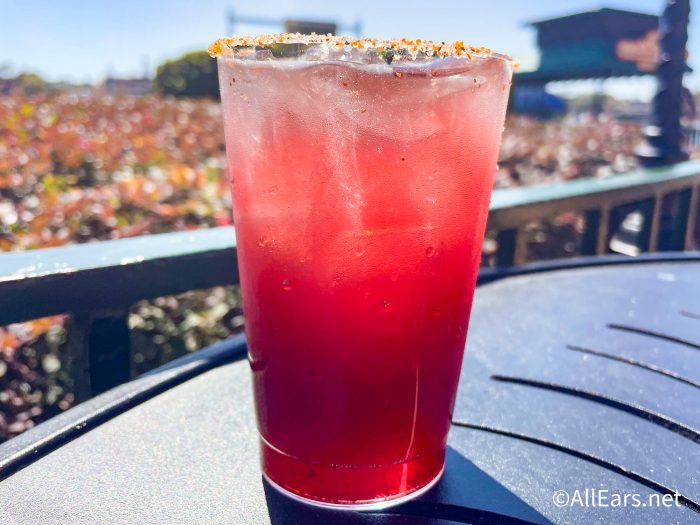 …and the GORGEOUS Hypnotic Margarita (which includes Tequila blanco, mezcal, rosemary syrup, cognac, and lemon juice) for $14.75.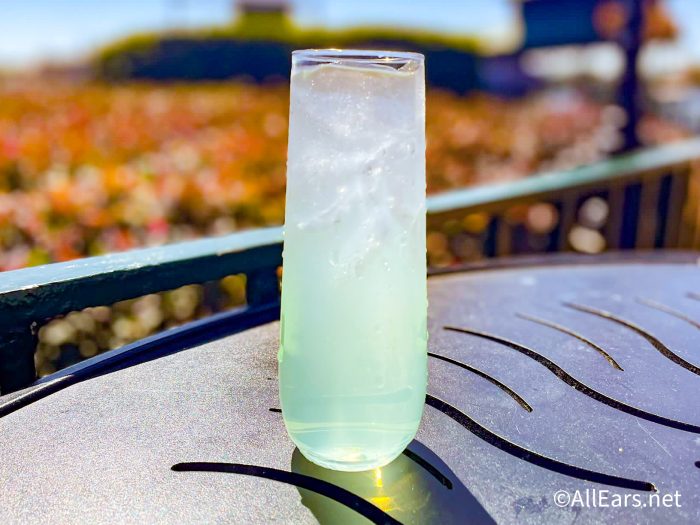 Flavor Full Kitchen Hosted By AdventHealth
Flavor Full Kitchen can be found between the Imagination! Pavilion and Refreshment Port.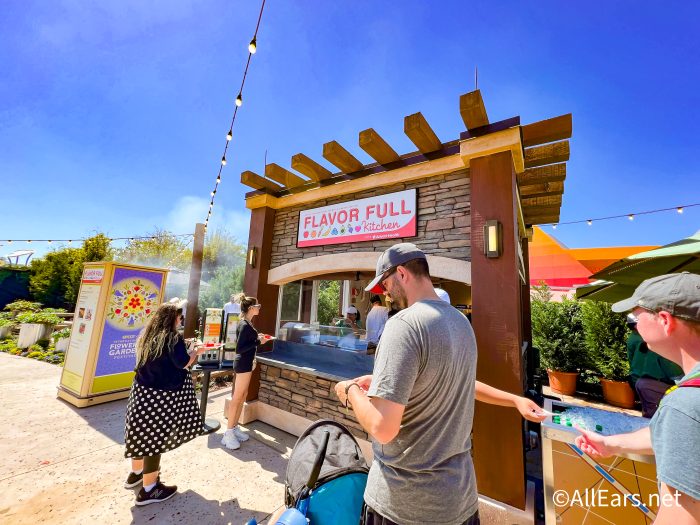 The booth itself is hosted by AdventHealth (a hospital network in Central Florida) and features a variety of healthy dishes "fresh from the garden."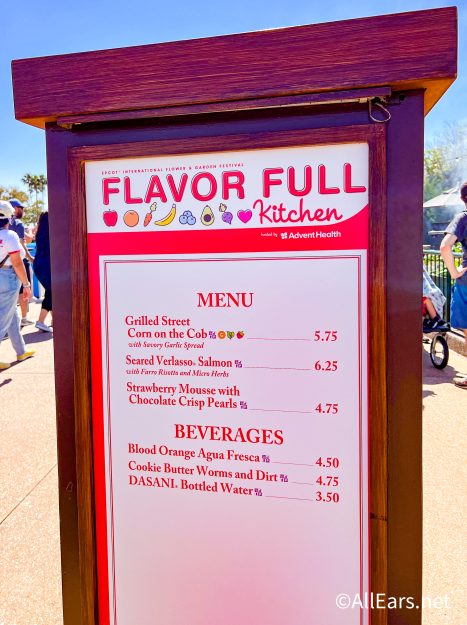 New to the booth this year is the Grilled Street Corn on the Cob with savory garlic spread. If you're completing the Garden Graze food stroll then you'll need to pick this one up for $5.75.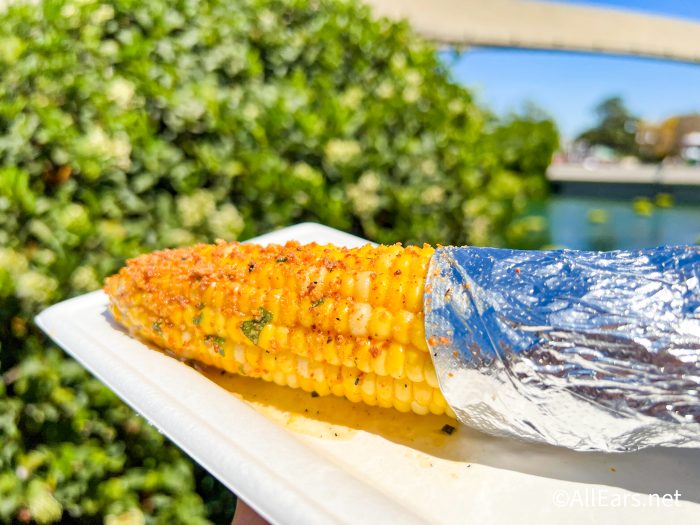 We also picked up the Seared Salmon with farro risotto and micro herbs for $6.25…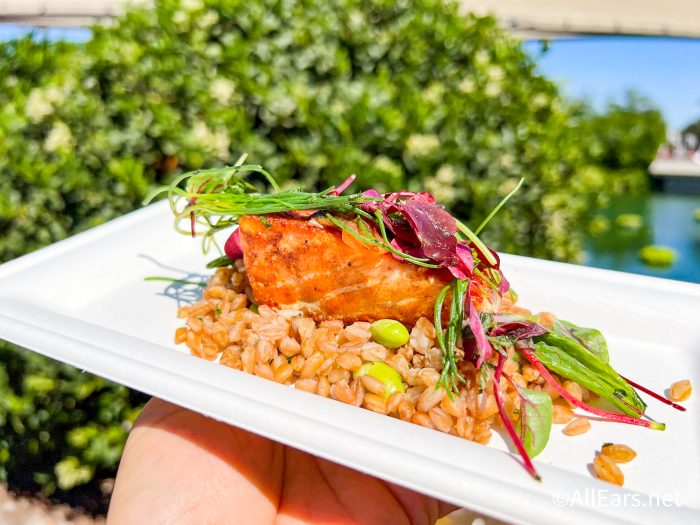 …the Strawberry Mousse with chocolate-crisp pearls for $4.75…
…and the fun (and tasty) Cookie Butter Worms and Dirt for $4.75.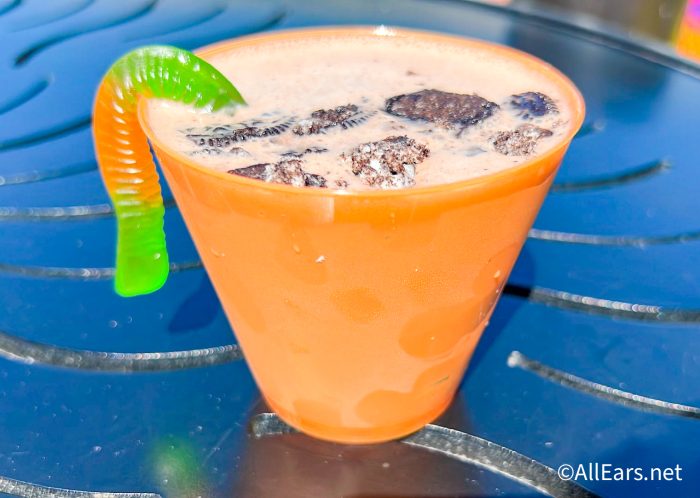 Refreshment Port
On your walk into World Showcase, you'll also find Refreshment Port, which is serving up THREE specialty items for the Flower & Garden Festival this year.
If you're stopping by here for something to eat, you can get the plant-based House-made Italian Sausage and Peppers Poutine for $9, but we decided to try both of the drinks today.
First up was the Salted Cucumber Apple Hard Cider for $10.75…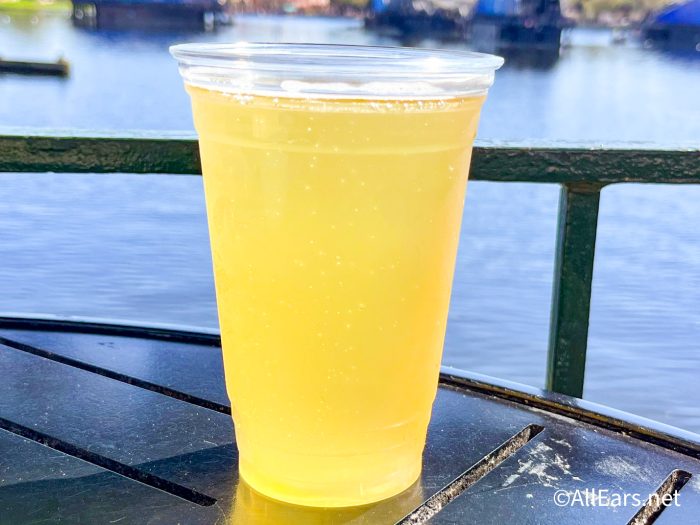 …and we also got the Lavender Martini for $11. This one may not look like it's got a lot of lavender, but we definitely picked up on the lavender and lemon flavors mixed with the vodka.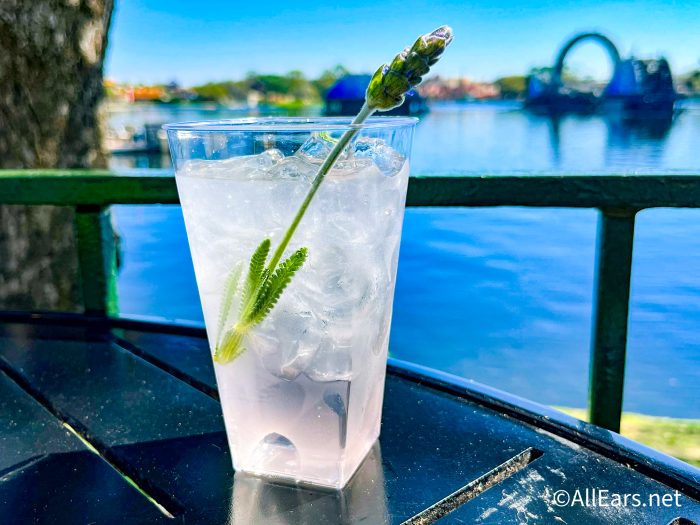 And, there's even a little something extra here — the Blueberry Lemonade Soft Serve! You won't find it on the main menu out front of Refreshment Port, but you can get it for $5.75.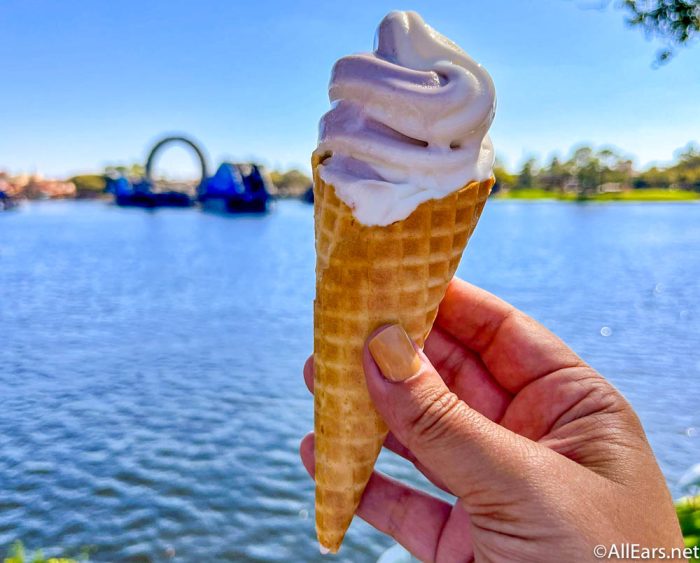 Cider House
Over in the UK Pavilion, you'll find Cider House which features a ton of — you can probably guess — ciders!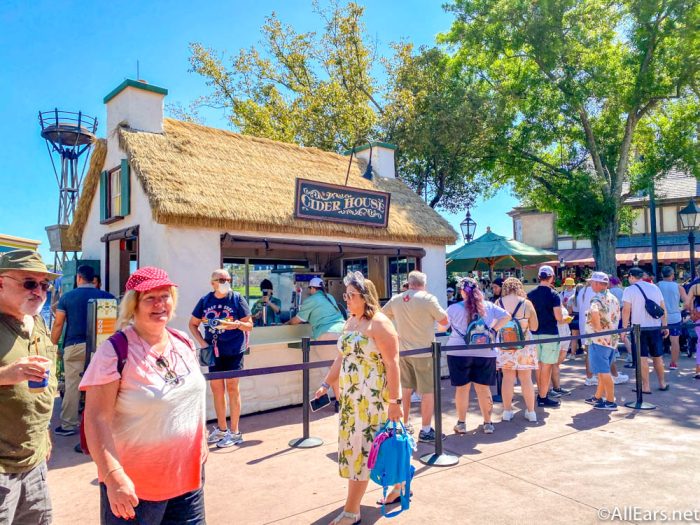 But, if you aren't in the mood to sip on anything, you can try the new BLT Scone with Nueske's applewood-smoked bacon, sundried tomato, and basil. It is available for $5.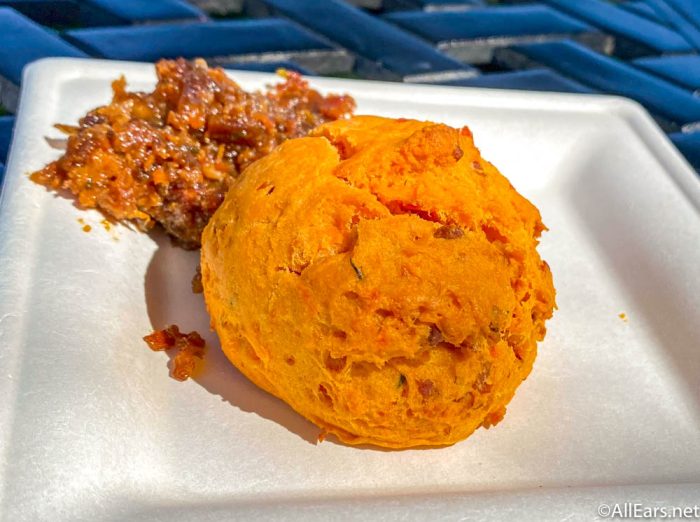 Lotus House
Up next was the Lotus House booth in the China Pavilion!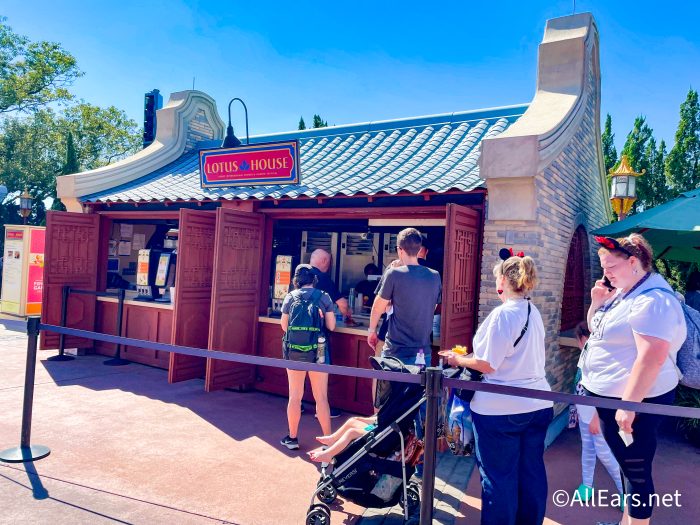 On the menu, you'll find a few returning festival favorites and a couple of new ones too!
Here we tried the new Spicy Mala Chicken Skewer for $6.75, the non-alcoholic Rose Bubble Milk Tea for $8.75, and the Marco Boba (which is an alcoholic drink made with Amaretto, iced coffee, milk, and boba) for $12.50.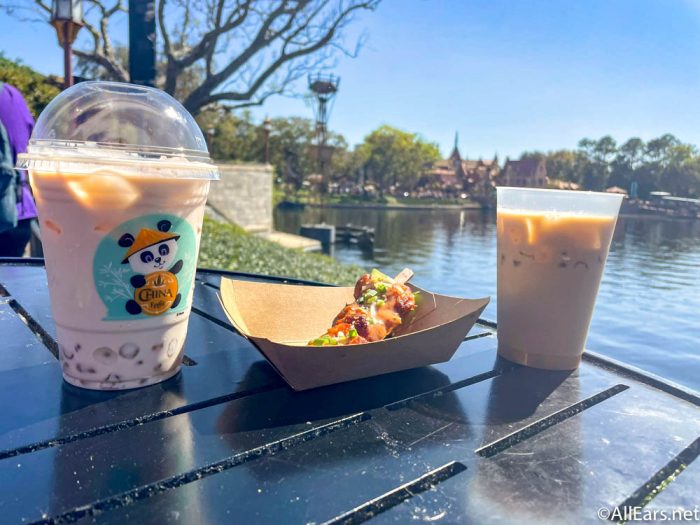 Bauernmarkt: Farmer's Market
The Bauernmarkt booth can be found in the Germany Pavilion and it promises "Bavarian bites sure to sate foodies of all ages."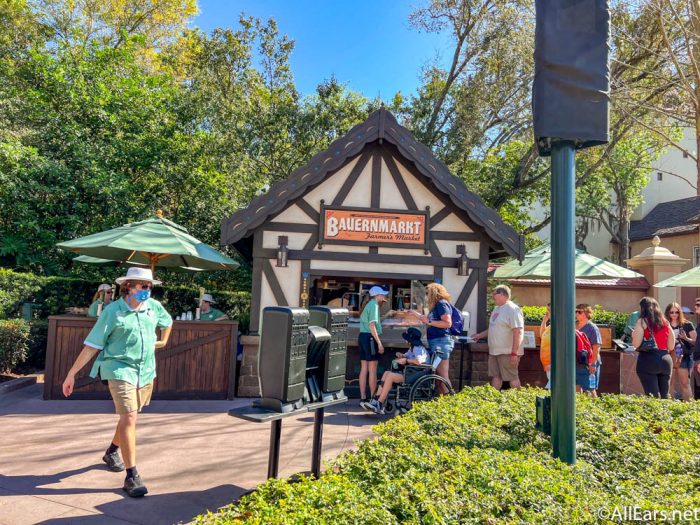 We've seen almost the entire menu available here before, but that doesn't mean that you should skip it!
One of the more unique dishes here is the Potato Pancakes with house-made applesauce (which is also part of Garden Graze this year). It costs $4.75.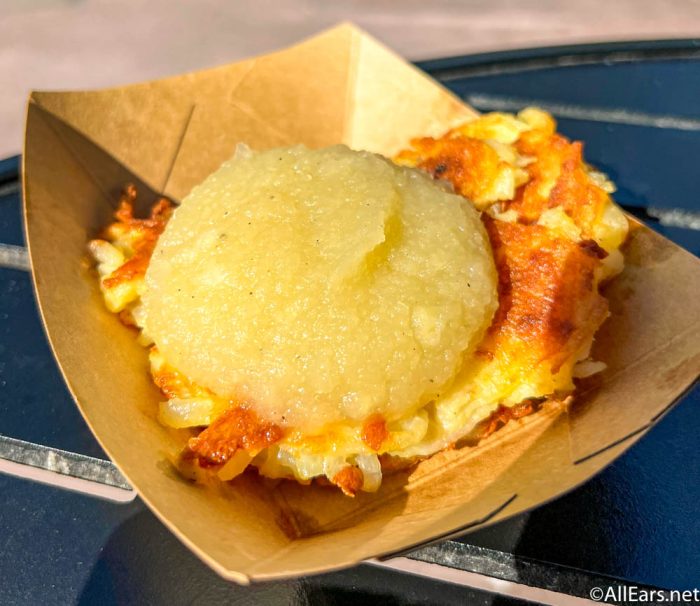 And, you can also find a variety of beers including the Hugo Lager, the Premium Pilsner, and the Raspberry Radler. Try them all in a Beer Flight for $10!
Tangierine Cafe: Flavors of the Medina
Tangierine Cafe in the Morocco Pavilion has once again transformed into a festival booth and you'll find THREE new items, along with one that might look familiar on the menu.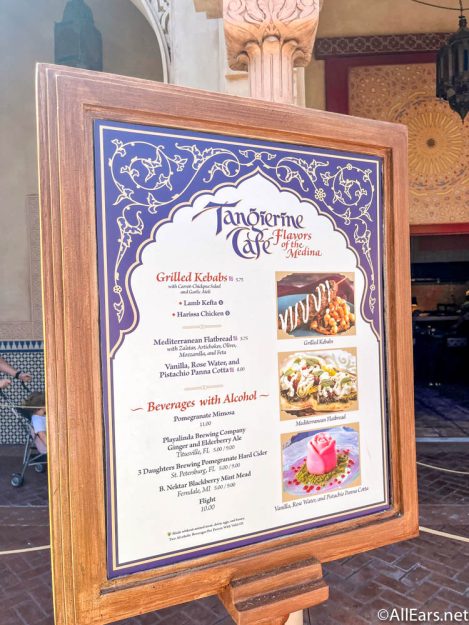 There's the new Mediterranean Flatbread with za'atar, artichokes, olives, mozzarella, and feta cheese for $5.75…
…and the Vanilla, Rose Water, and Pistachio Panna Cotta for $8. Look familiar? That's because this one has been featured at the EPCOT Festival of the Arts in the past and we have LOVED it!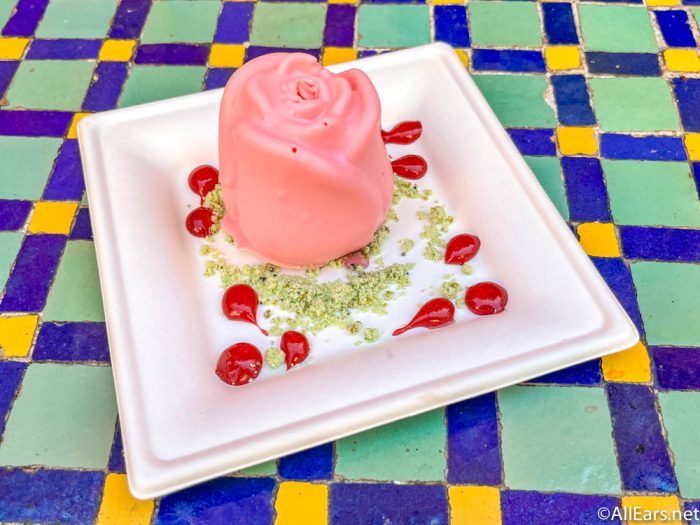 And, if you're thirsty, you can try an assortment of alcoholic drinks including the Pomegranate Mimosa for $11…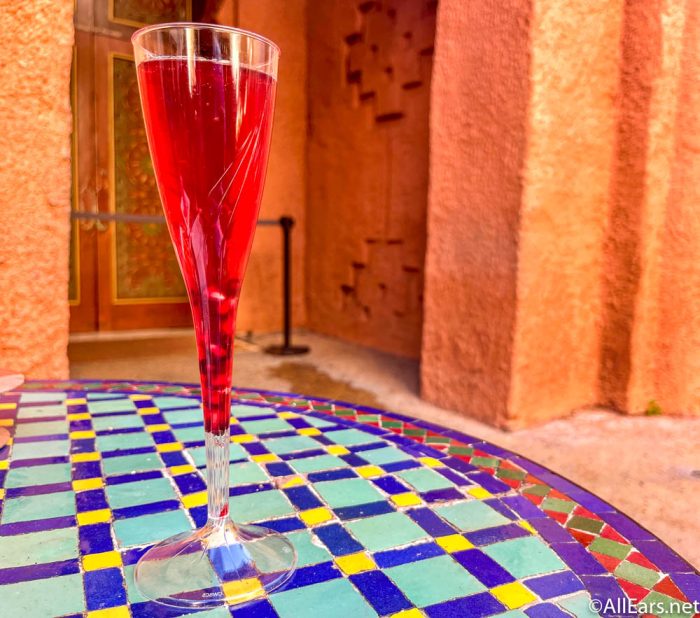 …or pick up the Cider Flight for $10. It includes Ginger and Elderberry Ale, Pomegranate Hard Cider, and Blackberry Mint Mead.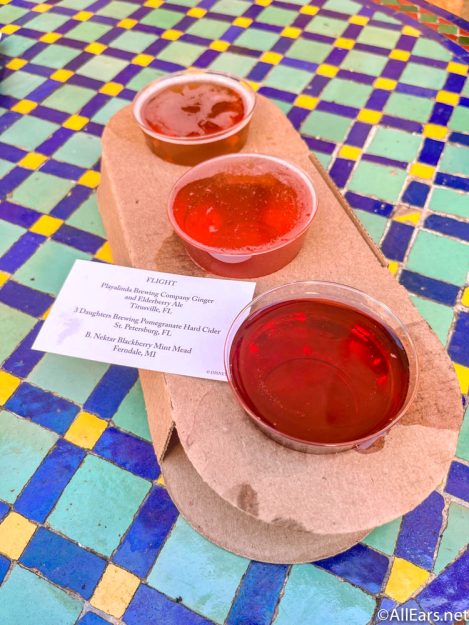 La Isla Fresca 
Nearby between the Morocco and France Pavilion is the La Isla Fresca booth.
The menu is brand new to the Flower & Garden Festival, but there are a few items returning from other EPCOT festivals like the Arepas topped with melted queso fresco for $5…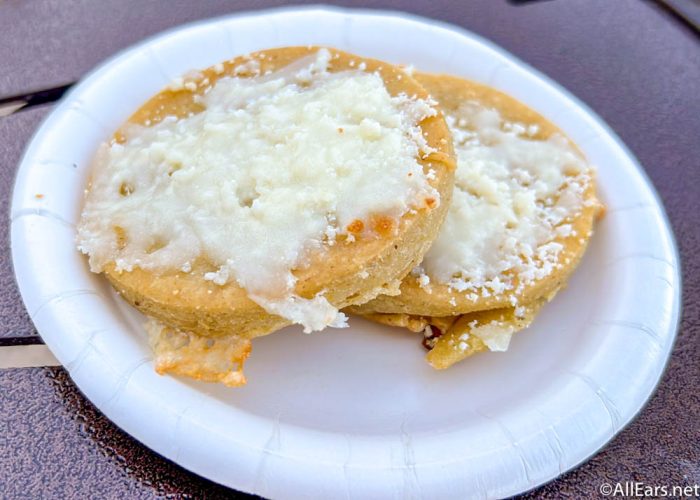 …and the Arepa topped with shrimp, crushed avocado ají, and tomato sauce for $6.75.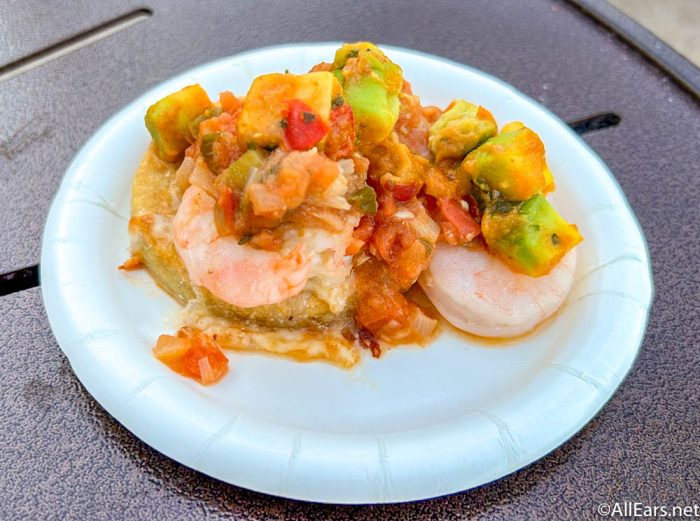 One of our favorite dishes that we tried here was the Coconut Tres Leches! It costs $4.50 and is a vanilla cake soaked in oat milk, almond milk, and coconut milk with toasted coconut.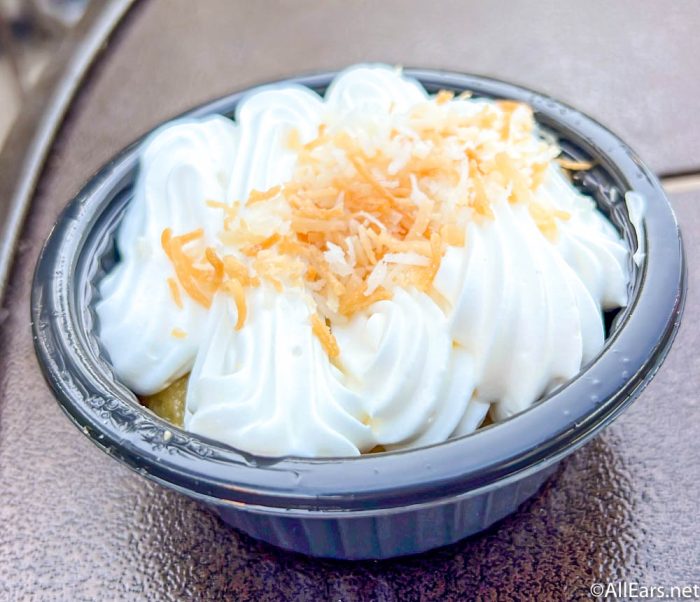 And, to drink, we got the Coconut Key Lime Ale (which is $5.00 for a 6oz and $9 for a 12 oz), the Tropical Breeze (which can be made with White Sangria for $11 or without for $4.50), and the Tropical Breeze with rum for $11.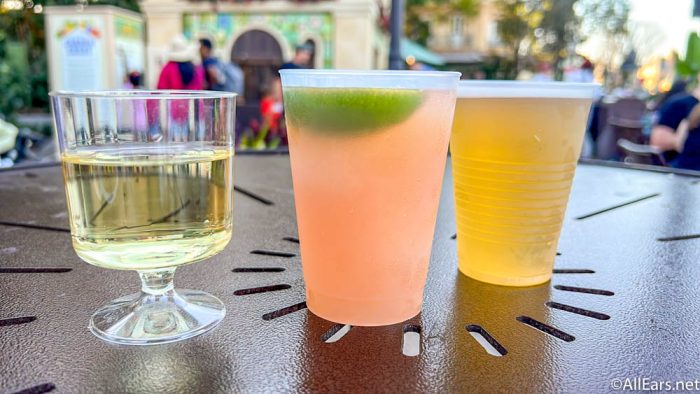 Fleur de Lys
The France Pavilion is once again home to some tasty festival bites at the Fleur de Lys booth and almost the entire menu is brand new!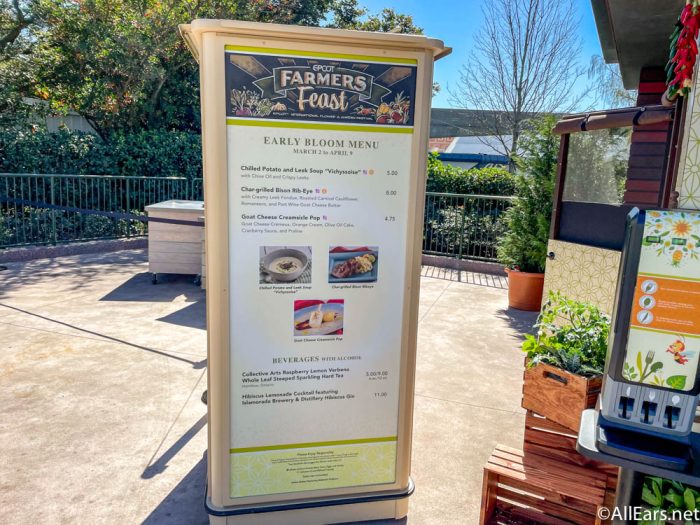 We stopped by to try the Croissant au Fromage de Chèvre, Herbes et Ail Rôtie (which is a croissant with goat cheese, herbs, and roasted garlic) for $6.75…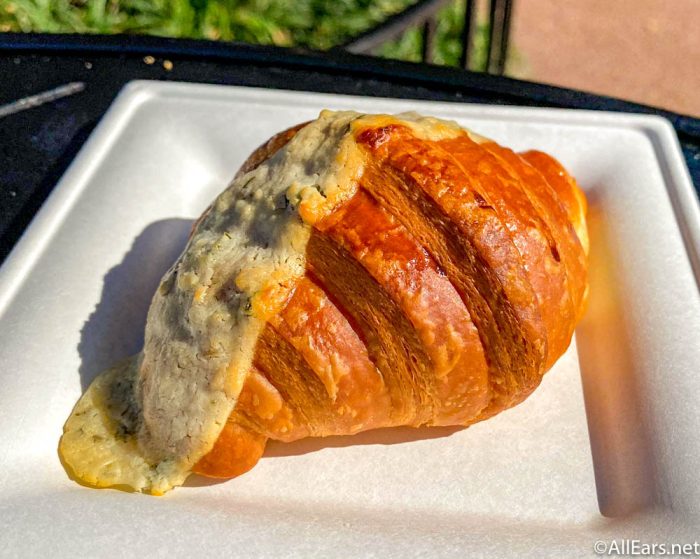 …the Pan Bagnat Classique (which is the Niçoise Sandwich with house-made bread, albacore tuna mayonnaise, tomato, black olives, lettuce, and celery) for $7…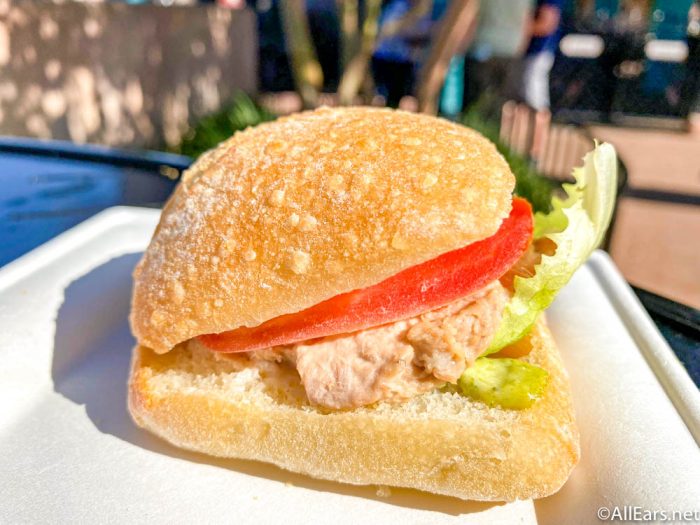 …and the Salade de Lentilles à la Lyonnaise (which is a French Green Lentil Salad with bacon and garlic sausage) for $5.50.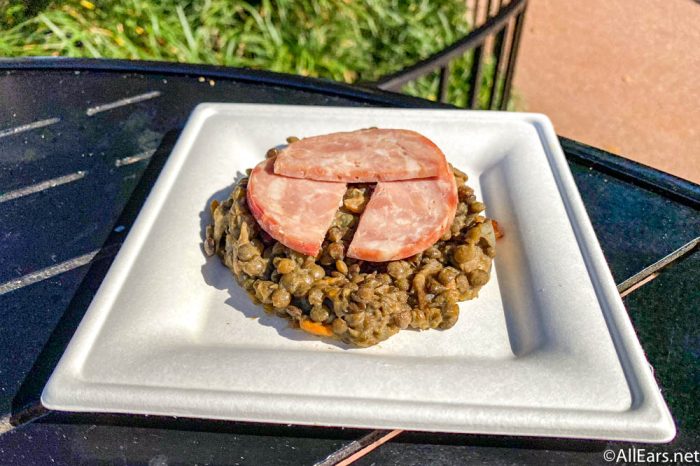 Plus, we couldn't pass up the returning Beignet Caramélisé, Fourré Crème Vanille, Glacé au Caramel Fleur de Sel. It's a caramelized beignet filled with vanilla cream and glazed with caramel fleur de sel and costs $5.75.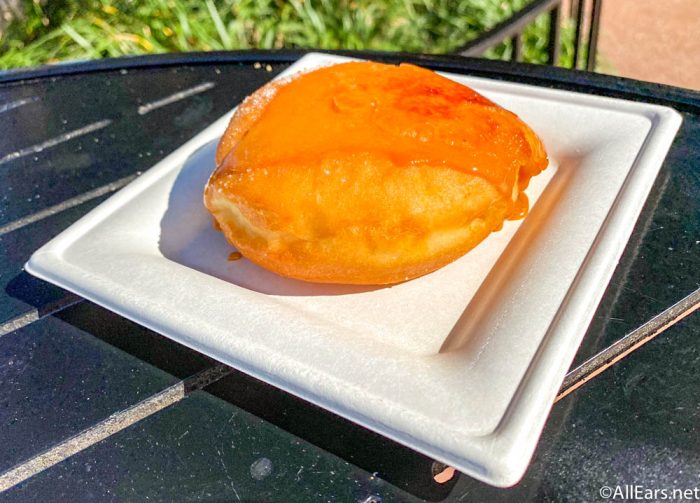 Primavera Kitchen
The Italy Pavilion is another fan-favorite spot to grab festival bites and this year the Primavera Kitchen is no different!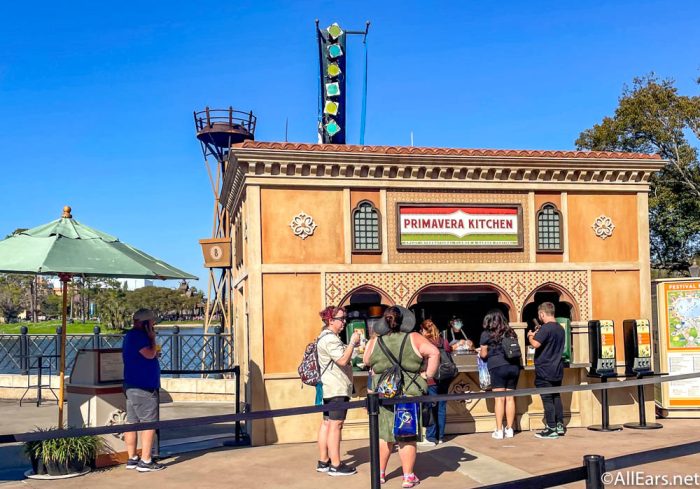 The menu features "Old-Country dishes" and everything pairs with a glass of wine, of course.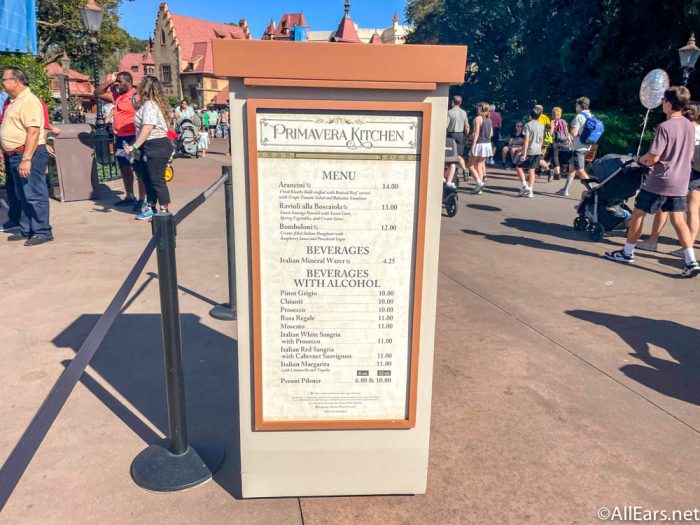 Dishes include Arancini (aka Fried Risotto Balls stuffed with braised beef served with grape tomato salad and balsamic emulsion) for $14, Ravioli alla Boscaiola (a sweet sausage ravioli with sweet corn, spring vegetables, and cream sauce) for $13, and Bomboloni (a cream-filled Italian doughnut with raspberry sauce and powdered sugar) for $12.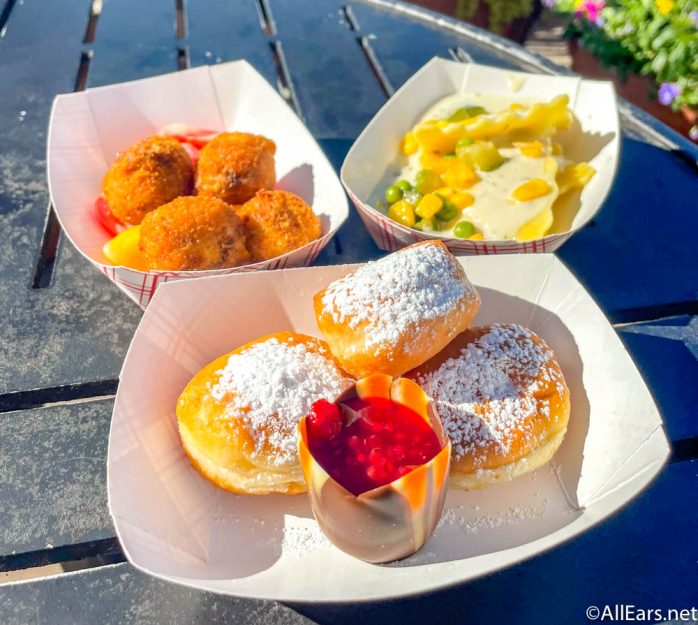 Hanami
Ever heard of Frushi? Well, this dish has been around at the Japan Pavilion booth for years and it is BACK at the Hanami booth!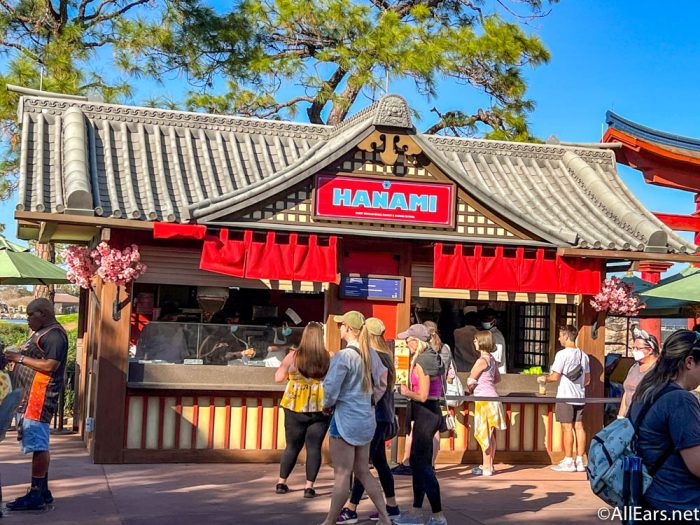 While Frushi may be the highlight (at least in our opinion), there's also a TON of other great eats and drinks on the menu here.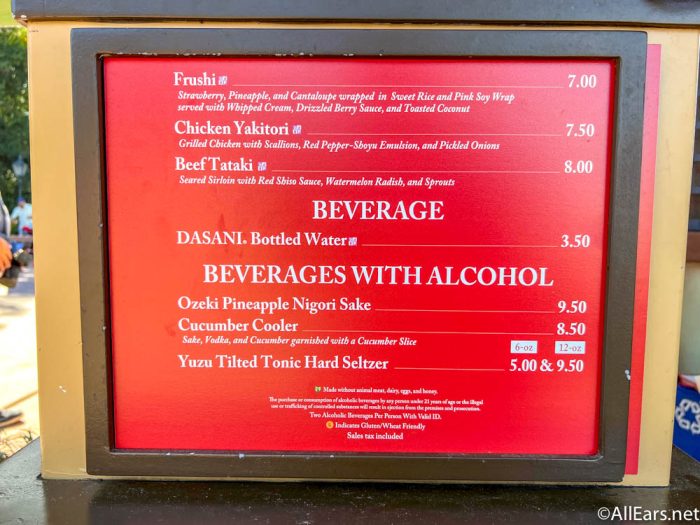 We tried the Chicken Yakitori (which is grilled chicken with scallions, red pepper-shoyu emulsion, and pickled onions) for $7.50 and the Beef Tataki (which is seared sirloin with red shiso sauce, watermelon radish, and sprouts) for $8 along with the Yuzu Tilted Tonic Hard Seltzer for $5 (in a 6oz glass),  the Ozeki Pineapple Nigori Sake for $9.50, and the Cucumber Cooler (which is a mix of sake, vodka, and cucumber garnished with a cucumber slice) for $8.50.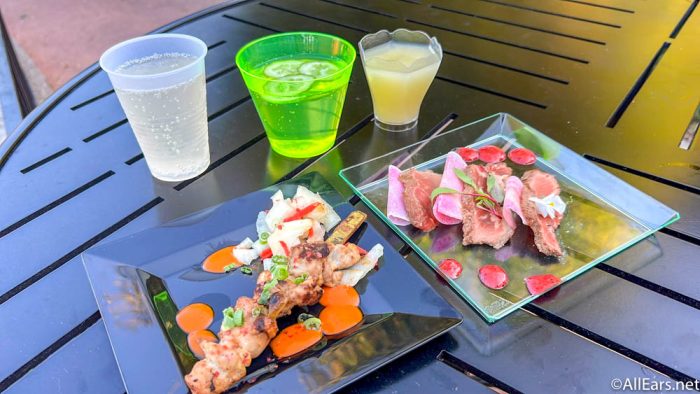 Magnolia Terrace
For some southern comfort food, you'll want to head to the Magnolia Terrace booth in The American Adventure Pavilion.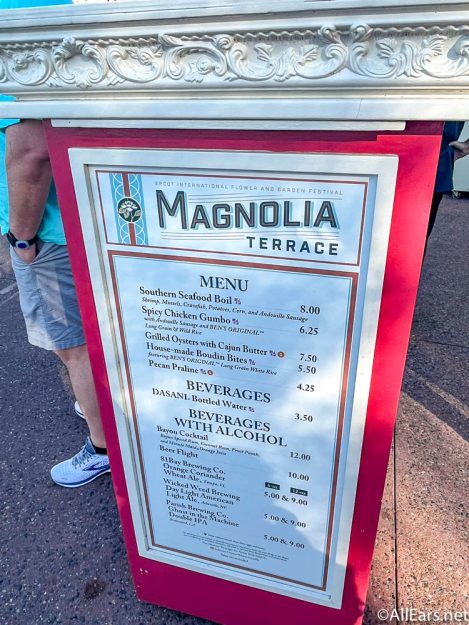 Most of the menu items here are returning, including the Grilled Oysters with Cajun butter for $7.50…
…but there is one new item — the Spicy Chicken Gumbo with Andouille sausage and Ben's Original Long Grain & Wild Rice. You can try it for $6.25.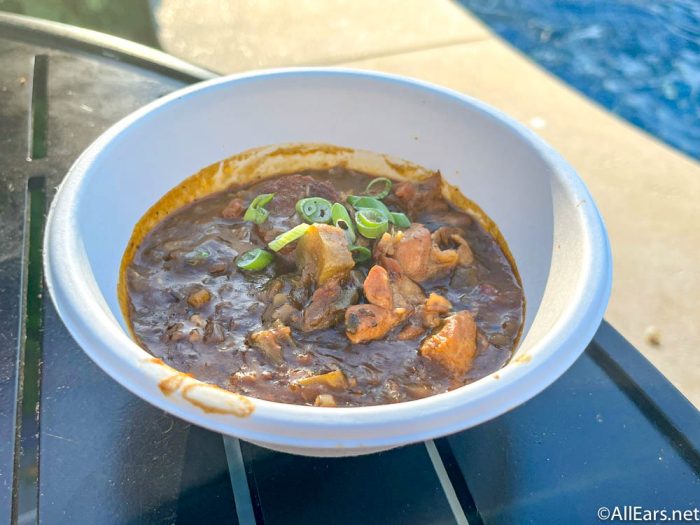 The Honey Bee-stro Hosted By National Honey Board
Spike The Bee tends to make an appearance for the Flower & Garden Festival and this year you'll find him at The Honey Bee-stro booth which is hosted by National Honey Board.
Honey concoctions fill up the menu, and you'll even be able to find a POPULAR souvenir!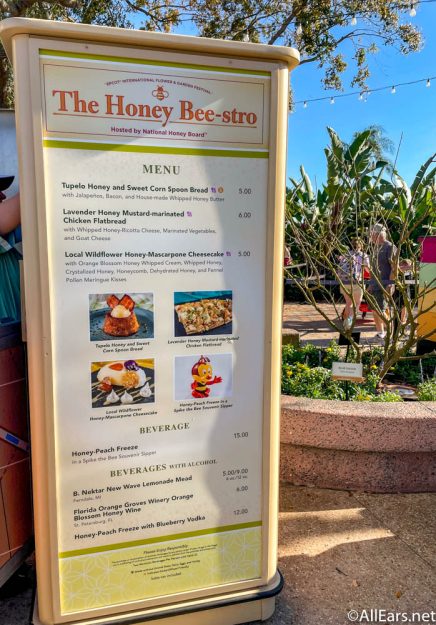 Yes, we're talking about the Spike The Bee Sipper! This year it is filled with Honey-Peach Freeze and you can get it for $15.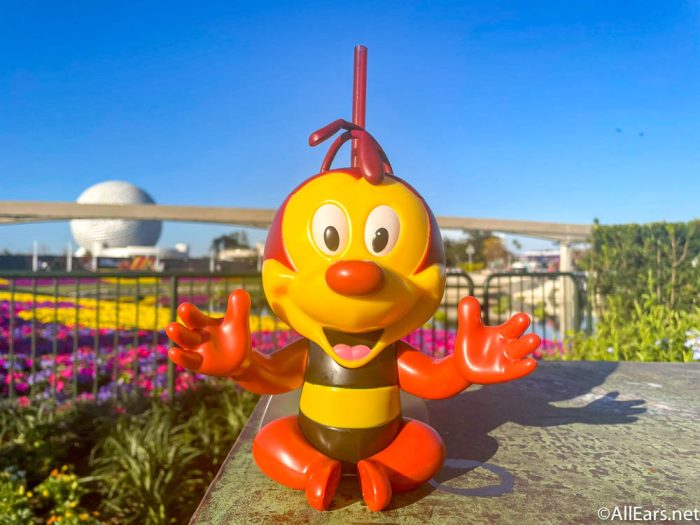 While we were there, we also picked up the B. Nektar New Wave Lemonade Mead! It costs $5 for a 6oz cup and $9 for a 12oz.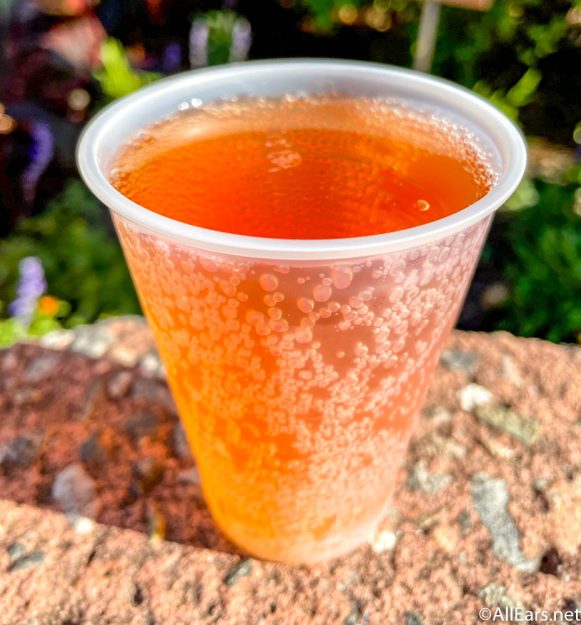 Joffrey's
Like other festivals, each Joffrey's location throughout the park features a specialty drink — and they're each different! At the World Discovery location (which is near Mission: SPACE), you can get the Minty Melon Refresher for $5.99.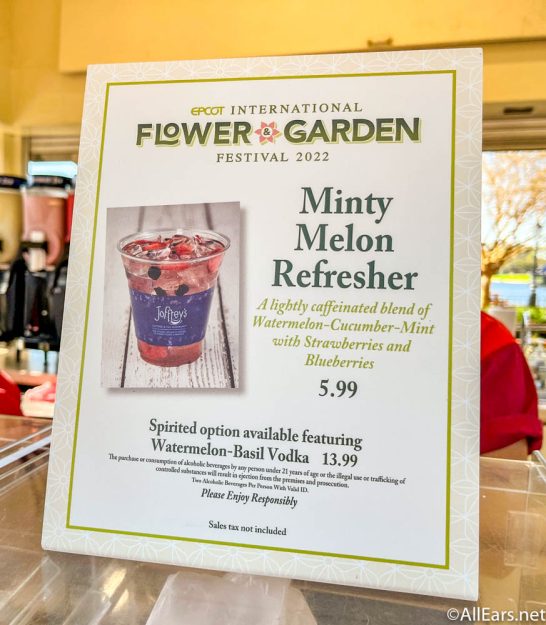 This new drink is a lightly caffeinated blend of watermelon-cucumber-mint juice with strawberries and blueberries. Plus, you can even get it spiked with Watermelon-Basil Vodka! It'll just cost ya $13.99.
We also found this drink being served at the Joffrey's location near Disney Traders.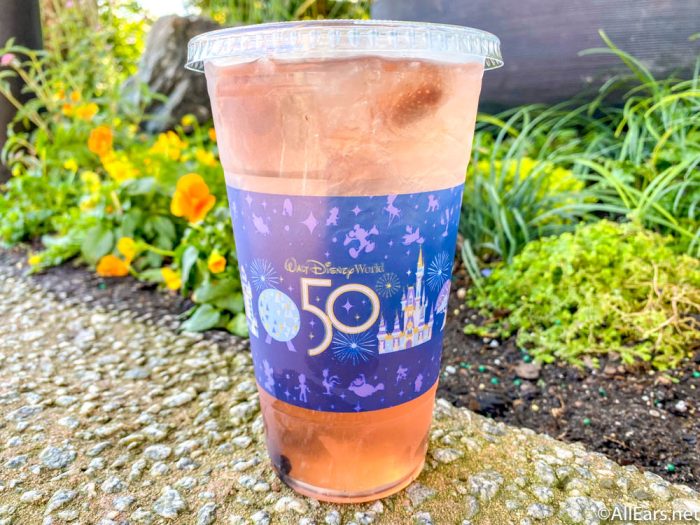 At the Joffrey's location near Canada, you can find the Strawberry Fields Refresher. This one also costs $5.99 and is made with a blend of strawberry açaí juice with strawberries and blueberries. You can also get it made with strawberry-lemongrass vodka for $13.99.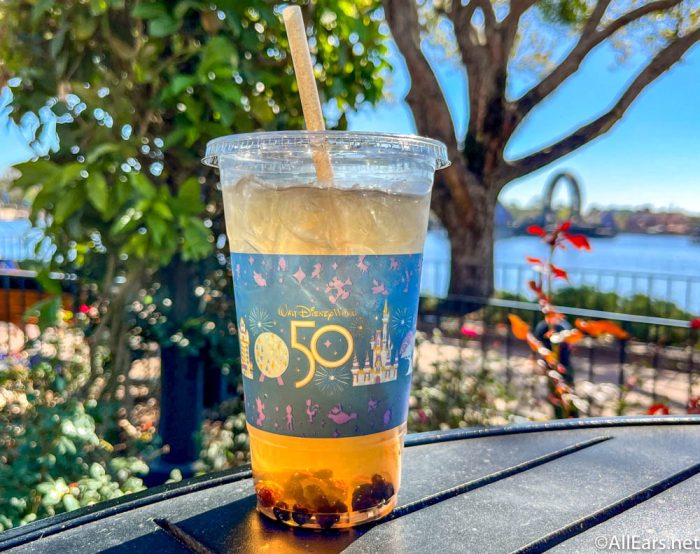 And, the Wildberry Wonder Refresher is the third specialty Joffrey's drink, which can be found at The American Adventure location.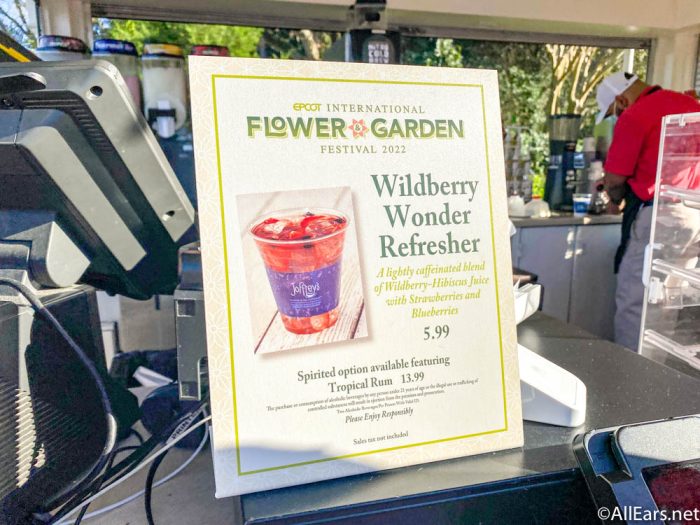 For $5.99 you can enjoy the lightly caffeinated blend of wildberry-hibiscus juice with strawberries and blueberries, or you can get it spiked with Tropical Rum for $13.99.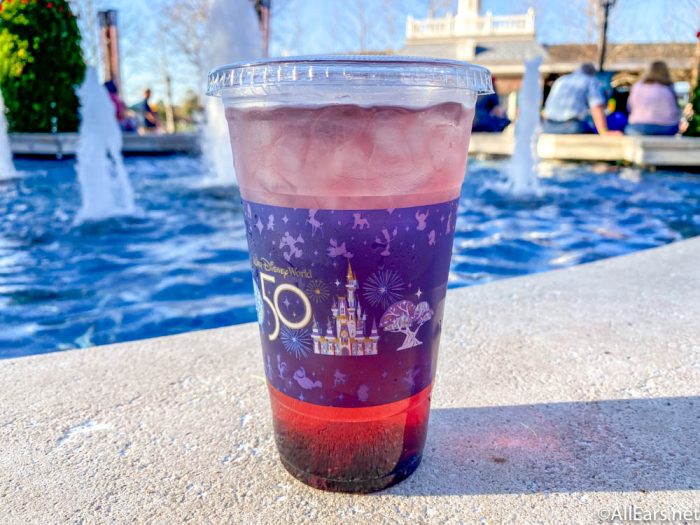 Funnel Cake Stand
You'll also want to make a pit stop at the Funnel Cake Stand in The American Adventure Pavilion to try the new Strawberry Cheesecake Funnel Cake! It is topped with strawberry ice cream, cheesecake crumbles, strawberry drizzle, and whipped cream and costs $10.50.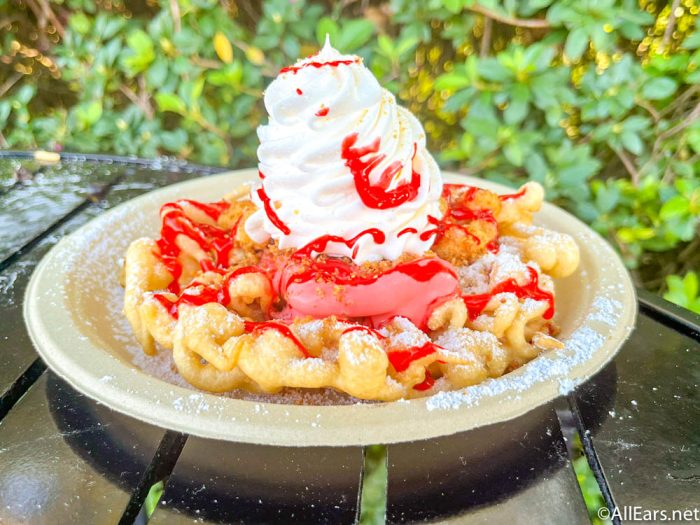 Refreshment Outpost
Our final stop around World Showcase was Refreshment Outpost, which is also serving up some Flower & Garden Festival-only eats and drinks.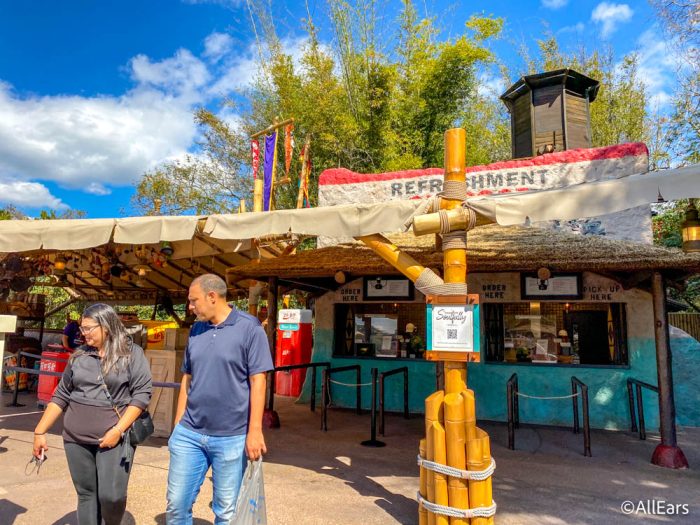 We picked up the Tangerine Cream Ale for $10.75.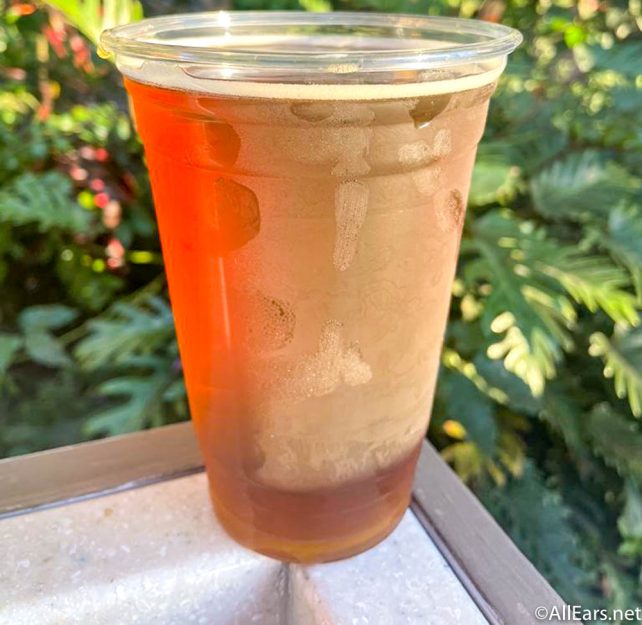 EPCOT Flower & Garden Activities
Aside from eating and drinking, there's are quite a few other activities to busy yourself with during the day including the returning scavenger hunt — Spike's Pollen Nation Exploration!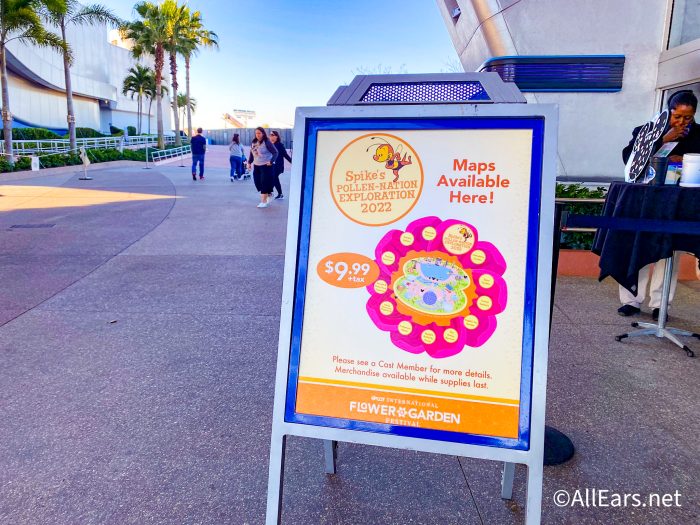 You can pick up a scavenger hunt map for $9.99 (which is a bit of a price increase compared to last year) at Creations Shop, Disney Traders, or World Travelers and search for Spike The Bee in each EPCOT World Showcase pavilion to win a prize.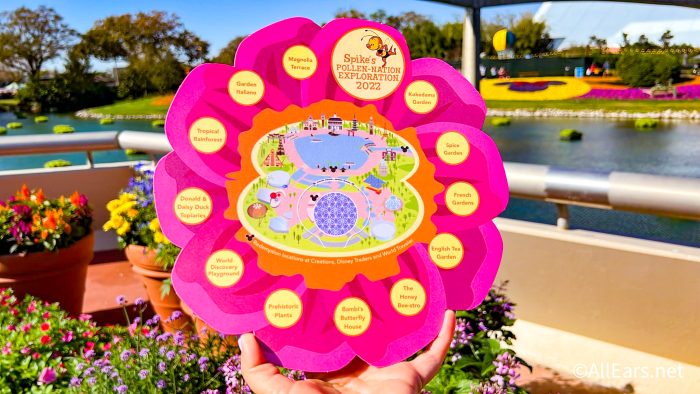 He's hidden all over, so be sure to look high and low!
When we visited today, the official scavenger hunt prizes had yet to come in, so Disney was giving out some older prizes in the meantime.
EPCOT Flower & Garden Entertainment
Along with the scavenger hunt, you can keep yourself busy as you digest all the food by checking out all the Flower & Garden Festival entertainment! This year, you can take a stroll down the Health Full Trail, presented by AdventHealth. This trail includes a walkway with tips for living healthy.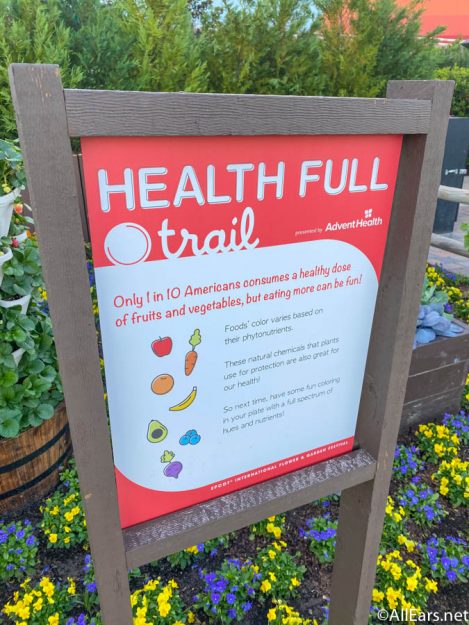 Or, you can stop by the Fragrant Garden, which is presented by Scentsy and features flower displays inspired by different scents.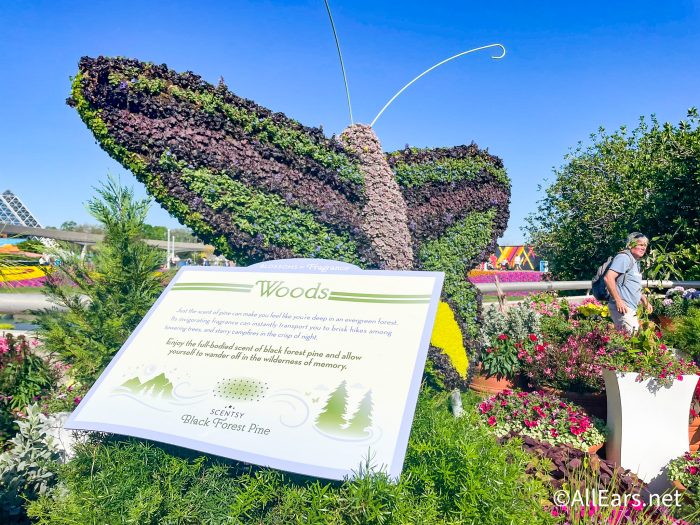 And, if you're staying at EPCOT into the evening, you'll want to be sure to check out the Garden Rocks concert series which is back for 2022! The first concert is tonight at the America Gardens Theatre starring Skillzmatic.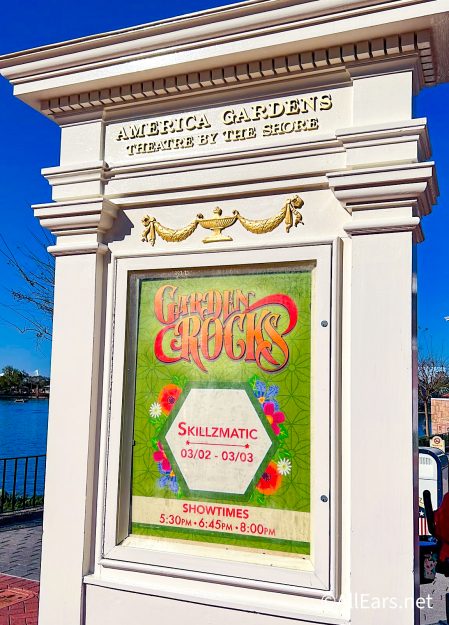 Showtimes are at 5:30PM, 6:45PM, and 8PM.
EPCOT Flower & Garden Topiaries
This year, the EPCOT Flower & Garden Festival features 24 topiary displays that can be found throughout the entire park — here's where you can find them!
At the main entrance, you can find Goofy celebrating the festival AND Disney World's 50th Anniversary. This is a great photo op to get when you first walk into the park!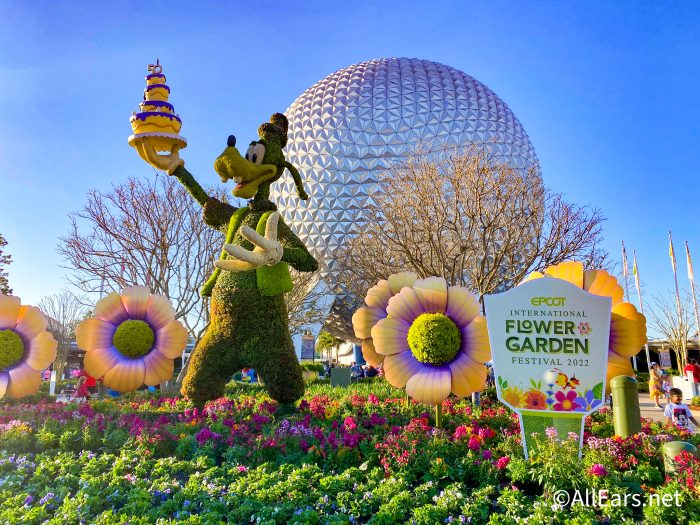 Over near Mission: SPACE, you'll find the Buzz Lightyear topiary…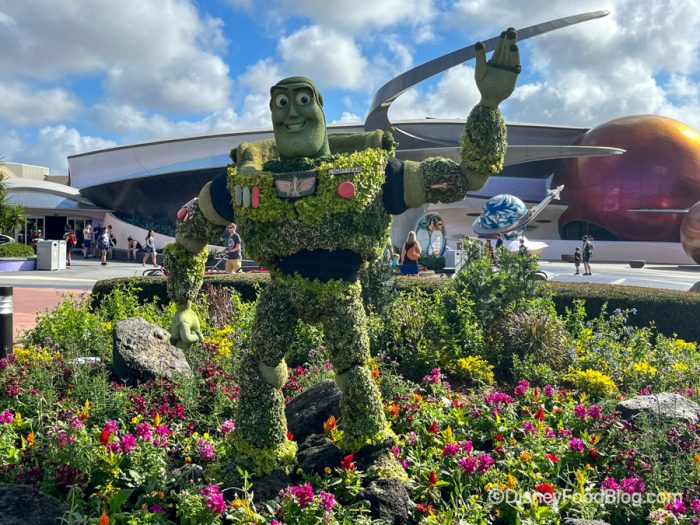 …and as you make your way to World Showcase, you'll also pass the Mickey, Minnie, Donald, Daisy, Huey, Dewey, and Louie Topiary at the bridge…
Daisy has arrived and is looking as fabulous as ever! 👏✨🪴 pic.twitter.com/m6jzpiG6ul

— AllEars.Net (@AllEarsNet) March 2, 2022
…and Sorcerer Mickey surrounded by Brooms, Ostriches, a Hippo, and a Gator at the entrance to World Showcase. Be sure to check this one out at night because Mickey's hat lights up!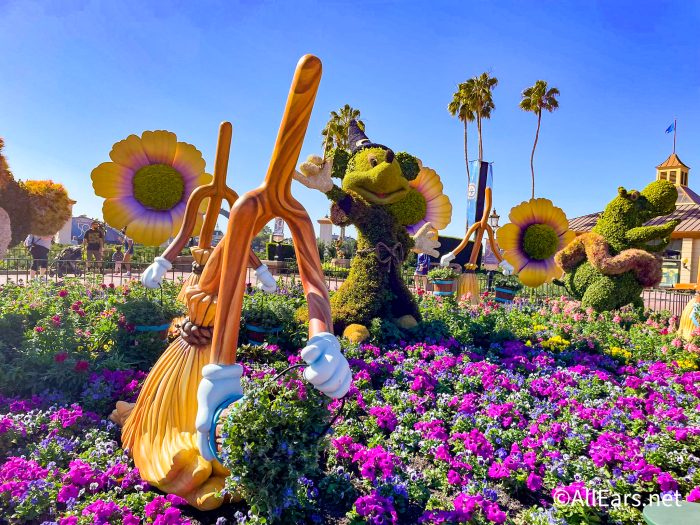 The iconic Figment Topiary is also back again this year — just look for it in front of the Imagination! Pavilion.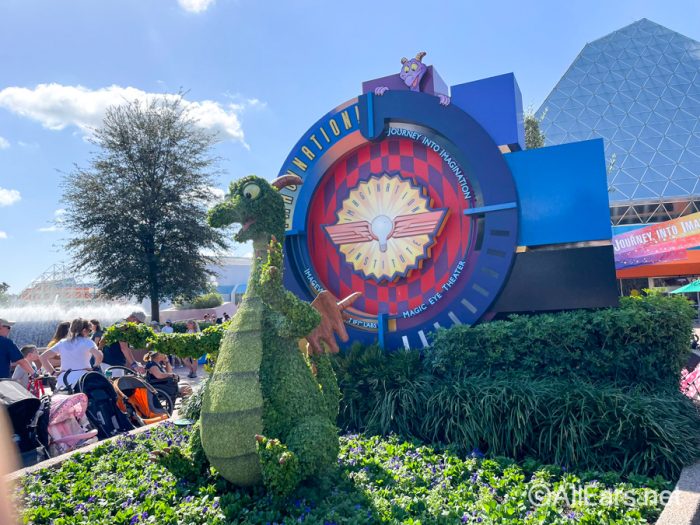 You'll also find the Bambi and Friends here and the Simba and Friends (Rafiki, Simba, Mufasa, and Sarabi) and the Pumbaa and Timon Topiaries between Imagination! and The Land Pavilion too!
And, while you're on your way, stop by The Land Pavilion to check out the Woody, Bo Peep, and Her Sheep Topiary!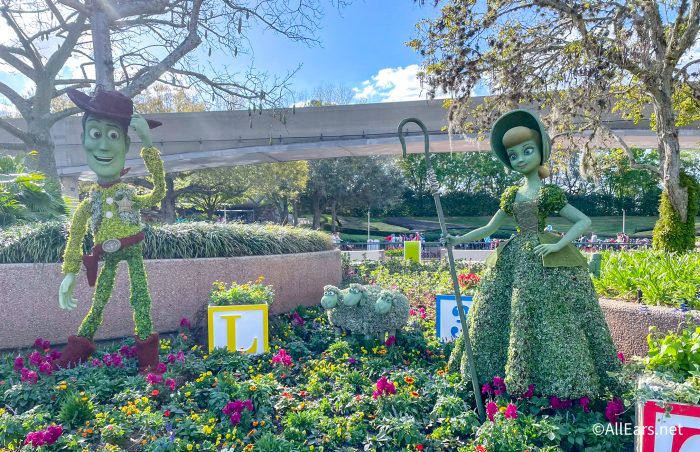 Around World Showcase, each pavilion has one (or more!) topiaries that feature Disney characters that correlate with each country. So in France, you'll find the returning Beauty and the Beast Topiary featuring the Beast and Belle…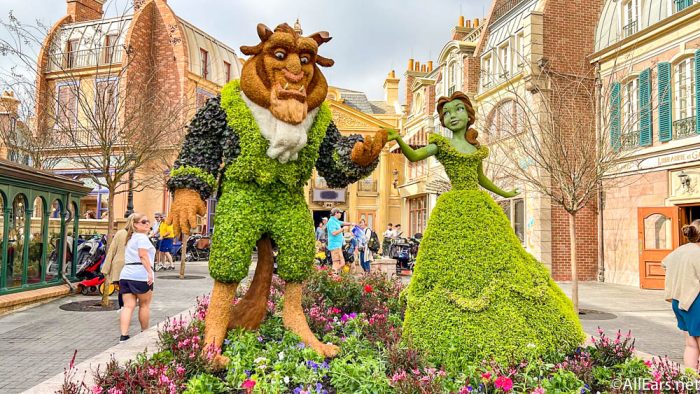 …plus Lumiere and Cogsworth are hiding out in the garden area!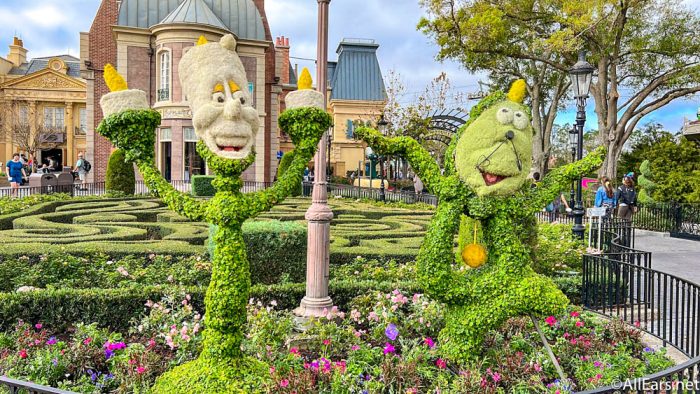 In the Italy Pavilion, you can check out the Lady and the Tramp Topiary, though it's in a bit of a different location this year so keep your eyes peeled!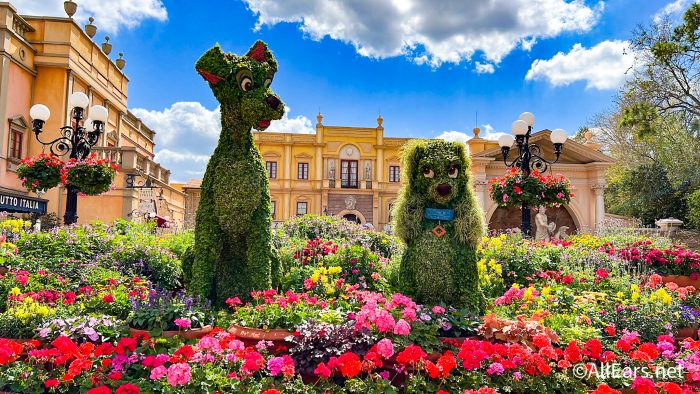 And, in the Mexico Pavilion, you'll find The Three Caballeros Topiary featuring Jose, Donald, and Panchito.
The Germany Pavilion also features multiple topiaries including the Snow White and the Seven Dwarfs Topiary…
Interrupting the 🌼Flower & Garden Festival food content for these AWESOME topiaries! 🪴

Which of these characters is your spirit animal? pic.twitter.com/MVoeruzfZK

— AllEars.Net (@AllEarsNet) March 2, 2022
…the Kermit the Frog Topiary…
…and the Miss Piggy Topiary.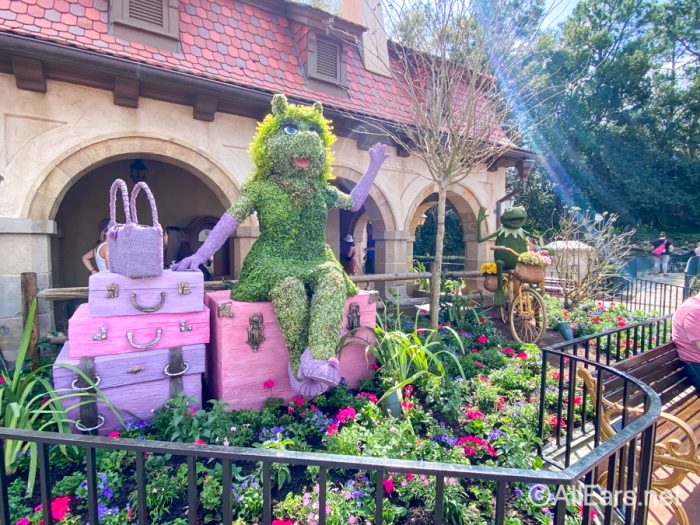 And, the Norway Pavilion has an Anna and Elsa Topiary…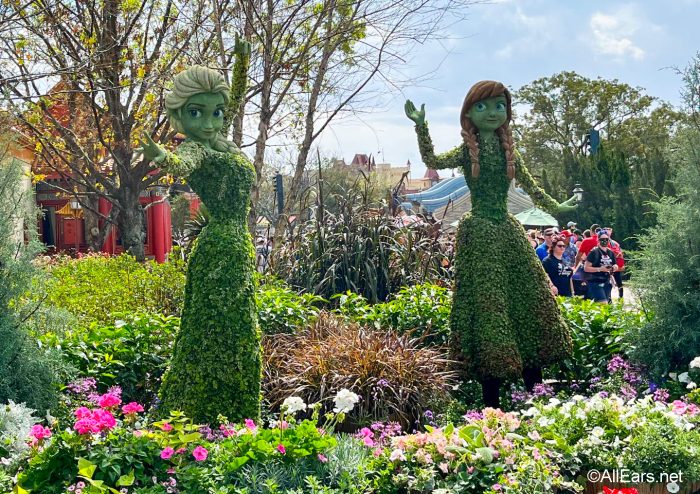 …as well as a Troll Topiary.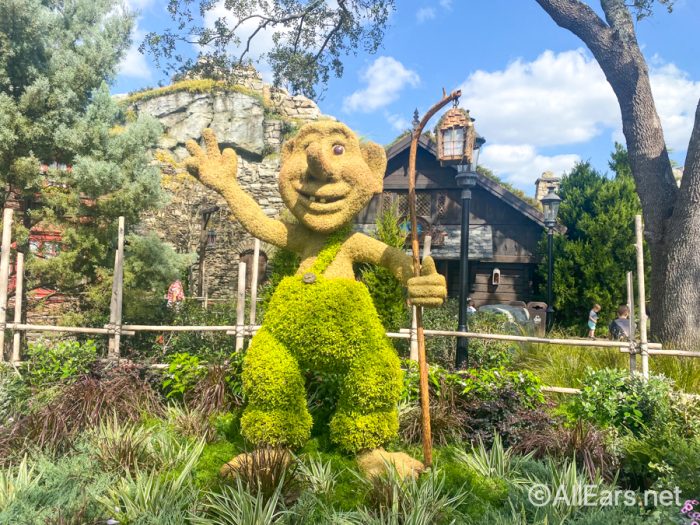 Plus, a variety of characters are hiding around the U.K. Pavilion including Peter Pan, Captain Hook, and Tick Tock Croc (which can actually be found between the U.K. and Canada Pavilions)…
…Tinker Bell (and her Fairy House Garden)…
…and Winnie the Pooh and his friends, Rabbit, Eeyore, Piglet, and Tigger.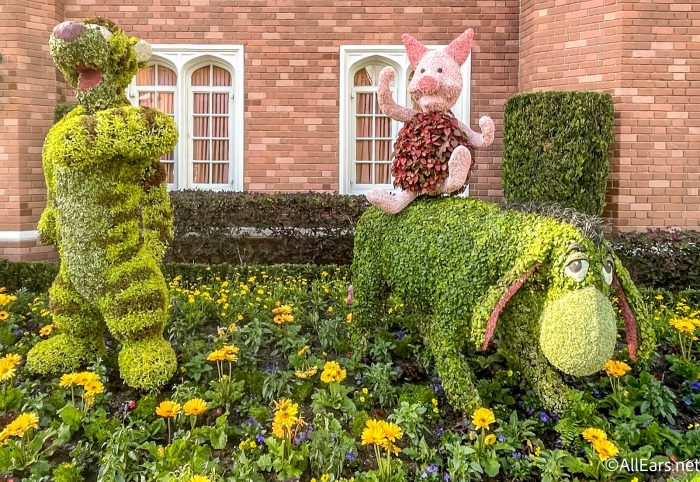 And, over in the American Adventure pavilion, you'll find Pluto and Chip 'n' Dale hanging out near the festival booth.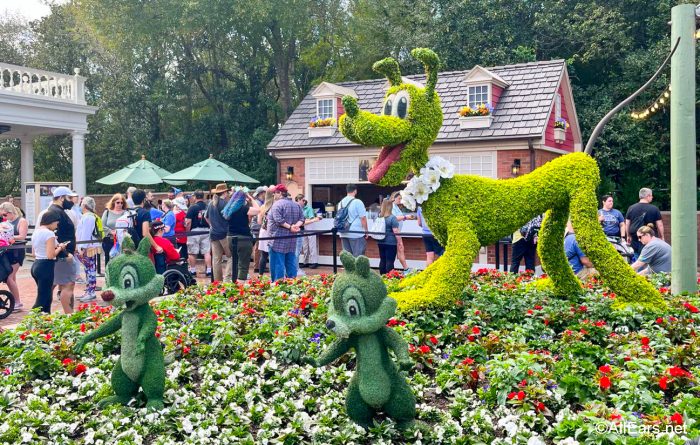 But, don't just look inside the pavilions for the topiaries! For example, the Dragon Topiary located in the Japan Pavilion is actually found near the Torii Gate…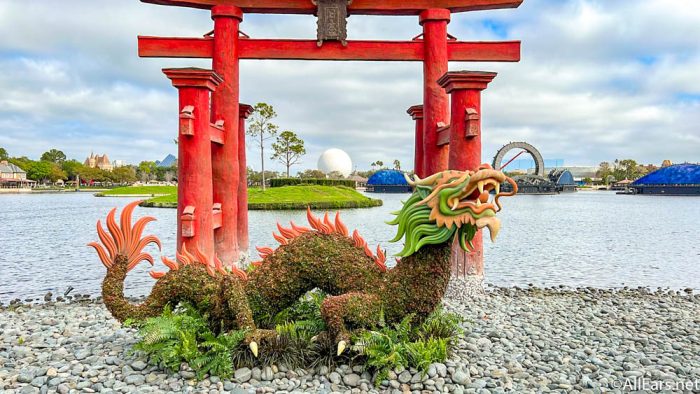 …and the Panda Topiaries are located in the China Pavilion gardens.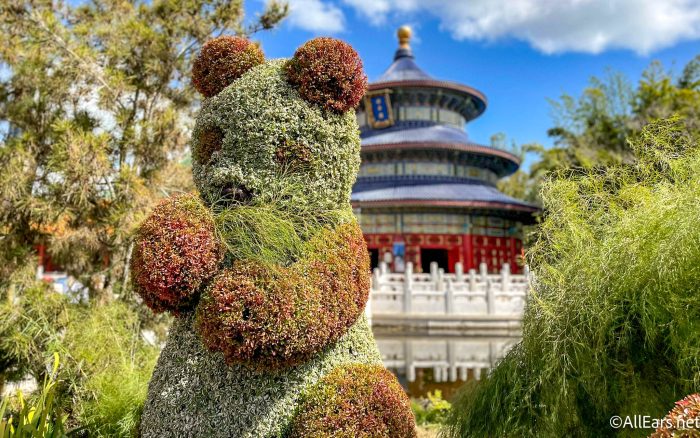 EPCOT Flower & Garden Merchandise
In the mood to do some shopping? Well, Disney has released FIVE different collections for the Flower & Garden Festival. But, you might want to be prepared to face crowds when you're shopping — we had to wait in a line to get into Creations Shop and Port of Entry, and World Traveler was packed with people first thing in the morning.
A peek at some of the Orange Bird 🍊 merchandise for Flower & Garden Festival!

Spot any must-haves?? 👀 pic.twitter.com/nzsiHih6ck

— AllEars.Net (@AllEarsNet) March 2, 2022
Orange Bird
Orange Bird is here with some new (and VERY popular) merchandise items, including a new Dooney & Bourke purse collection that features a green background and Orange Bird doing some citrus gardening. There is a tote, a crossbody, and a satchel available.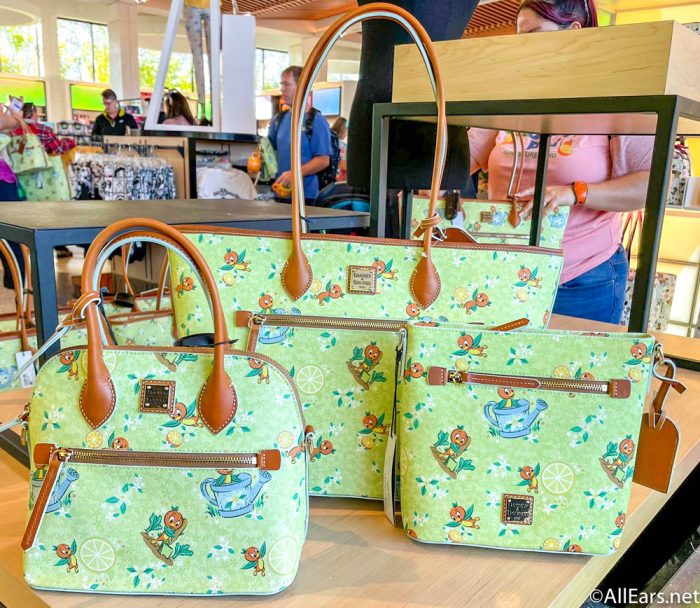 Other Orange Bird items include a hat for $27.99…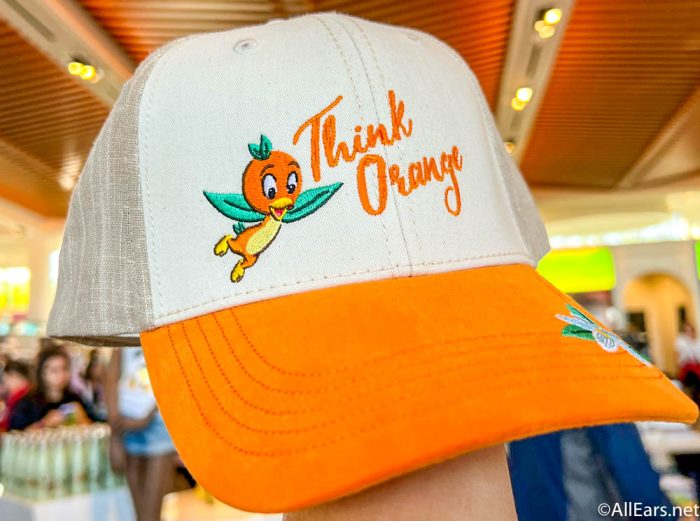 …a tumbler…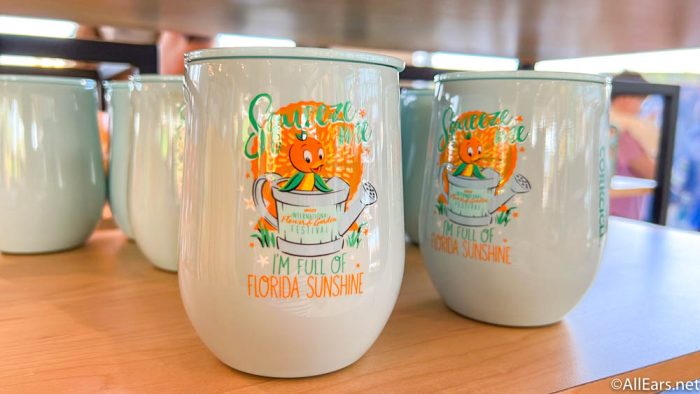 …salt and pepper shakers for $9.99 each…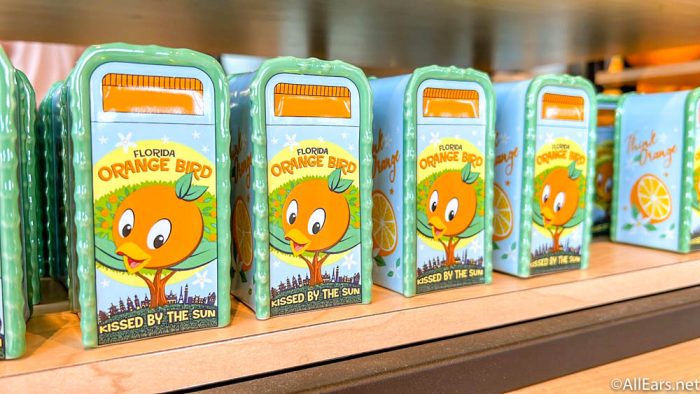 …a large mug for $19.99…
…a bucket hat…
…and an Orange Bird Gift Card. You can load the gift card with any amount you'd like and use at the festival booths (or any other places in Disney World).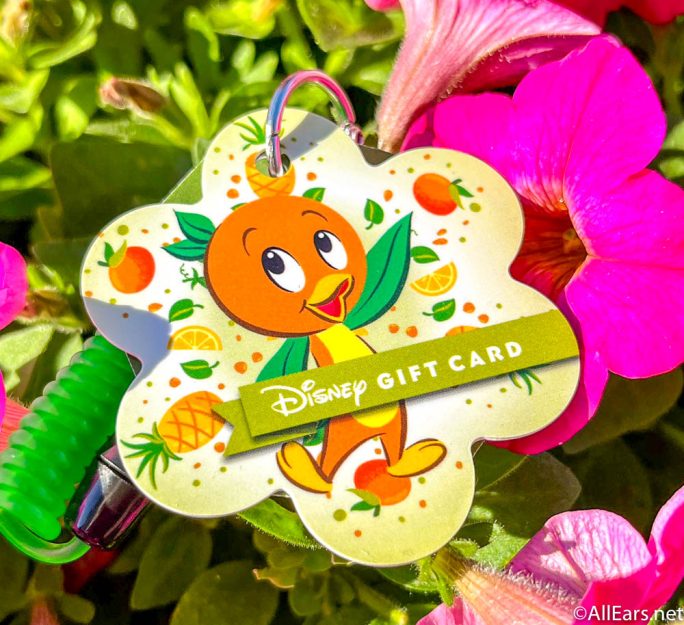 Plus, there's even a new Orange Bird Spirit Jersey that is sure to be a popular item this year!
Here is a closer look at the Orange Bird Spirit Jersey! 🍊

Will you be adding this one to your collection? pic.twitter.com/jLZ1OzDEn1

— AllEars.Net (@AllEarsNet) March 2, 2022
Mickey Mouse and Minnie Mouse
The Mickey Mouse and Minnie Mouse collection features pins, apparel, and even a special edition MagicBand!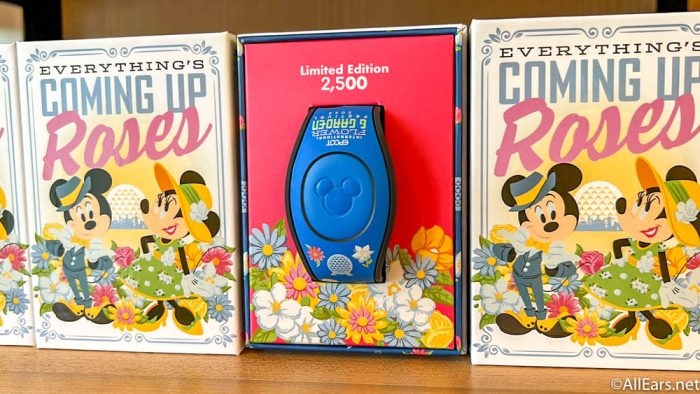 It features flowers, a Spaceship Earth icon, and the 2022 festival logo with Mickey and Minnie.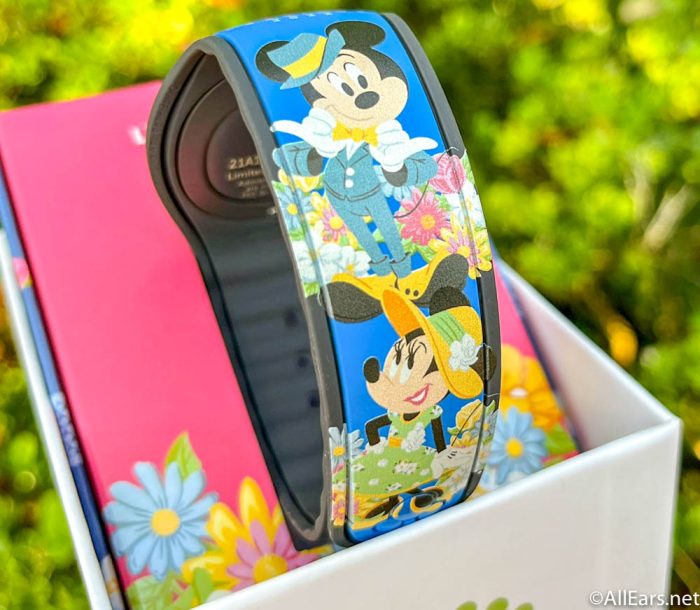 Mickey Mouse Home Garden
The Mickey Mouse Home Garden collection includes garden-inspired merchandise, like gardening gloves for $14.99…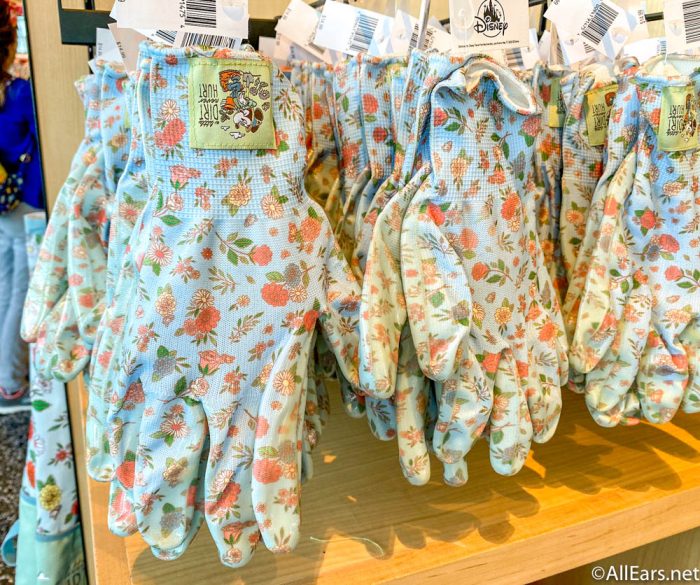 …a water bottle for $29.99…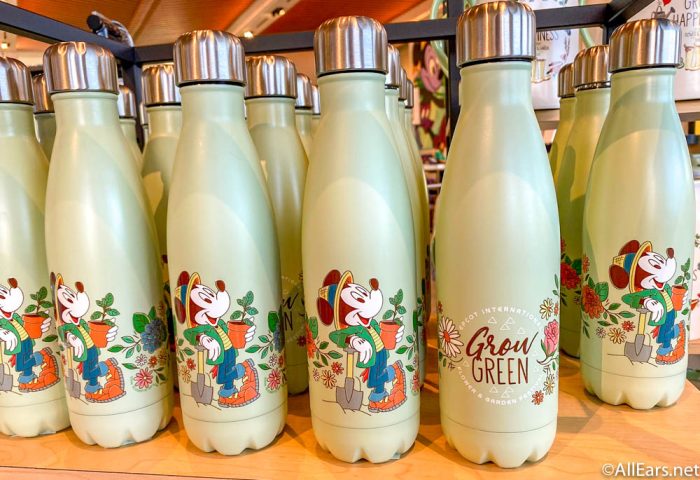 …a serving tray that says "Grow Green" for $34.99…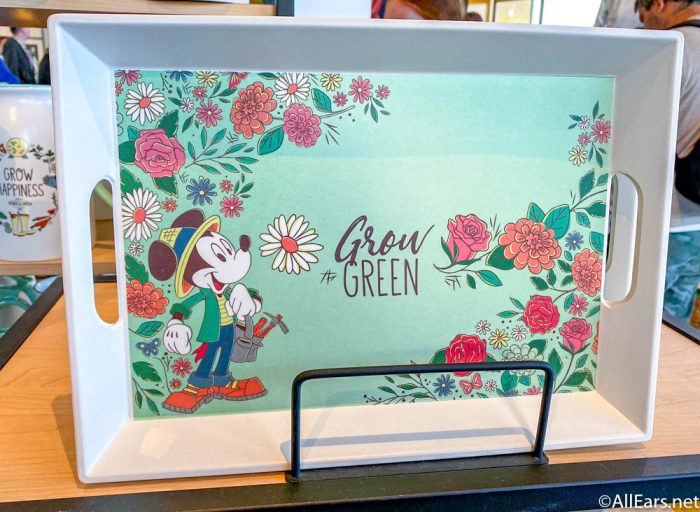 …a wide-brimmed hat that says "Plant Lady" for $29.99…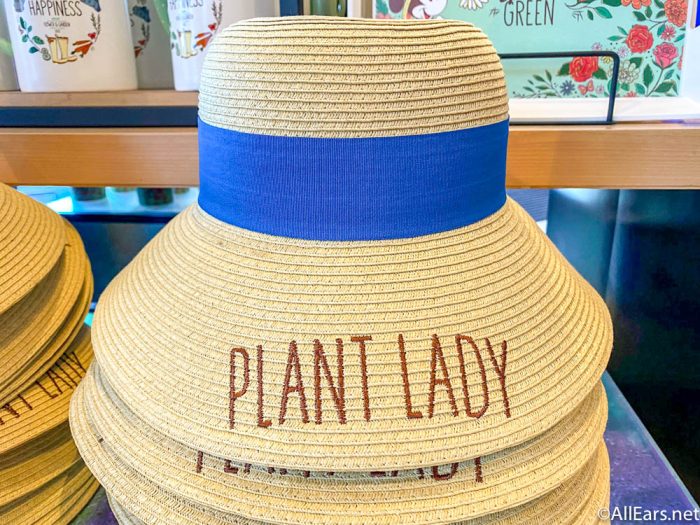 …and a "Plant Lady" t-shirt with a Mickey-shaped flower blooming on the front.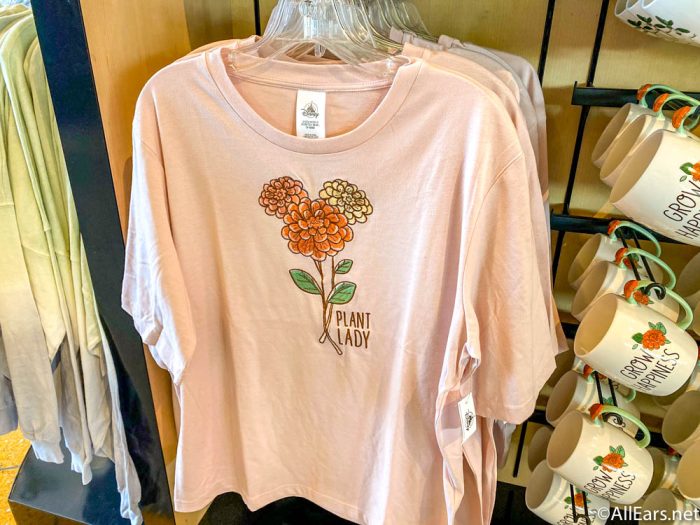 Plus, there are also some other gardening items like this top…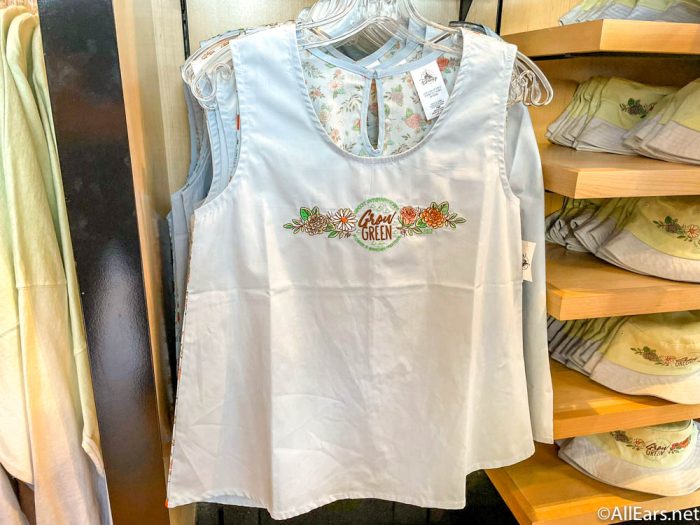 …and this large tote. Both cost $34.99.
Spike the Bee
Spike the Bee is also part of the Flower and Garden Festival, with an entire collection dedicated to the character!
We spotted some Spike the Bee merchandise! 🐝

Are you a fan of the little bee friend? 🌼 pic.twitter.com/AB5tFIQS5Z

— AllEars.Net (@AllEarsNet) March 2, 2022
Figment Garden — Annual Passholders
Of course, it wouldn't be an EPCOT festival without some new Figment merchandise too! There's an entire Annual Passholder line dedicated to the purple dragon and you can find everything from sweatshirts…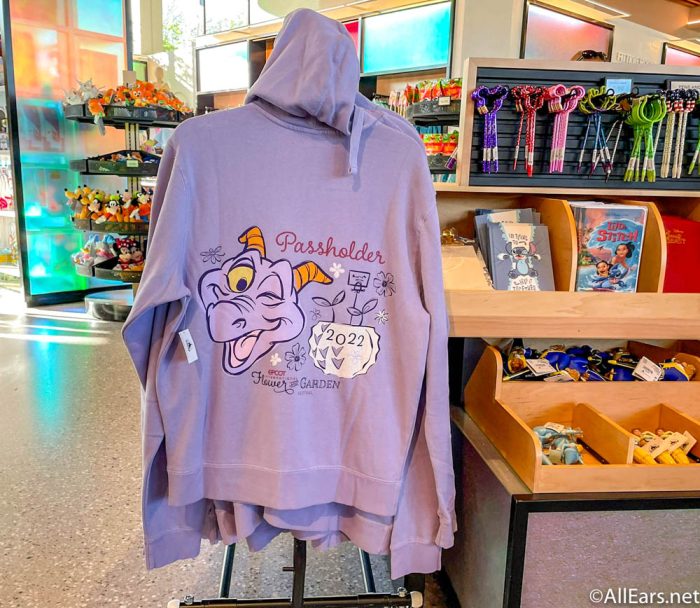 …to Magicbands, and more!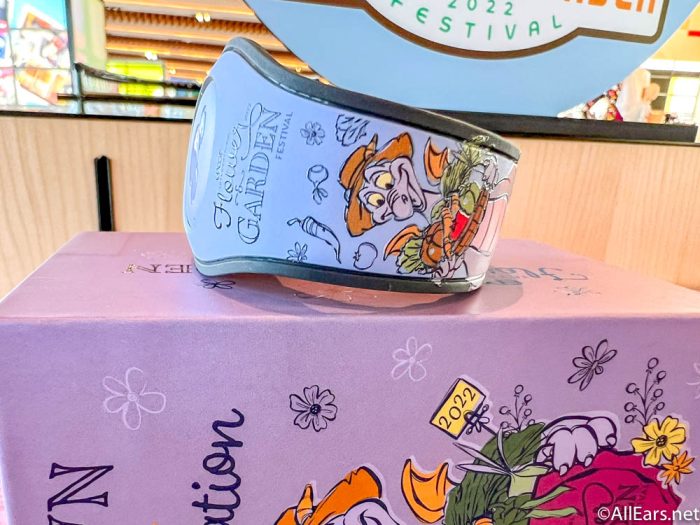 Just keep in mind that you will need to provide proof that you are a Disney World Annual Passholder to purchase.
We'll be updating this post throughout the day, so be sure to check back often to follow along with us as we give you a look at EVERYTHING happening at this year's EPCOT Flower and Garden Festival! Stay tuned to AllEars for more Disney news!
Are you planning on visiting the 2022 EPCOT International Flower & Garden Festival? Let us know in the comments!