So now that Disney World's 50th Anniversary Celebration has started, there is so much more to do at the parks in addition to the regular overwhelming amount of things to do.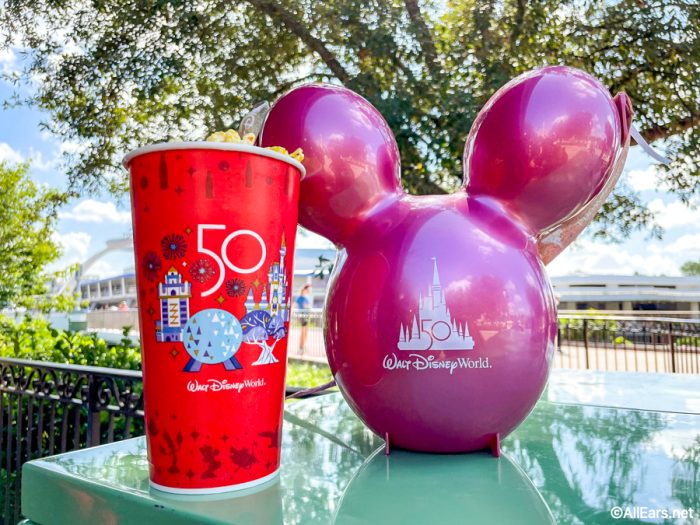 But, hey, having too much to do is a nice problem, right? But if you want to hit all the big 50th anniversary entertainment, activities, and food, it might seem impossible.
To help narrow things down, we've put together a list of 50 things you should try if you plan on visiting Disney World over the next 18 months.
1. Get A Photo In Front of Cinderella Castle
So the most obvious thing, you must do during the 50th anniversary is get a photo in front of Cinderella Castle now that it's decorated for the event!
2. Drink a Tropical Serenade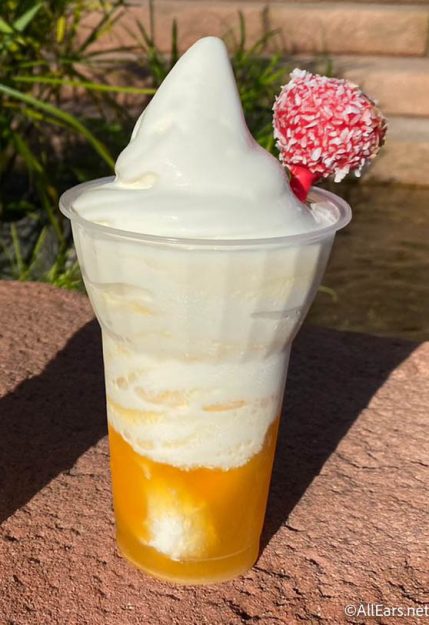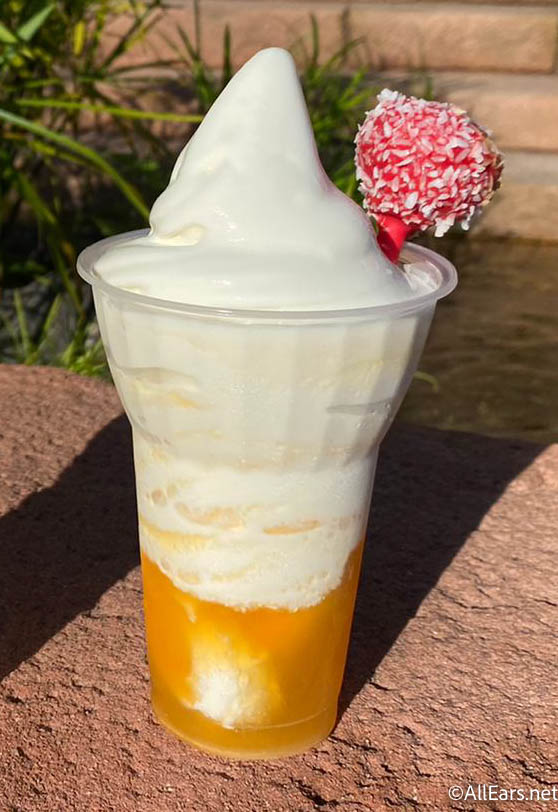 Be sure to stop by Aloha Isle and indulge in the ultimate 50th anniversary Dole Whip snack, the Tropical Serenade. It's made with Pineapple Juice, Coconut Soft-serve, and comes with an Upside-down Pineapple Cake Pop and costs $6.99.
3. Watch Disney Enchantment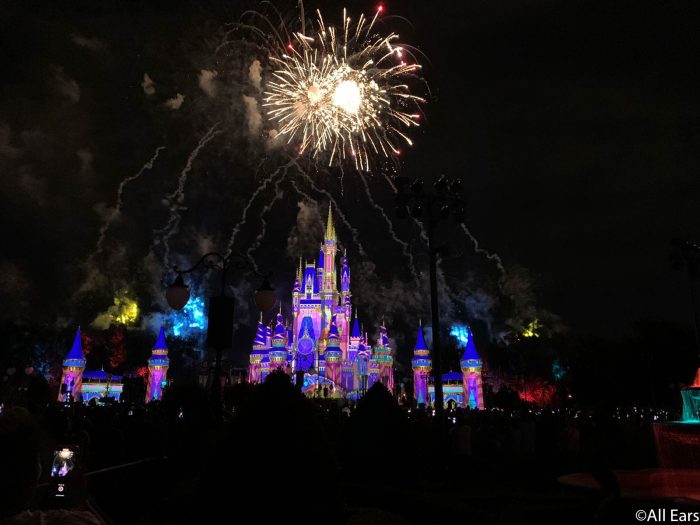 There's a brand new fireworks show at Magic Kingdom called Disney Enchantment, which debuted with the 50th anniversary celebration. It's got great Disney music, great pyrotechnics, and projections that run across the buildings of Main Street, U.S.A.
4. Eat A Toad Burger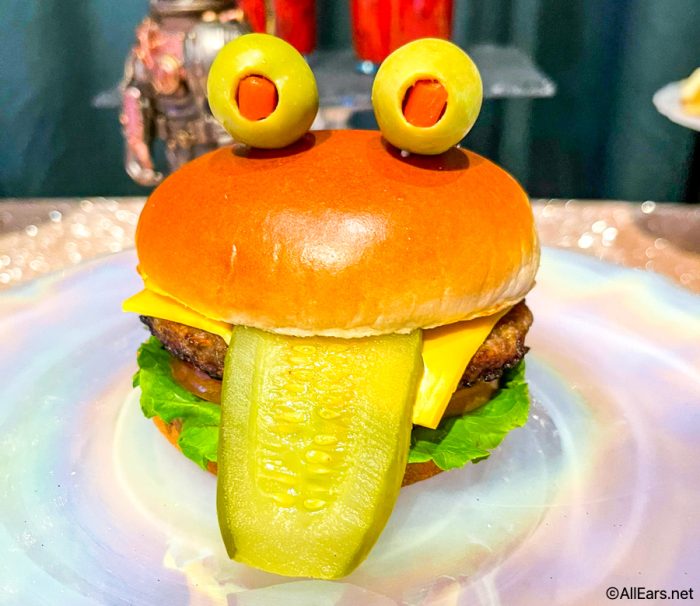 Mr. Toad's Wild Ride might be gone from Disney World, but it hasn't been forgotten! You'll find several snacks dedicated to Mr. Toad, including the Toad Burger at Friar Nook's which has olive eyes and a pickle tongue. This burger, which costs $13.49, is served with Lettuce, Tomato, Pickle, and American Cheese and is topped with Olive Skewer Eyes. It also comes with Tater Bites.
5. Eat A Mr. Toad Dome Cake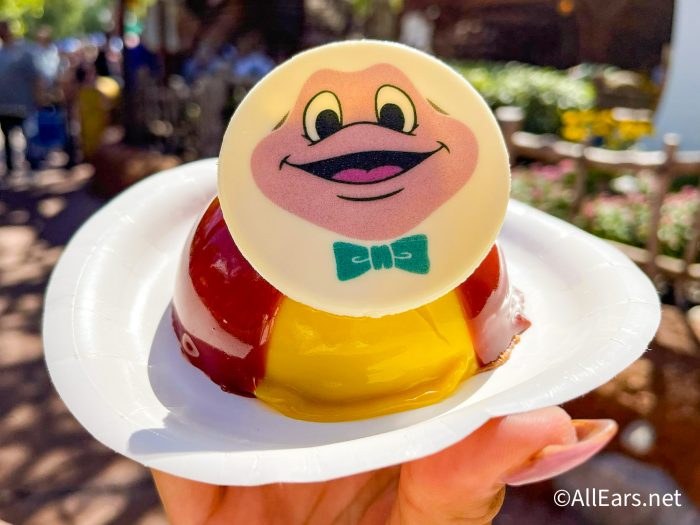 You can grab another Mr. Toad-inspired snack at Friar Nook's, too — the Mr. Toad Dome Cake. It's made with Peanut Cake, Chocolate-Peanut Butter Mousse, and Salty Caramel Center, and you can grab it for $7.99.
6. Eat a Slue Foot Sue Fish Sandwich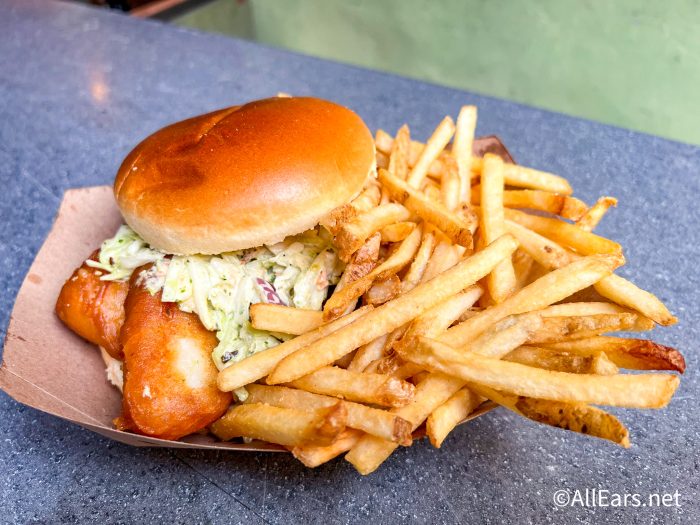 A more recent addition to the 50th Anniversary lineup, the Slue Foot Sue Fish Sandwich is a Fried Fish Sandwich with Cilantro Lime Slaw and Poblano Mayonnaise available for $12.99 at Golden Oak Outpost! Fun fact: the sandwich is named after Slue Foot Sue, a character from the Pecos Bill story in Melody Time, a classic Disney cartoon!
7. Eat A Snow White Cone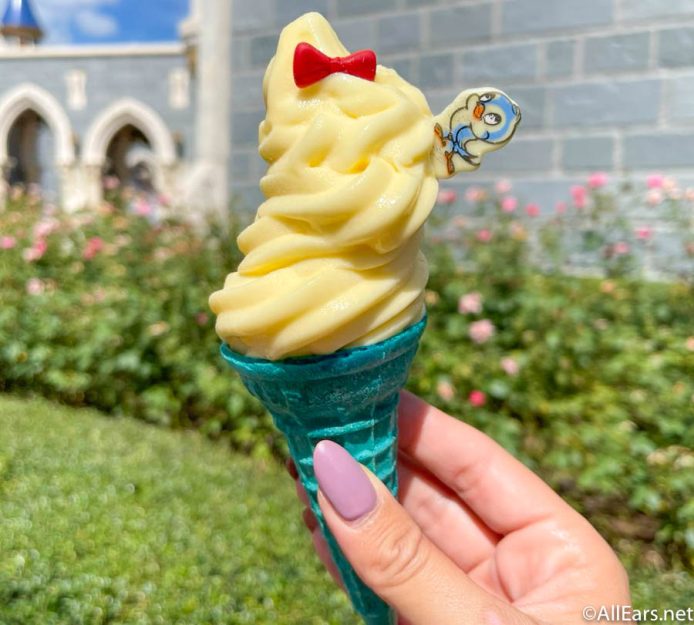 If you're a princess fan (and who isn't?), we suggest you give the Snow White Cone at Storybook Treats a taste. It's basically lemon Dole Whip with a Blue Cone, Chocolate Bird, and Sugar Bow. It's simple but also delicious. You can grab it for $6.49.
8. Eat a Monte Cristo Sandwich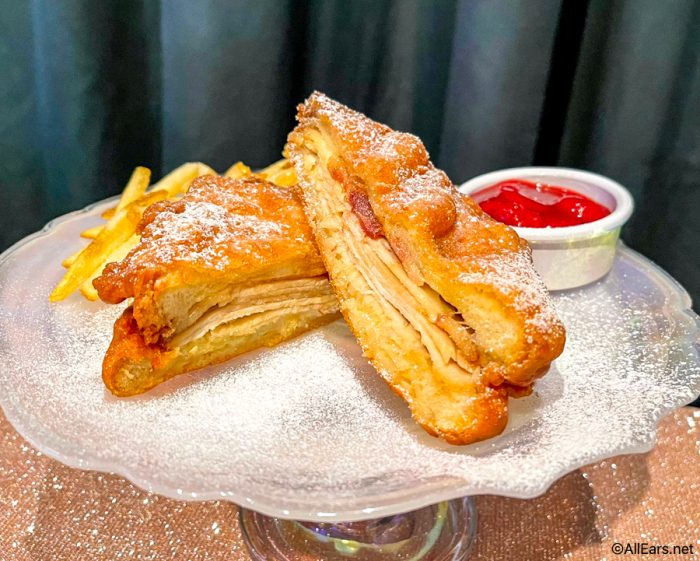 The Monte Cristo has been a staple at Disneyland, but it has officially made its way to Disney World for the 50th anniversary. The sandwich is Deep-fried in Funnel Cake Batter with House-made Bacon, Roasted Turkey, and Provolone sprinkled with EARidescent and Powered Sugar with a side of Strawberry Jam. You can get it for $20 at The Plaza Restaurant.
9. Eat The NEW Cheers to 50 Years Sundae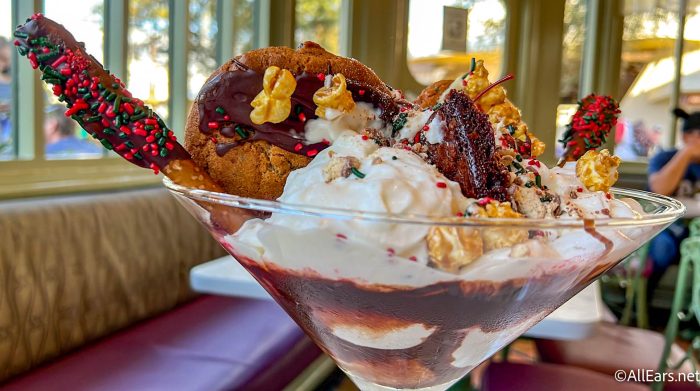 The Cheers to 50 Years recently got a major update with new toppings! With new cookies and a few other changes, this treat from The Plaza Restaurant still impresses with its mountain of flavor! You can find it for a whopping $32 (and it's worth every dollar!).
10. Drink An Adventureland Colada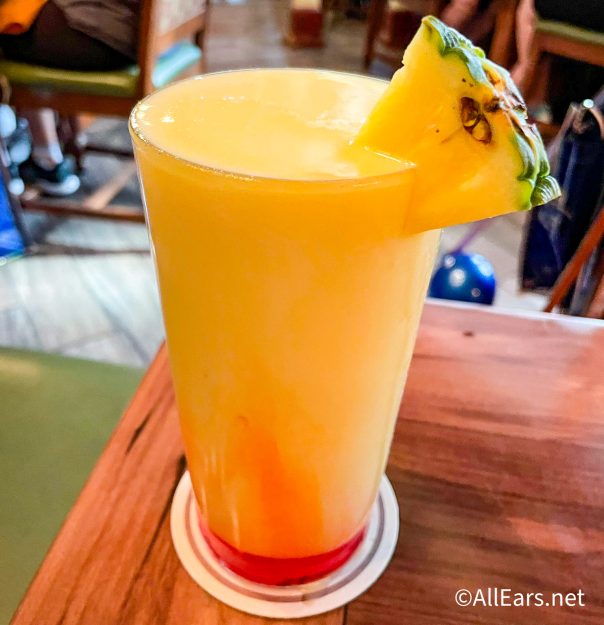 Dole Whip might be one of the most iconic Disney World snacks, and there are a lot of 50th anniversary treats available featuring that pineapple soft-serve. That includes the non-alcoholic drink called the Adventureland Colada, which is Dole Whip Pineapple blended with Coconut Cream and Passion Fruit. You can grab it at Jungle Navigation Co. LTD Skipper Canteen for $9.
11. Try a 50th Celebration Hot Dog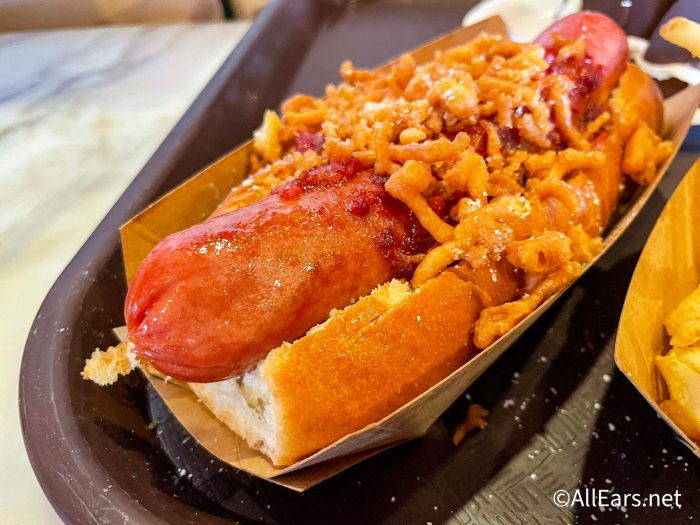 The hotdogs at Casey's Corner are legendary, and now you can try a special 50th anniversary hotdog called the 50th Celebration Hot Dog. It's a bit of sweet and savory — it's made with an All-Beef Hot Dog topped with Strawberry-Bacon Jam, Crisp Funnel Cake Pieces, and Powdered Sugar. Grab it for $11.99.
12. Dive Into The Spoon For One More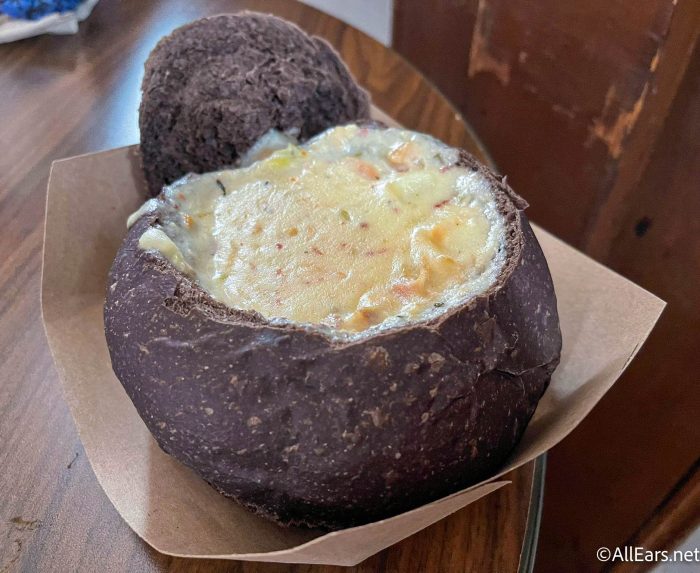 Who doesn't love soup in a bread bowl? At Columbia Harbor House, you can get the Haunted Mansion-themed Spoon For One More, which is New England Clam Chowder served in a Black Sourdough Bread Bowl for $7.49.
13. Eat The Mission To Mars Burger
So how often do you get to eat a burger with macaroni and cheese AND Cheetos dust on it? That's why the Mission To Mars at Cosmic Ray's Starlight Cafe should be on your list. It's a Burger topped with Bacon and Macaroni & Cheese served on a Bun dusted with Crushed Cheese-flavored Puffs and served with French Fries. Its price? $12.99.
14. Grab Wendell's Bear Claw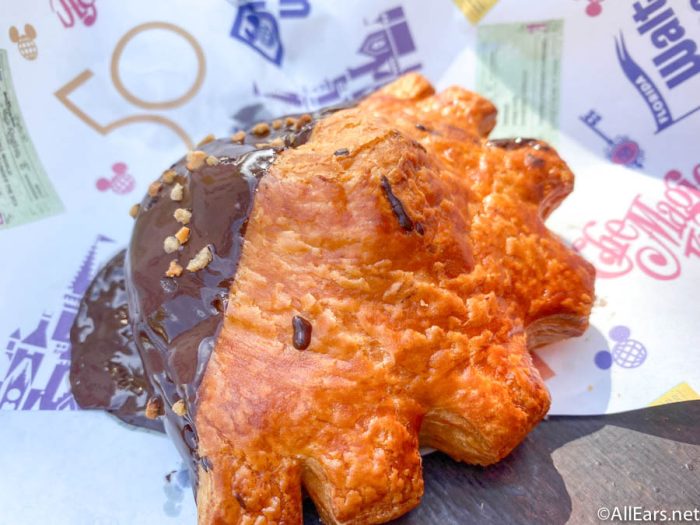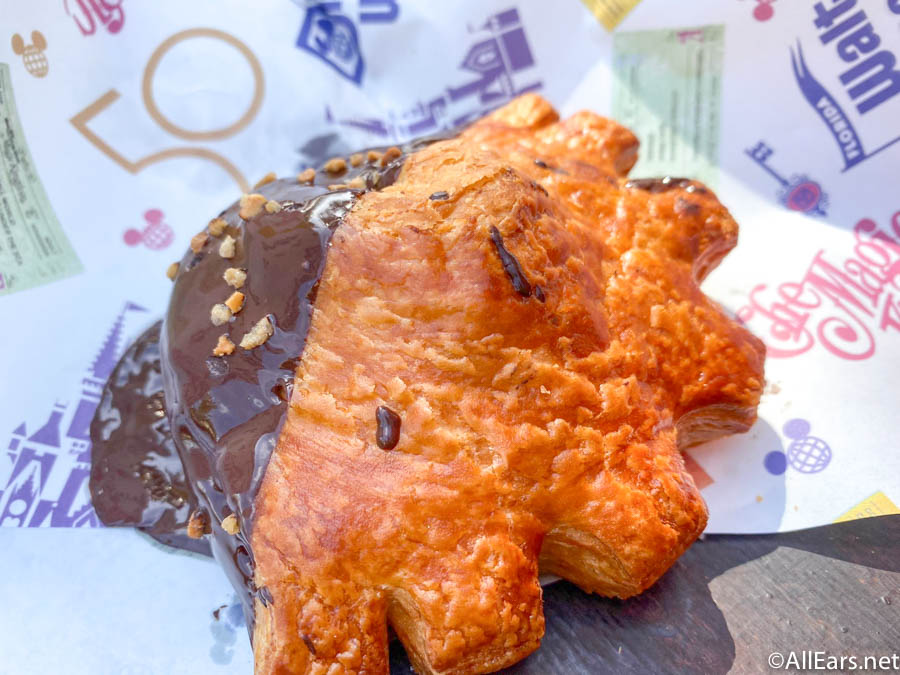 One of our favorite 50th anniversary snacks isn't over the top, but it's delicious all the same. It's the Wendell's Bear Claw from Westward Ho. It's a Traditional Bear Claw dipped in Chocolate and sprinkled with Hazelnuts for $6.29.
15. Munch on some Jumbo's Surprise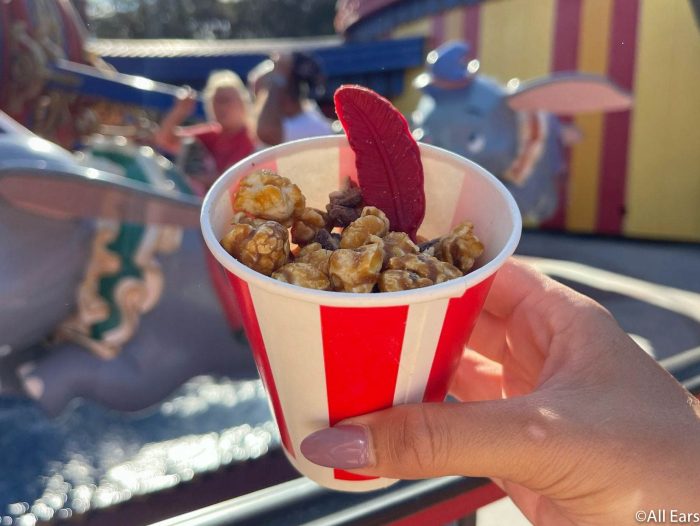 Head to any of the snack carts at Magic Kingdom and pick up Jumbo's Surprise. It's a mix of caramel popcorn and Twix candy pieces with a hidden chocolate feather (that's the surprise!). It's another of our favorite 50th anniversary snacks.
16. Visit The Plaque Honoring Cast Members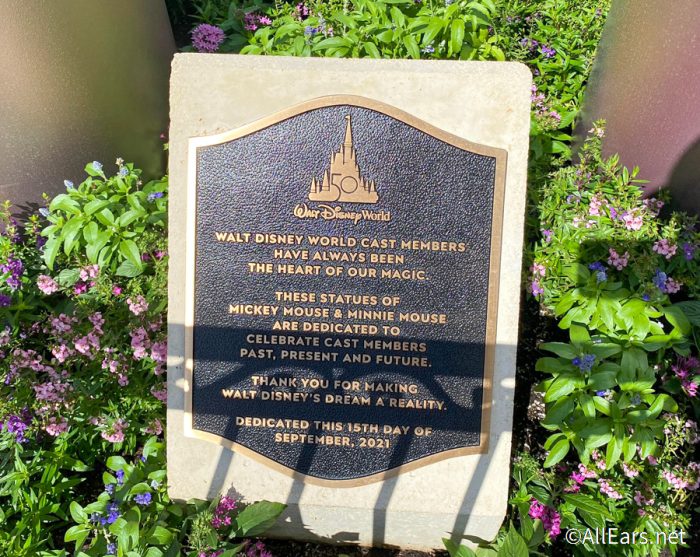 Don't forget to check out the plaque in the hub in front of Cinderella Castle between the Mickey and Minnie golden statues — it honors past, present, and future Cast Members.
17. Mickey's Celebration Cavalcade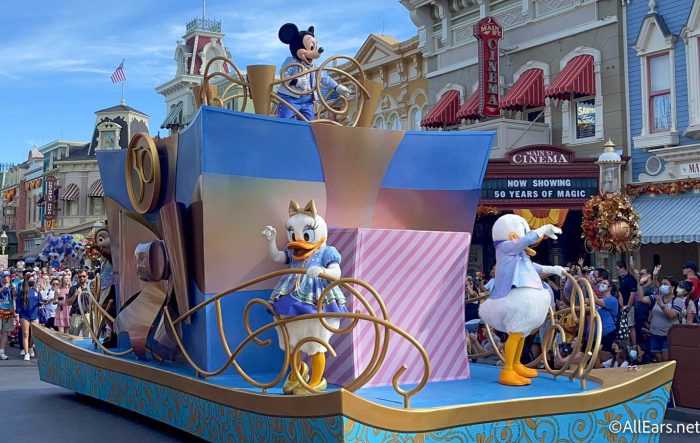 Did you know that Magic Kingdom got a brand new character cavalcade for the 50th anniversary? So be sure to make time to watch Mickey's Celebration Cavalcade during your time there! You'll find the cavalcade's times in the My Disney Experience app.
18. Watch Harmonious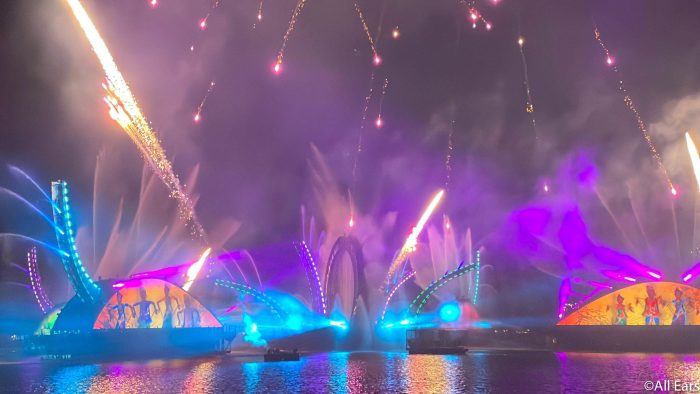 Magic Kingdom isn't the only park with a brand new nighttime show — EPCOT is now showing Harmonious every night, and it's a must-watch to celebrate Disney World's 50th.
19. Ride Remy's Ratatouille Adventure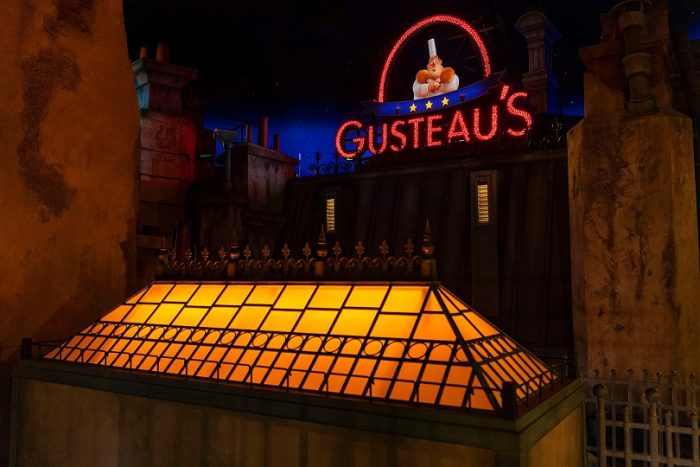 EPCOT also got a brand new attraction for the 50th anniversary! It's Remy's Ratatouille Adventure in France — get shrunk down to the size of a mouse and enjoy!
20. Visit La Creperie de Paris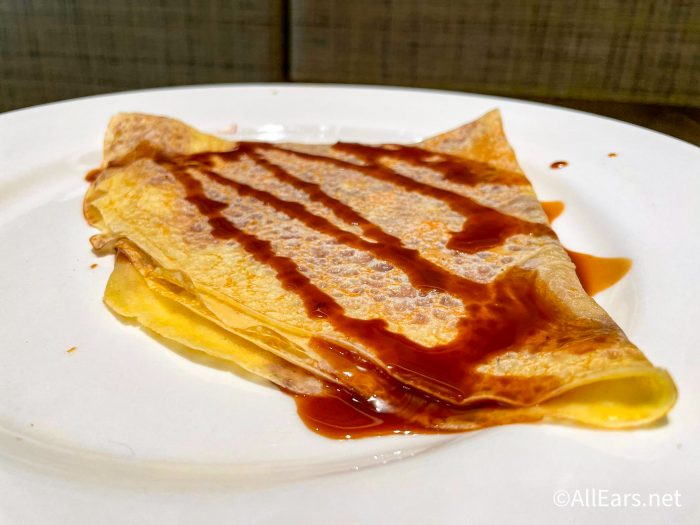 Along with Remy's Ratatouille Adventure, a brand new restaurant, La Creperie de Paris, also opened in France. So head on over there to dive into some delicious savory and sweet crepes.
21. Eat A Mini Chocolate Bundt Cake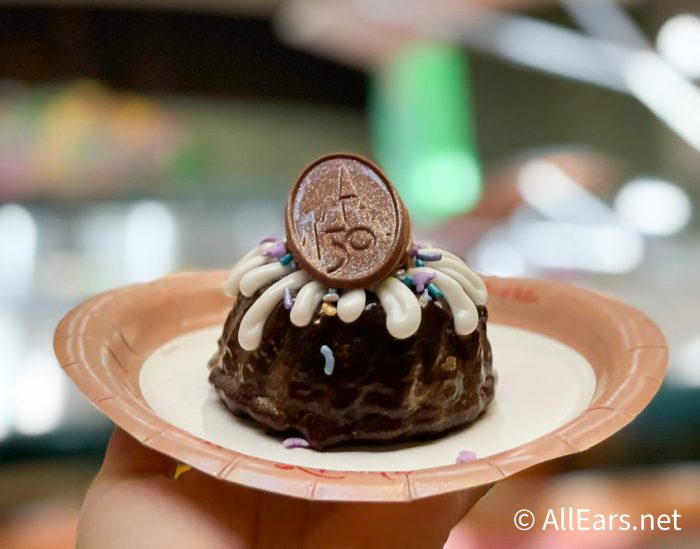 Here's another must for you chocolate lovers — be sure to stop by Sunshine Seasons and get the Mini Chocolate Bundt Cake. It's a Mini chocolate Bundt cake with chocolate ganache, sprinkles, and icing dusted with EARidescent shimmer and chocolate 50th anniversary garnish for $5.49.
22. Order the 50th Anniversary Dessert at San Angel Inn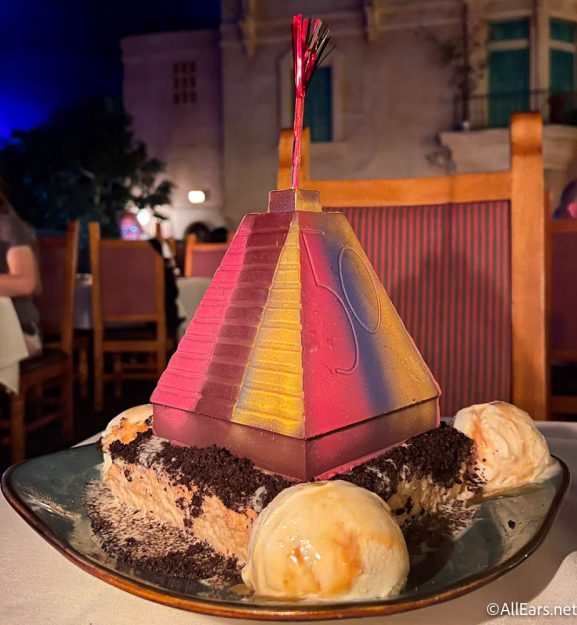 If you want to check out the most over-the-top 50th anniversary dessert, you'll need to head to San Angel Inn Restaurante and order the Chocolate "Fiesta" Pyramid, which is a festively decorated Chocolate Pyramid filled with Mexican Chocolate Mousse and Toffee atop a traditional Tres Leches Cake, and accompanied by Ice Cream. And bring someone to share with you — trust us.
23. Shop In Creations Shop
EPCOT recently got a brand new flagship shop, Creations Shop, just in time for the 50th anniversary, and if you're looking for some unique EPCOT gear, this is where you'll want to go — this shop has its own special collection. This is the store that replaced Mouse Gear.
24. Visit the Brand New Club Cool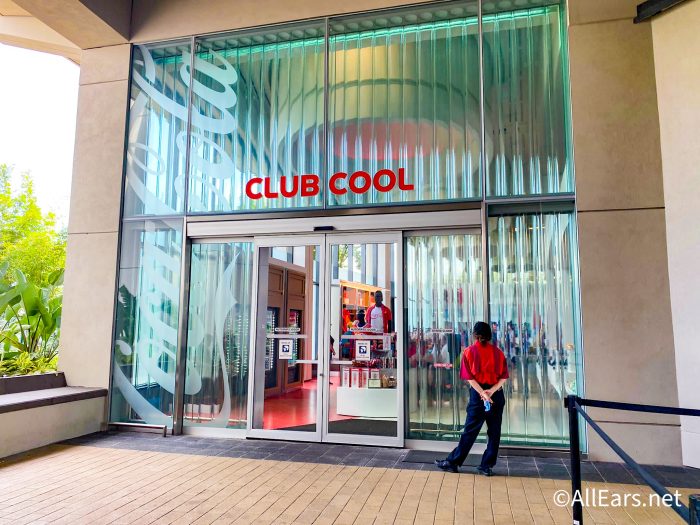 Club Cool has returned to EPCOT but with a completely new look. It's got a brand new design, but as always, the samples of Coca-Cola products from around the world are free.
25. Try the Glimmer and Shimmer Blondie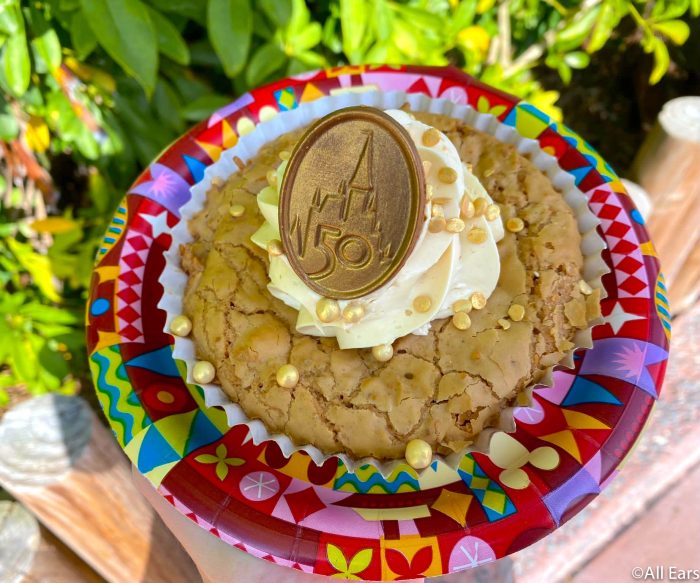 Another favorite 50th anniversary snack is the Glimmer And Shimmer Blondie, which you can find at both Backlot Express and Fairfax Fare. It's a Gooey Toffee and Toasted Coconut Blondie with Salted Caramel Buttercream and festive Gold Nuggets. You can get it for $4.49. Yep! It's under $5.
26. Drink A Shimmer Over The Moon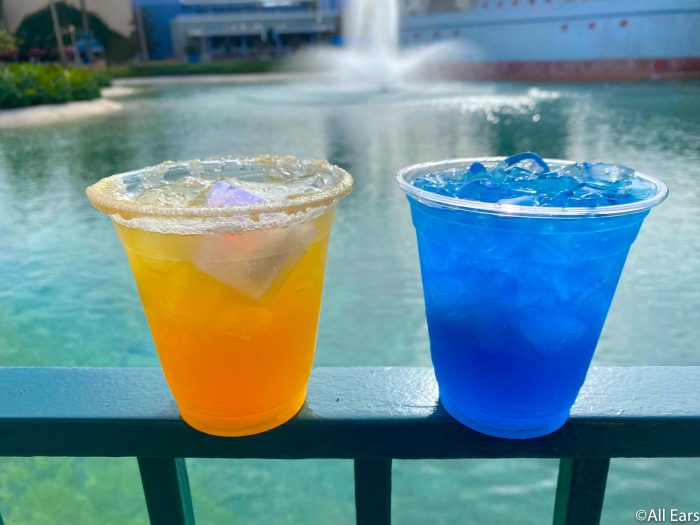 If you're ready to booze it up a little, be sure to check out the Shimmer Over The Moon cocktail available at Animation Bar, Oasis Canteen, Hollywood Brown Derby Lounge, and Sunshine Day Bar for $14. It's made with Apple pie moonshine, amaretto, falernum, pineapple juice, and club soda served with a souvenir glow cube.
27. Eat A Glimmer and Shimmer Funnel Cake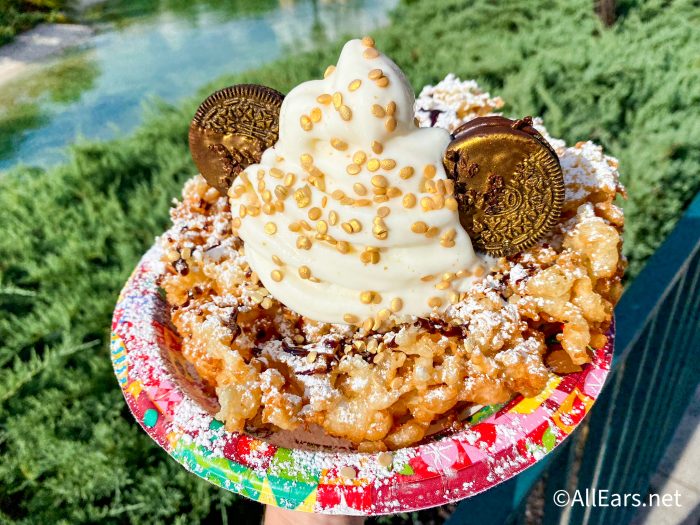 It's time to get the glimmer and shimmer on some more because Epic Eats has the Glimmer and Shimmer Funnel Cake, which is a Funnel Cake with Cookies 'n Cream and Soft-serve Vanilla Ice Cream topped with Golden Cookies and Sprinkles. It's $8.49.
28. Grab A Spoon For the
Glimmer and Shimmer Pineapple Mousse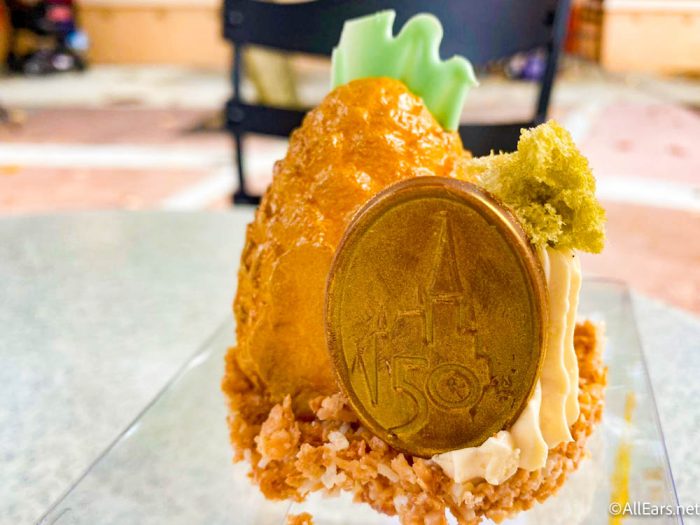 We've got even more glimmer and shimmer for you that you shouldn't miss. The Glimmer and Shimmer Pineapple Mousse is Golden Pineapple Mousse on a Toasted Coconut Crisp with Caramel Cream and Matcha Sponge Cake for $5.49.
29. Bite Into A 50th Celebration Sandwich Cookie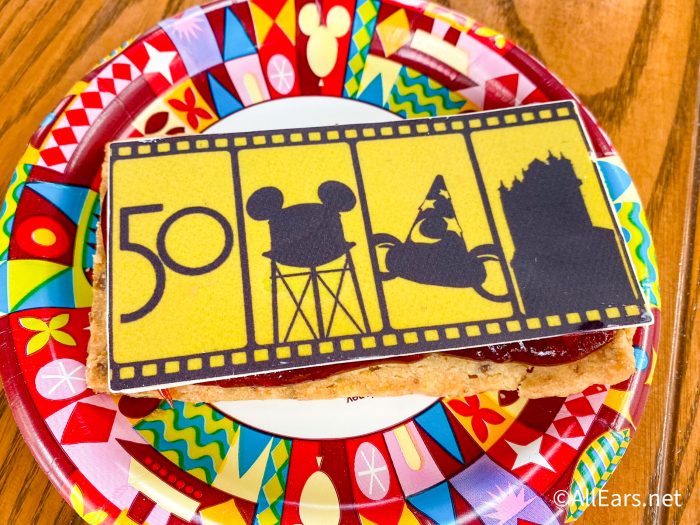 Over at Rosie's All-American Cafe, you can grab the 50th Celebration Sandwich Cookie, which features a Pretzel Shortbread Cookie sandwiched with Strawberry Jam and Peanut Butter-Chocolate Fudge! This is a delicious treat and you definitely won't be disappointed if you love peanut butter and jelly. You can get it for $5.29!
30. Buy A Hand-Dipped 50th Celebration Mickey Premium Bar
Mickey Bars got a serious upgrade, and if you grab on from Drinkwallah, you can get a Hand-Dipped 50th Celebration Mickey Premium Bar, which dips the iconic snack in a blue raspberry-flavored coating with celebration sprinkles and pixie dust. Get it now for $6.99.
31. Watch Kite Tails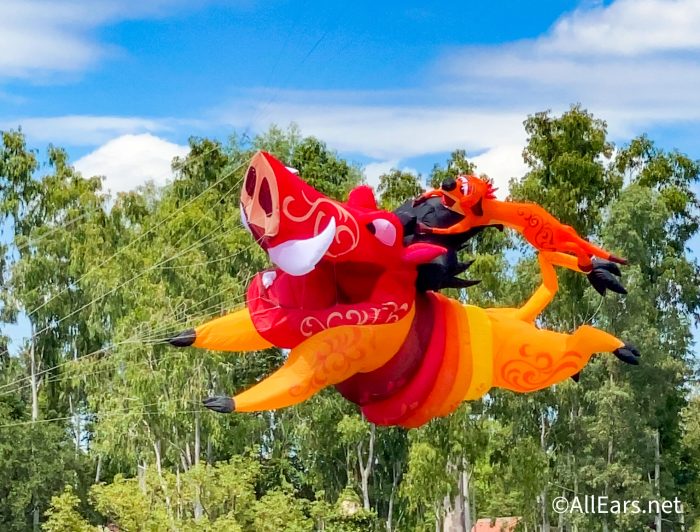 Kite Tails is Animal Kingdom's newest show, and although it seems to get a lot of questionable attention on social media, it's actually a really relaxing show (and great for people who need more relaxing entertainment). It's basically a show with kites over the water at Discovery River Theater and if you need to take a break and put your feet up, this is a chill way to do it.
32. Get The 50th Celebration Mickey Mousse Dome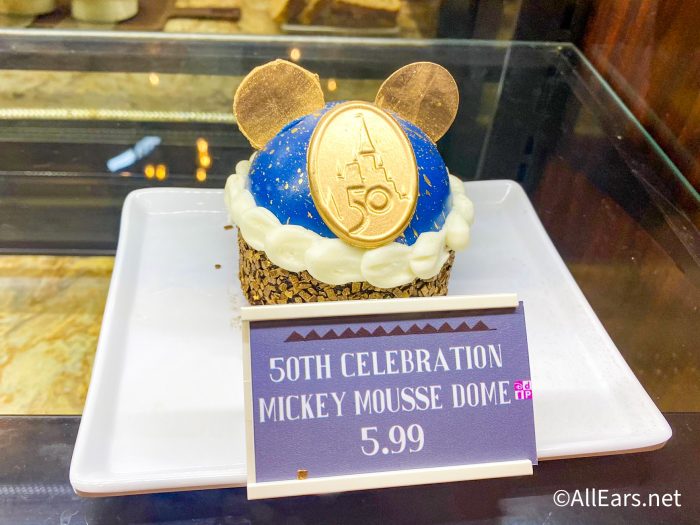 Head on over to Creature Comforts for a beautiful 50th anniversary snack that's also quite tasty. The 50th Celebration Mickey Mousse Dome is made with a Chocolate Brownie Base with Gold-dusted Chocolate Sprinkles and Birthday Cake-flavored Mousse with Gold-dusted Mickey Ears and a Gold-dusted 50th Anniversary Medallion for $7.99.
Elsewhere
33. 50th Celebration Petit Cake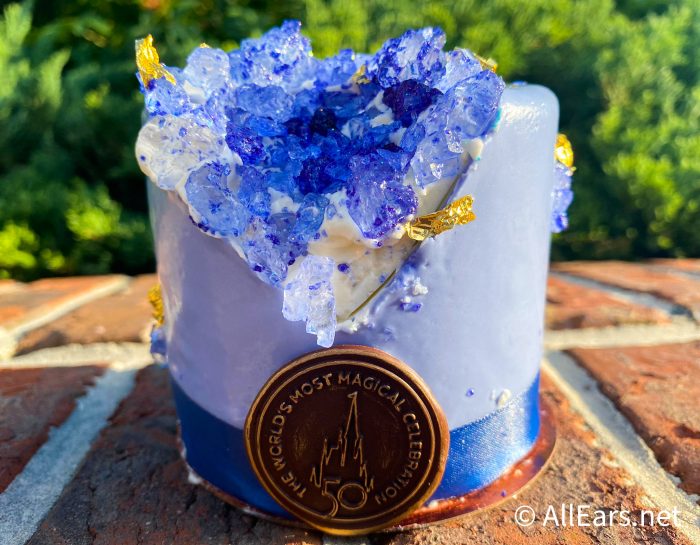 Amorette's Patisserie at Disney Springs went above and beyond with its 50th Celebration Petit Cake. This stunning cake is made with a Vanilla Chiffon Cake with Celebration Blue Mousse, Blueberry Jam, and Lemon Curd. But it will set you back $22, so keep that in mind.
34. Check Out The Chicken Dinner Trio Cupcakes
These aren't delicious chicken, mashed potatoes, and veggies, it's the Chicken Dinner Trio Cupcakes! These imitation cupcakes from P & J's Southern Takeout replicate a classic chicken dinner using candy and cake. The chicken cupcake features an apple fritter, the mashed potatoes cupcake features a SNICKERS mousse, and the veggies one has M&M's! You can grab this delicious trio for $9.99 at Fort Wilderness Resort.
35. Eat SPAM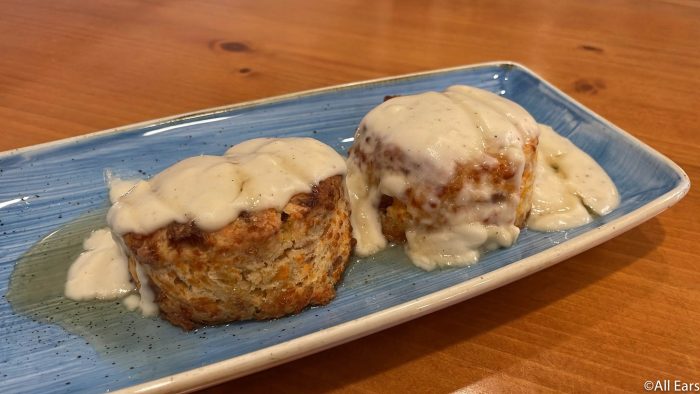 Yes, we want you to eat SPAM to celebrate Disney World's 50th, because the SPAM Cheddar Biscuits at Olivia's Cafe at Disney's Old Key West Resort are delicious. They're cheddar biscuits with bits of SPAM baked into them covered in Olivia's signature gravy and honey. They're $15.
36. Try The 50th Anniversary Dessert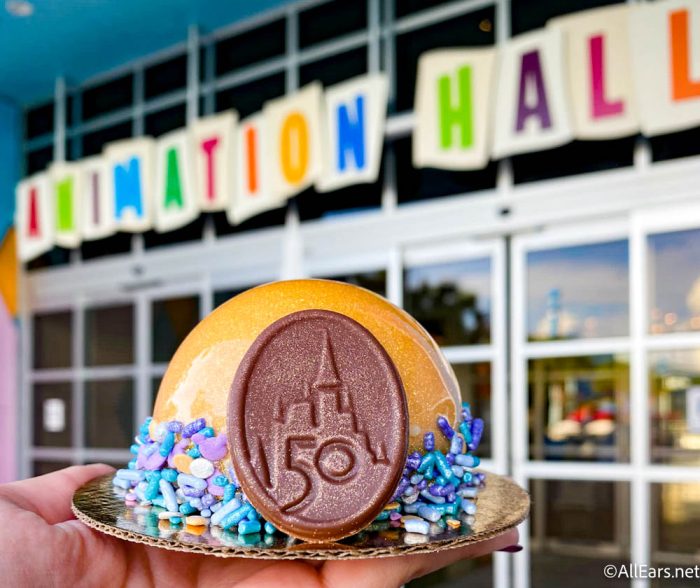 You'll find a special 50th Anniversary Dessert at Disney's value resorts — it's at at Landscape of Flavors in Disney's Art of Animation Resort, Everything POP! at Pop Century Resort, World Premiere Food Court at All-Star Movies, and Intermission Food Court at All-Star Music. It's a Raspberry Cheesecake with a Rose Gold Champagne-infused Glaze on top of an Almond Cookie for $6.29.
37. Snack on the 50th Anniversary Macaron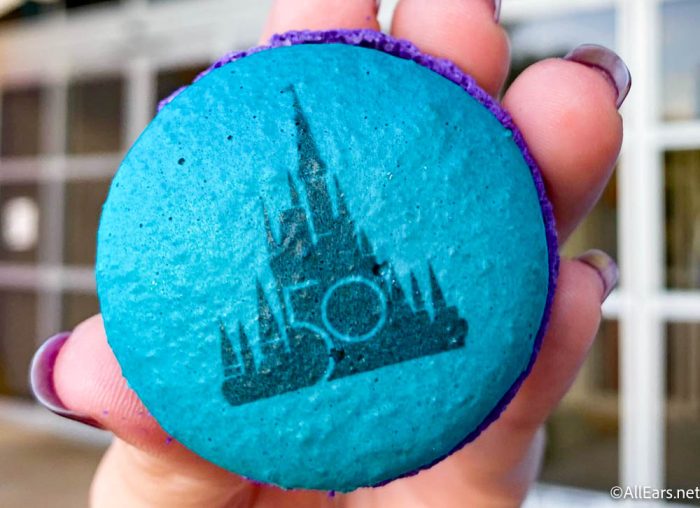 You'll also find the special 50th Anniversary Macaron at value hotel food courts. It's a macaron with Blueberry Ganache with Lemon Gel and a Castle Print with the 50th Anniversary Logo printed on one side. You can grab it for $4.49.
38. Eat a Celebration Cupcake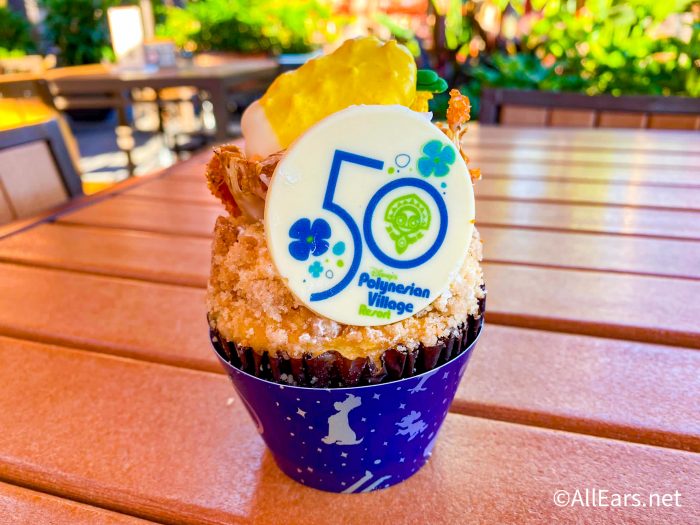 Not all 50th anniversary cupcakes are created equally and if you're going to eat one, we recommend the 50th Celebration Cupcake at Capt. Cook's at Disney's Polynesian Resort. It's a vanilla cupcake with a DOLE Whip pineapple center, tropical fruit salsa, and topped with a pineapple macaron and a white chocolate medallion. And it can be yours for $5.99.

39. Get a Reservation at Steakhouse 71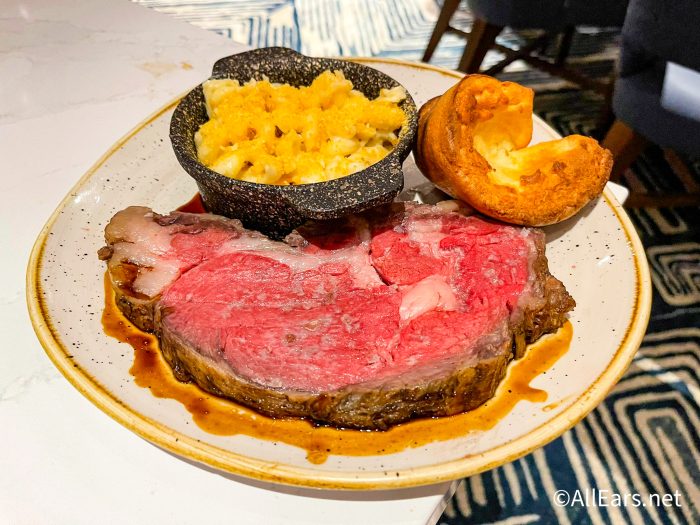 Disney World's newest restaurant, Steakhouse 71 opened just in time for the 50th anniversary, and it's quickly become one of the best restaurants at the resort. You'll find it at Disney's Contemporary Resort, and it's a place you'll want to put on your advance dining reservation list.
40. Watch The Electrical Water Pageant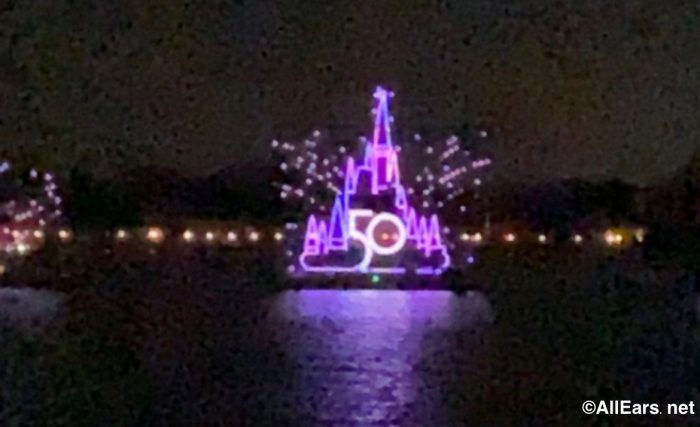 For the first time in forever, Disney World's Electrical Water Pageant has received an update for the 50th anniversary. It now features feature new "celebratory scenes" that include a version of the 50th-anniversary anthem, "The Magic is Calling." The pageant sails nightly around the Seven Seas Lagoon, providing shows every 15 minutes between 9PM to 10:30PM at various locations.
Resort-wide
41. Get A 50th Celebration Mickey Krispie Treat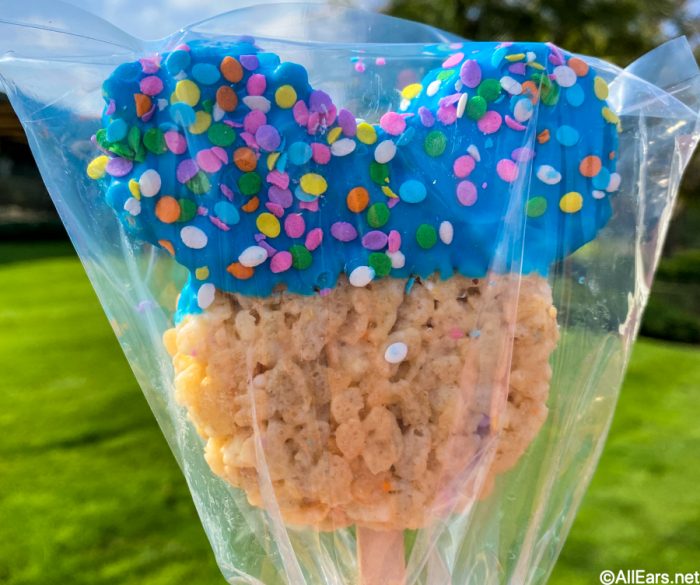 Sure, Mickey Krispie treats aren't usually that special, but they got a makeover for the 50th Anniversary. You'll find the 50th Celebration Mickey Krispie Treats throughout the resort, so grab one while you can.
42. Drink a Magical Beacon Cocktail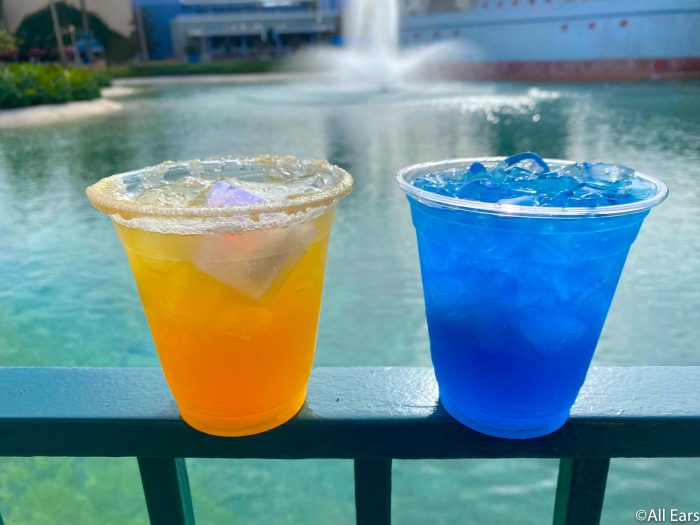 Another alcoholic concoction that can be found across the resort is the Magical Beacon Cocktail, which is made with Blue Curacao, Gin, Minute Maid Premium Lemonade, Orgeat (Almond) Syrup, Lemon, and Hibiscus Grenadine. And it comes with a Glowcube, so it's fun, too. It's $17 and available at many counter and table service restaurants.
43. Shop For 50th Anniversary Merchandise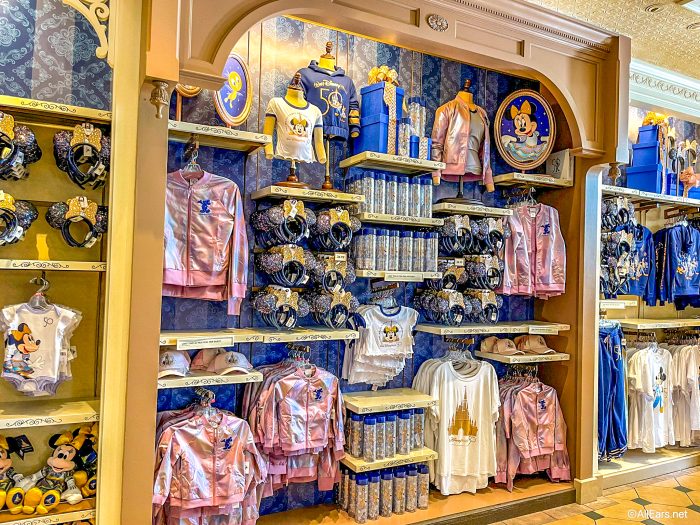 If you love to shop, you'll be in 50th anniversary heaven because there is a lot of amazing merchandise spread throughout Disney World. From the retro-themed vault collection to the standard 50th anniversary merchandise (shirts, ears, bags, pins, etc.), you're sure to find plenty of fun souvenirs to take home.
44. Get A Giant Lollipop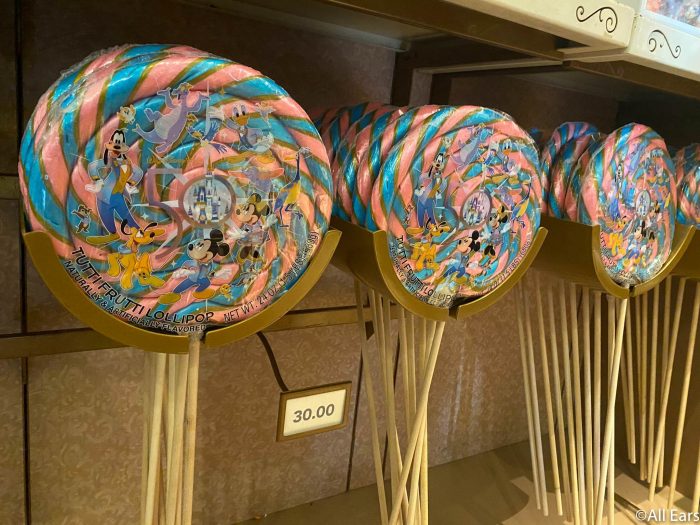 You'll find the gigantic 50th Anniversary Lollipop in shops throughout Disney World, and if you plan on tackling it, bring a friend…or two or three. This Tutti-Frutti-flavored lollipop weighs 1-1/2 pounds, which is probably why it costs $20.
45. Visit Joffrey's In All Four Parks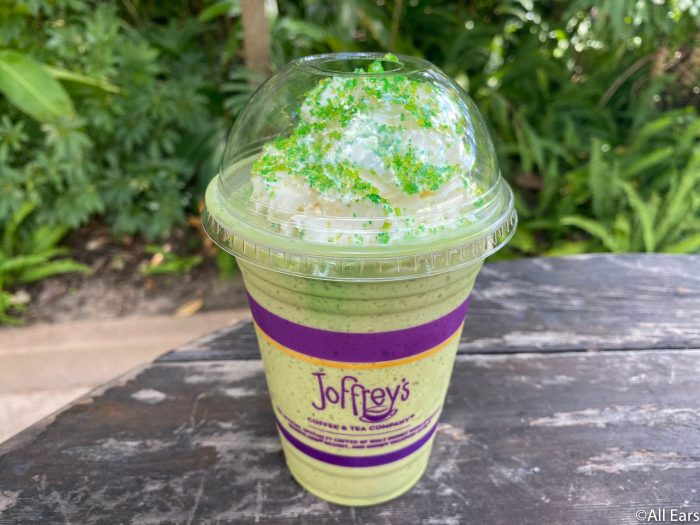 Joffrey's has created special drinks for each park for the 50th Anniversary. You can get the Golden Shooting Star ( a creamy Strawberry Frappe topped with Whipped Cream and EARidescent Pink and Gold Sprinkles) in Magic Kingdom, a Golden Stardust (a frappe made with Wild Berry Acai topped with Whipped Cream and EARidescent Blue and Gold Sprinkles) in EPCOT, a Golden Savannah (a Frozen Matcha Frappe topped with Whipped Cream and EARidescent Green and Gold Sprinkles) in Animal Kingdom, and a Golden Age (a creamy Passion Fruit Frappe topped with Whipped Cream and EARidescent Yellow and Gold Sprinkles) at Hollywood Studios. The drinks are $6.39.
46. Find All 50 Golden Character Statues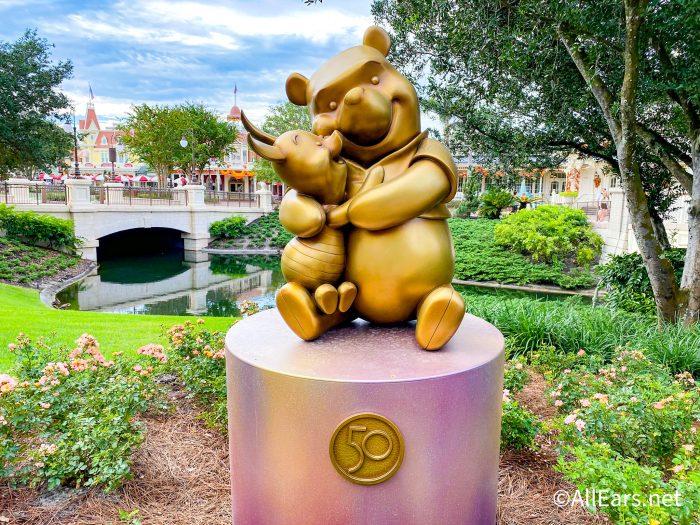 Challenge yourself for a fun hunt to find all 50 golden character statues that can be found in all four theme parks. Good luck!
47. Get All Four New Park Maps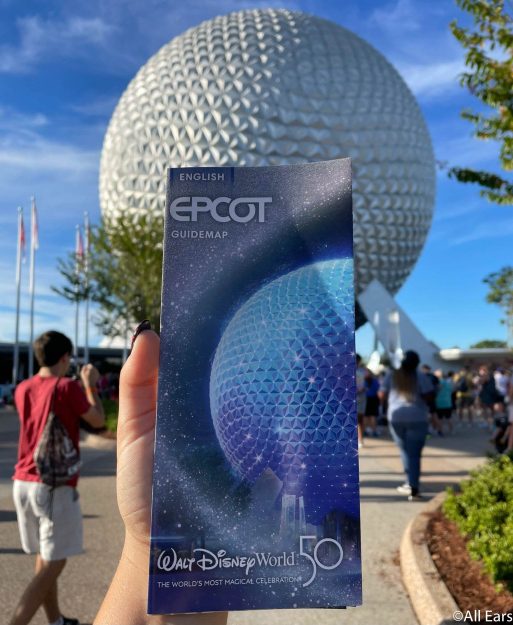 We don't about you, but we love collecting park maps, but the 50th anniversary park maps are even more special. Be sure to grab one at each park!
48. Try Walt's Chili
You'll find Walt's Chili on a lot of menus (and on other food) throughout Disney World, too. Does Walt Disney's favorite chili recipe measure up? Find out for yourself.
49. Drink an EARidescent Sip-a-bration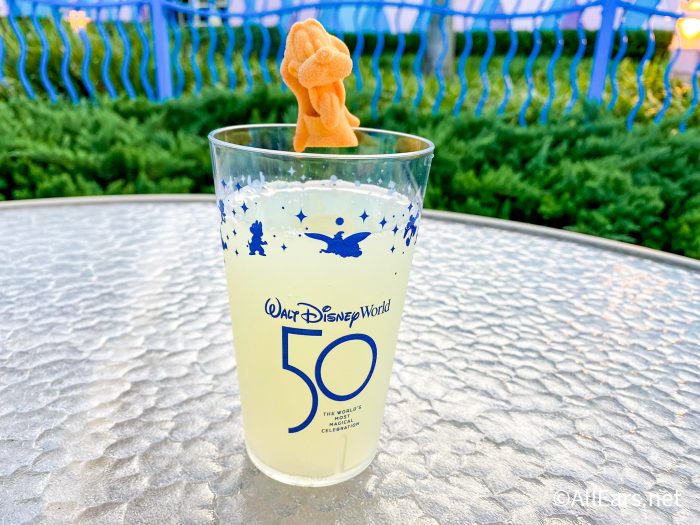 The EARidescent Sip-a-bration is a non-alcoholic drink made with Minute Maid Premium Lemonade and fruity strawberry punch, and served in a souvenir 50th Celebration Cup. But what's fun about it is you get a surprise character figure that you drop into the drink that makes it change colors.
50. See All Four Beacons of Magic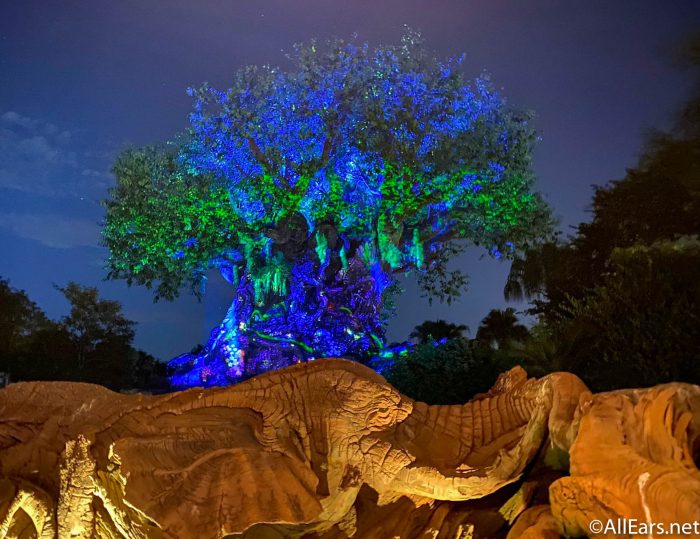 The icons of all four parks have undergone a nighttime transformation and are all must-sees. So be sure to stick around after dark to see the Tree of Life, Spaceship Earth, Cinderella Castle, and the Tower of Terror.
So there you have it, 50 NEW things to do at Disney World to celebrate its 50th anniversary. We'll see you there!
Will you be visiting Disney World for the 50th anniversary celebration? Let us know in the comments.
Join the AllEars.net Newsletter to stay on top of ALL the breaking Disney News! You'll also get access to AllEars tips, reviews, trivia, and MORE! Click here to Subscribe!