There are SO MANY places to dine when visiting Disney's Animal Kingdom, and with unique (at least by theme park standards) cuisine around every corner, it can be hard to know which chews to choose.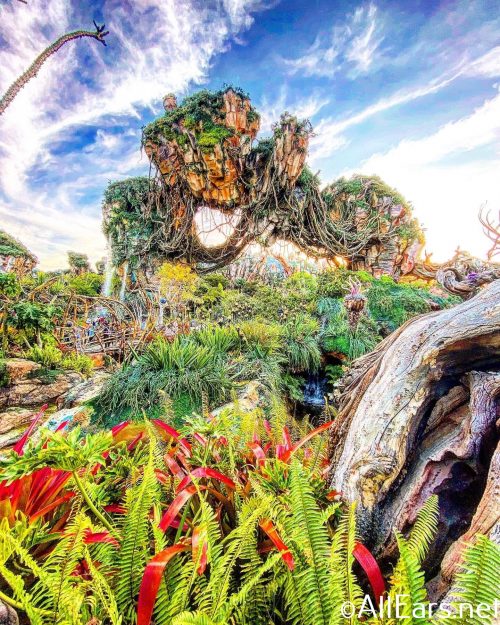 So we turned to one of our greatest resources: AllEars Reader Reviews! We wanted to see what YOU think are the top restaurants for dining in Animal Kingdom — plus the places you ranked the lowest.
The Best (and Worst) Places to Eat in Disney Springs — According to YOU!
Highest Ranked Restaurants:
Located in the same building as Tiffins, Nomad Lounge features handcrafted cocktails using the art of mixology. They also served beers, wines, and more from African, Asian, and South American regions in addition to specialty non-alcoholic beverages and small bites.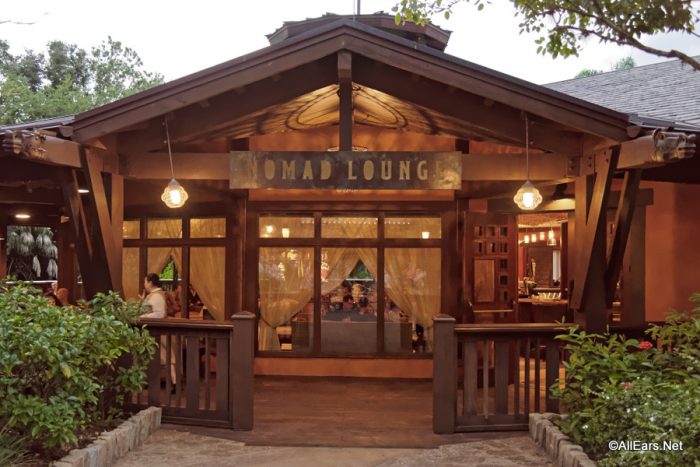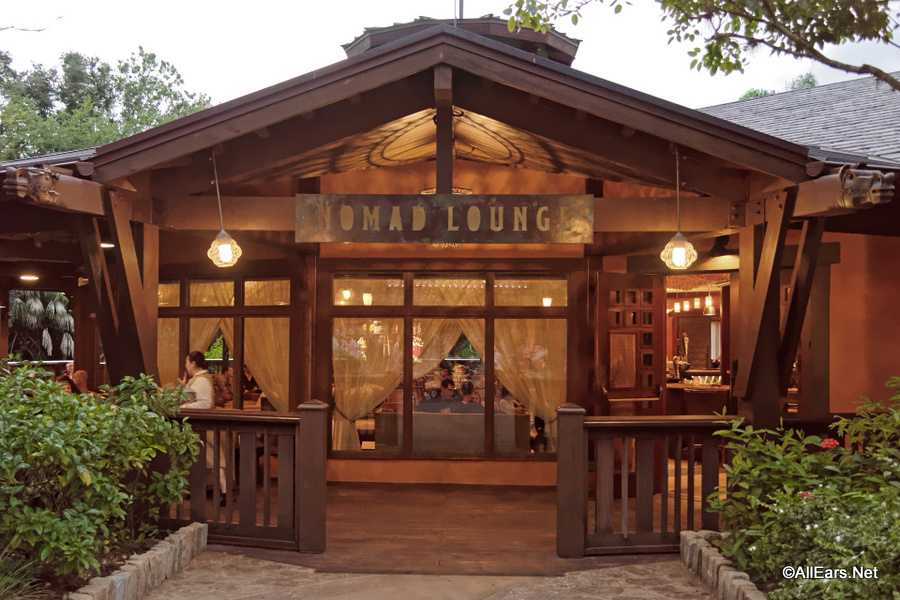 Our readers say: 
"Not just the best lounge or bar in WDW, but my all out favorite spot on property. Awesome theming, incredible drinks (the Tempting Tigress is my favorite cocktail in the world), and just an inanely relaxing place to chill."
"Hidden Gem…I almost don't want to review this wonderful place, I want to keep it a secret! We spent a couple of relaxing hours here on our trip, coffee table and couches made our group soooo comfortable, fun drinks, and GF churros….oh the churros!! our group ordered 5 baskets…they were amazing. I want to go back right now!"
"Stopped in to get out of the heat. the drink selection was good and the best part was they had a bread selection. If you like the breads at Sanaa at animal kingdom lodge you will like these breads."
Satu'li Canteen is a Quick Service spot in Pandora that serves healthful dishes and familiar flavors that include wholesome grains, fresh vegetables, and hearty proteins.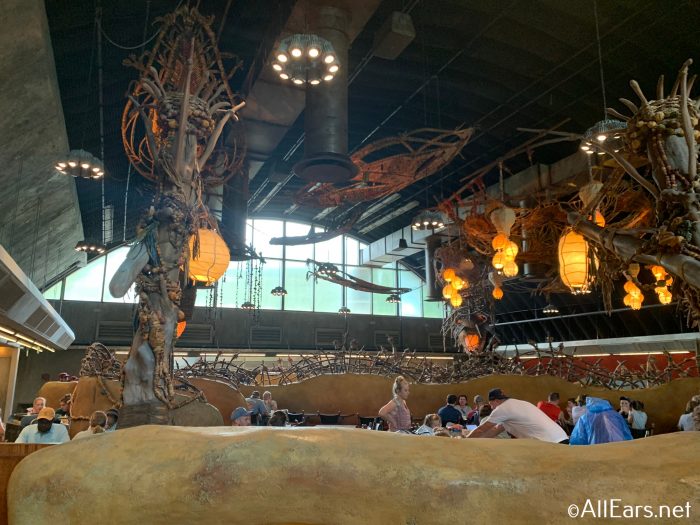 Our readers say:
"As a vegetarian this is a must. I have yet to try a combination that I have not enjoyed."

"The food was amazing. The steak was so tender and the portions were perfect!! Love this choice!!!"
"I could eat lunch and dinner here everyday if I had to. The different combination possibilities available with the bowls are great for those who like "something different" when they go places. The noodles are the best though."
Pongu Pongu is a walk-up window in Pandora that can be found adjacent to the Windtraders shop. Meaning "Party Party" in the language of the Na'vi, Pongu Pongu serves up a bioluminescent frozen cocktail, indigenous beers, and a sweet snack you won't find anywhere else!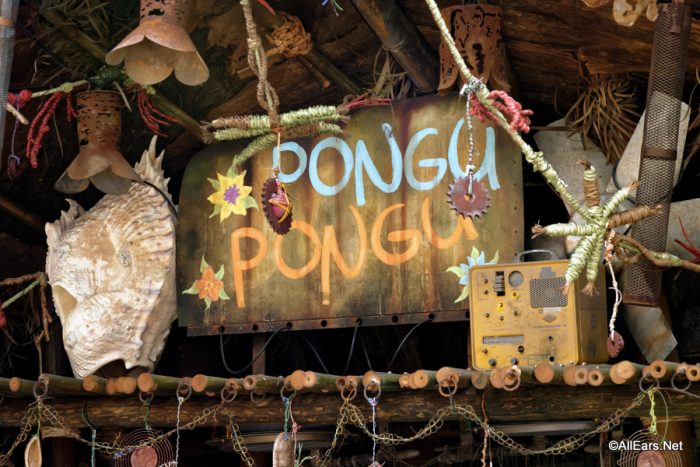 Our readers say: 
"The pongu lumpia and the night blossom are absolute gems! You MUST get them on your next trip!"
"Love it for a quick treat!"
"The pongu lumpia was the best thing I ate during my trip last summer. Perfect amount of sweetness and crunch! I still dream about it."
Tusker House is a Table Service restaurant that is decorated like an African marketplace filled with plenty of nods to Imagineer extraordinaire Joe Rohde, who played an essential role in developing Disney's Animal Kingdom. Here you can meet Mickey, Minnie, Donald, Daisy, and Goofy. (Note: During the Park's initial reopening, Tusker House will not be operating.)
Our readers say:
"One of the best Character meals. Amazing food and if you go between major meal times and you can see the Characters multiple times."
"I'm reviewing this as breakfast because we paid breakfast prices and did have breakfast…BUT- we also had lunch! We booked our reservation for 10:40 in the morning and loaded up on breakfast foods, waited a bit- then had lunch selections. It…was…AWESOME. The character interaction was wonderful and the variety of food selections, some daring and some to appease even the pickiest of eaters, was a gratifying experience."
"Great way to meet characters and have a decent meal. Not the best food I've ever had, but certainly not the worst."
Tiffins celebrates the art of traveling and features a diverse menu that draws from the places that drawing from places that inspired Disney's Animal Kingdom. It's open for both lunch and dinner and has waterfront views along with indoor and outdoor seating.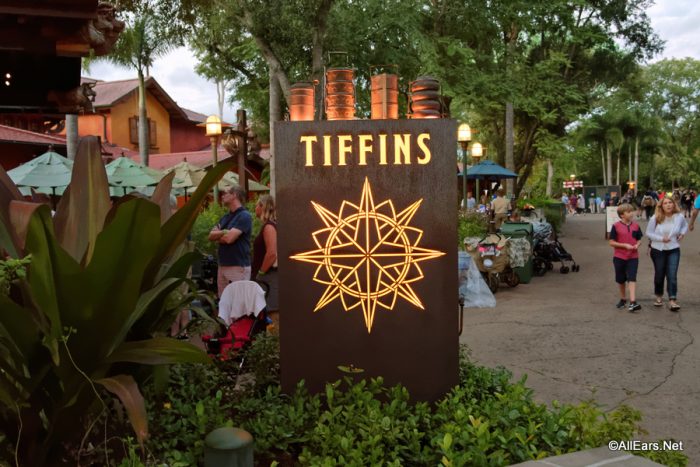 Our readers say:
Flame Tree Barbecue features smoked items such as ribs and chicken, some of which smother french fries. There's an assortment of outdoor seating.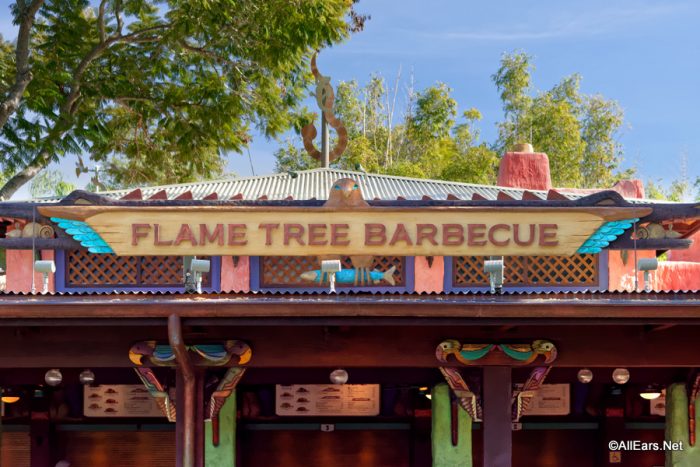 Our readers say:
The Anandapur Ice Cream Truck is a beautifully decorated truck that serves various ice cream treats, waffle cones, and floats.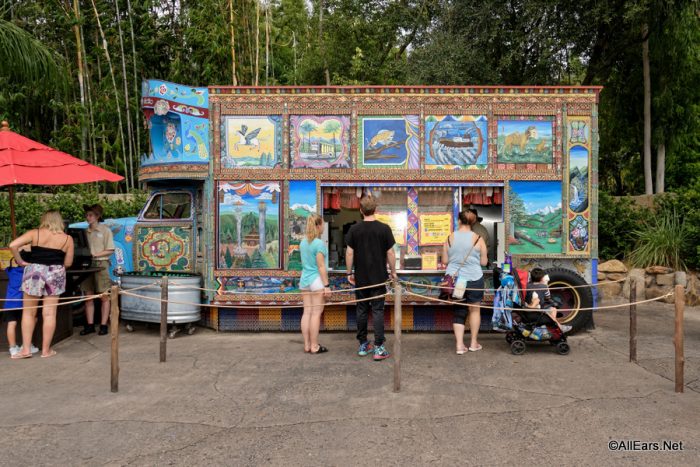 Our readers say:
"One of my favorite childhood memories is hanging out with my dad while my mom and brother were on Everest. (I was too scared) and He bought me a mickey bar from this cart. Perfect on a hot day. Perfectly themed to park area."
"Great ice cream. Convenient location a must have every visit"
Kusafiri serves a wide array of pastries, cupcakes, beverages. Also, be sure to ask about other kosher foods like hot dogs, pizza, and corned beef.
Our readers say:
"So yummy!!! The cupcakes here are my favorite out all the cupcakes on Disney property!"
"Service was quick, pastries were excellent, it was nice to have a cut up fruit choice. Had to go across street for seating. (We found a nice shady, hidden patio there). Will try this again for a quick breakfast"
Tusker House offers character dining throughout the day. The buffet options will vary depending on the time of day.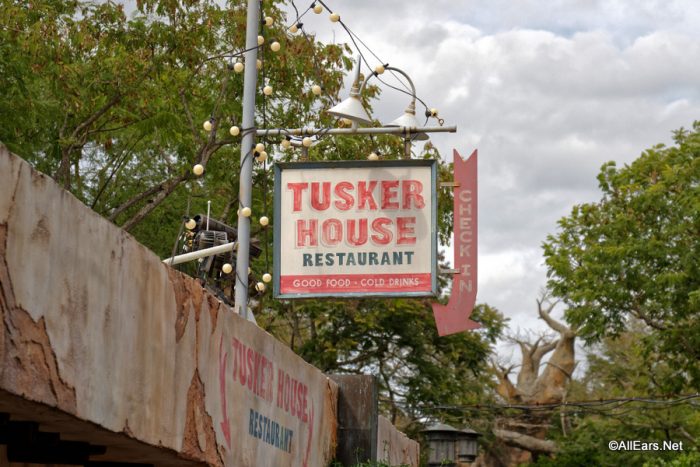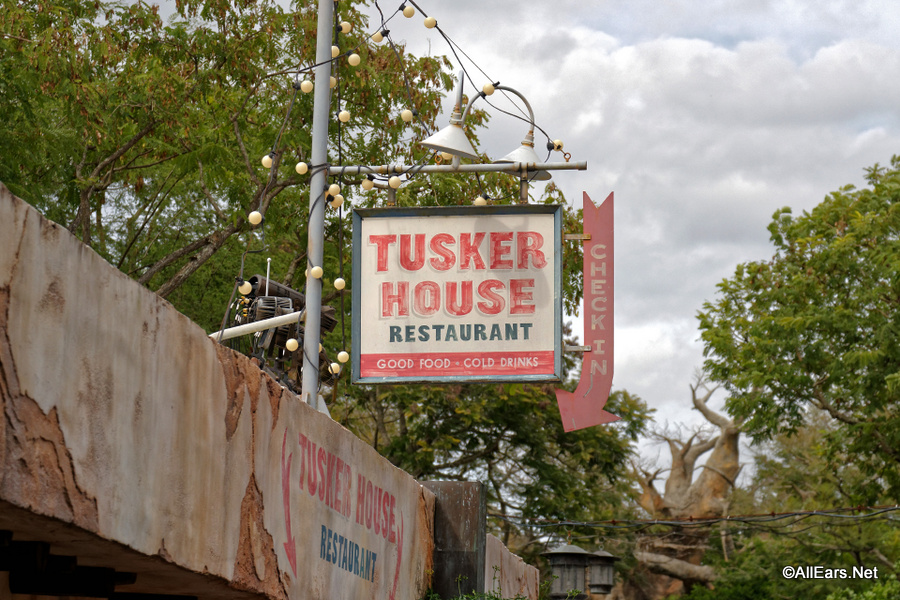 Our readers say:
"This place never fails to disappoint – although those who are less interested in slightly exotic food on the buffet should probably just book elsewhere. Each of us has favorites here, from the coconut-curry shrimp to the salmon to the assortment of stews. Dessert is not the best on property, but who cares – that's a minor thing in a World where you can get a sugar fix on literally every corner. Servers here have always been great too. Now, if we could just figure out how to not end up being seated in the same out-of-the-way room every. single. trip." 
"Best Character meal. Amazing food, and great Interactions. Go between lunch and dinner for the opportunity to see the characters multiple times."
Yak and Yeti is a table service restaurant that serves Pan-Asian cuisine like wok, noodles, and specialty items. The spot is operated by Landry's, the same company that owns and operates the Rainforest Cafe.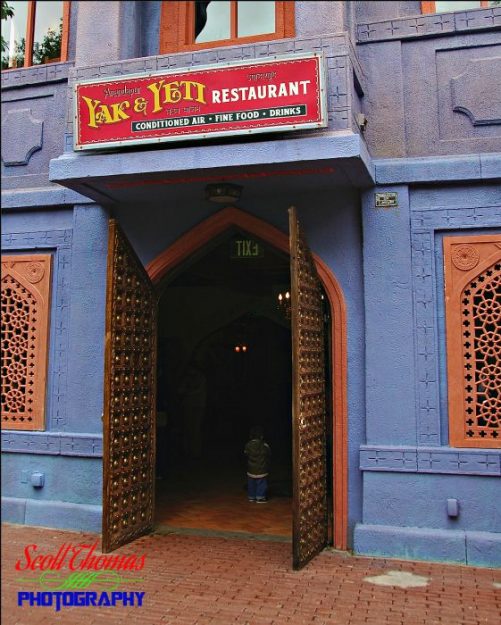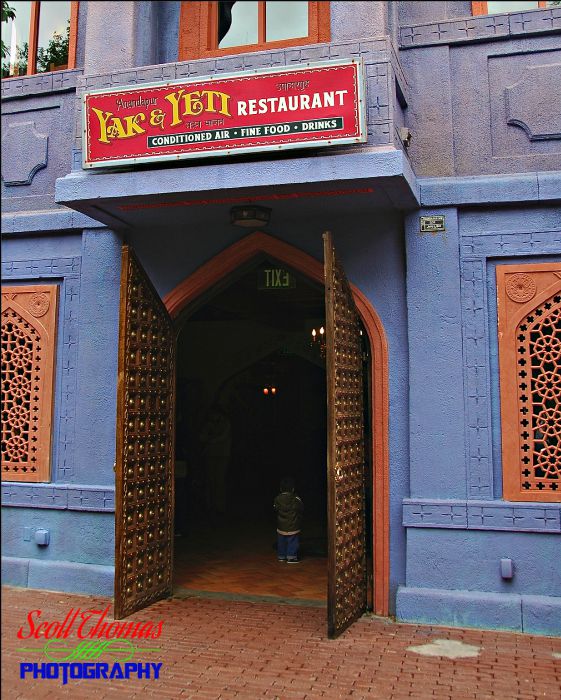 Our readers say:
"This is my favorite place to eat in AK. The drinks are amazing here and if you like to eat different foods come to Yak and Yeti. We had great service but the only problem is you might have to go downstairs to use the bathroom if you are on the second level."
"Love, love, love this place. Great food, even better drinks. One place the whole family agrees on!"
Creature Comforts is Animal Kingdom's Starbucks location. Here you can find an assortment of coffee and pastries.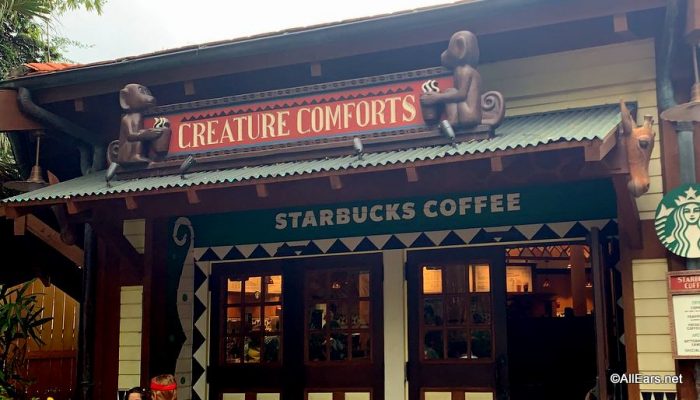 Our readers say:
"I mean it is just Starbucks but that's hard to not enjoy. The line moved very quickly so that's a plus for me. If you are in AK and need your coffee pick me up then here is a great option."
"This is a top-tier Starbucks location. As a former barista, I can say that all drinks were made to standard. Also, the colossal cinnamon roll is one of the best snack credit things on property!"
Royal Anandapur Tea Company serves an assortment of both hot and ice teas.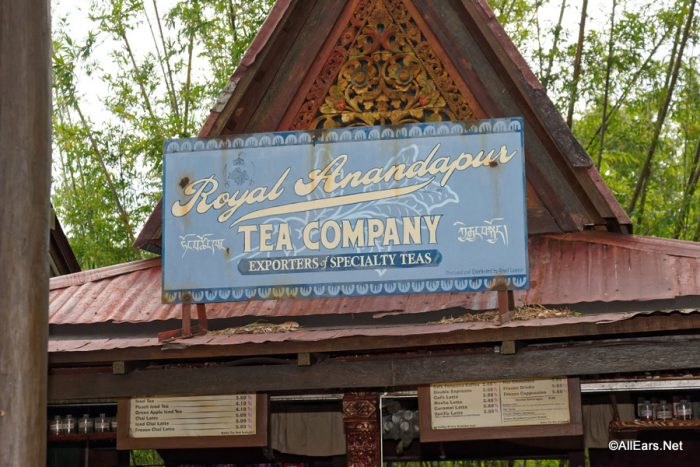 Our readers say:
"The tea selection here is great, so fun to try the different types even on a hot day."
"On recommendations from this Board, I stopped here for a frozen chai and croissant while DD and DH went on Expedition Everest. It was very yummy. I sat on a bench and people watched while I ate my late breakfast. I hight recommend this spot!"
Lowest Ranked Restaurants:
Rainforest Cafe is a Landry's operated chain restaurant that can be found in Animal Kingdom and Disney Springs. They offer a limited breakfast menu and have a wide variety of options for lunch and dinner. The theming here tends to be really fun for the little ones.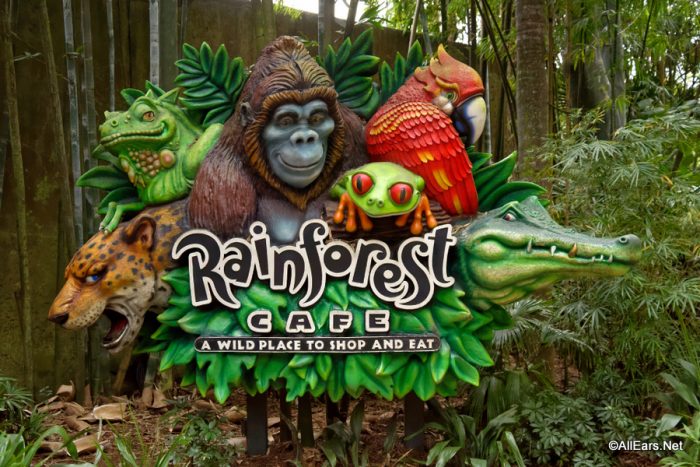 Our readers say:
"Enjoyed this place. Atmosphere was awesome! Kids LOVED all the animatronic animals and the simulated rain while eating dinner."
"We had an excellent server who took good care of us. Unfortunately, the food came out mostly cold and portions of breakfast meat have shrunk."
Restaurantosaurus is a quick service spot to grab burgers, hot dogs, and salads. It offers some fun theming as well. Paleontology students turned their home base into a restaurant, meaning you get to check out all their cool props while you eat.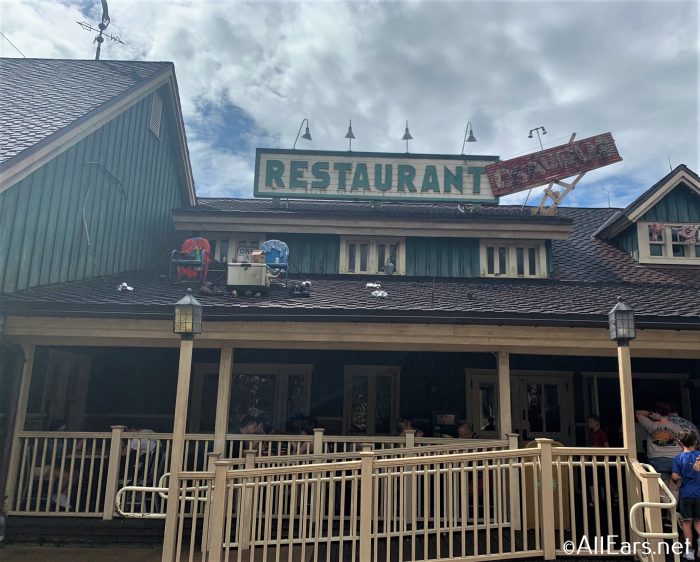 Our readers say:
"This is a great almost hidden gem. Every time we go to AK we eat lunch here. Food is great, and it's usually not too busy. Great to get in between activities. I prefer this over Rainforest Cafe. Quicker and cheaper!"
"We recently did the Burgers & Sundae's experience here. I can only say from my point of view, we paid way more than I would have liked for the benefit of ice cream. The food was not great and it was still loud and noisy in this area, despite being sectioned off from the other part of the restaurant. It just wasn't worth it."
Yak and Yeti Restaurant also offers a quick service location where you can grab items like fried rice, egg rolls, and more.
Our readers say:
"Stopped here for lunch on a brutally hot day. Got the chicken with rice and sat in a shady spot. For fast food, it was pretty good for the price. Hubbo had the rice with the teriyaki beef and thought it was good. Not bad for a quick service."
"This was a definite go to for us every year but this year (December 2016) menu felt old and tired and designed to minimal so easy quick turnaround. Waitress was awesome. We always enjoyed it here but next time will pick buffets where more variety." 
Harambe Market offers an open-air marketplace with African inspired street foods.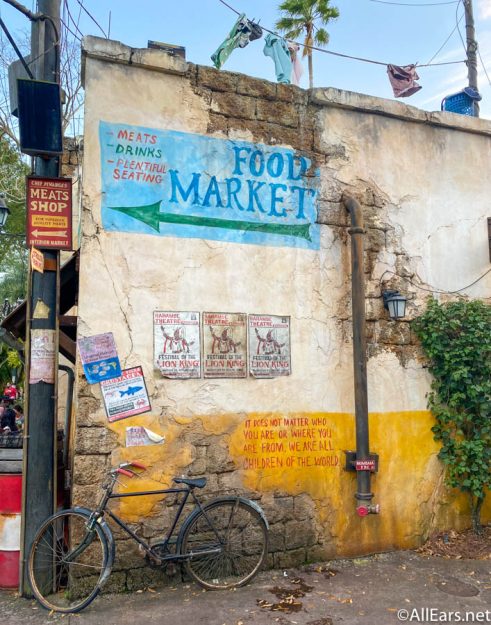 Our readers say:
"I went for lunch. I got the Beef and Pork Sausage. It's pretty much like a corn dog with sausage in the middle. However, there is a lot of corn bread and not much sausage. You get slaw and a back-eyed pea salad. The slaw was awful and the pea salad was ok. With a drink it's kinda pricy for what you get. I won't be going again." 
Pizzafari is a quick service restaurant that serves hot breakfast and pizzas.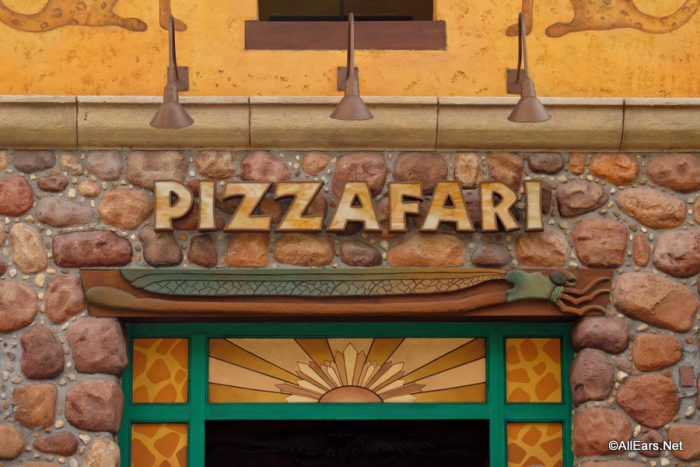 Our readers say:
"There are not a lot of choices. My pizza was stale and was obviously under a heat lamp for a long time. I think ordering pizza at home would be better. I love Disney restaurants but nothing stuck out to me here as special."
"The worst pizza in Disney in our opinion. Salad was ok but there are so many great places to eat in animal kingdom, do not stop here"
Did any of these rankings surprise you? What's your favorite restaurant in Disney Springs? Make sure to leave a review so you can share your experience with other guests!
Join the AllEars.net Newsletter to stay on top of ALL the breaking Disney News! You'll also get access to AllEars tips, reviews, trivia, and MORE! Click here to Subscribe!