With dozens of restaurants in Disney Springs serving everything from poke bowls to fried chicken, it can be difficult deciding where to eat.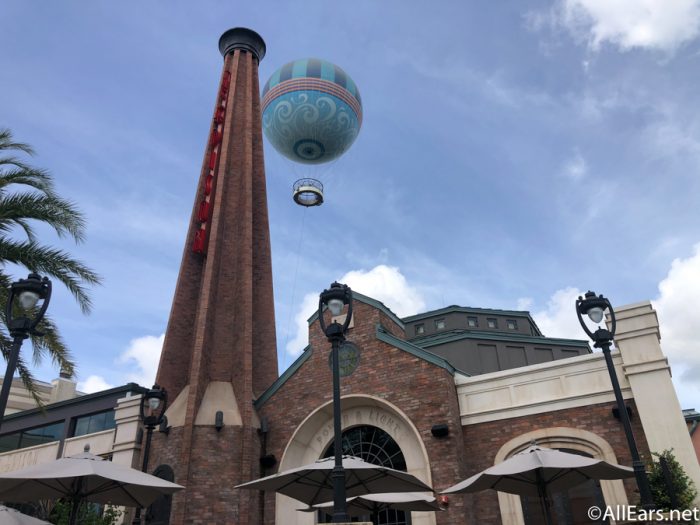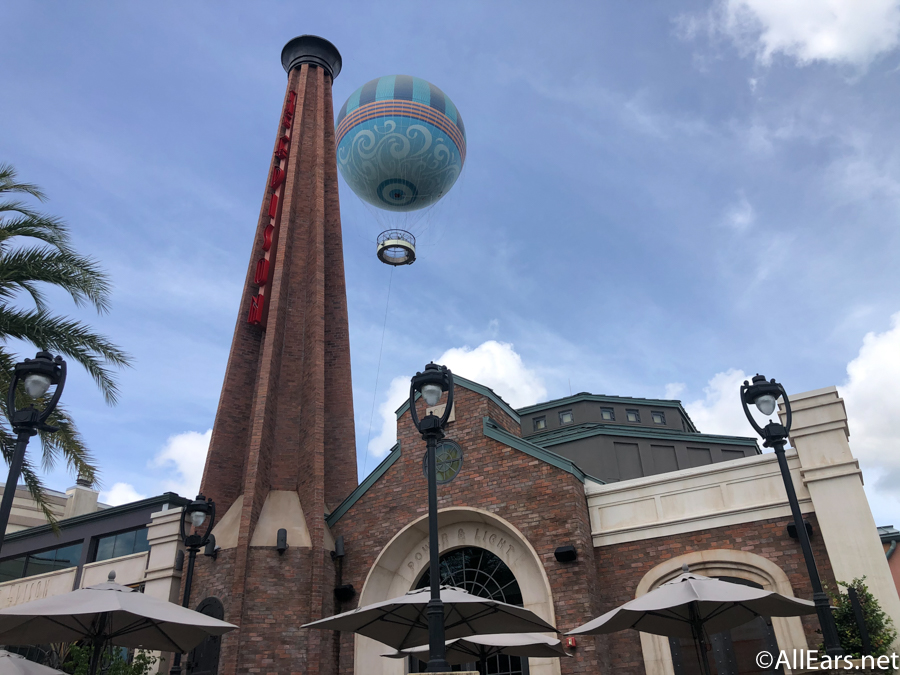 What are the best spots for a date night? What about a family meal or if you're just looking for some dessert?
We're sure everyone has their favorites, but today we're sharing our top list with you of the spots YOU should eat in Disney Springs!
On a Budget or Looking for Something Quick?
If you're looking for a relatively inexpensive meal or one that you can enjoy quickly before heading out to the parks or after a long day in Disney World, we'd recommend two spots.
The first spot you should consider is celebrity chef Guy Fieri's Chicken Guy! The main focus of this spot is their chicken tenders, which you can get fried, grilled, with fries, or even in a variety of sandwiches! We're talking a Bourbon Brown Sugar BBQ Sandwich, the Southwestern with pepper jack cheese, and more! The entrée items range in price from around $5.99 to a combo priced at $13.49 which will get you an entrée plus fries and a drink.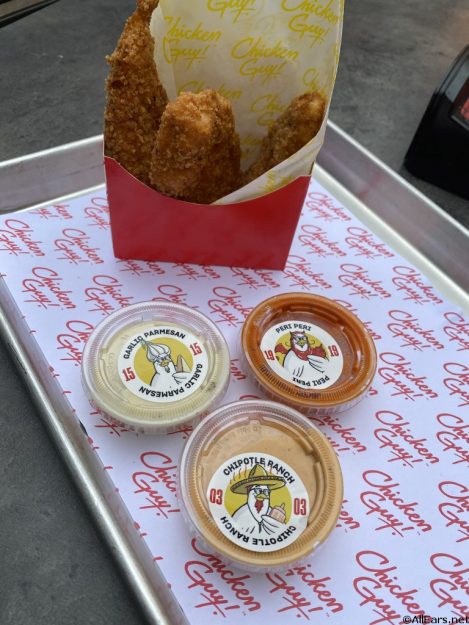 The all-natural fried chicken tenders are "hand-pounded to maximize crunch" and brined in lemon juice and pickle brine and infused with herbs. But you can't forget about the loaded fries smothered in super melty cheese, the Flavortown frozen treats, and OF COURSE the over 20 sauces to choose from, including Special Sauce, Donkey Sauce, Wasabi Honey, Avocado Cream, Chipotle Ranch, Buttermilk Ranch, and so many others! This Quick Service spot will get you some relatively inexpensive and always hot and delicious chicken and sauces pretty fast so you can chow down and enjoy.
If you're not in the mood for chicken, you could grab some delicious burgers over at D-Luxe Burger instead! D-Luxe makes gourmet burgers with a signature blend of beef, lots of great toppings, freshly baked buns, hand-cut fries, yummy milkshakes, and some delicious house-made dipping sauces.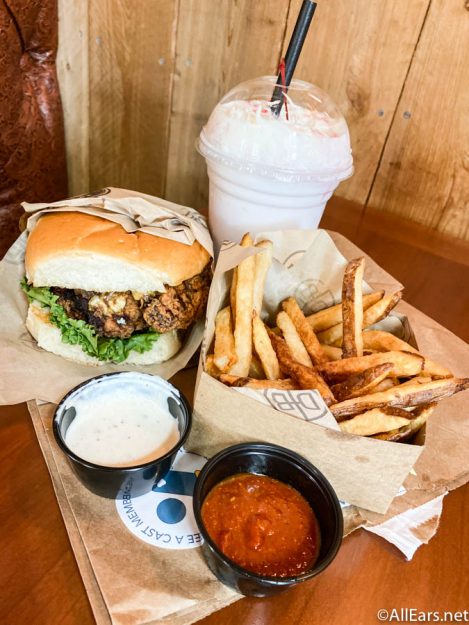 They've got everything from a Southern Burger with a fried green tomato and pimento cheese to a Diablo Burger with a Chorizo blend patty and fried banana peppers. The burgers cost between $11 to $14, with regular fries priced at $4.99 and shakes at $7.50. Place your order for this spot using Mobile Order on the My Disney Experience app, pick it up, and enjoy a quick, delicious meal, perfect for any trip.
Date Night?
If you've got a special date night planned and you're looking for some place a bit nicer, there are a few spots you should check out.
The first spot we want to talk about is Paddlefish. The menu focuses on seafood and American dishes but does have some unique offerings. Here you'll find everything from lobster corn dogs, crab guacamole, and a variety of salads to filet mignon, snow and king crab, a crab cake "BLT," and more.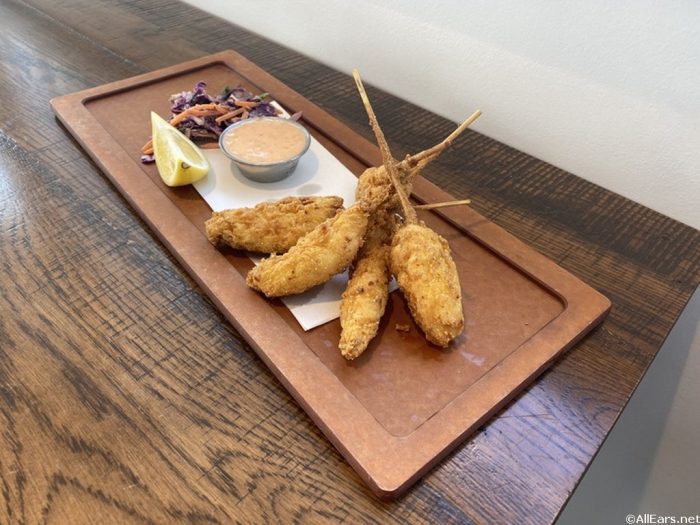 Plus, the location and atmosphere of this spot is fantastic — you'll feel like you're eating on a luxurious, modern yacht, perfect for a romantic date night.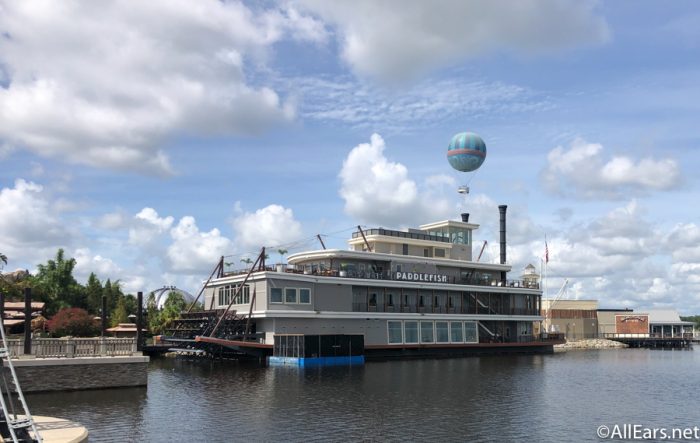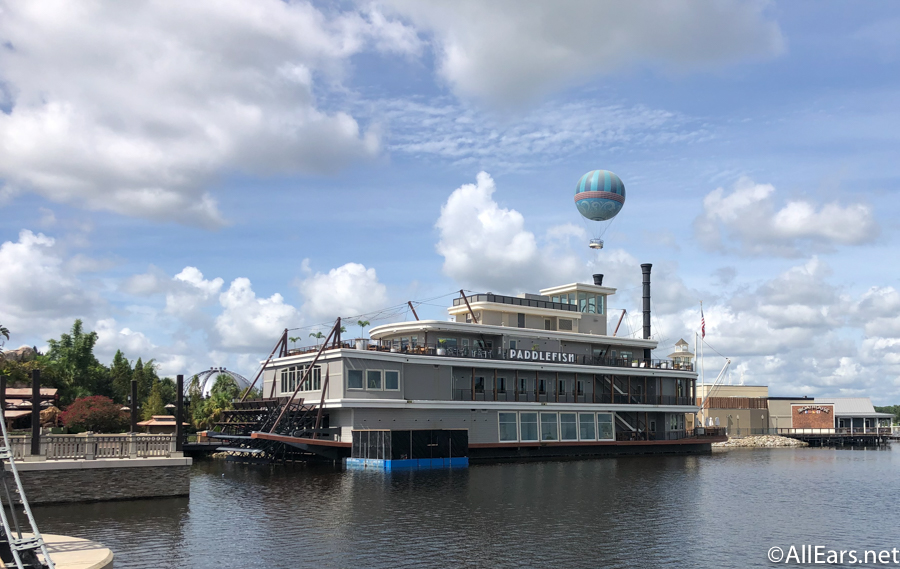 The prices here range from around $9 for some soups and salads, around $17 for many appetizers, and entrees for $18 to $52, with the king crab priced at $75, so it can get fairly pricey — just something to keep in mind.
Another great spot for seafood and more is The BOATHOUSE. With its views of the water surrounding Disney Springs and fun indoor and outdoor seating, The BOATHOUSE would make an awesome date night spot. You can chow down on raw oysters, hand breaded coconut shrimp, porterhouse steak, lobster tail, award winning burgers, tasty desserts, and SO much more! There are also lots of specialty drinks available, including the Duck, Duck Razz Cocktail that comes with a mini rubber duck garnish!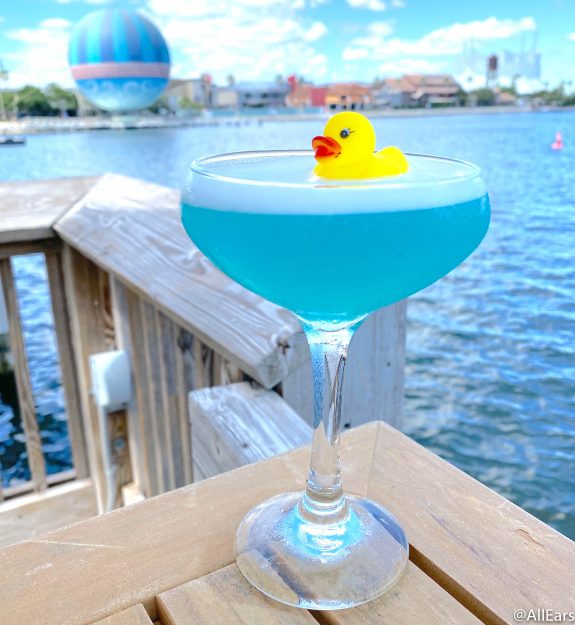 There are plenty of options on the menu to fit just about everyone's tastes, and with a beautiful view of the water and some great drinks, you'll set the scene for the perfect date. The menu items here range in price from about $14 to upwards of $60 if you're going for one of the pricier steaks, but there's a lot of variety in between. Looking to add some extra magic? Consider paying for a cruise in one of the amphicars that'll take you from the land straight into the water!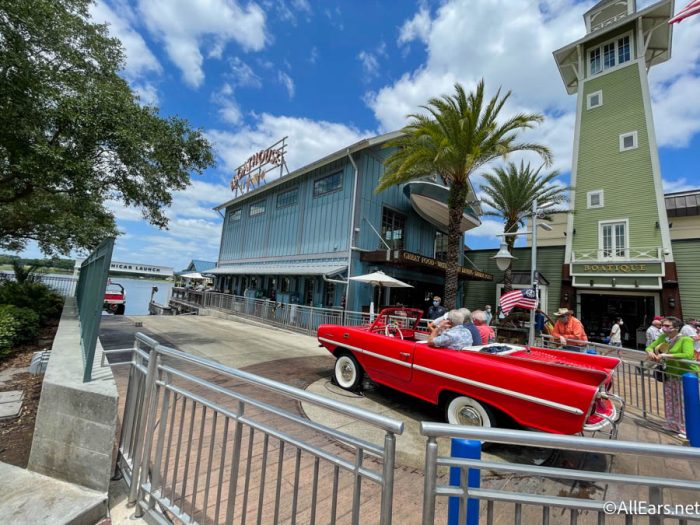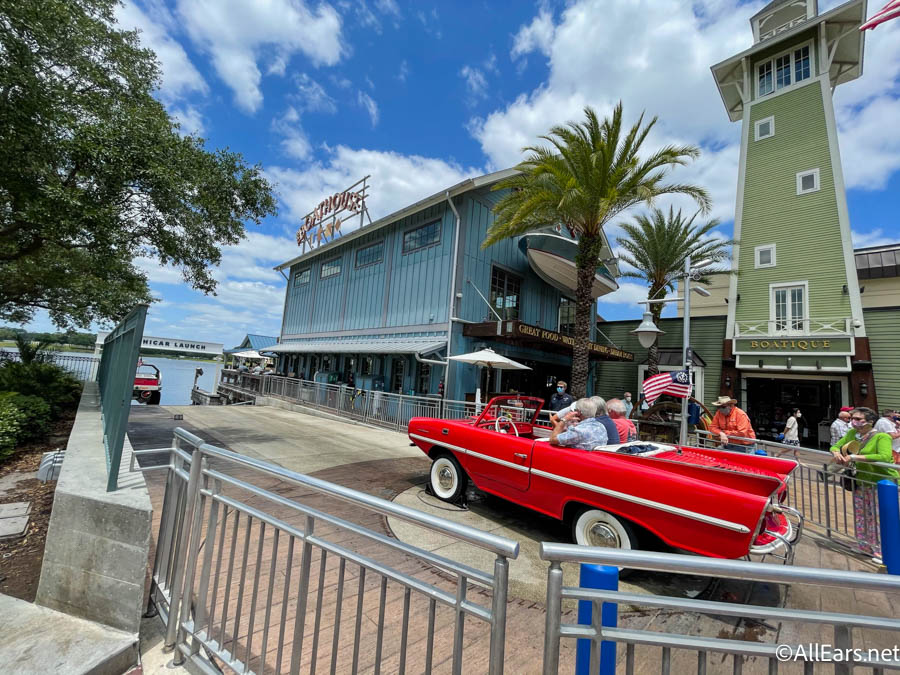 One spot that's sure to make your date night feel quite elegant is Morimoto Asia, a pan-Asian restaurant created by celebrity chef Masaharu Morimoto. Here, you'll find everything from miso soup, pork dumplings, sashimi, and sushi platters, to the Morimoto Peking Duck, orange chicken, Morimoto spare ribs, ramen, and more.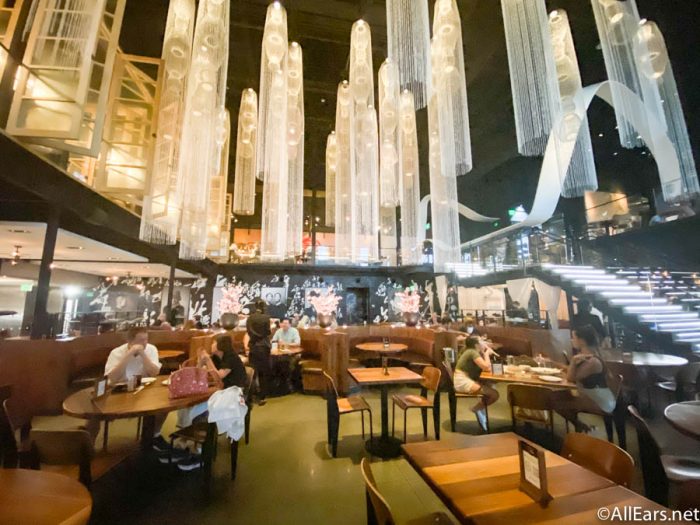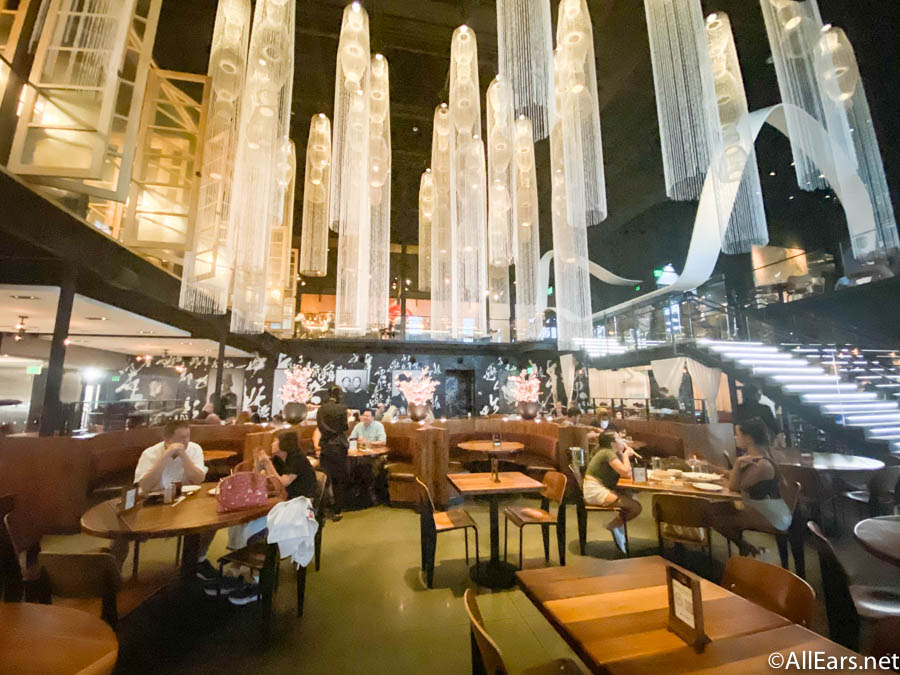 Dishes range from about $10 to about $25-$32, with things like the mongolian filet mignon and peking duck costing $59-$72. Looking for some serious sushi action? You could check out the Toku-Jyo Sashimi Platter with rare seasonal selections and varieties from Japan for a whopping $110!
Sometimes though, there's no better date than dinner and a movie. At the AMC Dine-IN Theatre, you can enjoy a full meal with appetizers, entrees, and dessert all while enjoying a fantastic movie.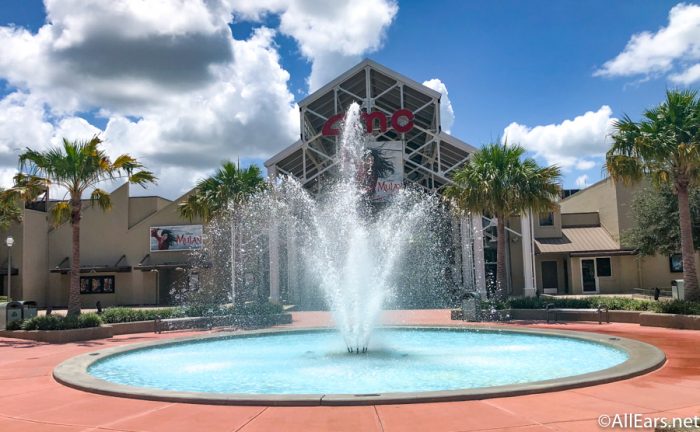 The menu includes everything from shareable eats like pretzel bites and chicken wings, to full entrees like sandwiches, burgers, and flatbreads.
Family Night?
If you're planning a family night out to Disney Springs and you're looking for a place with big atmosphere that the kids will love, you may want to check out T-Rex or Rainforest Café, which are both operated by the same company, Landry's. As the names imply, T-Rex is themed to dinosaurs and prehistoric animals, while Rainforest Café is themed to various rainforest animals. You'll get to see exotic fish in tanks and animal animatronic figures in both that move and "come to life" throughout your meal.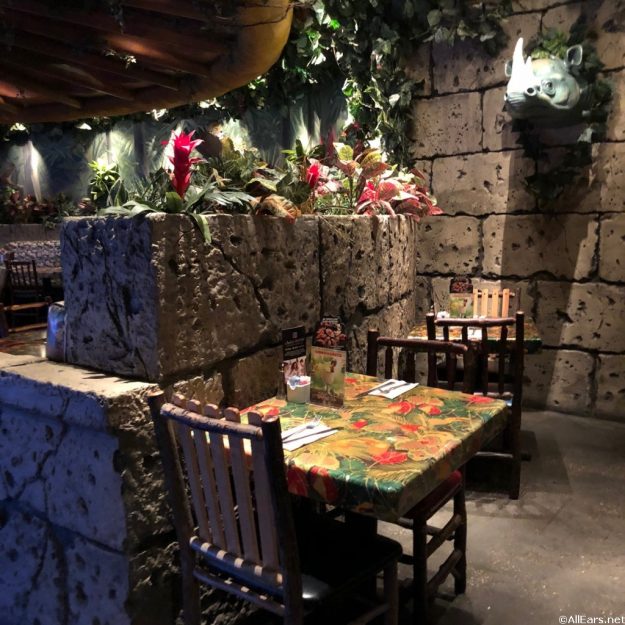 The food here is pretty varied with fish, shrimp, beef, chicken, and vegetarian options. While the dishes aren't necessarily spectacular and there are better food options around Disney Springs, the entertainment value makes it a good choice for a fun family night.
Looking to Share Some Plates and Drinks?
If you're maybe not looking to sit and order a full entrée but instead want to pick at a few items to share and to sample some unique drinks, Wine Bar George is a good option! While there are a few delicious entrees available at Wine Bar George, there are also lots of small plates like Crispy Mac & Cheese Bites, House-Made Meatballs, Saganaki on Fire (hello, fried cheese), and some Artisanal Cheese and Charcuterie Boards.
There are also desserts, specialty cocktails, beer, and (of course!) an extensive wine list. It's a great place to sit back, relax, and sample some amazing food.
If you love Indiana Jones, you'll definitely want to stop by Jock Lindsey's Hangar Bar, which is themed to Indy's frequent pilot and has all kinds of nods to the movies on display. The menu includes sliders, empanadas, chicken wings, tacos, a loaded pretzel, flatbreads, and more with LOTS of specialty cocktails available as well.
AND if you head to this spot now during the holidays, you'll get to enjoy all kinds of festive treats like Papa Noel's Churrasco and Venison Sliders as this spot has transformed into Jock Lindsey's Holiday Bar.
Looking for a laid-back meal to linger over?
Two words: fried chicken. Chef Art Smith's Homecomin' is the perfect spot to enjoy a nice meal in a relaxed environment. Whether you stop by for their brunch or want to pop in for lunch/dinner to grab their Deviled Eggs, Thigh High Chicken Biscuits, Art's famous Fried Chicken, Country Fried Steak, or other Southern classics — Homecomin' has it all!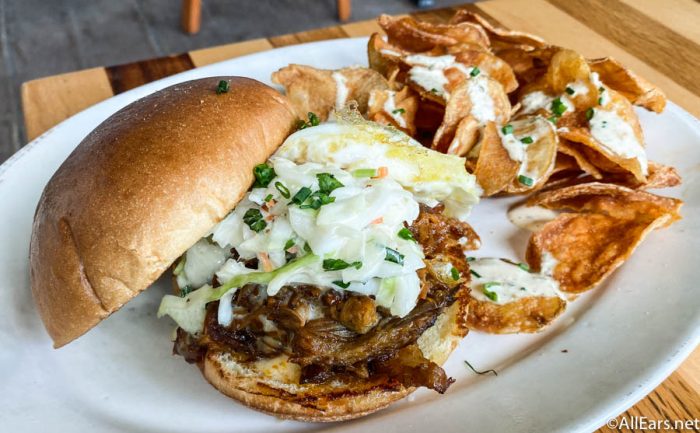 There are also specialty cocktails, beer, wine, and some moonshine creations that you can sip on if you're looking for that, too!
Just Dessert?
What if you've already had your fill elsewhere and you're just looking for dessert? Disney Springs has quite a few options, but these are some of our favorites.
Amorette's Patisserie serves some of the most beautiful and delicious treats in all of Disney Springs. There are eclairs, Mickey Mousse cakes, Amorette's Petit Cake which is a mini version of the Signature Amorette's Cake with eleven layers (including red velvet, chocolate cake, cherry mousse, chocolate mousse, raspberry pate de fruit jelly, and Italian buttercream), and so much more (even a Baby Yoda Cake)!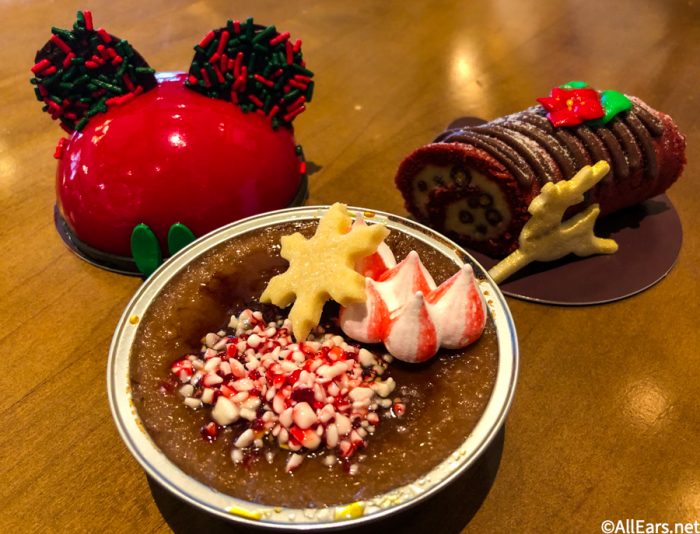 There are also some wine slushies and other items available, too, so be sure to stop by and see what special offerings are available for you to fully satisfy that sweet tooth!
And finally, we had to give a shout-out to Sprinkles with their delicious cupcake creations! The flavors vary here but can include banana, carrot, chocolate marshmallow, red velvet, salty caramel, sprinkle (of course), strawberry, vanilla, and more!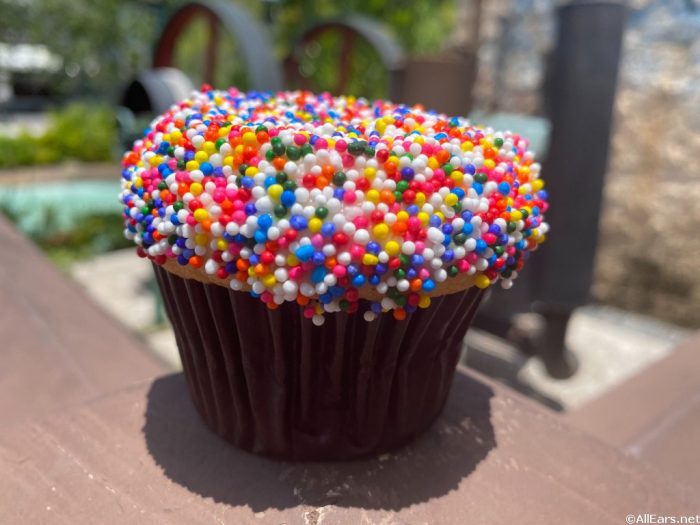 There are also some specialty cupcakes that are offered here from time to time for the holidays or other celebrations, so always be sure to see what unique treats are available when you visit.
Well, that's our list of some of the TOP spots to eat at in Disney Springs! There are lots of new spots to check out as well, however, like Gideon's Bakehouse and Everglazed Donuts & Cold Brew, and Salt and Straw! We'll keep an eye out for more updates on that and keep you informed. Stay tuned for all the latest!
What is your favorite restaurant at Disney Springs? Let us know in the comments!
Join the AllEars.net Newsletter to stay on top of ALL the breaking Disney News! You'll also get access to AllEars tips, reviews, trivia, and MORE! Click here to Subscribe!