We're just 58 days away from Star Wars: Galaxy's Edge opening at Disney's Hollywood Studios!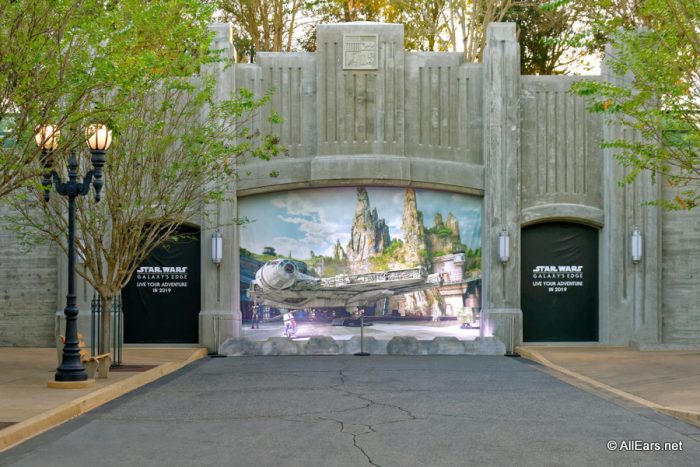 And today, Disney finally posted the first complete menu for the land! Galaxy's Edge's only true restaurant (the rest are stands or the Cantina), Docking Bay 7 Food and Cargo now menus online for breakfast, lunch and dinner.
So what can you look forward to dining on in the Galaxy Far, Far Away?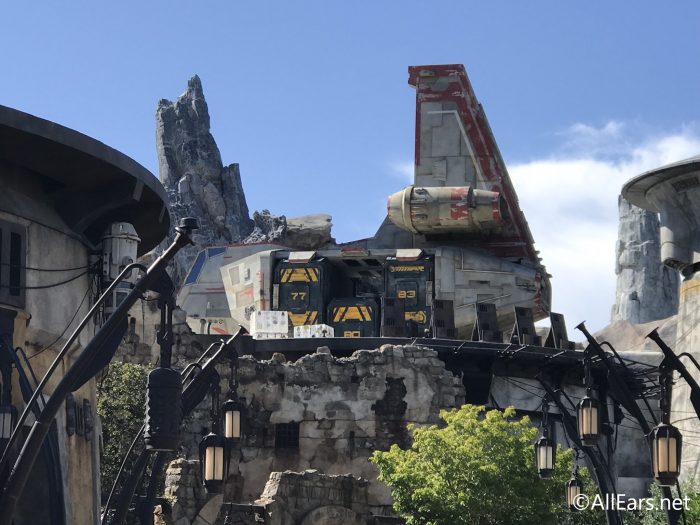 Well, for the most part, the same items as Disneyland's Galaxy's Edge! Docking Bay 7 has almost the exact same menu at both parks. This isn't a surprise, as Disney has announced the two lands are basically identical. However, we thought (hoped?) that they might throw us a curve ball and add a new item or two. But for now, the menus remain very consistent!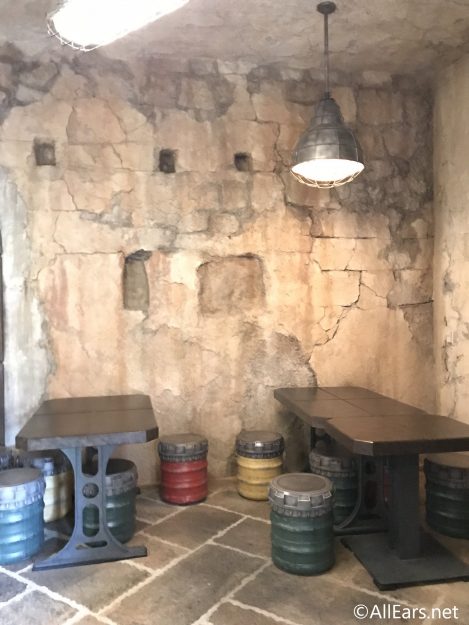 The main difference are the "meal periods." In Disneyland, Docking Bay 7 Food and Cargo has three separate menus for Breakfast, Lunch, and Dinner. For the afternoon meals, there are all-day items, such as the Endorian Tip Yip and Yobshrimp Noodle Salad. There is also a "lunch only" entree (Felucian Garden Spread) and two "dinner only" entrees (Ithorian Garden Loaf and Braised Shaak Roast).
In Hollywood Studios, Docking Bay 7 Food and Cargo  will have  a breakfast menu (with the exact same items as Disneyland), and then an "all-day" menu for lunch and dinner — meaning there will be no difference in the two meal periods. The Felucian Garden Spread (Disneyland's lunch-only entree) is not listed on Disney World's menu, however the two dinner-only entrees  (Ithorian Garden Loaf and Braised Shaak Roast) will be available all day.
So what's good on the menu?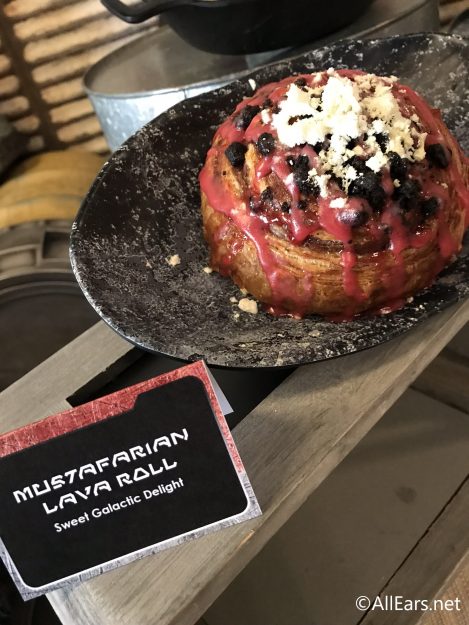 Breakfast highlights include the Mustafarian Lava Roll and the Rising Moons Overnight Oats.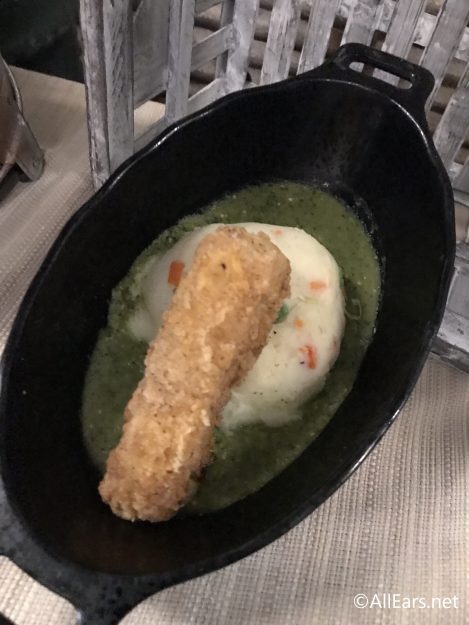 For lunch and dinner, our favorites were the Endorian Tip Yip (especially the kid's version with mac & cheese) and the Braised Shaak Roast, which we are excited is available all day in Walt Disney World!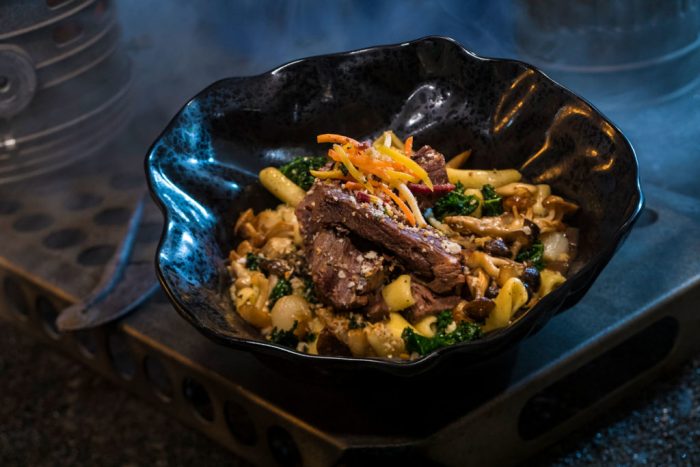 Desserts include the Oi-oi Puff, which is a Raspberry Cream Puff with Passion Fruit Mousse.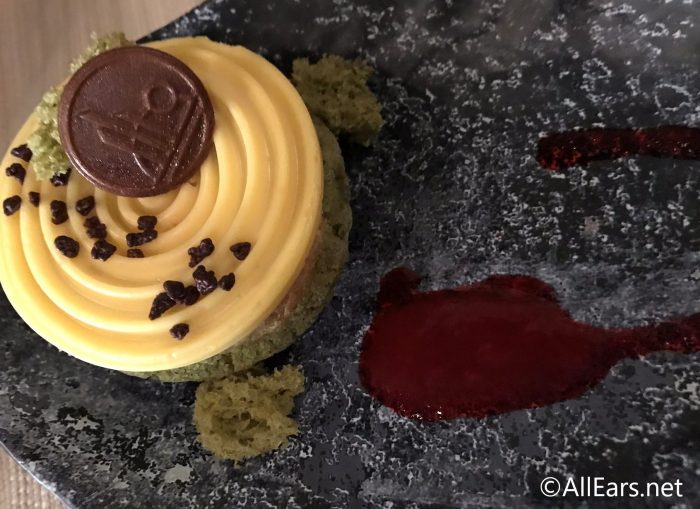 Signature drinks include Batuubucha Tea (Pineapple Passionfruit Kombucha), Phattro (Unsweetened Tea, Lemonade, and Desert Pear Juice) and Moof Juice (Fruit Punch, Pineapple-Orange Juice, and Chipotle-Pineapple).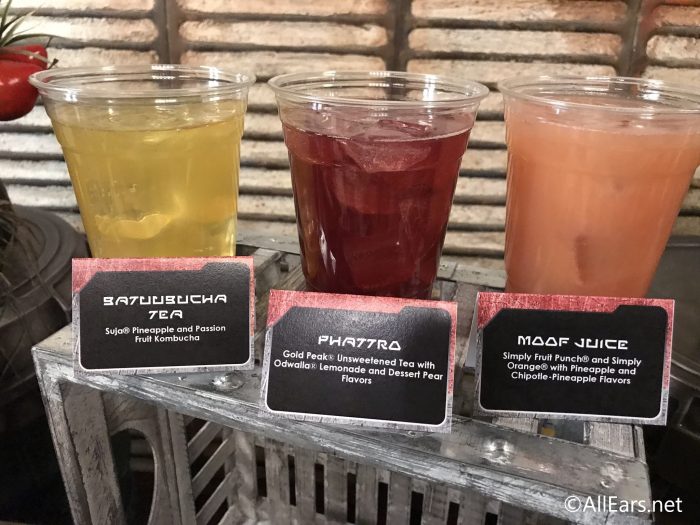 The only other (small) differences we spotted between the menus, is that Disneyland's menu includes regular milk (not just chocolate) and a small water bottle (in addition to a large size) on the drinks section. Additionally, there is a subtle price difference for a large fountain soda from Disneyland to Walt Disney World (from $4.19 to $4.49).
You can check out the full menu here!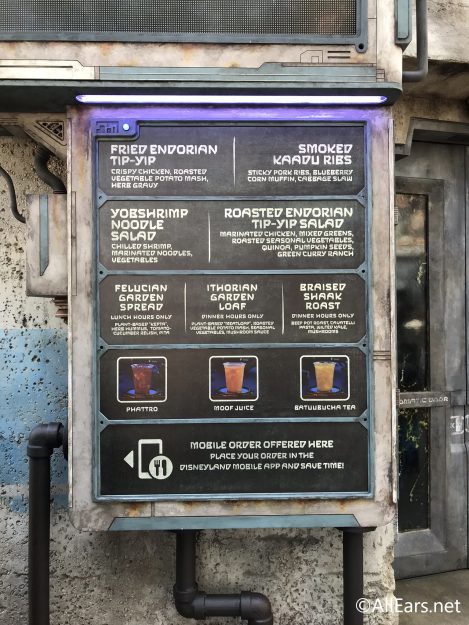 We must admit, we were a little surprised that none of the Galaxy's Edge alcoholic specialties were listed on the menu, considering Hollywood Studios is a park that serves alcohol (unlike Disneyland before Galaxy's Edge).

It seems (for now), alcohol will still be limited to Oga's Cantina. However, we wouldn't be surprised if they started selling some of the beverages (especially the Galaxy's Edge exclusive beers) at other stands throughout the park to help alleviate the long wait to get into Oga's. Only time will tell!
Make sure to stay tuned as we continue to post the latest news about Walt Disney World's Galaxy's Edge!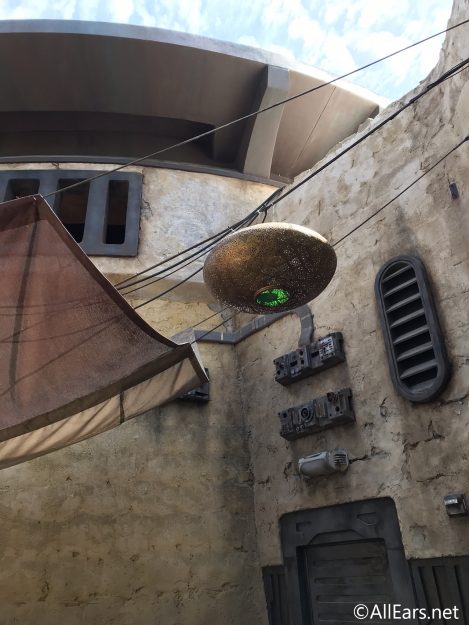 Are you excited to dine on Batuu in Florida? Let us know what you're excited to try in the comments!
Be sure to follow @allearsnet on Instagram and Twitter!
Check out our YouTube Channel for reviews, news, information and more!
Click below to subscribe to the AllEars® newsletter so you don't miss any of the latest Disney news!