Today, a whole bunch of information came out about the highly anticipated Star Wars: Galaxy's Edge. The new land is coming this summer to Disneyland Park and later this fall to Disney's Hollywood Studios in Walt Disney World.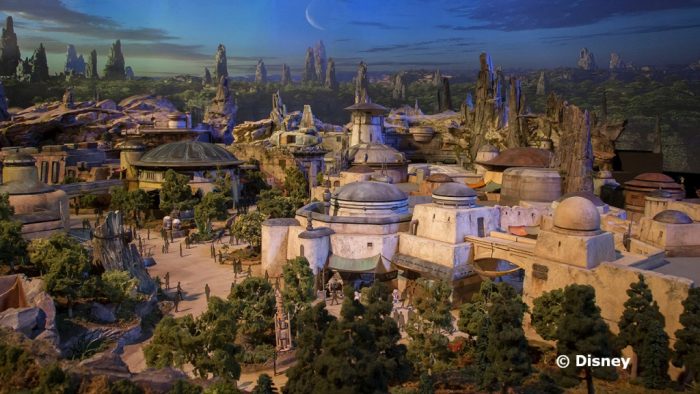 We haven't heard many details about one of the new attractions, Star Wars: Rise of the Resistance… UNTIL NOW.
Here is the new information we have for this VERY eagerly awaited attraction.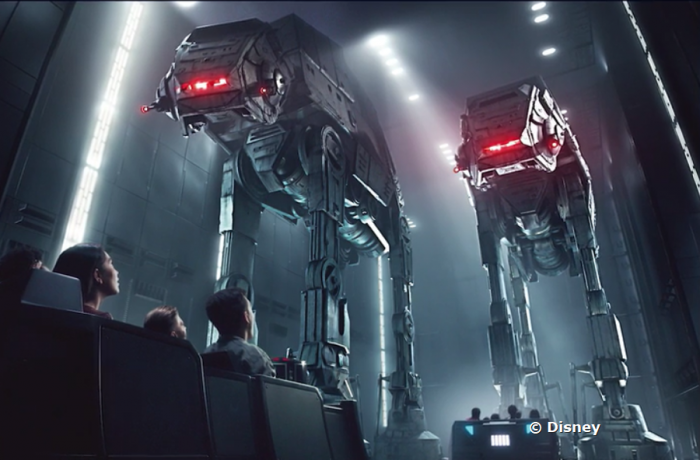 According to D23, The Official Disney Fan Club, Rise of the Resistance is "one of the most advanced and immersive experiences ever undertaken by Walt Disney Imagineering." Guests, or new Resistance recruits, will board a Star Destroyer and they will come face to face with Kylo Ren. Walt Disney Imagineering executive creative director John Larena says, "It's more than just a ride, it's a cinematic immersive experience."
In EW's sneak peek of the unfinished attraction, it's said that the ride will take you into multiple scenarios, such as aboard a First Order Star Destroyer, on a Resistance Transport, and in the pathway of AT-AT walkers! This is all in ONE ride — which really is starting to fell like multiple rides in one.
Warning: Spoilers ahead!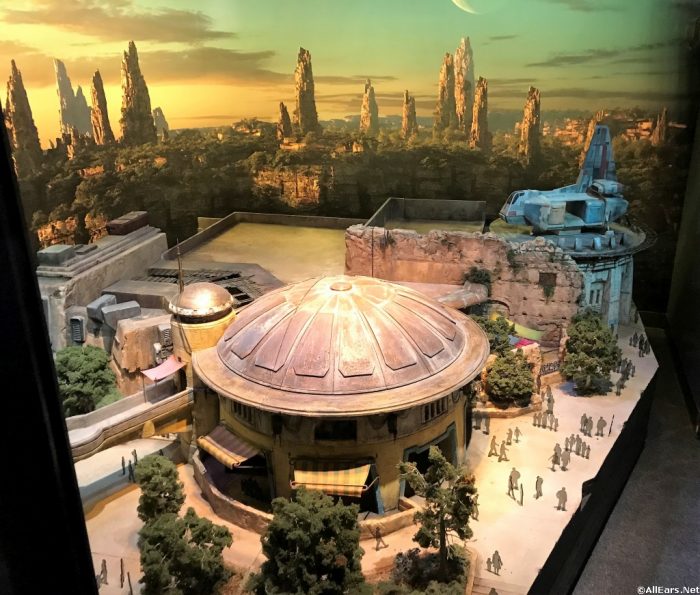 The queue begins in the rocky cliffs of Batuu, where you'll want to pay attention to the ground. You'll see soldier footprints as well as tracks from a droid. It turns out it was the droid Imagineers were looking for — the real R2-D2 from "A New Hope" was used here.
The line continues winding through the forest, until you reach a set of man-made (or alien-made) caves. It's here you'll reach the Black Spire Outpost, set along the ruins of an ancient civilization.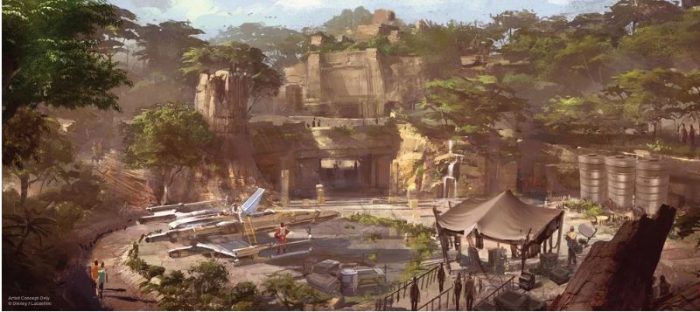 The story goes that both the Resistance (which set up camp here a week ago) and the First Order are both in search of something (we don't know what yet).
As you weave through the queue, you'll see various items from the Rebels' camp — such as droids and communication gear. Make sure to keep an ear out for signs that the First Order may be approaching.
You'll continue winding through and you'll want to pay attention to the ancient site you're in. We've read that the Play Disney Parks App will be very interactive in the queue, deciphering symbols and raising questions about what has happened here.
Eventually you'll make it to the Resistance Command. There you're greeted by BB-8, who presents a hologram of Rey (Daisy Ridley) letting you know that you'll be boarding a transport shortly with Poe Dameron for an urgent mission.
As you enter the bay, an animatronic Nien Nunb (Lando Calirissian's co-pilot) barks orders at you and you'll catch a glimpse of Poe's signature black X-wing.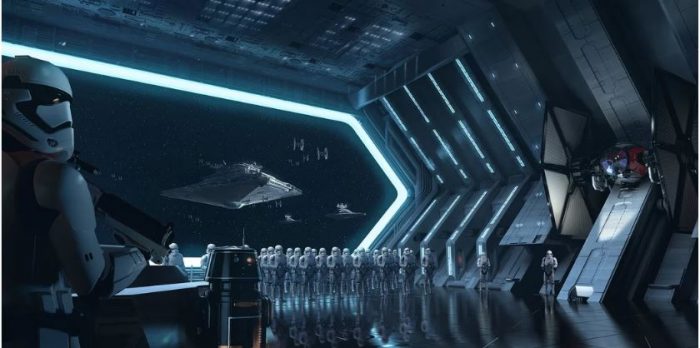 Time to go! Poe (Oscar Issac) jumps aboard his X-wing, and Nunb pilots your ship, which takes off. But not so fast! A First Order Star Destroyer appears and pulls your transport into a First Order hangar. Poe abandons you, promising to bring back help.
When the hangar is revealed, you'll be in a giant auditorium complete with  Storm Troopers and TIE Fighters.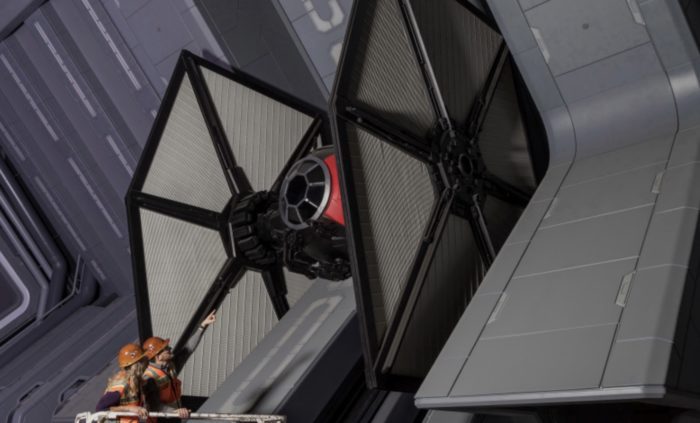 Resistance scum (you) will then be shuffled into an interrogation room, where you'll learn key information that the Resistance needs. You'll escape and board trackless cars, which will guide you for the rest of the attraction.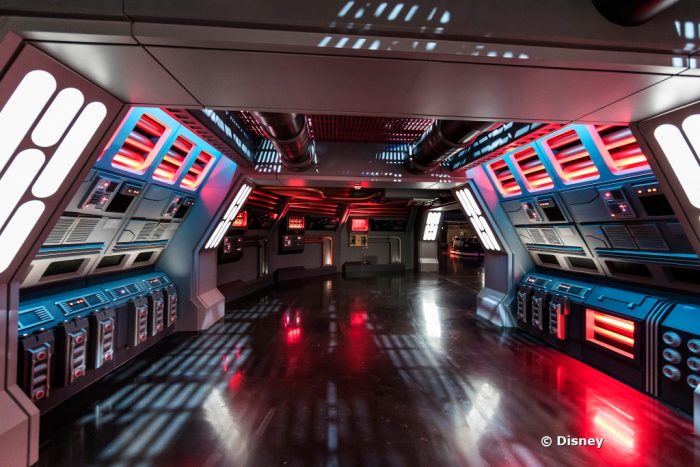 You'll come face to face with AT-ATs and finally, Kylo Ren (Adam Driver).
For now, this is all we know, but isn't all the detail amazing? Disney hasn't announced how Finn will be involved in the attraction, but it has been confirmed that actor John Boyega will bring the his character to life, as he did in the Star Wars films. Disney is also keeping the length of the attraction under wraps, but for now, just hearing about the various elements is enough. It's going to be awesome!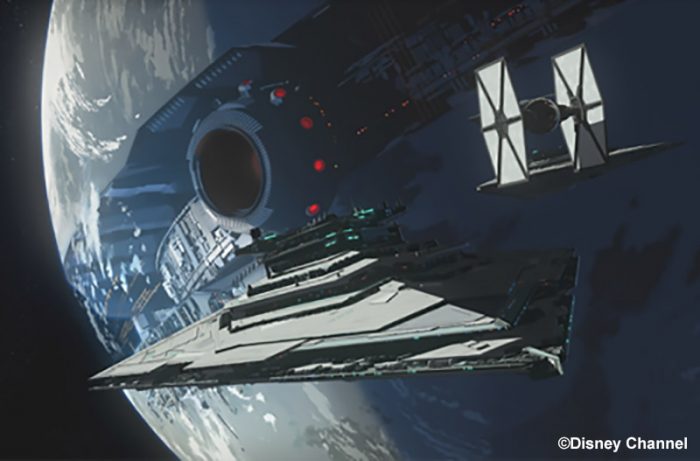 For more details on Star Wars: Galaxy's Edge, check out our post that features the newest details on everything from merchandise to dining.
Are you excited for Rise of the Resistance? Let us know in the comments!
And don't forget to check out some of our other posts about this new land that has us SUPER excited:
Remember! When you're in Disney tag @allearsnet in your photos!
Be sure to check out our YouTube Channel for reviews, news, information and more! 
Subscribe to the AllEars® newsletter so you don't miss any of the latest Disney news!