We've been taking photos of what we could see of the construction on Star Wars: Galaxy's Edge in Disney World's Hollywood Studios for months. The "Toy Story Land wall" has become an attraction in its own right as it offers the only look into the new land. Today we were treated to a visit behind the walls! We got to visit Star Wars: Galaxy's Edge!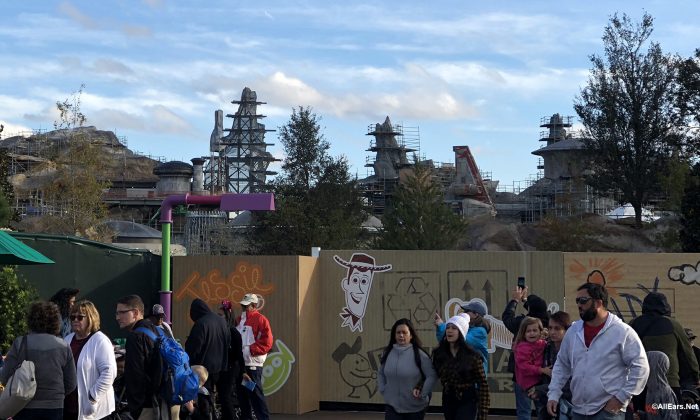 We are so excited to share what we saw with you!
We got to step behind the construction walls on Grand Avenue just past Tatooine Traders. We were part of a media group in the park for a preview of tomorrow's 30th Anniversary celebrations and new attractions and restaurants coming to the park.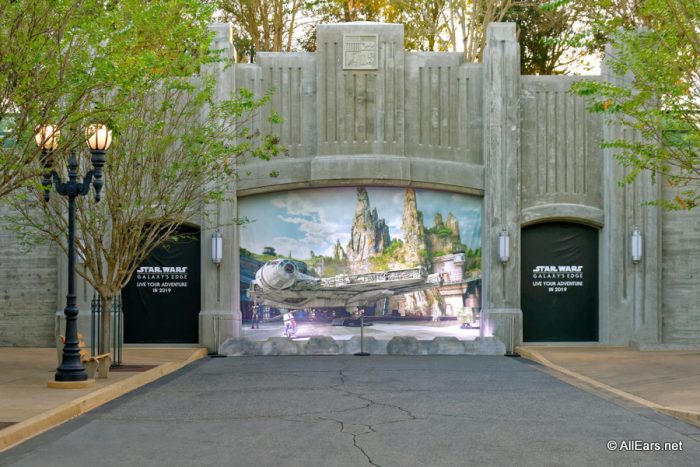 Of course, we were not allowed to take any photos on our brief visit to Black Spire Outpost, but we can share our thoughts on what we saw with you! One thing we do know: we were excited before today — now we are beyond excited. This new land is going to be amazing!
First off, there are two entrances in/out of the land — the Grand Avenue entrance by Muppet Vision, and an entrance near Toy Story Land.  Both are narrow, tunnel-type entrances, so you can't really see anything until you get through them and then BAM! There is Galaxy's Edge all around you!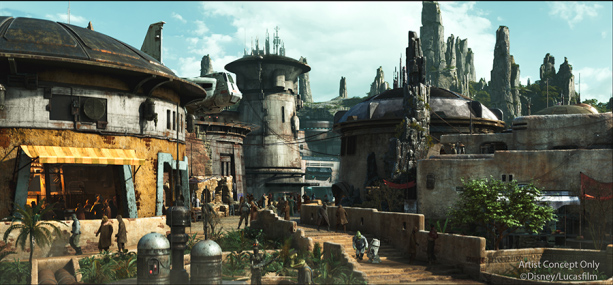 We entered today through the Grand Avenue wall entrance. We were told by our guides that the view when entering from Toy Story Land will be even more wide-scale.  From where we were, near the Rise of the Resistance attraction, we were struck by the scale and the detail. For example, we saw footprints on the ground — love those Disney details! Some looked like elephant prints — we're guessing Bantha? But we're not sure. There were also smaller animal prints and others.
Even though everything is new and purpose-built in the last two years it genuinely feels hundreds of years old. There's moss and exotic flowers on the walls, and there are cool, spaceship style light fixtures. It reminded us in some ways of Pandora – The World of Avatar, with an odd mix of futuristic details plus ancient-looking caves and plant life.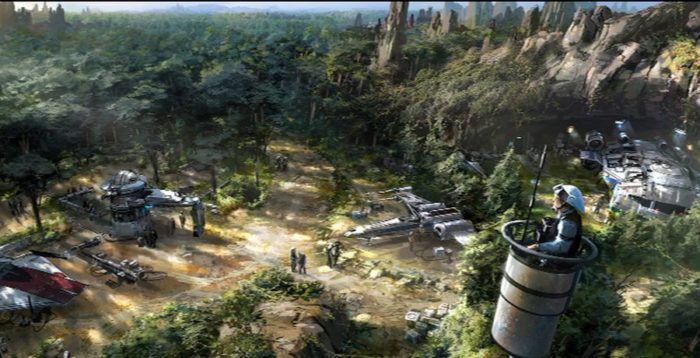 We could just see some of the exterior of the Rise of the Resistance ride, which is part of the second phase opening of Star Wars: Galaxy's Edge. From other news and press releases we expected this to be bigger than any other Disney ride — but this is incredible. The scale is beyond anything we have seen in a Disney park before.
Even though our views were limited and our time short, we have to admit that we got a little teary — it was all just that impressive! We can't wait to visit again. How many days until August 29?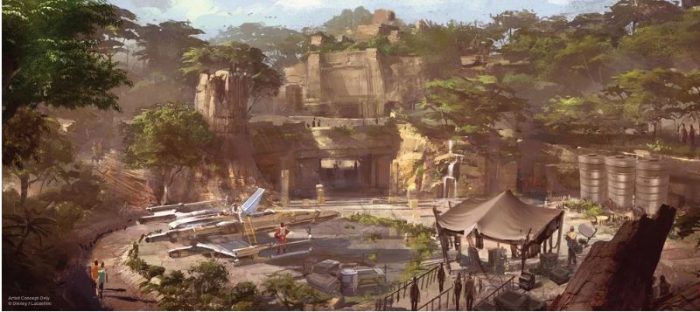 Be prepared for an experience in a Disney land that you have never had before!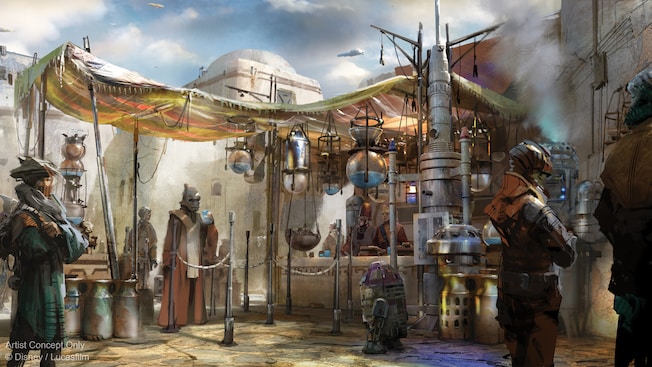 Star Wars: Galaxy's Edge opens in Disney World's Hollywood Studios on August 29, 2019. Will you be there on opening day? Let us know in the comments!
Disclaimer: AllEars.Net was an invited media guest of Walt Disney World at this sneak preview of Galaxy's Edge. This did not influence our opinion; our opinions are our own.
Be sure to follow @allearsnet on Instagram and Twitter!

Check out our YouTube Channel for reviews, news, information and more!
Click below to subscribe to the AllEars® newsletter so you don't miss any of the latest Disney news!