Today's article will focus on the "almost" pavilion of World Showcase – that "bump in the road" along the promenade – the "what's this here for?" collection of huts. I'm talking about the Outpost located between China and Germany.
As we know, Disney had grandiose dreams of filling World Showcase with a multitude of nations. There were even plans for an outer ring of countries if ever the promenade filled to capacity. But alas, this didn't come to pass. Epcot opened with nine countries and was later joined by Norway and Morocco. But other nations were well along in the planning stages before they were eventually scrapped for various reasons. Some of these included Israel, Spain, and Equatorial Africa. In fact, Equatorial Africa was so far along in planning that it was actually included as a "future project" on the opening day Epcot map. And during the Disney TV special "EPCOT Center: The Grand Opening Celebration" which aired on October 23, 1982, host Danny Kaye interviewed "Roots" author and Project Adviser Alex Haley about this soon to be added pavilion.
The continent of Africa is made up of many poor nations. And building a pavilion at Epcot is an expensive proposition. So Disney proposed a pavilion that included a collection of African countries, rather than just one. This multi-nation concept would help distribute the costs among several countries. After much searching and many negotiations, Letters of Intent were signed by Kenya, Senegal, and Ivory Coast.
Equatorial Africa was going to be an exciting pavilion and plans for a number of attractions were on the drawing board. The first of two films, "Africa Rediscovered," would be narrated by Alex Haley and would present the abundant wild life of the area, the history of this region, and discuss modern-day Africa. The second film, "Heartbeat of Africa," would focus on African music and conclude with a laser show synchronized to the sounds of native instruments.
Another exhibit would feature a large tree house. From its heights, guests would look down on a jungle watering hole bathed in perpetual moonlight. A diorama of trees, boulders, rushing waters, and actual scents of nature would highlight a rear-projection movie of animals advancing to drink in the night.
And of course, no World Showcase pavilion would be complete without live entertainment. So a small amphitheater was to be carved into Disney "rocks" to showcase African dance and music.
Here are a few concept drawings for the African Pavilion.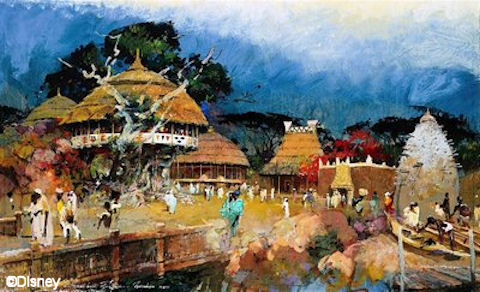 The African Pavilion was schedule to open sometime in 1983, but as negotiations continued to drag on, it was decided to build a temporary African placeholder where guests could grab a snack and pick up a souvenir. This was done for two reasons. First, this would pacify guests who had heard about the future Equatorial Africa Pavilion on TV and seen it on Epcot maps. But also, the area between China and Germany is large. Something of interest was needed along this route to help give World Showcase a more completed look.
Unfortunately, the Equatorial Africa Pavilion never came to pass for a number of reasons. First, the political unrest of the region made it difficult to carry on negotiations with the various nations and their less than stable governments. Not to mention, these nations were already squabbling amongst themselves for top billing at the pavilion. Then there was the problem of money. Most African countries simply couldn't afford or justify spending the amounts needed to build a World Showcase pavilion. However, Disney was able to find one sponsor, a company located in South Africa. But apartheid was a major issue in the 1980's and Disney thought better of associating itself with this political bombshell. Eventually, the project was shelved. And with the opening of Harambe at Disney's Animal Kingdom, any thoughts of a future African pavilion along the World Showcase promenade probably died as well.
Officially, the African themed area located between China and Germany is known as the Outpost, although many call it African Outpost or Refreshment Outpost. Since the Outpost was constructed as a temporary placeholder, there is precious little information about this area of World Showcase available in books and on the internet. So in order to present you with a backstory, I tried to deduce what the Imagineers were thinking when creating this mini-pavilion by examining the details. Here's what I came up with.
The Outpost is a small trading center located along a rural roadway somewhere in West Africa. Local merchants bring their wares to the stalls each morning and supply travelers with the necessities of their journey. Part of this story can be seen in the signpost that points the directions to various far-a-way locales – very far-a-way indeed.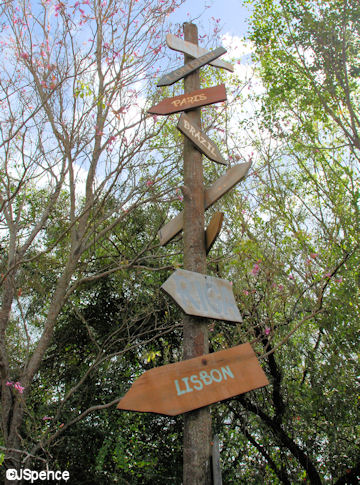 The Outpost has three areas: seating, shops, and refreshments. I'll start with seating.
Travelers need a place to rest before continuing along their journey and the umbrella covered tables and chairs that line the World Showcase Lagoon fulfill this need. This is a fantastic spot to stop and rest your weary feet. Although the wall behind some of the tables is high and cuts off much of your water view while seated, this is still the perfect spot to relax and people watch. It's also a decent spot to stand and watch Illuminations.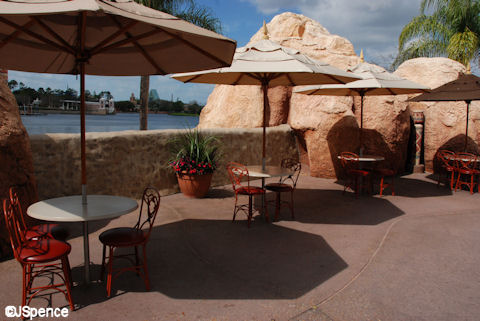 On the other side of the wall, three African canoes can be seen. These belong to some of the local inhabitants of the village who probably sell their catch at the nearby stalls.
Like in other regions of the world, the first boats in Africa were dugout canoes, a craft made by hollowing out a large tree. In Africa, the rainforests provided the ancient people with an abundant supply of trees for the construction of boats, and waterways for fishing and hunting. As civilization progressed, so did the construction methods of canoes. African Teak (iroko) was the favored wood due to its durability.
Today, fish provide the main source of protein for millions of people living from coast to coast in the tropical areas of Central Africa – and canoes continue to play a large role in the feeding of these hungry souls.
Travelers need to eat and the nearby stand provides for this need. The current proprietor has cleverly changed the trading post's name from "Outpost" to "Refreshment Coolpost" to attract business. This can be seen on the overhead sign that has been crudely repainted. Also notice the water tower on the roof which provides the stand with clean water and water pressure.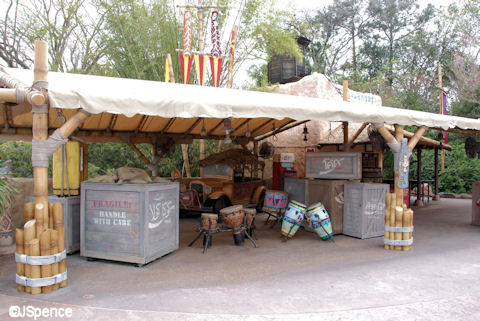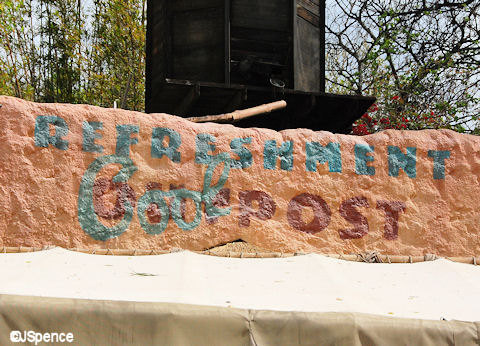 Refreshment Coolpost is sponsored by Coca-Cola. Few places at Disney World flaunt an advertiser's product so blatantly. But this display works on several levels. First, we see a number of burlap bags containing kola nuts scattered around the area. Kola trees are native to West Africa and are used to add caffeine and flavoring to Coke and other cola drinks.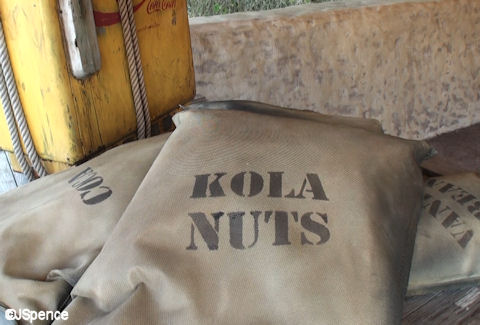 In the same area are a number of crates ready to be shipped to faraway lands, all of them labeled Coca-Cola in the destination's native language. This area obviously has a bottling plant nearby and the Outpost acts as a distribution center. This can be deduced from various details. First, several of the crates are labeled FRAGILE, HANDLE WITH CARE, and KEEP ICE COLD. From these messages we have to assume the crates are filled with bottles of Coke. If these crates contained kola nuts, no such labeling would be necessary. In addition, an old Chevy woody is loaded up and ready to make local deliveries.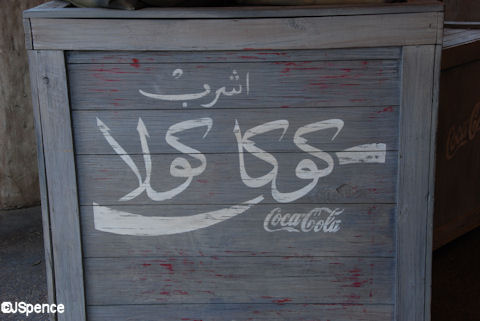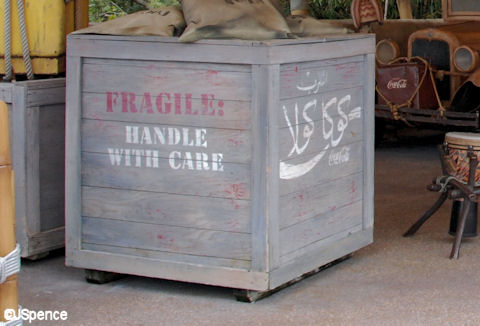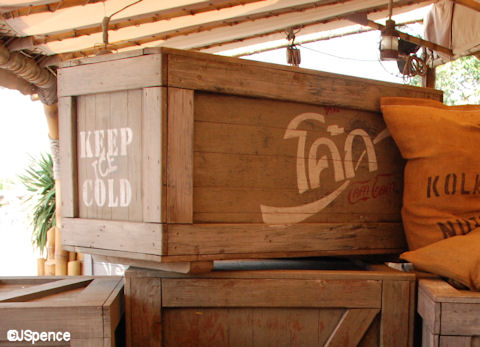 Also found in this area is a number of Coca-Cola vending machines. These are obviously used mechanisms that are being shipped out to poorer regions. While browsing this area, be sure to open a few of them for some surprises.
It's interesting to note, Coke has used the word "Cool" at several other locations in Walt Disney World. Two can be found in other sections of Epcot with "Cool Wash" and "Club Cool."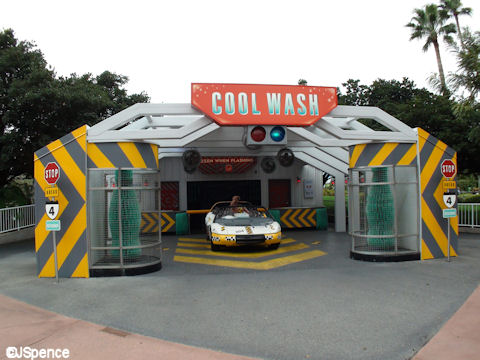 Mixed in among the crates and vending machines are several sets of African drums. Kids love to burn off energy here, pounding to their heart's content.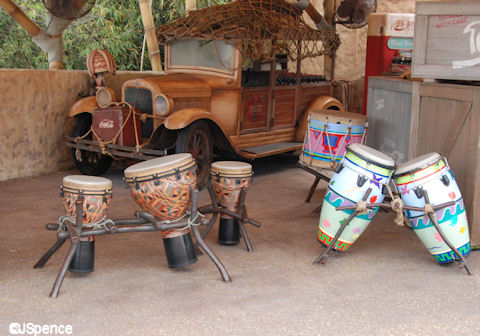 The tapered drum above is called a djembe. It was originally the instrument of the Mandinka people but has gained greater popularity in large regions of Africa over time. It is carved from a single piece of wood and covered with goat skin. It is used mostly for seasonal celebrations, weddings, baptisms, and festivities held immediately after Ramadan.
Currently, there is no regularly scheduled entertainment at the Outpost. However, at one time, African storytellers could be found in this area where they would regale guests with Nigerian folktales and music.
The Outpost offers a limited selection of food and drink. Hot dogs and chips are as close to a real meal as you'll find here. Other offerings include soft-serve ice cream, cookies, frozen slushes, beer, and of course, Coke products. To see the complete menu, click here.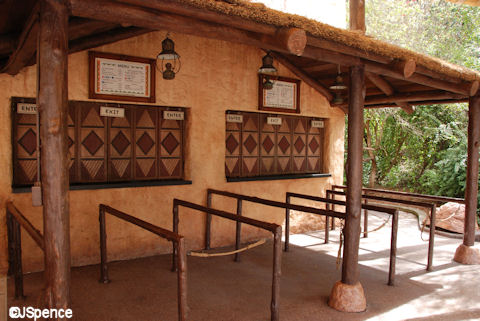 The last section of this little settlement is the trading center. Here, merchants open their shops each day and sell their wares to the travelers passing through on their way to more exciting destinations. The structures here range from a permanent building to makeshift huts. I'll start with the more substantial of these, Village Traders.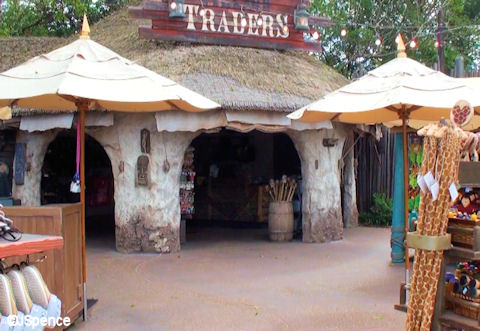 Village Traders is housed in a mud house, a common sight in West Africa. The construction of these structures is relatively inexpensive and the materials are readily available. The components of a mud house are as follows: wood poles for the wall and roof support, elephant grass for the thatch, and straw and mud for the walls. In some cases, cow dung may be mixed in with the mud and straw to cut down on insects. A mud house is typically round as this aids in support. These buildings will normally last for about ten years, but eventually, termites will eat away at the support timbers and the structure will need to be rebuilt. But since everything used in construction is natural, it is all biodegradable.
Apparently, business has been good for the owners of Village Traders as they were able to build a more permanent, wooden structure adjoining their mud house.
On the outer walls of Village Traders are a number of masks. Masks like these are a common sight in Sub-Saharan and West Africa. Although their exact implications vary from one tribe to the next, they share a commonality of being used in spiritual and religious events and ceremonies.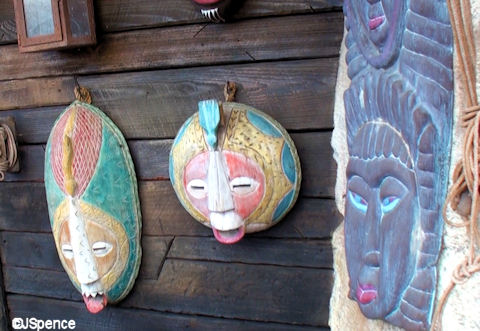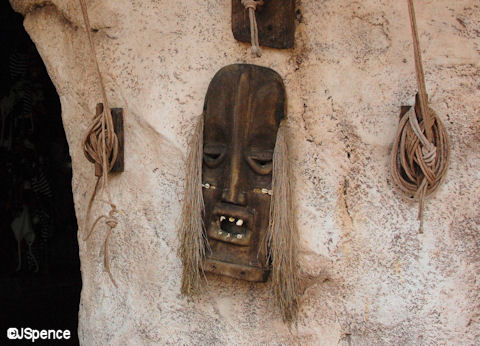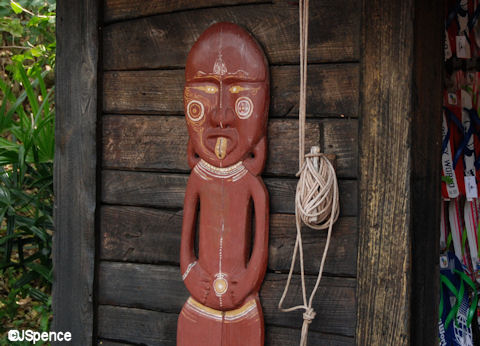 Village Traders sells a collection of African handicrafts and Disney souvenir items. For those of you who search out the Coin Presses, there is one located here.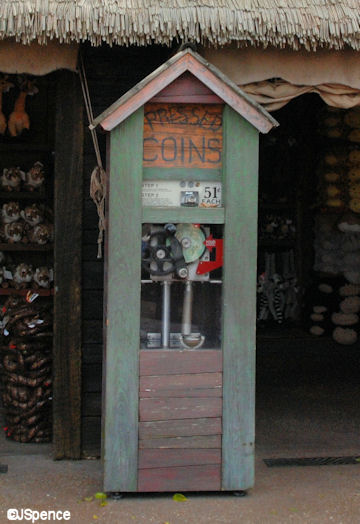 Although there are a number of face painting stations located around Walt Disney World, the one at the Outpost is especially fitting. Face painting (which is often accompanied by body painting) has its roots in many cultures around the world and the African continent is especially known for this practice. Tribal and cultural face painting serves an array of purposes. Some people have used it to aid in hunting and camouflage. Others have used it in warfare to create fearsome countenances that would scare their enemy. And to some, religious and spiritual experiences can be enhanced with the decoration of the face.
At the Outpost, nothing this steeped in meaning is available. Instead, talented artists offer lighthearted, and a few scary, designs for kids and adults.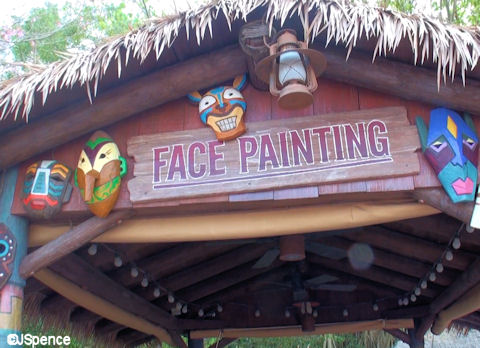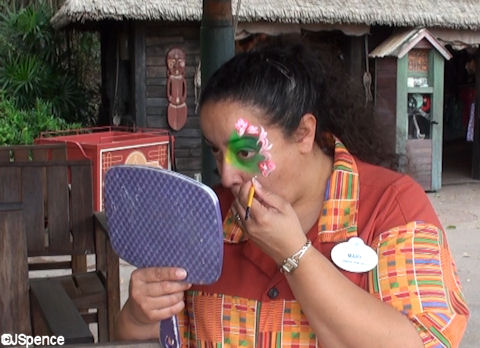 At Mdundo Kibanda, you can watch Andrew Mutiso and members of his team carve wood and soapstone into beautiful works of art. Feel free to engage these talented artists in conversation. They'll be happy to explain the process of taking raw wood and turning it into a thing of beauty.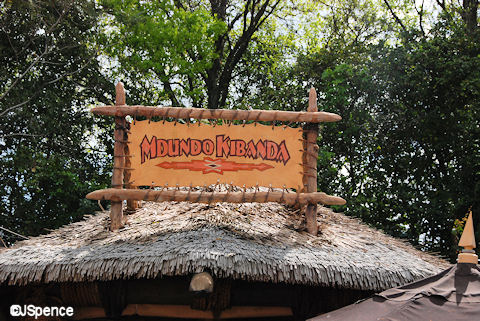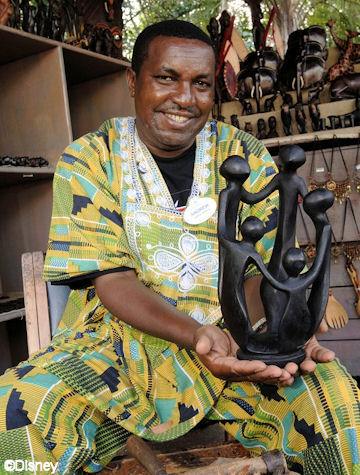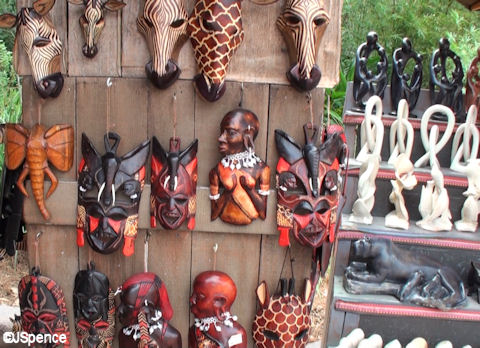 The latest vendor to set up shop in the village takes up residence in Bead Outpost. This entrepreneur arranges for old Disney guide books and other out-of-day Disney paper products to be sent to his family in Uganda. Here, the paper is hand rolled into beautifully colored beads which have been strung into necklaces and bracelets. The finished product is extremely durable and water resistant and makes a wonderful gift for yourself or a friend. You can actually wear a bit of recycled Walt Disney World with these pieces of jewelry.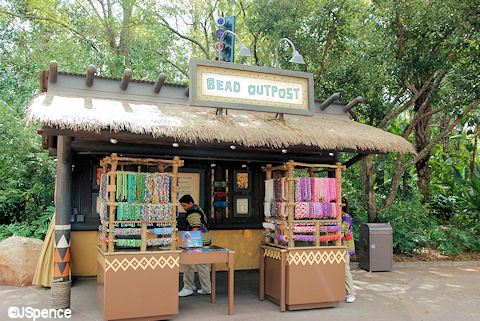 That's it for the Outpost. As I said at the beginning of this article, this area was never intended to still be standing 29 years after its construction, but here it is. Although not as immersive as the other World Showcase nations, the Outpost does offer more than most guests think. So on your next trip to Epcot, try not to rush through this area. There are details to be discovered here.
As always, I have created a video showcasing the Outpost. Enjoy.