PassPorter's Open Mouse for Walt Disney World and the Disney Cruise Line
Do you or does someone you know have:

Allergies, Asthma, Autism Spectrum Disorder, ADHD, Chronic Fatigue Syndrome, Cognitive Disabilities, Fears, Fibromyalgia, Hearing or Vision Impairment, Mobility or Size Issues, Motion Sensitivity, or Special Dietary Needs?

Are you or is someone you know:

A Senior, Pregnant, or Traveling with an Infant?

Are you or is someone you know going through:

Addiction Recovery, Medical Treatment or Physical Therapy?

Do you travel with a Service Animal?

If you answered YES to any of these questions, PassPorter's Open Mouse for Walt Disney World and the Disney Cruise Line is for YOU!
Virtually every family or group that travels to Walt Disney World or on the Disney Cruise Line has at least one member with a special need: a child with ADHD, pregnant and nursing moms, parents with infants, cousins "keeping Kosher," grandparents with declining mobility, a child with food allergies, an uncle struggling with obesity, a teenage daughter "converted" to vegetarianism — everyday people coping with everyday needs. And what they really need for their vacation is a guidebook that addresses their special requirements.
PassPorter's Open Mouse for Walt Disney World and the Disney Cruise Line offers more than 400 pages of up-to-date information, photographs, maps, charts, and honest advice by two of the Web's most respected Disney experts. This guidebook covers 24 categories of traveling challenges, embracing dietary choices and hundreds of medical and mental health issues. Features include detailed descriptions of every Disney ride and attraction with a focus on traveling with special challenges; comprehensive information on Disney resort hotels to help choose the best lodging and accessible rooms; insider advice for dining at Disney with a special diet; tales and tips from dozens of travelers; and advice so you can feel safe and comfortable. Find everything you need to enjoy Disney to the fullest, from one of the most trusted names in Disney travel.
The first edition of this book (formerly titled PassPorter's Walt Disney World for Your Special Needs), was one of three finalists for the 2006 Benjamin Franklin Award in the "Travel Guides 1 or 2 Color Interior" category. The honor was given by PMA, the Independent Book Publishers Association. The book was also a finalist in the Travel category in the ForeWord Magazine Book of the Year Awards. ForeWord Magazine is a literary review trade journal devoted exclusively to covering independent presses, such as PassPorter Travel Press.
Expert Peer Reviewers' Comments
Praise from Other Disney Experts
on the previous edition of PassPorter's Open Mouse
"PassPorter's Walt Disney World for Your Special Needs is the ultimate sourcebook for Disney World visitors with unique problems and needs. Well organized and crisply written, the comprehensive volume covers everything from the needs of nursing mothers to disabled access to autism. Almost anyone with a special need will find both understanding and excellent advice between the covers of this landmark work." Bob Sehlinger , author of The Unofficial Guide to Walt Disney World
"Many of us have special needs, from motion sensitivity or allergies to diet or mobility constraints. This book addresses 24 special needs areas for visitors to Walt Disney World. All aspects of the trip are covered in depth, including planning and getting there, choosing where to stay and where to eat, and touring the WDW Resort. Each attraction is described, with tips and warnings for specific special needs covered after their assigned icons (for example, pregnancy has the icon "E"). This book is a tour de force of research and a worthy reference, indispensable for WDW visitors with special needs." Steven M. Barrett, author of Hidden Mickeys: A Field Guide to Walt Disney World's Best Kept Secrets
"I purchased this book to prepare for an upcoming trip with my wife's grandmother who is in a wheelchair. This book is not only an excellent resource for the disabled, but also for those who have dietary needs, are large in form, pregnant… the list goes on. Not only is this a great resource, but the only resource out there for those with special needs. We frequent Disney World often (3-4 times a year) and learned numerous things about the special programs, restrictions, and opportunities available out there. I highly recommend this book to anyone needing detailed information that cannot be found in a typical guidebook." Chris Carlson, author of Disney on a Dime
Editorial Reviews
"Looking for an excellent resource for your special needs situation while in Disney? The only book you should read is PassPorter's Walt Disney World for your Special Needs. What I love about this book is that "special needs" doesn't just mean ADHD or wheelchair accessible… If you can think of it, they have covered it… I highly recommend this book. If you are going on a Disney World vacation, buy this guide. It is worth every penny." Linkup-Parents.com, January 2006
"… I have found this guide book to be incredibly useful and informative not only for special-needs visitors to the Disney resorts, but also for all travelers regardless of destination. The book provides fresh and unique ideas, tips, and suggestions for embracing the joy and challenges of travel in general. For visitors to any of the Disney resorts, this book is a definite must-read. With incredible detail and focus, this guide addresses travel-related challenges faced by two dozen special-needs categories including mental health disorders, hearing and vision impairments, pregnancy, religion, and mobility disabilities… Even though I would not consider myself to be a "special-needs traveler," I was struck again and again by how useful this book will be the next time I travel anywhere… Beyond all the tips, suggestions, and local "intel," I think all travelers would benefit from reading this book at least once because it provides a real, "nuts and bolts" view of the scale of challenges that special-needs travelers overcome on a daily basis… PassPorter's Walt Disney World for Your Special Needs: The Take-Along Travel Guide and Planner surprised and impressed me, and I highly recommend it as a valuable tool for all travelers." Mark Sedenquist, RoadTripAmerica.com, November 2005
"…this massive compendium represents an enormous amount of research (they cite nearly three dozen "peer reviewers") and all the hard work has clearly paid off. Their book is the de facto encyclopedia on special needs at Disney World and it is unlikely that their achievement will ever be duplicated, let alone surpassed…In addition to being a superb WDW guide for those with specific needs — autism, dietary restrictions, chronic fatugue, phobias, etc. — PassPorter's Walt Disney World for your Special Needs will prove to be an invaluable reference tool for travel agents and other industry professionals with an interest in WDW." IntrepidTraveler.com, September 2005
"Filled with detailed access information on all the rides and resorts at Walt Disney World, the book is a great resource for wheelchair users and slow walkers… Truly this handy resource contains everything you ever wanted to know about access in Walt Disney World." Candy Harrington, Emerging Horizons magazine, Fall 2005
36 Expert Peer Reviewers
provided in-depth comments and suggestions as the book was being written.
Here's what some say now that they have seen the book in print!
"As the mom of a son with special needs, not only was I thrilled to know of 'the Debs'' project, I was thrilled when asked to be a part of it. I'm a detail-oriented person and the scope of the information included in this book exceeded my hopes for it. This is a very comprehensive book and anyone with a special need or travelling with someone with a special need, will find this book the best resource for travelling to Walt Disney World or taking a Disney Cruise! Thanks again for allowing me to participate, I was honoured to be part of such a wonderful travel guide!" Cathy McConnell
"I just wanted to thank you all for such a wonderful opportunity to help with the Disney book. It was very fun to work on and I believe strongly that this book is desperately needed. You all did an amazing job and I feel truly honored to have been involved. And my friends with special needs kids have already commented on how great it is!" Alissa Tschetter-Siedschlaw
"The info is very thorough and detailed, and really has something in it for just about everybody. You may be surprised by the wide range of special needs this book addresses. I'm sure there are many people for whom this book would be especially helpful, but who might dismiss it as not being for them because they never stopped to consider that they have a "special need." Of course, it provides helpful info for the obvious needs, such as mobility, vision, and hearing impairments. But, as mentioned in the press release, take note that this book can also help you make the most of your WDW trip if you have other (less obvious) needs such as diet restrictions, allergies, fears (such as heights, enclosed spaces, etc), and even has some great info about traveling with infants! This could be the next book that you (or friends or family) just "have to have" but never realized you needed!" Amy Warren Stoll
"Great job! You have been very thorough with the material and the result is an exceptional book. I thank you both for allowing me to be a small part of this production." Jean Miller
"…loving the new book on special needs, and I will be talking about it when we have a library program on taking a trip to Walt Disney World. I want to be sure both the presenter and patrons are aware of this great resource." Sandra Givens
What Readers Are Saying!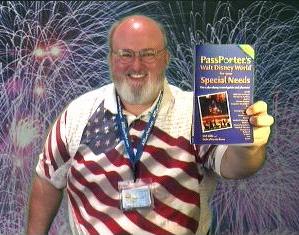 "Deb Wills and Debra Martin Koma have written an excellent, comprehensive travel guide and planner of Walt Disney World… Whether you are the caretaker, family, friend, or have health issues, then this wonderful, magical planner is for you… with coverage of 24 special needs categories. And comprehensive information to help you plan your special adventure, getting there and back, staying in style, touring the world, dining your way. More detailed, excellent descriptions of every Disney ride, attraction, resort, restaurant; maps of parks, resorts, rooms; lists of ratings and websites of all of the above. I love this book. It has given me a better understanding how I can enjoy Disney more than I do now. And now, if you know friends with a special need, don't let them stay at home. Let everyone experience the Magic of Disney." Ray Sharpton, Atlanta, GA
"As a travel agent specializing in Disney, I often get questions from special needs clients. This book now sits next to my desk and is becoming a valuable and frequently used resource. 'The Debs' have long been regarded by Disney fans to be the most in-the-know ladies on the web about all things Disney World, so this book seems a natural off-shoot of their web efforts. I'm pleased to say that it has been done with all the attention to detail that we've come to expect from them. The style is easy-to-read, and the details are both descriptive and accurate. Most special needs are addressed in this book, and many of the tips and hints given can be applied to those without challenges as well. Job well done!" Elizabeth F. Foss, Naples, FL
"My husband is a pediatrician and I am a diet counselor. For most of our career, we have been specializing in children with Autism Spectrum Disorders. This book is so easy to read and offers help in many different areas. We both highly recommend it. This was a very difficult task to tackle, but through pictures, charts and amazing organization, Deb and Debra help put reassurance into your vacation!" Elizabeth Hicks, Wisconsin
"As the parent of a child with multiple special needs, I found this book to be full of helpful information. Because my family and I have been to WDW on several occasions, much of it was familiar, but there were a number of things we were not aware of, and having all the research in one place is invaluable. This is a must-read for families dealing with special needs, especially those who are taking their first trip to 'The Happiest Place on Earth.'" J. Westerhoff, Des Moines, IA
"Like all of the PassPorter series books, this guide is well-researched and extremely informative. It includes information to help travelers through trip planning, getting there, and maximizing the fun and minimizing the hassles during their Disney World vacation. As someone who visits WDW at least twice a year, I didn't think I had much left to learn about the resort — boy was I wrong! This book gave me tips that are extremely useful for traveling with children, special needs or not." J. Gray "Disney fan, Accounting teacher, book lover" (New Hampshire, USA)
"… it's a MUST READ if you plan on going to Walt Disney World and you or someone in your party have special needs. It covers everything, in great detail, from diet to mobility to fears. Deb Wills and Debra Martin Koma have created something really 'Special!' " Regina Filangi
"We have thoroughly enjoyed the first edition of PassPorter's Walt Disney World for Your Special Needs. The wealth of information is so helpful, in many ways because [our son]'s needs are so varied, that just one 'category' won't cover it." Bill Mehner
"I had never thought of myself as having much experience with Special Needs at Walt Disney World or needing a guide such as yours. However, your book opened my eyes to how we each have special needs simply because we are unique individuals. Thanks again for this guide!" Craig C., Orlando, FL
To order: PassPorter's Open Mouse for Walt Disney World and the Disney Cruise Line is available at many online stores, including:
About the Authors:
Deb Wills is the force behind AllEars.Net, a website that she began nearly 10 years ago as Deb's Disney Digest, and as editor-in-chief of ALL EARS®, a weekly electronic newsletter that goes to more than 88,000 subscribers. Deb first fell under the spell of Disney magic as a little girl growing up in New Jersey. Like many her age, Deb was entranced with Walt Disney himself and his groundbreaking television shows, and had the chance to visit the 1964-65 World's Fair in New York, enjoying the original debut of It's a Small World and the GE Carousel of Progress. She made her first visit to the Magic Kingdom in 1972, and subsequently returned many times in her position as a rehabilitation assistant with a vacation travel program for special needs adults. Since then, Deb has paid countless visits to the "World" and has sailed on the Disney Cruise Line nine times.
Pittsburgh-born freelance writer and editor Debra Martin Koma came to love Walt Disney World at a much later age. Although she visited Disneyland as a toddler, and was a devoted Mouseketeer of the original Mickey Mouse Club, Deb didn't visit Walt Disney World until she was an adult with a child of her own. Though she was somewhat reluctant to make the journey to Orlando initially, five minutes into her first visit to the Magic Kingdom she declared that she never wanted to leave. She's returned more than 40 times in the ensuing years despite the raised eyebrows and questioning looks from non-believing family and friends.
After meeting in cyberspace (through a Usenet newsgroup) in early 1997, the two eventually realized that they weren't that far apart from each other geographically, and they met "in real life" later that year. We would say that the rest is history, but we don't think the story of the two Debs has been completely written yet.
Working together for the past several years, Deb and Deb have enthusiastically shared their passion for Walt Disney World with others through AllEarsNet.com and ALL EARS®. Both have been peer reviewers of the PassPorter Walt Disney World Resort guidebooks for the past several years, while Deb Wills recently joined the review group for PassPorter's Field Guide to the Disney Cruise Line.
When PassPorter publishers Jennifer and Dave Marx approached Deb and Deb with the idea of co-authoring a book about traveling to Walt Disney World with special needs, they both jumped at the opportunity. A breast cancer survivor who is active in raising funds and awareness, as well as in other civic causes, Deb Wills realized that this project would be the perfect link between her past and present interests. Having grown up with siblings who had a variety of health issues, Deb Koma, too, was anxious to participate in this project, which has the potential to spread some "pixie dust" to those who face special challenges when traveling.
Researching and writing the second edition of this book proved to be more of a challenge for the two than they initially thought it would be. But they are convinced that the resultant PassPorter's Open Mouse for Walt Disney World and the Disney Cruise Line, which they hope will help so many fully enjoy the Most Magical Place on Earth, was well worth the effort.
To read more about the authors, as well as hear their answers to questions about the book, read the Meet the Authors feature in ALL EARS® Issue #320, dated November 8, 2005.
Deb Wills and Deb Koma also talked about the book for the WDWToday.com Podcast on November 4, 2005 (Episode #19), which can be downloaded HERE.