Unique characters, all-you-can-eat Mickey waffles, and Cinderella Castle views — sounds like the dream, right? Turns out, you can find ALL of those things in ONE place in Disney World: 'Ohana!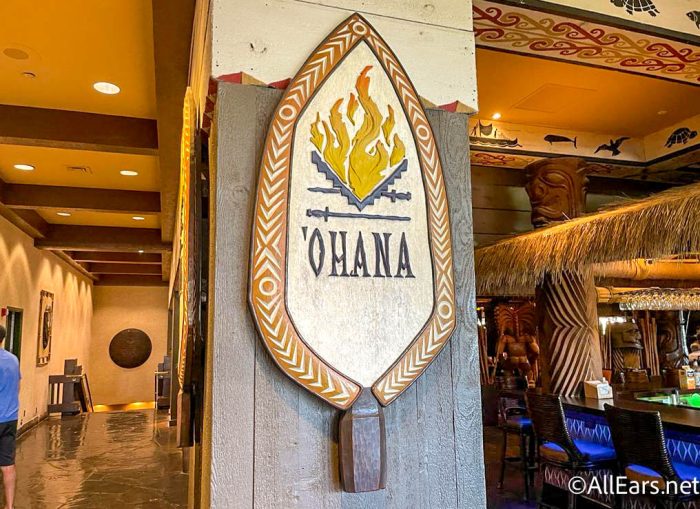 'Ohana might be famous for the fan-favorite noodles, limitless meat, and delicious bread pudding options found during dinner, but you're seriously missing out if you ignore this restaurant's breakfast option. To help you decide if you should book 'Ohana breakfast reservations for your next Disney World trip,  we compiled a guide of EVERYTHING you need to know about 'Ohana's character breakfast in 2023.
Overview
'Ohana is a table service restaurant located at Disney's Polynesian Village Resort. It serves both breakfast and dinner, with different menus for each meal.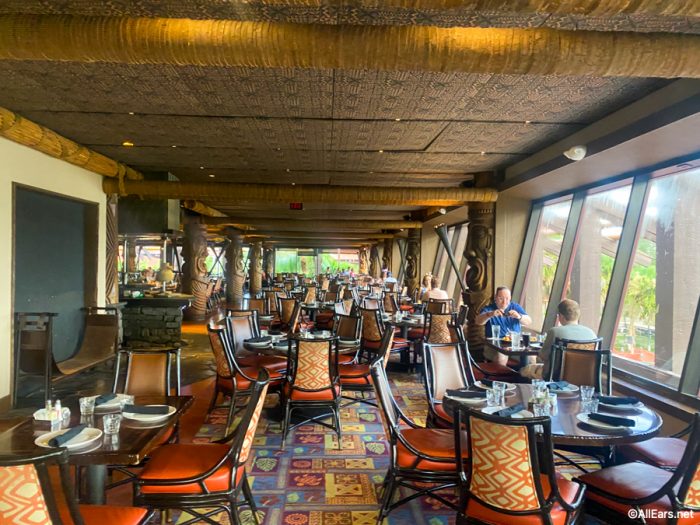 Breakfast (called the "Best Friends Breakfast") is a character dining experience, where you can meet friends like Lilo, Stitch, and Mickey while you dine on Pacific Island-inspired foods as well as some American-style eats. (Note that dinner at 'Ohana is NOT a character meal.)
Following the 2020 pandemic-related closures at Disney World, 'Ohana finally reopened in the summer of 2021, bringing back both breakfast and dinner. However, the characters did not initially return with the restaurant's reopening.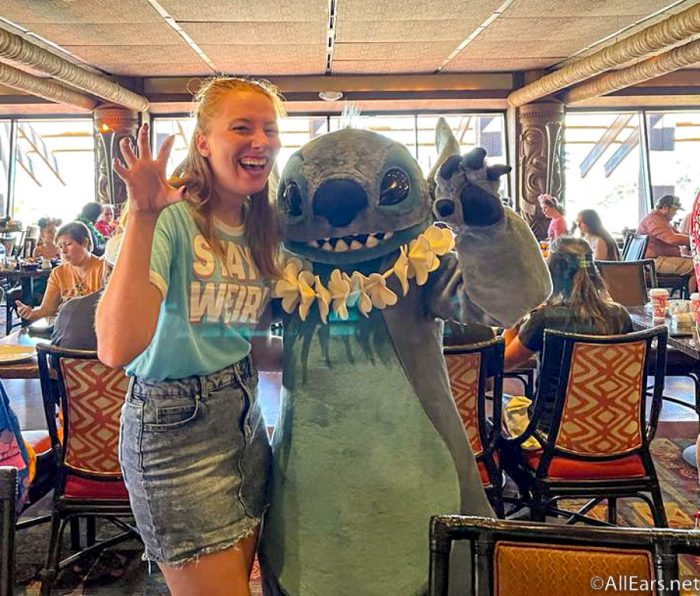 It wasn't until September 27th, 2022, that Lilo, Stitch, and other Disney friends rejoined guests for breakfast.
Characters
If you visit 'Ohana for breakfast, you can meet a few different Disney characters!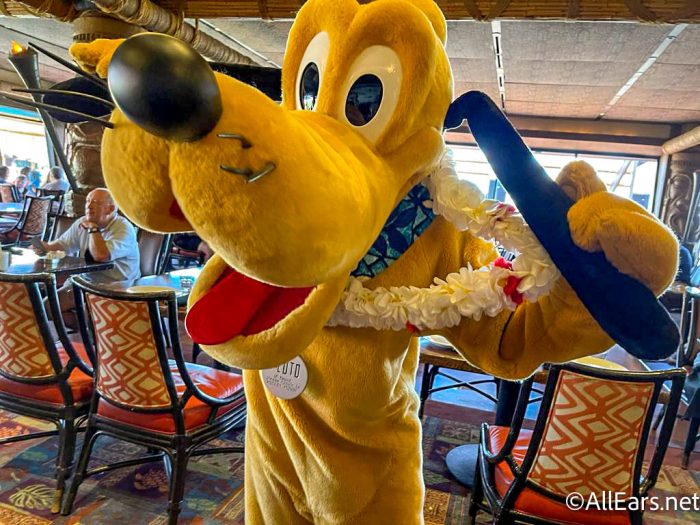 This meal is one of the only places to meet both Lilo and Stitch in Disney World. The pair are typically joined by Mickey Mouse and Pluto, although Disney warns that "character appearances are subject to change."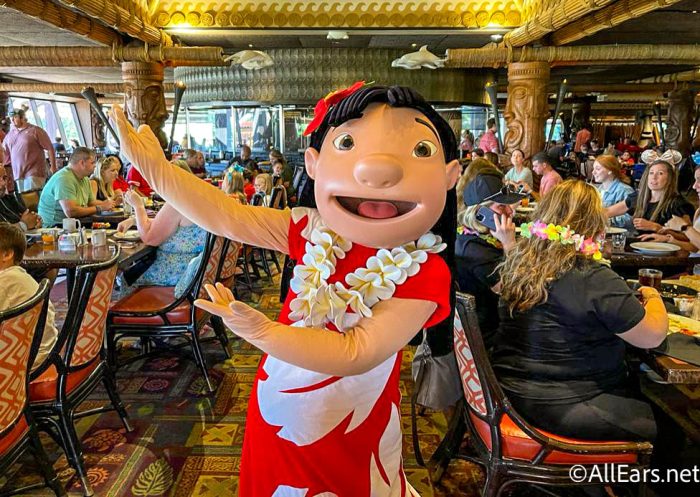 Mickey and Pluto embrace the island theme, as Mickey is dressed in a Hawaiian shirt and Pluto wears a lei.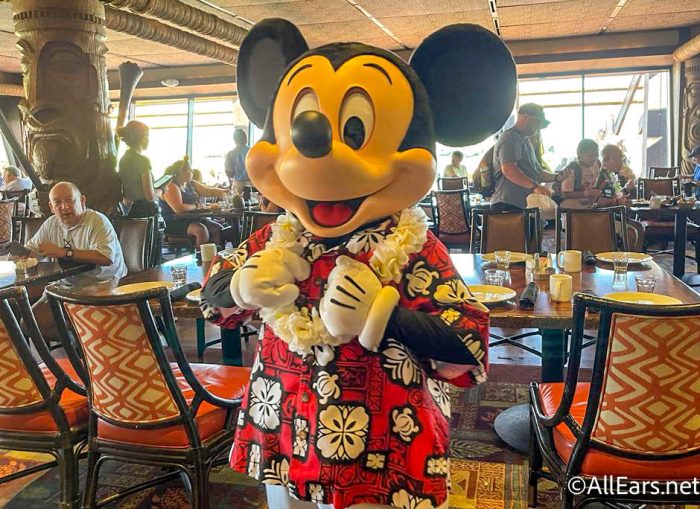 All of the characters will wander through the dining room, stopping at tables to greet guests, take photos, and sign autographs.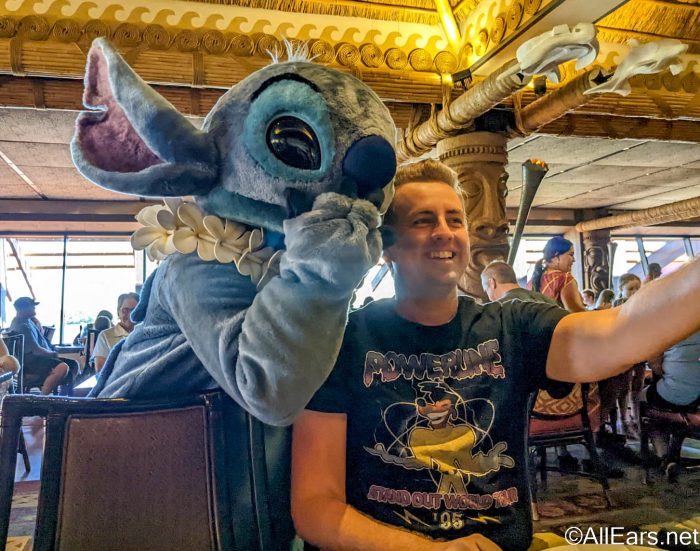 During our last visit, we were also given a postcard that had pictures of the characters on one side…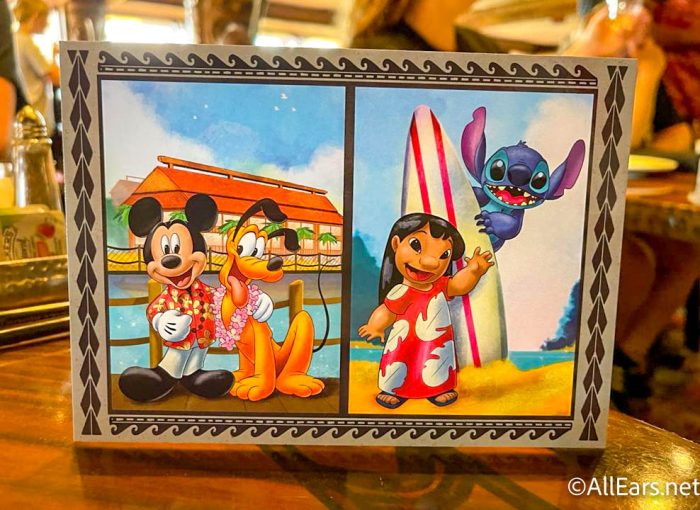 …with their autographs on the back.
You may receive this card when you dine at 'Ohana, but you can also ask the characters to sign their autographs in your own autograph book.
Dining Style
Breakfast is served family-style, and it's all-you-care-to-enjoy, so this is a good option if your group wants a big meal!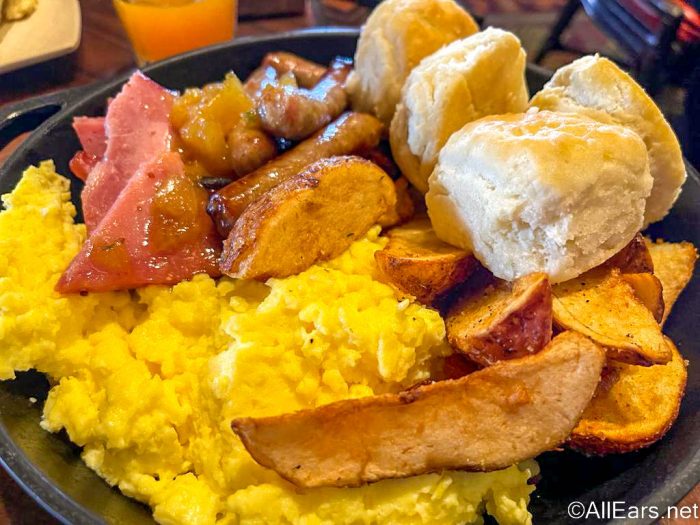 There are options for both regular and plant-based breakfasts.
Sodas, juices, milk, and coffee are all included in the price of the meal, but you can also order specialty drinks separately.
There are non-alcoholic specialty drinks like Lilo, Stitch, and Moana smoothies, or you can order a breakfast cocktail like the Polynesian Red Eye, which is made with the fan-favorite POG (passion-orange-guava) juice.
When we stopped by 'Ohana for breakfast recently, they served POG juice as part of the meal as well!
Iconic Foods
Breakfast begins with one of our favorite foods at 'Ohana — the Pineapple-Coconut Breakfast Bread. It's basically a sweet Hawaiian bread that's topped with vanilla icing and has chunks of pineapple throughout.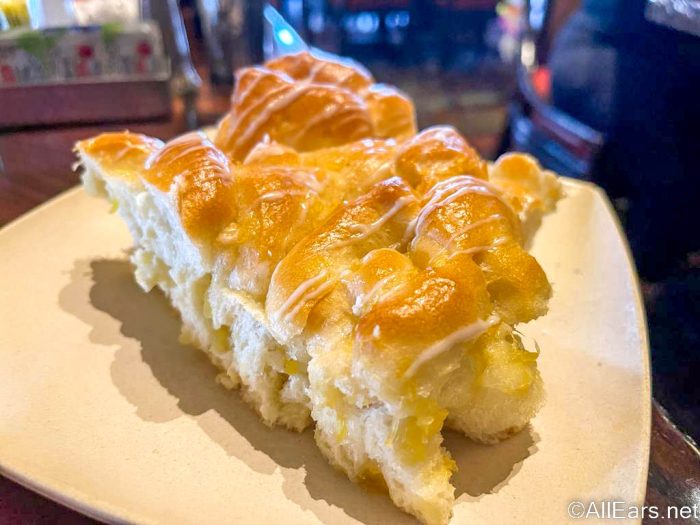 Then the skillet comes out, with scrambled eggs, pork breakfast sausage links, Hawaiian-style ham topped with a pineapple compote, fried island-style potatoes, biscuits, and waffles!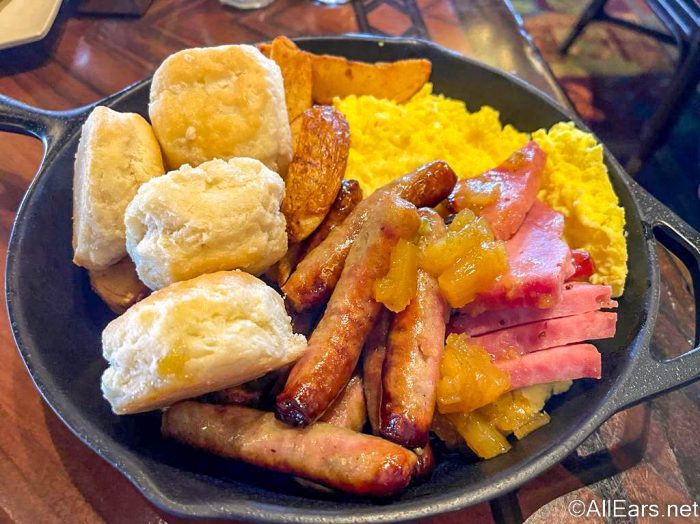 It's a good mix of familiar breakfast foods (like biscuits and eggs) alongside more unique eats, like that Hawaiian-style ham. So if your group has both picky and adventurous eaters, this restaurant can satisfy both.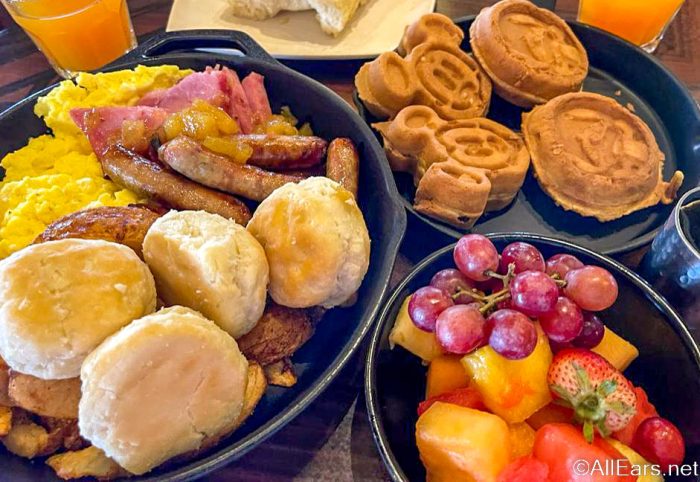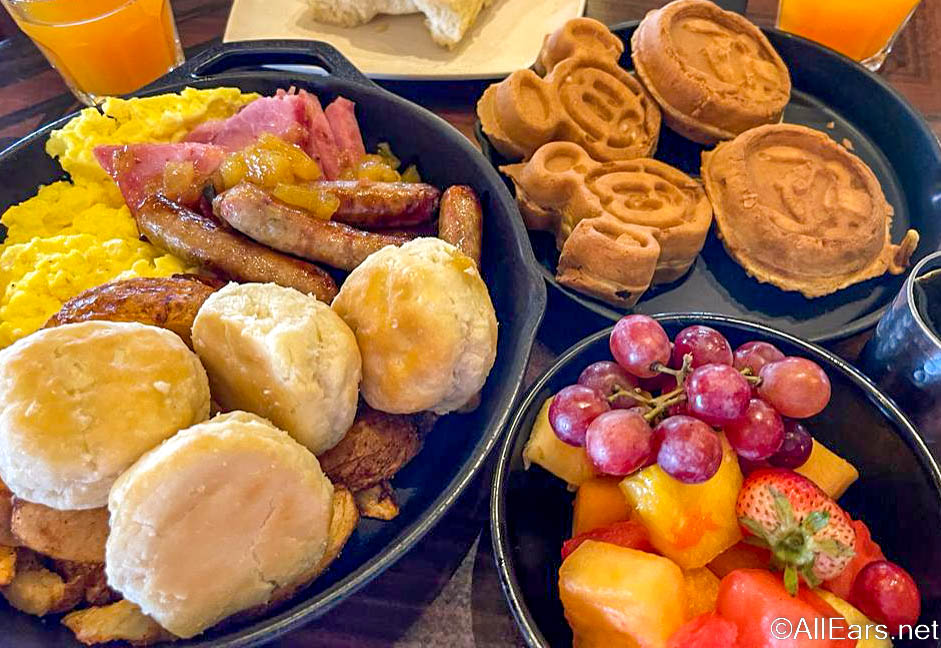 You can find Mickey waffles here (an iconic Disney staple), but you can also get STITCH waffles! The waffles are circular with an image of Stitch on the front.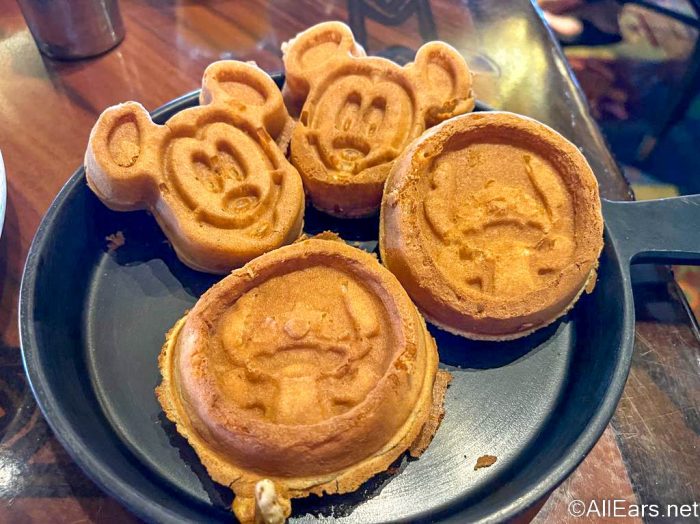 The skillet comes with a side of fresh fruit.
What Makes It Unique
So how is 'Ohana different from other breakfasts in Disney World? First of all, this is one of the ONLY places to meet both Lilo and Stitch, so if you're a fan of those characters, you won't want to miss dining here.
But Mickey and Pluto also join in on the fun, which means you get to meet both classic and rare characters.
The food is more unique than you'll find at, say, Chef Mickey's at Disney's Contemporary Resort. Whereas other breakfast places may stick to eggs and bacon, there's a variety of interesting eats at 'Ohana.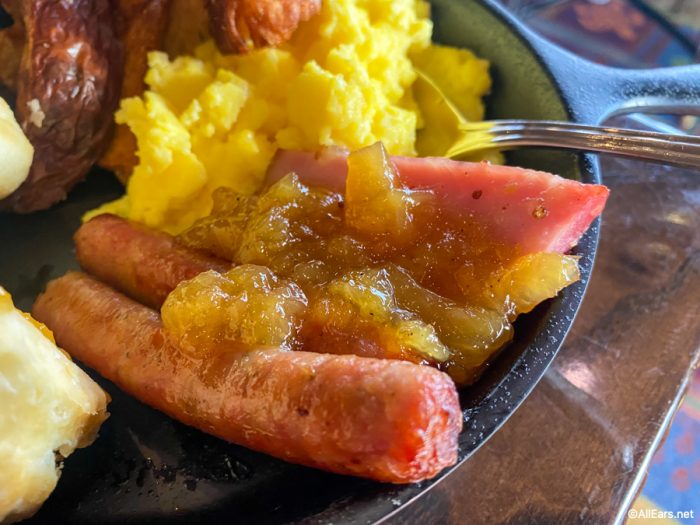 We really enjoyed the Hawaiian-style ham with that pineapple compote, and it's basically impossible to beat the Pineapple-Coconut Breakfast Bread (especially if you like dessert for breakfast).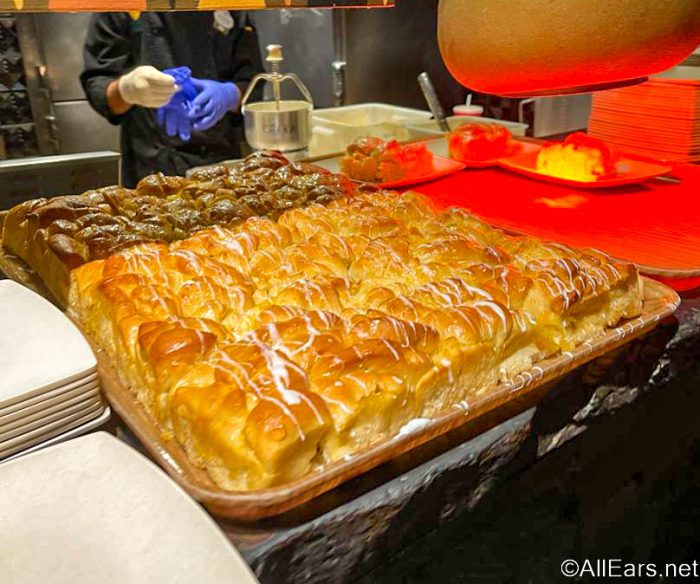 'Ohana also has an open kitchen concept, which means you can walk by the huge kitchen area in the middle of the dining room to see the chefs cook up your meal.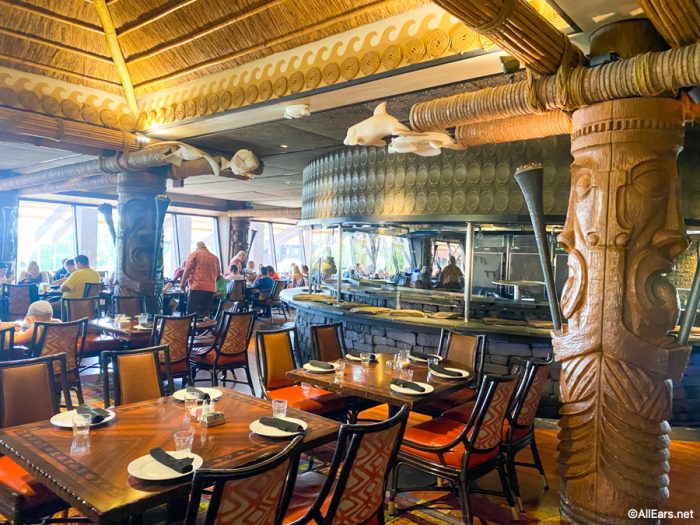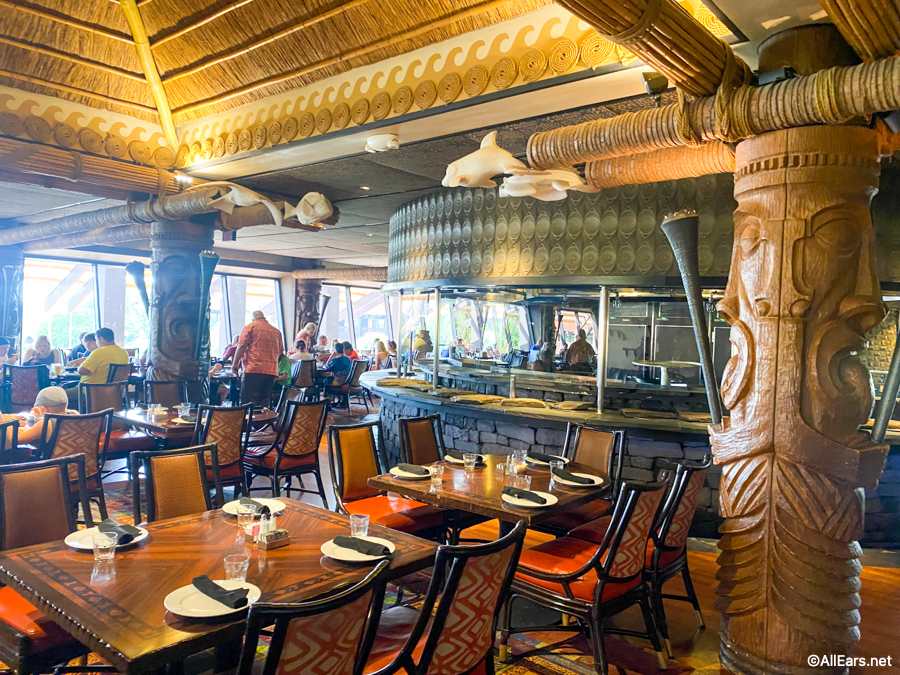 Another perk of eating at 'Ohana is its proximity to Magic Kingdom. At the Polynesian Village Resort, you're located just across the Seven Seas Lagoon from Magic Kingdom. This hotel is also on the Monorail line, which means you can easily get from the restaurant to Magic Kingdom. And who doesn't want Cinderella Castle views while they chow down on Mickey waffles?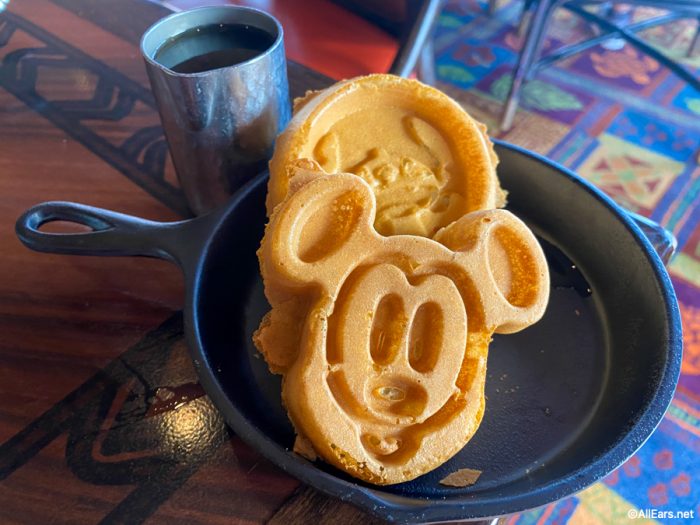 Aside from meeting the characters, there are more activities going on during breakfast at 'Ohana. For example, a host might invite all the kids to grab a coconut and a broom and sweep their coconuts through the dining room in a race!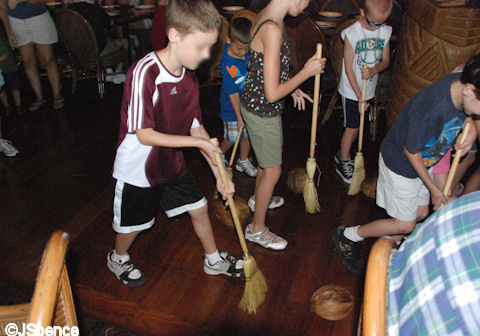 Disney's website indicates that games may not be available right now, so ask a Cast Member at 'Ohana or call ahead to find out if they're happening during your next visit.
Price
Breakfast at 'Ohana is a set price of $45 per adult and $29 per child (ages 3 to 9) for the all-you-can-eat meal. This includes all the food and a drink of soda, juice, milk, or coffee.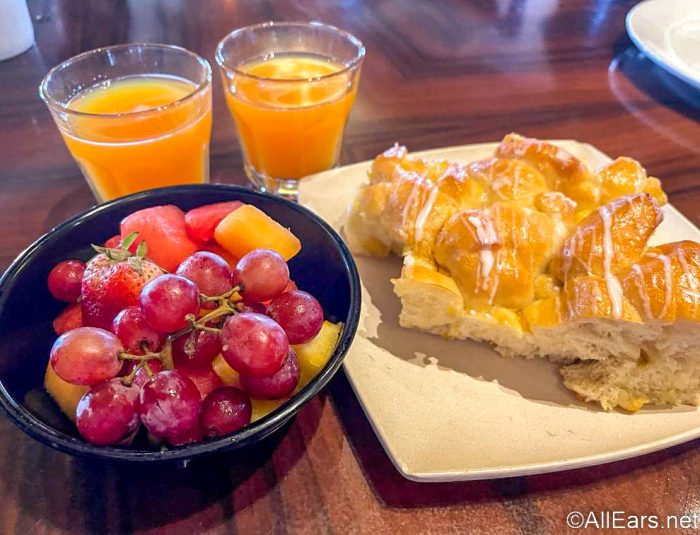 Some non-alcoholic drinks cost extra, including the Kona Sourced Coffee for $9, character smoothies (themed to Moana, Stitch, or Lilo) for $6.49, and lemonade served in a souvenir character cup for $8.
Cocktails also cost extra. The menu includes a Mimosa-Your-Way for $14.50, a Wasabi Bloody Mary for $14.50, the Polynesian Red Eye for $11.50, the Warped Hula Hoop for $12.50, and the Lapu Lapu (served in a fresh pineapple) for $19.50.
Hours
Breakfast is served at 'Ohana from 7:30AM to 12PM each day.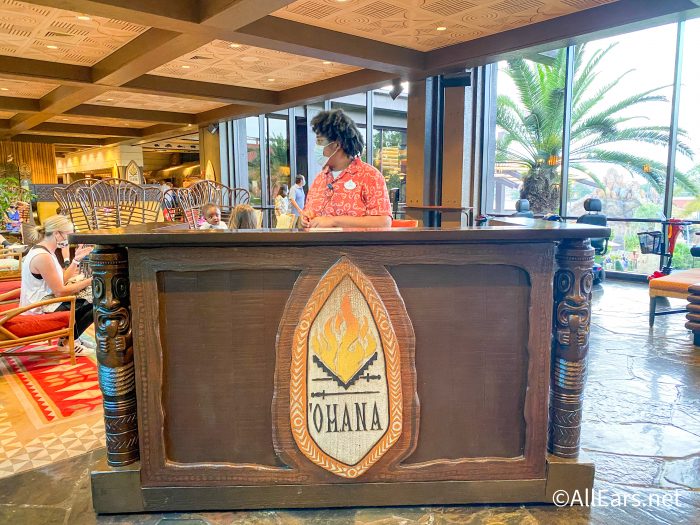 Since it's an all-you-can-eat character meal, you can expect the meal to take a little while (at least an hour), so make sure to plan for that in your schedule for the day.
Dining Options
Like most table service restaurants at Disney World, reservations are encouraged at 'Ohana. Although you can sometimes join a walk-up waitlist and get in without a reservation, availability is NOT guaranteed. Since 'Ohana is such a popular location, we highly recommend making your dining reservations there as soon as possible.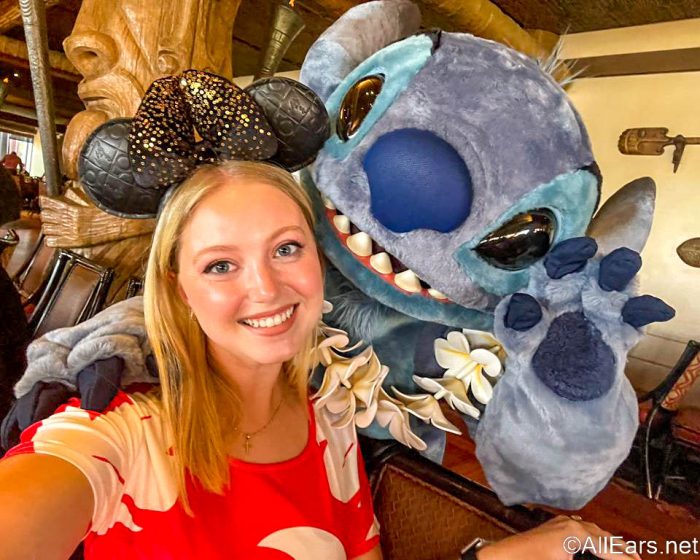 Character dining is a hot commodity at Disney World, so combine that element with an already-popular restaurant, and you've got very high demand for 'Ohana's character breakfast.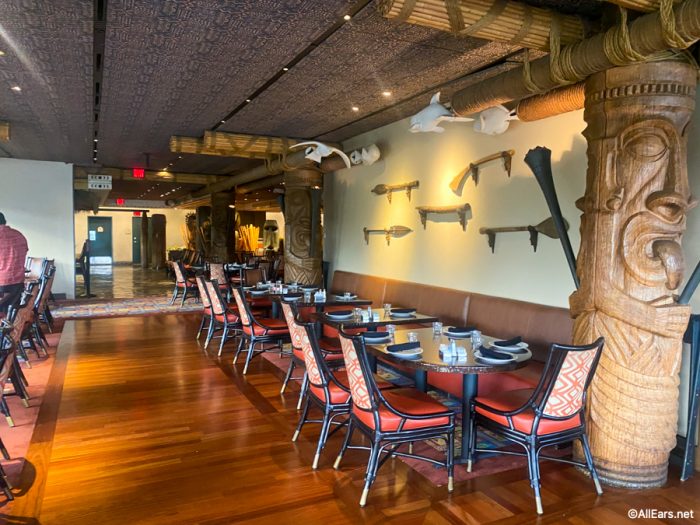 Remember that you can make dining reservations 60 days before your trip, so be ready to reserve your spot as soon as they open for your group.
If you have reservations, you can use the My Disney Experience app to check in for those reservations once you arrive.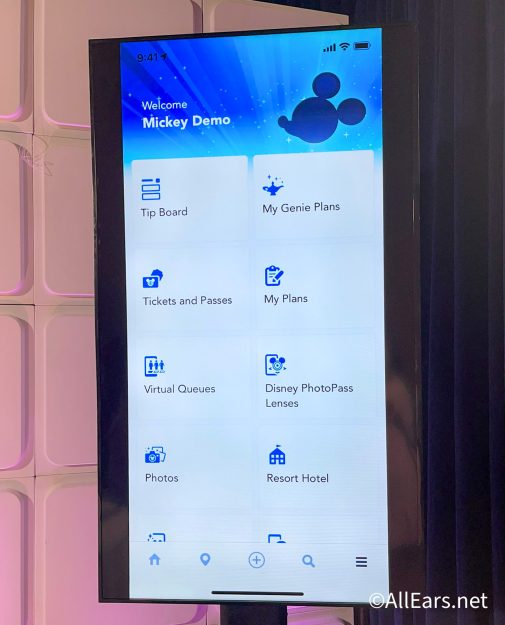 Once your check-in time arrives, you should receive a push notification from the My Disney Experience app that prompts you to check in. If you don't receive the app, scan the QR code located in the restaurant's lobby to start the process.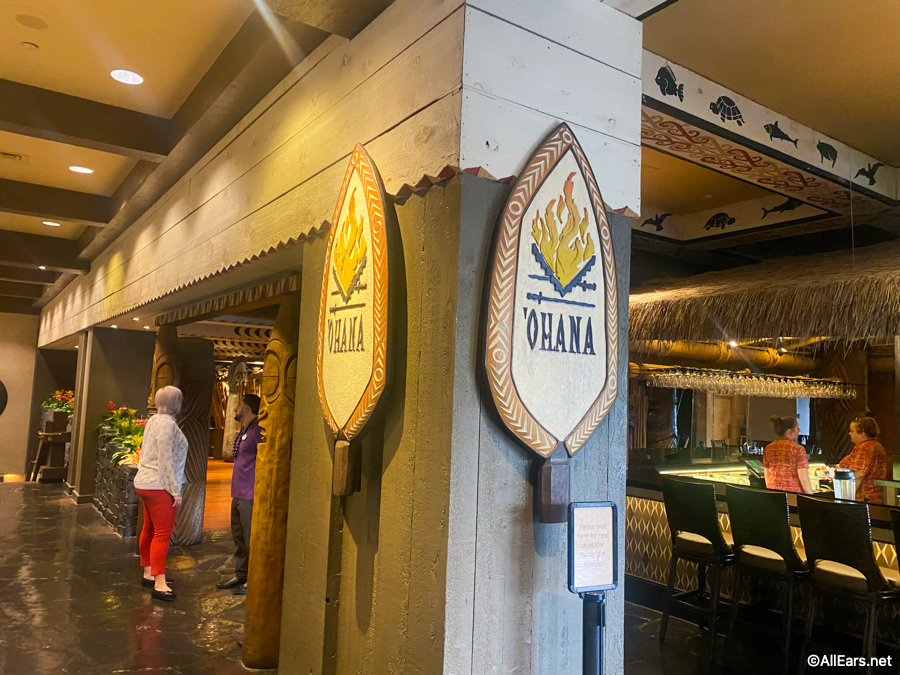 From there, you can check in for the reservation and confirm your arrival time and party details (including how many people are dining).
When your table is ready, you'll receive a notification that tells you where to go to meet the host!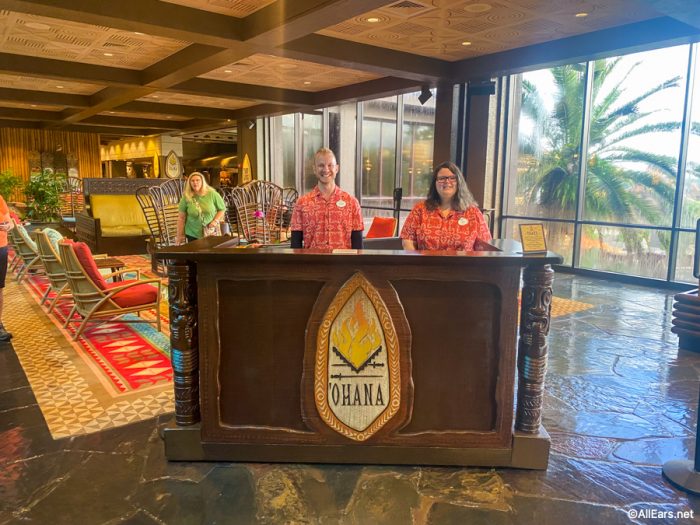 Remember that there is a two-hour cancelation policy for most Disney World restaurants. This policy does apply to 'Ohana. You must cancel at least two hours before your dining reservation to avoid a $10-per-person cancelation fee. If you cancel within two hours or do not show up at all, you will be charged $10 per person.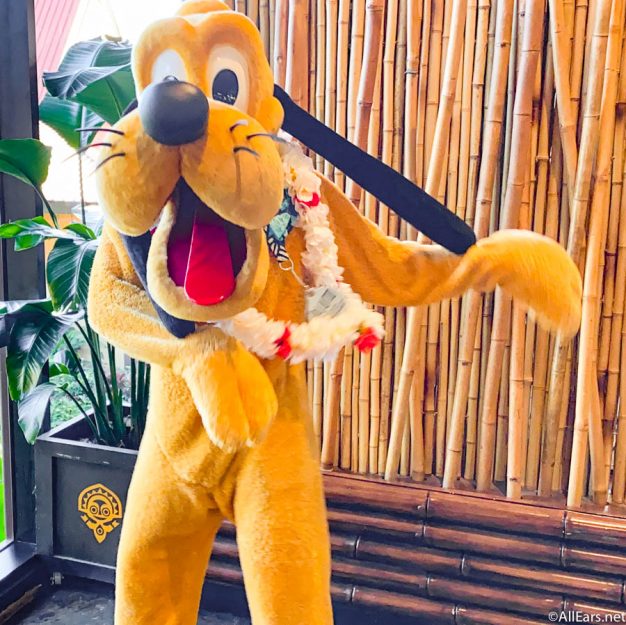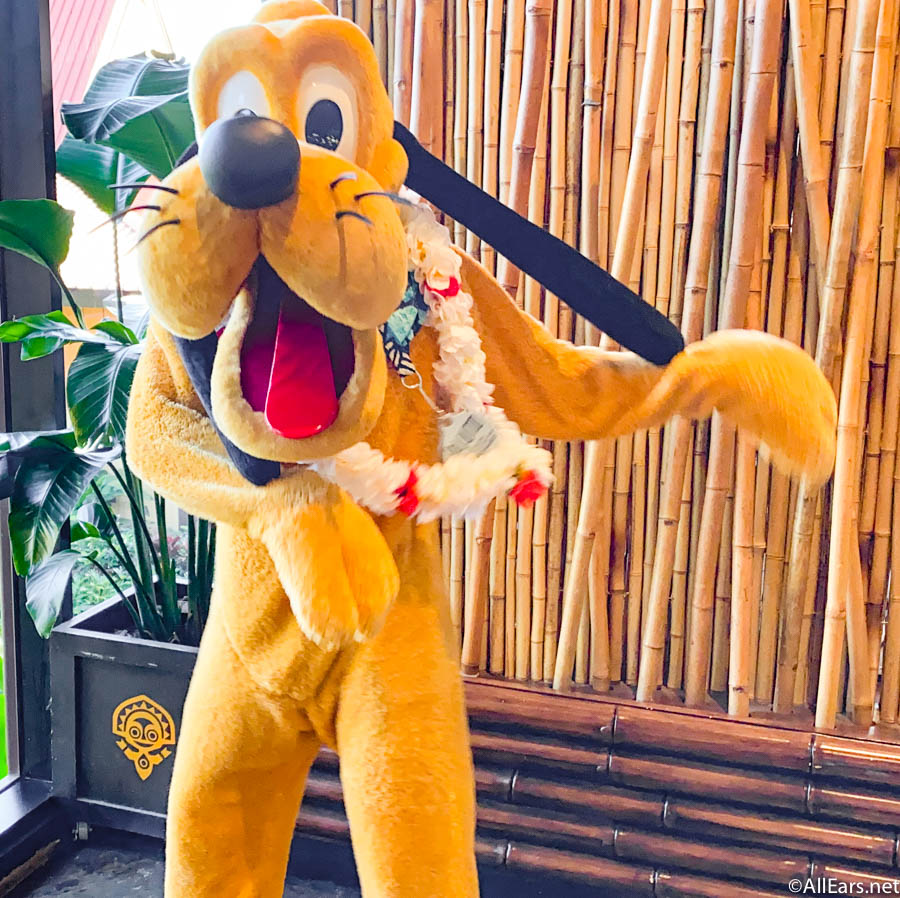 If you're unable to get reservations for the 'Ohana breakfast, you can try the walk-up waitlist. Open the My Disney Experience app and click the little magnifying glass at the bottom of the screen. Search "'Ohana" and select the restaurant once it comes up. On that screen, you should see an option to "Join Walk-Up List."
You can enter your party details and join the wait list. You'll receive an estimated time to return, and you should receive both notifications and text messages keeping you updated about your status on the list and notifying you of when you should go inside the restaurant.
Sometimes the walk-up wait list is unavailable due to high demand, so in that case you would not be able to join.
Reader Reviews
More than 70 AllEars readers have reviewed the 'Ohana Best Friends Character Breakfast, and 90% of them recommend the experience. Overall, it received a rating of 8.45 out of 10.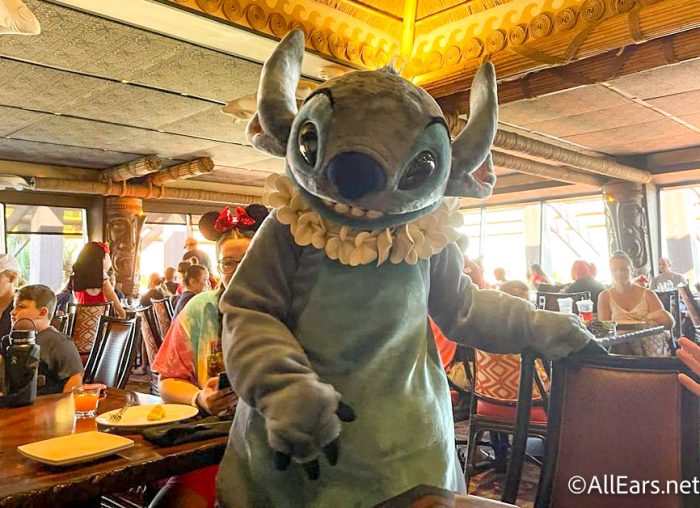 You can check out the reader reviews by clicking the link below!
Rating: 8.14

/ 10
Recommended By: 83

%
Menus:

Dinner, Breakfast

Services:

Table Service
Want to learn more about dining in Disney World? Check out these posts!
Keep following AllEars for more updates on all the latest Disney news.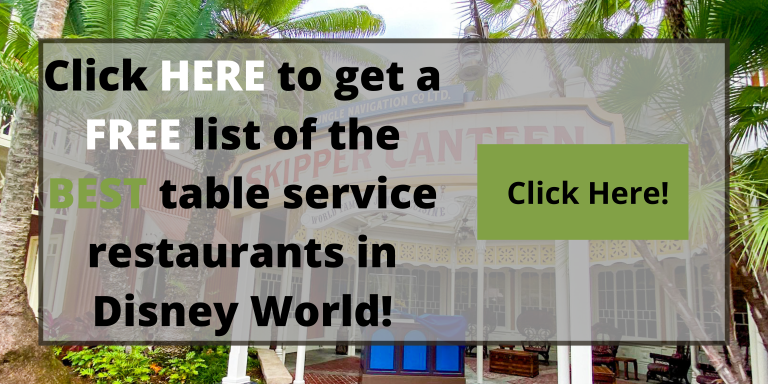 Have you ever eaten breakfast at 'Ohana? Let us know in the comments.