TRON Lightcycle / Run is the newest ride in Magic Kingdom!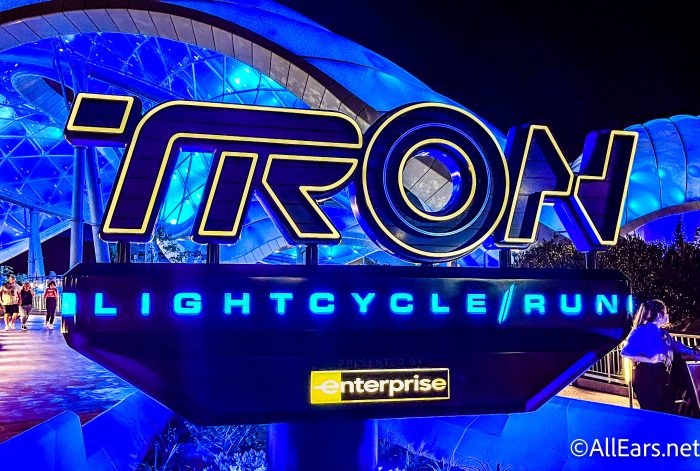 There are only two ways of snagging a spot on this ride right now — through the virtual queue or by buying an Individual Attraction Selection. But grabbing a virtual queue spot can be stressful, and they sell out in seconds, so how can you make sure you have the best chances of getting a spot for you and your party? We've got seven tips for you right here!
Here are our 6 best tips for getting into the TRON Lightcycle / Run virtual queue!
Familiarize Yourself With The App
You'll need to familiarize yourself with the My Disney Experience app at LEAST one day before you're trying to grab your spot in the virtual queue.

Virtual queue spots go very fast, so you'll want to know exactly where everything is. We've got the perfect guide to help you navigate it!
Connect Your Whole Party
Before you get ready to grab your spot, make sure your whole party is connected to your trip on the app. Additionally, everyone in your group will need to have a Magic Kingdom park pass reservation to be able to grab a virtual queue spot.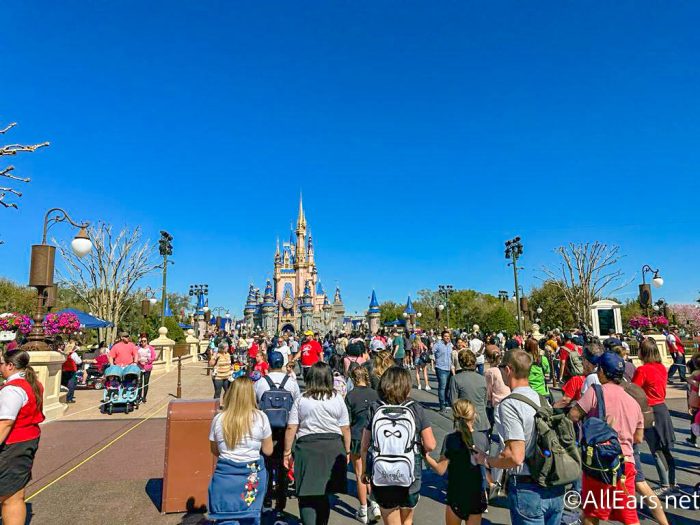 One of the steps, when you're grabbing a virtual queue, is to confirm your group. Before you even try to get a boarding group, double-check that your group is connected as friends in the My Disney Experience app to make the process go smoother.
Wake Up EARLY
Each one of us takes a different amount of time to truly feel awake in the morning. Some of us can be awake the moment our eyes open, and for others, it can take a while.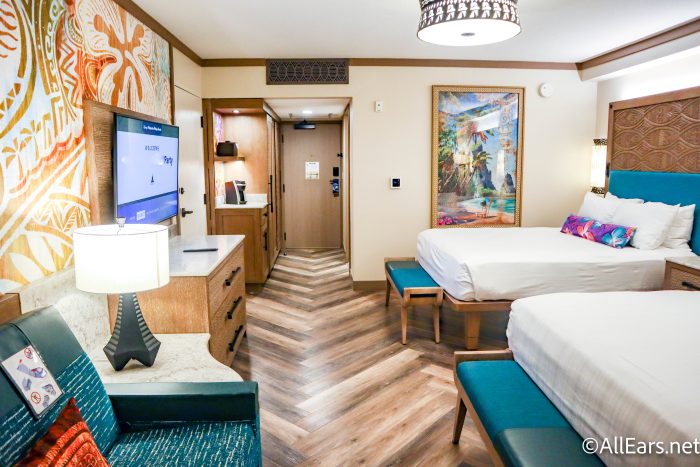 So whichever you are, make sure you wake up with TRULY enough time to feel fully awake before you start trying to grab a spot in the virtual queue. You will have two chances to grab a boarding group — one at 7AM and another at 1PM. We highly recommend trying during the 7AM window and using the 1PM window as a backup.
For the 7AM window, you can be anywhere to grab a boarding group as long as you have a Magic Kingdom park pass reservation. For the 1PM window, your entire group will need to be scanned into Magic Kingdom already.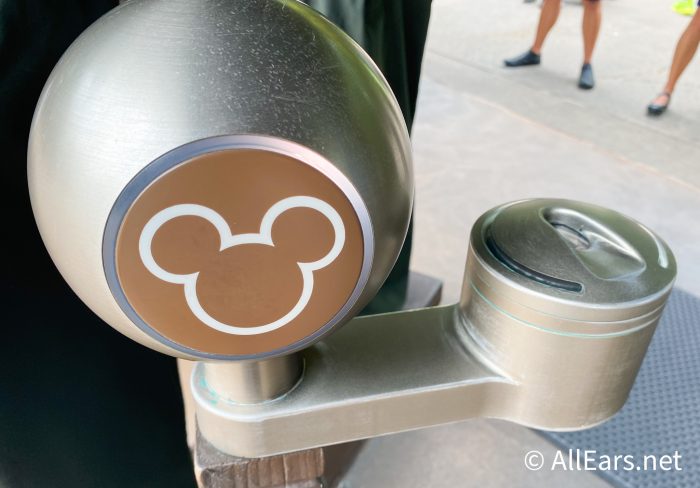 If you are staying at a deluxe Disney World hotel, you'll also be able to try and grab a boarding group at 6PM on nights when there are Extended Evening Hours! Learn all about that here.
Test Your Wi-Fi Ahead of Time
The last thing you want is for slow Wi-Fi to mess up your chance, so test your Wi-Fi and data ahead of time to see which is the fastest option.
Disney World's Wi-Fi isn't always the best, so we recommend using your data for a better experience. You can also test the speed by googling "Wi-Fi speed test" no matter where you are.
Eliminate All Distractions
Okay, we know this may be difficult when you're traveling with others or trying to get ready for your Disney day, but if you can, eliminate all possible distractions during these crucial minutes.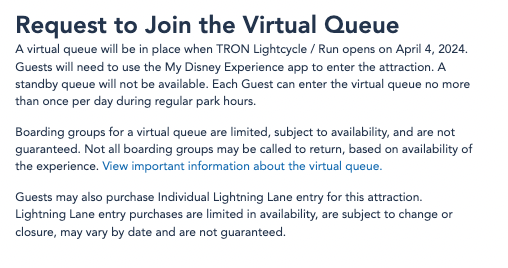 Yes, even if you find yourself having to sit in your resort room's bathtub to make it happen! As we said before, seconds are crucial for snagging a spot (can you tell we're repeating it for emphasis? It's REALLY important), so if it's possible, take 5 minutes to get yourself in the game, set up a world clock, grab those reservations, and then celebrate!
Securing the Virtual Queue
It's extremely helpful to have another device on you (someone else's phone, an iPad, a laptop, a tablet, etc.) to pull up a world clock while you wait for 7AM to hit.
The hotel's clock, your phone, and the other devices' times may be off by a few precious seconds, but the world clock isn't. Just google "world clock" and watch the seconds tick by to give you the best chance at snagging a spot. Then you can hit the virtual queue button right when you need to!
Another imperative tip is to refresh the virtual queue CONSTANTLY.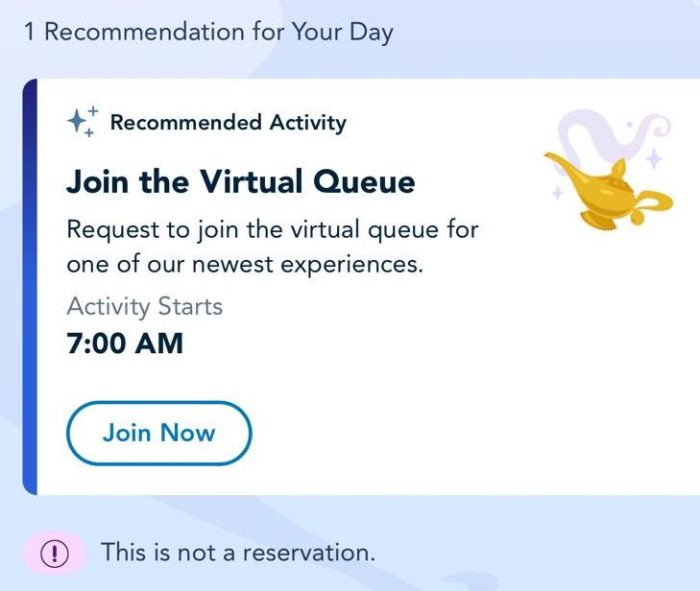 And by constantly, we genuinely mean constantly, especially when you're in the final minute. You can swipe down to refresh the screen or hit "refresh," which you should try to start doing around 6:59AM or 12:59PM.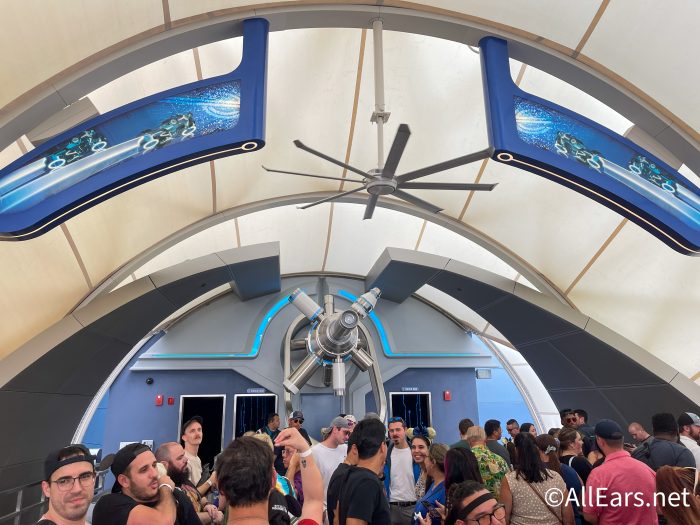 The most important thing you must NOT do is HESITATE. Every microsecond counts, and if you hesitate, you could miss out. In the past, we've seen the virtual queue fill up in under a minute. When it becomes available, click that button FAST!
And those are the best tips to help give you the best possible chances for grabbing a spot in the virtual queue for TRON Lightcycle / Run. However, if you don't grab a spot, remember that Individual Lightning Lanes are available to purchase. You'll know in those seconds if you've got a spot or not, so if you haven't gotten one, buy an Individual Lightning Lane in the app ASAP so they don't sell out!
Stay tuned to AllEars for all the latest news and tips, and we wish you the best of luck getting into the Grid!
Are you planning on grabbing a spot in the virtual queue? Tell us in the comments below!