We've got big news, TRON fans!
We were so excited about this ride to open in April, but then we got the news that TRON will be opening EARLY. This also sparked a big Genie+ update, as well as the My Disney Experience app!
While the ride still will be opening officially on April 4th, this soft launch will take place from March 20th through April 2nd, and you can snag your spot by joining the virtual queue through the My Disney Experience app, or by buying an Individual Attraction Selection.
This virtual queue experience will work like the others we've seen in the past — you'll have two chances to get in the queue, one at 7AM and the other at 1PM. You'll need to have your whole party connected to your app before joining the queue to ensure everyone gets to ride and avoid any slowdowns that could cost you precious half-seconds.
If all that seems a little too complicated (which we understand), you can also just purchase an Individual Attraction Selection for the ride, but the price hasn't been revealed just yet. Like other IAS rides, the price per day will be subject to how busy the park is.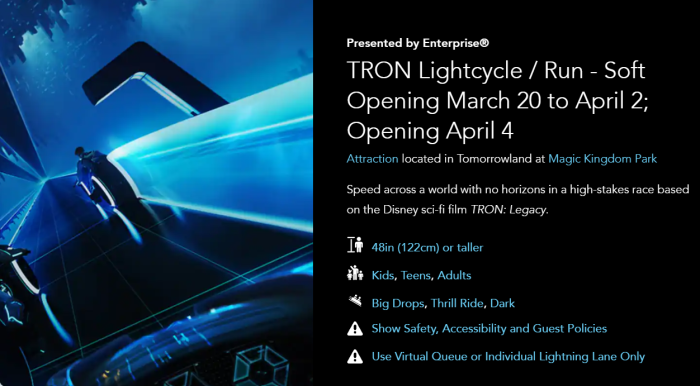 If you want a full guide to virtual queues, we've got one right here for you. If you find yourself in Disney World before the during the soft opening and are interested in riding, we highly recommend grabbing a spot if you can, because park passes keep selling out for the official opening day. As always, stay tuned to AllEars for all the latest Disney news!
Will you be riding this ride early? Why or why not? Tell us in the comments!