Have you always wanted to get into Disneybounding, but just didn't know where to start?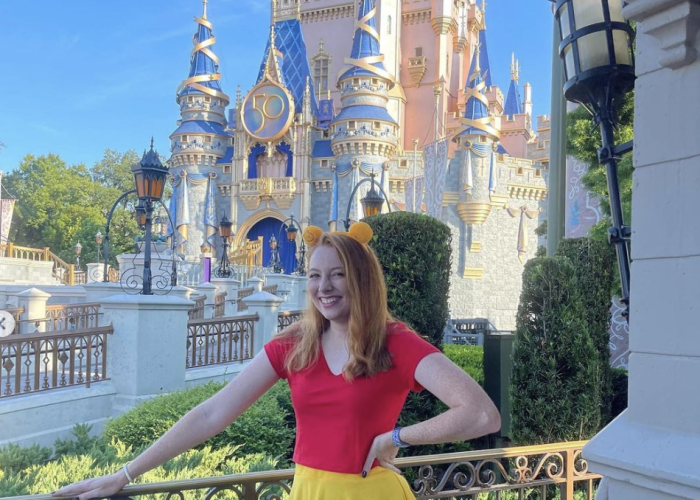 In case you didn't know, we have a whole section of our website dedicated to styling yourself as your favorite Disney ride, character, and more! So what if you're going to Magic Kingdom and want to dress up in an outfit that's inspired by your favorite ride there? Don't worry! We've got you covered!
The theme here is ALL about space, so the outfit goal is to tap into that retro-futuristic ride of Space Mountain. So we're going for some super fun leggings with a galaxy pattern on them, along with a matching backpack or holographic fanny pack (gotta' have something to carry your gear in!). A simple white tee and gray sneakers keep it comfy.
Go to Infinity and Beyond while racking up those points with an outfit inspired by the star of Space Ranger Spin, Buzz Lightyear. This tee and skirt combo is done up in Buzz's signature colors, along with a cute character bag that ties it all together. And how could you refuse these alien earrings?
You know the song and you probably could sing it in your sleep. If "it's a small world" is your jam, so is this outfit. It's channeling all those pretty light and pastel colors of the ride, along with a pretty gold Minnie backpack and Colourpop's "it's a small world" eyeshadow palette.
Is Ariel your favorite princess? Does that make Under The Sea — Journey of the Little Mermaid your favorite ride? Channel Ariel's blue dress look with a pretty blue top and skirt of your own, along with some comfy slip-on shoes and a clamshell-shaped bag. Don't forget to bring Ariel's BFF along with Flounder earrings!
If you love all things Cinderella and the beautiful  Prince Charming Regal Carrousel named after her Prince, you'll love this gorgeous dress that channels the carrousel's colors. Pair it with some light blue slip-on sneakers, along with carrousel-inspired earrings and ears, and you're ready for your happily ever after.
You can fly, you can fly, you can FLY! Take a ride on a magical flying pirate ship over London and Neverland in an outfit that includes a tee reminding you to have "faith, trust, and pixie dust." Pair it with a pretty Peter Pan flounce skirt and a Peter Pan Loungefly bag, and you'll be sure to always believe in fairies.
Bring some of your own enchantment while listening to Belle re-telling the story of how she and Beast met. Channel your inner Disney princess with a fun blue skirt and white tank. Of course, don't forget the blue bow for your hair and a Beauty and the Beast backpack. Rose earrings complete the look.
Time to get in touch with your inner Pooh Bear with a red tee and yellow skirt, Pooh's signature colors. Add a fun Pooh backpack and a pair of Hunny Jar earrings, and you'll never have to say "Oh bother."
We're ALL mad here, especially when we're spinning around in teacups at dizzying speed. This outfit pays homage to the Mad Hatter and the Alice in Wonderland movie with blue shorts, a pink tee with teacups precariously stacked on it, Mad Hatter earrings, and a bag shaped like an Alice in Wonderland book.
Sure, Mickey might be the star of PhilharMagic, but we're going to rep Donald Duck because we all know he's #1 (or so he tells us). Wear a bodysuit in his signature BLUE color with loose white pants, yellow sneakers, and Donald earrings. Tie it all together with a Donald Duck Crossbody bag.
Heigh-Ho! The seven dwarfs' favorite princess, Snow White,  is easy to Disneybound. Just grab a blue shirt with flowy yellow pants, some pretty princess-perfect ears, and fun jewelry. You're sure to be the fairest of them all while racing along the tracks of mine train.
Soar through the air on Dumbo dressed in a pretty tulle skirt, as well as a t-shirt that reminds you of the most important less of all: "Believe in yourself." Some sparkly red sneakers and Dumbo ears complete the look, along with a Dumbo bag! Don't forget your feather…earrings!
Pay homage to Goofy by Disneybounding his son, Max Goof! This one is super easy — it starts with jeans, a red shirt, some square sunglasses, and black shoes. You're sure to "Stand Out" with this Disneybound.
Soar through a whole new world in style by tapping into your inner Jasmine. We love this t-shirt with Jasmine AND the magic carpet on it, paired with a pretty skirt in Jasmine's signature color. All you need to finish the outfit off is matching sneakers, ears, and a bag!
If it's a pirate's life for you, Yo-Ho your way into this outfit sure to make Jack Sparrow proud. A fun pirate-inspired dress with a corset and burgundy vest, along with some Pirates ears and tall boots are sure to come in handy when you set sail on the high seas.
If you can't get enough of those singing animatronic birds and you're all about the Tiki, Tiki, Tiki Room, grab these loose flowy off-white pants and pair them with a bright green Mickey shirt and ears. Add some Tiki Bird earrings and a bag, and you're ready to croon along with your favorite feathered friends.
If you love visiting the eighth wonder of the world, put on this Jungle Cruise tee with some khaki shorts and Jungle Cruise-inspired ears. Don't forget the Rattan bag and comfy sneakers!
This here's the wildest ride in the wilderness, so you better dress for it! Grab this Big Thunder Mountain Railroad Tee and pair it with some American Southwest-inspired attire like a denim jacket and bag. Comfy sandals are perfect for taking a ride on a runaway mine train.
And there you have it — outfits inspired by your favorite Magic Kingdom rides that you can wear ANY day of the year If you need even MORE style ideas, be sure to head to AllEars Style to create the perfect Disney looks for any occasion!
To see more style-inspired posts, click the links below. And check back with AllEars often for Disney news and more!
Which of these outfits is your favorite? Tell us in the comments!