Pete's Silly Sideshow Storybook Circus Fantasyland Magic Kingdom
Pete's Silly Sideshow Highlights:
The place in Magic Kingdom to meet Minnie, Daisy, Goofy, and Donald
Located in Storybook Circus, and the characters are dressed to the theme
Lines vary, but typically aren't too long compared to other character locations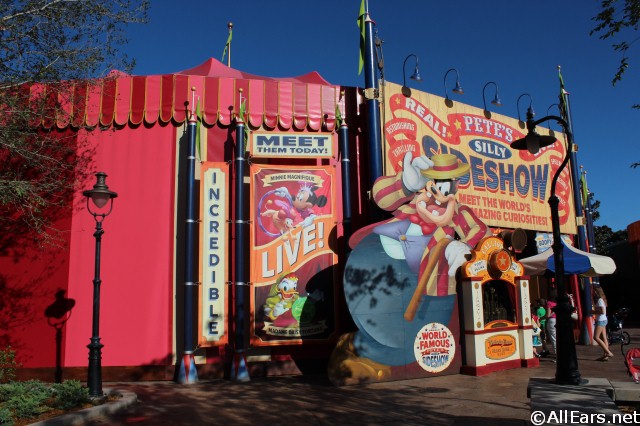 INTRODUCTION
Pete's Silly Sideshow is a character meet and greet location, where you can meet Donald Duck, Goofy, Minnie Mouse and Daisy Duck. Pete's Silly Sideshow is in Storybook Circus, across from the Dumbo attraction in the circus tent behind Big Top Souvenirs on the left.
ATTRACTION
Pete's Silly Sideshow offers guests the opportunity to meet the classic Disney characters in different and beautiful circus-themed costumes.
Meet The Amazing Donaldo the most charming of snake charmers;The Great Goofini circus stuntman extraordinaire; Minnie Magnifique, a Parisian poodle trainer; and Madame Daisy Fortuna, a mysterious gypsy fortuneteller.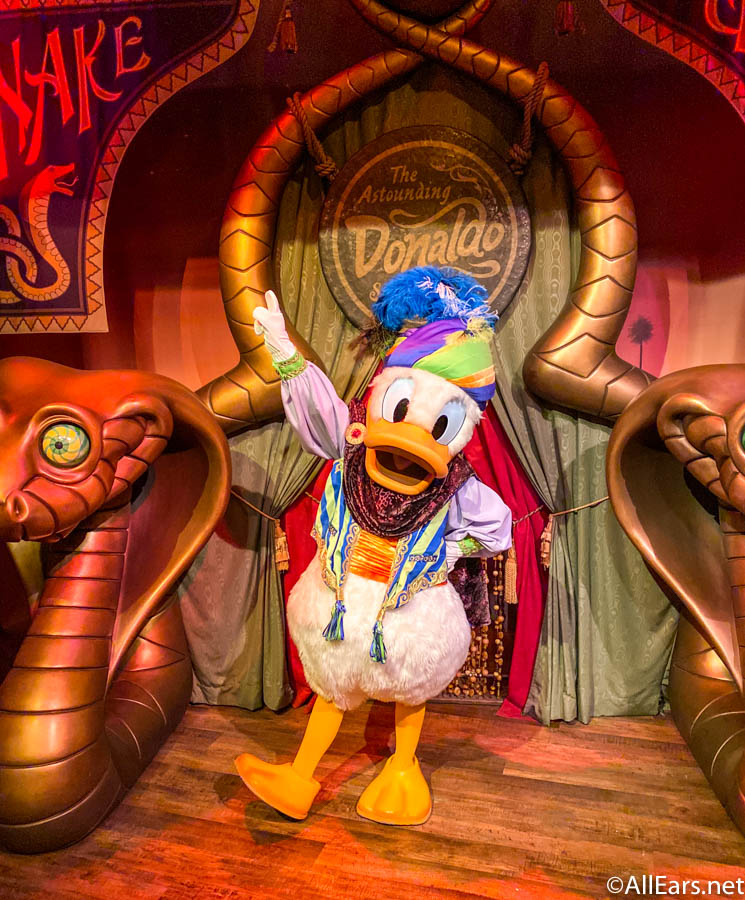 Once inside, Pete's is divided in half with Daisy and Minnie on the left and Donald and Goofy on the right. You must decide which characters you want to meet as you enter.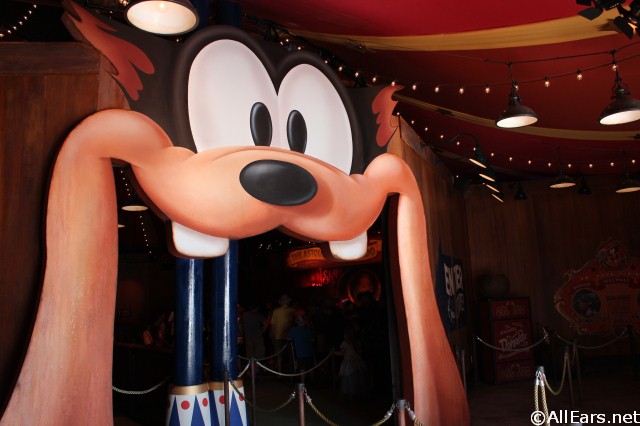 If you'd like to meet all four characters, you'll have to wait in two lines. Both lines exit into Big Top Souvenirs, and then you can re-enter the Sideshow. FastPass+ is not available.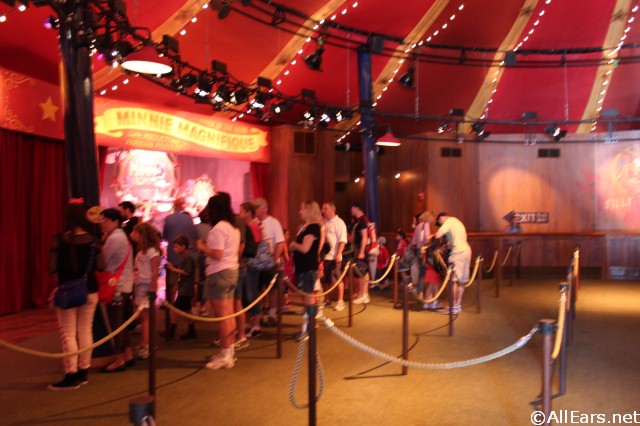 Typically, Minnie and Daisy's line is a little longer, however posted wait times are outside.
LOGISTICS
Photopass photographers are stationed with each of the four characters at the meet-and-greet site. Be sure to have your Magic Band or Photopass Card scanned with each photographer. There are also Character Attendants with each character that will be happy to take photos on your personal devices.
Queues to meet Disney characters typically are interactive, so be sure to bring something for kids do while they wait.
If you are planning to visit Pete's Silly Sideshow, do so before your children discover the Casey Jr. Splash 'n' Soak Station — unless you don't mind character photos in which family members are dripping wet.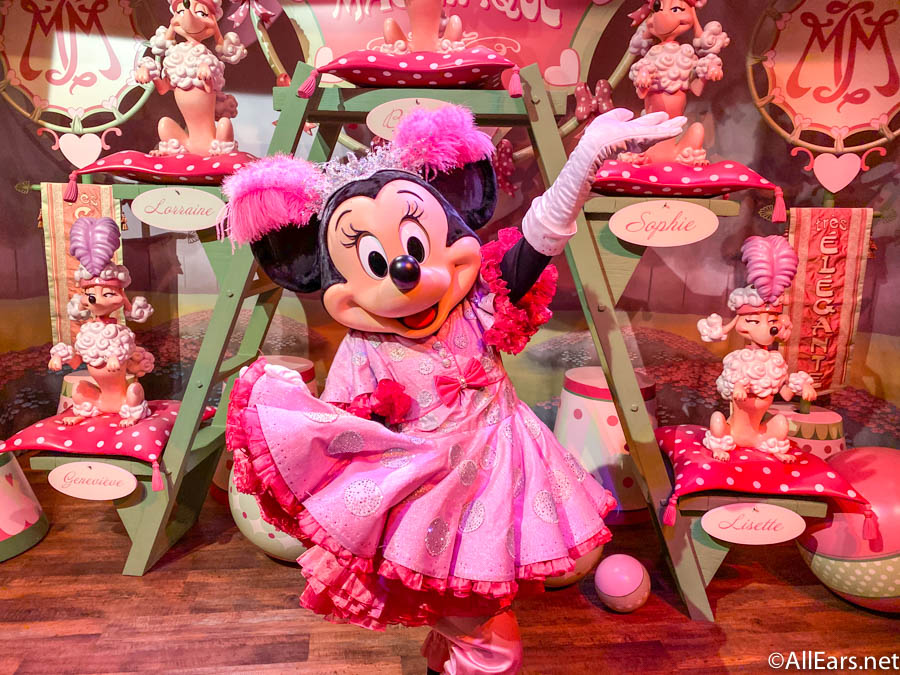 KIDS AND CHARACTERS
Mickey Mouse greets guests in his location at Town Square Theater on Main Street, U.S.A. His dog, Pluto, can be found nearby Pete's Silly Sideshow, at a tent to the right.
Magic Kingdom Characters at a Glance
Character Meet and Greet FAQ!
SHOPPING
Big Top Souvenirs is the place to shop while you are visiting Storybook Circus. The store offers a wide selection of merchandise for kids and adults, much like the Emporium on Main Street, U.S.A, as well as freshly-made treats such as caramel apples, slushies, and a bakery case.
INTERESTING FACTS
Pete, a cat with a peg leg, is one of Disney's oldest characters who made his debut in the animated cartoon series Alice Comedies in the 1920s. He is a villain and often considered the archenemy of Mickey Mouse. (Pete also was an adversary to Oswald the Lucky Rabbit, who has enjoyed a resurgence in popularity among Disney fans since the company re-acquired the rights to the character in 2006, and he has been featured in the Epic Mickey video games.)
Pete's Silly Sideshow was the last attraction in the Storybook Circus section of the Magic Kingdom's New Fantasyland to be completed. It soft-opened on October 4, 2012, and officially opened on December 6, 2012.
The music heard from the old-fashioned calliope in the front of Pete's Silly Sideshow was recorded from a set of antique circus crank organs owned by a collector in Southern California.
Pete's Silly Sideshow resembles a type of sideshow called a Ten-in-One, which traditionally offered a series of acts performing various tricks and daredevil stunts.
Even at this new attraction, Donald Duck does not wear pants.
Storybook Circus makes several references to Carolwood Park. This name pays homage to Disney's famed backyard railroad, Carolwood Pacific Railroad. Carolwood was the name of the street Disney grew up on as a child.