Casey Jr. Splash 'n' Soak Station Storybook Circus Fantasyland
Introduction | Attraction Description | Tips | Shopping | Interesting Facts
Casey Jr. Splash and Soak Station Highlights:
Small water play area — your kids WILL GET WET
Themed after Casey Jr. — the train in Dumbo carting the Circus animals
Located in Storybook Circus near Dumbo
Casey Jr., the train from the classic 1941 movie Dumbo, has rolled into town and parked right in the middle of Storybook Circus at Magic Kingdom! Part of the Fantasyland expansion project, Casey Jr. Splash 'n' Soak Station opened in June 2012 in the area of the theme park that used to be Mickey's Toontown Fair. This new attraction replaced Donald's Boat, another children's water play area that was located in the same section of Magic Kingdom.
ATTRACTION DETAILS
Casey Jr. Splash 'n' Soak Station offers young guests a way to cool off on a hot Florida day with interactive water features that come in the forms of "steam" from the engine and sprays of water from the monkey, elephant and camel figures.
About every 10 minutes, Casey Jr. begins his "journey", and guests will notice the locomotive sounds and the misting from the engine increase as time goes on.
Two of the boxcars have been separated from the Casey Jr. engine and sit across from the train on either side, creating paths for guests to travel through the water. The entire area is themed to resemble the turntable that trains use to enter and exit a roundhouse.
Low benches surround the water play area so parents can take a break while watching their kids have fun. Because the nearby trees are so young, there is not much shade yet to offer relief from the sun.
LOCATION:
Casey Jr. Splash n' Soak Station is located in Storybook Circus in between Dumbo and Pete's Silly Sideshow.
TIPS
Bring swimsuits — or at least a change of clothes — if your kids want to experience Casey Jr. Splash 'n' Soak Station. Just like the name indicates, they will be completely soaked after playing in the water. The adjacentbathrooms, which are modeled after a roundhouse, are clean and spacious and make changing easy. There's also a family bathroom, which is a good alternative for some parents.
Be aware that even guests who sit around the perimeter of this attraction may find themselves the target of a water jet, so protect electronics accordingly.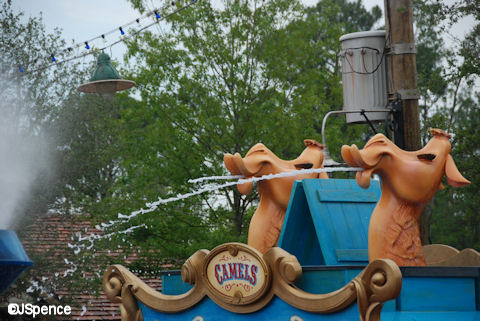 The engine on Casey Jr. is surrounded by a metal fence to keep children from climbing into the front seat, which looks pretty inviting. Be sure to keep an eye on youngsters because they could easily slip when attempting to get a closer look by scaling the fence.
Note that some parts of this attraction may be closed if there is inclement weather.
Accessibility: Guests may remain in wheelchair/ECV.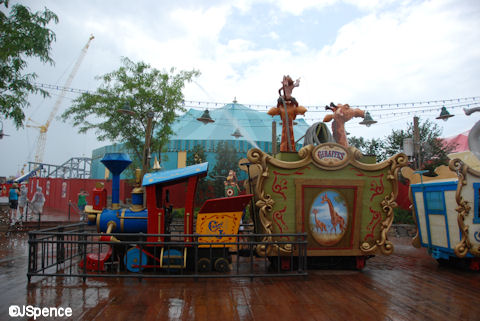 SHOPPING
Casey Jr. Railroad Mercantile is a nearby cart with supplies that could be useful for the water play area. It sells towels, water shoes, sunscreen, hats and more. It does NOT sell swimsuits.
For other goods, Big Top Souvenirs is the place to shop while you are visiting Storybook Circus. The store offers a wide selection of merchandise for kids and adults, much like the Emporium on Main Street, U.S.A.
INTERESTING FACTS
Each of the colorful train cars has a number that corresponds with the opening year for each of the Walt Disney World parks:
71 — Magic Kingdom
82 — Epcot
89 — Hollywood Studios (formerly MGM Studios)
98 — Animal Kingdom
In the boxcar with a monkey and giraffes on top, there is a Hidden Mickey image in the giraffe painting. Look in the clouds behind the larger giraffe to see the classic three-circle icon.
Disneyland and Disneyland Paris have their own versions of Casey Jr., but they are much different attractions. In those parks, Casey Jr. Circus Train carries passengers through miniature scenes from Disney animated movies.
Casey Jr. is a reference to Casey Jones, the famed railroad engineer who died in 1900 in a train collision . Casey Jones was the subject of the 1950 Disney short, The Brave Engineer.
Although the tender engine is male, Casey Jr. has been voiced by women in his animated representations. Currently, Cathy Cavadini fills that role.