Frontierland Magic Kingdom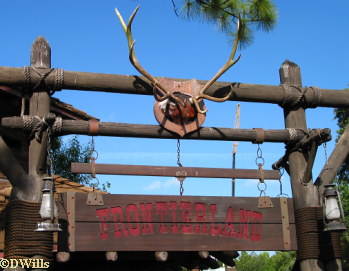 "Here we experience the story of our country's past… the colorful
drama of frontier America in the exciting days of the covered wagon and the
stage coach, the advent of the railroad and the romantic riverboat.
Frontierland is a tribute to the faith, courage and ingenuity of the
pioneers who blazed the trails across America." – Walt Disney
The wild, wild west of the Magic Kingdom appropriately takes up the westernmost section of the park. Built along the waterway "The Rivers of America," Frontierland's mountain ranges, dance hall, shootin' gallery, fort and rustic log cabins, make it easy to transport yourself back to the time of Davy Crockett. Frontierland is situated to the north of Adventureland and to the southwest of Liberty Square, with access through both lands.
ATTRACTIONS and ENTERTAINMENT
Big Thunder Mountain Railroad – Hold on to your hats as you roller-coast your way through the Old West on a runaway mine train.
Country Bear Jamboree – A cast of Audio-Animatronic bears treat you to a foot-stompin', back-slappin' hoedown.
Frontierland Shootin' Arcade – An Old West arcade, where shots are just 2 cents a piece. And we don't mean alcohol!
Splash Mountain – Board a log ride through Brer Rabbit's Laughin' Place. The five-story drop makes it one of Magic Kingdom's favorite thrill rides.
Tom Sawyer Island – Caves, tunnels, trails, hills and even a fort await you on this island, a short raft ride across the Rivers of America.
Walt Disney World Railroad – 15 to 20-minute journey on an authentic steam train, with stops at Main Street, U.S.A. and Storybook Circus in Fantasyland.
PLACES TO EAT
Pecos Bill's Tall Tales Cafe – Counter service restaurant serving sandwiches and burgers, salads and beverages. Very good "fixins' bar."
Diamond Horseshoe –– Formerly home to a show and snacks, this spot is now a table-service dining spot.
Golden Oak Outpost – serving sandwiches, fries and soft drinks.
PLACES TO SHOP
Briar Patch – Located next to the Splash Mountain exit, this shop has an assortment of Winnie the Pooh, Tigger, and friends related merchandise.
Frontier Trading Post – Featuring items from the Old West including cowboy hats, sheriff's badges and Native American headdresses.