We're here at the EPCOT Festival of the Arts!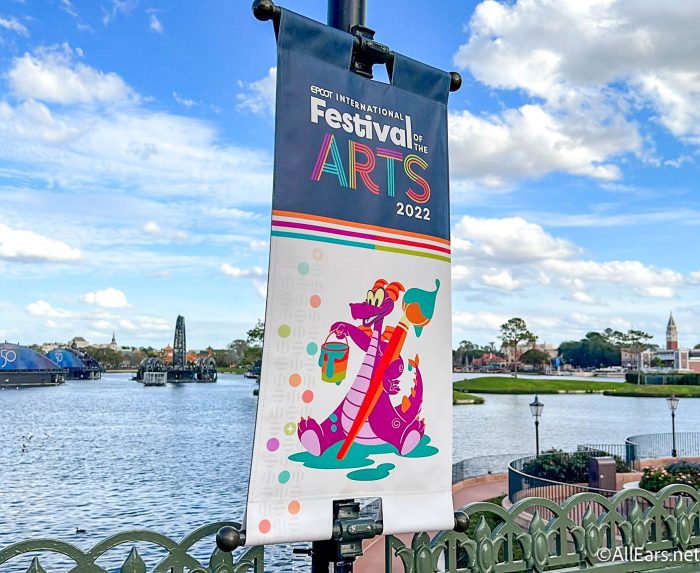 This year's festival, which is a celebration of all things visual, performing, and culinary arts, runs from January 14th through February 21st! This is the first FULL Festival of the Arts since January 2020 (as last year's was just a "Taste" of the Festival of the Arts) and now that we're back to full-blown festival mode, let's see what's in store!
Come along with us for the 2022 Festival of the Arts!
Entrance and Crowds
We arrived at EPCOT bright and early this morning to take advantage of Early Theme Park Entry (which is a newer perk for Disney World Hotel guests that allows early entry into the park 30 minutes before it opens). We tend to see a lot of crowds at the entrance on festival days, and it was pretty similar today!
We got to the entrance at 8:40AM (which is about 45 minutes before early entry) and the line was already back past the ticketing booth.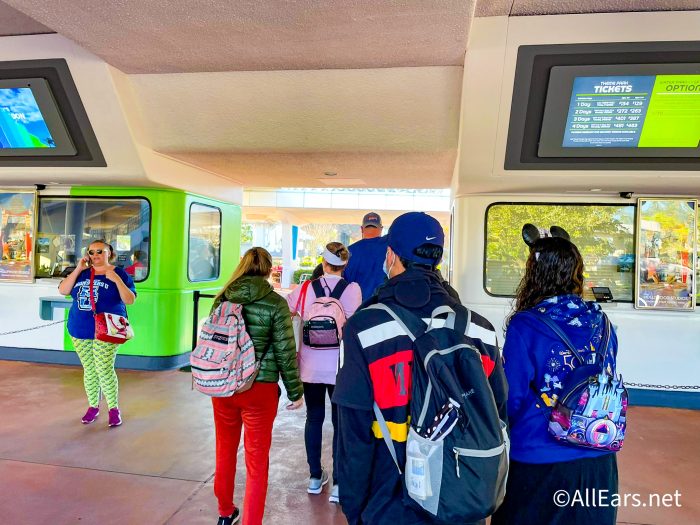 Things started moving shortly after though, which helped the lines thin out a bit.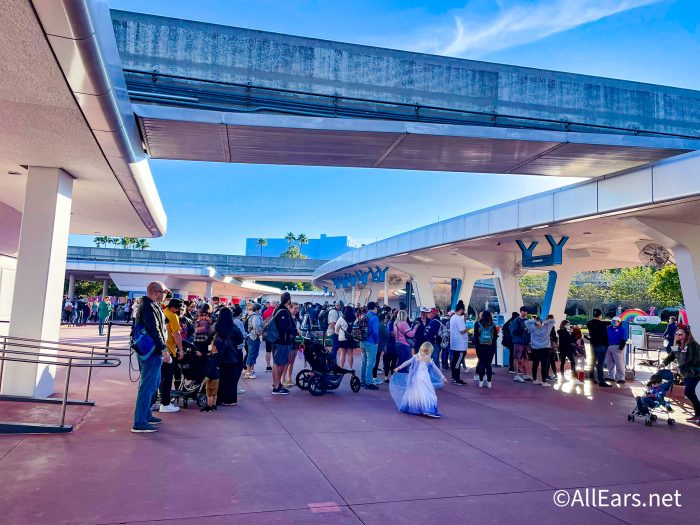 But, because the park still hadn't officially opened yet, all of the crowds started to gather in the front of the park until closer to 9:30AM.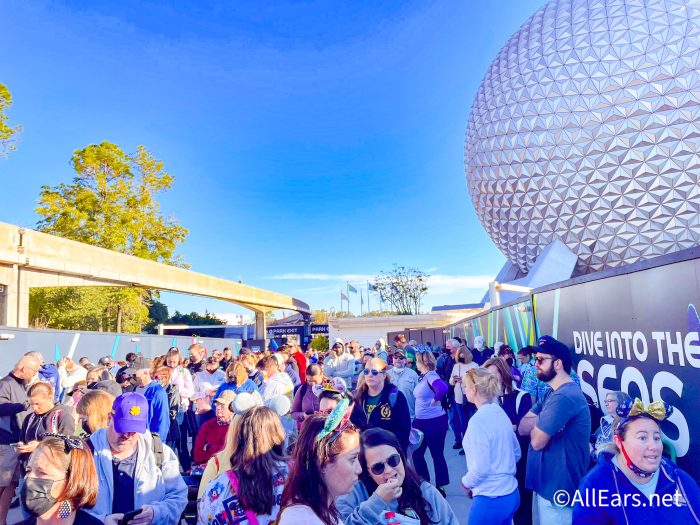 Just look at all those people — it sure was cozy.
We're here! Waiting to get into EPCOT this morning for the first day of International Festival of the Arts 🎨 #ArtfulEpcot pic.twitter.com/xjWXz31C7r

— AllEars.Net (@AllEarsNet) January 14, 2022
But, that didn't stop us from taking in all of the colorful decorations…
— AllEars.Net (@AllEarsNet) January 14, 2022
…and picking up a Festival Passport! These can be found at the entrance to the park and at festival booths throughout World Showcase.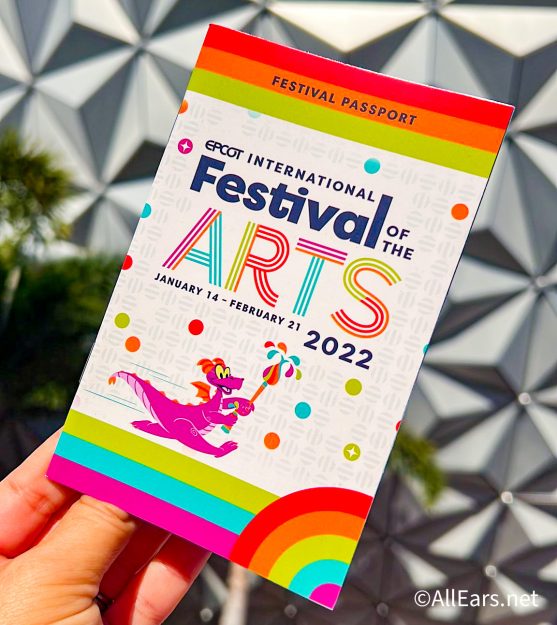 It features the new Figment design for the festival along with all the menus and special offerings that are available.
Are you ready?!✨ We are here covering EVERYTHING at opening day of Festival of the Arts! pic.twitter.com/rJNLZk7KOR

— AllEars.Net (@AllEarsNet) January 14, 2022
Not only will the Festival Passport help you pick and choose which booths (and stores) you'll want to visit, but it's also fun to check off everything you try and take it home as a FREE souvenir!
We were then able to enter into World Showcase around 9:30AM, but we were on a mission — to get the new Figment Popcorn Bucket. And, it turns out that A LOT of other people had the same idea!
👀 What is this line for you ask…
the Figment Popcorn Bucket! 🟣🔸

Would you wait in this line?? pic.twitter.com/TTML7EJQiD

— AllEars.Net (@AllEarsNet) January 14, 2022
By 10AM, the line for the Pop Eats booth (which is where the Figment Popcorn Bucket can be found) stretched alll the way around the lake and back up through the middle of the entrance to World Showcase.
Here's a look at what everyone was waiting for.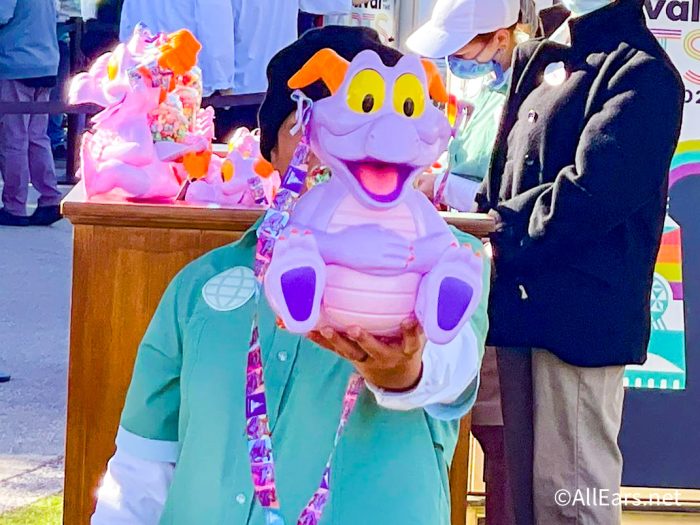 This is a VERY popular item at the festival this year, so you'll want to be sure to head to Pop Eats first thing in the morning if you're hoping to get it without waiting too long.
But, the crowds weren't only in World Showcase by early morning — Creations Shop was also filled with shoppers looking to pick up some festival merchandise.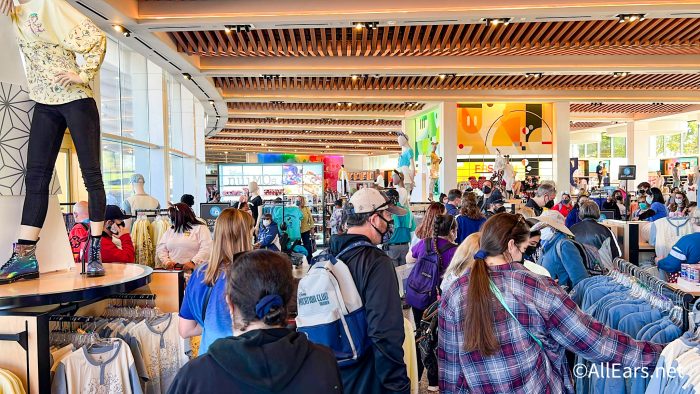 And, throughout the day, all of the festival booths had lines that were VERY long.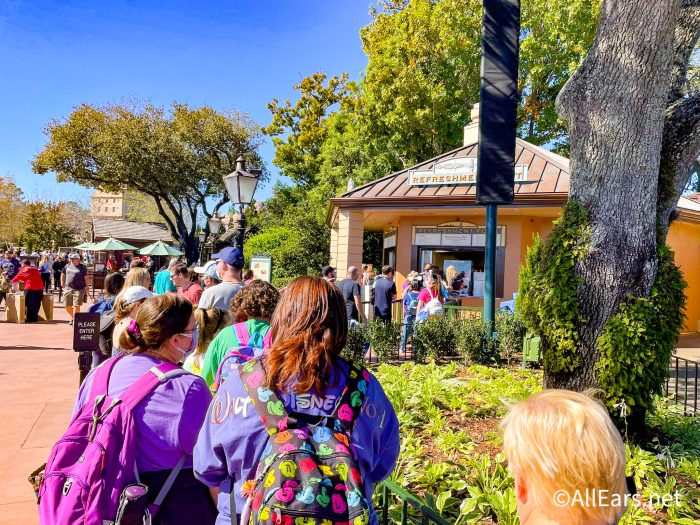 Food Booths
Of course, it wouldn't be an EPCOT festival without all the food! And, we'll be taking you around with us to each of the food booths around the park!
Pop Eats
We're starting off with what may be the most popular spot this year — Pop Eats!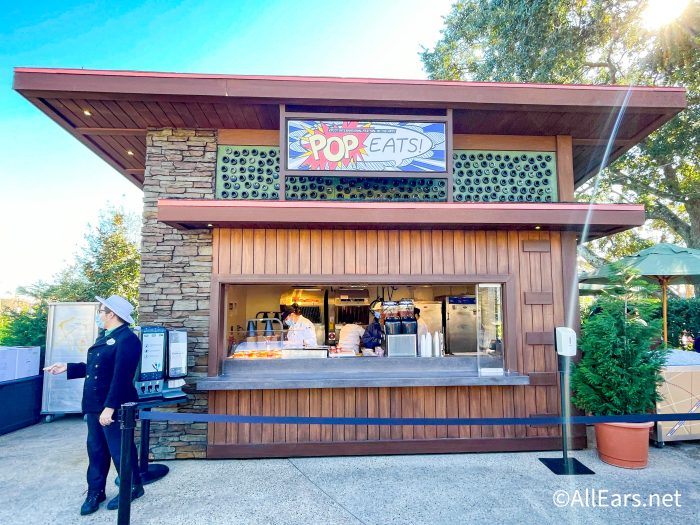 Pop Eats is located near Port of Entry and is home to eats and drinks that are inspired by 20th-century pop art. Most of the items are returning (including the Tomato Soup Can Bloody Mary), but there are TWO new things to pick up here.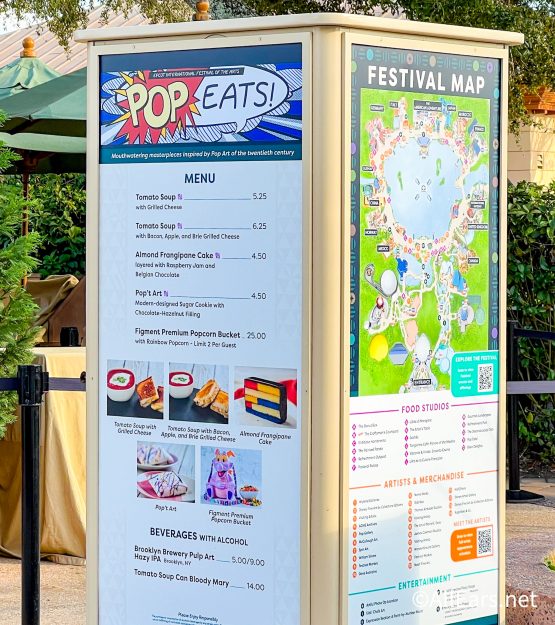 The most popular item on the menu right now? Well, it has to be the beloved Figment Popcorn Bucket!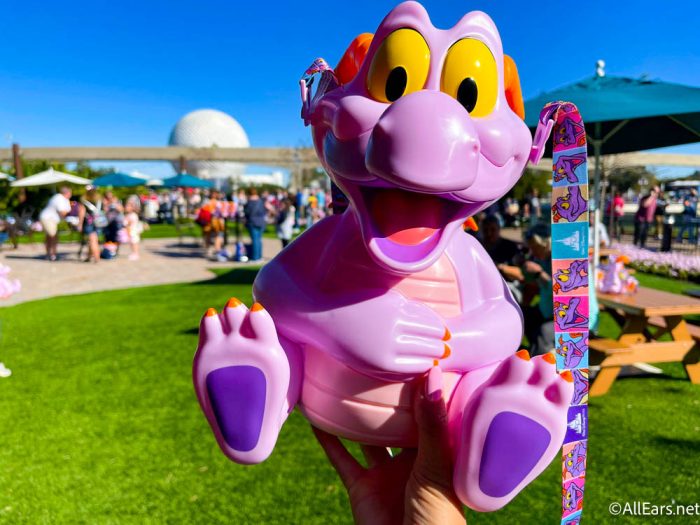 Aside from being a fun souvenir, the popcorn bucket comes with rainbow popcorn and costs $25.
Just keep in mind that Disney is limiting purchases to 2 per person.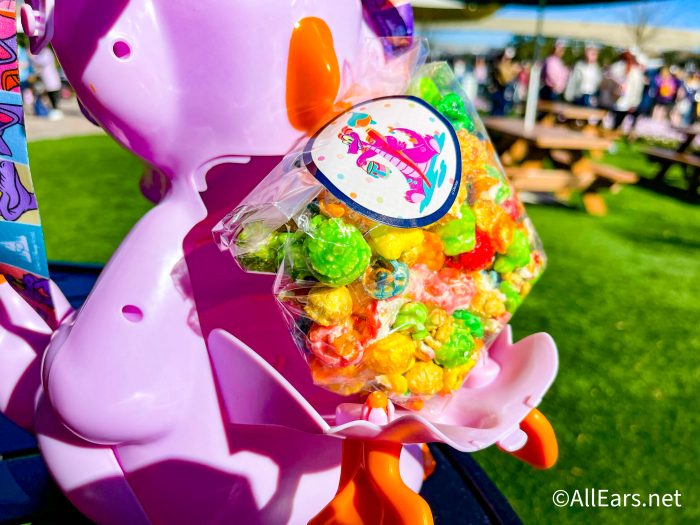 And, grilled cheese lovers will be excited to try the new Tomato Soup with Bacon, Apple, and Brie Grilled Cheese for $6.25.
Or, if you're looking for something sweet, the Almond Frangipane Cake layered with raspberry jam and Belgian chocolate has returned to the menu once again and costs $4.50.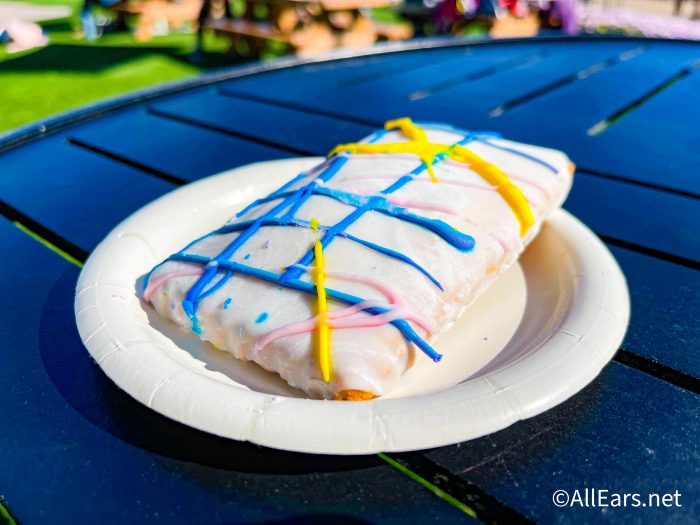 Plus, there's another secret Figment souvenir that you can find here — the Figment Spork!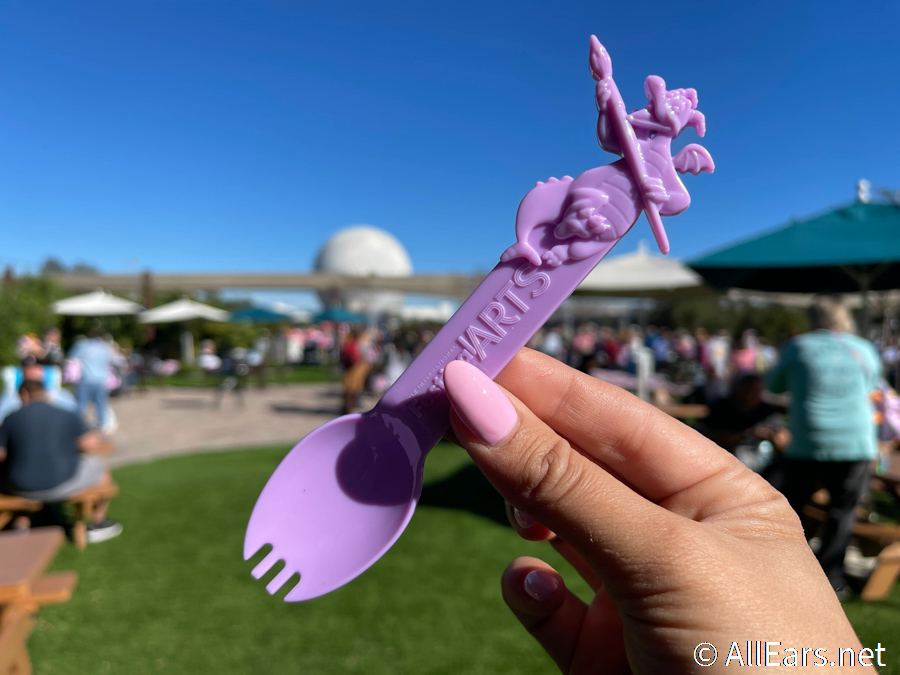 It is available for $2.50 and will prevent you from having to remember to pick up a plastic spoon/fork at every booth you visit throughout the day.
The Craftsman's Courtyard
Our next stop was The Craftman's Courtyard which is a NEW booth to the Festival of the Arts.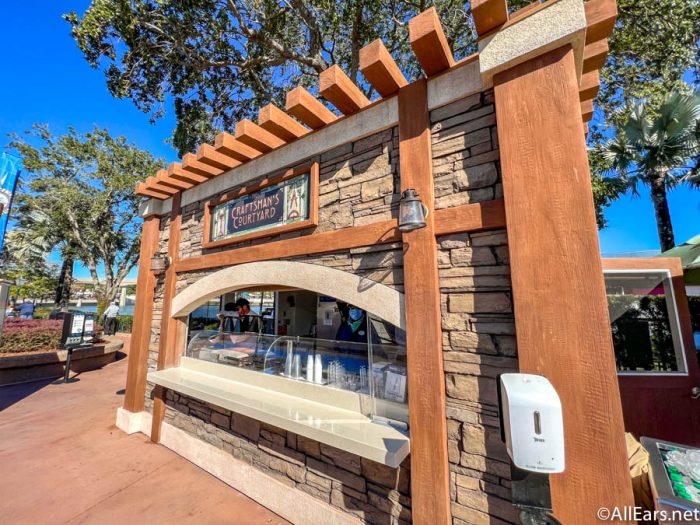 It can be found near Disney Traders and features seafood and salad dishes that take inspiration from the coast of California.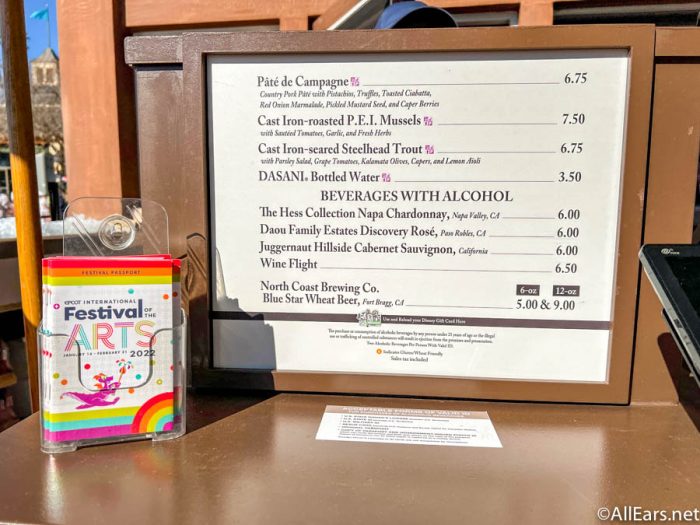 Because the booth is brand new, all of the food is too! So, you can try the new Cast Iron-roasted P.E.I. Mussels with sautéed tomatoes, garlic, and fresh herbs for $7.50…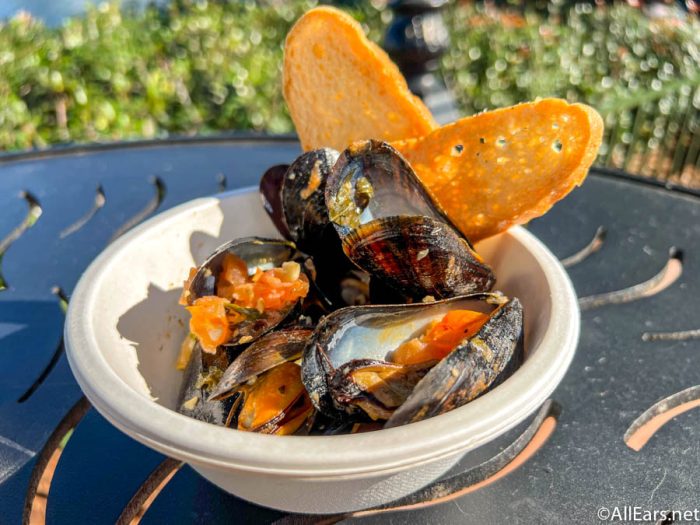 …the Cast Iron-seared Steelhead Trout with parsley salad, grape tomatoes, Kalamata olives, capers, and lemon aïoli for $6.75…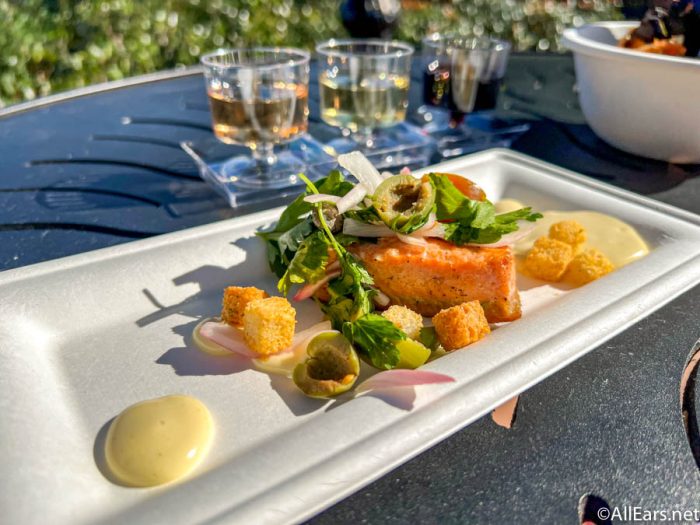 …or the Pâté de Campagne which is a country pork pate with pistachios, truffles, toasted ciabatta, red onion marmalade, pickled mustard seed, and caperberries for $6.75.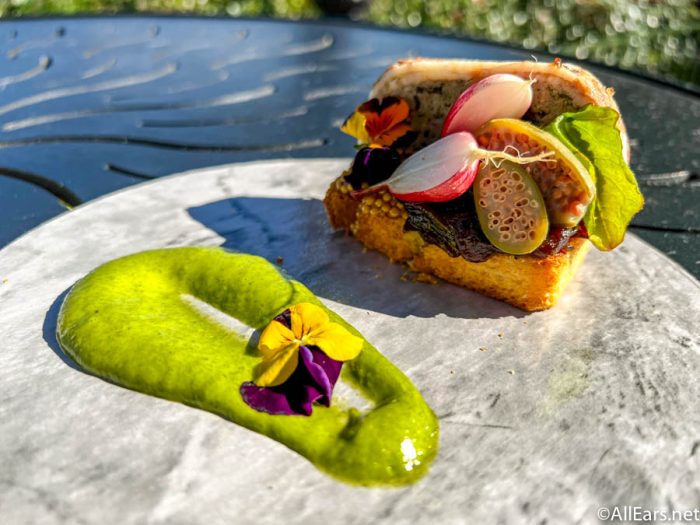 We also decided to try the Wine Flight here which includes Chardonnay, Rosé, and Cabernet Sauvignon. It costs $6.50.
The Donut Box
The Donut Box has become a staple at every EPCOT festival and it is back again with some new treats.
You'll find this one near Test Track and if you're completing the Wonderful Walk of Colorful Cuisine this is going to be one of your stops!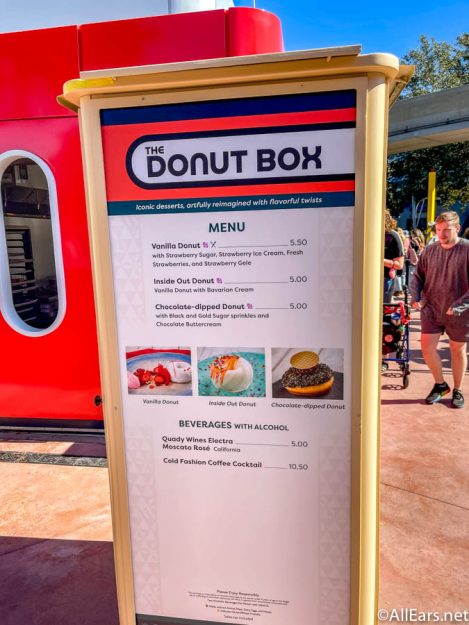 To complete the pink color that is part of the rainbow-inspired walk, you'll need to order up the Vanilla Donut for $5.50. But, this isn't just any average vanilla donut, it comes with strawberry sugar, strawberry ice cream, fresh strawberries, and strawberry gele.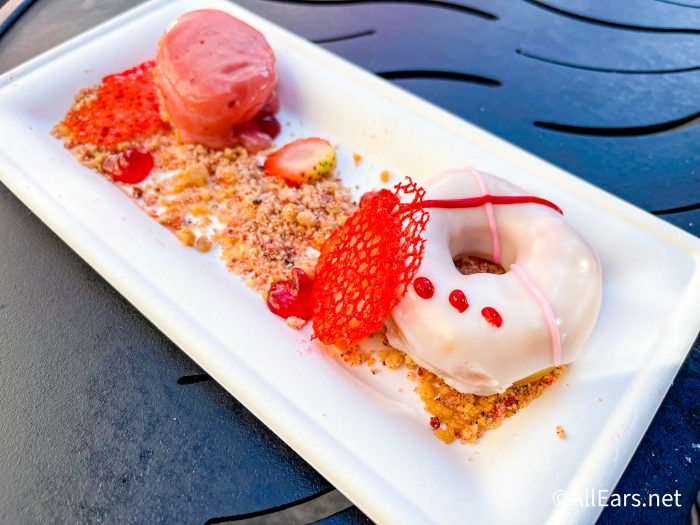 Other donut options include the Inside Out Donut (which is a vanilla donut with Bavarian cream) for $5…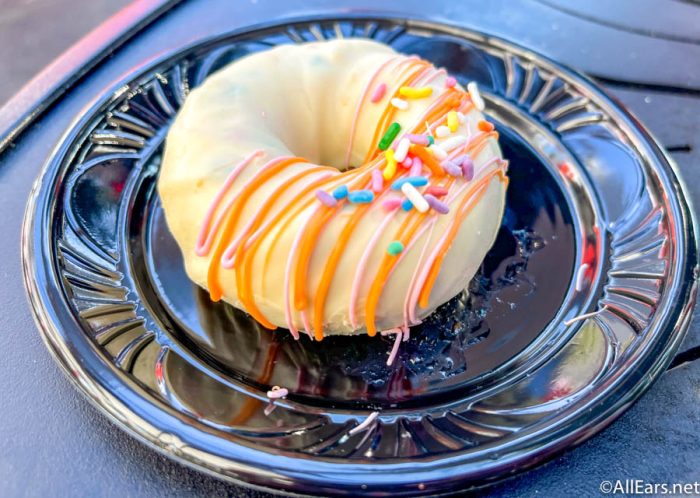 …and the new Chocolate-dipped Donut with black and gold sugar sprinkles and chocolate buttercream for $5.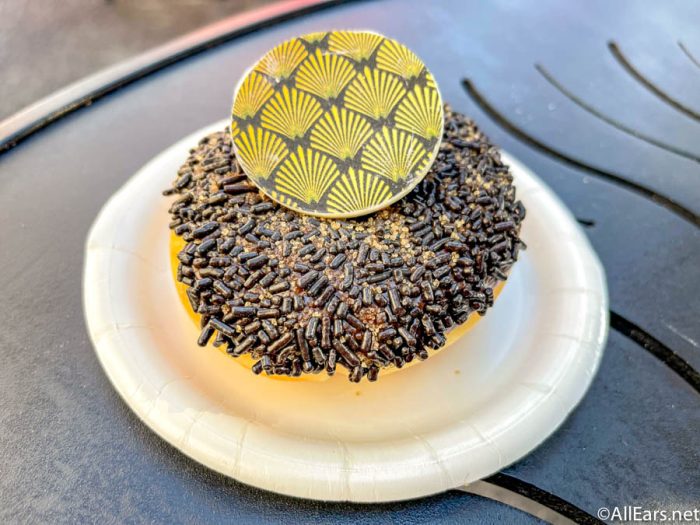 If you find yourself thirsty here, there are two different specialty drinks available including the Rose for $5 and the Cold Fashion Coffee Cocktail for $10.50. The cocktail is basically a coffee old-fashioned and we were big fans of the mix!
Deco Delights
Another new booth at the 2022 Festival of the Arts is Deco Delights.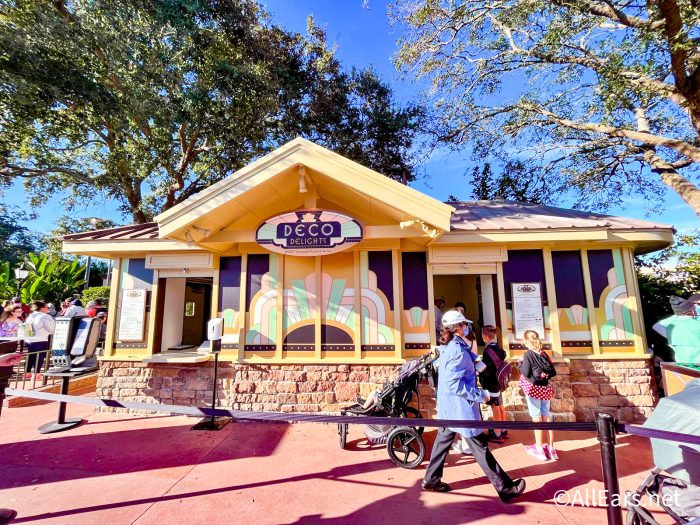 Deco Delights is located near Port of Entry and serves up some seriously pretty dishes!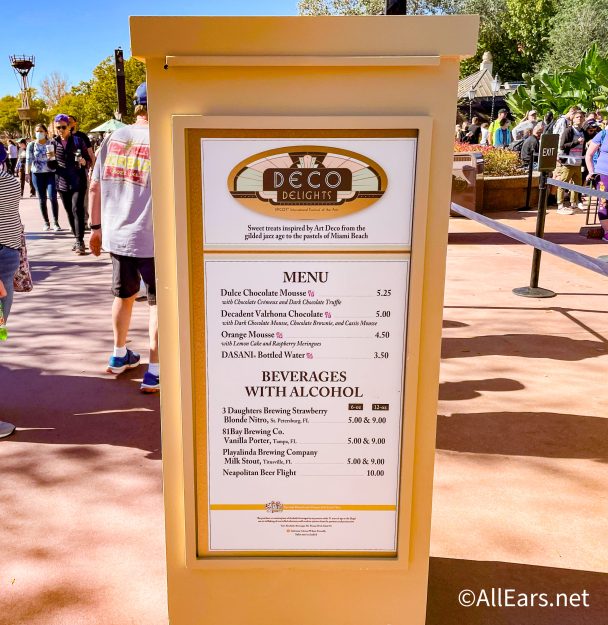 First up is the super colorful Orange Mousse with lemon cake and raspberry meringues for $4.50.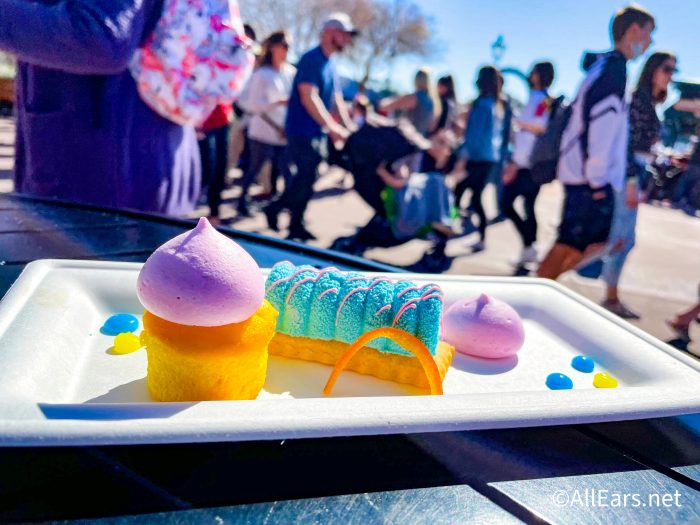 Plus, if you're a chocolate fan, you'll be able to choose between the Dulce Chocolate Mousse with chocolate crémeux and dark chocolate truffle for $5.25…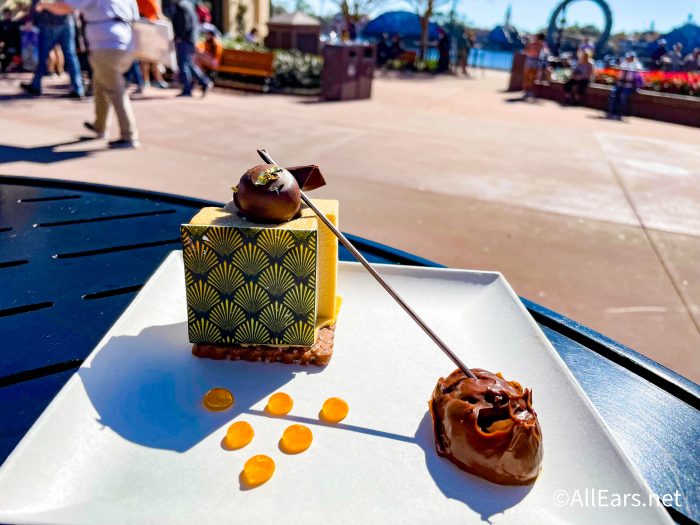 …and the Decadent Valrhona Chocolate with dark chocolate mousse, chocolate brownie, and cassis mousse for $5. Or, you can be like us and choose both!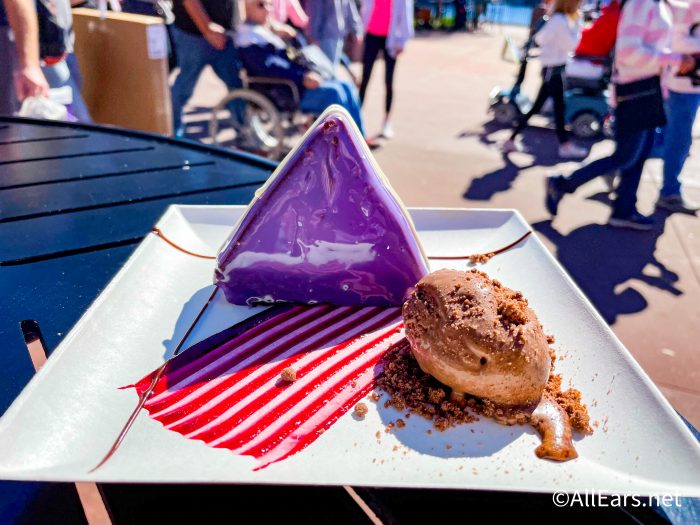 And, if you fancy yourself something to drink, there are THREE unique beer selections including the Strawberry Blonde Nitro, the Vanilla Porter, and the Milk Stout. If you want to try all three, you can get the Neapolitan Beer Flight for $10.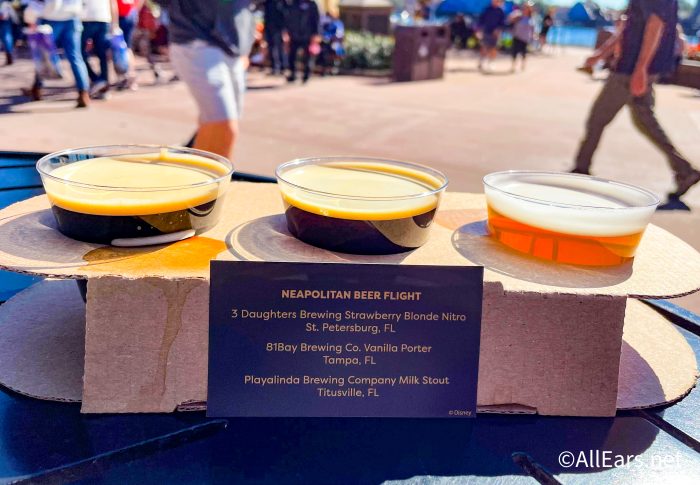 The Painted Panda
Next, we stopped by The Painted Panda booth in the China Pavilion. Here the food is designed after Chinese art and you can find some staples both to eat AND drink.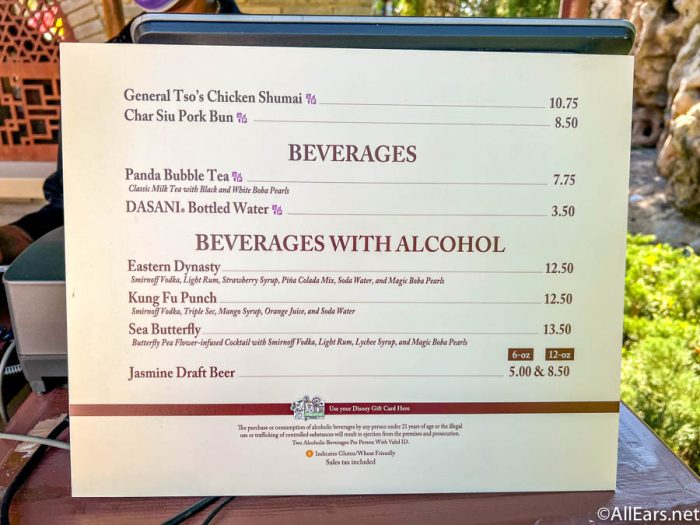 For example, there's the General Tso's Chicken Shumai for $10.75…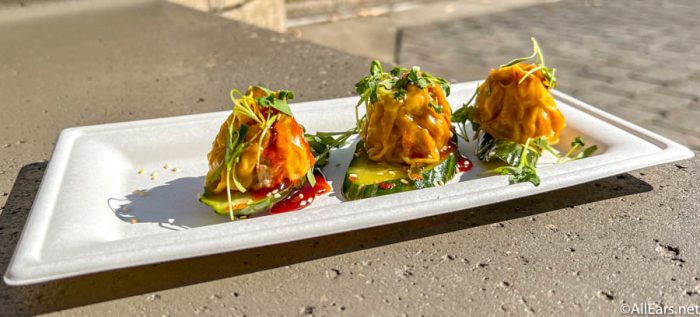 …and the Char Siu Pork Bun for $8.50.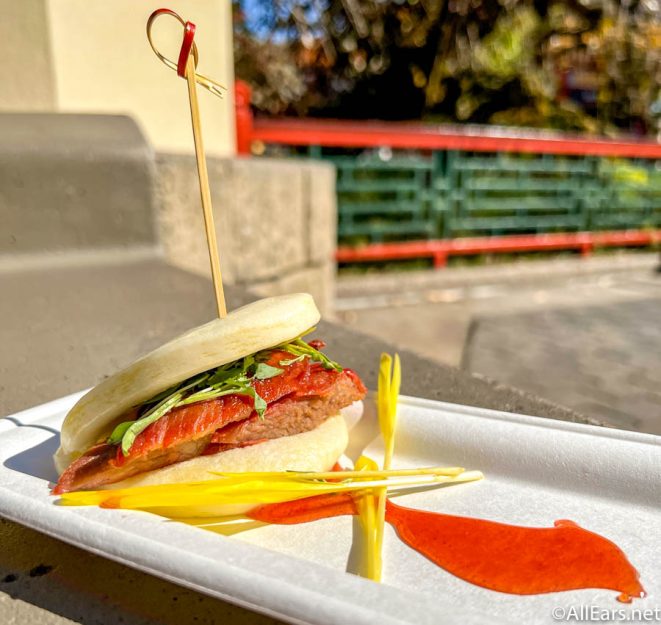 And even the drinks are pretty here with the Sea Butterfly returning for another year (it costs $13.50)…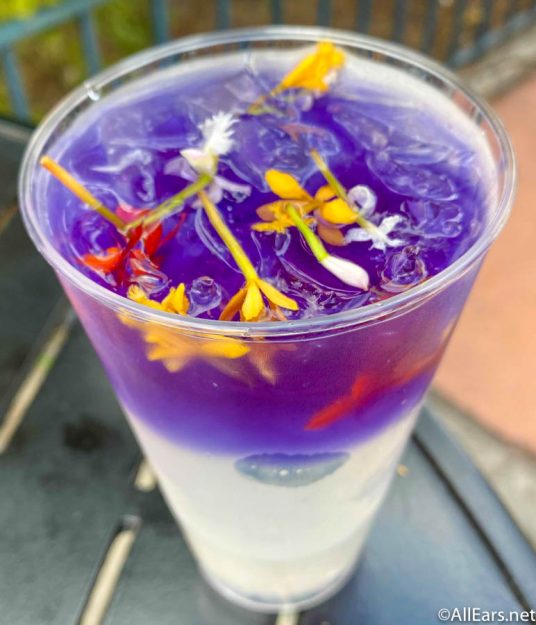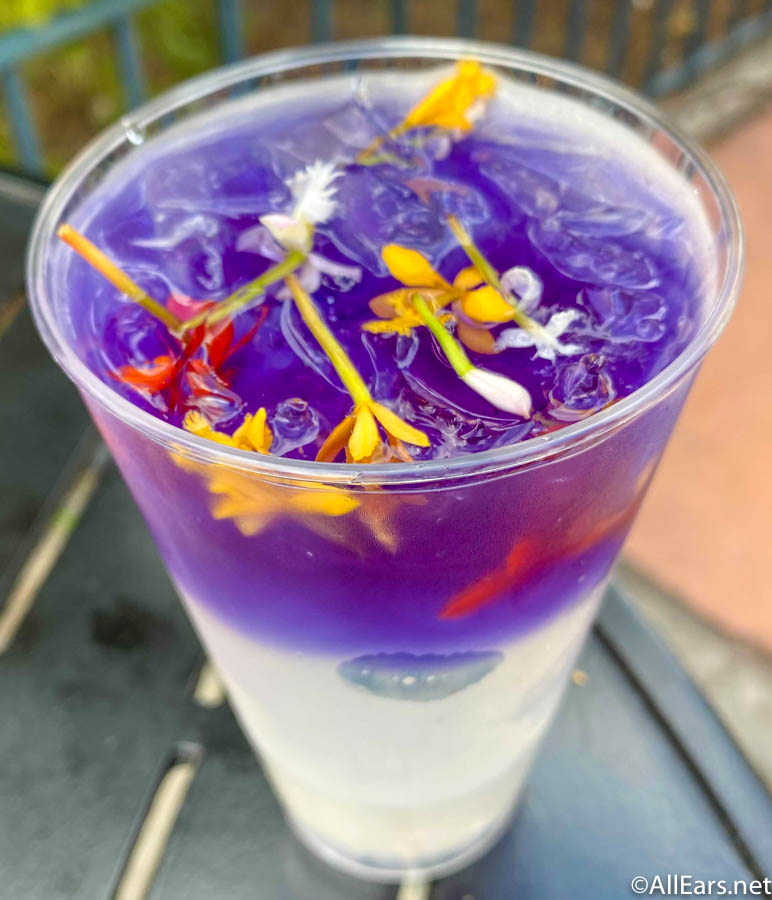 …and other specialty cocktails like the Eastern Dynasty, which is made with vodka, light rum, strawberry syrup, piña colada mix, soda water, and magic boba pearls and costs $12.50.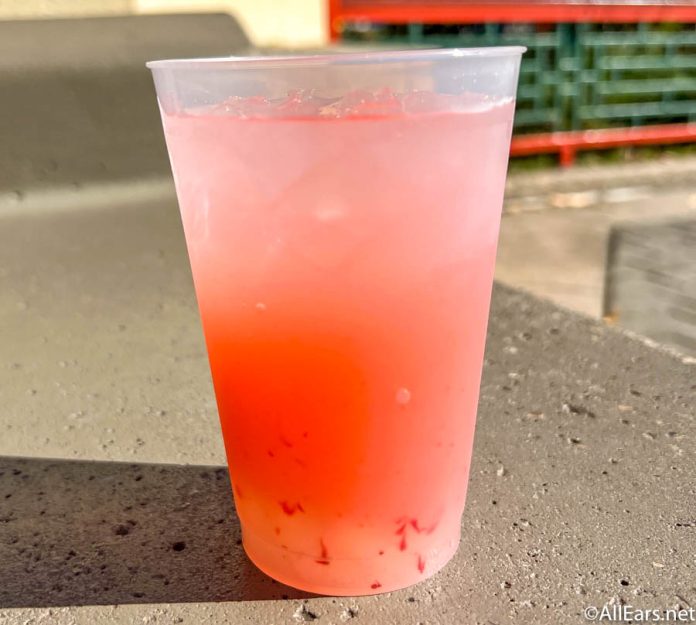 El Artista Hambriento
At every EPCOT festival, the Mexico booth tends to be a fan-favorite, and this year El Artista Hambriento did NOT disappoint!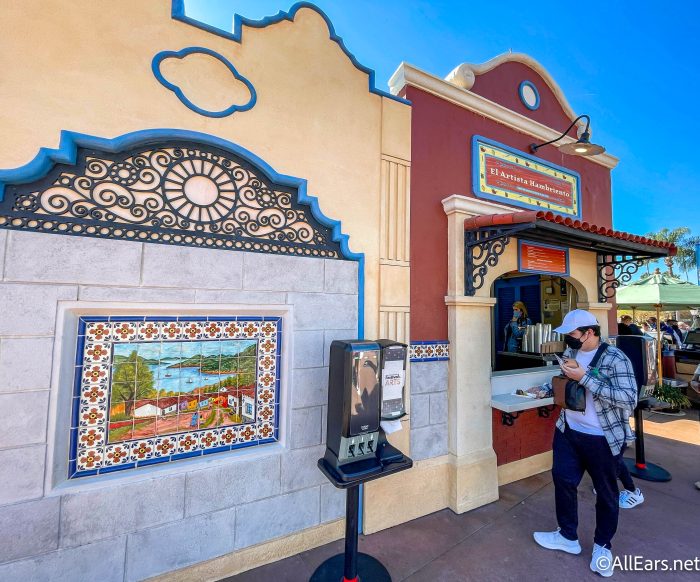 The menu here features TWO new dishes, two margaritas, a beer, and a chocolate taco for good measure.
What exactly is new? Well, there's the Huarache Verde, which is a Cilantro huarache with cochinita pibil, fresh pineapple, and pickled onion for $7.50…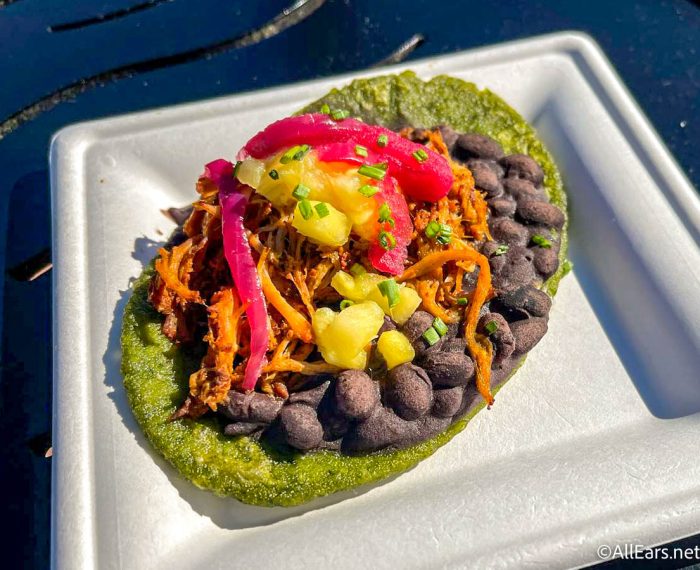 …and the Carne Asada (though this one is really just new to this festival). It is made with seared beef tenderloin, grilled queso fresco, refried beans, scallion, and ranchera salsa and costs $9.50.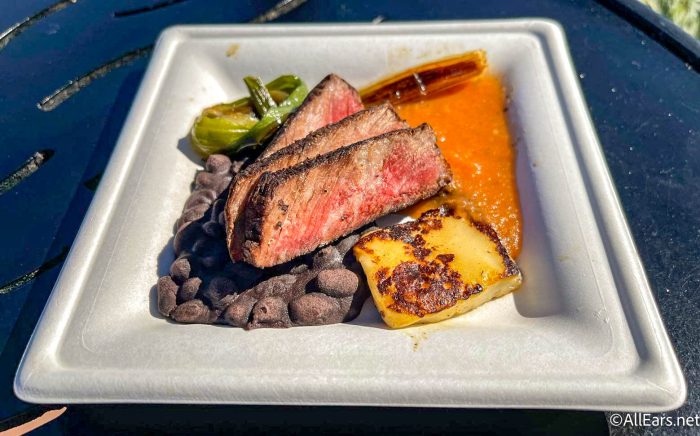 Plus, we couldn't stop by the Mexico booth without trying one (or two) of the margaritas! We opted for the Smoky Rosemary, which features blanco tequila, rosemary-infused mezcal, ginger cordial, lime juice, and rosemary aroma and costs $15…
…and The Lily, which is made with blanco tequila, violet essence Infusion, rose petal liqueur, cranberry, and lime juice. But, The Lily is worth trying for more than just its looks — it was actually designed by Lily Aldridge (the creator of one of our favorite designer Minnie Ears)! You can try it for $16.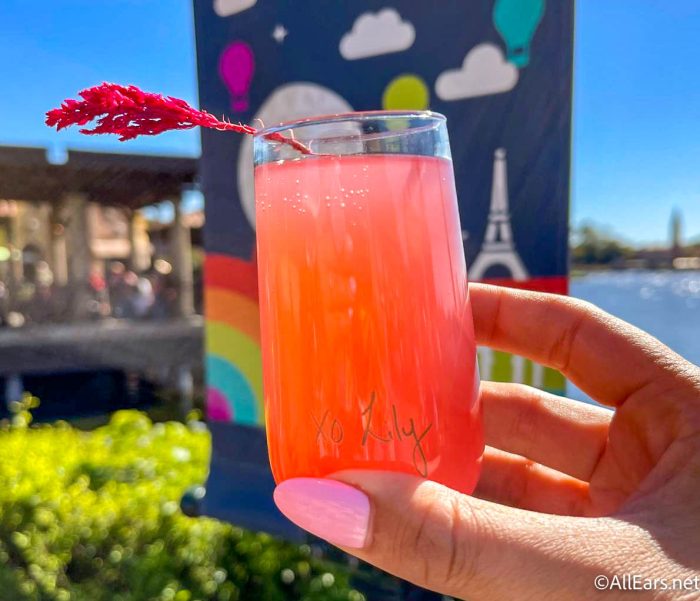 It even comes in a specialty cup that is "signed" by Lily.
L'Art de la Cuisine Francaise
Back in the France Pavilion, you can find the L'Art de la Cuisine Francaise booth.
Whether you're in the mood for a big bread bowl of cheese or something sweet, this booth is sure to have something that you'll enjoy as a little pick-me-up as you make your way around World Showcase.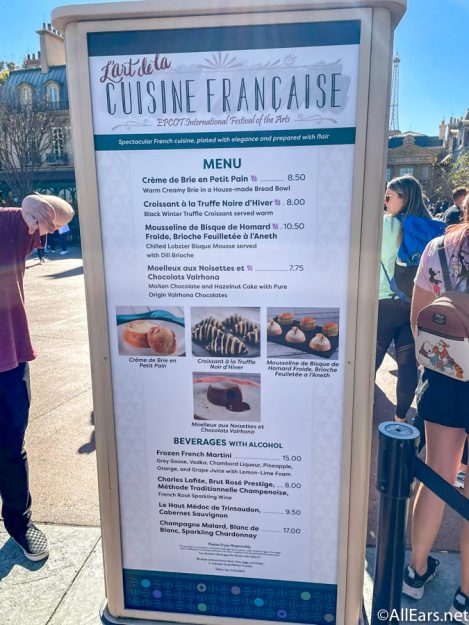 There are a lot of returning menu items here, but the newest addition is the Mousseline de Bisque de Homard Froide, Brioche Feuilletée à l'Aneth. To break it down into simpler terms, it is a chilled lobster bisque mousse served with dill brioche and costs $10.50.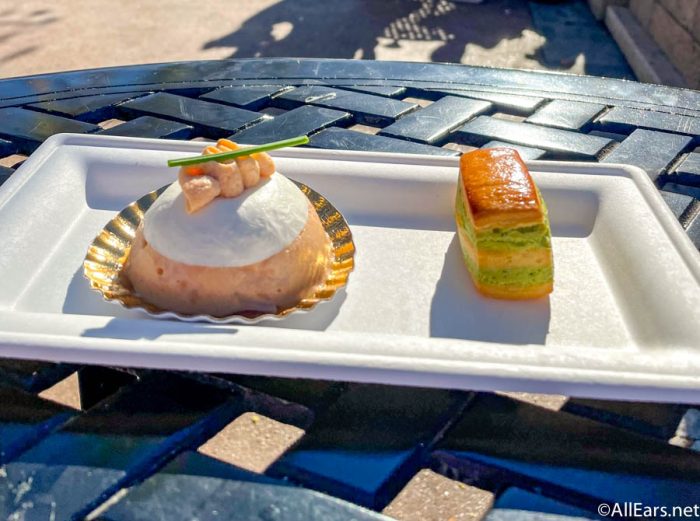 Tangierine Café: Flavors of the Medina
If you aren't careful you might miss the festival booth in the Morocco Pavilion, as it is actually located inside Tangierine Café: Flavors of the Medina.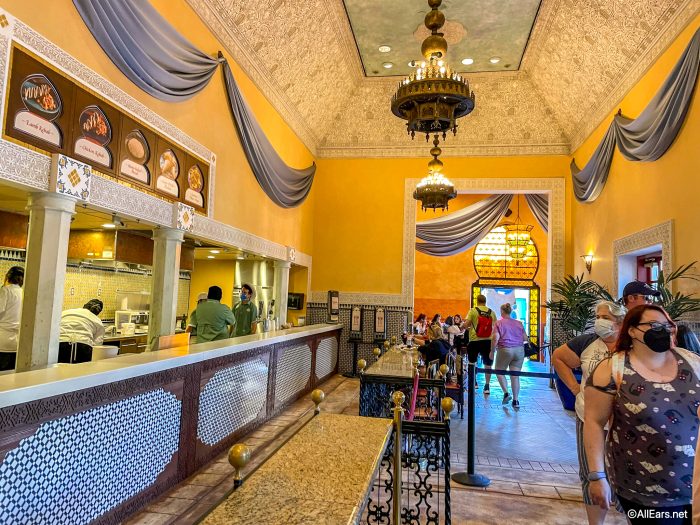 But, you certainly don't want to accidentally bypass this one because it has TWO new dishes this year!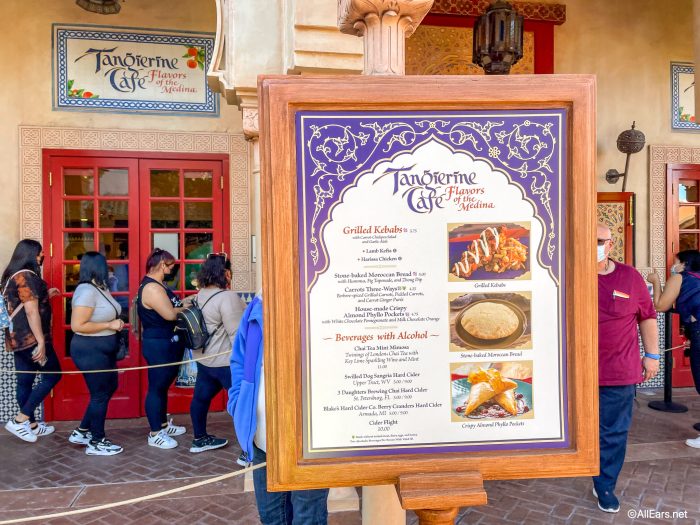 The Carrots Three Ways is a new plant-based option that features berbere-spiced grilled carrots, pickled carrots, and carrot ginger purée. It's also one of the lower-priced menu items at the festival this year, costing only $4.25.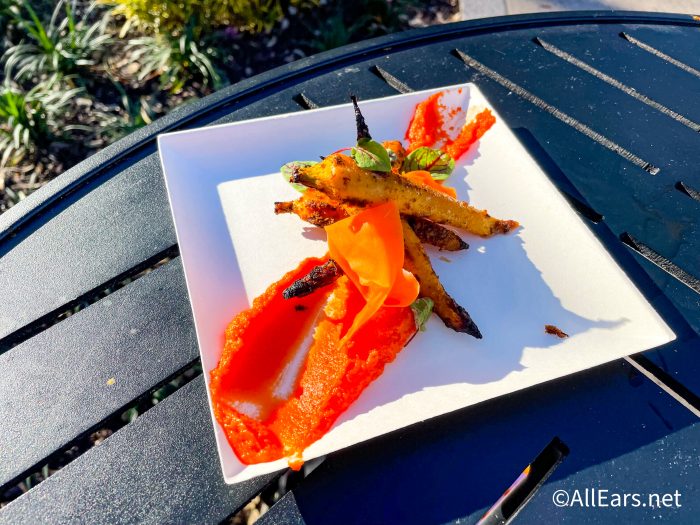 And, the other new dish is the House-made Crispy Almond Phyllo Pockets with white chocolate pomegranate and milk chocolate orange for $4.75.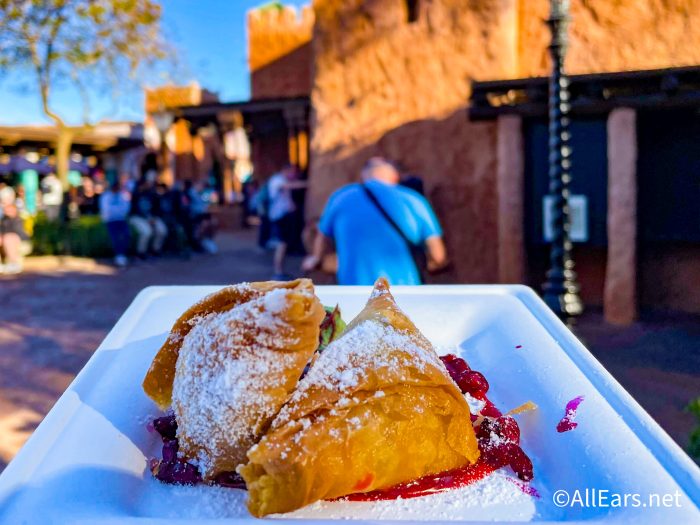 There are also three different ciders available here and one specialty drink — the Chai Tea Mint Mimosa. This cocktail is made with Twinings of London Chai Tea with Key lime sparkling wine and mint and costs $11.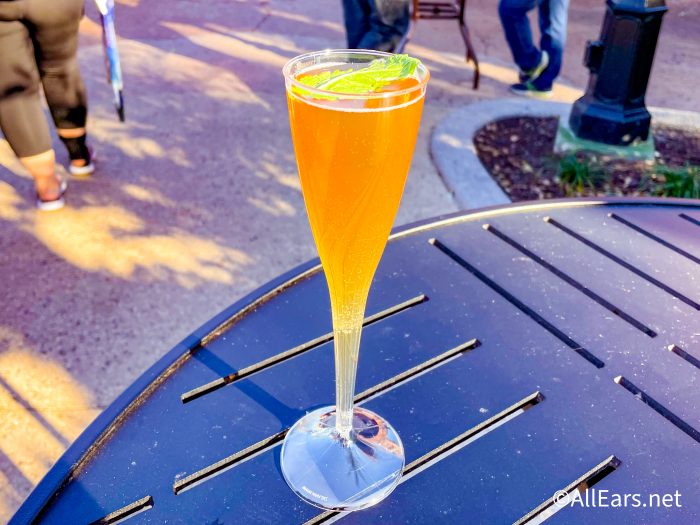 Pastoral Palate
Pastoral Palate has also returned to the Germany Pavilion once again this year.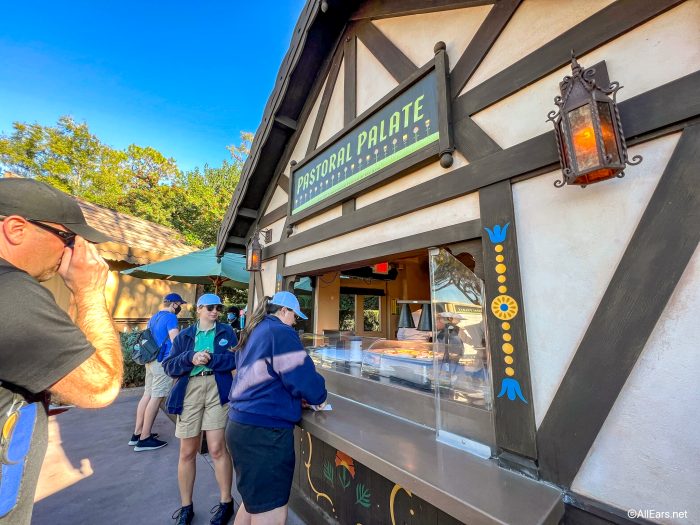 Most of the menu selections are ones that we've seen before, but there is one thing that is new!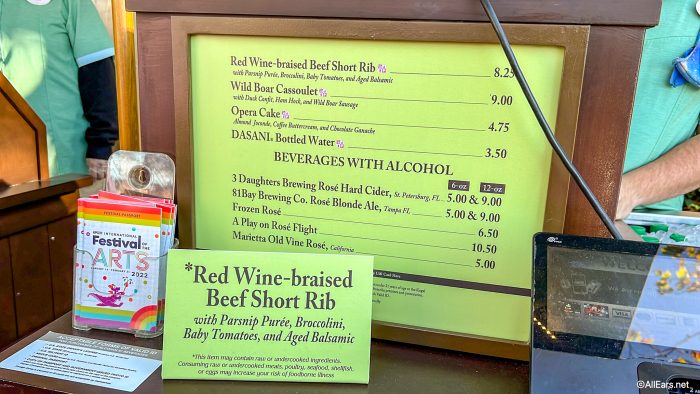 The Wild Boar Cassoulet has made its debut and is made with duck confit, ham hock, and wild boar sausage. This filling dish costs $9.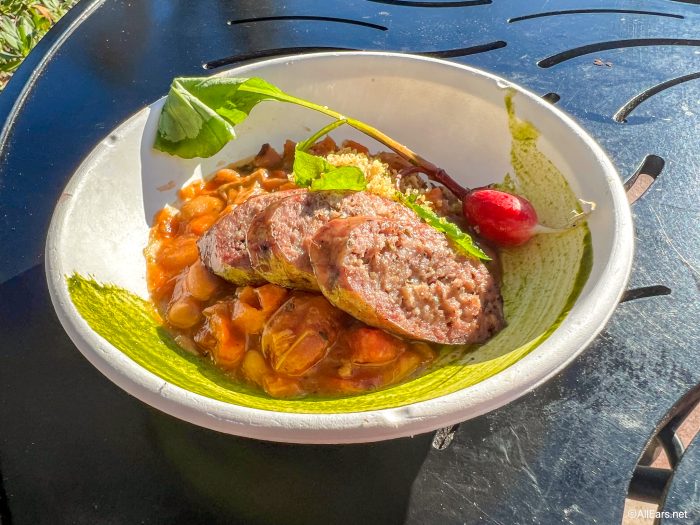 The Artist's Table
Looking for something a bit more traditional? The Artist's Table in the American Adventure pavilion may be just what you need!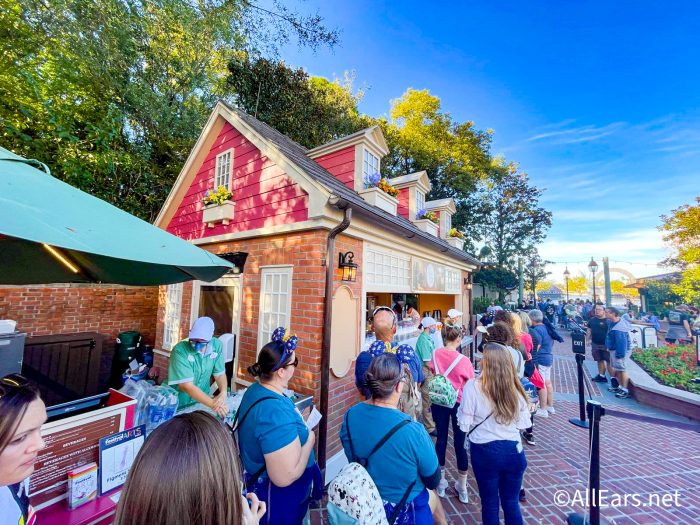 You'll find another dish that is part of the Wonderful Walk of Colorful Cuisine along with a HUGE selection of beers and the fan-favorite Chocolate Flight.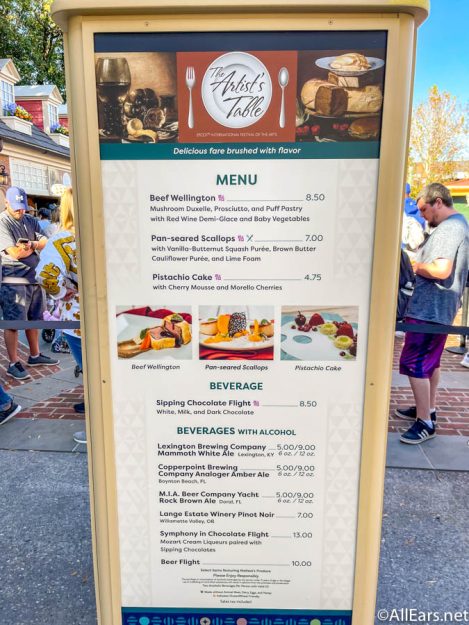 You'll want to arrive here hungry because there are A LOT of unique items to try. First up is the Beef Wellington which is a mushroom duxelle, prosciutto, and puff pastry with red wine demi-glace and baby vegetables for $8.50.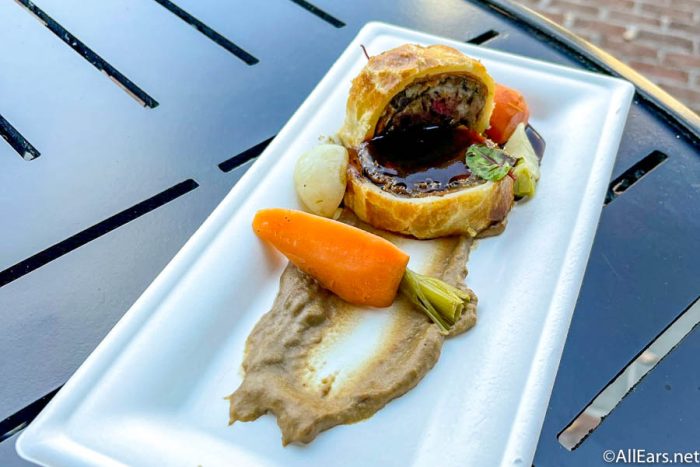 And, if you're looking to check off the color orange on the Wonderful Walk of Colorful Cuisine, then you'll need to order the Pan-seared Scallops with vanilla-butternut squash purée, brown butter cauliflower purée, and lime foam for $7.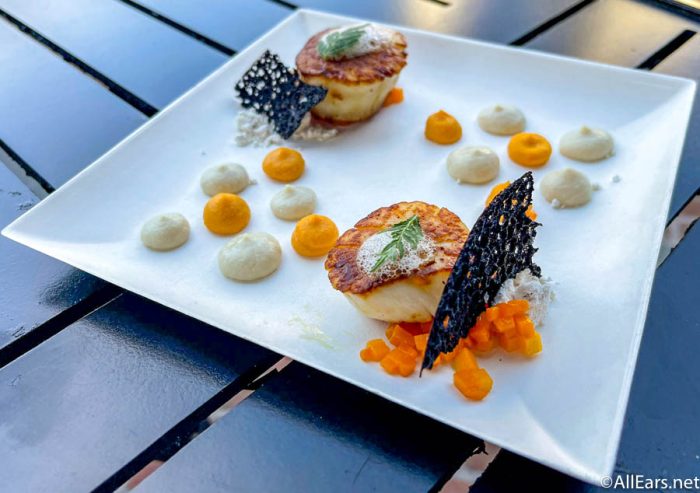 Prefer something sweeter? You can also find the Pistachio Cake with cherry mousse and morello cherries for $4.75 here.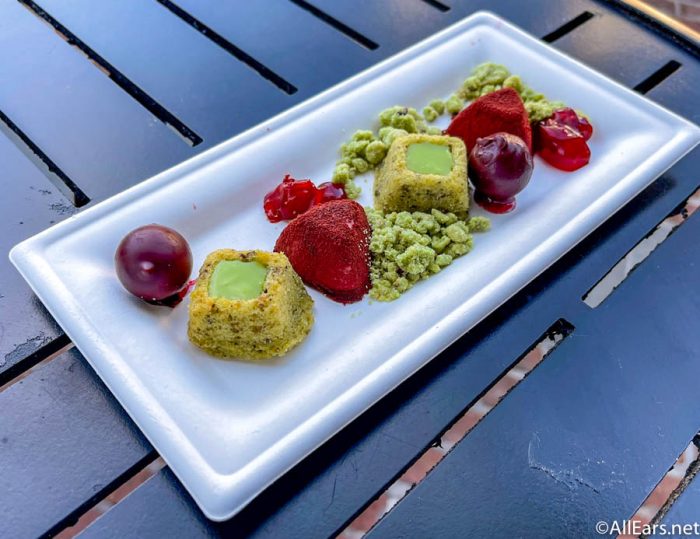 Goshiki
In the Japan Pavilion, you can find the Goshiki booth. This one is pretty well known for serving up the Sushi Donut each year at the Festival of the Arts and it is back again along with a few new menu items!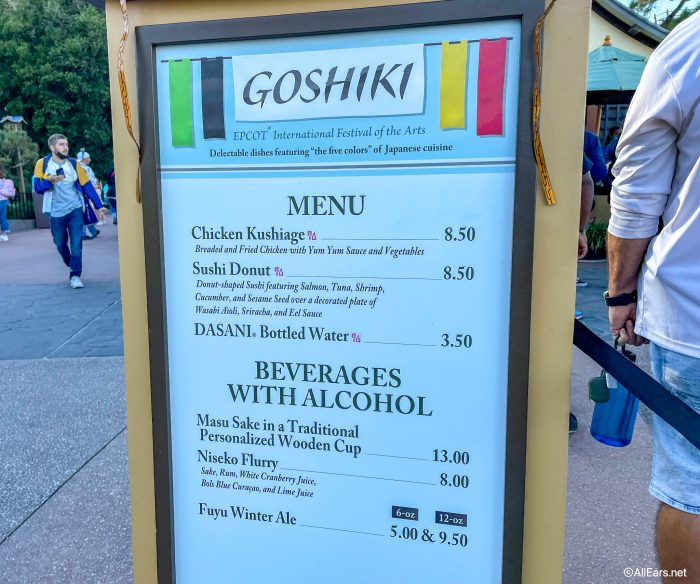 We tried the new Chicken Kushiage, which is made with breaded and fried chicken with yum yum sauce and vegetables and costs $8.50.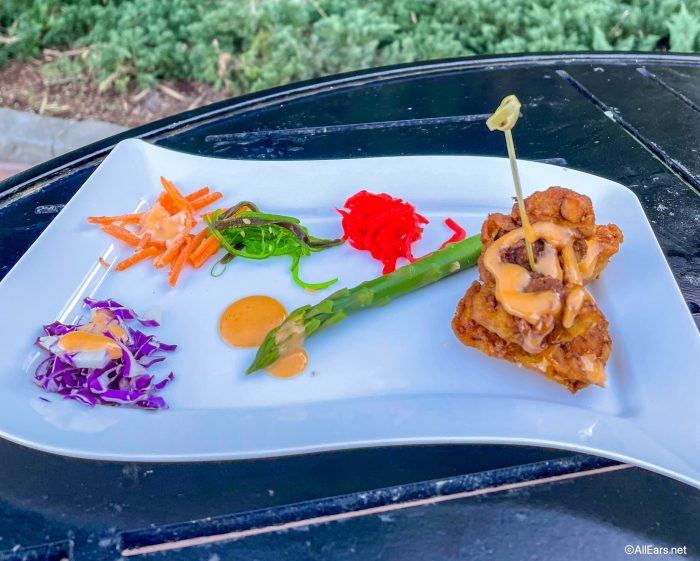 Plus, we also had to see what the new Niseko Flurry tasted like! It is an alcoholic cocktail and has a mix of sake, rum, white cranberry juice, blue curaçao, and lime juice for $8.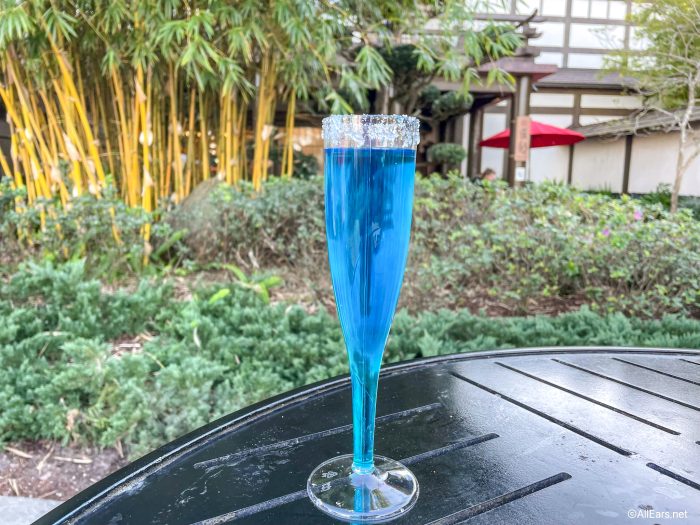 L'Arte di Mangiare
One of the most popular EPCOT festival booths this year (and at most festivals) is L'Arte di Managiare in the Italy Pavilion.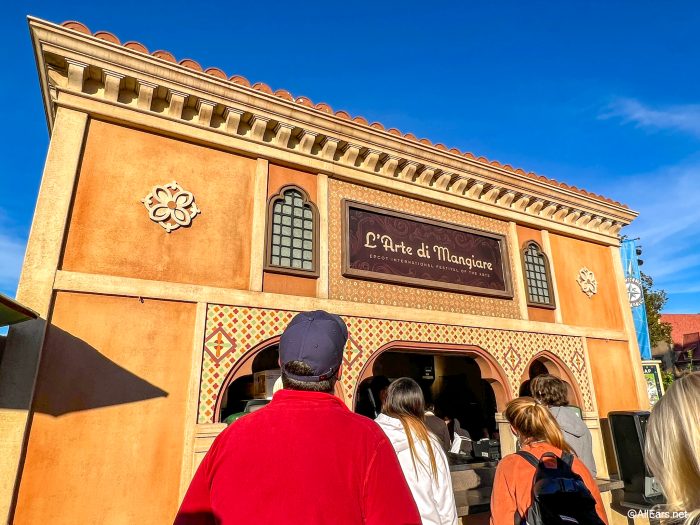 Whether you're looking for a classic italian dish like ravioli or something a bit sweeter, this booth has it all!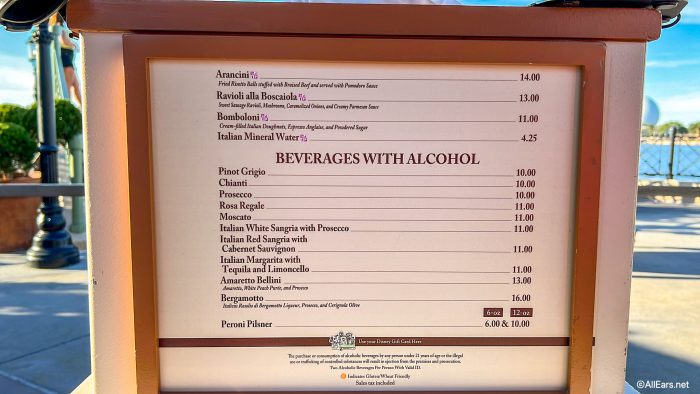 For example, there's the Ravioli alla Boscaiola (which is a sweet sausage ravioli with mushrooms, caramelized onions, and creamy Parmesan sauce for $13)…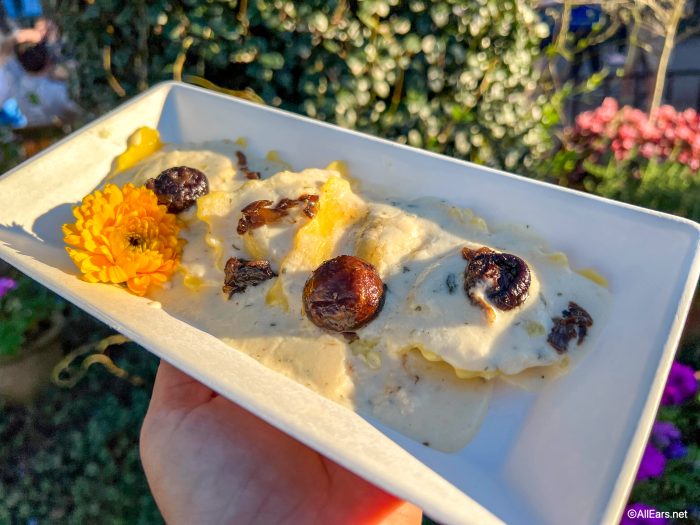 …and the Bomboloni (which is a chocolate-hazelnut Italian doughnut with powdered sugar for $).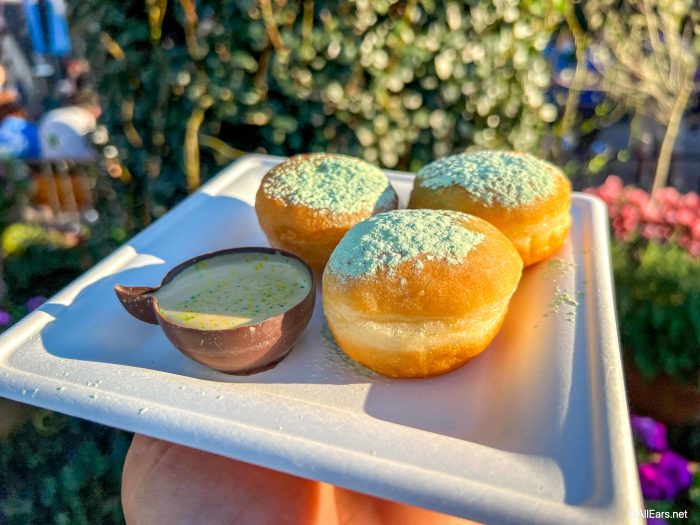 Plus, there's also a HUGE selection of wines and cocktails to check out here including sangria, an Italian margarita, and bellini. Just keep in mind that you might find yourself in a LONG line to get your food.
Vibrante & Vívido: Encanto Cocina
Tucked away between the Morocco and France Pavilions this year is the Vibrante & Vívido: Encanto Cocina booth.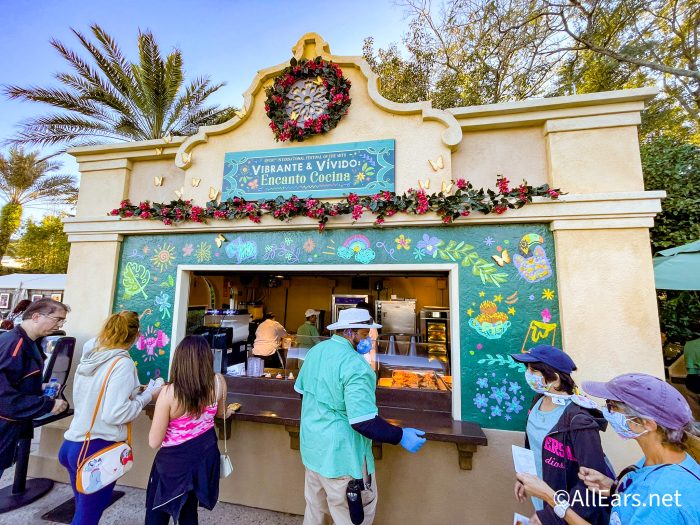 The menu here features quite a few fruity items, including a few that are actually themed after Disney's newest movie Encanto.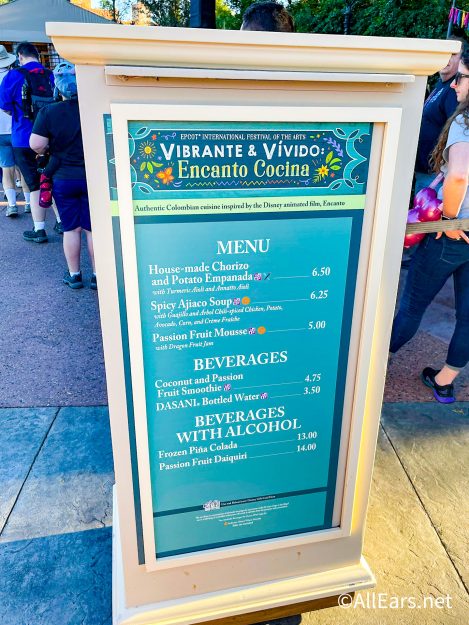 Disney-goers with a gluten/wheat allergy can try the Spicy Ajiaco Soup with guajillo and árbol chili-spiced chicken, potato, avocado, corn, and crème fraîche for $6.25…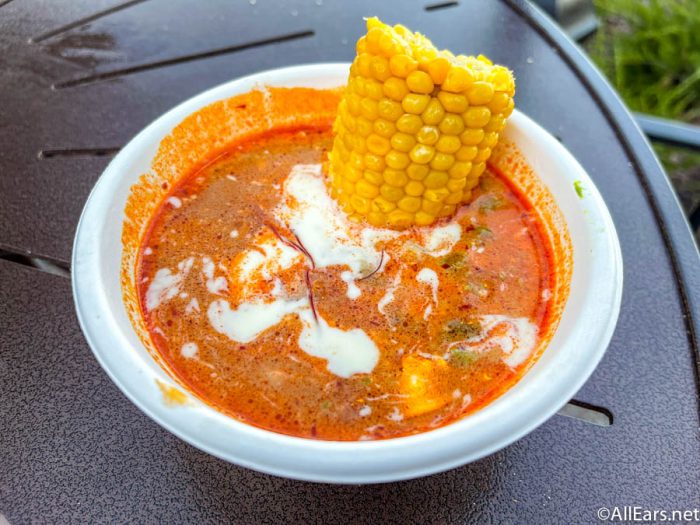 …and those completing the Wonderful Walk of Colorful Cuisine will need to stop here for the House-made Chorizo and Potato Empanada with turmeric aïoli and annatto aïoli. It counts as the yellow item and costs $6.50.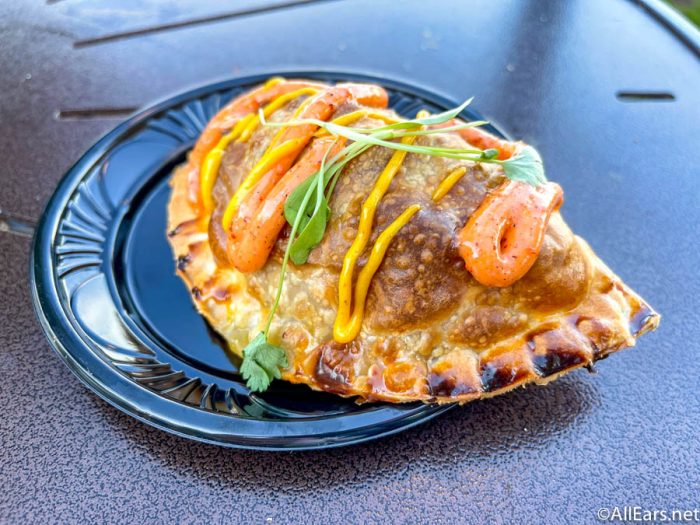 And, speaking of dishes that got an Encanto makeover, the Passion Fruit Mousse with Dragon Fruit Jam (which is also gluten/wheat friendly) is looking a little different this year! It costs $5.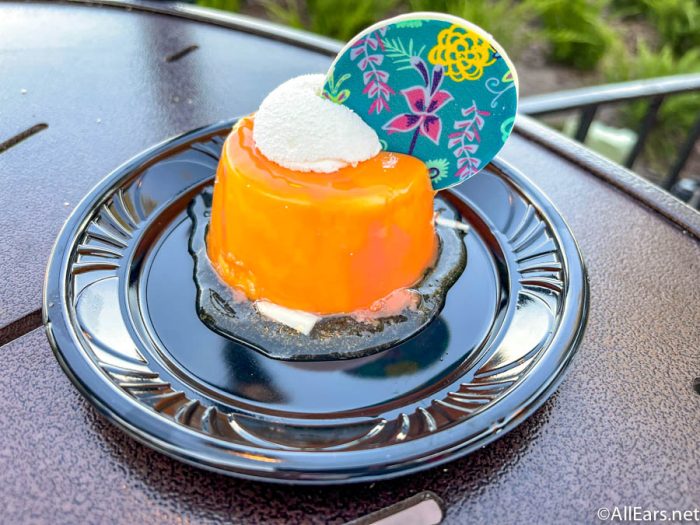 Plus, we couldn't pass up the chance to get a Frozen Piña Colada. It is available for $13.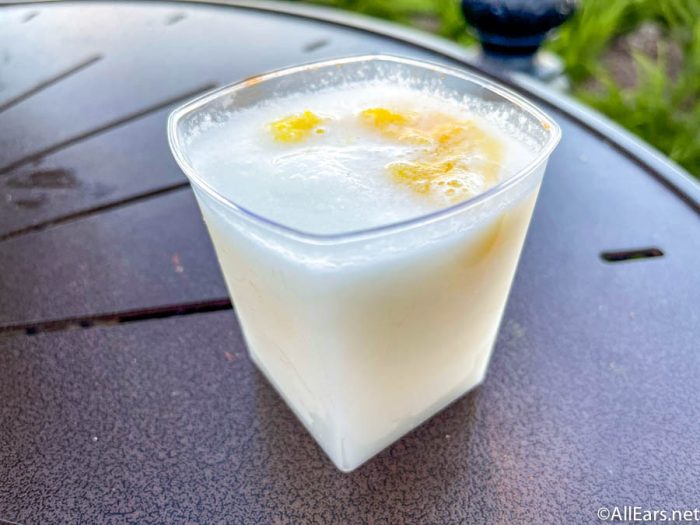 The Deconstructed Dish
The Deconstructed Dish is another signature Festival of the Arts booth located near Port of Entry that is back this year, but the menu items have changed quite a bit!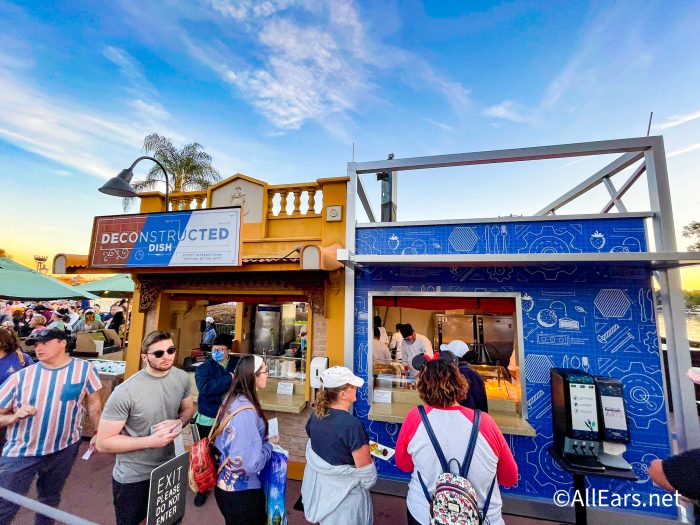 While you can still find the Deconstructed BLT, there are TWO new deconstructed dishes AND a new drink!
If you want to think that you're eating soup, but not actually eat soup there's the Deconstructed French Onion Soup. It costs $6.50 and has Beef broth ravioli, Gruyère espuma, onion bread pudding, and onion textures.
And, replacing the Deconstructed Strawberry Cheesecake is the Deconstructed Key Lime Pie. This one is the green dish for the Wonderful Walk of Colorful Cuisine and includes Flexible Key lime curd, "Key lime" mousse, graham cracker cake, and meringues. It costs $4.75.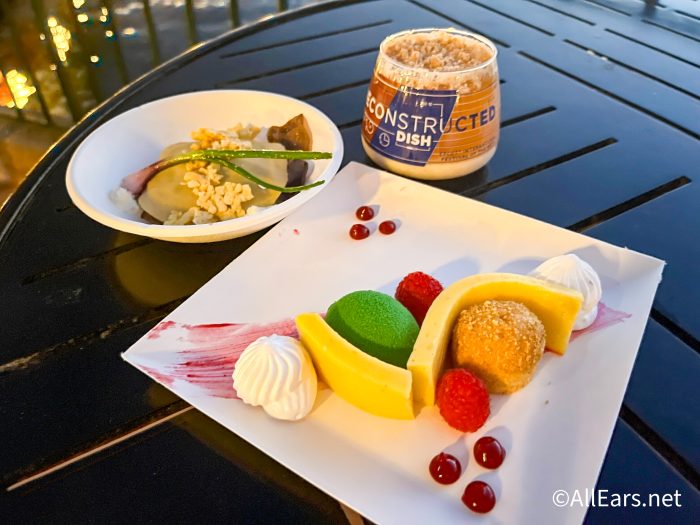 Prefer something to drink? The Deconstred Dish is now home to the Deconstructed Apple Pie à la Mode, which is a non-alcoholic option that features apple-cinnamon gelato, cinnamon apple cider, apple pie filling, and streusel for $4.50.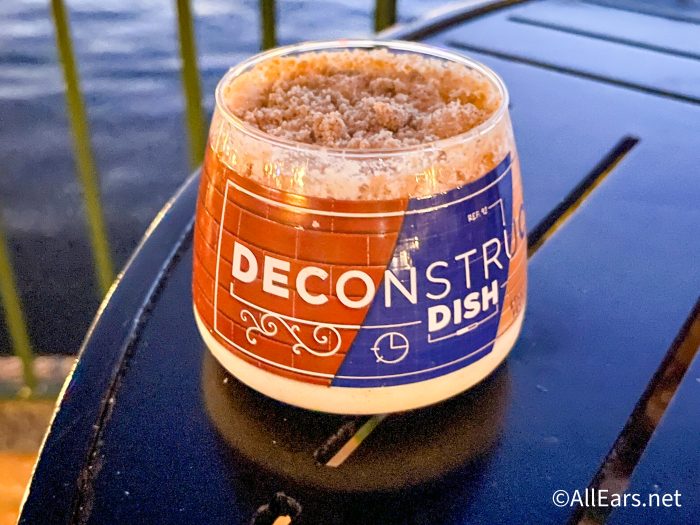 Gourmet Landscapes
You don't have to make your way too far into World Showcase to find the Gourmet Landscapes booth, as it is located in the Canda Pavilion!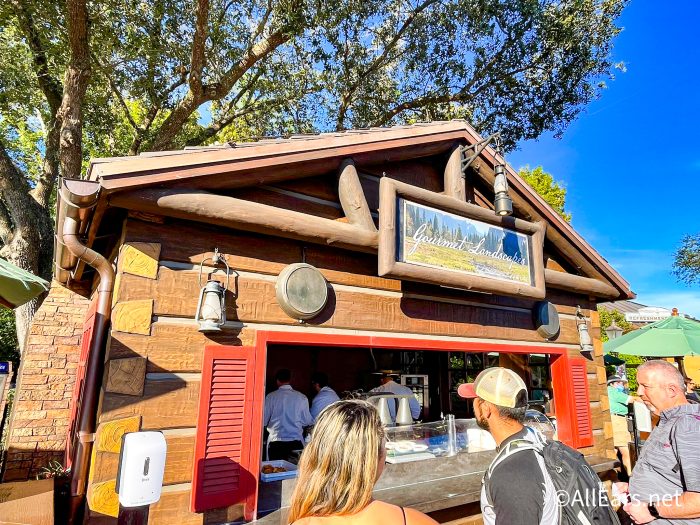 We've been big fans of this booth in the past and this year there are TWO new menu items!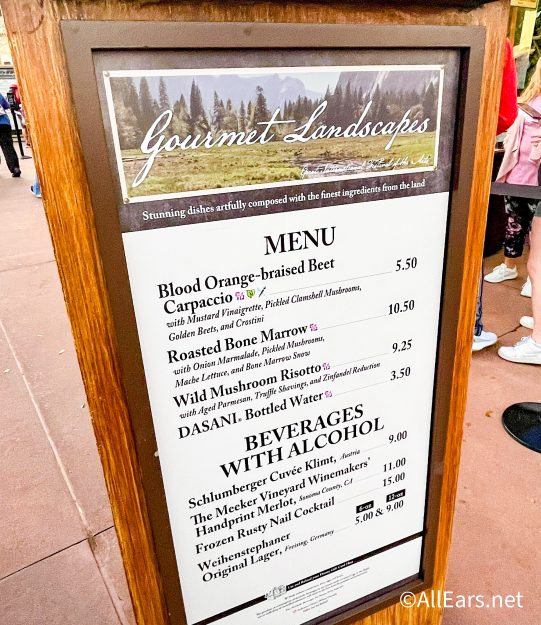 First is the Blood Orange-braised Beet Carpaccio with mustard vinaigrette, pickled clamshell mushrooms, golden beets, and crostini. Ordering this dish will cost you $5.50 and will complete the red portion of the Wonderful Walk of Colorful Cuisine this year.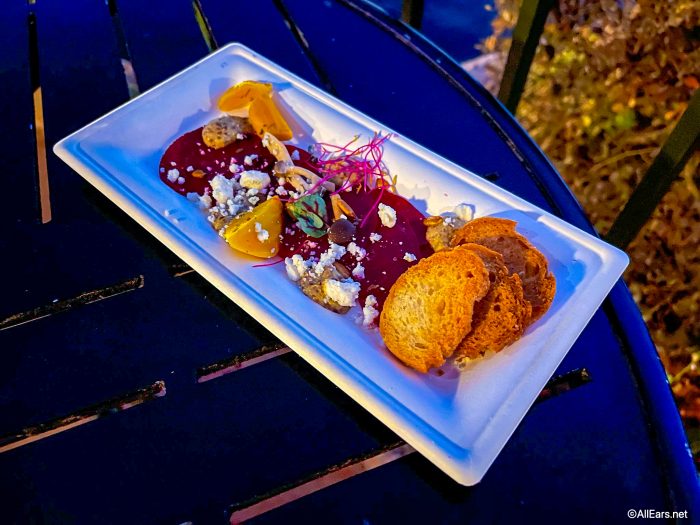 Plus, there's also the Roasted Bone Marrow with onion marmalade, pickled mushrooms, mache lettuce, and bone marrow snow for $10.50…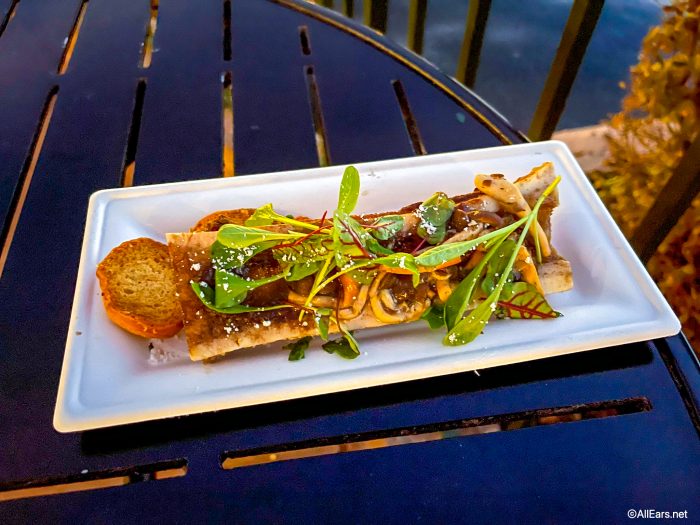 …and the Wild Mushroom Risotto with aged parmesan, truffle shavings, and zinfandel reduction for $9.25.
And, if you're looking for something to drink, the Frozen Rusty Nail Cocktail has also returned for $15.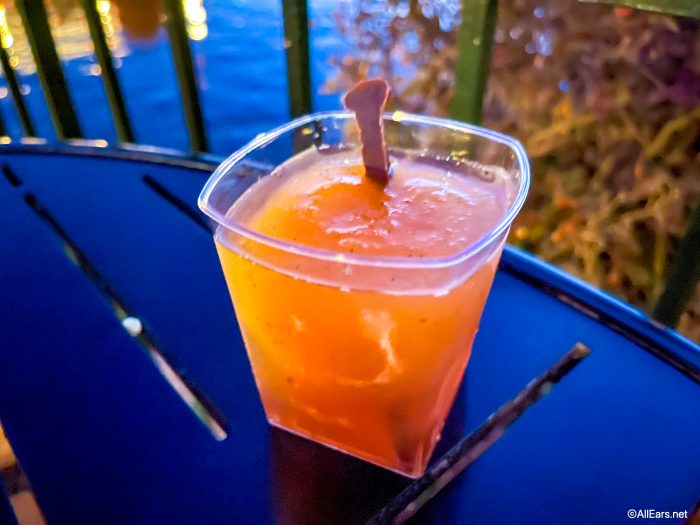 Additional Locations
Aside from the 15 food booths, there are also a few select EXTRA locations where you can find specialty eats and drinks and, of course, we had to stop by!
Joffrey's Coffee & Tea Company
There are FOUR different Joffrey's Coffee & Tea Company locations around EPCOT that each features a different cereal-topped coffee for the festival this year. At the World Discovery location (which is near Mission: SPACE), you'll find the  Mocha Masterpiece Cold Brew. This one is a sweet creamy cold brew topped with whipped cream and chocolate puffs and costs $6.39.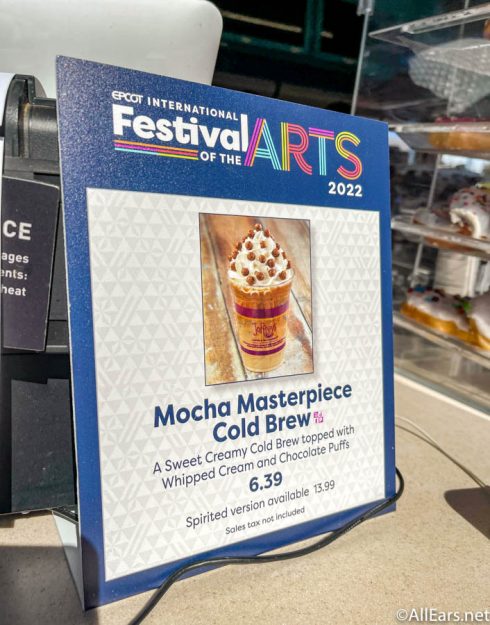 You can also get it spiked with alcohol if you'd like, it will just cost you $13.99.
On your way into World Showcase (near Disney Traders), you'll be able to find the Cinnamon Swirl Cold Brew. It is a little different than the other one and is a sweet creamy cold brew topped with whipped cream and cinnamon squares.
This also costs $6.39, or you can get it with alcohol for $13.99.
And, if you want to try it topped with some other childhood-favorite cereals, there's also the Colorful Canvas Cold Brew (topped with fruity cereal) at the Joffrey's location in the Canada Pavilion…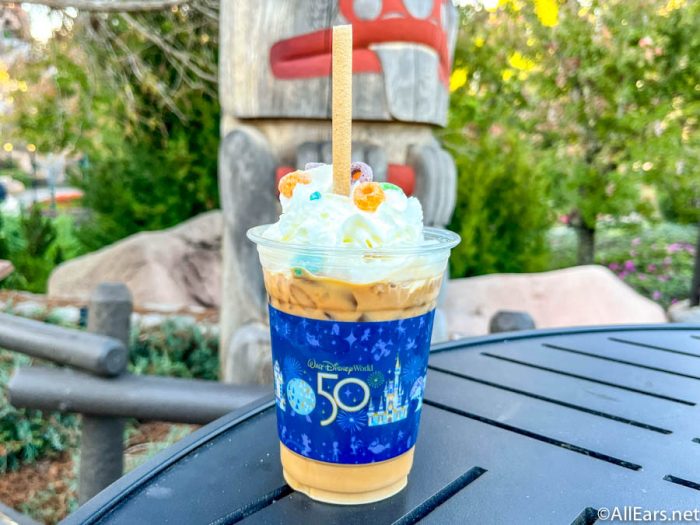 …and the Rainbow Dreams Cold Brew (topped with colorful marshmallow crunch) in the location at The American Adventure pavilion.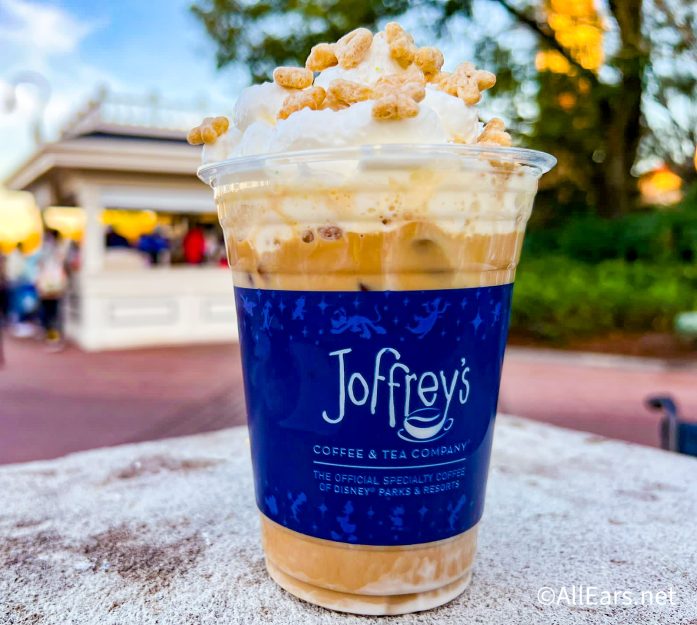 They also cost $6.39 without alcohol or $13.99 with alcohol.
Refreshment Port
We can usually count on the Refreshment Port to have some specialty foods and this year is no different!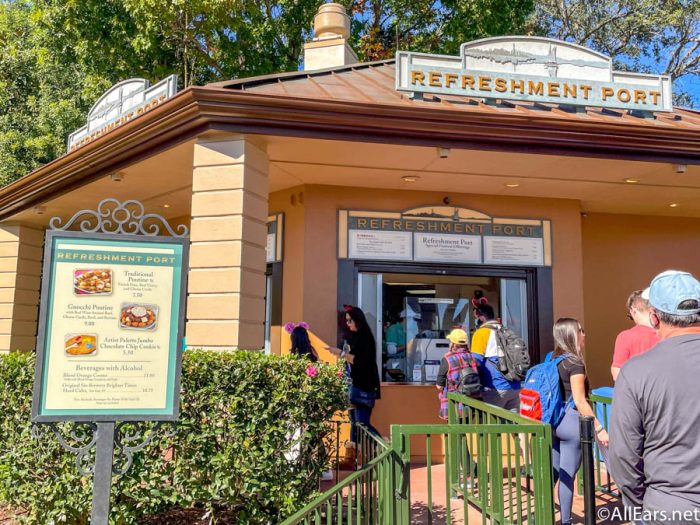 Here you can find the Artist Palette Jumbo Chocolate Chip Cookie for $5.50 and the Gnocchi Poutine with red wine-braised beef, cheese curds, basil, and burrata for $9.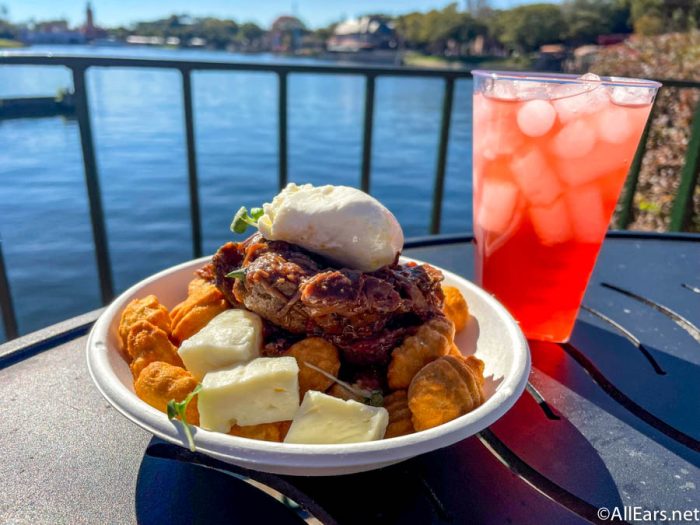 Plus, the Blood Orange Cosmo is also new to the menu this year and is made with vodka with blood orange, cranberry, and lime. It costs $11.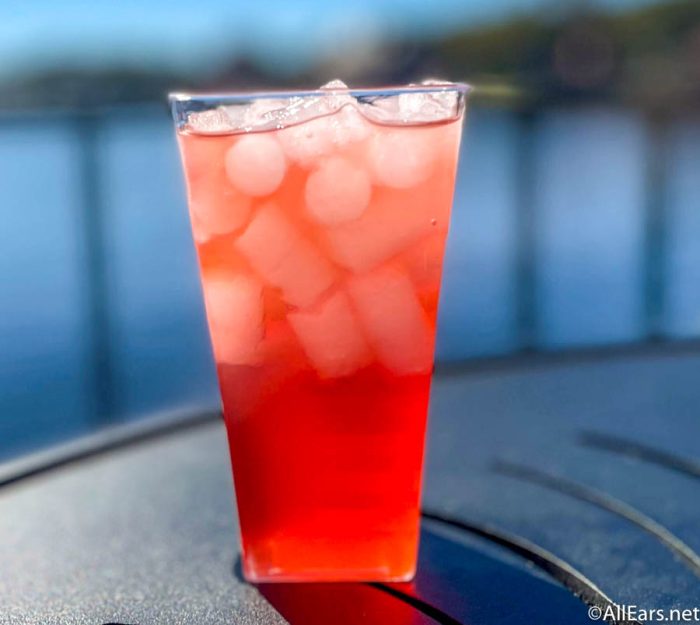 Refreshment Outpost
Refreshment Outpost is also home to specialty eats and drinks for the festival as you make your way around World Showcase!
This spot is also home to the Artist Palette Jumbo Chocolate Chip Cookie for $5.50, and if you're looking for something plant-based, this is where you can find the Plant-based Bratwurst. It costs $9.50 and is made with spicy turmeric aïoli, coffee barbecue jackfruit, and slaw.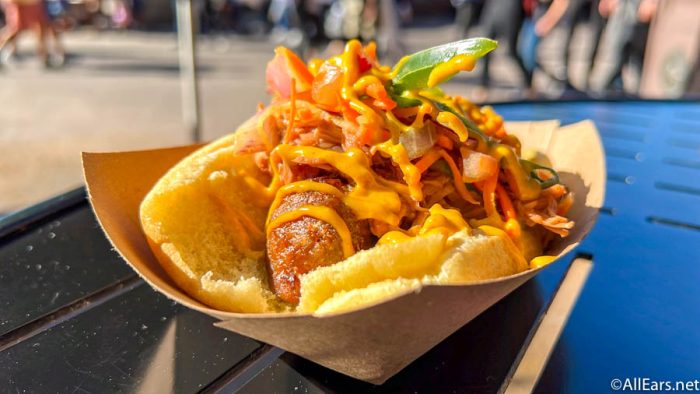 There are also some unique beer options here including the Blue Raspberry Blonde Ale and the Nairobi Coffee Dark Beer. Both cost $10.75.
Funnel Cake Stand
Near The American Adventure Pavilion, you'll also want to be sure to stop at the Funnel Cake Stand for the Cherry Blossom Funnel Cake! This brand new treat costs $10.50 and is a Chocolate chip funnel cake topped with cherry ice cream, rainbow whipped cream, chocolate chips, and a maraschino cherry.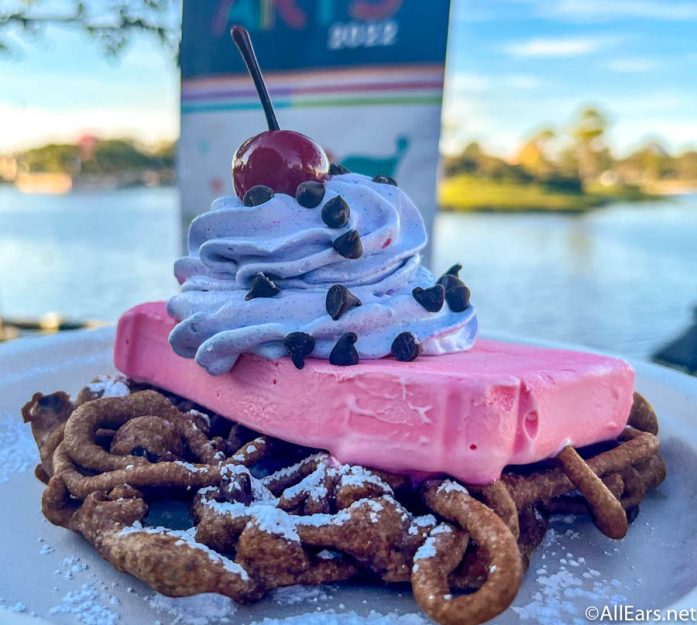 Merchandise
Limited-edition merchandise is one of the things that make the EPCOT festivals so special! Let's take a look at some of the must-haves you'll find around the park!
First up is the Figment Spirit Jersey, which features a light yellow color scheme that really makes the blue and purple colors pop. Figment can be found painting some music on the front…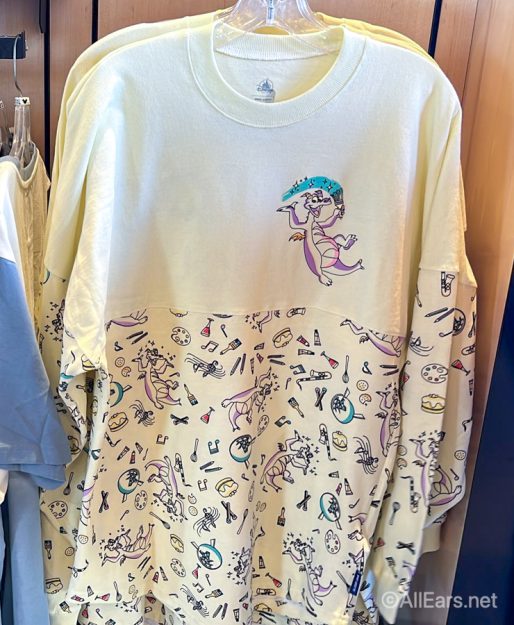 …and the back says "make a masterpiece today."
It is available for $74.99 and can be found at Creations Shop and other select merchandise stores in World Showcase.
The festival collection also includes a Figment Tervis tumbler…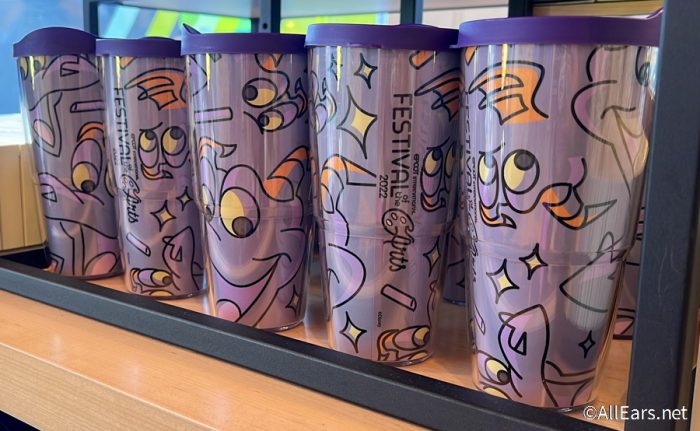 …t-shirt with Mickey, Minnie, Donald, Daisy, and Figment…
…baseball cap…
…decorative plate…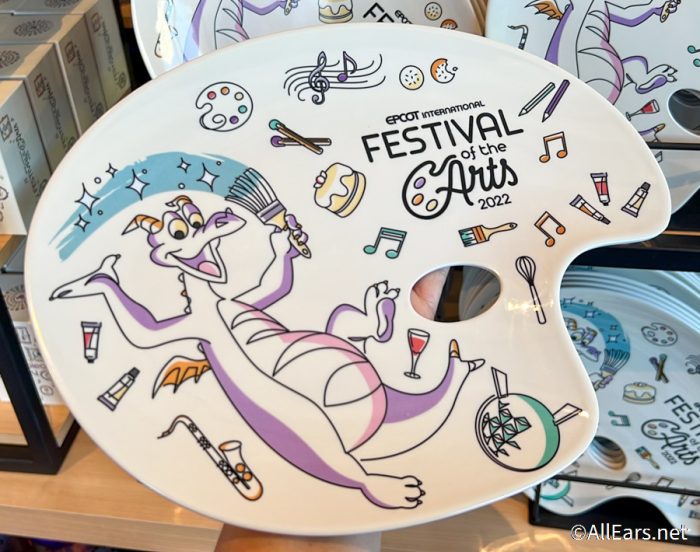 …and a variety of pins that feature Figment and Mickey and Minnie.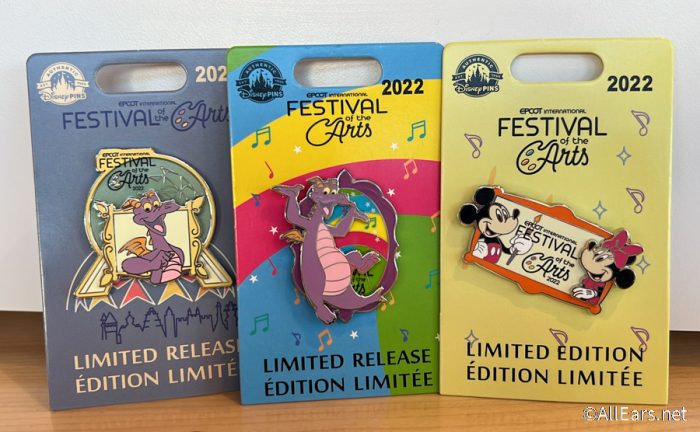 Plus, Annual Passholders have exclusive access to TWO MagicBands and a hoodie.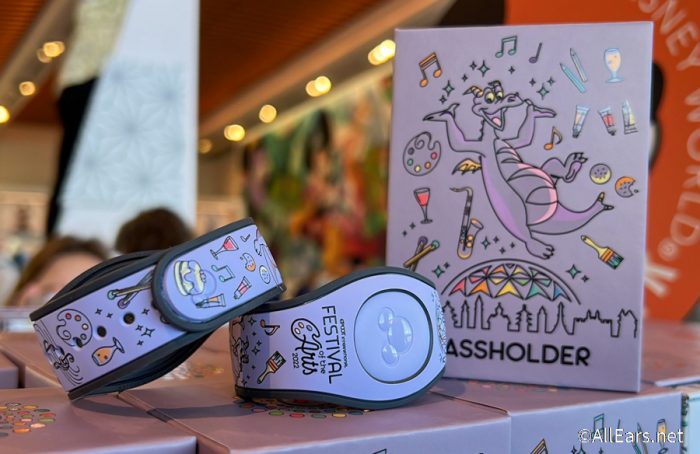 You can get a closer look at the merchandise and see pricing here.
Aside from the festival-specific merchandise, there are also a variety of smaller art booths located around World Showcase where you can pick up Disney art from real artists!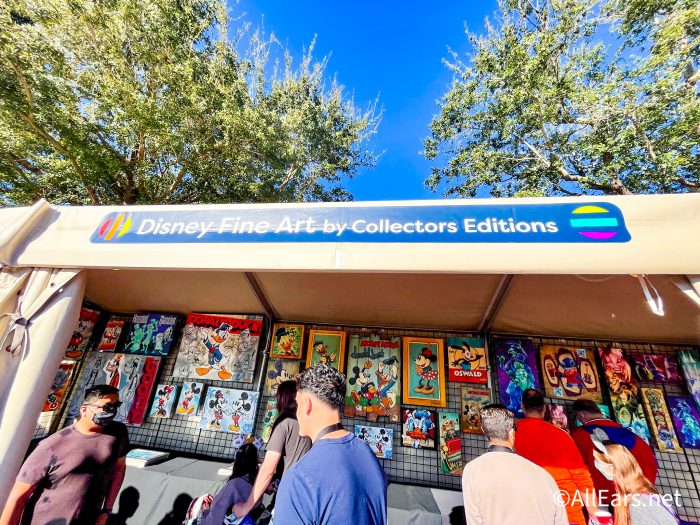 Activities
Aside from eating and shopping, there are also quite a few things that you can do during the EPCOT Festival of the Arts that involves…well…art!
Chalk Full of Character
As you make your way around World Showcase, you might recognize some familiar faces! Each year, Disney hides some underrated characters throughout the pavilions as part of the Chalk Full of Character walk, and it's back again.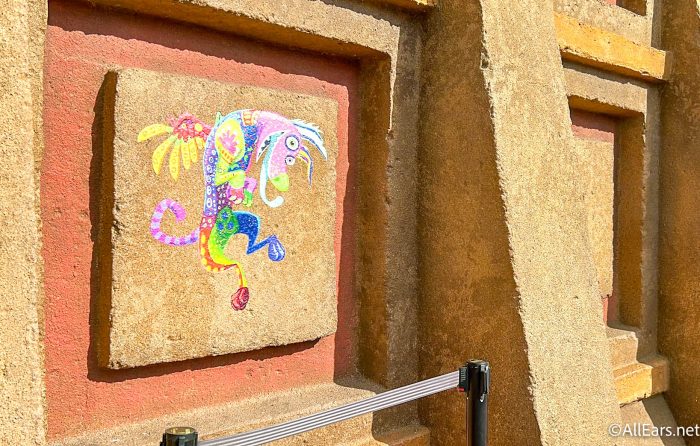 You never know exactly who you will find, but each pavilion has at least one hidden character.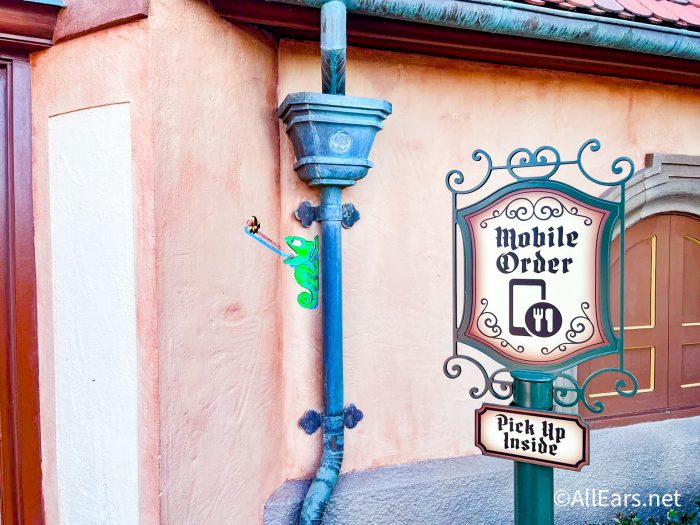 And, while there's no official Disney prize for finding them all, you can at least claim bragging rights among your family.
Figment's Brush with the Masters Scavenger Hunt
Also back for the festival this year is Figment's Brush with the Masters Scavenger Hunt! This activity takes you all the way around World Showcase on the hunt for Figment hidden in famous pieces of art.
You can pick up the scavenger hunt maps at Creations Shop, Port or Entry, or World Traveler for $9.99 and, once you've found them all, you can head to Disney Traders or World Traveler to pick up your prize.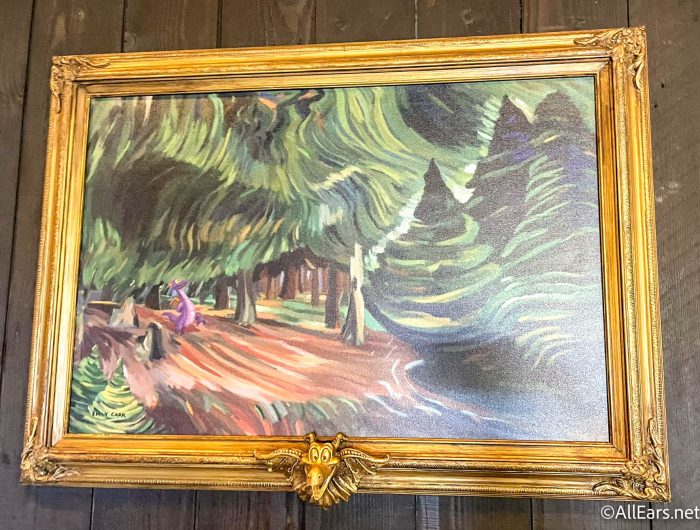 And, what exactly will you win this year? Well, you'll get to choose a Figment, Mickey, Minnie, or Daisy Paint Your Own Figurine!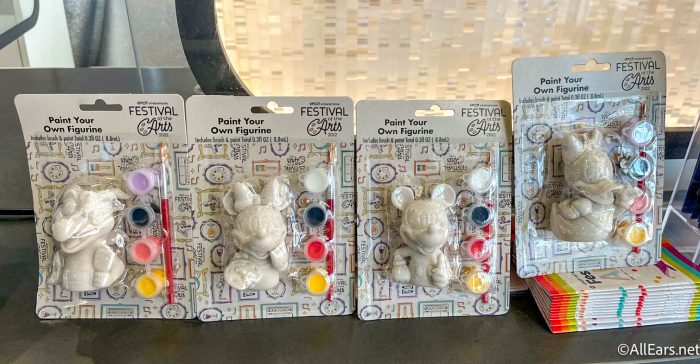 You get one prize per completed map but keep in mind that all of the characters may not be available at every location every day.
Paint By Numbers Wall
Another free activity is the Paint By Numbers Wall that can be found as you enter the park through World Nature. Here you'll pick up a paintbrush and paint and then find the number that corresponds with your color!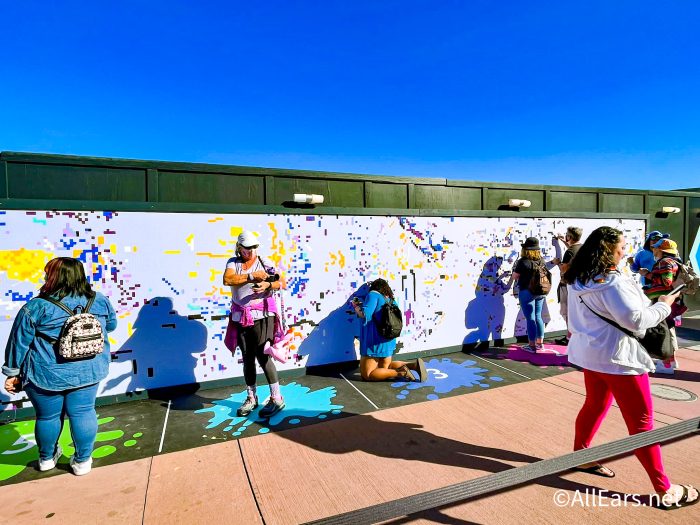 You can only paint a few squares, but eventually, all of the guests who pass through will have contributed to a HUGE masterpiece!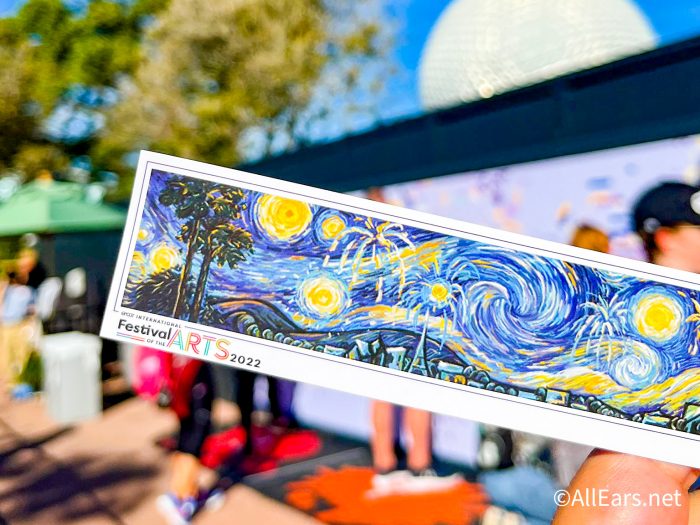 Chalk Art
The Festival of the Arts is also known for having some seriously awesome chalk art and it's back again!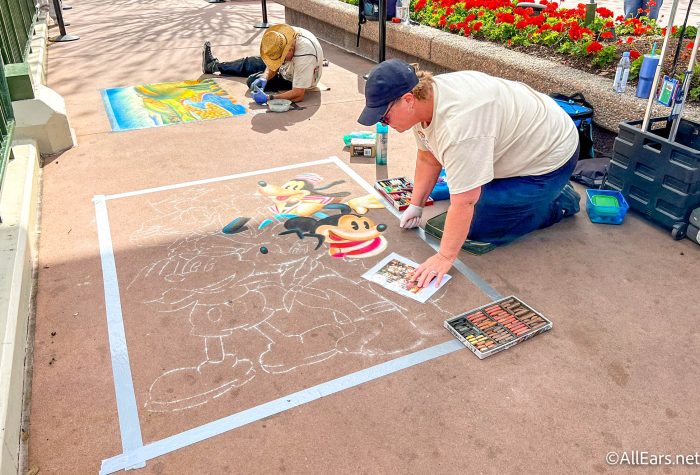 Depending on when you visit, you can watch artists bring small (and large) works of art to life on the sidewalk as you enter World Showcase through the center.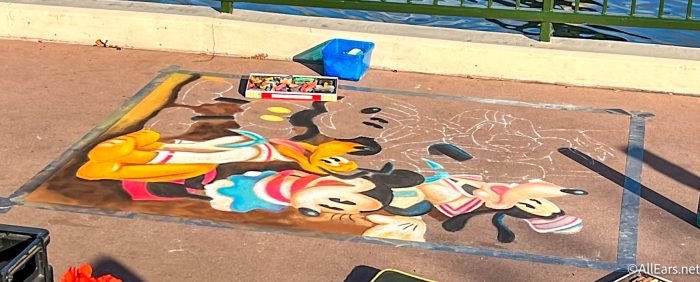 These wash away and then are replaced with something new throughout the festival, so you never know what you'll see!
Photo Ops
And, lastly, you'll want to be sure to stop at all the art-inspired photo ops around EPCOT this year where you get to become part of the picture yourself!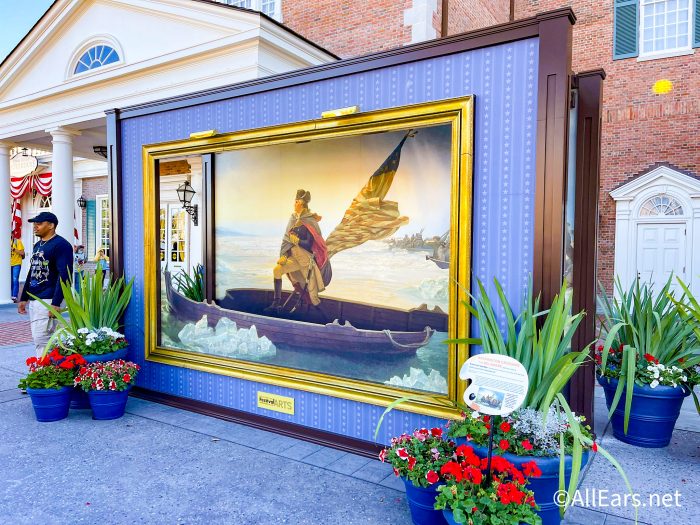 Entertainment
If you need a break from all the eating and drinking, you can also check out some of the Festival of the Arts entertainment! Throughout the day, the JAMMitors can be found in the World Celebration area at 10:20AM, 11:20AM, 12:20AM, 1:20PM, 3:20PM, and 4:20PM…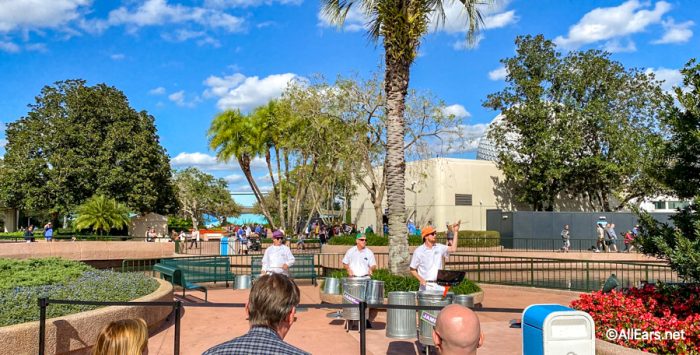 …and the Disney on Broadway Concert Series has returned this year featuring performances from a variety of different Disney Broadway artists. The concerts can be seen at the America Gardens Theatre on select nights at 5:30PM, 6:45PM, and 8PM.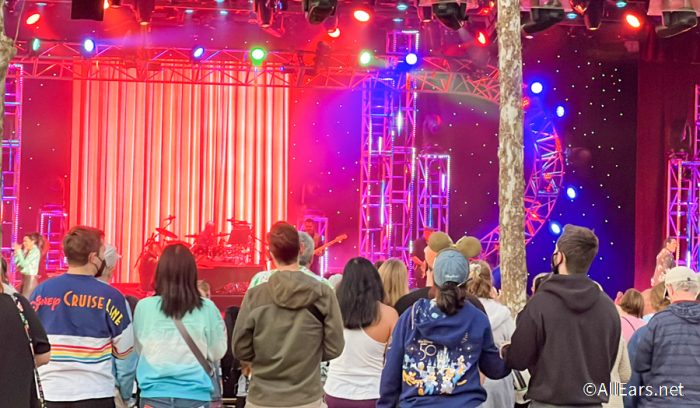 Dining packages are available for the concert series if you'd like guaranteed seating for the shows.
And, after a full day of festival-ing, be sure to look up at Spaceship Earth as it debuts a NEW Muppets-inspired makeover!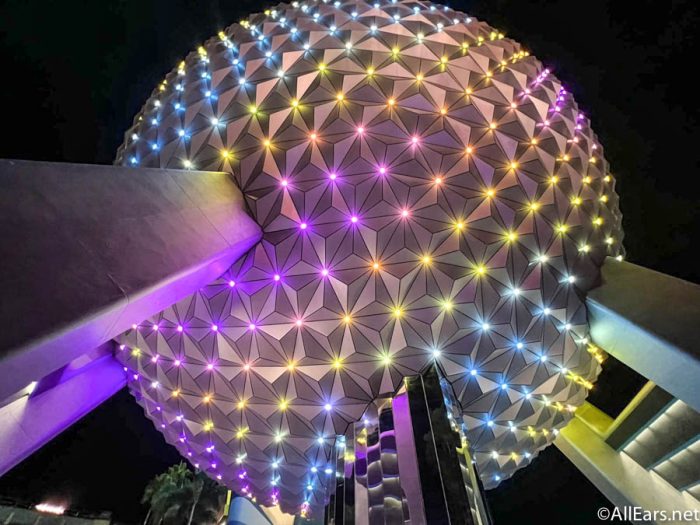 Well, there you have a look at EVERYTHING happening at this year's EPCOT Festival of the Arts! Be sure to stay tuned to AllEars for more Disney news and updates!
Are you planning on visiting EPCOT's Festival of the Arts this year? Let us know in the comments!
Join the AllEars.net Newsletter to stay on top of ALL the breaking Disney News! You'll also get access to AllEars tips, reviews, trivia, and MORE! Click here to Subscribe!