You might be thinking that kids get plenty of breaks from school that can be utilized for vacations, but what happens when your work schedule just doesn't line up with those dates? Do you cut your losses, or plead with the schools to let your little ones miss a few days?
Or if you have time to take off work that lines up with your kiddos' summertime or holiday breaks, do you grit your teeth and prepare for the higher crowd volume that inevitably accompanies school breaks in Disney World?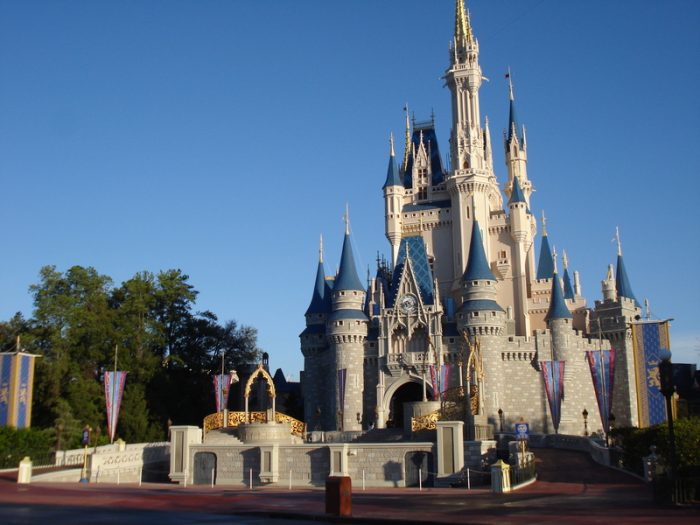 All Ears has looked in-depth at this quandary before: Should you take your kids out of school to go to Disney World? Be sure to take the time to read through several opinions and schools of thought on this important question here.
If you do make the call to take your kids out of school for a trip, you might be asked to provide information or assignments relating to what your child learns while in Walt Disney World. Your child's education is important, so administrators want to know that your vacation will add value to what they are already learning.
How can you fulfill content for every subject? That's easy! With our simple list of attractions, you should have no issues fulfilling the educational criteria for missing a few days of school with your kiddo.
Magic Kingdom
In Disney World's Magic Kingdom, it's not all about fairy tales and thrill rides. There's plenty of educational material if you know where to look and where to focus.
History/Geography
The Hall of Presidents: every president is featured in this classic attraction
"it's a small world": try to name every country you see portrayed and discuss some of the cultural dress and events portrayed
Pirates of the Caribbean: discuss what life might have been like from a pirate's perspective
Splash Mountain: for older kids, discuss the cultural and political history of Song of the South and the origins of the Br'er Rabbit folktale
Science and Technology
Walt Disney's Carousel of Progress: learn about how technology and modern conveniences changed throughout the years
Language Arts/Reading
Enchanted Tales with Belle: Go into Belle's library
The Many Adventures of Winnie the Pooh: pages from these classic stories surround you in the waiting area and come to life throughout the attraction. Read Winnie the Pooh stories together before your visit.
Swiss Family Treehouse: Teach your kiddos what you might remember about reading this classic
Almost every gift shop has a corresponding book for the attractions you visit, so pick one out to let the fun of learning at Disney go home with you
Math
Buzz Lightyear's Space Ranger Spin: count up points as you work on your angles while aiming
Music and Culture
Country Bear Jamboree: Learn about different instruments. Discuss the stereotypes presented in regard to the cultures they're depicting
Walt Disney's Enchanted Tiki Room: Discuss this attraction in regard to the Disney theme parks as a whole. What prompted Walt to create the theme parks when nothing like them had ever existed?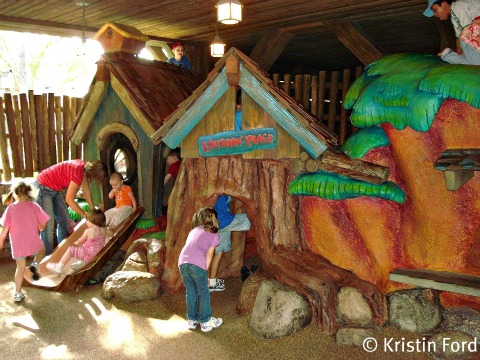 Physical Education
Casey Jr. Splash 'N' Soak Station: run around in the splash pad area to cool off
Dumbo the Flying Elephant: work out in the play area featured in the line
Splash Mountain (Laughing Place Playground): around the corner from this attraction is a small play structure
Art
You'll see artwork everywhere you turn, so let your kids point out banners, framed artwork, and print media along with the actual artwork of the scenery
Look at concept art for the attractions before your trip, and discuss how the attractions were changed or updated in comparison.
Epcot
Epcot doesn't have an educational rep for nothin'. This place is chock full of opportunities for learning.
History/Geography
Kidcot Fun Stops: interact with people from other countries and ask them how to write your name in their language! For older kids, bring at least one question to ask the cultural representatives from each country.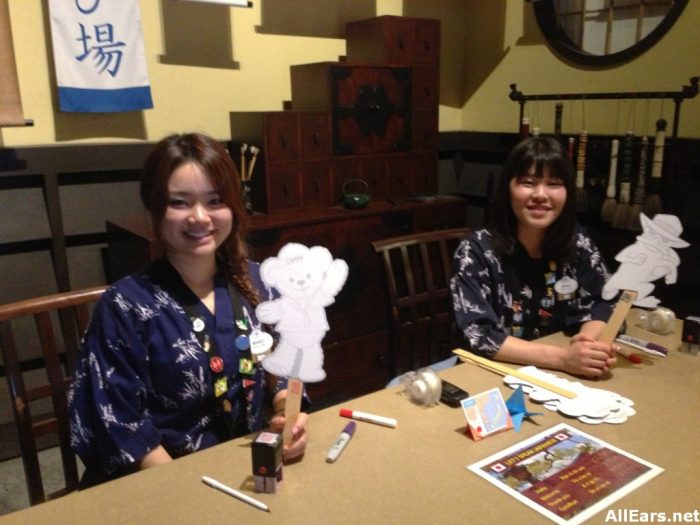 The American Adventure: American's history retold with stunning videos and animatronics
Gran Fiesta Tour Starring the Three Caballeros: see some of Mexico's stunning artwork, cultural events, and landmarks
Impressions de France: learn about French culture and popular places
O Canada!: check out all the things this country has to offer
Reflections of China: breathtaking imagery of the countryside and more. Learn about the terra cotta soldiers before your trip, and look at the replica in-depth when you're in the pavilion.
Soarin' Around the World: take flight on your own tour of the globe
Morocco Pavilion and American Adventure: visit the small galleries in these two pavilions and discuss the current exhibits.
Science
Advance Training Lab: interactive challenges test out your technological skills
ImageWorks – The "What If" Labs: interactive experiences to learn about the senses
Innoventions: Take part in the educational exhibits offered during your visit.
Journey Into Imagination With Figment: a fun way to experience all five senses
Living with the Land: everything you need to know about agriculture
Mission: SPACE: see what it's like to be an astronaut
Project Tomorrow: another interactive scientific attraction
The Seas with Nemo and Friends: marine biology
Language Arts/Reading
Spaceship Earth: history of writing, communication, the printing press, and more. For older kids, discuss how communication needs have changed and remained the same over the years.
Math
Find examples of geometry and shape in the different architecture around you
Music
The World Showcase: Visit each country to hear different traditional music styles
Physical Education
The Seas with Nemo and Friends: indoor playground area to burn off some steam
Art and Architecture
Bijutsu-kan Gallery: check out some modern artwork from Japan
Disney & Pixar Short Film Festival
Gallery of Arts and History
Mexico Folk Art Gallery
Stave Church Gallery
Morocco Pavilion: this pavilion was constructed by artisans commissioned by the King of Morocco. Research Moroccan architecture and design elements before your trip, and find real-life examples while you're walking around the pavilion.
Hollywood Studios
Explore one of the best presentations of the golden age of Hollywood in the world.
History/Geography
One Man's Dream: visit this museum-like attraction to learn about the history of Mr. Walt Disney himself
Science
It might be considered more science fiction, but any Star Wars attraction could creatively fill the need for this subject
Language Arts/Reading
Discuss the history of Hollywood and film before your trip. When you arrive, look for hidden easter eggs referencing classic films.
Math
Toy Story Mania!: count up your points and work on your angles while aiming
Music
Rock n Roller Coaster: a good opportunity to discuss popular music and the music industry.
Watch some of the amazing shows here to experience some live singing
Physical Education
Take a march behind the Storm Troopers (for as far as they'll let you go)
Art
Muppet*Vision 3D: see the difference when you put on your glasses
Visit One Man's Dream to see some vintage artwork and concept plans
Animal Kingdom
This park may rival Epcot for educational opportunities!
History/Geography
DINOSAUR: find out more about the different prehistoric ages and the creatures that lived there
Expedition Everest: Discuss the history of climbing Mt. Everest, the preparation needed for such a task, and cultures surrounding this location. There could be a good opportunity to discuss the Chinese-Tibetan political situation.
Science
Animals are everywhere you turn, and you can learn something about each one
The Boneyard: get to digging, and maybe you can find some fossils
Rafiki's Planet Watch: While this attraction will be closed for a few months, it will surely re-open with the existing focus on conservation and offer learning opportunities along these lines.
Kilimanjaro Safaris: see some beautiful African animals up close
Na'vi River Journey: talk to your little ones about bioluminescence
Language Arts/Reading
There are signs marking each exhibit to tell you about the animals you can see there
Music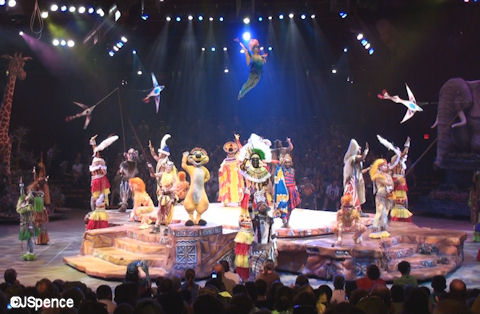 There are some great examples of cultural music throughout the entire park to experience and even live street performances
Festival of the Lion King: live stage show
Finding Nemo – The Musical: live stage show
Physical Education
Take a walk along any of the trails throughout the park
Festival of the Lion King: so your kiddos won't break up a sweat from their seats, but you can watch performers doing acrobatic and aerial tricks
Art
As with all Disney World parks, there is artwork all around you
Talk to your kiddos about the colors you see in nature
Every school is different, so check with the administrators to see what your process will be. Make sure your teachers know what days your child will be absent in advance, so they can prepare the assignments for your child to complete. Some request a note detailing the educational value of your trip. Some might even ask for your child to complete a presentation when they get back. 
Let us know your ideas! What are some educational opportunities you've experienced in Walt Disney World with your children?