As my children — ages 13 and 15 as of later this week — have gotten older, they have come to look forward to the annual Epcot International Food & Wine Festival almost as much as my husband and I do. So, as local Walt Disney World passholders, we plan several visits to the festival each fall.
This year, we have been to Epcot twice specifically to make our way around World Showcase for dinner. Once was during opening weekend (so crowded!), and the second was days after Hurricane Irma passed through Central Florida (very uncrowded!). Each time, we knew we only had a few hours and we knew we would not be able to try everything, so we didn't attempt a strategy. We didn't study the menus, and I had not been to any media previews this year so I did not have any insider insight. Instead, we did what many festival-goers do: We followed our stomachs from marketplace to marketplace.
To begin our adventure, we purchased festival gift cards with wristbands at one of the festival kiosks. The gift cards also are available in the Festival Center in Future World. You cannot purchase the cards in World Showcase, but you can reload money onto them at any festival marketplace. Over the years, we have found these cards to be really useful for this event; it's so much easier to swipe and eat than to have to dig out cash or credit cards at each marketplace.
Plus, we allow the kids to wear the gift cards and pay for the food our family is sharing, which they like to do. We usually only add $50 at a time on each gift card to limit losses if a child misplaces the gift card. But Disney World has a system in place to help you recover lost gift cards, as well, so be sure to ask when you purchase yours. Also, know that if you have money left on your gift cards when you are finished eating and drinking, it can be used anywhere gift cards are accepted on Disney properties, and the cards do not expire.
We also grabbed a few of the complimentary Epcot International Food & Wine Festival passports. These pocket-size booklets have the menus for each marketplace, plus stickers for guests to keep track of when they have visited each country. Kids and adults alike seem to enjoy this do-it-yourself souvenir.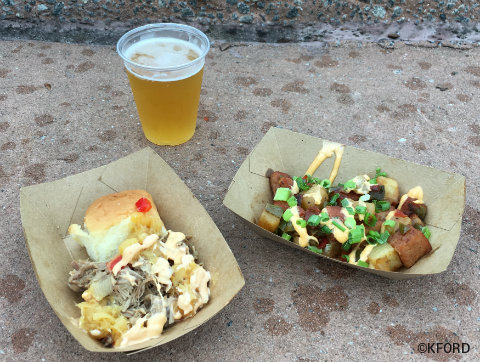 Gift cards on our wrists, we walked a few yards ahead to the Hawaii marketplace, the first on the right of the central walkway to the promenade. There, we each had what has become an annual favorite: The Kalua Pork Slider with Sweet and Sour Dole Pineapple Chutney and Spicy Mayonnaise.
Tip: Picky eaters and those with food restrictions should not be afraid to ask if a dish can be altered to suit their needs. I had the Kalua Pork Slider as is, but my son asked for the meat "naked," and my daughter asked for the mayo on the meat and the chutney on the side. Cast members were happy to oblige. Usually, you will pay at the register and then ask the cast member who is serving the food if your request can be accommodated.
While we were there, my husband tried the Teriyaki-glazed Spam Hash with potatoes, peppers, onions and Spicy Mayonnaise and the Maui Brewing Company Bikini Blonde Lager. He loved the Spam Hash — saying it was one of the more filling appetizers offered at the festival — and also praised the Bikini Blonde Lager, which he said was light enough not to overpower the taste of the food selections.
Next, my son, who swims competitively and is always hungry, ran to two nearby booths to get favorites from last year: a Beef Empanada from the Patagonia marketplace and the Jamaican Beef Patty from the Islands of the Caribbean marketplace. I'm not sure how much he tasted based on how quickly they disappeared into his stomach, but he proclaimed them "great, like last year!"
Tip: If you are looking for foods that children are likely to enjoy, kid-friendly items are marked with a symbol in the festival passport. The Beef Empanada and the Jamaican Beef Patty are both examples.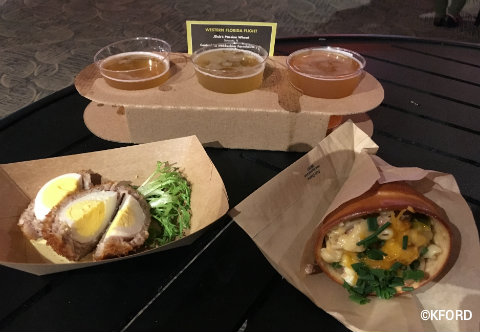 Then, it started to rain, so we decided it would be the perfect time to try the new offerings at the Epcot Legacy Showplace and Craft Beers marketplaces housed inside the Odyssey Center while taking shelter. We all shared the Chilled Scotch Egg wrapped in Sausage with Mustard Sauce and the Zesty Cheeseburger and Cheddar Cheese Macaroni Handwich. My daughter, who is an adventurous eater, said she liked the egg dish, but it just wasn't one that she would return to for seconds. All of us agreed that the Handwich was pretty bland. My husband compared it to a "plain Hamburger Helper" dish.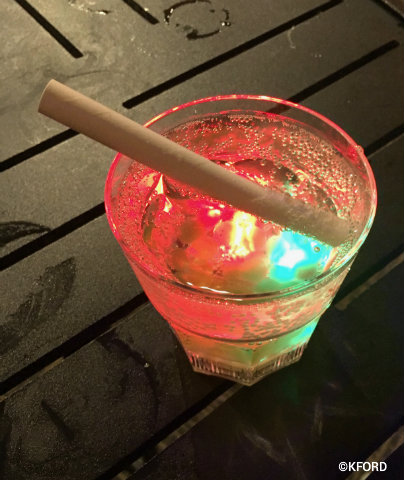 My daughter did enjoy the Bright Horizons non-alcoholic drink, which was Sprite mixed with Multi-flavored Boba Pearls in a glass that lighted up different colors. My husband tried the Western Florida Beer Flight, which included JDub's Passion Wheat from Sarasota, Central 28 Trekkerbier Farmhouse Ale from DeBary and Cigar City Guayabera Citra Pale Ale from Tampa. The beer varieties weren't ones he'd typically pick out, he said, but he enjoyed them nonetheless. And although my husband said he likes almost anything from Tampa's Cigar City Brewery, he was most impressed with JDub's Passion Wheat sample.
Tip: If you're not sampling the specialty drinks or alcohol, bottles of water are available at all of the marketplaces. If you prefer a fountain drink, don't pass by the Refreshment Cool Post or the Refreshment Port, which are on opposite sides of the promenade. They, too, will give guests complimentary cups of ice water. We often bring our filtered water bottles and fill them with these cups of water at each side of World Showcase to supplement the other drinks we are buying.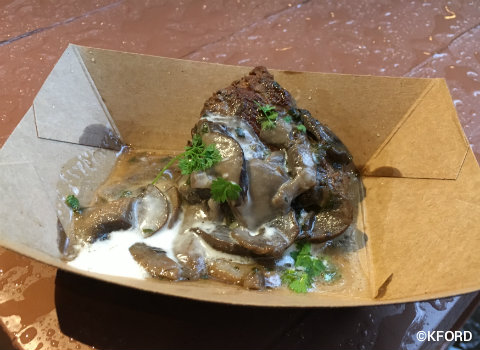 We couldn't wait for the rain to pass, so we braved a quick walk over to the Canada marketplace, where my daughter sampled everyone's favorite Le Cellier Wild Mushroom Beef Filet Mignon with Truffle-Butter Sauce.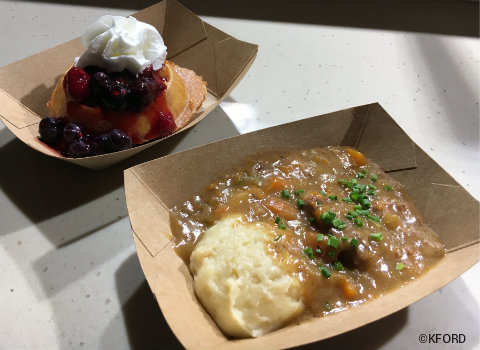 Another must-do for our family is the Belgium marketplace, where you can get Belgian waffles, of course. They are served with either berry compote or warm chocolate ganache and whipped cream. Both versions are equally delightful, though younger kids may opt for the chocolate topping over the berries. While there, we also shared the Beer-Braised Beef with Smoked Gouda Mashed Potatoes. It was perfectly acceptable, but we decided we prefer a similar dish at the France marketplace.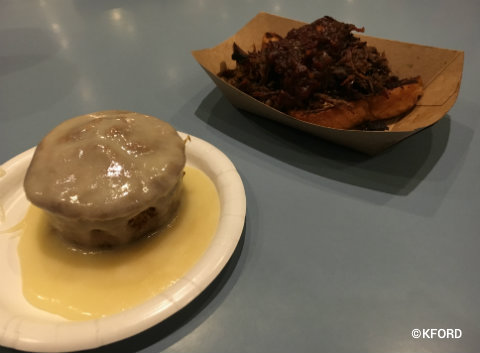 Next stop: The Hops & Barley marketplace at the American Adventure. The guys revisted another favorite, the Smoked Beef Brisket and Pimento Cheese served on Griddled Garlic Toast, while my daughter and I shared the Freshly Baked Carrot Cake and Cream Cheese Icing. I normally do not like carrot cake, but this one I look forward to each year.
In Germany, my husband wanted to have a Roast Bratwurst in a Pretzel Roll and the Brewer's Collection beer flight of Radeberger Zwickel Pilsner (infiltered), Hacker-Pschorr Hefe Weisse Naturtrub and Schofferhofer Hefeweizen Pomegranate Beer. He enjoyed the entire trio, but the Hefeweizen Pomegranate was his favorite.
At that point, it was time to head out because none of us could eat another bite.
On my second visit to the Food & Wine Festival with just the kids, we again sampled a combination of favorites and new dishes.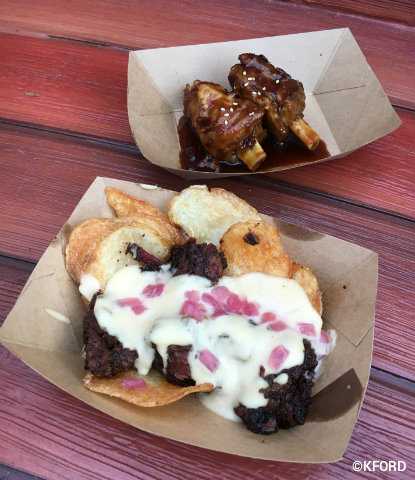 We started at the new Flavors from Fire marketplace. My daughter was interested in the Piggy Wings, Roasted Pork Wings with Korean BBQ Sauce and Sesame Seeds, and my son wanted to try the Smoked Corned Beef with Warm Crsipy Potatoes, Pickled Onions and Blonde Ale Beer Fondue featuring BelGioioso Romano and American Grana Cheese. Neither made our favorites list, unfortunately.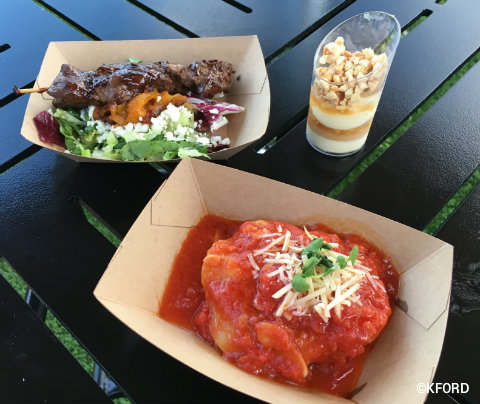 Nearby is the Earth Eats marketplace, inspired by The Chew. There, we decided to sample and share all three dishes being served: Ricotta and Zucchini Ravioli with Rustic Tomato Sauce; Grilled Beef Skewer with Romaine, Apricots and Feta Cheese; and Peanut Butter and White Chocolate Mousse with a Caramel Drizzle. My pasta-loving son was disappointed with the heavy vegetable taste in the ravioli dish. It was not something he could overlook, but other palates may find the zucchini taste suits them. My daughter declared the Grilled Beef Skewer one she definitely would revisit. We all liked the Peanut Butter and White Chocolate Mousse, too, which had a very smooth blending of flavors.
Even after two visits, my family and I have not sampled all the new foods at this year's Epcot International Food & Wine Festival. We'll be heading back again, I'm sure, before the last day on Nov. 13.
You can see complete menus (and pricing) for the Global Marketplaces on the AllEars.Net resource page.
Disney's Official Theme Park products are now available anytime at shopDisney! Shop ear hats, collectibles and toys today.