Disney Cruise Line passengers sailing to the Bahamas and the Caribbean have a new option when it comes to their ports of call excursions.
At Castaway Cay, Disney Cruise Line's private island, guests can choose from experiences that allow them to feed stingrays, cruise in a glass-bottom boat and parasail. Now, the cruise line says passengers can "dive like a dolphin or soar above the crystal-clear waters like an eagle." It's the new Jetovator Solo Rider. If you're like me, that sounds like something from a Star Wars movie. In reality, it's the new water adventure in which the guest is propelled into the air on a small water bike that is hooked to a Jet Ski through a large hose.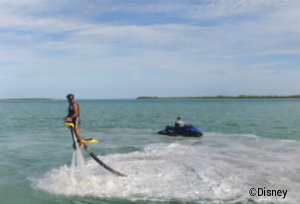 According to the manufacturer website, "the Jetovator redirects the water thrust from the jet unit of the Jet Ski along a sixty foot hose to the Jetovator Bike. This water thrust is then used to propel and elevate the Jetovator into the air."
Just how high can you go? The setup allows up to 40 feet in the air but the Jetovator operator is in control of the height. So, you could choose to hover just two feet above the water if that is where you are most comfortable.
The Jetovator Solo Rider excursion at Castaway Cay is for ages 16 and older, and it costs $149. Guests start this port adventure at Boat Beach with a 15-minute safety briefing and a hands-on tutorial on how to operator the Jetovator. Next, they take a five-minute ride on a jet boat that travels to open waters where they meet their instructor and the Jetovator. They have 15 minutes to find their balance and pilot their Jetovator before heading back to shore.
Know before you go:
** Guests must be ambulatory. Wheelchairs (collapsible or electric) will not be permitted. Tour operators will deny participation to guests arriving in wheelchairs or electric scooters.
** The minimum allowable weight is 90 lbs and the maximum allowable weight is 300 lbs.
** Expectant mothers and guests with a history of back and/or neck problems are not allowed to participate on this excursion.
** Guests are required to be in good physical condition.
** The tour is not recommended for guests with limited mobility.
** All times and distances are approximate.
** Guests are asked to check in at Boat Beach five minutes prior to their start time.
This port excursion, like others, can be reserved through the Disney Cruise Line website when your booking window opens or at the Port Adventures desk on the ship.