Have you ever dreamed of staying in Cinderella Castle at the Magic Kingdom? That's a bucket list item for many Disney fans.
Unfortunately, you cannot purchase a stay in the Cinderella Castle Suite. You have to be a celebrity or VIP who is granted the privilege or a contest winner. The suite was highly publicized in 2006 when those special stays were given away every night during Walt Disney World's The Year of a Million Dreams promotion. They have been more elusive in recent years.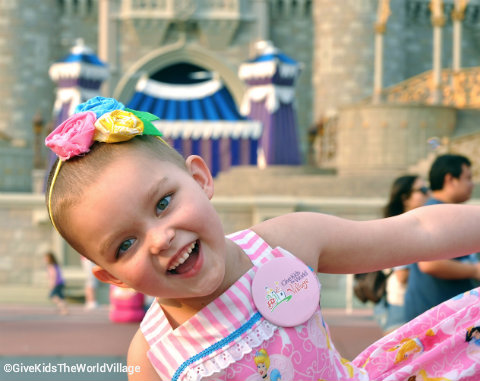 However, the chance to stay in the Cinderella Castle Suite is becoming available again, and it's one that anyone has a shot to win if they choose to participate. Through Oct. 13, those who donate to Give Kids the World Village will earn entries in the sweepstakes. The more you donate, the larger the number of entries you receive. The minimum donation is $10, which earns 100 contest entries. The website notes that donating $25 in exchange for 250 entries is the most popular option. Click here to donate.
The sweepstakes is offering a "wish come true" night in the Cinderella Castle Suite; two-day Disney Park passes for each guest; a fairy tale breakfast at Cinderella's Royal table; and airfare to and from Orlando.
Give Kids The World Village describes the experience this way: "After other visitors have left the park, you and five guests will stay in the majestic Cinderella Castle Suite, surrounded by the beauty and elegance of a 17th century castle, but with all the comforts and conveniences of a 21st century grand hotel. Four stories above the Magic Kingdom, the suite features a cut-stone floor, mosaic art, rich hardwood paneling and stunning stained-glass windows. The private, marble-floored foyer includes an inlay of Cinderella's famous pumpkin coach and a special niche holds her custom-crafted Steuben glass slipper. Your stay includes breakfast at Cinderella's Royal Table, where you'll enjoy a wonderful meal in an enchanting setting. If you're a Disney fan, this is your chance to become part of the fairy tale."
Contestants are giving something even better than they are receiving: The ability to help Give Kids The World Village. Located near Orlando, Give Kids the World Village is a nonprofit organization that exists solely to fulfill the wishes of critically ill children and their families. Since 1986, more than 156,000 children from across the world have spent a week at Give Kids The World's magical, storybook resort, while enjoying cost-free visits to Central Florida's world-famous theme parks and attractions, including Walt Disney World Resort. The Village provides everything visiting families need — from meals, to transportation, to nightly parties — so for one amazing week, its guests can set aside hospital visits and medical procedures and focus, instead, on having fun and being together.
Suite Dreams, everyone!