If you're missing your last trip to Walt Disney World or Disneyland, Disney Store locations soon will be providing a taste of "home," as frequent theme-park visitors like refer to the theme parks.
This week, The Walt Disney Company has announced further plans for the rollout of its new Disney Store prototype, and they include live-streaming afternoon parades from Orlando or California on new movie-theater-size screens in the stores. Mats will be brought out to encourage shoppers to stay for the viewing. And, get this, store employees will mimic the theme-park experience with a rolling cart that has typical souvenirs for sale, such as cotton candy and light-up Mickey Mouse-ear hats. Every store in the 340-store chain also will have a digital fireworks display each night before closing time.
Along with the added theme-park experiences, the re-imagined Disney Store locations will have a new focus on appealing to fans of all ages and not the kid-centric emphasis of the past. Co-branded products will be featured from brands such as Coach, Le Creuset, Spyder, Steiff and rag & bone. New and exclusive capsule collections from fashion-forward brands will be introduced regularly on the site's shop-in-shop "The IT List," launching with denim from SIWY featuring Mickey and Minnie Mouse and Disney Princess and Villain nail wraps from NCLA.
The look of the prototype stores is light and contemporary, designed to better showcase products from the different worlds of Disney, Pixar, Star Wars and Marvel as new content comes to market.
There are a handful of the prototype stores open now in Century City and Northridge, Calif.; Nagoya, Japan; and Shanghai, China. Company spokesmen said the new design and will be rolled out slowly with a new prototype store opening today in Miami and one in Munich, Germany, later this year.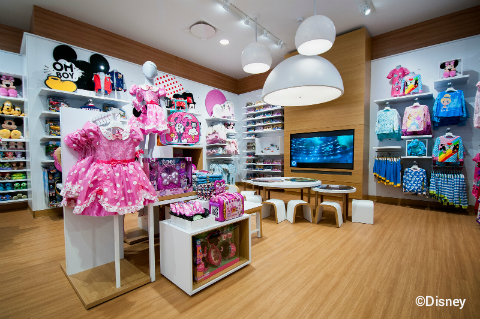 Would these additions get you to spend time in a physical store rather than shopping online?
Whatever your shopping preference, The Walt Disney Company has it covered. It also is overhauling Disney Stores' online counterpart; DisneyStore.com was converted to ShopDisney.com this week. (The name is more in line with the Shop Disney Parks app.) The merchandise on the website has already expanded and features collaborations with Coach, Nixon, Lego and Ethan Allen. Plus, fans will find twice the amount of authentic Disney Parks merchandise and 'Create Your Own' customizable products as previously available.
"No one creates experiences like Disney and our pilot stores will be testing grounds for interactive features that will differentiate the Disney shopping experience in the changing retail landscape," said Jimmy Pitaro, Chairman of Disney Consumer Products and Interactive, in a press release. "Online, shopDisney is the ultimate destination for the most extensive collection of curated merchandise from our stores, parks, and licensed partners. This combination creates a powerful omnichannel experience that represents the next generation of Disney retail."