How many photos do you have of Spaceship Earth's exterior? A lot, right? The geodesic sphere, lovingly referred to as the giant ball by newbies, is an intriguing piece of architecture. As the central focal point of Epcot, it's easily recognizable and as such can be found on t-shirts, pins, and mugs. As a matter of fact, there's even a Spaceship Earth play set!
Whether you take your photo from the turnstiles, underneath, or World Showcase, there's no bad angle. I took this action shot from the monorail.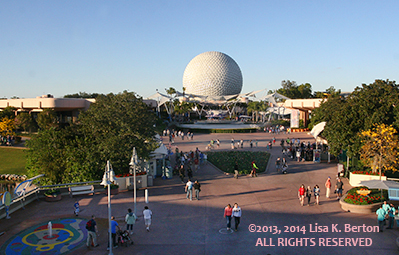 Canon EOS 30D with Canon EF 17-40mm f/4L USM, shutter priority 1/500, f8, ISO 640.
Slowly return on Thursday for Scott's image.
Come on over and "Like" my Facebook page or follow me on Twitter, my handle is lisano1.