DISCLOSURE: This post may contain affiliate links, which means when you click a link and make a purchase, we receive a commission.
The 2022 Holiday Outing for Dapper Day is here! This weekend, hoards of well-dressed visitors will descend on Disney World like a flock of fancy flamingos in bow ties and poodle skirts.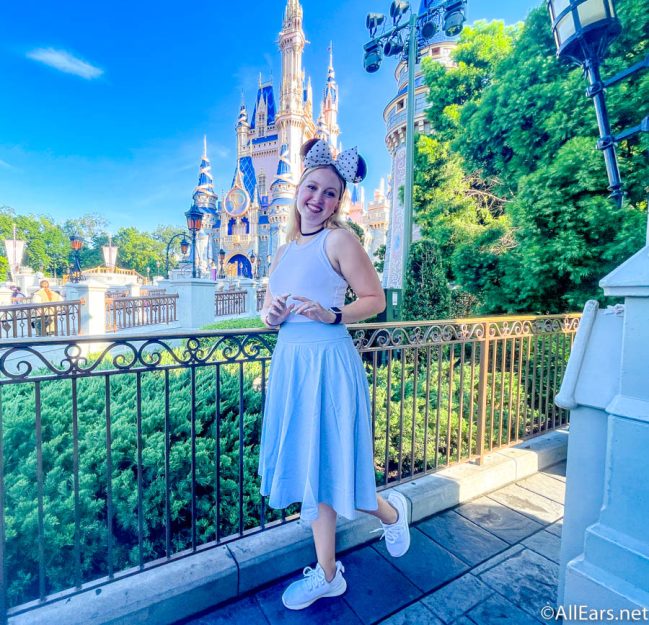 Still trying to throw something together for this weekend? Even if you're not attending, after seeing the pictures you just might be inspired to attend their next meet-up! Whether you're a Dapper Day expert or it's your first time attending, a little more wardrobe inspiration never hurt, right?!
Some guests like to just don their favorite vintage ensemble, but many like to take their cue from a Disney character when putting together their outfits. Here we're showing you how you can channel your favorite Disney character while having fun dressing up in some retro styles!
And we're using AllEars Style to help!
What's AllEars Style? It's an AllEars website where you can search for all kinds of outfit ideas. From Mickey to Fantasmic!, we've got looks inspired by all kinds of characters, rides, parks, movies, and more. Each look comes with links to all of the necessary items, so you can easily put it together!
So now let's look at some AllEars Style looks that would be perfect for Dapper Day (or, really, any day you want to put together a fun Disney look!).
For an Aurora-inspired look, why not base it off of the dress she wore when she was still Briar Rose? The key to this outfit is following the colors and mimicking certain aspects of her original look. This outfit gives us vintage/retro vibes with the peter pan collar on the blouse, heeled oxfords, and headband.
The slacks, blouse, and corset match Aurora's outfit in terms of color and feel. We love the dainty hem details on the collar of the top. Plus, the black corset is a great investment if you're planning on dressing up as other Disney characters in the future because you can reuse this for other looks! To add a bit of sass throw on a pair of cat-eye sunglasses, and finish off with your favorite Sleeping Beauty bag!
Mulan would of course opt for some comfortable pants as opposed to a skirt. Her Bring Honor to Us All outfit is iconic, so we had to pull colors from that! These beautiful trousers give us retro vibes, and we added a pale pink blouse to copy Mulan's.
The dark blue belt reminds us of the layered fabrics wrapped around her bodice. Add some fancy shoes like these saddle-style heels, and then accessorize your updo with cherry blossom pins. A French twist could be the perfect hairstyle!
This lovable Wilderness Explorer is our next source of inspiration! We love Russell's warm color palette, and this would be a great choice for a summer or fall Dapper Day event. Here we swapped his shorts for a matching brown skirt, in a circle cut that will flow when you walk.
Add a yellow collared blouse and orange neckerchief to finish off the outfit. For shoes, we wanted to do something a little more fun, so we picked out these brown and white saddle shoes! A pair of lacy Bobby socks stick with the vintage theme. Finally, we added this official Wilderness Explorer bag. If you really want to go for it, you can create a sash and add your own badges!
Minnie is a quintessential choice for Dapper Day. Her simple outfit and striking colors are super recognizable! You can get a more unique look by mixing and matching where you place each color, or you could stick to replicating her outfit, just like we did here!
Of course, we had to start with the base: her dress! This red dress with white polka dots is sooo 1950s. Add a petticoat underneath to get that perfect poofy look! We added yellow flats to match her shoes, but these have additional bows that are just precious. A pair of dainty gloves are the perfect accessory, and don't forget your purse!
We love the idea of opting for an outfit based on a character that is the complete antithesis to vintage fashion. Buzz Lightyear is probably the best example! This ranger is all decked out in his futuristic spacesuit, which might seem impossible to translate for Dapper Day. But with a bit of creativity, you can do anything!
We started off with a white fit and flare dress (so make sure you don't eat anything too messy!). The accessories are based on Buzz's colors. A thick green belt cinches the waist, while red earrings mimic the buttons on his control panel. We pulled in the purple with the scarf and wedge shoes. Finally, we added a Buzz Lightyear bag so no one will question who you were inspired by.
Dapper Day events can be really special at the parks as those who share a love of fashion and Disney can come together. We hope you can find inspiration from these looks!
Join the AllEars.net Newsletter to stay on top of ALL the breaking Disney News! You'll also get access to AllEars tips, reviews, trivia, and MORE! Click here to Subscribe!

What's your dream Dapper Day outfit? Let us know in the comments!