Are you going to Disney World soon? Then you'll need to be up to date on all the latest news!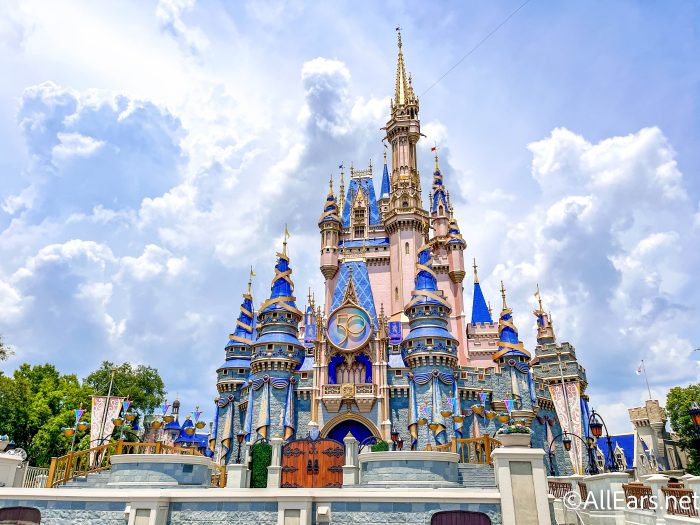 The EPCOT Food & Wine Festival is currently running, and there are extra treats around the parks for Hispanic and Latin American Heritage Month. Hurricane Ian recently passed through, but the Disney World parks and hotels have reopened and are now operating like normal. What other updates could you need before your trip? How about a full list of what's going to be CLOSED in the parks? Check out the temporary closures in Disney World from October 2nd through the 8th.
Magic Kingdom Closures
The poor Walt Disney World Railroad is STILL closed in Disney World. Disney hasn't yet announced when it could reopen.
It's possible that this attraction will remain closed until construction is finished on the TRON: Lightcycle Run roller coaster. That project has interrupted the train tracks in Tomorrowland, preventing the train from running its usual route. The TRON coaster is expected to open in the spring of 2023.
Tomorrowland Light & Power Co.
Space Mountain's gift shop — Tomorrowland Light & Power Co. — is also closed in Magic Kingdom. Guests are being directed to exit the coaster a different way rather than walking through this shop.
Disney hasn't said when this shop will reopen.
Enchanted Tales with Belle is a character meet-and-greet mixed with an attraction in Fantasyland. It's where you could previously interact with Belle to help her tell the story of Beauty and the Beast.
Although you can sometimes still find Belle at this spot, the full attraction has not returned yet. Disney hasn't given any update on its reopening.
Pete's Silly Sideshow is another character spot that's still closed. Daisy, Minnie, Goofy, and Donald used to greet guests at this location.
This spot is supposed to reopen "in the coming month," so we're watching carefully to see when it returns.
Meet Ariel at Her Grotto
Another character spot that's still closed is Ariel's Grotto. You can't meet the Little Mermaid here, but you can still visit the nearby Under the Sea — Journey of the Little Mermaid attraction.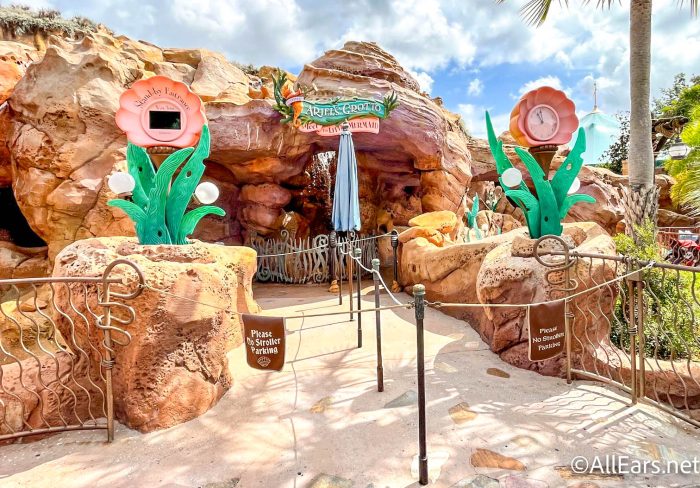 Disney hasn't said when Ariel's Grotto will reopen.
Disney's Hollywood Studios Closures
Fantasmic! is going to reopen sometime in 2022, but Disney hasn't given a specific return date yet.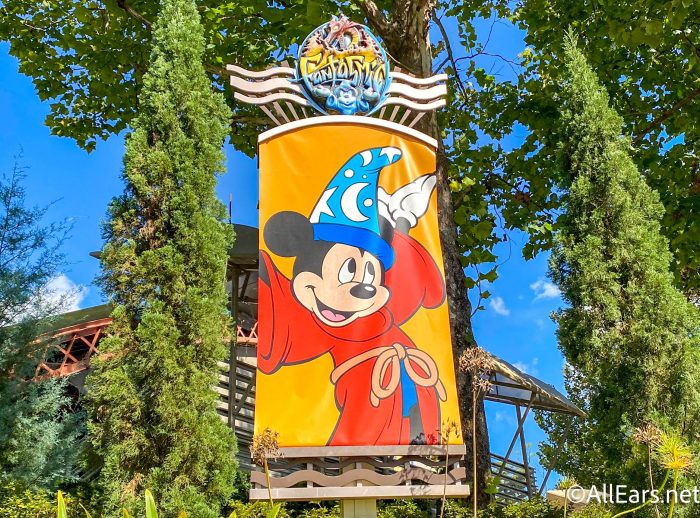 They have revealed that Cast Member rehearsals have started for this show, so we're hoping that means it will return soon!
Another stage show in this park — Voyage of the Little Mermaid — is also closed.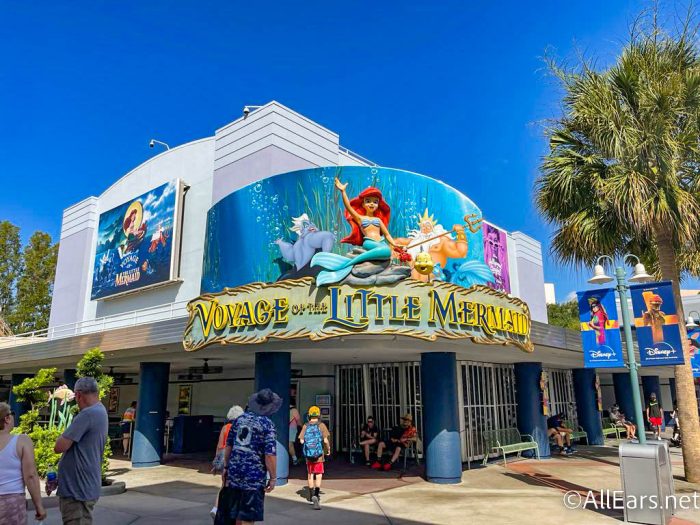 This one, however, doesn't have a reopening date yet. Disney hasn't yet confirmed that it will return.
EPCOT Closures
Canada Far & Wide in CircleVision 360
This panoramic film about the natural beauty of Canada has been replaced with…an apple crumble tart?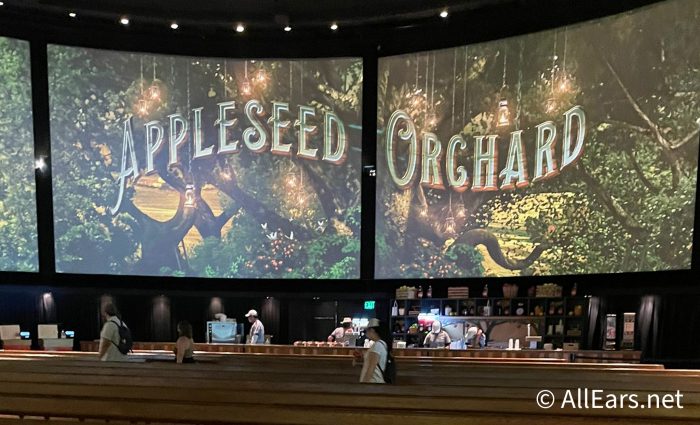 Currently, the theater is being used to house the Appleseed Orchard booth for the EPCOT Food & Wine Festival. We're expecting the film attraction to return after the festival ends on November 19th.
The American Adventure Pavilion
The American Adventure Pavilion show is currently closed in EPCOT's World Showcase.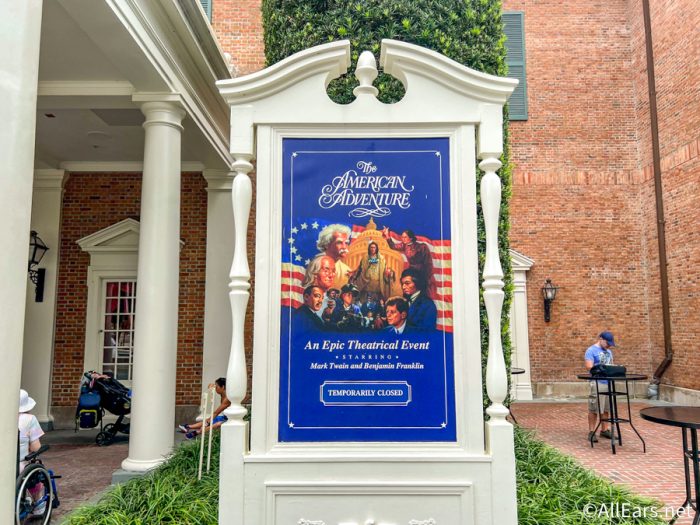 Disney hasn't announced when the show will reopen, but we'll be watching for more updates.
Disney Water Park Refurbishments
While Disney's Typhoon Lagoon water park remains open, Blizzard Beach is still closed.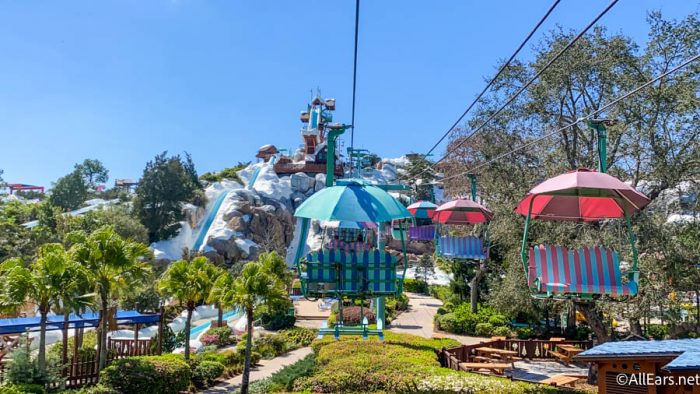 Disney hasn't announced yet when Blizzard Beach will reopen.
Those are all of the closures for Disney World this week! But before you head out the door — do you need a new outfit for your next trip? Check out this ensemble that's PERFECT for a day at Magic Kingdom.
Stay tuned to AllEars for more of the latest news from Disney World.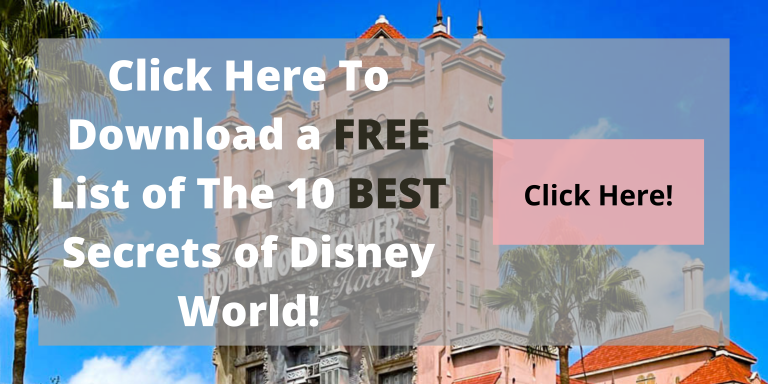 Are you visiting Disney World this fall? Let us know in the comments!