Did you know that in addition to its four theme parks, Disney also has two water parks?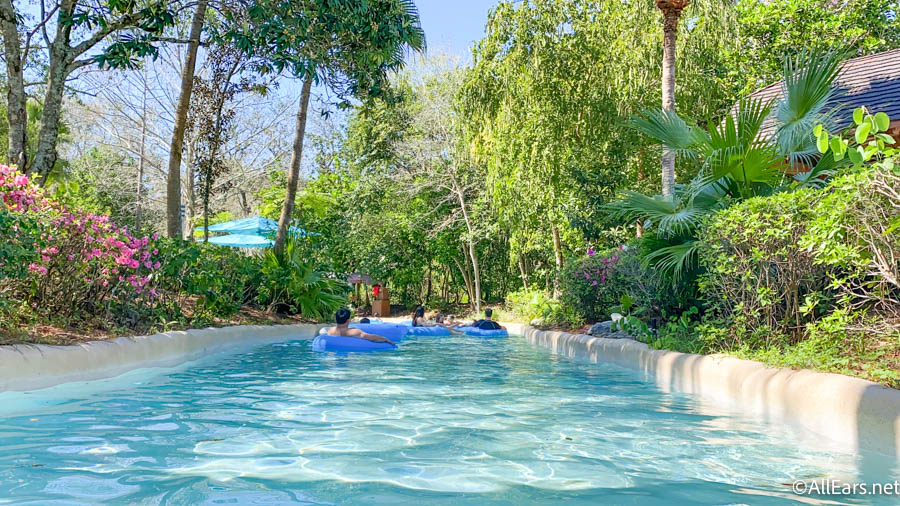 Typhoon Lagoon and Blizzard Beach are Disney's 2 water parks, and each offers lots of slides, pools, and unique theming. Blizzard Beach reopened in 2021 as part of Disney World's phased reopening, but Typhoon Lagoon remained closed at that time. In January of this year, Typhoon Lagoon finally reopened, just in time for Blizzard Beach to close. That was months ago and since then, we've gotten no word on when the water park would once again be open for business. This begs the question: what's going on with Blizzard Beach? We're here to answer that.
First, we want to point out that it's not uncommon for the water parks to close seasonally. We often see them close during the winter months (because who really wants to go to a water park in the winter?!) so they can undergo maintenance and refurbishment. However, the parks are usually both operational during the summer months when the demand for water parks is at its highest. We're now almost halfway into August and Blizzard Beach still has not reopened, so let's take a look at what's going on.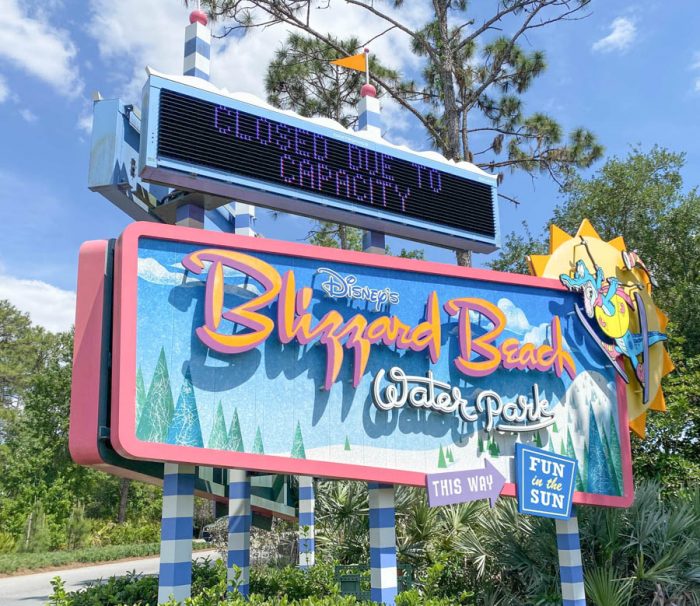 There are still construction cranes present at the water park, as you can see from this Tweet from @bioreconstruct. In the upper right-hand corner, you can see a large crane that is presumably getting ready to move a little closer and work on things deeper in the park where other cranes would not be able to reach.
Aerial look at a tall crane towering above Blizzard Beach. Seems like the crane will soon move closer and with an extension truss reach deep inside the park for next phase of refurbishment. pic.twitter.com/0J1jHiAWk5

— bioreconstruct (@bioreconstruct) August 7, 2022
We have seen some progress being made, too! In June, Teamboat Springs, a family water slide, was covered in scaffolding as parts of the slide were being replaced.
Aerial look at water slide section replacement at Teamboat Springs in Blizzard Beach.

Scaffolding is temporarily under the structure, providing a platform for construction workers.

(Jun 19) pic.twitter.com/mmAmVlNMuM

— bioreconstruct (@bioreconstruct) June 20, 2022
But now, the scaffolding has been removed from the ride as the replacement is complete and construction moves on to other areas of the park.
Seems like refurbishment is complete at Teamboat Springs in Blizzard Beach. Sections of the waterslide were replaced. See previous Tweet this Thread. pic.twitter.com/LTXbNOnUd5

— bioreconstruct (@bioreconstruct) August 7, 2022
The large crane is currently sitting near Runoff Rapids, which is a collection of water slides. The location of the crane could mean that construction is coming to that area of the park next, or at least somewhere near there.
Aerial look at a crane (lower left) being used to refurbish Blizzard Beach. Crane likely to move to the recently added concrete pad and reach inside the park with the extension currently on ground. pic.twitter.com/ySagPfWK2S

— bioreconstruct (@bioreconstruct) August 7, 2022
Disney has remained close-lipped about what exactly is happening at Blizzard Beach and no reopening date is listed on the Blizzard Beach page on the Disney World website.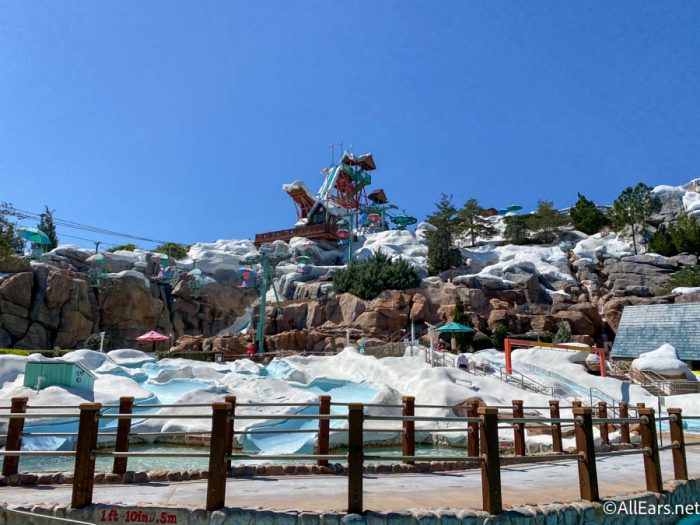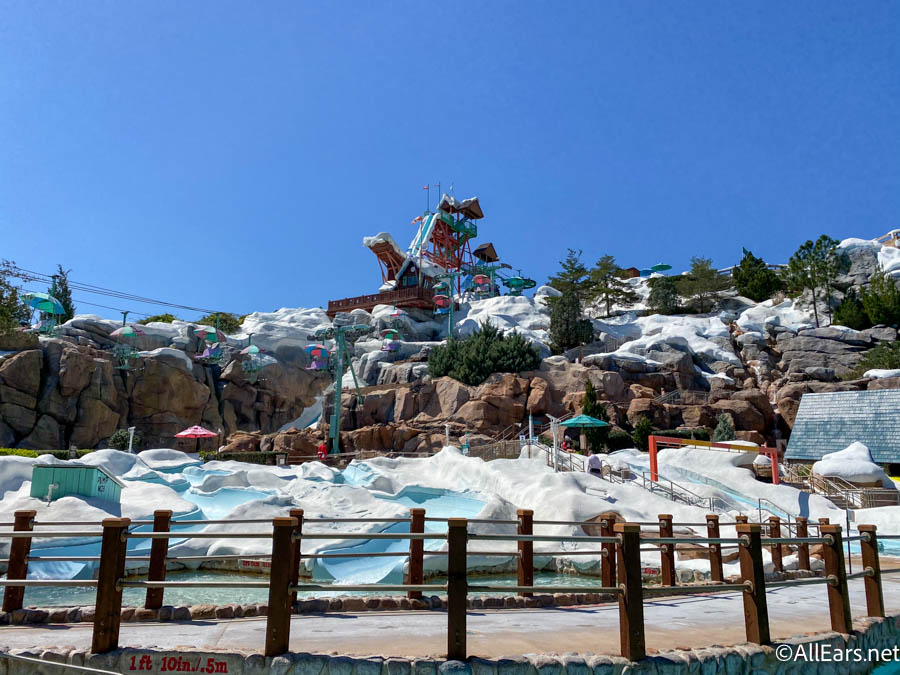 Some permits recently filed indicate that construction work is still actively being done here. Previously, one permit was filed for work at an address that appears to be for Melt-Away Bay, one of the attraction areas within Blizzard Beach. The permit was for "general construction," which doesn't give us much in terms of details. But it does have an expiration date specified as 7/21/2023. That could indicate that work (at least in that area) could last for a LONG time.
Another permit was also filed. That permit specifies that it's to "install show elements," and the address listed appears to be for Tikes Peak (another attraction space within Blizzard Beach). Again, "install show elements" doesn't give us a lot of details, but it does show that work is ongoing. No specific expiration date was listed for that one, meaning it'll automatically file 1 year from the date of recording — which was back in May of 2022.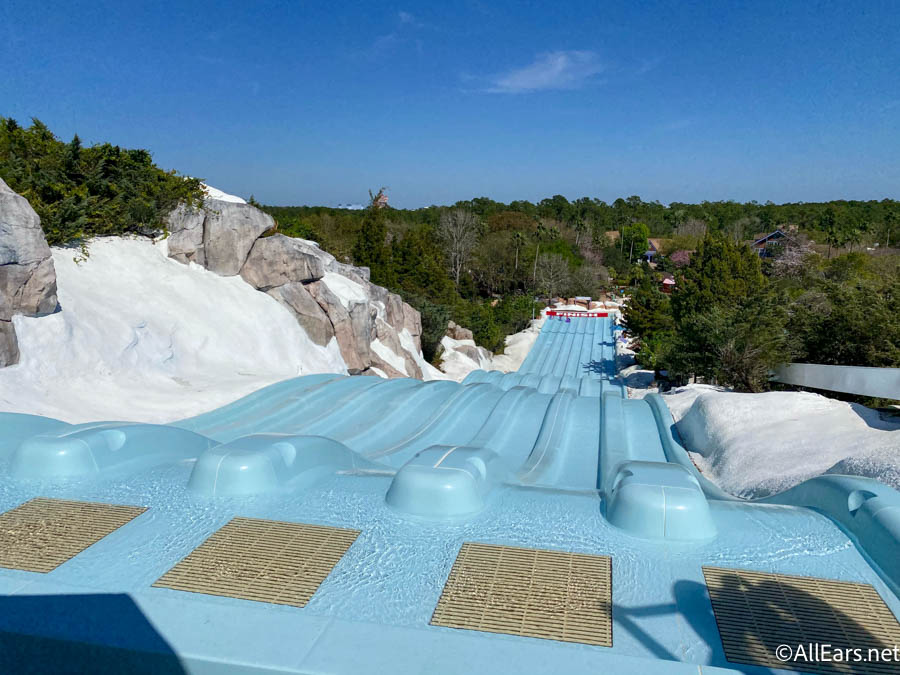 The Disney World calendar of park hours is currently available until February 6th, but no park hours are listed for Blizzard Beach on any of the days available. So, for now, at least Blizzard Beach remains closed, leaving Disney fans to wonder when it will finally reopen.
In the meantime, if you're looking for ways to stay cool at Disney World, you can still head to Typhoon Lagoon, for some watery fun. You can also even attend H2O Glow Nights, an after-hours party at Typhoon Lagoon that will enable you to be in the park after it closes for the day and experience the water park at night. This event is only around for the summer, so your last opportunity to experience it is August 27th.
We'll be keeping an eye on the Blizzard Beach construction and refurbishment, so make sure to stay tuned to AllEars for the latest!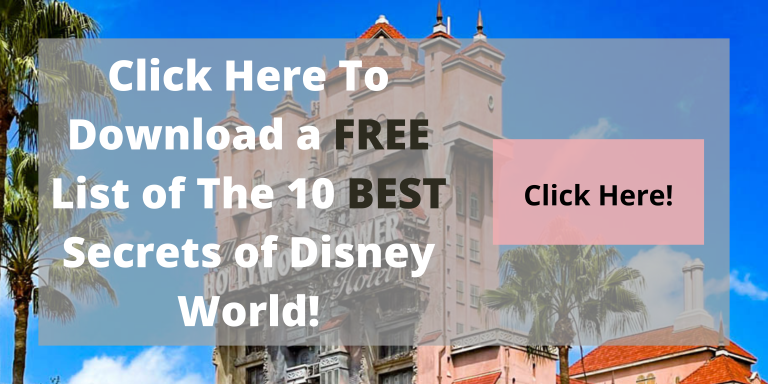 Have you ever been to a Disney World water park? Let us know in the comments!