Disney World has LIED to all of us. It's true. You might not want to believe that the Most Magical Place on Earth has deceived you, but we are about to prove it to you right here.
Disney has made so many promises over the years and announced upcoming projects that simply got left in the dust. From a brand new theater to new hotels, we're going over a full and complete history of ALL of Disney World's biggest LIES.
Main Street Theater
We start with an exciting project that we first got a peek of at the D23 Expo in 2017 — a NEW theater for Magic Kingdom. Back at the Expo, Disney shared that a new spot for world-class entertainment would be coming to Main Street, U.S.A.
The theater was meant to be based on the Willis Wood theater that existed in Kansas City in the 1920s. Walt Disney lived in Kansas City for part of his life (after leaving Marceline) and it's an essential place for several moments of Disney history.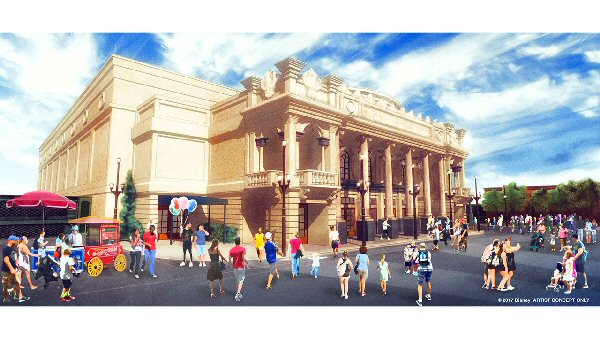 The theater was going to be built behind the existing Main Street, U.S.A., and guests would have been able to access it near Tony's Town Square. Permits were originally filed that included this theater in them, but the project never came to be.
In 2018, Disney ended up removing it from their page discussing projects that are "coming soon" and that was…well, basically the end of it.  🤷  You'll have to head to Disney's Hollywood Studios and EPCOT to get a similar large theater experience for now!
Festival Center in EPCOT
EPCOT is undergoing a massive transformation, with the addition of new rides, new restaurants, and more. Part of the transformation that Disney had previously announced was a Festival Center right in the heart of World Celebration.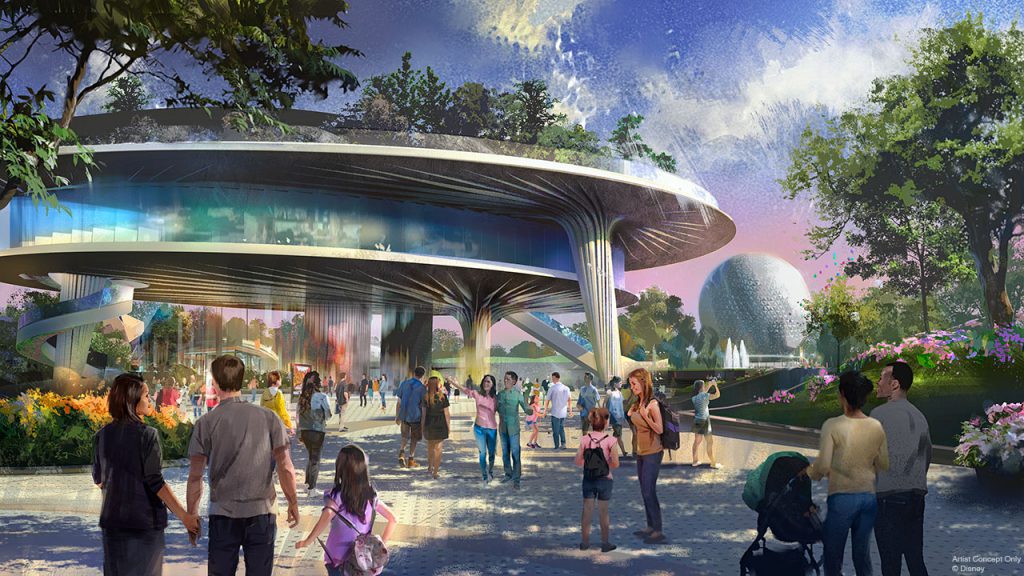 The center was supposed to be a multi-level building that would become the new home for live events and serve as the center for EPCOT's four festivals. There would be a plaza, expo, and even a park on the top level.
We saw a model of the building placed inside the EPCOT Experience at one point.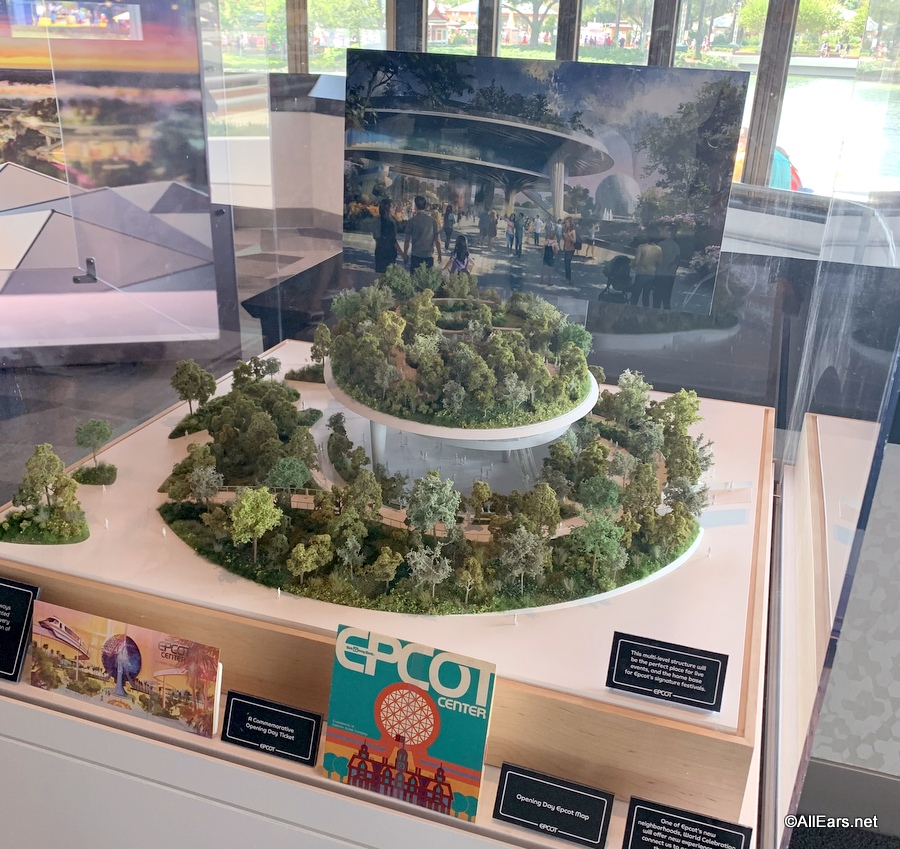 But the model was later removed from the EPCOT Experience, and a Walt Disney World News press release changed in a significant way that pointed to some big updates with this spot. In that press release, Disney said that there "will be new retail and dining locations, along with a newly reimagined festival area that will be home to ever-changing events in a unique new environment." So the Festival Center become a Festival "area." Hmmmm… .
Mow it seems the Festival Center is no more, at least not in the form it was previously presented in.
During a press conference held in May of 2022, Disney presented some concept art and details about the updates coming to World Celebration. Noticeably missing? The Festival Center!
Now it seems Disney has shifted its focus to CommuniCore Hall and CommuniCore Plaza. Both appear to be designed differently than what the Festival Center looked like in its original iteration. CommuniCore Plaza will be an outdoor area that will be able to host a variety of events — from giant concerts to more intimate performances.
CommuniCore Hall will be an indoor space that will be the first "fully purpose-built structure in festival programming." It'll be home to an exhibition and gallery space that can host a wide variety of experiences like food, fine art, and more. There will also be a demonstration kitchen and mixology bar that will give chefs the space to showcase the "global experiment of food."
So while an area for Festivals will be coming to the World Celebration area, it looks like it'll be VERY different than what Disney had originally announced.
The Secret Way Disney World Was Made
If you thought secrets and lies were "new" for Disney, you'd be WRONG. Secrets and lies are embedded into Disney's history, going all the way back to Disney World's very creation!
The Disney World project was called Project X to keep it hidden for the world and even from most people within the Disney Company.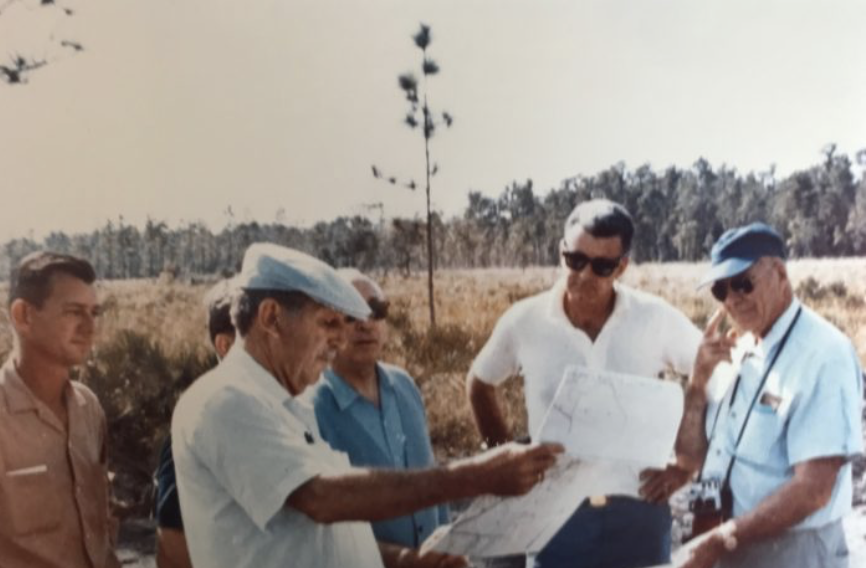 And the secrecy continued as the plans became more finalized and land started to be purchased. If people knew that Walt Disney was behind the land purchases, you can just imagine what the prices would be hiked up to. 😳 To avoid this issue, and keep prices low while still being able to purchase huge portions of land, Disney (working with one of the company's lawyers, Robert Price Foster), set up a variety of "dummy" corporations with some rather interesting names, including M.T. Lott Real Estate, Bay Lake Properties,  Ayefour, and Reedy Creek Ranch Lands.
Using this system, Walt Disney was able to buy up 27,000(!!) acres of land by 1965 without anyone fully knowing who was behind the purchases. Of course, rumors did start to fly around, but Walt denied involvement publicly. The deception!
Eventually the secret came out thanks in part to an article from The Orlando Sentinel, and, as you might imagine, prices for the remaining land bought after the reveal were considerably more expensive than how the prices started out. Compare $80 for the first acre bought to the $80,000(!) paid for some of the last ones.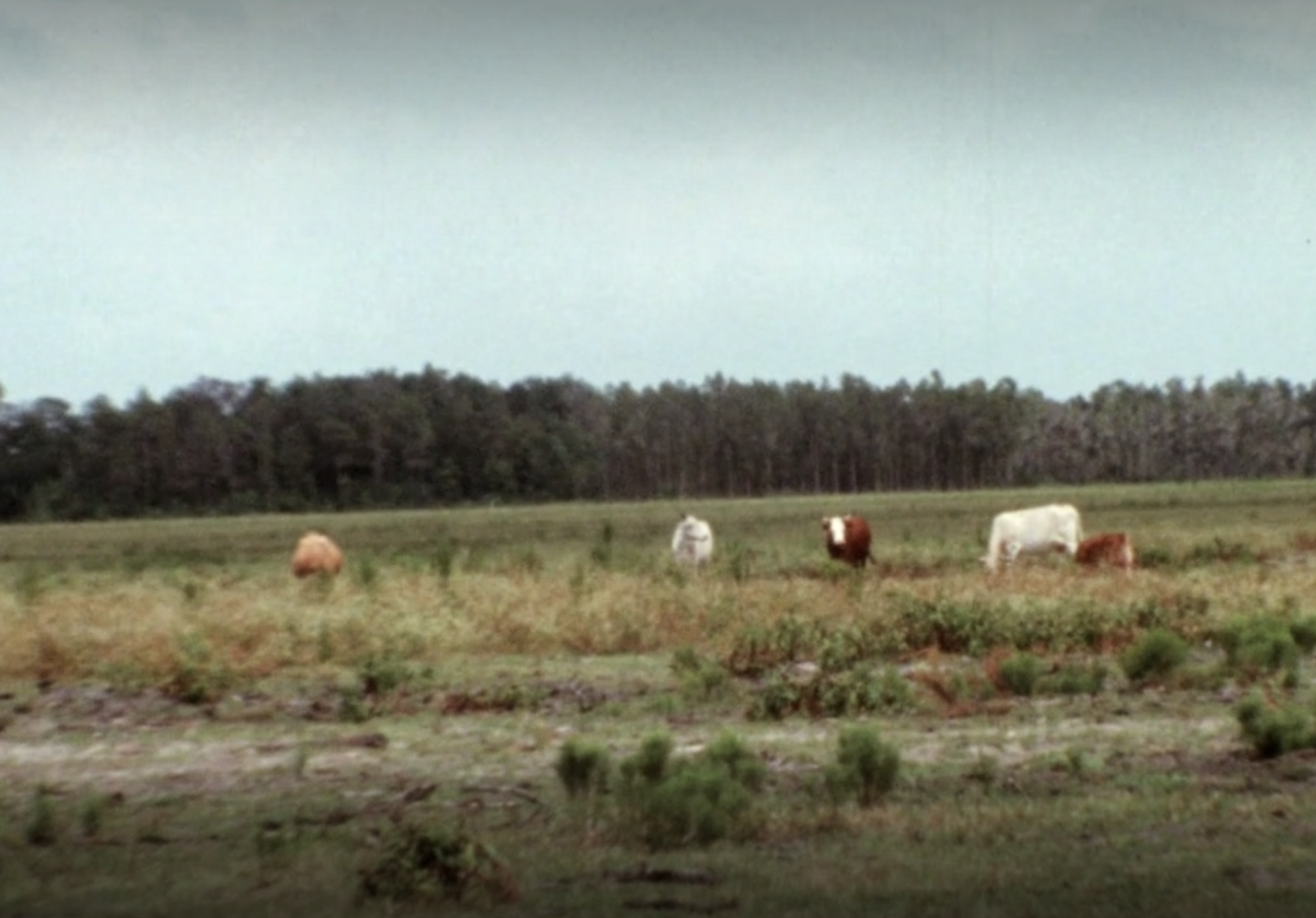 All in all, Disney was able to buy about 27,440 acres at about $180 per acre, all while keeping it mostly secret! Seems like the lies here really worked out! 💵
Harmonious Fountains During the Daytime
During Disney World's 50th Anniversary, a new nighttime show — Harmonious — debuted in EPCOT, replacing the long beloved Illuminations and the temporary EPCOT Forever shows. Harmonious makes use of multiple, LARGE barges located in World Showcase Lagoon. The barges aren't exactly the most…attractive things in the middle of the lagoon. They block guests' view across the lagoon to the pavilions and are big, bulky, and not really themed. Not exactly a gorgeous EPCOT aesthetic.
But Disney had a plan in mind to fix that! Disney announced that during the day these barges would have a daytime fountain look, helping to alleviate a bit of that not-so-great look.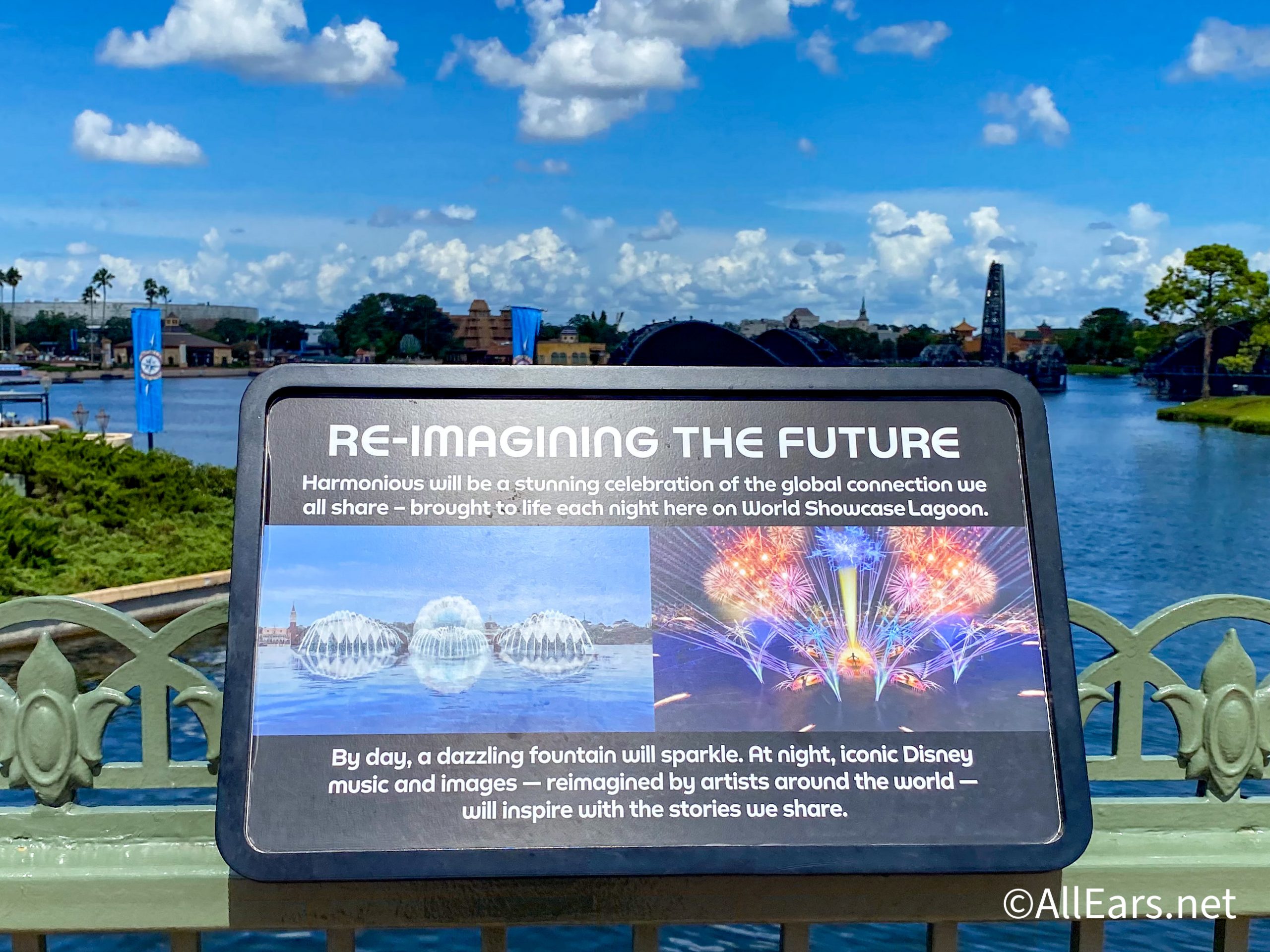 We even saw some fountains being tested, but then…nothing. We really haven't seen the fountains being utilized during the day as Disney promised. Instead, what we've seen are some 50th Anniversary designs put up on the giant barges in the lagoon.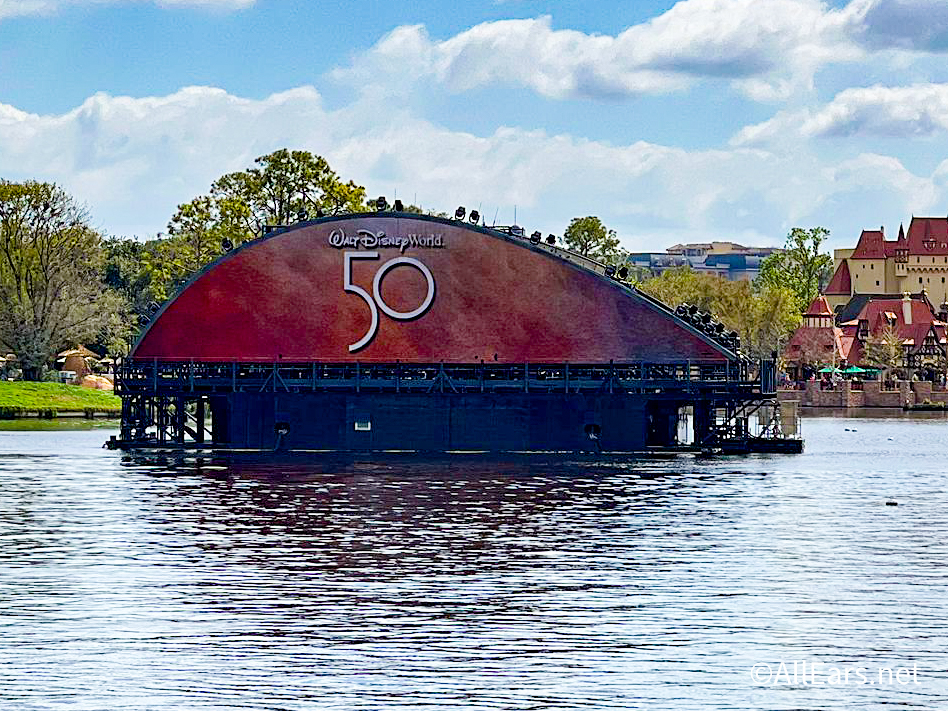 The fountains once appeared on EPCOT's digital maps…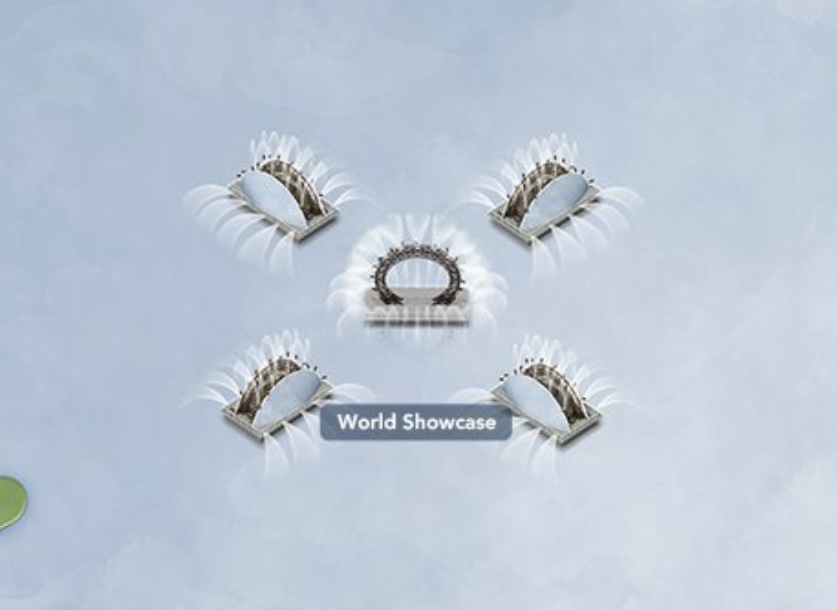 …but now have been totally removed and replaced with those 50th designs if you look at the My Disney Experience app.
One time that one of our reporters saw these fountains being tested, the reporter shared that they were getting misted by the fountains the entire walk. That could be due to be a combination of the fountains, the way they were positioned, and any weather/wind conditions. But, it's possible that this misting is a reason why the daytime fountain look ultimately never came to be.
So if you want to see Harmonious fountains in action, you'll have to watch the show at night. And just be prepared for some obstructions across your World Showcase Lagoon view during the day!
Reflections: A Lakeside Lodge
Back in 2018, Disney announced that a NEW hotel would be coming to Disney World in the old site of River Country in Disney's Fort Wilderness Resort. The new hotel was set to be a Deluxe resort called Reflections — A Disney Lakeside Lodge.
The hotel was set to open in 2022, and would have more than 900 hotel rooms and Disney Vacation Club villas, and even a Princess and the Frog-themed table service restaurant.
Back in 2020, an official Disney article that had some language about Reflections was updated to remove the language about Reflections. That same year, some sources reported that the project had been canceled.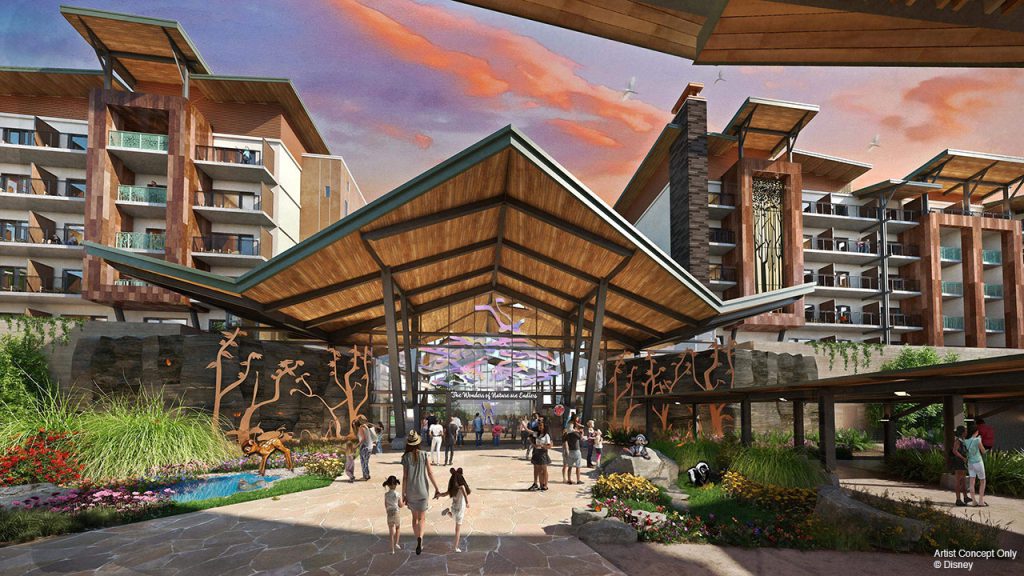 Reportedly, work that had been done so far was set to be removed and the construction site was going to be restored to it's pre-construction state.
And essentially, that's the last we've heard of it! Part-way through 2022, Disney has not provided any update on this hotel and whether it has been officially canceled or not. But it seems a 2022 opening is likely out of the question. Will this hotel ever see the light of day? Perhaps we'll get an update at the 2022 D23 Expo, or maybe it will forever remain a mystery… .
Beatrix in Disney Springs
A number of years ago, Disney announced that a new restaurant would be joining the already extensive Disney Springs lineup. Beatrix, a Chicago-based table service restaurant from Lettuce Entertain You Enterprises, was set to come to Disney Springs in the former Bongos space. The restaurant was set to feature a bakery, full-service bar, and healthy options like vegetarian dishes and fresh-squeezed juice cocktails.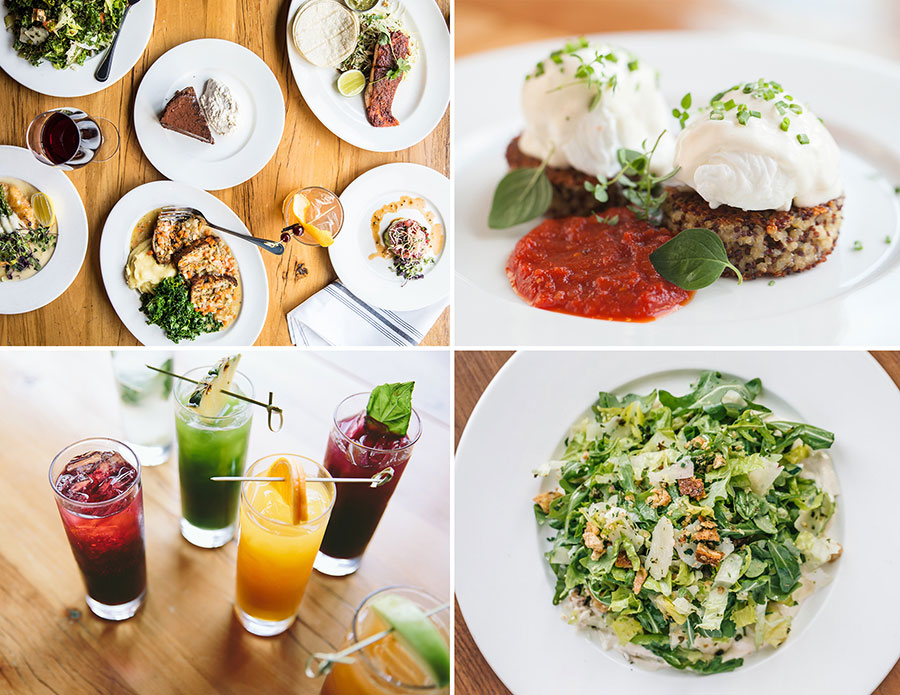 We started to see construction walls with signs for this spot popping up in Disney Springs, but then things got interesting. In 2020, construction on the restaurant was paused, as were many things largely due to the situation with the COVID-19 pandemic.
We reached out to Beatrix and at the time they said that the project had not been canceled. But a date to resume construction hadn't been determined. In 2021, we shared that rather than leave the space as a total construction zone, the plan was to convert it into a green space until the project could restart.

Months later, we got a BIG update. No news had really been shared on Beatrix, but…another new restaurant, also from Lettuce Entertain You Restaurants, was announced for Disney Springs! As the Orlando Sentinel reports, this new restaurant will take up the former Bongos spot that was set to become home to Beatrix. So it seems Beatrix is no more.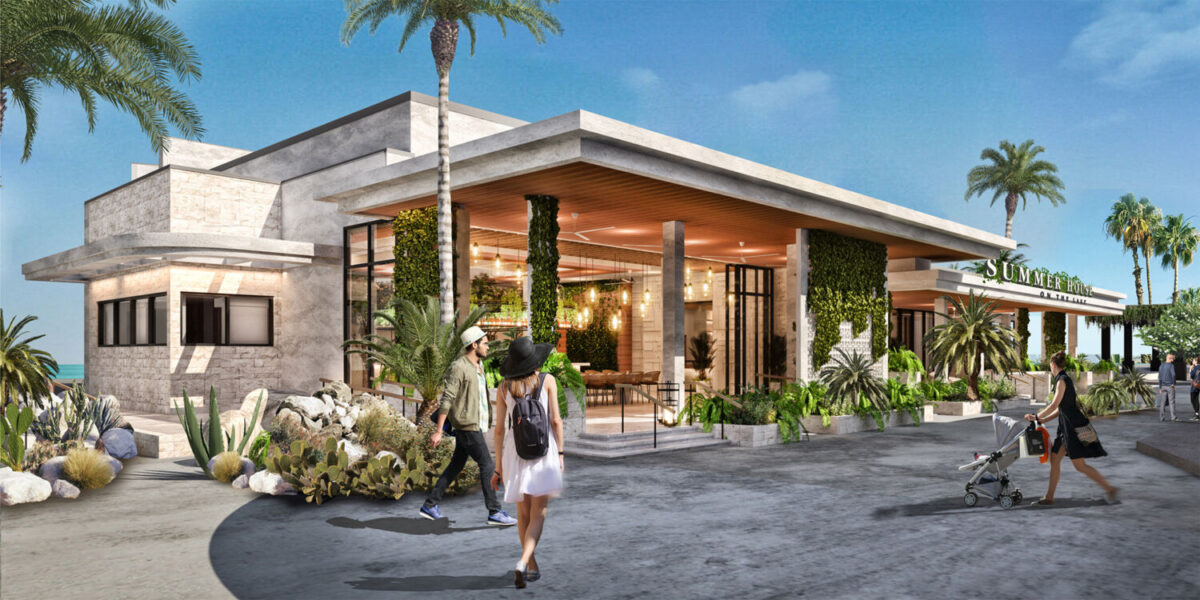 Summer House on the Lake is the new spot coming to Disney Springs. This restaurant comes from the creators of Summer House Santa Monica. Their current locations serve a California-inspired menu with ingredients sourced from local grower partnerships. They have an extensive wine list, pizzas, healthier options, and more.
So it seems Beatrix may never come to be in Disney Springs, but a new restaurant is on its way and *should* open in 2023!
More Monorail Resorts
You likely know all about the 3 big monorail resorts in Disney World — Disney's Contemporary Resort, Disney's Polynesian Village Resort, and Disney's Grand Floridian Resort. But, did you know that Disney had originally planned to build other resorts in this area? It's true!
Disney's Asian Resort would have had 500-600 rooms built to mimic Thai architecture, a central tower topped by a restaurant, and more. Construction was set to start way back in 1972, but an energy crisis and a downturn in tourism put it on pause. The Grand Floridian was ultimately built on the site of the Asian hotel.
Another hotel that was set to be created in Disney World was Disney's Persian Resort. This was set to be reminiscent of Middle Eastern architecture, with spires and domes all over, and a monorail route to Magic Kingdom. Plans for this hotel were also impacted by that 1970s energy crisis. They were briefly brought up again in the 1970s when the Shah of Iran reportedly offered to pay for the project, but the Iranian Revolution but an end to those plans.
Finally, Disney's Venetian Resort was the final resort planned for that general monorail resort area that never got created. Disney's Venetian Resort was set to be located between the Transportation and Ticket Center and Disney's Contemporary Resort. It would have been themed to…you guessed it, Venice(!), complete with canals. The 1970s energy crisis ended these plans.
A similar hotel, Disney's Grande Venezia Resort, was planned to be built in the same site. These plans were created in the 1990s.
The same site was then considered for another hotel called Disney's Mediterranean Resort. This one would have been themed to a Greek fishing village. It wasn't built reportedly because of the swampy nature of the construction site, which would have made things very expensive.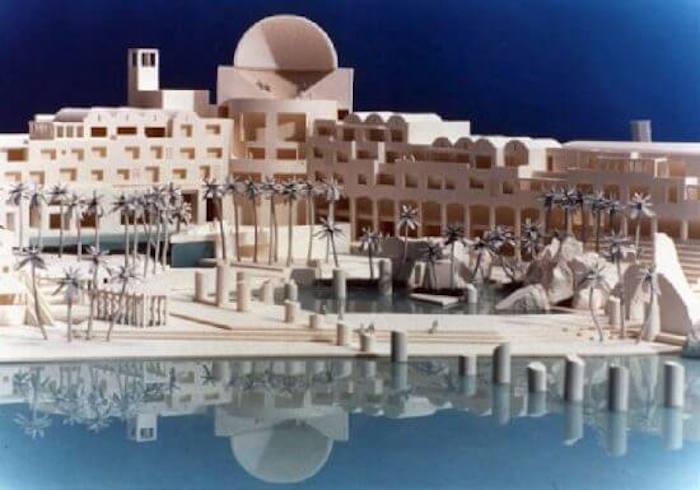 So that's 3 resorts that were in the works but never got to be built! Which of these would you have liked to have seen? Would you have preferred any of these to the existing monorail resorts? Tell us in the comments!
The Legendary Years Hotel
Another hotel that was planned for Disney World but never opened to the public was The Legendary Years over at Disney's Pop Century Hotel. If you visited Disney's Pop Century when it opened in 2003 and for several years after its opening, you may have noticed a bridge connecting the existing Pop Century Resort to a somewhat built, yet unfinished, hotel.
While the existing Pop Century resort covers the "classic" years (1950s-1990s), the Legendary Years side was meant to cover earlier parts of history (1900s-1940s). That other half of the resort was set to have its own entrance, lobby, food court, and (of course) multiple buildings with the hotel rooms. Construction on the Legendary Years was already underway, but construction of the entire resort (both the Classic and Legendary sides) was put on hold in 2001 following the September 11th attacks.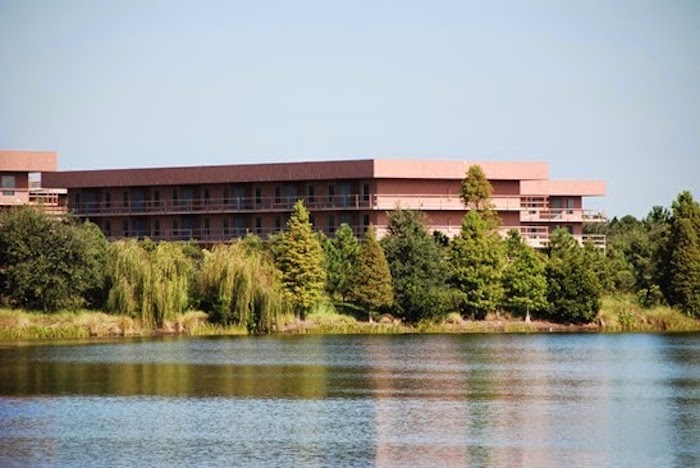 Ultimately, the Classic side got finalized and opened, but the Legendary side was simply left abandoned. Work never resumed over there. Instead, the buildings were left as a sort of hotel graveyard — a spooky, overgrown reminder of what could have been, with no update in sight.
But in 2010, Disney finally shared some exciting news! The Legendary Years side of Pop Century would be redone and would become Disney's Art of Animation Resort. Ultimately that resort was finalized and opened, becoming a popular hotel pick!
What do you think? Would you have preferred to see the Legendary Years created, or are you pleased with the creation of Disney's Art of Animation Resort?
Disney's America
Ever sit around and think, "gosh, Disney should build another theme park in another part of the United States!"? Well, you're not alone. And back in the 1990s, Disney did announce a whole other theme park that would be built in Virginia — Disney's America.
Disney's America would immerse guests in the history of the United States. Years of planning and development went into the park, and there were press releases and concept art released about the park. It would be smaller than Disneyland, and would only feature about a few major attractions.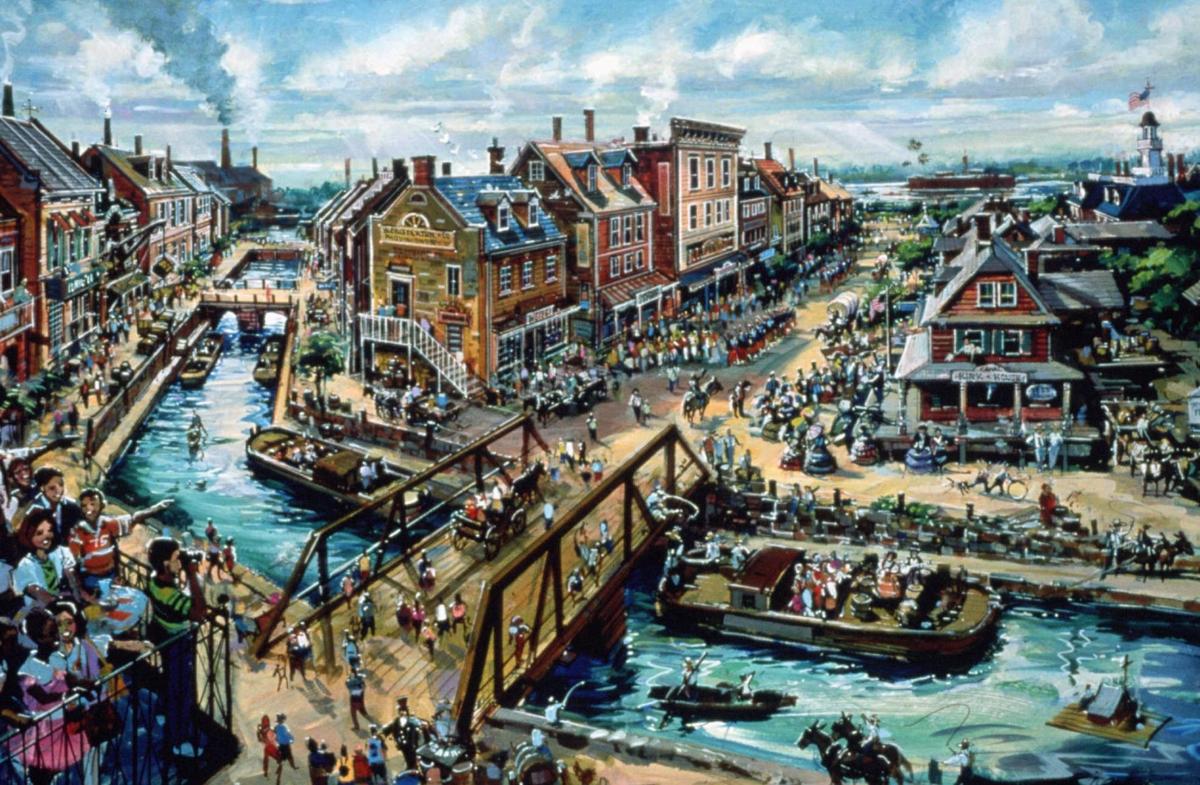 There would be a lagoon called Freedom Bay, trains to ride, a pre-Civil War era town, The Hall of Presidents attraction, a Native America section with a Lewis and Clark raft ride, and more. But the backlash to this park was fierce — coming from citizens groups, local landowners, and historians. There was even a Senate Subcommittee hearing about whether the park should be built.
The park was ultimately reimagined in 1994 and became Disney's American Celebration. It would be less political and more focused on history, with working factory tours of American companies, a version of The Living with the Land ride, and more.
But even that park wasn't really a viable option. In 1994, the project was cancelled. It was revived partially in the late 1990s for a different location (close to Disneyland), but again, it ultimately didn't go through.
Some portions of the reimagined park, however, did make their way into Disney California Adventure with things like the Lewis and Clark raft ride becoming Grizzly River Run, and the State Fair plans becoming Paradise Pier (now Pixar Pier). So, while Disney's America never got created, parts of its design live on, in a way, in other parks.
Beastly Kingdom
Another giant lie is hidden in plain sight in Disney's Animal Kingdom. Take a close look at the signs in Disney's Animal Kingdom park the next time you're there. Notice an animal on there that doesn't quite seem to be represented in the park? Dinos? Check! Lions? Check! Elephants? Check! Wait…is that a DRAGON?! It is!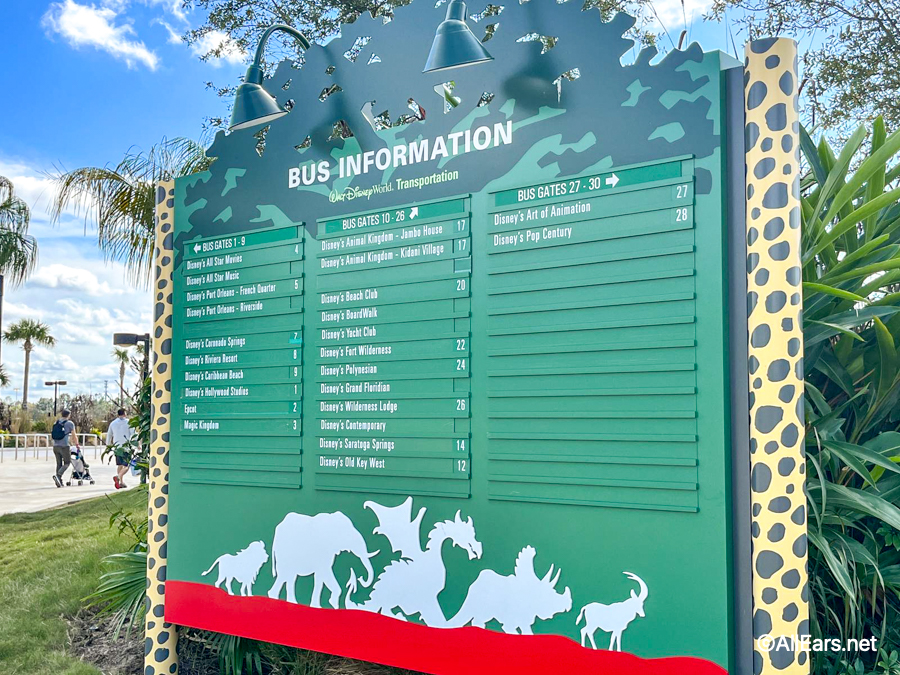 The dragon isn't there by some kind of accident. No, friends, there was actually supposed to be a mythical-themed land built in Animal Kingdom called Beastly Kingdom. Beastly Kingdom was set to be a big part of the second phase of Animal Kingdom. It would have been located where Pandora — The World of Avatar is now.
The land would have featured attractions that focused on mythical creatures like dragons and unicorns. You'd have 3 paths in the land — Nice, Beautiful, and Dangerous. There would have also been a ride called Quest of the Unicorn, which would have had a walk-through maze, and ultimately a face-to-face encounter with an audio-animatronic unicorn. There were a number of other rides planned too, including a thrilling roller coaster called Dragon's Tower.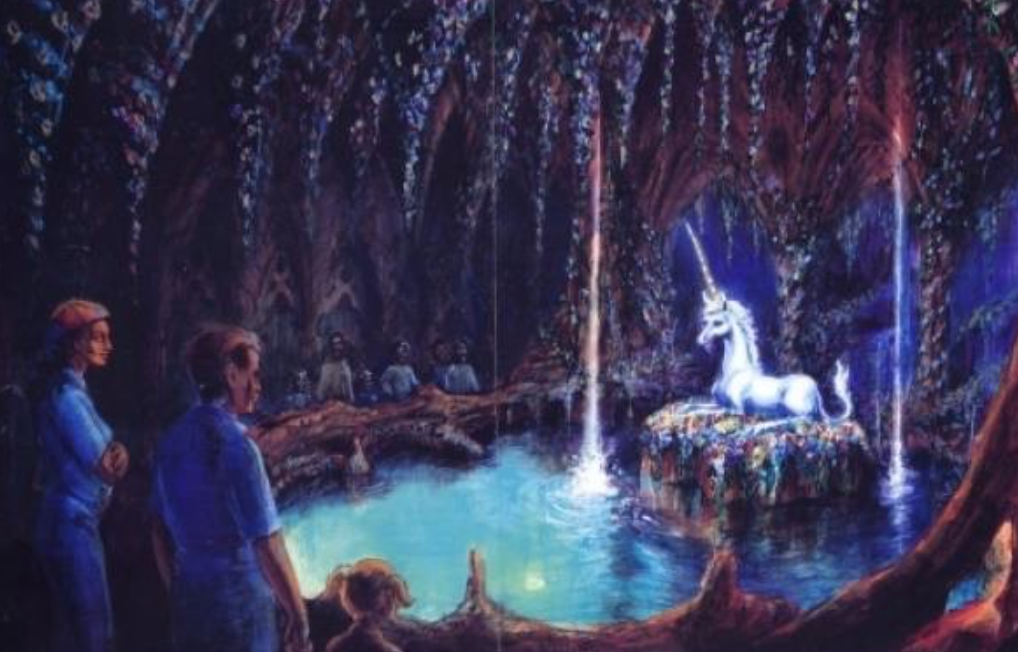 Budget cuts became the downfall of this land, as Disney realized that the cost of caring for real animals was more than expected. Hidden mentions of the land remain in Animal Kingdom, like the dragon on the logo, a unicorn section in the parking lot, and more.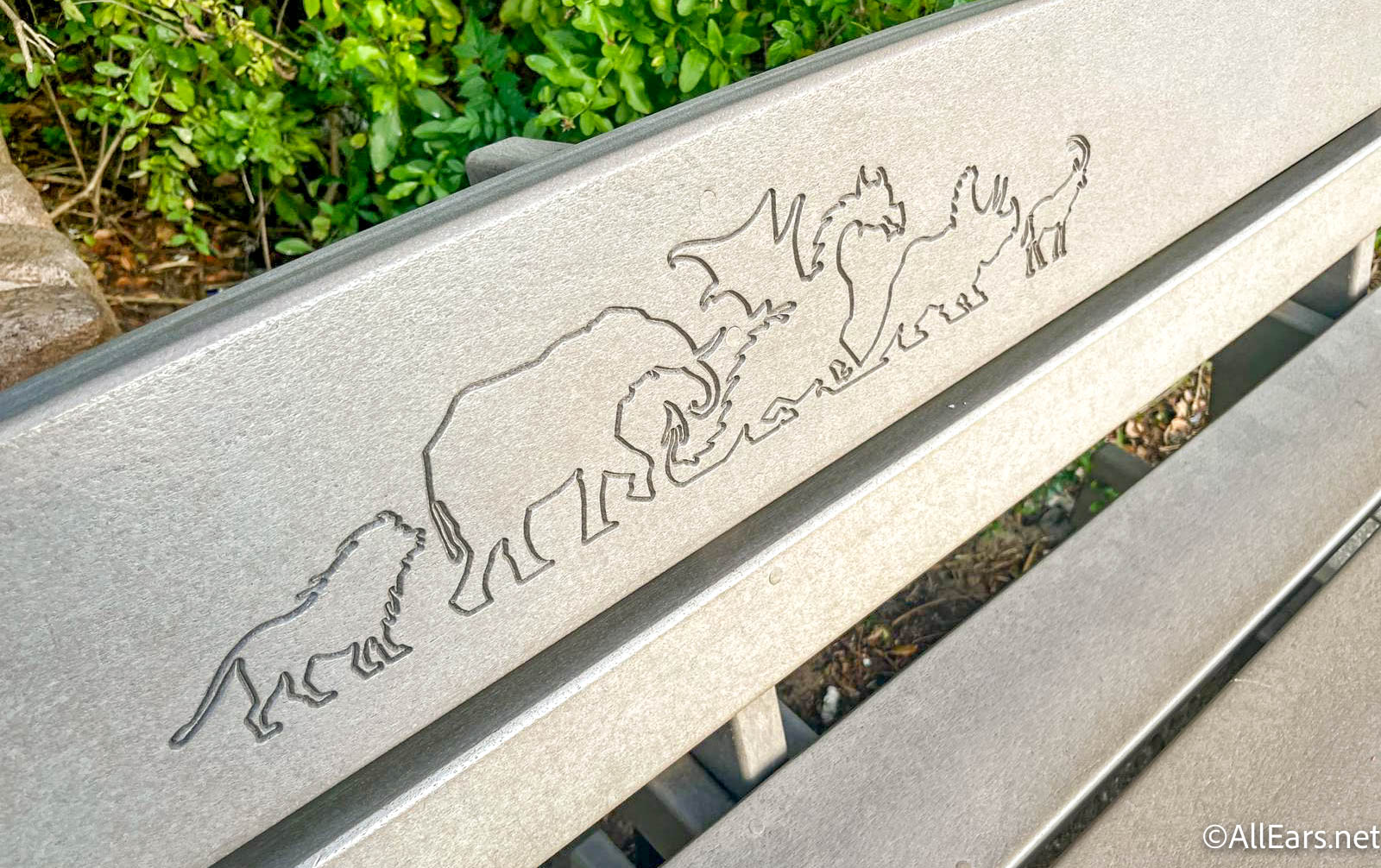 But ultimately it was simply not to be. Now that Pandora has taken its place, it seems Beastly Kingdom may simply be a memory of the past. But you never know where elements of its design and plans will end up in the future.
Spaceship Earth Refurbishment
Finally, we get to what we expect will become Disney's newest lie — the Spaceship Earth Refurbishment. As we mentioned before, EPCOT is undergoing a massive transformation right now. Part of those changes were set to include a reimagined version of Spaceship Earth, set to be called Spaceship Earth: Our Shared Story.
The ride was set to get updated scenes, a magical "story light," and a reimagining that would focus on the theme of storytelling throughout history.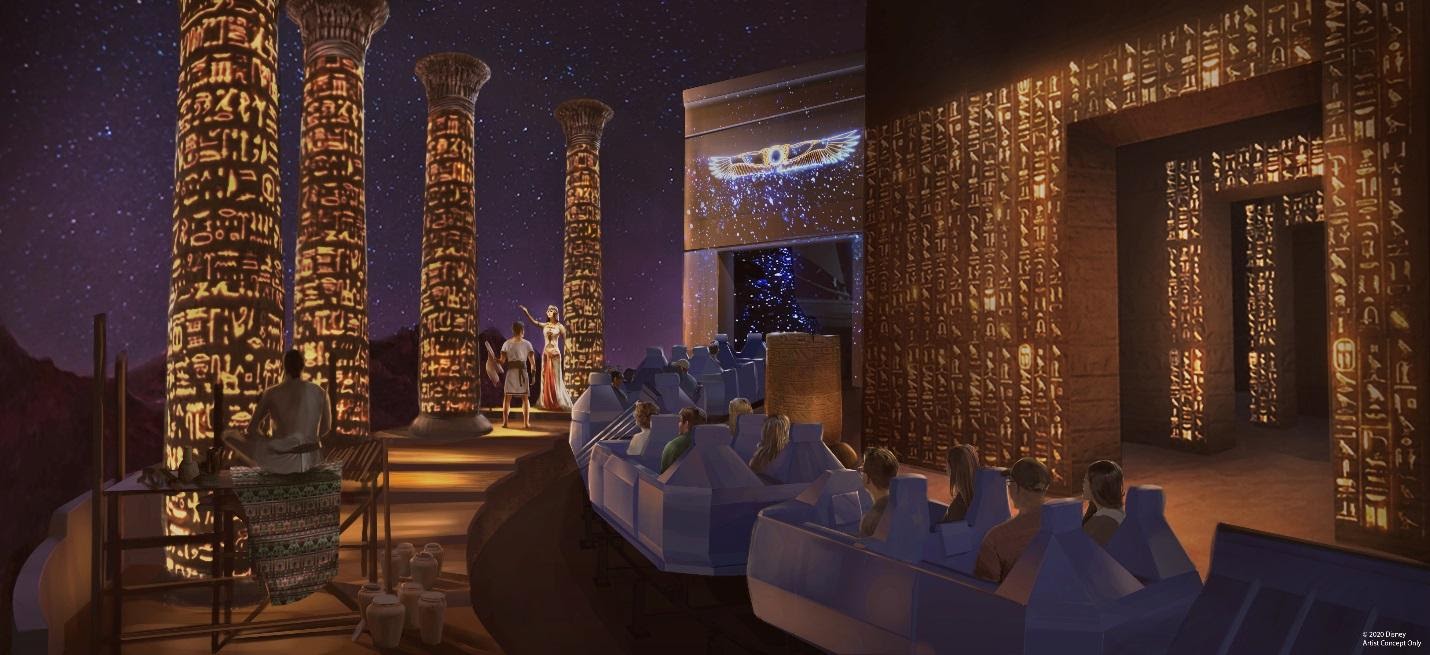 The ride was all ready to close in May of 2020 to make these changes, but the pandemic caused those plans to change. The park reopened in July along with the existing Spaceship Earth ride, and it's been that way ever since. Ultimately, the portion of the EPCOT Experience that talked about this reimagining was removed, and Disney shared that the project had been postponed.
During a media event in 2022, various aspects of the EPCOT Transformation were discussed. Notably missing? Spaceship Earth.
Disney has really been quiet about this since the statement about its indefinite postponement. So while it's possible that plans for it will resurface and become a reality in the future, right now it seems likely to become Disney's next lie.
We've also got to throw in the Mary Poppins attraction announced for EPCOT in this category. This was announced years ago for the U.K. pavilion, was also removed from the EPCOT Experience, was postponed, and (most recently) was placed officially "on hold."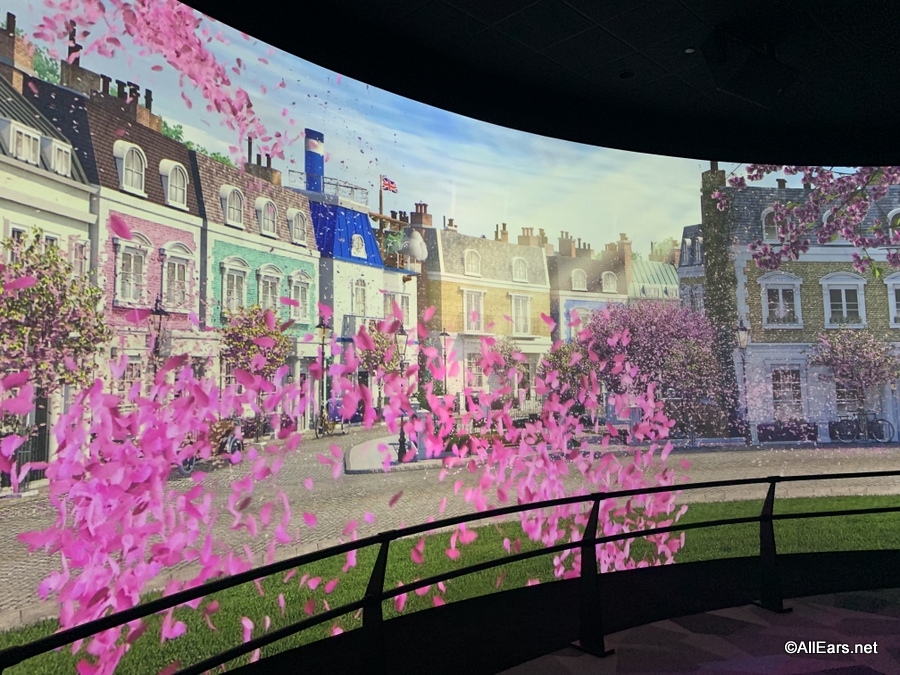 Again, you never know when plans will change, but it seems pretty likely that we won't see either of these becoming a reality any time soon.
BONUS! Photoshopping Walt Disney Smoking Cigarettes
This isn't directly related to Disney World as a theme park resort, so that's why it's here as a "bonus" but it's too fascinating not to include! You may be very well aware of the fact that Walt Disney smoked and ultimately passed away from complications of lung cancer. But did you know that Disney may have done some things to hide a bit of that smoking past (some of which are in plain sight)?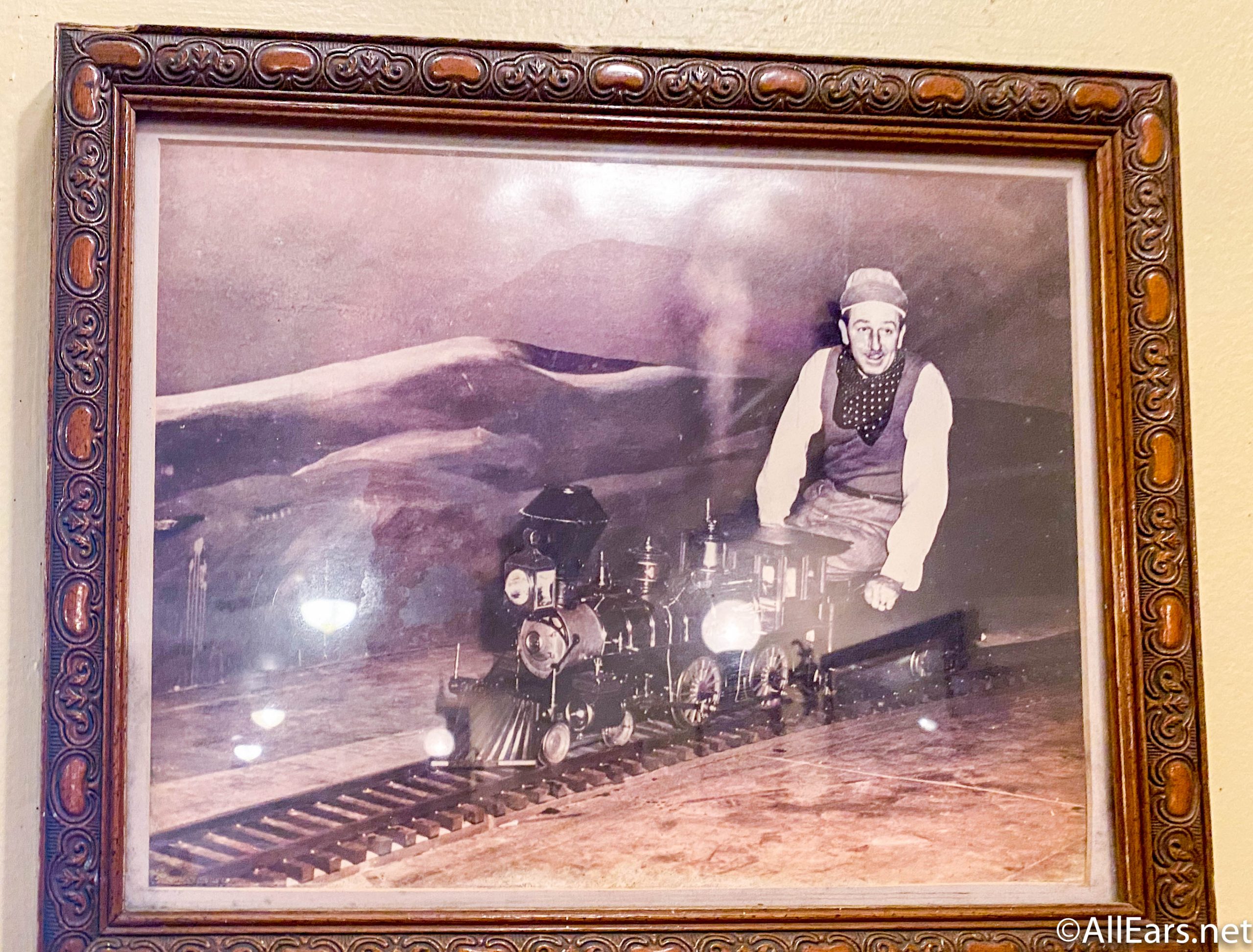 According to the Huffington Post, one Disney employee claimed that the famous two-finger point Cast Members use in the park harkens back to Walt's old smoking habit.
That was seemingly confirmed in 2013 by Tom Hanks when he was promoting the Saving Mr. Banks Disney film. During an appearance on the Ellen show, Hanks "claimed that old photos of Disney used to show the mogul pointing to various Disney attractions while holding a cigarette between his two fingers."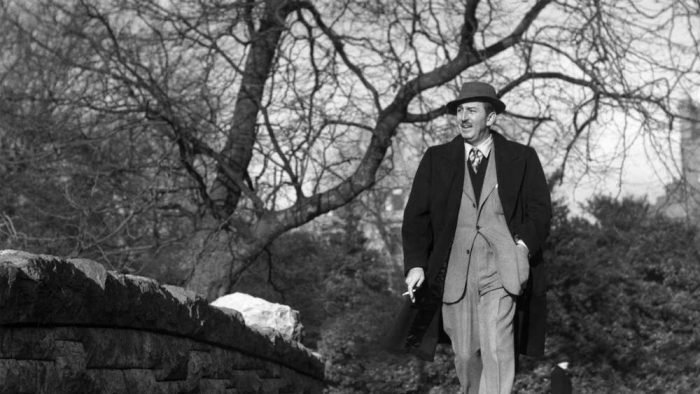 According to Huff Post, "In more recent years, when the company wanted to dissociate itself with smoking, the cigarettes were airbrushed out, making it seem as if Walt simply pointed at things with two fingers for no apparent reason." That gesture actually made its way into the film!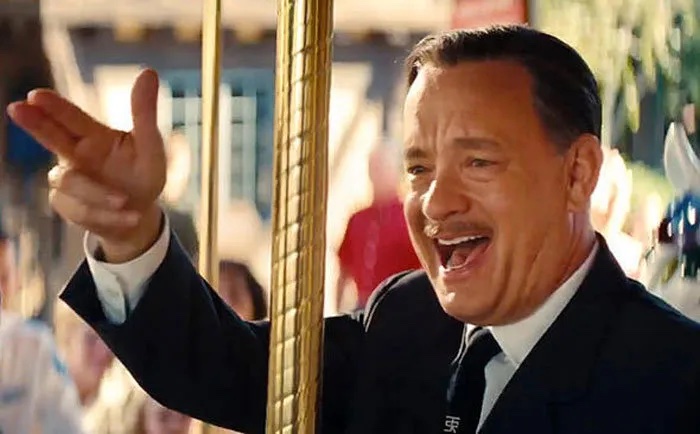 Some other sources seem to indicate that photos of Walt Disney have been altered in certain areas (specifically within the parks) to remove cigarettes from them. From what we've experienced, it would be a true challenge (if not impossible) to find a photo of Walt with a cigarette in the Walt Disney Presents area of Hollywood Studios.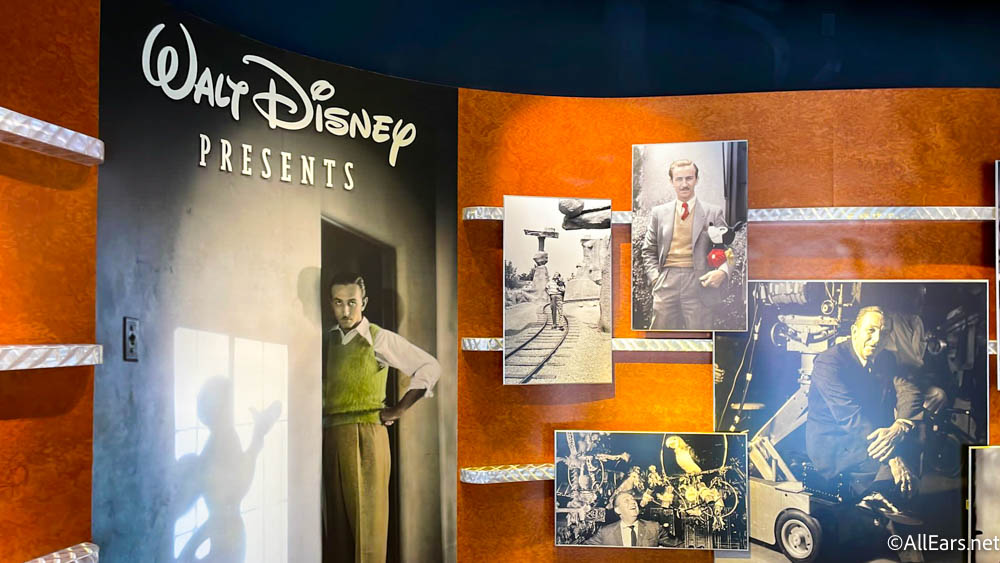 Disney does have a studio-wide policy forbidding smoking on film now, as The Independent notes, which is a big reason why there could not be any smoking in the Saving Mr. Banks film (but eagle eyes will find an unlit cigarette in the film).
And that's a comprehensive history of some of Disney's BIGGEST lies. What projects will fall through in the upcoming years? What old projects would be revitalized? Only time will tell!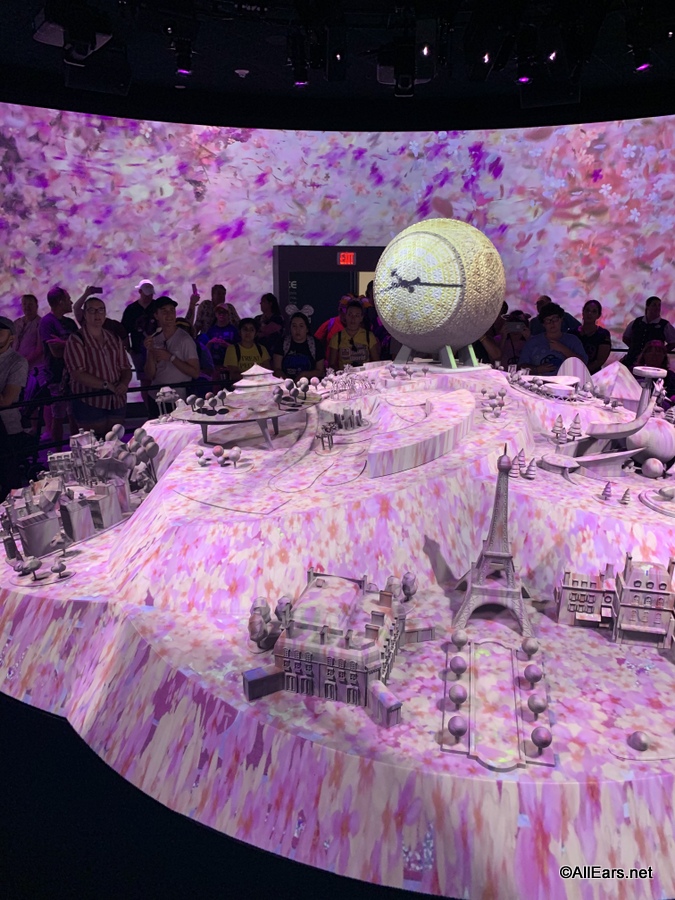 Lots of things are constantly changing all around Disney World. Click here to see some of the most exciting things coming to Disney World in 2022, and stay tuned for more Disney news!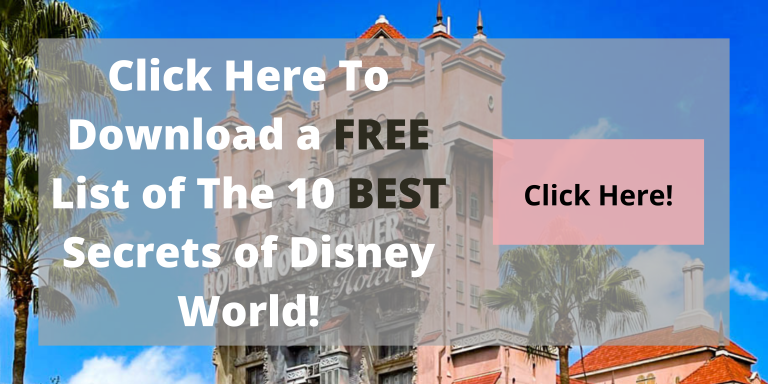 What lie surprised you the most? Tell us in the comments!