Walt Disney. You know he's the man who created the mouse that started it all,  but how much do you know about Walt's own history?
If you're a big Disney fan, you probably have heard about Marceline, Missouri — the town were Walt lived for a time that, in part, inspired Main Street, U.S.A., in the Disney parks. But did you know that some KEY parts of Disney history took place in another part of Missouri, too?
Kansas City, Missouri is a spot you might not think of as having deep Disney history, but it's here where a lot of Walt's career truly began.
Before we begin, we want to acknowledge two sources that were predominantly relied on for this article — The Kansas City Public Library's KC History website and the Thank You Walt Disney, Inc. website. Now, let's dive in!
Walt Moves to Kansas City
Walt Disney was born in Chicago, Illinois. Walt and his family eventually moved to Marceline, Missouri, for a period of time — one that left a deep impression on the boy. But when Walt was around nine years old, he and his family moved a little further west to Kansas City, Missouri.
In Kansas City, Walt and his family lived at 3028 Bellefontaine.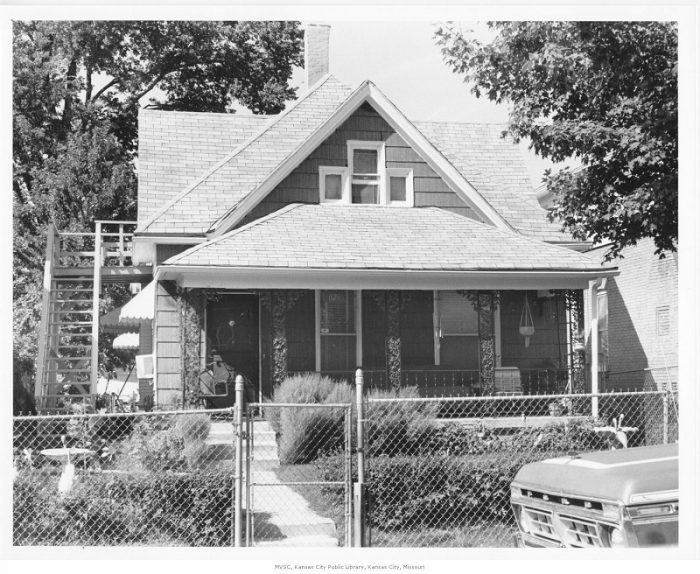 And the house that Walt lived in actually still stands today! Back in 2014, the individual who lived there at the time, Roberta Long, was interviewed by KCUR. Long said that all kinds of people drive by the house — some of which used to work with Disney and others who are just curious. The Mickey Mouse clock on the top window is really the only indicator that helps visitors confirm they've reached the right house.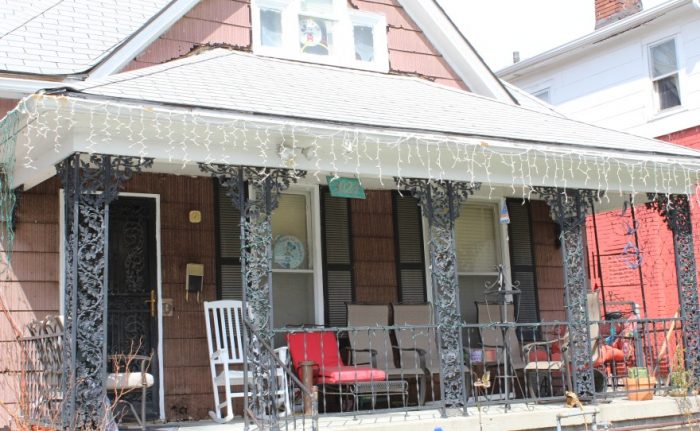 Long's family owned the house since at least the 1940s, and Long shared that they didn't know Disney used to live there until 1983. But Long says the home's connection to Disney became a sense of pride for her family.
Near the home is Benton Elementary School, which is the school that Walt attended. He also took drawing classes at the Kansas City Institute on Saturdays. Walt and Roy delivered the Kansas City Star & Times papers while living in the city.
Walt also had a unique connection to the Kansas City Public Library. It has been said that Walt got his start drawing animals based on books that he checked out from the library. In fact, in the letter below from Walt to the Kansas City Public Library, dated 1937, Walt notes that "any book that offered information on drawing was likely to be found listed on my card." He also shares that he took his first foray into animation thanks to a book he found in the library.
Walt notes that the library has been "a very definite help" to his career. In this way, various aspects of Kansas City played into Walt's career.
The Period Away
In 1917, Walt and his family left Kansas City and moved back to Chicago for a period of time. Walt then joined the Red Cross and worked overseas as an ambulance driver during World War I.
Walt Comes Back
After World War I, Walt returned to Kansas City. That's where he was hired as an artist for an advertising agency. Walt met Ub Iwerks while working for the Pesmen-Rubin Advertising Agency. Walt and Ub were later laid off, briefly operated their own ad agency, and then ultimately were hired to work at the Kansas City Slide Company. This was later renamed to the Kansas City Film Ad Company.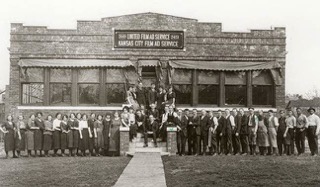 At this point in time, Walt and some friends started experimenting with animations in the family garage using a movie camera he borrowed from the ad agency.
Laugh-O-Grams
In 1920, Walt and Ub created an animated cartoon business and started producing films called "Laugh-O-Grams."
These were short clips that were shown at the Newman Theater. The target audience for the first Laugh-O-gram was local, as the film focused on a recent scandal within the Kansas City police department. Check it out below.
Walt created multiple animated cartoons that were loosely based on classic fairy tales as well as animated and live-action films.
The modest success of the Laugh-O-Grams caused Walt to become a locally-recognized entertainer. He brought together a small group of "employees" (which the KC History website notes were really volunteers) to make an animated version of the classic Little Red Riding Hood tale.
After they completed this longer project, Disney decided to open his own studio, at the age of just 20!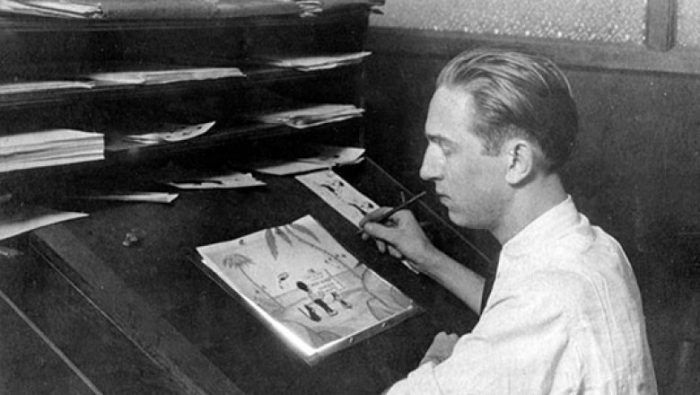 Some locals donated funds, and Laugh-O-gram Films became a legal company in 1922. Walt opened a studio for Laugh-O-gram on the second floor of a building located at 1127 E. 31st. Street in Kansas City.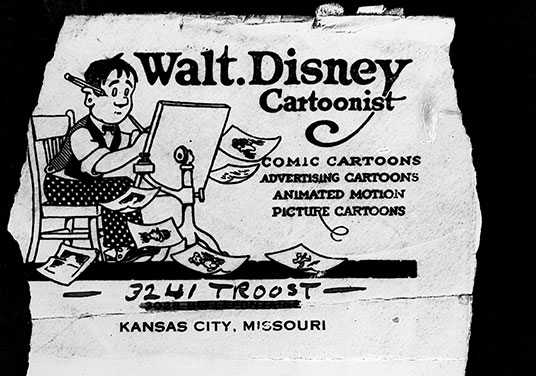 The studio employed Walt and four other employees.
Inspiration for Mickey
Walt eventually moved into the Laugh-O-gram Films studio when he could no longer pay for a room in a boarding house. In the Laugh-O-gram Films studio there were a few mice. Walt started to put out food for the mice, and one mouse was ultimately braver than the others and became tame.
That mouse supposedly was kept as a pet by Walt and even lived in Disney's desk drawers at the studio and ate from Walt's hands. Who would that mouse later inspire? You guessed it, Mickey Mouse! Disney later recalled that the inspiration for Mickey Mouse actually came from this little mouse he had at Laugh-O-gram.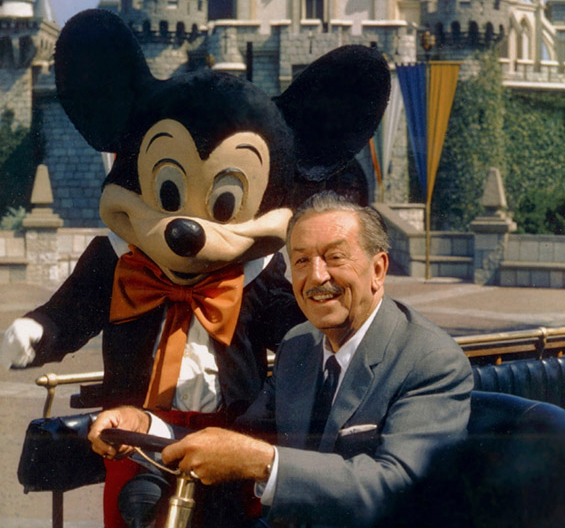 Leaving Kansas City
Laugh-O-gram Films soon got a contract to produce a cartoon series, but the company they signed with couldn't pay more than a $100 down payment, so Laugh-O-gram Films quickly became insolvent. After being in existence for just over a year, Laugh-O-gram Films went bankrupt in 1923. At that point, Walt left to work with Roy in Los Angeles, California. Some of the artists, including Ub Iwerks, went with him. Clarence Nash, who was the original voice of Donald Duck, was actually an old Kansas City friend of Walt's.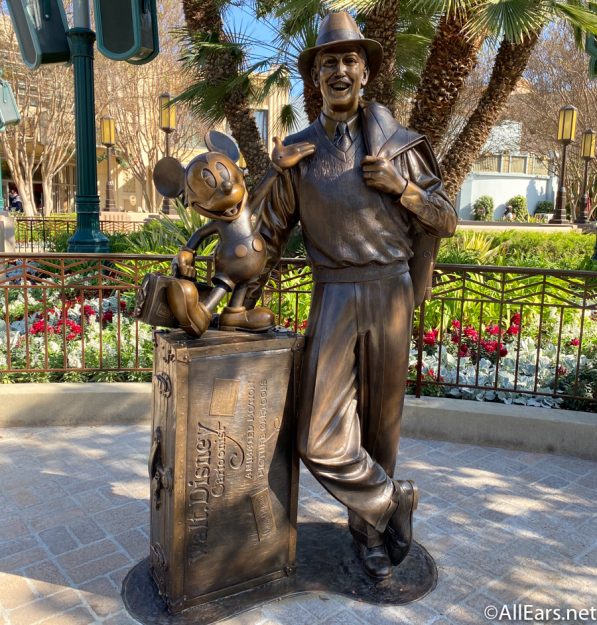 Worried about that mouse he kept as a pet in the studio? Reportedly, before he left Kansas City, Walt actually took his mouse friend out to the countryside so he wouldn't get eaten by the cats which lived on the floor below.
Despite the failure of Laugh-O-gram Films, that company was truly the starting point for Walt's future success in animation and movies. Just before Laugh-O-gram went bankrupt, Disney had actually started to work on a cartoon called Alice's Wonderland. This cartoon starred Virginia Davis as Alice and follows Alice as she visits the cartoon studio. She then dreams that she goes to Cartoonland, dances for animals, and is chased by lions that escape from the zoo. You can see a very young Walt Disney in the film as well — check it out below!
This was ultimately the pilot film for the Alice Comedy series made by Walt Disney. Walt took this completed cartoon with him to California in his cardboard suitcase and was able to sell a series based on the pilot, establishing a reputation for himself in Hollywood.
Coming Back
But Disney didn't entirely forget about Kansas City. Walt wrote that letter to the Public Library discussed above in the 1930s, and Walt returned to KC on at least one occasion. In 1942, the South Central Business Association presented him with an Honorary Membership in their organization.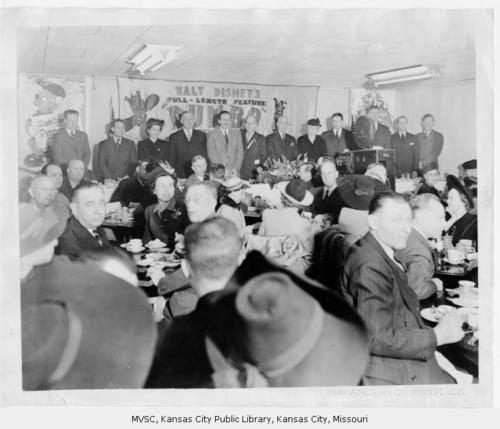 And the rest…is history!
Walt ultimately moved to California and, as they say, the rest is history! But Kansas City was truly a starting point before Walt's career began to take off.
What's Happening Now?
The building that housed the Laugh-O-Gram Films studio in Kansas City still exists, but it is currently not a functioning space that fans can visit, except for the outside. The collapsing structure is boarded up at the moment, and the boards have been covered in beautiful cartoon-style art recognizing Walt and the history of this spot.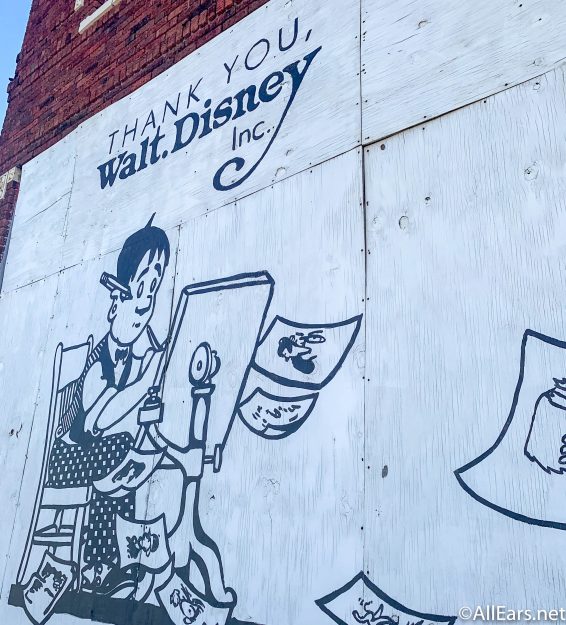 The artwork features an animator drawing various characters at his desk. The images themselves float off and feature some of Walt's unique creations.
There are plans, however, to restore this space to a fully functioning spot that fans can visit, and Thank You, Walt Disney Inc. is leading the way. Thank You, Walt Disney Inc. is "committed to saving Walt Disney's Kansas City history and providing a place for art and animation study, while encouraging confidence and entrepreneurial individualism." 
In an interview with the Kansas City Star, Dan Viets, the president of the group, says "We've got a lot of good people with a lot of good intentions… But we don't yet have the sugar daddy with the money to make this happen."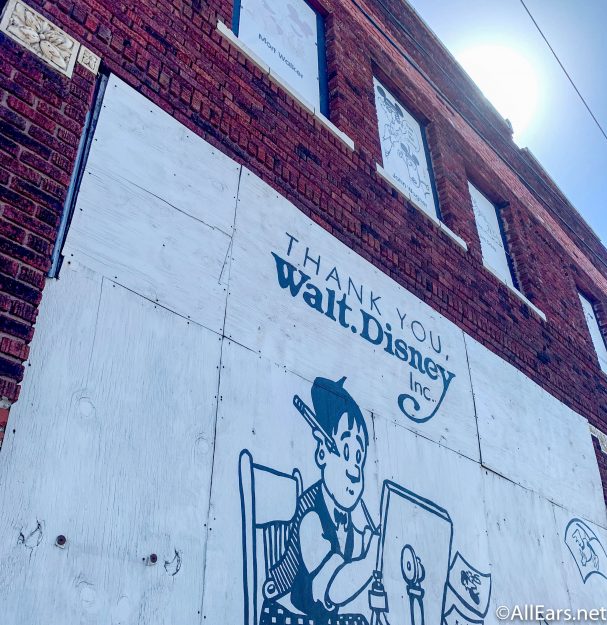 Detailed plans for how the structure would be used once restored have recently been revealed. The plans call for the outside of the building to resemble the way the structure looked in 1922-23, when Walt and the other artists were working there.
The inside of the building would feature four public areas:
Museum of Animation—recreation of Walt's Laugh-O-Gram studio
Flex Studio—classroom/event space for training & public programs
Welcome Center—soda/coffee shop and museum gift shop
Co-working Space for new media start-up entrepreneurs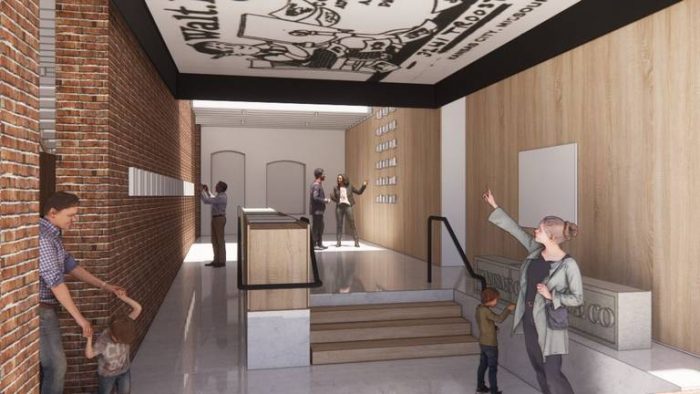 Three second-story rooms, which were the home for Laugh-O-Gram Films, would be restored to their original condition, using vintage photographs as a guide.
Throughout the building, Disney memorabilia would be displayed. They plan to give museum tours for the public, feature rotating gallery programs on animation history, host educational programs on animation, and more. There would also be common areas suitable for receptions, a 50-seat movie theater, and a classroom.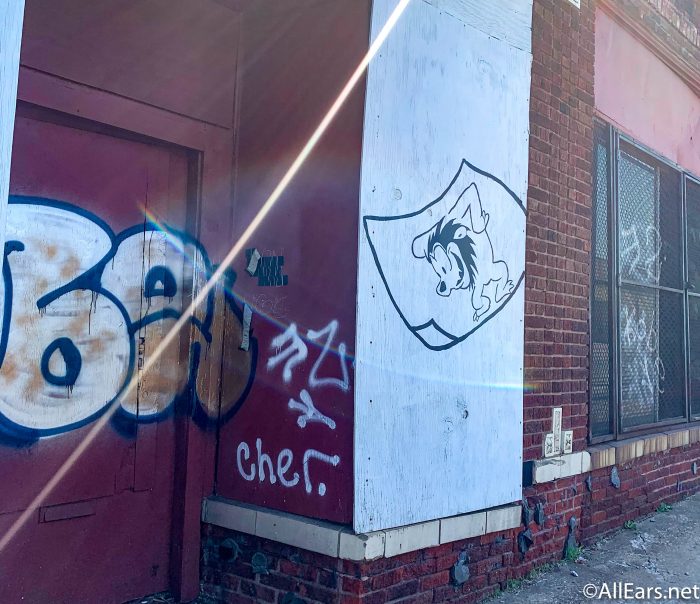 PlexPod, a company that leases flexible office space around Kansas City will be managing the operation. Income would be obtained through tenants' rent from the flexible office spaces and rentals of the theater and meeting rooms. The project relies on after-school programs, stop-motion animation training, and digital media projects which are set to be offered by DigiStory KC.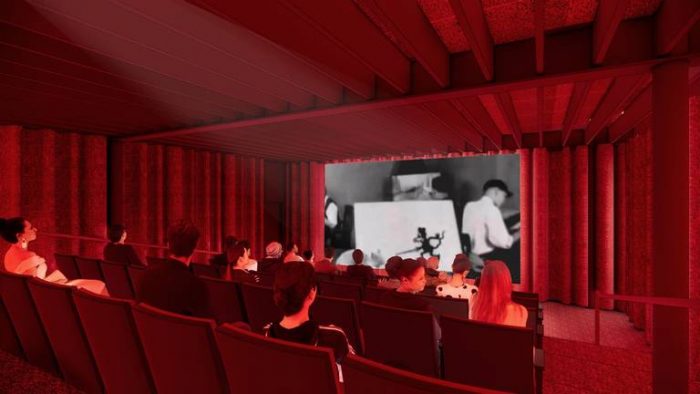 Whether all of these plans for the building ultimately get carried out will depend on the funds the nonprofit is able to raise over the next year. Thank You Walt Disney Inc. received a $450,000 grant a number of years ago from the Disney Family Foundation, largely thanks to the late Diane Disney Miller. Some of that money still remains, and the nonprofit plans to use that as well as some other funds to start work on the building's facade.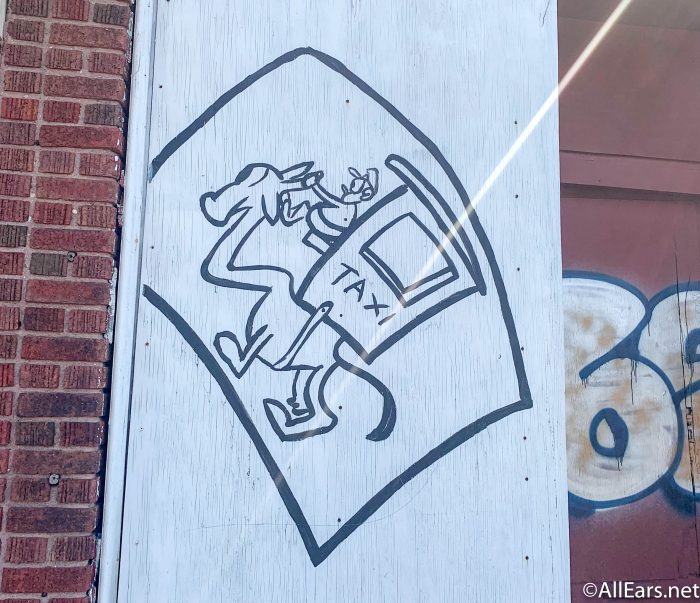 If enough funding can be raised, the hope is that the building will be done by 2023 — 100 years after Walt left Kansas City for Los Angeles.
If you want to help make this restoration project become a reality, you can donate to the cause by visiting the Thank You Walt Disney, Inc. website. There, you can read all about Walt's history with Kansas City and see more about the organization's future plans for the building.
You might not have thought about ever visiting Kansas City before to soak in Disney history, but a lot of Walt's early story was formed here. So the next time you root for the Kansas City Chiefs or pass through this midwestern town, take a minute to look around and soak in the history of the place where it all began for Walt.
Join the AllEars.net Newsletter to stay on top of ALL the breaking Disney News! You'll also get access to AllEars tips, reviews, trivia, and MORE! Click here to Subscribe!