Never Built: The Story of Disney's America
by
Joan Feder
Feature Article
This article appeared in the May 11, 2021 (#1136) edition of ALL EARS®
Editor's Note: This story/information was accurate when it was published. Please be sure to confirm all current rates, information and other details before planning your trip.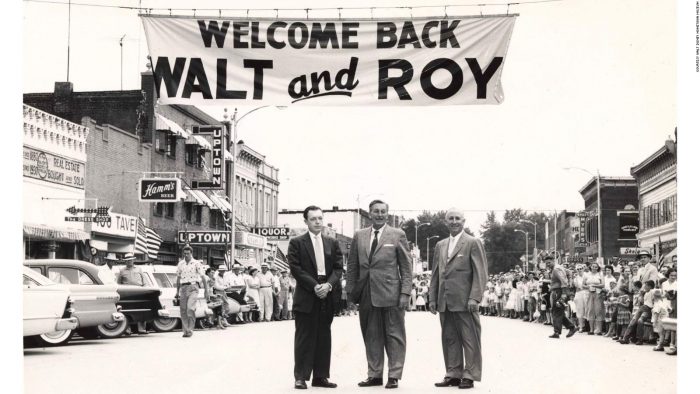 On November 12, 1993, Disney announced its plans to build a new theme park, Disney's America. It was going to immerse guests in the history of the United States.
Despite years of planning and development, it never got off the drawing board. According to Disney press releases and concept art, this is what that park might have been like if it had been built.
Disney's America was going to be located in Virginia, just 35 miles from Washington, D.C. This regional park would cover between 125 and 185 acres. It would be significantly smaller than the 500 acres of Disneyland or 27,000 acres that comprise Disney World.
Attendance would top out at 30,000 guests a day. Featuring only three or four major attractions, it was intended to be a one-day park.
Guests would travel through American history by exploring the park's nine distinctly themed "territories" (like the lands at the Magic Kingdom). These territories would be arranged near a man-made lagoon called Freedom Bay. Our travels will take us on a counterclockwise path along its shores.
Visitors entered Disney's America by walking under an 1840's train trestle. Two antique locomotives would be available to ride around the park's perimeter.
After passing under the railroad tracks, guests would find themselves in the first territory, Crossroads USA (1800 to 1850), a thriving pre-Civil War era town. This area would have stores, dining, and exhibits. Plans also included Disney's first in-park hotel.
Heading to the right was President's Square (1750 to 1800). This section would tell the story of the birth of democracy and those who fought to protect it. Its main attraction would be The Hall of Presidents which would be relocated from Disney World's Magic Kingdom.
The next territory over was Native America (1600 to 1810) which would explore the lives of America's first inhabitants. It was going to include a village based on an amalgam of eastern tribes. There, visitors would enjoy exhibits, arts and crafts and other interactive experiences. There would also be a Lewis and Clark raft attraction where guests would ride through pounding rapids and churning whirlpools.
The Civil War Fort (1850 to 1870) would include a CircleVison-360 film that would plunge moviegoers into the middle of Civil War combat. Battle reenactments would take place in a nearby open field. Evenings would feature a recreation of the historic naval fight between the ironclad ships, Merrimac and Monitor, in a thrilling nighttime spectacular.
Next, guests would get to experience what life was like on the Family Farm (1930 to 1945). This representation of a working farm would feature activities and exhibits relating to food production. There would be cows to milk, ice cream to churn and crops ready for harvest. Visitors would also be able to take part in a country wedding, barn dance and buffet.
Guests could then kick back, much as the farm family would have, by attending the State Fair (1930 to 1945). This territory would boast two rides, a 60-foot Ferris Wheel and a "wooden" rollercoaster that was actually made of steel. There would also be an old-fashioned ballpark set in a cornfield, where exhibition games and shows would take place.
Victory Field (1930 to 1945) would tell the tale of soldiers defending America's freedom with a focus on the impact of air combat. It would feature flying exhibitions and would have a display of airplanes from different eras. The buildings were themed as hangars that would contain the attractions. The original plans called for dueling roller coasters that would both have multiple inversions. Imagineers were also looking at incorporating some sort of a simulator or virtual reality experience.
The next territory, Enterprise (1870 to 1930), focused on the inventions and American ingenuity of the industrial era. It was going to be a mock factory town that featured exhibits about technology. The star attraction was going to be a steel roller coaster named the Industrial Revolution. Guests would ride through a turn of the century mill, including blast furnaces, and a finale that culminated in a narrow escape from "a fiery vat of molten steel."
The final land, We The People (1870 to 1930), was set in a replica of the Immigration Building on Ellis Island in New York Harbor. This historic landmark was the clearing house for many immigrants who came to America in the 19th and early 20th centuries. This territory would feature entertainment and exhibits that recognized the courage and triumph of America's immigrant heritage.
Disney was planning several other developments to support this new theme park. They intended to build resort hotels with a total of 1,340 rooms, and an RV park with 300 campsites. There would also be about 2000 square feet of retail and commercial space built, along with a 27-hole golf course.
The backlash to Disney's America was quick and fierce. Both citizens groups and historians objected.
Local landowners did not want a Disney park in their backyards. They were troubled by the urban sprawl that had sprung up around Disneyland and Disney World. Other worries included blocked roadways and an increase in pollution.
Historians were concerned about factual accuracy and the past being "Disneyfied" in order to aid storytelling and merchandising opportunities. They were also troubled by Disney's America's proximity to the Manassas National Battlefield Park, where not one but two Civil War campaigns were fought. They were worried that the tourist attraction would damage this hallowed ground.
These concerns escalated over time. On June 22,1994, there was even a Senate subcommittee hearing about whether Disney's America should be built.
In response to all of this, in August 1994, Disney reimagined the plans for the park. They changed the name to Disney's American Celebration.
This vision of the park would be less political and less historically oriented. It was going to include a version of The Land attraction from Epcot. There would be working factory tours of American companies like Crayola and Apple. They also planned multimedia presentations about immigration, the American family and American military history.
Additionally, Disney's American Celebration would include a dining district called Streets of America. It would showcase regional cuisine from different cities like pizza from Chicago, Cajun food from New Orleans, and barbecued ribs from St. Louis.
Further study revealed that even this smaller and more dilute version of Disney's America was not viable. The park was going to be much more expensive and much less profitable than Disney had anticipated.
On September 28, 1994, the project was officially canceled. But a couple of years later, it was given another shot.
In 1997, Knott's Berry Farm, an amusement park located six miles from Disneyland, went up for sale. It already featured an exact replica of Independence Hall. What better place to build Disney's America?
This time, the entrance of the park would look like Disney World's Liberty Square — here to be renamed President's Square. Again, the Hall of Presidents would be moved and become this area's main attraction. This version of the park took several other ideas straight out of the plans for Disney's America as well, including a Lewis and Clark river ride, a Native American territory, and a lagoon called Freedom Bay.
This rendition of Disney's America failed as well. While it was near Disneyland, it was not that close. Transporting guests from one park to the other was not practical. An extension of the monorail was not financially feasible, and busses were deemed too awkward.
Additionally, the owners of the property, the Knott Family, didn't really want to sell to Disney. They were concerned that Disney's plans to significantly change their park would hurt the family's legacy. Instead, the Knotts chose to sell the property to a company that kept the park's original name and layout intact.
Despite these repeated setbacks, the ideas behind Disney's America got one more chance, and this time, they were actually used. Many went on to became part of Disney's California Adventure when it opened in 2001.
The State Fair became Paradise Pier, including both the Ferris Wheel and the California Screamin', a wooden-looking steel roller coaster. Victory Field was adapted into Condor Flats, which featured hangars, and Soarin' Over California, an aviation themed attraction. The Lewis and Clark raft ride became Grizzly River Run. There was even a twist on the Family Farm called Bountiful Valley Farm.
Since then, most of these areas of the Disney's California Adventure have been reimagined. Paradise Pier is now Pixar Pier, and the California Screamin' has become an Incredibles themed roller coaster. Similarly, Condor Flats morphed into the Grizzly Peak Airfield.
Unfortunately, Bountiful Valley Farm no longer exists. But never fear, this area has been refurbished for your future enjoyment. It is now a part of the Avengers Campus which is set to open early this summer!