Disney's Art of Animation Resort is the youngest Value Resort at Walt Disney World at almost nine-year-old, and it offers a budget-friendly hotel option, particularly for those traveling with a large party.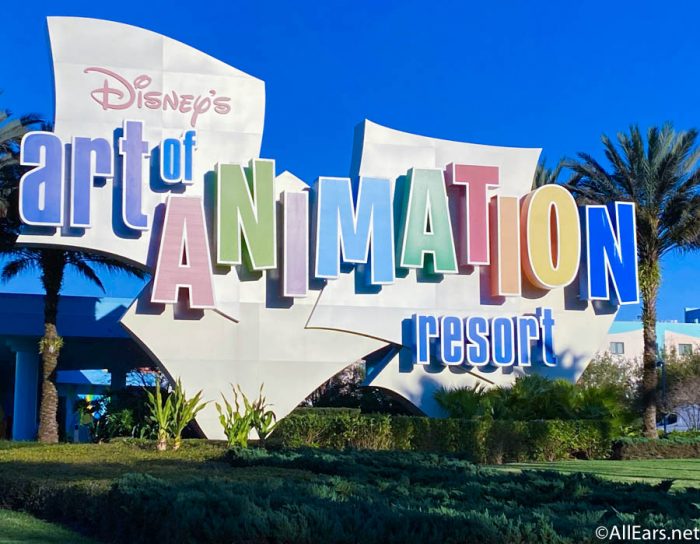 The hotel is themed after Disney animation and features three different sections dedicated to Disney animated movies including The Little Mermaid, The Lion King, Finding Nemo, and Cars. This hotel is often a great option for large families or those looking for more space in their room because three of the four sections are family suites. But the rooms and themes aren't the only unique things about this hotel; there are also hidden details and secrets that you'll only find here!
These Are The Secret Details You'll Only Find at Disney's Art of Animation Resort!
Early Sketches From Disney Animated Films
When you first enter Disney's Art of Animation, immediately notice the larger-than-life drawings that span the length of the wall in the lobby. And you will want to stop here and look a bit closer!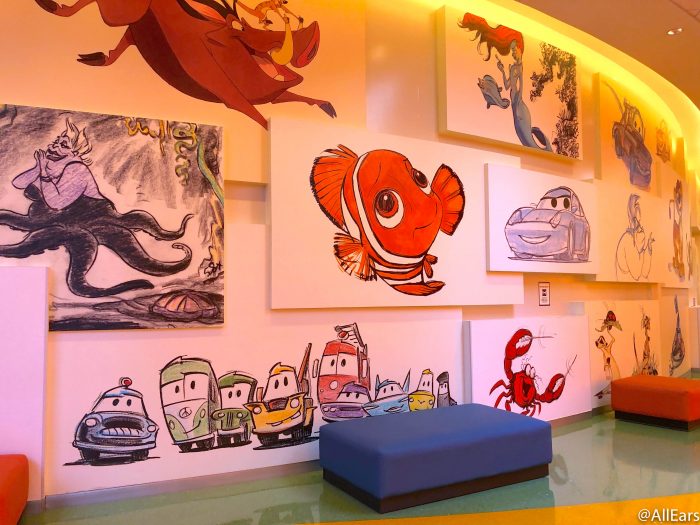 Animation Hall is meant to represent the creative process that goes into making the animated films we know and love, so as you walk down the hall, the sketches become more and more like the finished product. You can see some of the real concept artwork and original sketches that were drawn during the creation of the movie!
Signed Animation Sketches in Animation Hall
When you're in Animation Hall, don't just look at the walls — look up, too! Just in front of the hotel's shop, Ink & Paint, you'll find a chandelier that is literally bursting with sketches. Take a closer look!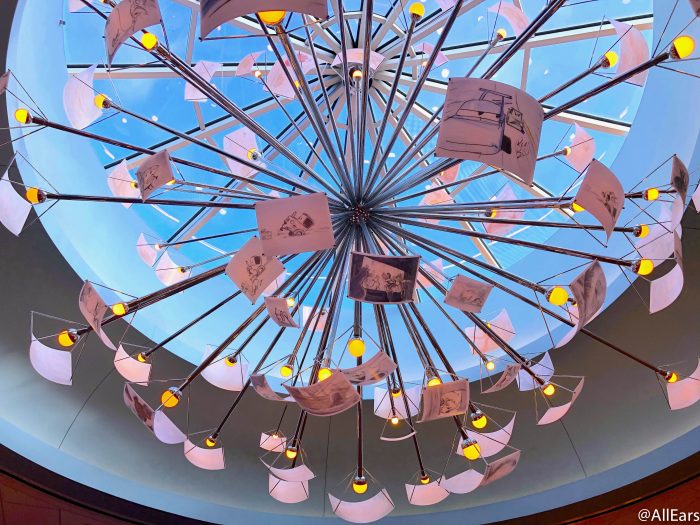 Many of the sketches are actually signed by some recognizable people! There is a Cars sketch signed by John Lasseter (who directed the movie), a drawing of Crush signed by Finding Nemo director Andrew Stanton, a picture of Ariel and Prince Eric signed by John Musker and Ron Clements (co-directors of The Little Mermaid), and a drawing of Ariel that is signed by Ariel's voice actor, Jodie Benson. There are quite a few pieces of artwork on the chandelier, so you can have some fun hunting for the signed ones!
Babycakes NYC
Another secret that you'll only find at Disney's Art of Animation is rather…tasty. Because it involves food! If you've ever been to Disney Springs, you may have stopped by the vegan and gluten-free treats shop called Erin McKenna's Bakery NYC (formerly called Babycakes NYC). Well, if you love yourself a good dessert, you can actually find these treats at Disney's Art of Animation!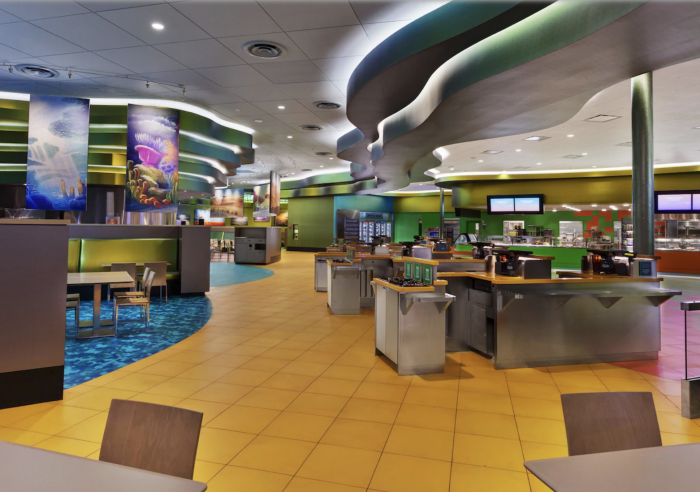 Landscape of Flavors (the hotel's food court) sells the Brownie Cupcakes from the bakery in the refrigerator area! There are only a few Disney hotels that sell the packaged desserts, and this is one of them!
Real Plates and Silverware
And while you're snacking on your Brownie Cupcakes, or just grabbing a bite to eat at Landscape of Flavor, you'll be enjoying it with real plates and silverware! This is a small detail that you probably won't think much about, but it can make a big difference in your dining experience!
Other Disney World Value Resorts offer paper plates and plastic silverware to their guests, so you're getting a bit of an upgrade when you stay here!
A Recognizable Tire Brand
When you stay at Disney's Art of Animation Resort, it's meant to feel like you're stepping foot into the Disney movies, so all of the decorations are larger-than-life! Over in the Cars section, you can travel down Route 66 and, if you look closely, there are some pretty cool details to check out!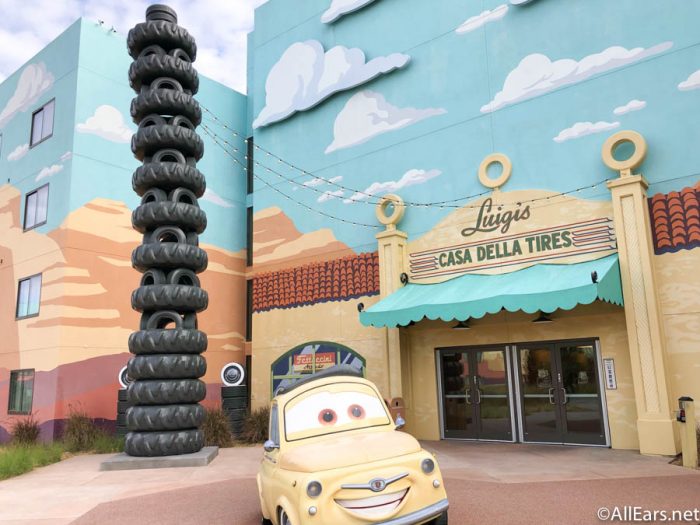 Take a pit stop at Luigi and Guido's shop, Casa Della Tires! They have a huge pile of tires for anyone who might need a replacement, but look even closer! The banner in the window is an advertisement for their tires — "Lightyear" tires. That's a reference to another Disney Pixar animated movie — Toy Story! Guess Buzz Lightyear is in the tire business! It's also a play on the real world tire company, Goodyear!
Hidden Lightning McQueens
You don't have to leave the Cars section to find the next hidden detail. As Disney fans, you're probably used to searching for Hidden Mickeys around Walt Disney World, but what about Hidden Lightning McQueens? That's right —the main character of Cars is actually hidden in the clouds on the tops of the buildings!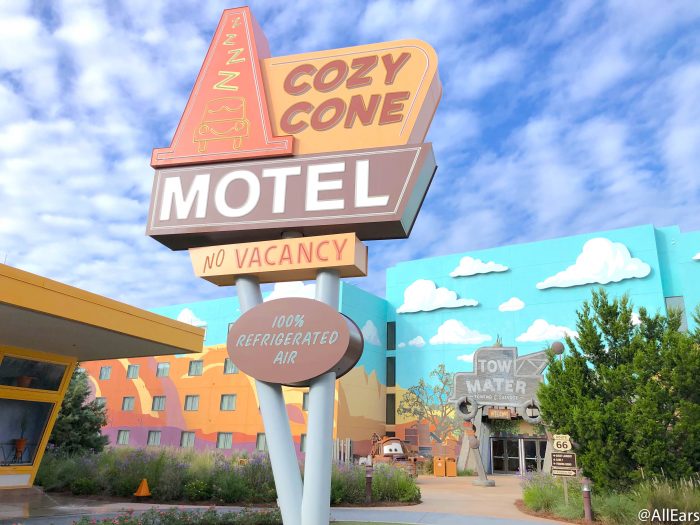 The easiest way to spot these is to look for the tires that would be on Lightning McQueen's car! You can also look for them hidden in Landscape of Flavors, too — just pay attention to the lights!
Free Cabanas
Now, this next one isn't necessarily "hidden" or "secret," but it is definitely a reason to head over to a smaller pool instead of spending all your time at the main one for the resort (Big Blue Pool). The Cars section of the resort is meant to resemble the Cozy Cone Motel from the movie so there are LOTS of details from it, including the "cones" that serve as Sally's rooms for her overnight motel guests.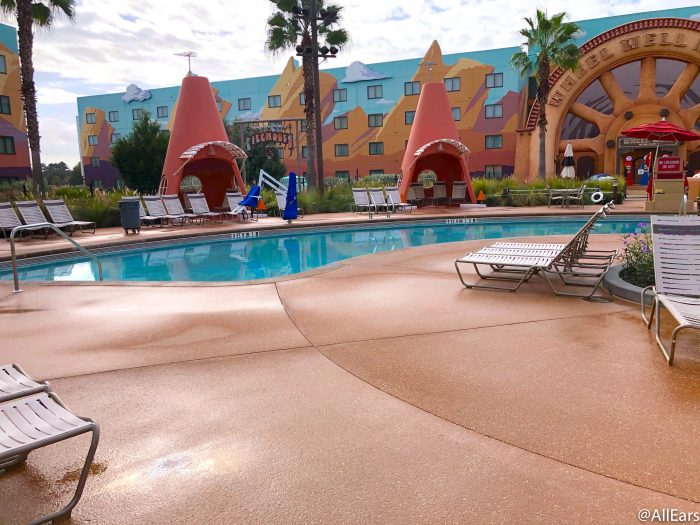 Just like the movie world, you can "stay" in the cones at Art of Animation, but they've been converted to cabanas by the pool. What you may not know when you're hanging out in your cone, getting a break from the sun, is that these are the only free cabanas you'll find at Disney World! Cabanas usually can only be found at four other Disney hotels, and those will cost a pretty penny to rent.
Hidden Mickeys
Lightning McQueen isn't the only Disney character hiding around Disney's Art of Animation Resort; there are also some classic hidden Mickeys! Carpets, rooms, the food court — they're everywhere! When you're walking The Little Mermaid themed-section, take a look at the clam designs along the buildings — you'll find a hidden Mickey on the seaweed!
You can also spot some hidden Mickeys on the large decorations along the path to your room! One of the blue rocks near the Big Blue Pool has a Mickey-looking trio of barnacles.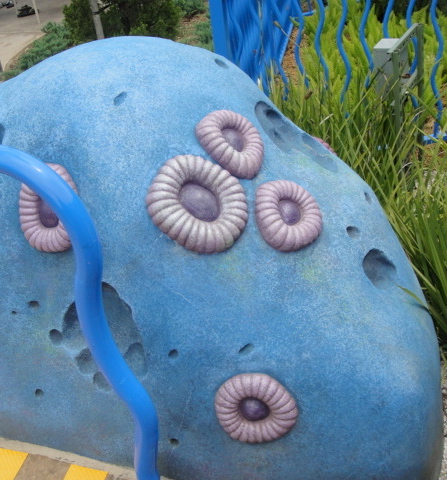 And there are a lot more Hidden Mickeys to find during your stay at this hotel — but we're not giving away any others!
Underwater Music
The last secret detail sadly is no longer at the hotel, but it's too cool not to mention! The Big Blue Pool is the main pool for resort guests to catch a break from the Florida heat. Not only is it impeccably themed after Disney's Finding Nemo, but it's also the largest Disney hotel pool on Disney property. And, to create the feeling that you were literally swimming with Nemo and his friends in the movie, they used to play underwater music!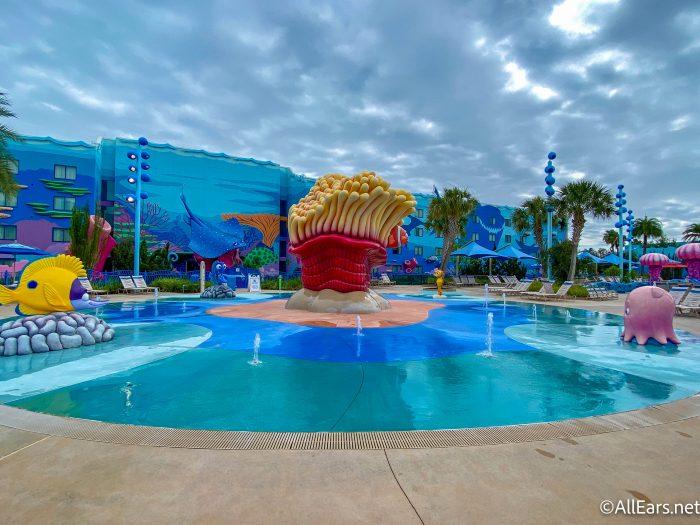 You could hear the on-land music when you were swimming through underwater speakers! Sadly, this feature hasn't been around for a while now, but it's still a fun fact that will make you look like the Disney expert you are when you visit with family!
That's all of the secret details in Disney's Art of Animation! The next time you stay here, be on the lookout for all of them and see how many you can spot! And, as always, stay tuned to AllEars for all the latest news and updates on Walt Disney World Resort hotels!
Join the AllEars.net Newsletter to stay on top of ALL the breaking Disney News! You'll also get access to AllEars tips, reviews, trivia, and MORE! Click here to Subscribe!

Have you ever stayed at Disney's Art of Animation Resort? Let us know in the comments!