When you travel to Disney World, how do you get there?
Some guests may drive to the resort, but most probably fly into Orlando, most likely into Orlando International Airport. But did you know there's ANOTHER airport you can fly into to get to Disney World? Should you use THAT airport for a future trip?
The airport in question is Orlando Sanford International Airport  — it's a smaller airport located about 45 miles from Disney World. It's also currently a base for Allegiant Air.  But should you fly into it for your next Disney World trip? Well, let's look at all the pros and cons of using this airport.
Pros
If you've been to Orlando International Airport, you know how busy and crowded it can get — it's the fourth largest airport in the U.S. However, Orlando Sanford International Airport is a lot smaller, meaning that it's not as busy. You won't have to take trams to get from one part of the airport to another, and  you don't have to navigate through crowds of people.
Even better? It also means the lines for checking in and security are usually going to be much shorter. For many Disney World guests, just the amount of time they could save standing in line at the airport could be enough to win them over to flying into Orlando Sanford.
Another bonus is that it serves as a hub for many regional flights — if you live in a smaller city or town, you can skip the drive to the closest large airport and just use your regional airport to get directly to Orlando. This could make your next trip to Disney World a lot more convenient.
Perhaps the most important thing, though, is that flying into Orlando Sanford International Airport is generally cheaper than flying into Orlando International Airport — you can save as much as $150 or more on your flight. How's that for an incentive to use Disney World's OTHER airport? That's more money you can spend IN Disney World.
Con
Where there are pros, though, there are also cons. Orlando Sanford International Airport is farther from Disney World than Orlando International Airport — about twice the distance. That means it will take longer to get to Disney World. If you're like us, you want to see that Disney World welcome gate as soon as possible.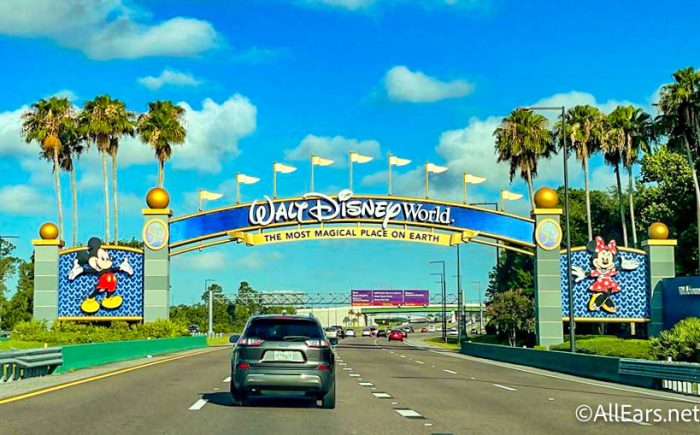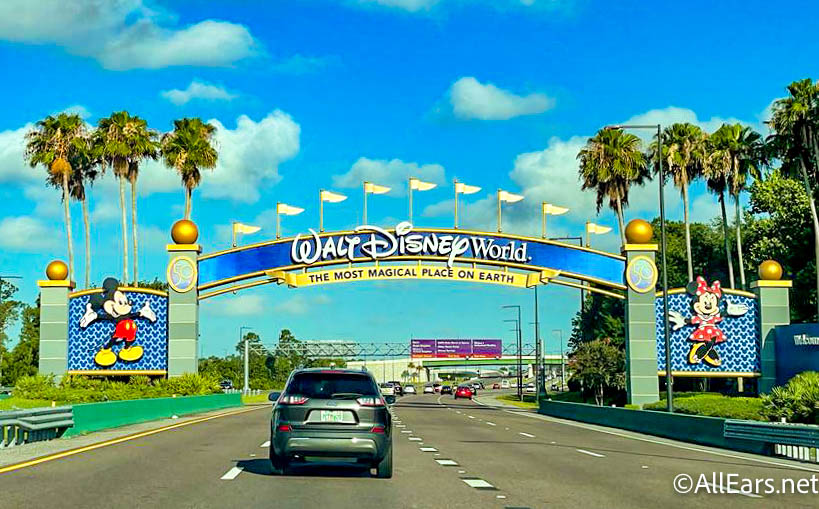 That also means that transportation to Disney World isn't as convenient, although you do have several options. First, you can rent a car — but that could eat up all the money you saved by flying into Orlando Sanford International Airport in the first place.
Plus keep in mind that if you do rent a car, you will have to pay for parking at your Disney World hotel, if you're staying at one. However, parking at the theme parks is still free for Disney World hotel guests.
There are also several private shuttles you can book from the airport — those might not be as pricey but aren't going to be as convenient or inexpensive as booking Mears Connect or The Sunshine Flyer at Orlando International Airport.
You can take a rideshare service (Uber or Lyft) to Disney World, but it won't be cheap — it can run around $60 or more each way, depending on the time of day and service.
However, there IS an inexpensive transportation option for those visiting Universal Orlando Resort — it's called the Attraction Express and costs $20 per adult and $15 per child (ages 3-16). Kids under 3 can ride for free.
So should you fly into Disney World's OTHER airport? In the end, you'll have to weigh the pros and cons depending on the kind of vacation you want to have. Just remember that you DO have a choice and Orlando Sanford International Airport could be the better one, depending on your preferences.
If you are visiting Disney World, be sure to read up on how to choose HOW to get to the resort, as well as get familiar with all the resort-wide transportation options you'll have.
We also have a list to help you pack for your vacation, as well as a guide on how to use Disney Genie and Genie+ while you're there.
Join the AllEars.net Newsletter to stay on top of ALL the breaking Disney News! You'll also get access to AllEars tips, reviews, trivia, and MORE! Click here to Subscribe!

How do you usually travel to Disney World? Let us know in the comments!