NOTE: While we will not be delving into all the surprises and stories onboard the Galactic Starcruiser, we will be sharing details from onboard, so proceed with caution if you are looking to remain completely spoiler-free for your journey.
Disney World's newest hotel has officially opened and it's unlike anything we've seen before!
Star Wars: Galactic Starcruiser promises to take guests (well, passengers) on a 2-night adventure into a galaxy far, far away. And, with everything from lightsaber training, to unique character interactions, to tiny cabins, and space food, there's a whole lot to unpack about the experience. That's why we're breaking it all down in our most frequently asked questions about the Star Wars hotel!
We're Answering Your Most FAQ About Disney World's NEW Star Wars Hotel!
Planning
Where is Star Wars: Galactic Starcruiser?
Star Wars: Galactic Starcruiser is located at:
Star Wars: Galactic Starcruiser Terminal
201 South Studio Drive
Bay Lake, Florida 32830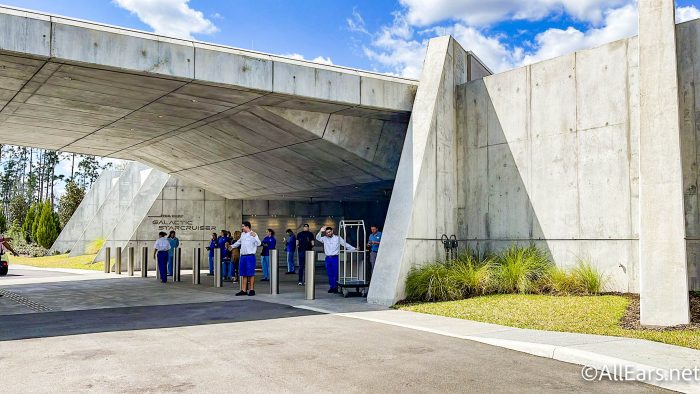 All guests must arrive between 1PM and 4PM on their departure date and valet parking is provided as part of your stay. Those staying at a Disney World Resort hotel before or after their voyage will have transportation provided to or from the Disney hotel included.
Keep in mind that only guests with an active reservation at the Starcruiser are able to visit the terminal and board the starcruiser.
How do I get to or from the Galactic Starcruiser if I'm staying at another Disney World Resort hotel before or after my visit?
If you are staying at a Disney Resort hotel either before or after your visit to the Halcyon, complimentary Disney transportation will be provided to and/or from your Resort for your arrival and/or departure from Galactic Starcruiser.
Is the Play Disney Parks app the same as My Disney Experience?
No, the Play Disney Parks app is a separate app from the My Disney Experience app that you will need to download to your phone prior to arriving at the Star Wars hotel.
To access the Star Wars: Datapad features in the Play Disney Parks app, you'll need to sign in to your My Disney Experience account through the app. This will provide confirmation that you are booked for your voyage.
Once signed in, you will be able to access a map of the Starcruiser, view your personal itinerary 30 days prior to your trip, and receive communications "from the crew and others you meet along the way."
How do I get from the Orlando International Airport to the Galactic Starcruiser and back?
Disney does not provide transportation between the Orlando International Airport (MCO) and the Galactic Starcruiser.
However, shuttle transportation can be booked with both Mears Connect and The Sunshine Flyer to the hotel. Additionally, guests can opt to rent a car or use a rideshare service such as Uber or Lyft. Just keep in mind that all of these will be an additional cost to your travel.
Dining on the Galactic Starcruiser
Is room service available?
Room service is not offered onboard the Galactic Starcruiser. However, passengers can contact guest services at any point during their stay and Crew Members will do their best to accommodate.
Can I bring food with me?
Yes. All passengers are welcome to bring their own food and beverage (including alcohol) with them onboard the Starcruiser.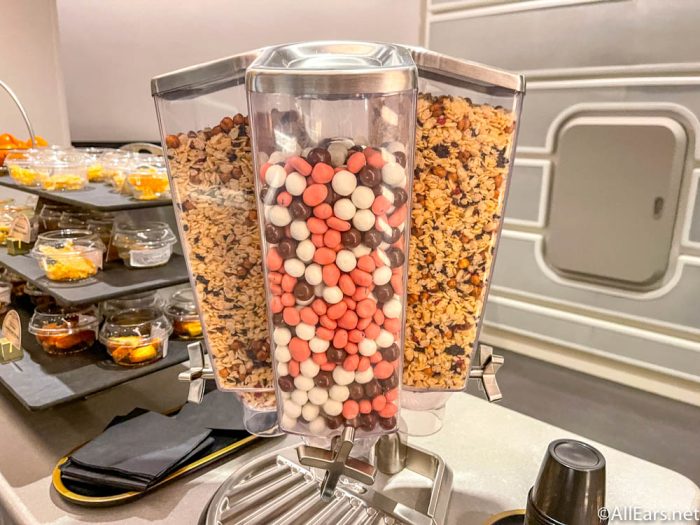 Are snacks at the Sublight Lounge included?
Yes, all snacks at the sublight Lounge are included in the cost of your trip. Guests can order as many or as few as they'd like while onboard.
Is the Sublight Lounge limited to adults at a certain hour?
No. All ages are permitted in the Sublight Lounge all the time!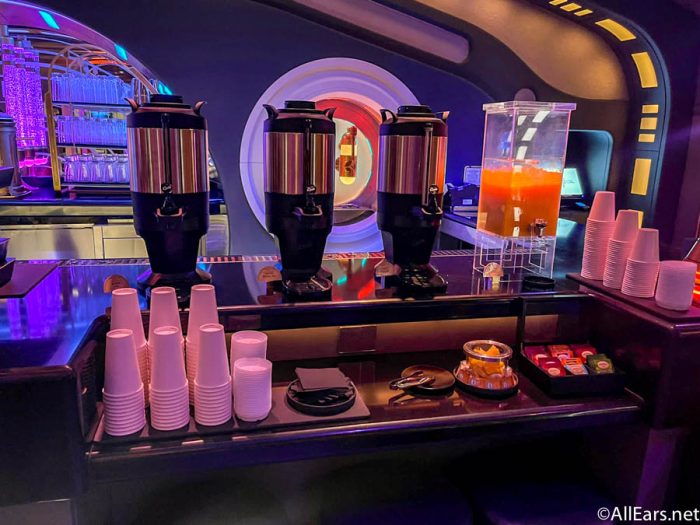 Is seating assigned for lunch and dinner in the Crown of Corellia dining room?
Passengers can choose to sit wherever they would like for lunch in the Crown of Corellia dining room on Day 1 and Day 2. However, seating is assigned for dinner. Disney will ensure that all guests in your cabin will be seated at the same table, though you may be seated with other parties similar to how seating is done on a cruise ship.
Which is better — Dinner Service 1 or 2?
Passengers should choose their preferred time based on when they feel they will be ready for dinner onboard. Dinner Service 1 takes from 5:30PM to 7PM and Dinner Service 2 is scheduled for 8PM to 9:30PM. Note that this will be your assigned time for both days of your voyage.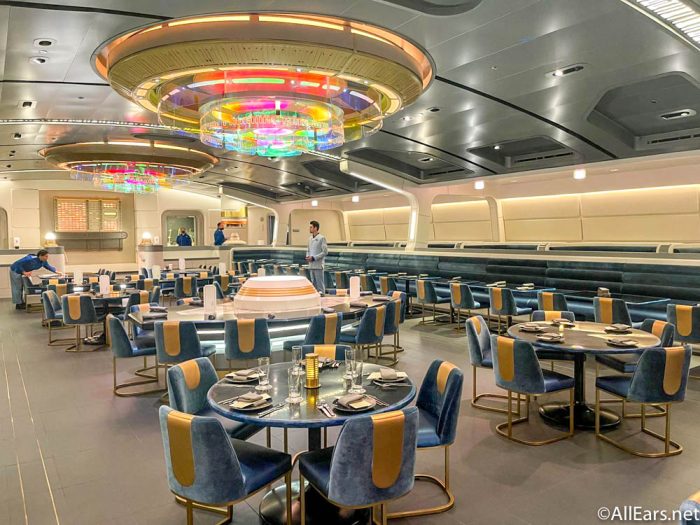 On Night 2, Dinner Service 2 overlaps with the next scheduled event of the night (the big finale), so you may find that your dining experience is cut a bit short on this day. However, the events are more experiential if you're dining during this time.
Like a cruise is there unlimited food, water, and soda available all day?
All of the food and beverage is included in the cost of your stay (with a few exceptions) and passengers can enjoy an unlimited amount of each while onboard.
Unlimited beverages (including soda, blue milk, and green milk) can be found in the Crown of Corellia dining room until 4PM, three types of water are available in the lobby, and guests can enjoy as many breakfast, lunch, dinner, and snack items as they'd like.
We thought that the Blue Milk and Green Milk were a different consistency (less frozen), though they tasted the same. So, if you like grabbing a Blue Milk while you're visiting Galaxy's Edge, you'll likely enjoy this one as well.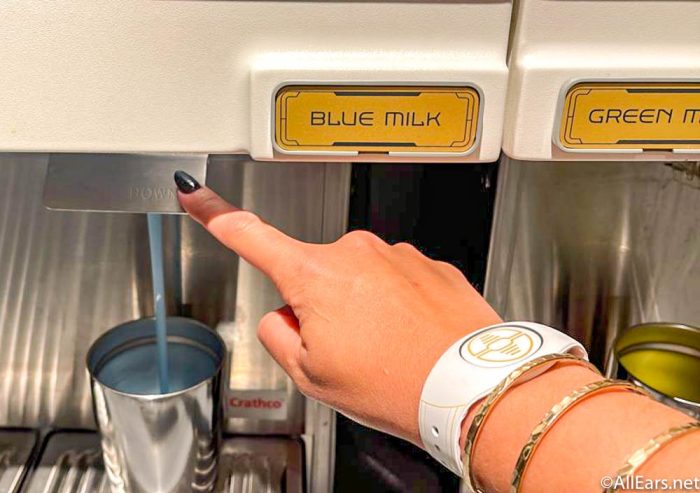 What if I have special dietary needs or allergy-friendly requests?
Guests with special dietary or allergy-friendly requests will need to visit the Crown of Corellia Dining Room for a consultation when they first board the Galactic Starcruiser between 1PM and 4PM. Here, guests will meet with a Chef or Crew Member to discuss and plan for each meal onboard.
If you require pureed meals, adhere to medically restricted diets (like very low-protein diets), or prefer a kosher or halal meal, you will also need to email [email protected] anywhere between 7 and 14 days before your trip.
Guests who are looking for plant-based meals that are made without meat, eggs, dairy, or honey will NOT need to attend the consultation on Day 1. These items can be found on the Starcruiser by looking for the green leaf icon.
Excursion to Batuu
Which Quick Service restaurants in Star Wars: Galaxy's Edge are included as part of the Star Wars: Galactic Starcruiser vacation package?
Guests who choose to go on the excursion to Batuu (aka Star Wars: Galaxy's Edge) on Day 2 can dine at any Quick Service location in Disney's Hollywood Studios. However, Disney recommends eating at Docking Bay 7 Food and Cargo to stay immersed in the Star Wars story.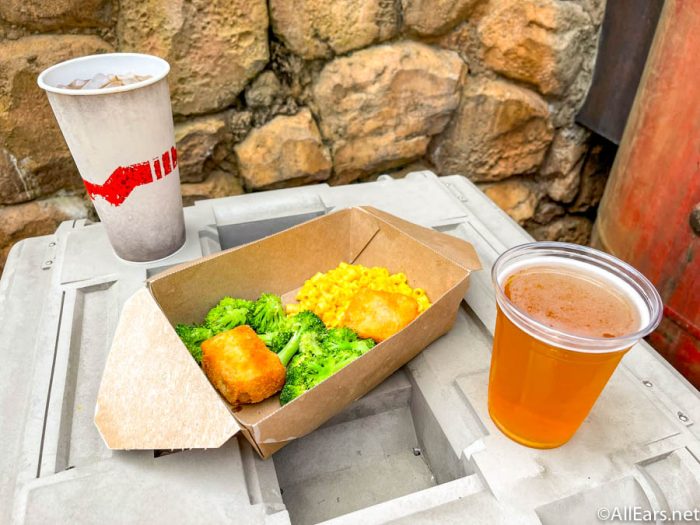 Do I need to carry around the merchandise that I buy on Batuu?
No. Passengers can bring anything they purchase on Batuu to guest services Cast Members at the transport location. Guest services will take your items, provide you with a return slip, and ensure that they are delivered to your room.
What if Rise of the Resistance or Millennium Falcon: Smugglers Run is down when I visit Batuu?
In the event that Rise of the Resistance or Millennium Falcon: Smugglers Run is down during your excursion, you may receive a Lightning Lane for another day. Just note that the recovery process may vary, but you can talk to a Guest Services crew member if necessary.
How often do the transports to Batuu run?
All passengers will receive a scheduled time to board the transport to Batuu on the morning of Day 2 in an effort to disperse people and reduce wait times.
The trip to Batuu is roughly 3-4 minutes and transports run about every 5 minutes in our experience.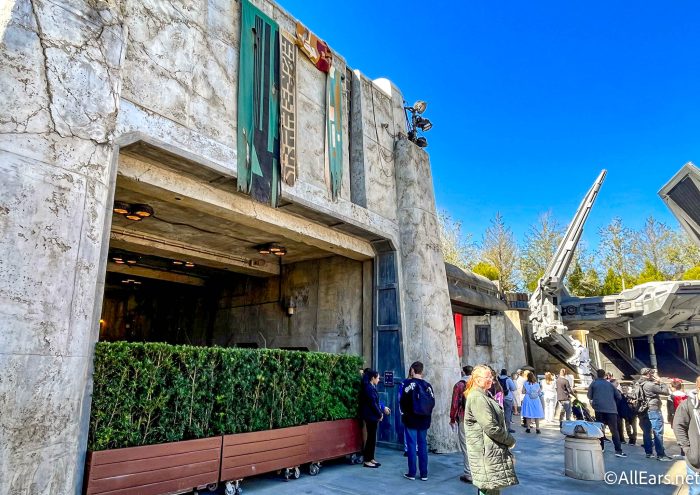 Other Common Questions
What is included in the cost?
With a reservation on the Galactic Starcruiser, guests receive:
Two nights in a cabin or suite
Ongoing entertainment, which is optional at all times for guests
Food and drinks while aboard (excluding alcoholic and specialty beverages)
A quick-service meal at Docking Bay 7 Food and Cargo or other Quick Service locations at Disney's Hollywood Studios
Admission to Disney's Hollywood Studios for the excursion to Star Wars: Galaxy's Edge
Valet parking
Exclusive Star Wars: Galactic Starcruiser MagicBand
Does anything cost extra?
For an extra cost, guests may choose to add to their experience:
Seating at the Captain's Table in the Crown of Corellia Dining Room for one evening. This costs $30 per guest, plus tax and seating is extremely limited.
Alcoholic beverages, specialty non-alcoholic drinks, and souvenir cups
Additional activities while visiting Batuu in Star Wars: Galaxy's Edge at Disney's Hollywood Studios, including:
Merchandise
Tips (beyond what is already included)
PhotoPass Memory Maker
Private photo session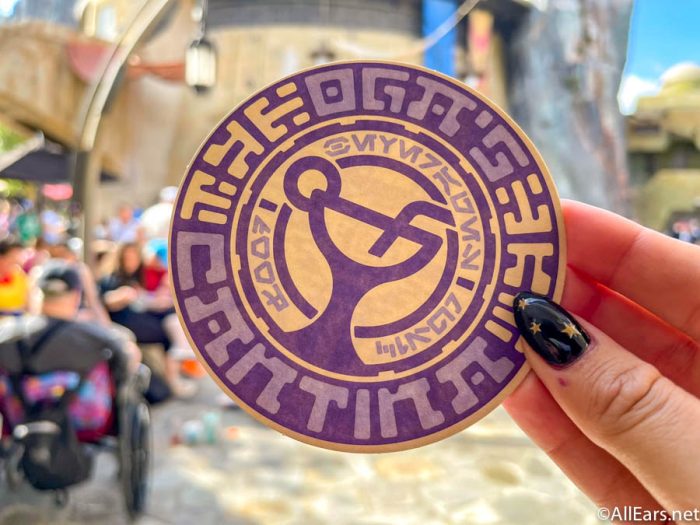 Where can you find first aid items like Advil?
First aid items including select medicines, feminine products, and other amenities are available upon request. Speak with a Crew Member if you are in need of any of these.
What if you need to leave in the middle of your stay?
Passengers are able to leave the Galactic Starcruiser at any point throughout their stay. Just let a Crew Member know that you need to leave and they will escort you onto a Launch Pod back to planet Earth.
Are there any special discounts on merchandise for affinity groups?
No, no discounts are available on merchandise in The Chandrila Collection including those for Annual Passholder and Disney Vacation Club members.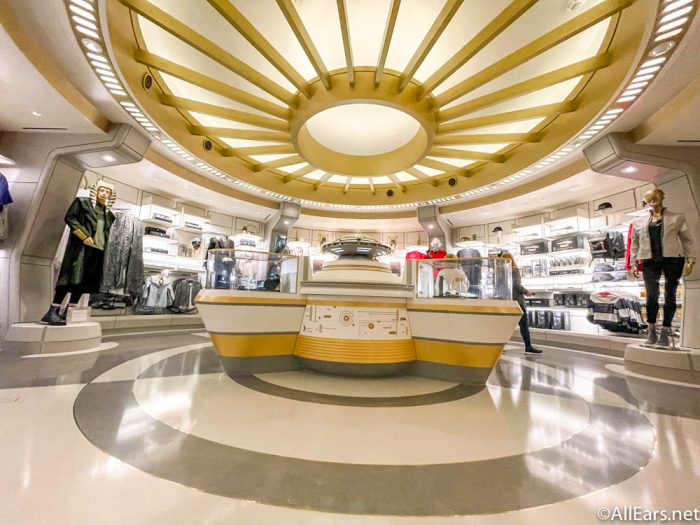 How do you know if there's an actual emergency while you're there?
If there is an actual emergency during your stay at the Galactic Starcruiser, bright emergency lights will turn on, and there will be three loud beeps that accompany a pre-recorded message that states, "Attention, an emergency has been reported in this building. This is an actual emergency. This is not a drill or part of the show. Please leave the building immediately."
"Fake" emergencies that are part of the Star Wars storyline will feature loud alarms and red flashing lights with a pre-recorded message inviting guests to join in the action.
Are the H2O products in the rooms exclusive to the Star Wars hotel?
Disney World H2O products are provided in each cabin. The soaps are similar to those you receive at other Disney Resorts, though there are additional amenities like face wipes, a bubble mask, and more.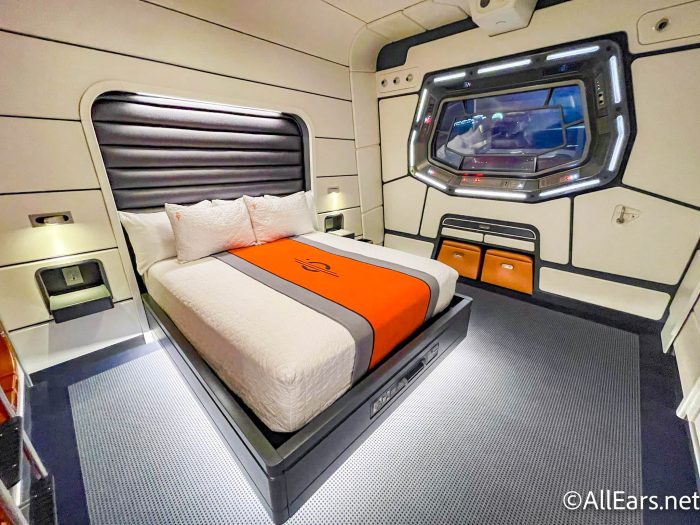 How many storylines are there? Can you experience all of it in one trip?
Unfortunately, it is not possible to do it all and experience every single storyline during your 2-night stay at the Galactic Starcruiser. How you start Day 1 sets your individual story in motion and it is largely dependent on what characters you interact with and what missions you accept.
However, in our experience, we didn't feel like we missed out on anything as we weren't aware of the other storylines going on and were instead immersed in our own!
Can I rearrange my schedule if needed?
Passengers looking to rearrange their schedule should visit guest services to see if special accommodations can be made.
How busy do I HAVE to be? If I don't want to do some of the activities on my schedule, can I deny some? Is there an opportunity for downtime?
Your experience onboard the Galactic Starcruiser is what you make it! So, you're free to skip any activities that you would prefer not to participate in — even the "mandatory" things.
Just keep in mind that the entire hotel is built around becoming immersed in the story, so there aren't many things to do outside of missions and interacting with characters onboard.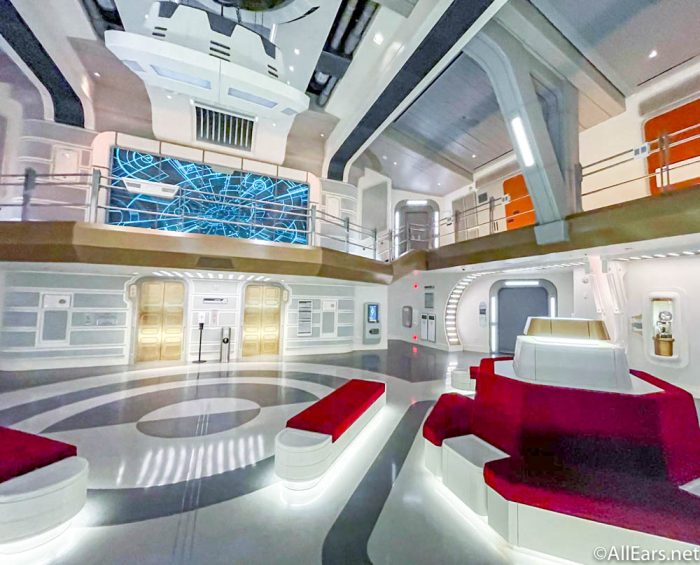 Do you have to dress up in costume?
No, guests can choose to wear whatever they would prefer during their stay!
What are the costume guidelines if I do choose to dress up?
Here are the costume guidelines for guests while onboard the Halcyon:
Costumes that may distract from the experience of other Guests are not permitted.
All Guests may dress as their favorite character, but they may not pose for pictures or sign autographs for other Guests.
Costumes must be family-friendly and may not be obstructive, offensive, objectionable, or violent.
Costumes may not contain any props or accessories that resemble or could easily be mistaken for an actual weapon.
Costumes may not contain sharp objects, pointed objects or materials that may accidentally strike another Guest.
Layered costumes or costume props that surround the entire body are strongly discouraged and may be subject to additional security screening.
Acceptable accessories include transparent wings, plastic lightsabers, toy swords, and tutus. Costume headwear may be worn as long as it does not cover the face.
Guests ages 13 and under may wear some costume masks; masks may not cover the entire face and must provide unobstructed peripheral vision at all times with openings that allow the eyes to be fully seen.
Costume masks of any kind may not be worn by Guests ages 14 and older.
And, here are the costume guidelines for guests during their visit to Batuu in Disney's Hollywood Studios:
Costumes, like full-length robes, may not reach or drag on the ground.
Capes may be worn if the length does not go below the waist.
Additionally,  all guests must comply with the theme park attire policy.
If you're planning to dress up in costume, Disney recommends purchasing costumes ahead of time on shopDisney or stopping by the ship's boutique, The Chandrila Collection, to buy a costume onboard. You can also wear costumes or pieces that you've purchased elsewhere or made yourself.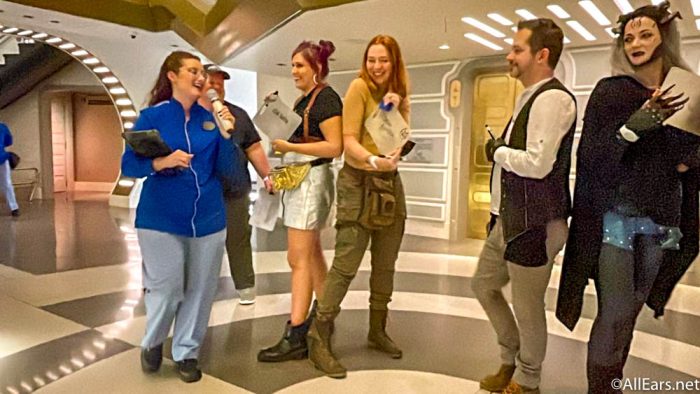 Are there PhotoPass Photographers onboard? If so, how do I get my photos?
Disney PhotoPass Photographers can be found onboard the Galactic Starcruiser. Guests will need to purchase Memory Maker in order to download the images.
Do I need to tip Crew Members during my Star Wars: Galactic Starcruiser voyage?
Gratuities for food service are included in the cost of staying at the Galactic Starcruiser. However, this does not include optional gratuities for valet parking, cabin or suite cleaning, or any other service. If you would like to provide gratuities for these, you'll need to tip at the time of service as there will not be an option to include a gratuity at the end of your stay.
Does it feel claustrophobic?
While there aren't any windows to the outside onboard the Galactic Starcruiser (aside from the ones that offer views into space, of course), most guests likely won't feel claustrophobic while onboard.
In the case that you do need some fresh air and sunshine, you can visit the Climate Simulator, which is essentially an outdoor courtyard that is woven into the Star Wars story as a space that "exactly simulate[s] the climate of the planet we're visiting on your shore excursion."
So, there you have it — the answers to the BIGGEST questions we've had since the Star Wars hotel was announced! And, if you've still got questions or just want to learn more, we're breaking down EVERYTHING that you can do onboard and more in our video below!
Plus, you can check out our posts below for more details on dining, guest cabins, and more!
Of course, we'll continue to bring you all the latest coverage on the hotel and experience, so be sure to stay tuned to AllEars for more!
What big questions do you still have about the Star Wars hotel? Let us know in the comments!
Join the AllEars.net Newsletter to stay on top of ALL the breaking Disney News! You'll also get access to AllEars tips, reviews, trivia, and MORE! Click here to Subscribe!

Disclosure: We were invited by Disney to attend a media event for Star Wars: Galactic Starcruiser, and later attended on opening day where we paid full price for travel, stay, and expenses. This did not affect our reporting of the event — our opinions are our own.