Beginning January 1st, 2022, Disney World will no longer offer Disney's Magical Express shuttle services, but there will still be plenty of ways to get between the Orlando International Airport and your Disney World Resort (though they won't be free)!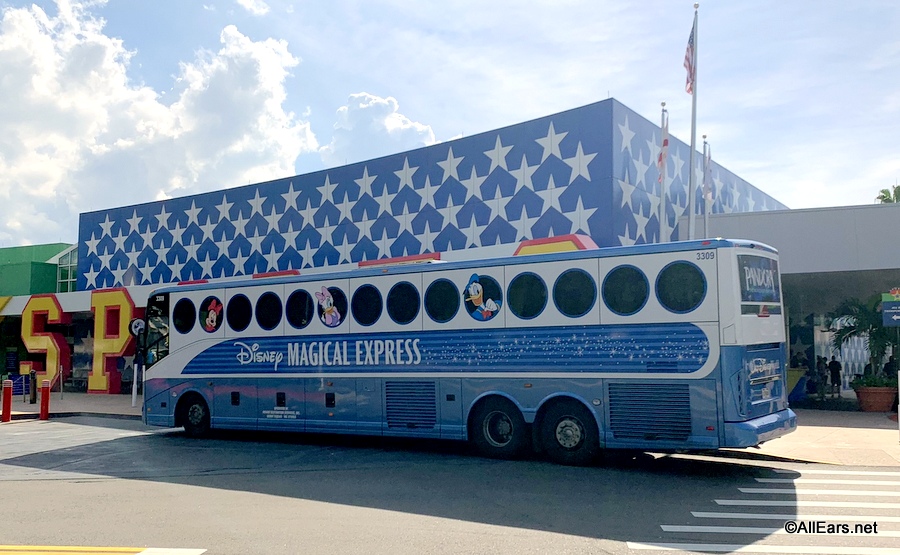 Earlier this week, Mears (the company that currently operates the shuttles) released their reservation system for a new shuttle service that will replace Disney's Magical Express — Mears Connect. Of course, the service will no longer be free, so now those vacationing to the resort will need to factor the transportation cost into their budget. But, is Mears Connect really the cheapest option?
Well, today we're comparing the cost of choosing Mears Connect versus opting to use rideshare, such as Uber, to help you decide which is best for you!
Mears Connect
Standard vs. Express Service
Before you open up the Mears Connect webpage to make your reservation you'll need to have already booked the flights for your trip and determine if you would like to utilize the Standard or Express level of service. And, there are TWO major differences between the options.

The Standard Service is cheaper and includes stops at multiple different Disney World Resorts for drop-offs and pick-ups. So, you could end up waiting about 20 minutes at the airport from the time that you check-in at the Mears Connect reception area before traveling to Disney World.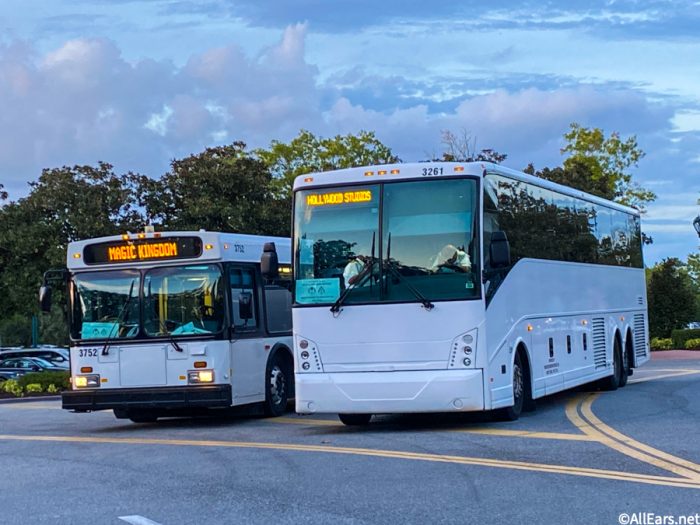 On the other hand, the Express Service is more expensive but will take guests directly to their Disney World Resort hotel without a wait time or additional stops.
So, how much does it actually cost?
Cost
Mears Connect has released a chart with their introductory rates that begin at $16 per adult and $13.50 per child for one-way Standard Service and range up to over $250 for parties of four or more using the Premium Service.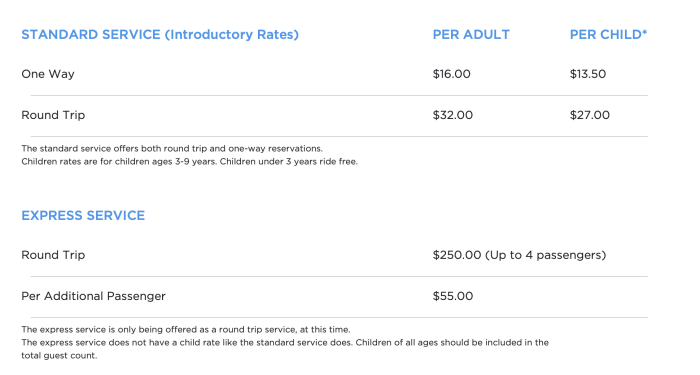 So, for a family of four who is traveling with two adults and two children using the Standard Service, the round trip to any Disney World Resort hotel would be $118.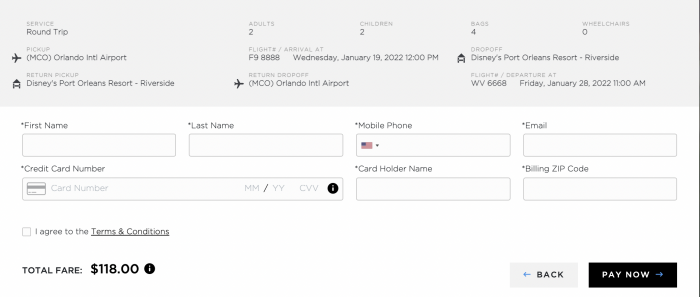 And, if that same family opts for the Express Service, the cost of a round trip will be $250 total.
If your travel party is a bit smaller and you've only got two people in your group, the cost for a round trip is a bit cheaper using Standard Service, costing $64.
However, a party of two opting to use Express Service will not save on cost, as the round trip is priced at $250 for up to four passengers, regardless of whether you're traveling with less.
Keep in mind that Mears Connect does NOT charge extra for your luggage, so the rate that is listed on the website is what you can anticipate your fare costing. Though, these are listed as "introductory rates" so they will likely increase over time.
Uber
UberX vs. Uber XL
So, how does the cost of Mears Connect compare to rideshare programs like Uber? Well, let's first cover the different options you have to select from.
Unlike Mears Connect, you won't have to share a ride with guests who are outside of your party and you'll be able to be taken directly to your resort without having to stop at any others (something that's comparable to the Express Service). But, you'll want to keep in mind all of the options that you have to select from.
Overall, Uber has over 10 different ride options, but the two cheapest options for guests are UberX and UberXL. 
Uber X is the most affordable economy option with Uber and fits up to three passengers. But, if you're traveling with more than three in your party (or you just want extra space) then you'll need to opt for the Uber XL, which accommodates up to five people.

And, what will it cost you for a round trip using Uber?
Cost
We input some test rides with Uber and found that for a trip from the Orlando International Airport to Disney's Port Orleans Resort — Riverside with two adults and two kids the roundtrip fare would cost a total of $83.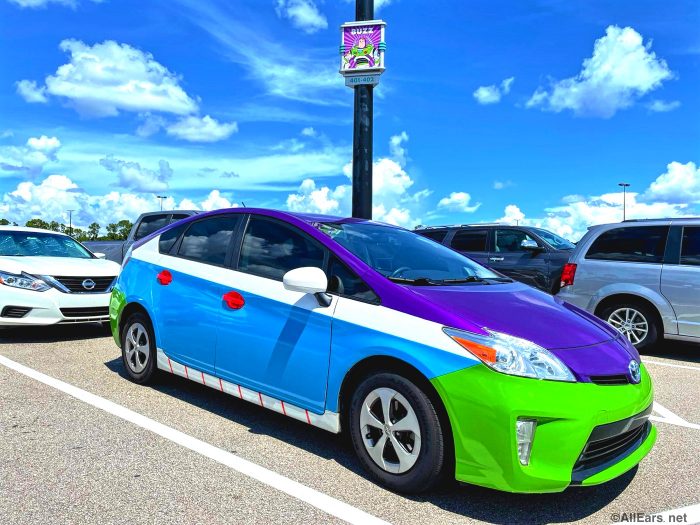 And, keep in mind that Uber doesn't take into account how many people are traveling when they calculate the cost of the trip, so a family traveling with two adults would also be charged $83 round trip using UberXL.
The only cheaper option would be available for guests with a party of two or three using UberX, making the round trip a total of $61.

Now, Uber rates can vary a lot, so depending on which Disney World Resort you're staying at, traffic delays, surge pricing, and other factors your trip with Uber could end up costing you more or less.
Which is Better For Your Trip?
So, looking at these numbers, it looks like the cheaper option for guests would be taking an Uber, though there are still some other factors to consider.
Mears Connect does not have surge pricing rates, so the cost on their price chart is the cost that you'll be paying no matter when or where you're traveling to. Whereas, with Uber, you could end up paying more than the cost of Mears Connect due to all of the variables.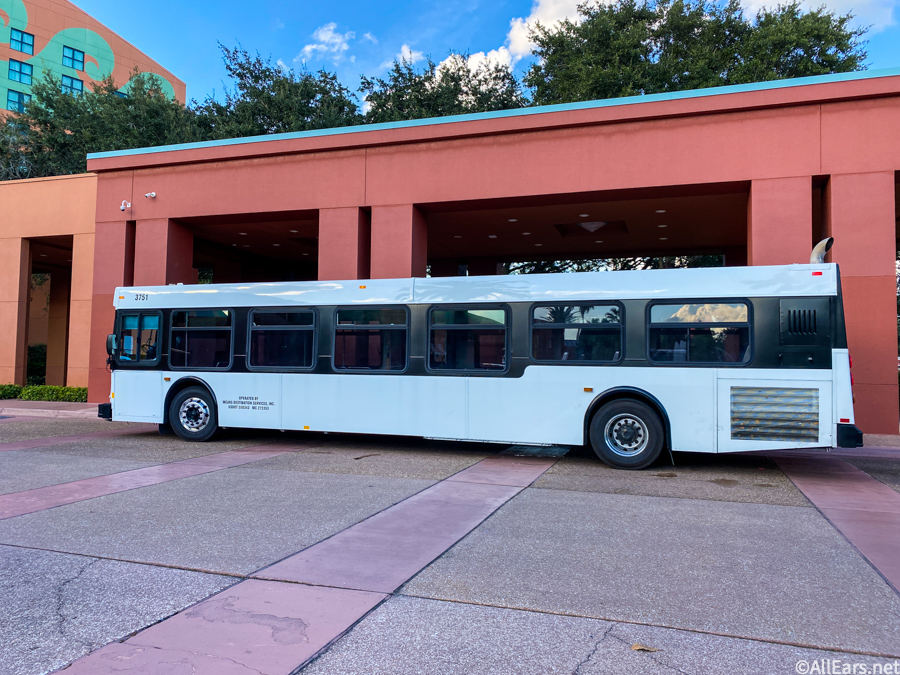 Another thing to consider when deciding which transportation service you'd prefer for your Disney World trip is whether you're willing to ride on a coach bus with other guests and make stops at other resorts before being dropped off.
Mears Connect Express Service is your only option to get straight to your hotel without a wait and costs $250 at a minimum. On the other hand, Uber will always provide you with the direct service and could cost much less than $250.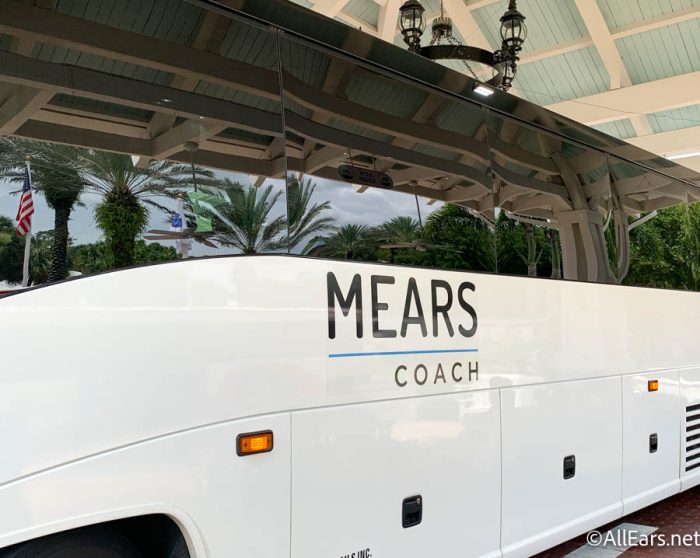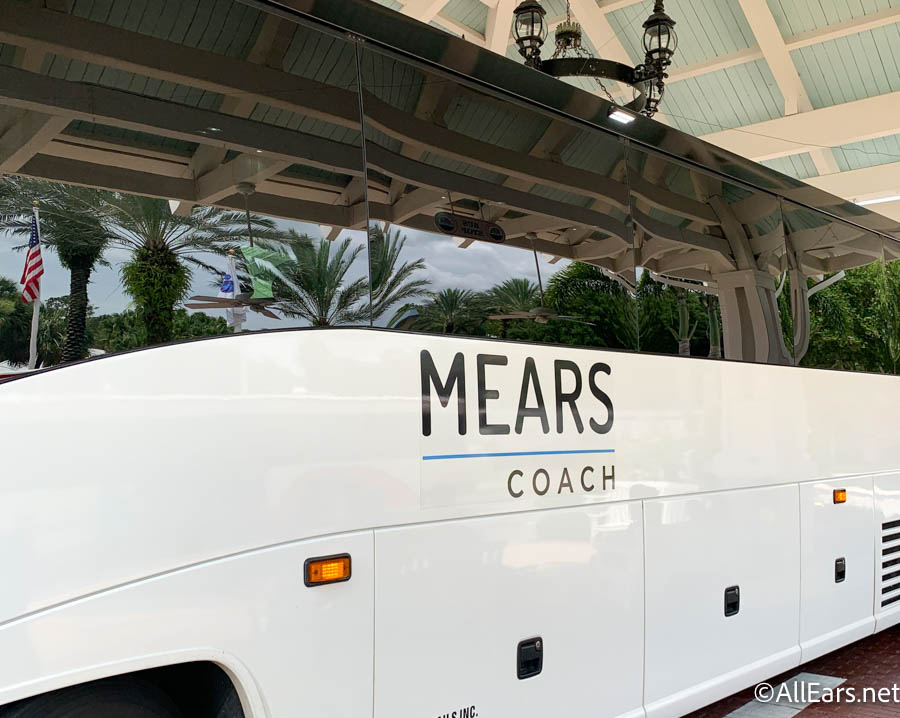 And, you'll want to think about all the luggage you plan to bring with you when deciding! Both Mears Connect and Uber do not charge for luggage, however, if you're traveling with many bags you may have trouble fitting into Uber's smaller transportation options and end up needing to pay more for a larger car.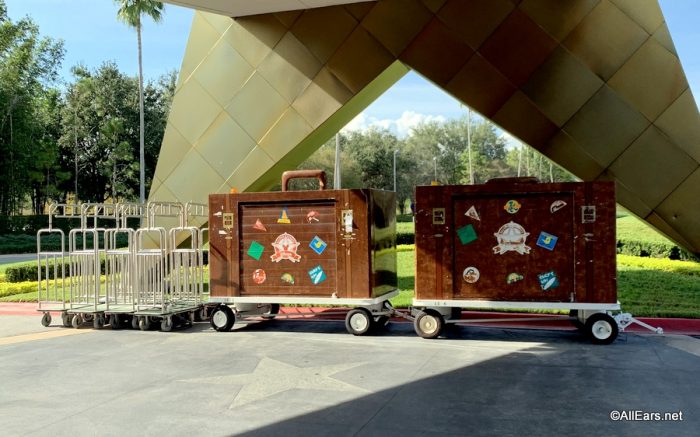 Overall, you'll certainly need to weigh your options when deciding how you'd like to get between the airport and your Disney World hotel when visiting after January 1st, 2022, but when it comes down to cost, Uber seems to have Mears Connect beat.
Of course, we'll continue to keep an eye out for more updates from Mears Connect and bring you all the latest updates on the best ways to plan for your Disney World trip, so be sure to stay tuned to AllEars for the latest!
Join the AllEars.net Newsletter to stay on top of ALL the breaking Disney News! You'll also get access to AllEars tips, reviews, trivia, and MORE! Click here to Subscribe!

Which transportation service will YOU be choosing to use for your next Disney World trip? Let us know in the comments!