It's the moment we've been waiting for — the arrival of blue shrimp in Disney World.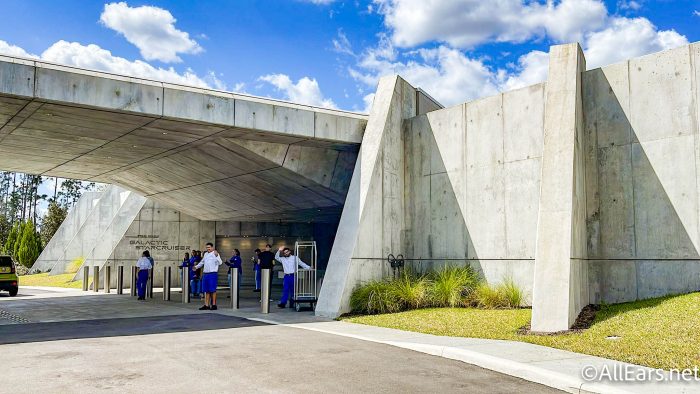 That's right, the new Star Wars hotel is just about to open in Disney World! Ahead of its opening, we're checking out the entire hotel, from the rooms to the lightsaber training, the Batuu excursion to the Sabacc tournaments. Now, we're taking a look at a very important part of this experience: the food! What do breakfast, lunch, dinner, and snacks look like on the Star Wars: Galactic Starcruiser? We're going to find out!
The Star Wars hotel is kind of like a cruise experience. There are various activities included in the cost of your stay, and all of the basic meals you have here are included as well. Some specialty drinks and alcohol may cost extra.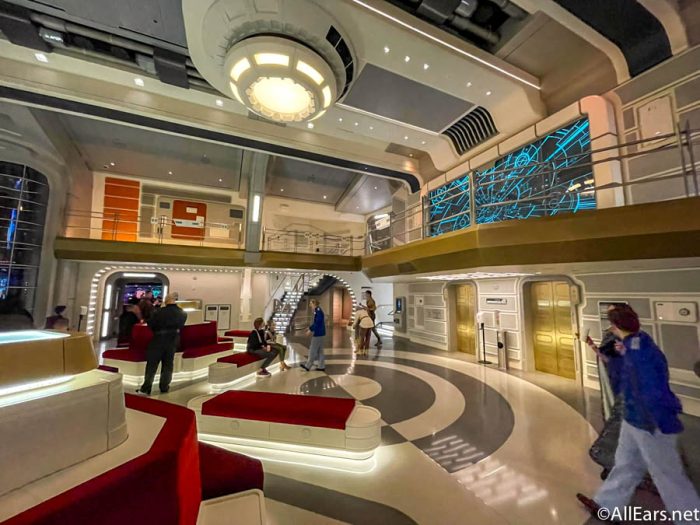 There are also some add-ons that you can pay extra for if you want to experience them, such as a meal at the Captain's Table, which we'll describe in its own section in this post.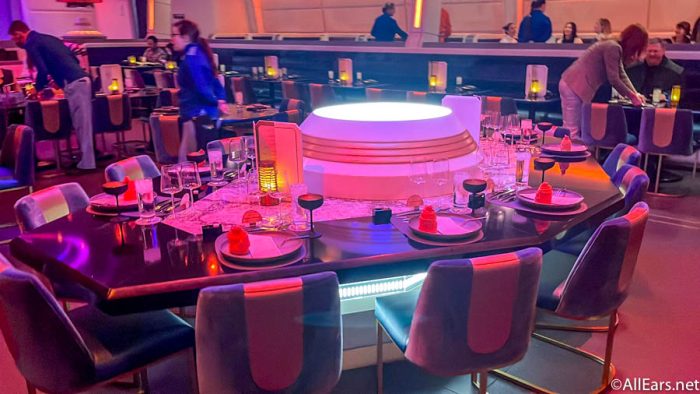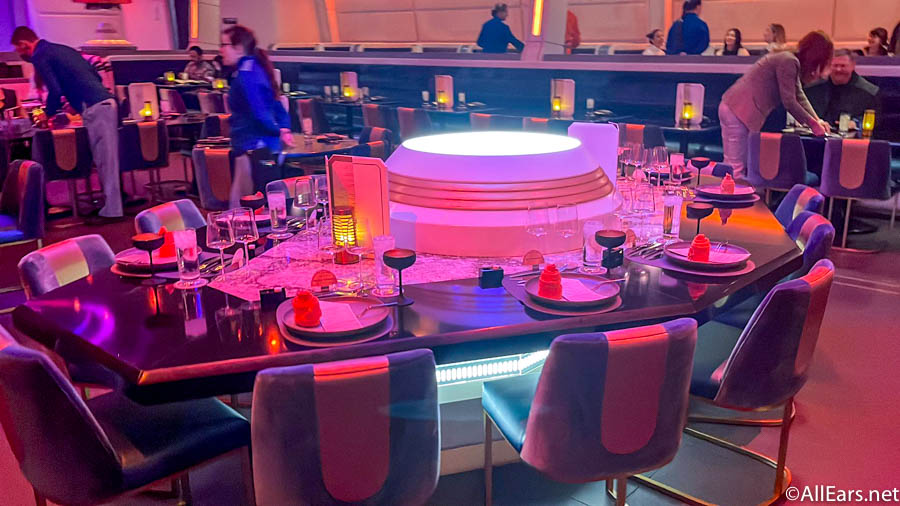 Most of the meals take place in the Crown of Corellia Dining Room. You'll have breakfast, lunch, and dinner in the Crown of Corellia unless you choose to eat lunch in Disney's Hollywood Studios on the second day of your trip (during your excursion to Batuu).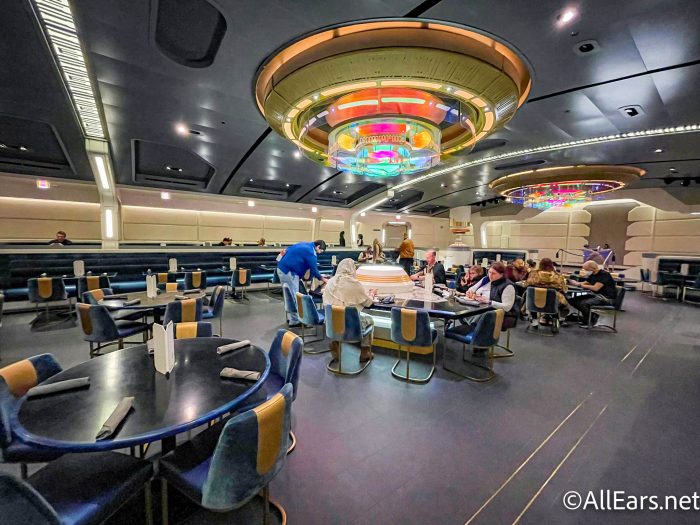 The dining room is one large room that has multiple levels for seating. When you arrive here for dinner, a host will seat your party (so it's not open seating for those meals). But breakfast and lunch are open seating, so you can choose your own table then. Like a cruise, you'll have the same server for both dinners.
There are tables and chairs, with some long tables for larger groups and other, smaller options if your group has fewer people.  Like a cruise, it's possible that multiple parties will be seated together at these larger tables. You'll also find some booths along the walls.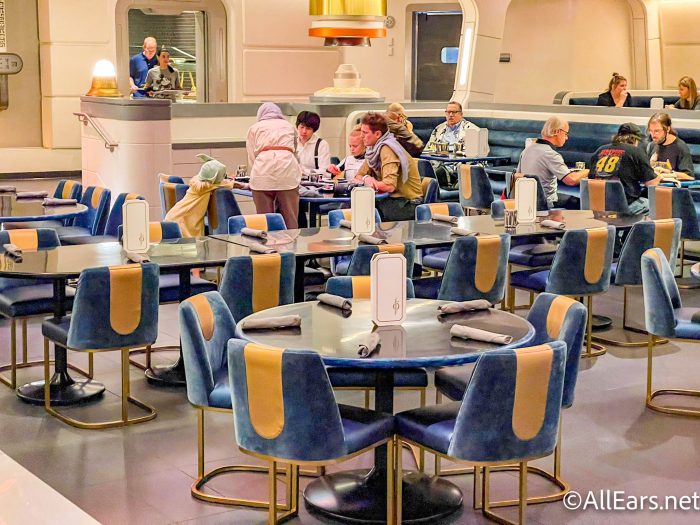 The booths and chairs are made of a blue vinyl material on the seat and a velvety material on the back cushions. Some gold accents make the seating look more high-scale in this room.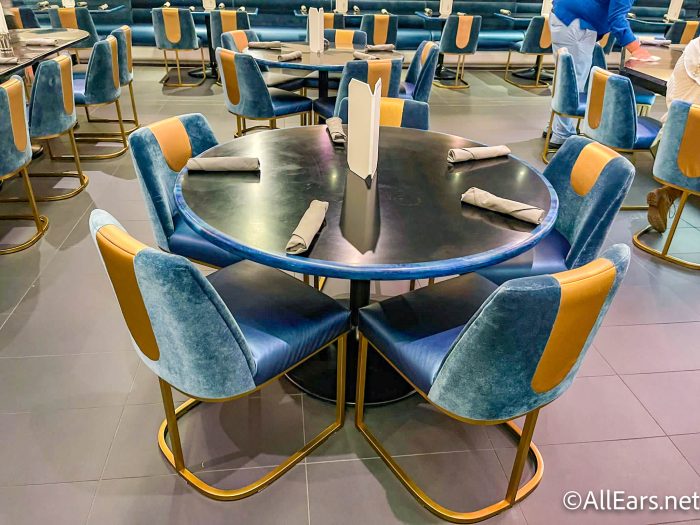 You'll find silverware wrapped in a cloth napkin at the tables. The utensils are uniquely shaped, which is a fun detail in this restaurant. Apparently, space silverware has thicker handles and shorter knives than what we normally use down here on Earth.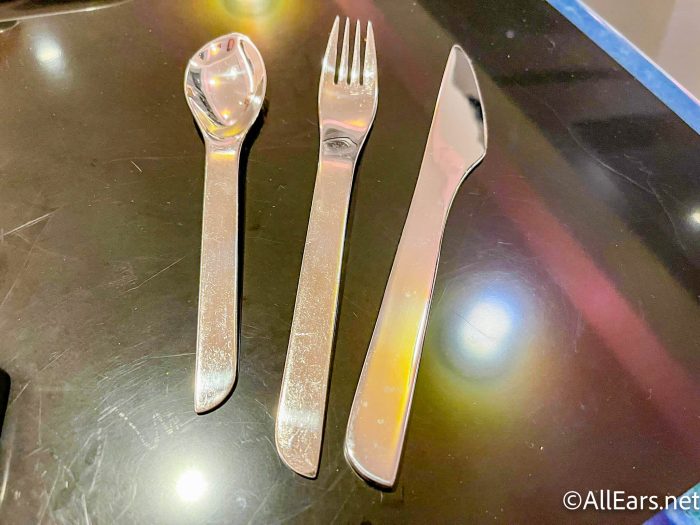 One of the key features here is the huge chandeliers on the ceiling. These features have concentric circles that culminate in colorful lights.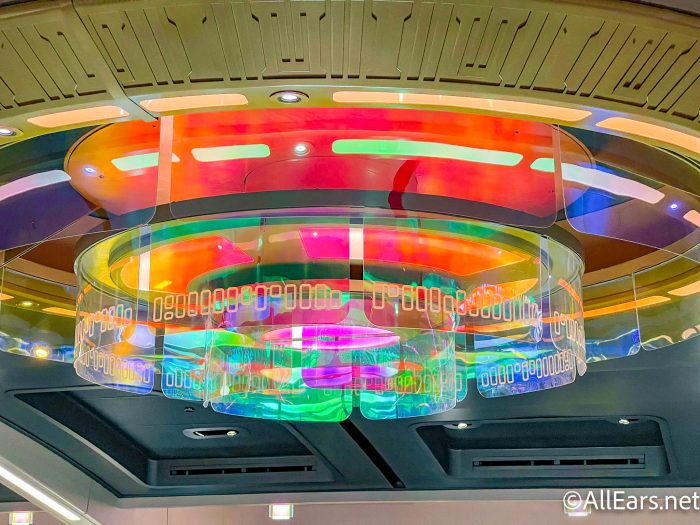 The lighting will change during the course of your stay, with the room being brighter for breakfast and lunch and then becoming darker and more colorful for dinner.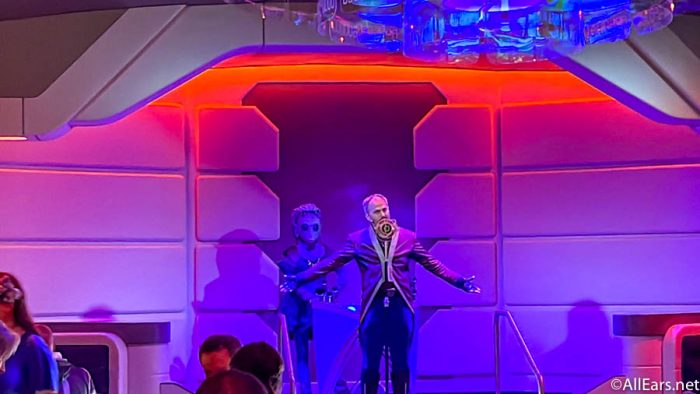 The Crown of Corellia Dining Room has a buffet section for breakfast and lunch (but the dinners on both nights are served family-style instead of as a buffet).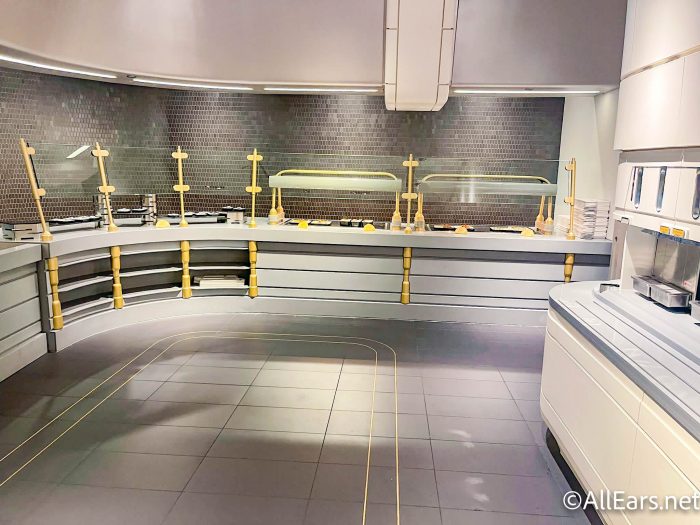 This buffet is a little different from most buffets in Disney World because each dish is individually prepared. So you'll go down the buffet line and take several dishes rather than adding various foods to a single plate.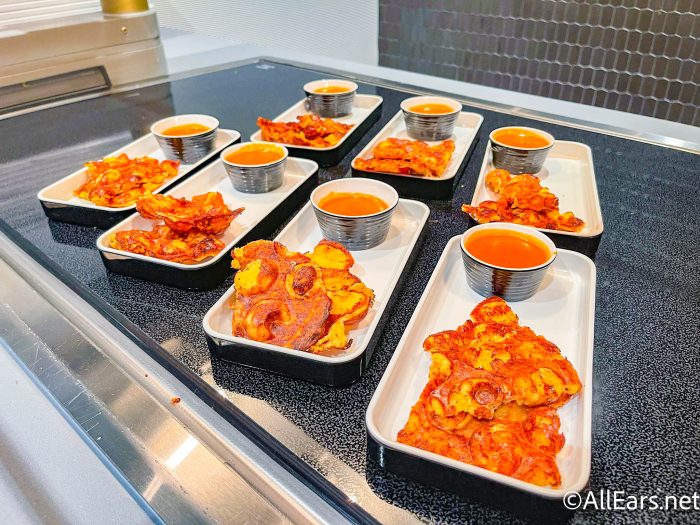 The dishes are small, and the trays are designed to fit several of them at once.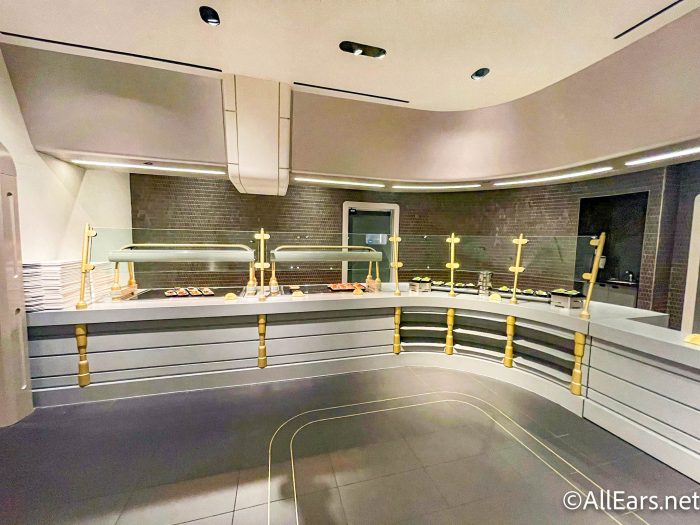 At the front of the dining room, there's a small stage area.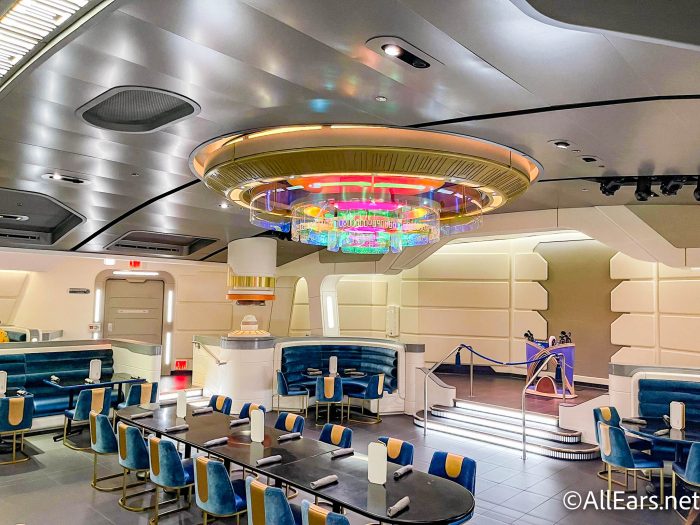 This is where the galactic superstar Gaya will entertain guests during dinner on both nights. On the first night, Gaya will sing throughout your meal, for about 45 minutes at a time.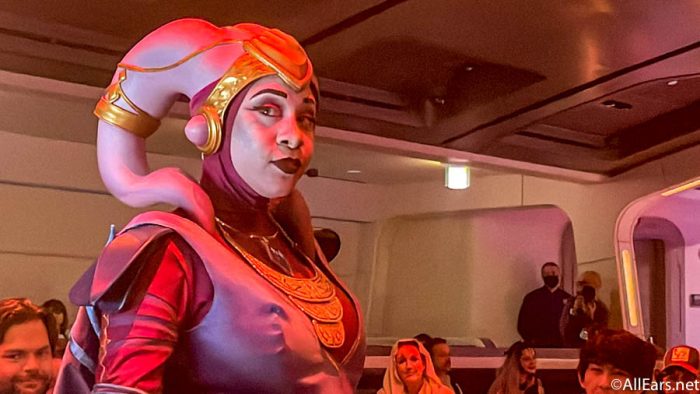 She doesn't really stay on the stage, though. Instead, she often wanders around the dining room, visiting and interacting with the guests during her performance.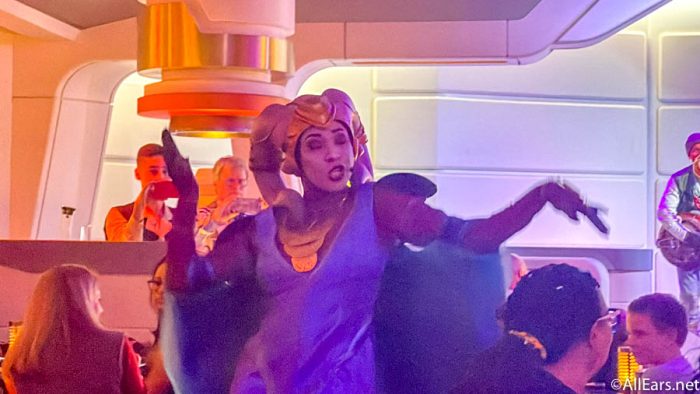 Now that you know a bit about the dining room itself, let's take a look at the food at each of the meals here!
Breakfast (Day 2)
Breakfast is served buffet-style in the Crown of Corellia Dining Room. You can visit the buffet any time between 7AM and 10AM, or there's also an option to get a "Grab-and-Go" breakfast. If you choose to visit the buffet, you'll see a variety of choices available.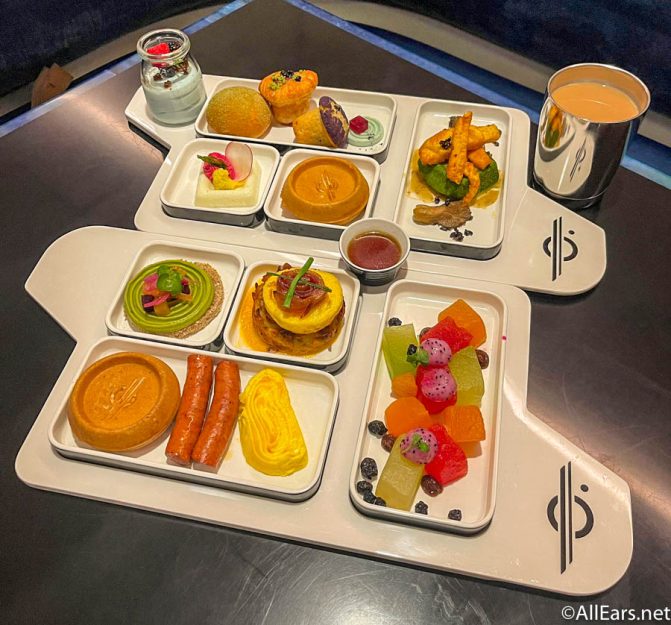 We'll walk you down the line to see all of the items.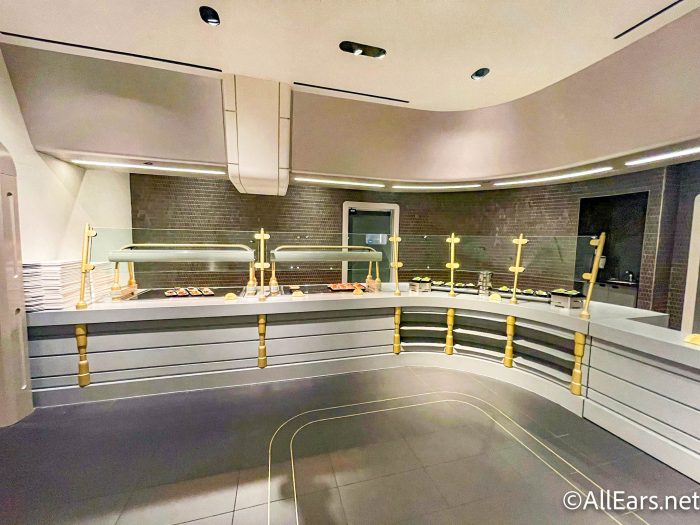 First, there's a Compressed Fruit Plate. The fruit was vacuum-sealed with simple syrup to create almost jelly-like pieces. The fruit wasn't too sweet, and the dragon fruit on top was also delicious.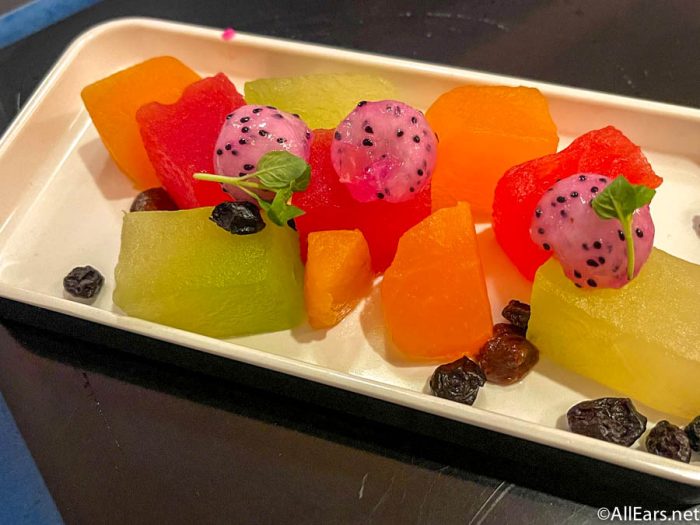 Then you can get a Pastry Board, which has a blueberry muffin, a croissant with fruit jelly on top, and a sweet bun. The teal spiral is a blue milk butter with a square of strawberry jam.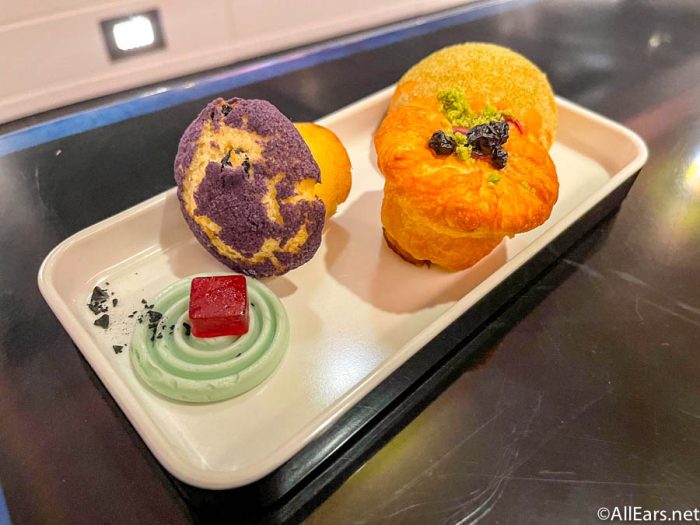 The Palmfruit Yogurt with an Acai Sweet Creamfreeze has Quinoa Granola and Yuzu Jelly on top. For a while, we saw a plant-based note next to these yogurts, but Cast Members informed us that this was a mistake. This is NOT a plant-based dish. The yogurt itself was citrusy, almost like blue milk, but it didn't have a lot of flavor. It was like a basic greek yogurt without extra flavor.
There's also a Green Pearberry Toast, which is basically Avocado Toast with some fruit on top. The bread is whole-grain, and it's a plant-based option. This was a good dish, but we thought the bread should have been toasted more to make it sturdier with all of the toppings.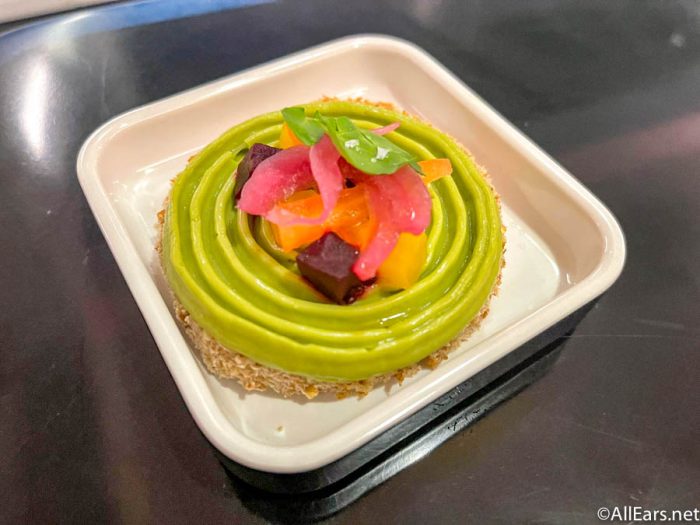 The Whipped Eggs are served with a Spiced Batuu White Sauce. This looked a little like egg white–flavored jello to us, and honestly, it didn't taste super great. The main problem was the texture and temperature (it was very cold, although it was supposed to be served hot), because the flavors weren't too unfamiliar.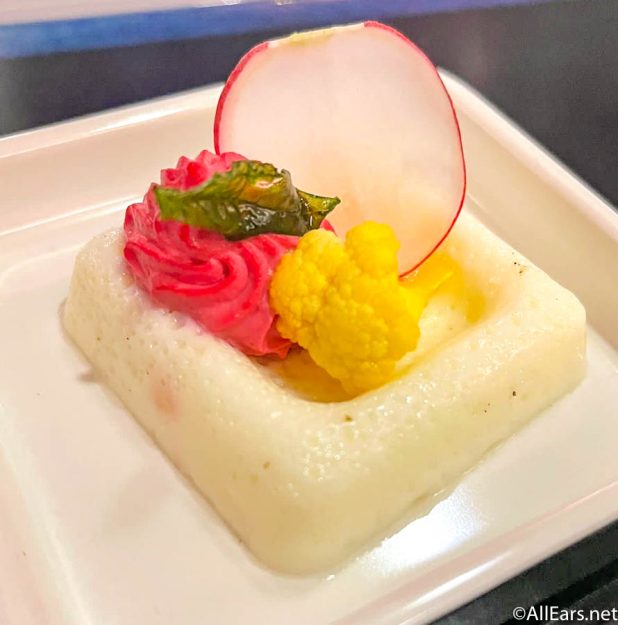 There's a Crispy Tuber Waffle, which is sort of like a big hashbrown that has been shaped into a waffle. There's a Chedd-cheese Egg Bite, Applefruit, Bacon, and an Herbed Egg-butter Sauce served on top. The egg was very cheesy and tasty, and there was a hollandaise-type sauce served with this dish. This was one of our favorite dishes on the breakfast buffet!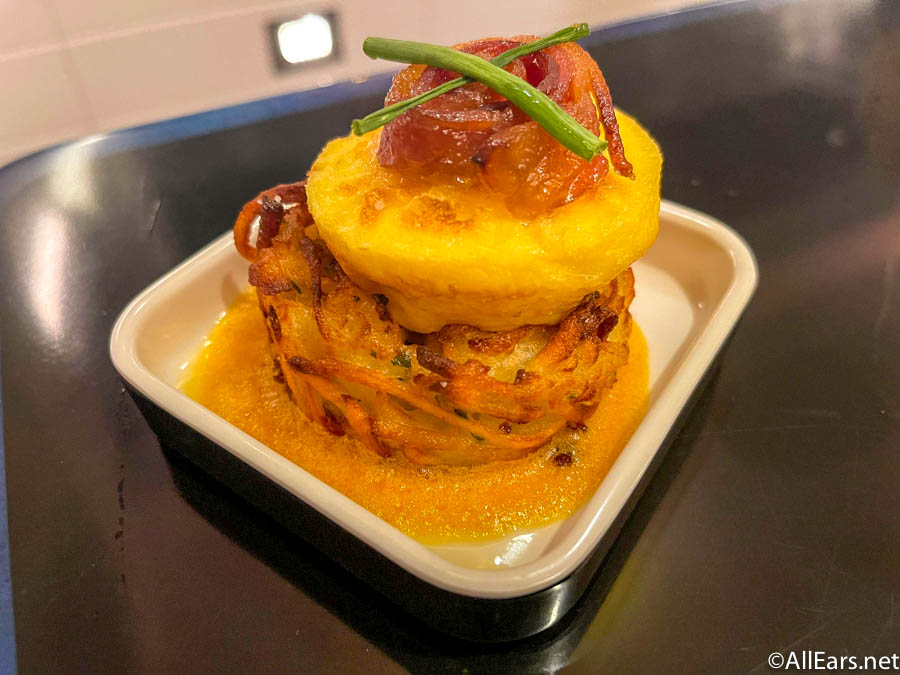 The Kale Porridge is a plant-based option with "Sausage" Gravy and "Egg" worms. The gravy was actually made with mushrooms. We thought the consistency of this dish was a little off. And the "egg" worms tasted like fake egg (which they were), which wasn't our favorite. It may be fine for any plant-based eaters who want a savory option and are used to that "fake meat" flavor.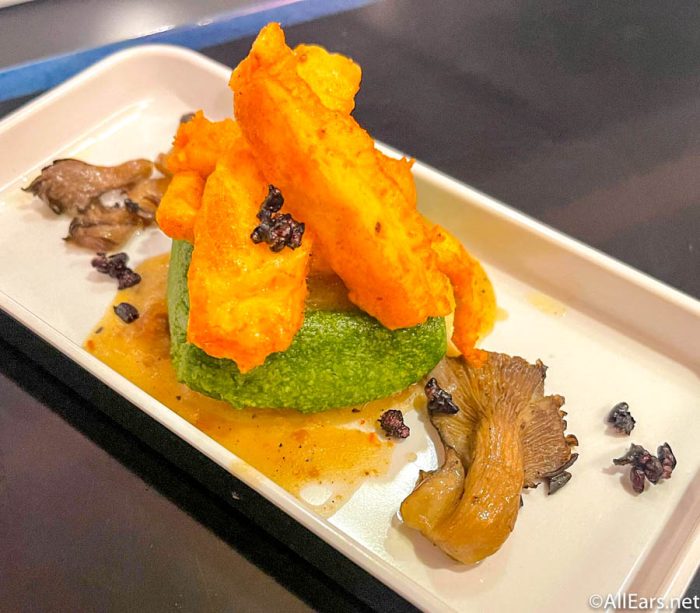 And, if you want something a bit more "basic," there are also scrambled eggs available.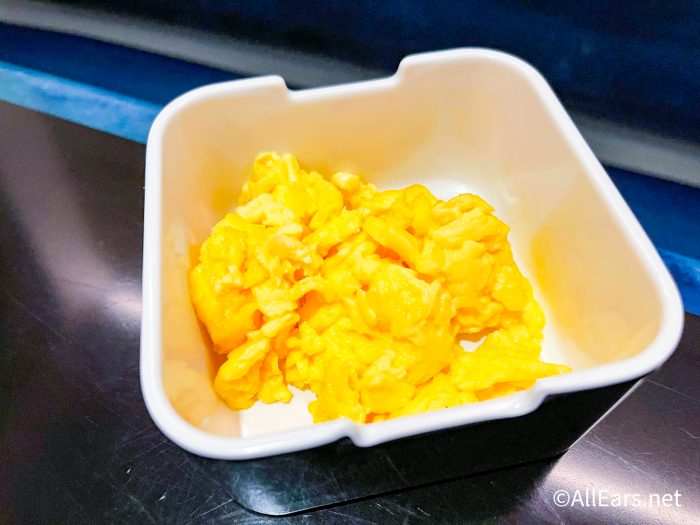 You can't get Mickey Waffles here, but there are Chandrila Waffles! The twist on a Disney classic have the symbol of the Halcyon ship on them. These are malty and pillowy, just like the Mickey waffles and other character waffles we know and love.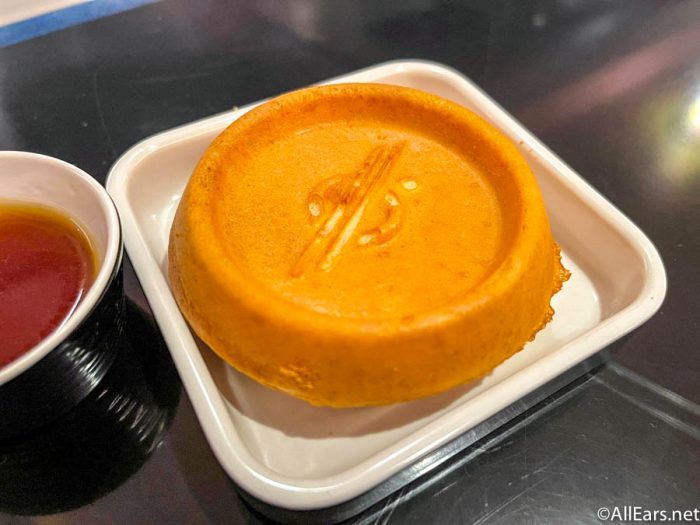 You can get the waffles by themselves or with roasted sausage and a rolled omelet. This is a great option if you're a pickier eater. The sausage is good, and it has a lot of flavor without too much spice.  The omelet is basically just egg and cheese that has been rolled up together.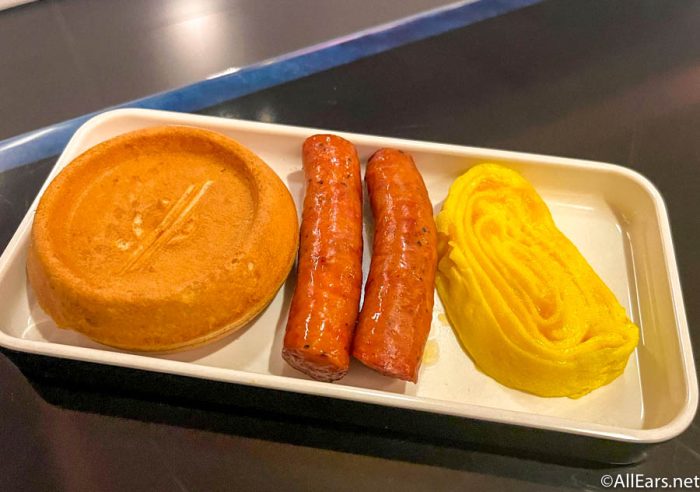 There's also maple syrup available in little cups for your waffles.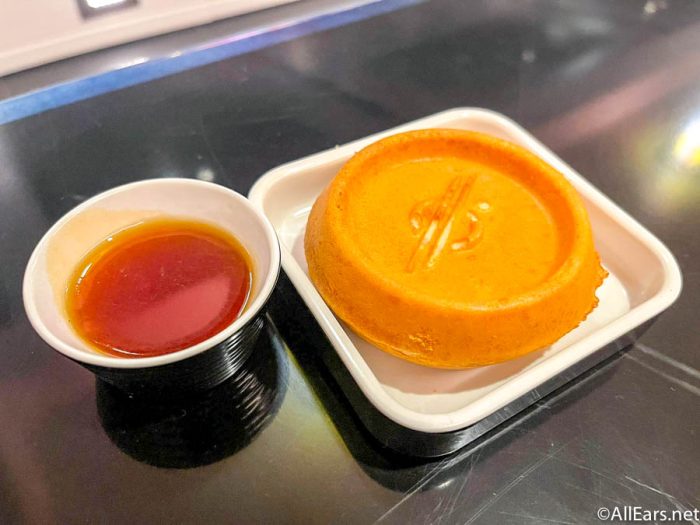 You can get a variety of drinks for breakfast as well, including some morning cocktails, specialty drinks, beers, wines, and mocktails. Note that these drinks will cost extra (they are not included with the buffet).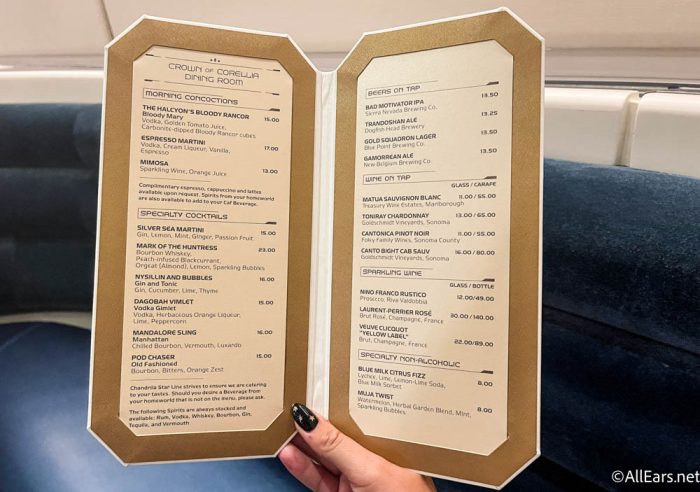 Some drinks are included in the buffet though like juices…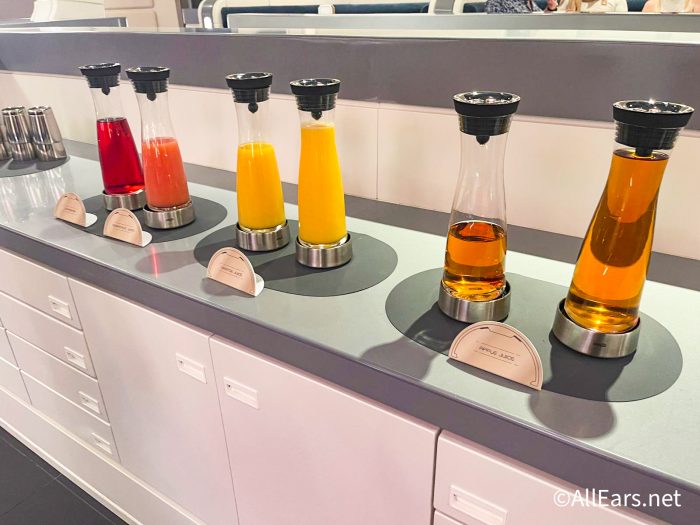 …and sodas.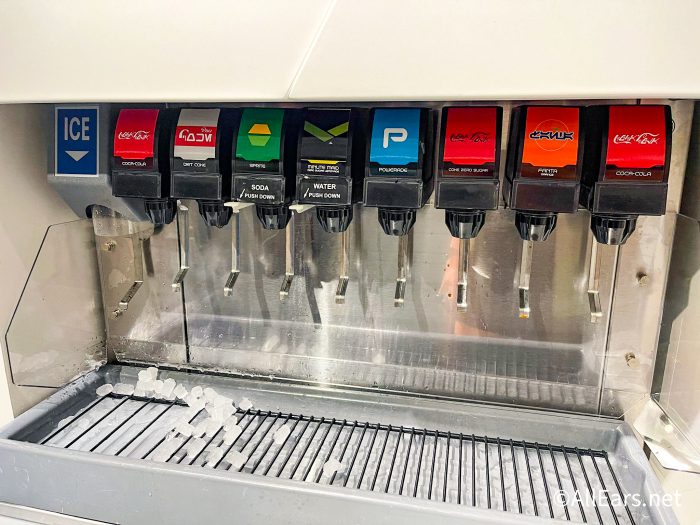 The Grab-and-Go breakfast can be found in the Sublight Lounge.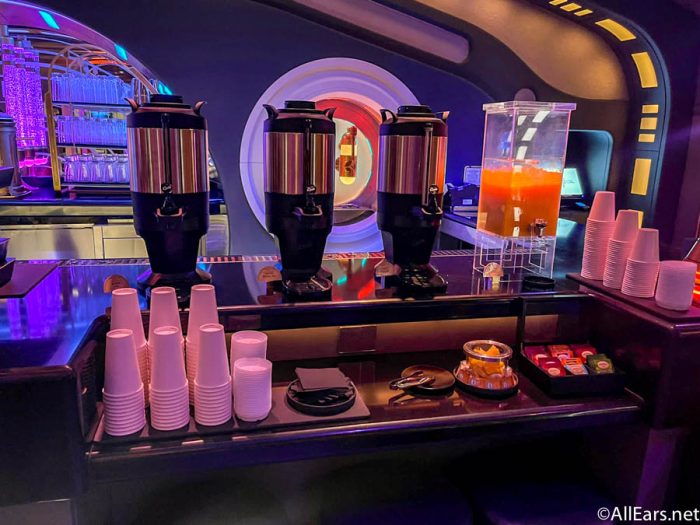 Each box had some of the Palmfruit Yogurt that we saw in the buffet, a couple of pastries, and fruit.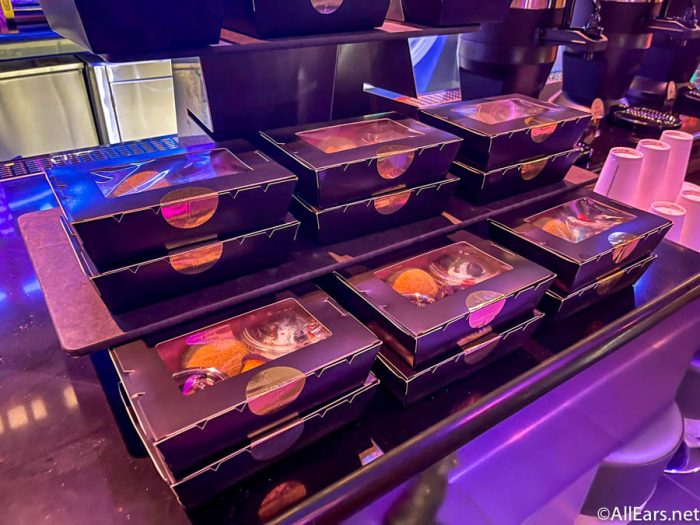 There aren't other options for to-go breakfast combinations, so if you want different dishes then you'll need to visit the buffet.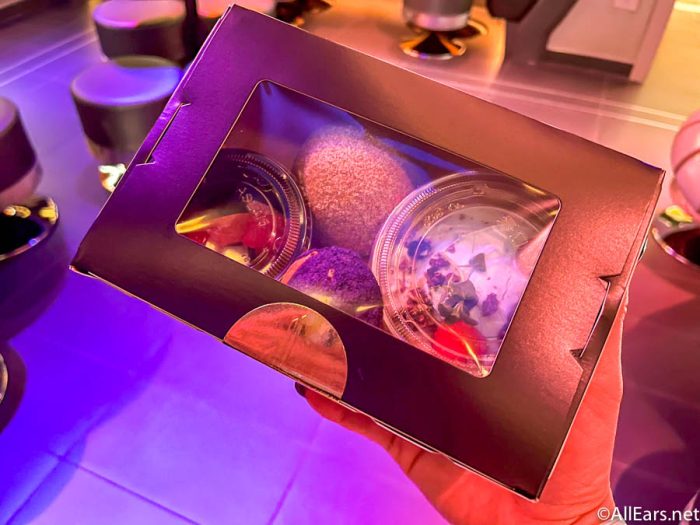 If you have special dietary needs or requests, you can talk with a Cast Member to see if you're OK to eat everything in the Grab-and-Go box. If not, they will take you down to the buffet to find options there that will work. There is also a coffee station in the Sublight lounge with black coffee and decaf.
You can also get hot water and various teas if you'd prefer those.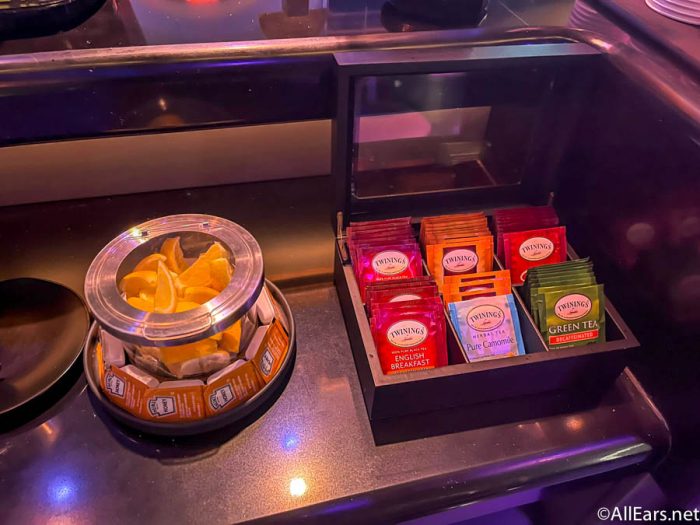 Condiments such as honey, lemons, sugar, and milk were available for your drinks.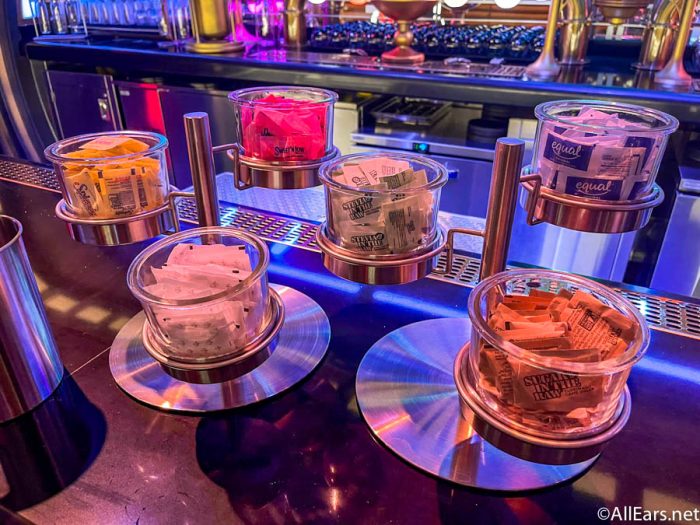 So if you're hoping to visit Batuu first thing in the morning on Day 2 of your trip, you may want to get this quick breakfast to go and head straight for the transport to Galaxy's Edge! But if you have a little more time, there are a lot of great options on the breakfast buffet.
Breakfast (Day 3)
Some items on the Breakfast buffet on Day 3 were the same as on Day, 2, but there were some different ones as well. You could still get those malty Chandrilan Waffles…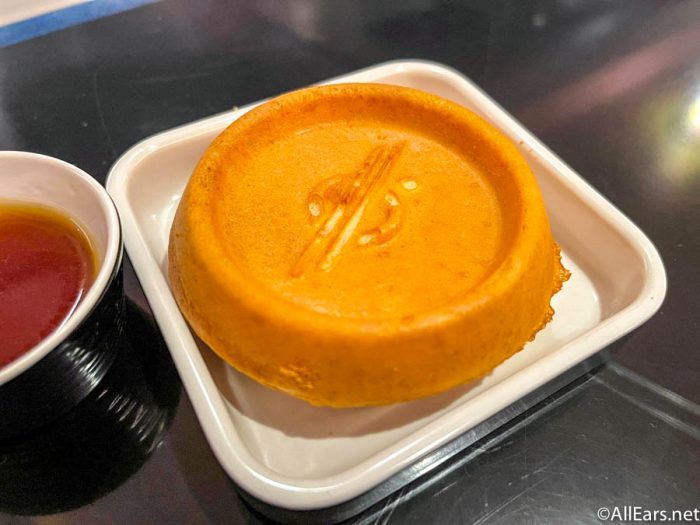 …and the waffles with rolled eggs and sausage were also available.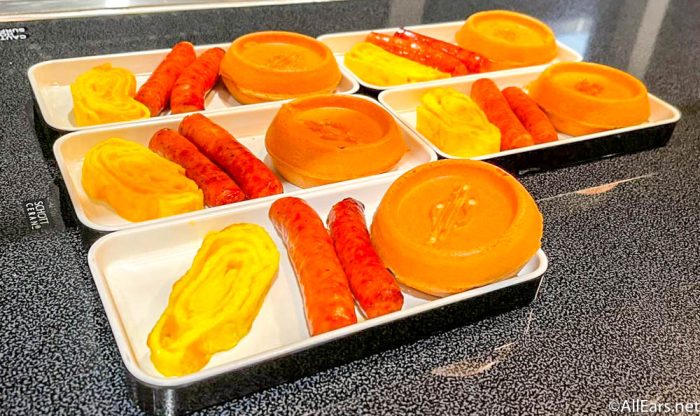 The Pastry Board was also still on the buffet with the same pastries as the previous day.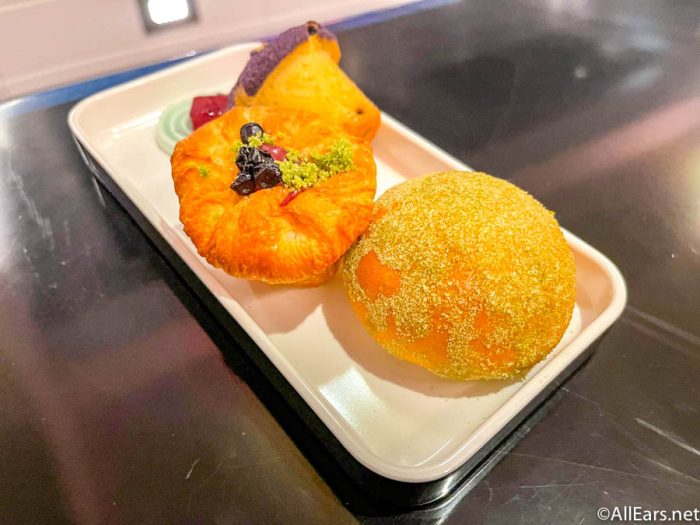 In addition, that Palm Fruit Yogurt-Acai…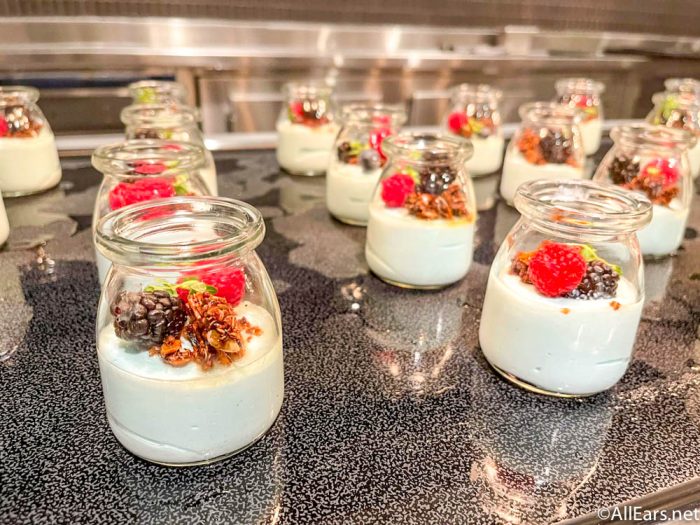 …and Compressed Fruit Plate were available on Day 3 as well.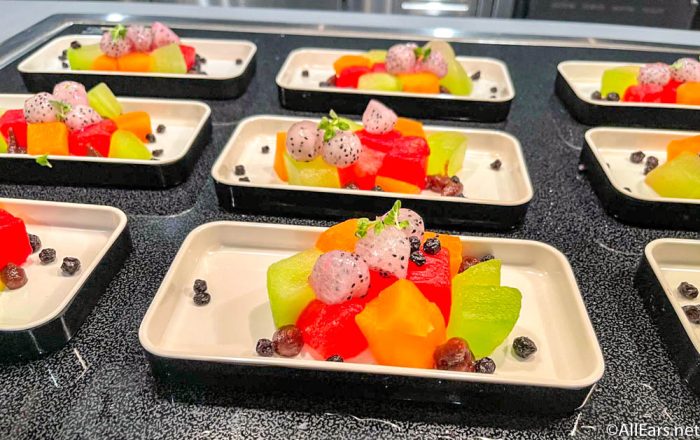 The new dishes for Day 3 included the Spiced Bobotie with Red Fruit (tomato) Jam, which is a plant-based option. Like the other plant-based breakfast option (on Day 2), this tasted just like fake egg. The strange texture of that plant-based egg was off-putting for people who are used to real eggs, but the tomato jam was pretty good!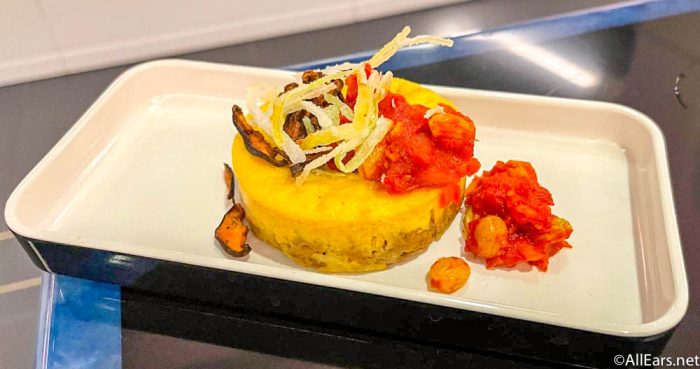 The Meteor Egg is a soft-boiled egg covered in Sausage, Flat Cake Batter, and Turmeric Aïoli. This reminded us a lot of a scotch egg! The sausage was herby and delicious, and the fried cake batter was *chef's kiss* amazing.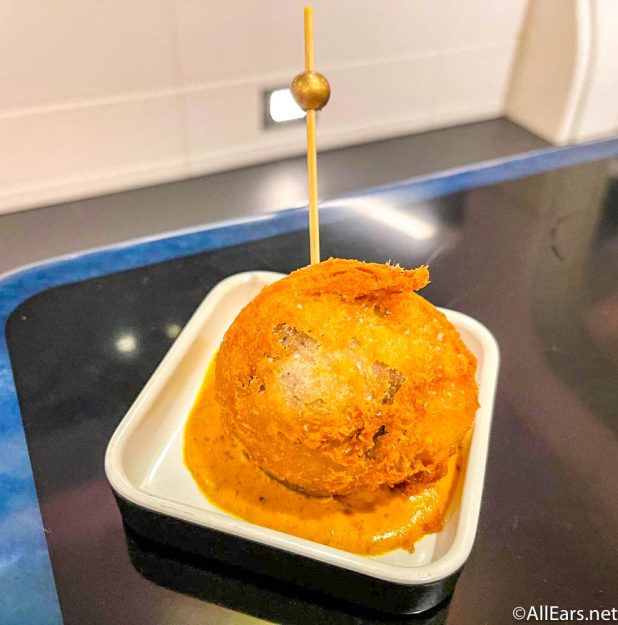 The cake batter reminded us a little bit of corn dog batter, but much thinner than normal corn dog batter.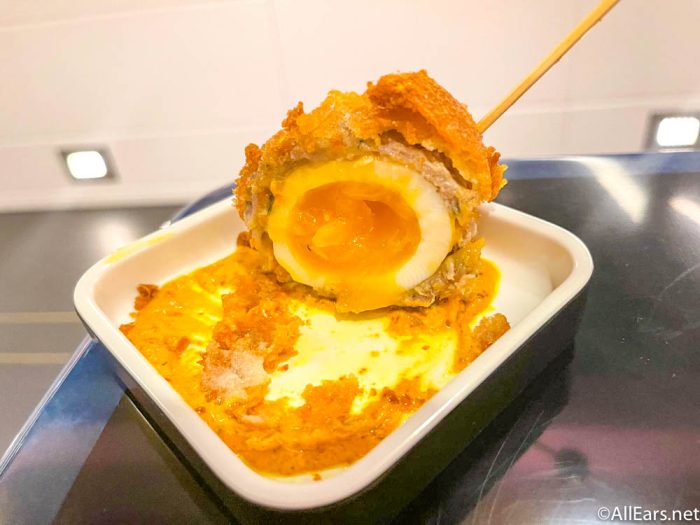 There was also a breakfast flatbread called the Breakfast Meat Pie. This is basically breakfast pizza! The crust was still pillowy, but the cheese and other ingredients were high-quality and tasty.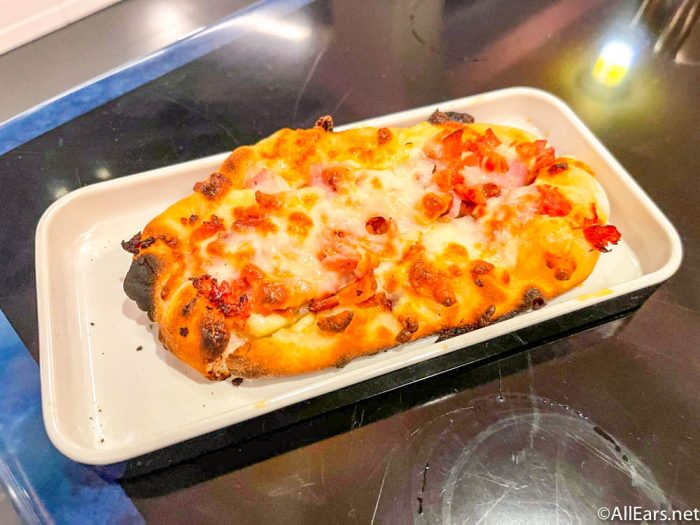 And you could get a Crispy Tuber Waffle, which was like a waffle-shaped hashbrown. It was served with a Cheddar Egg Bite covered in an Herb Egg-Butter Sauce (like hollandaise) and latticed Apple Fruit Bacon. The waffle-hashbrown was super well fried and had a great balance of textures.
There were a variety of juices in the dining room on Day 3 (just like Day 2).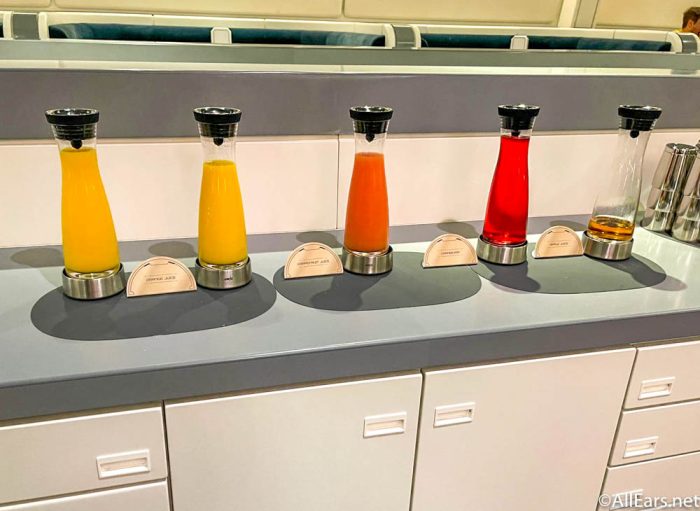 You could get Orange Juice…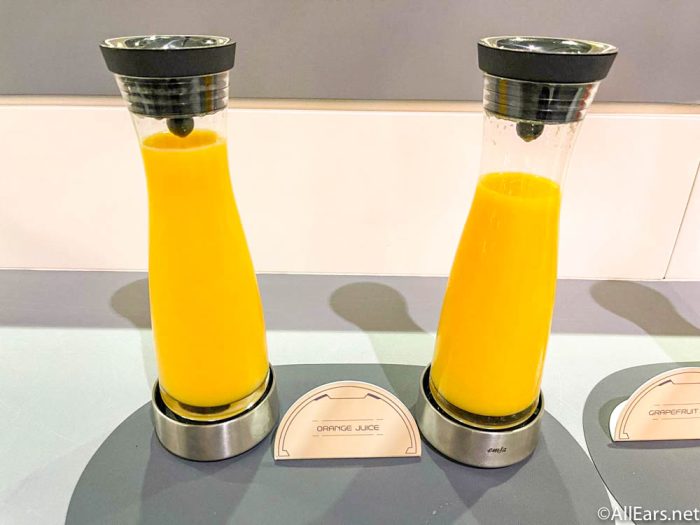 …Grapefruit Juice…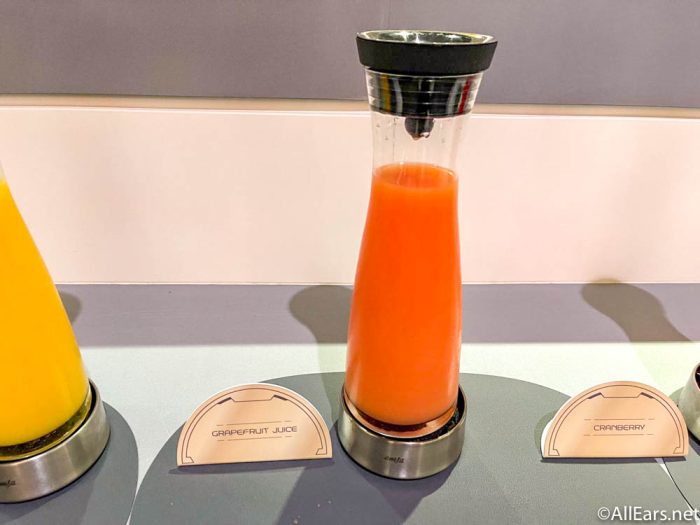 …Cranberry Juice, and Apple Juice.
Note that blue and green milk as well as soft drinks were also available on Day 3.
Lunch (Day 1)
The lunch buffet is available from 1PM to 4PM on Day 1, and you can go at any point during that time.  We tried a little bit of everything at the buffet here so that we can let you know how it tastes.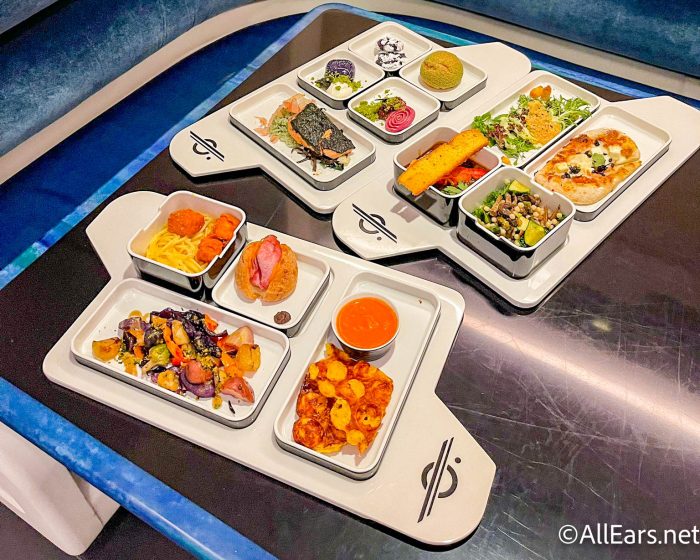 We started off with the Sunflower Butter and Jelly Pod. This is like a peanut butter and jelly sandwich (with sunflower seed butter instead of peanut butter) turned into a snackable roll. It's a fun option for kids, although we think adults will enjoy it just as much. If you're expecting peanut butter, that sunbutter might be a little bit of a surprise flavor, but it's not a super unfamiliar or wild flavor.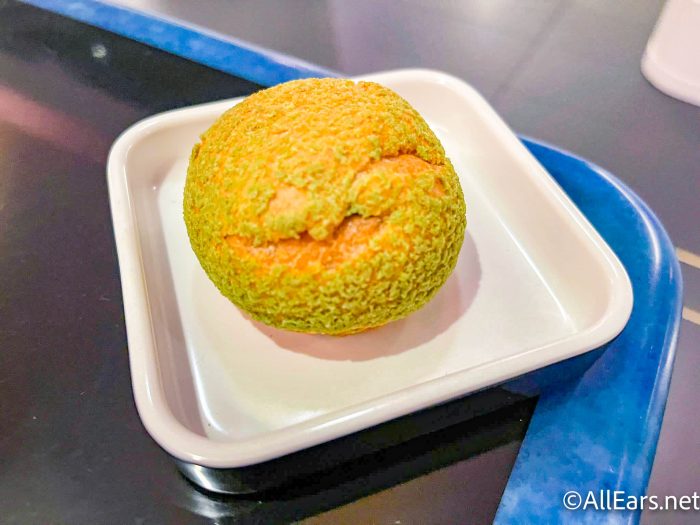 There was a Tikka Tip Yip Chicken with Paneer Cheese flatbread, which was almost like a pizza. It had Indian-inspired flavors from the tikka sauce, so if you don't like curry or Indian flavors, you may not enjoy this dish. But if you're looking for a familiar dish with a unique twist, this is a great choice (and that cheese was delicious).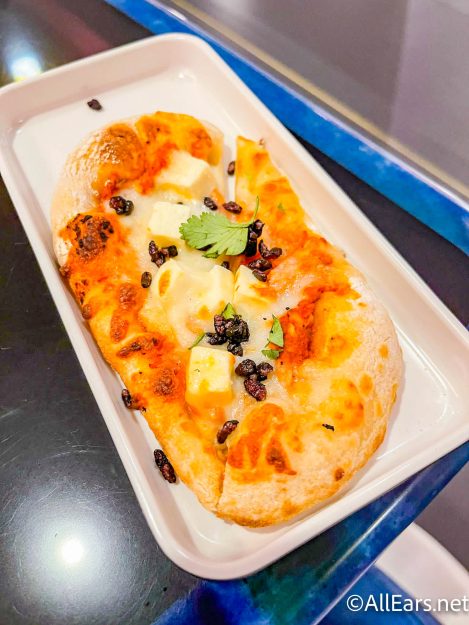 If you're feeling a little more adventurous, there was Sorgan's Stew. This stew has Crawfish Tails, Rice, and a Yellowseed Stick (which was like a large crouton). The stew itself was very good, and we liked that the rice soaked up the broth.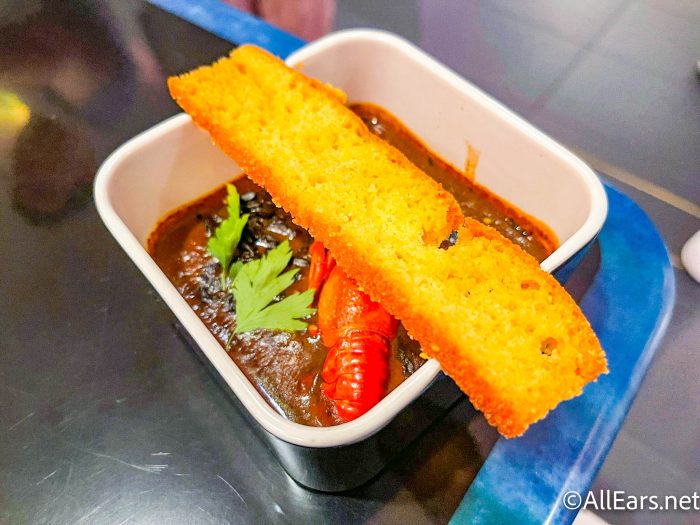 Note that the Crawfish Tails come as whole Crawfish, which might put off some people (Molly was not a fan..but she's not a fan of crawfish in general). But even if you take the crawfish out, you'll still get a lot of that flavor in the stew. If you love crawfish, this is a great option for you!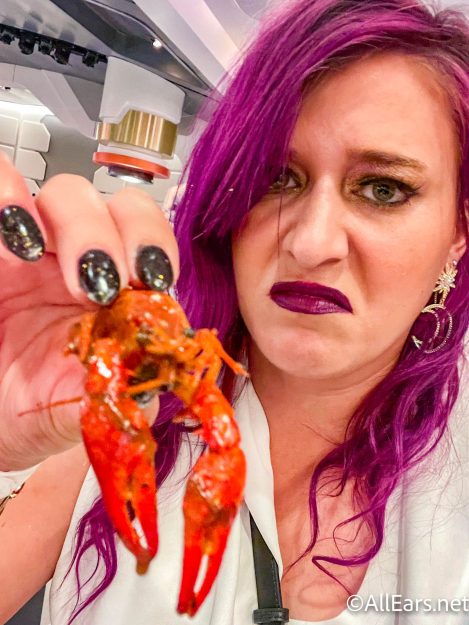 You can also get Roasted Flora with Tubers and Red Cabbage, which is a great choice for vegetarians. The veggies in this dish were all cooked well and had lots of flavor. This is a good option if you've been eating heavier foods and want something lighter that still tastes great. None of the flavors are bizarre or unusual, but the presentation could put off some pickier eaters.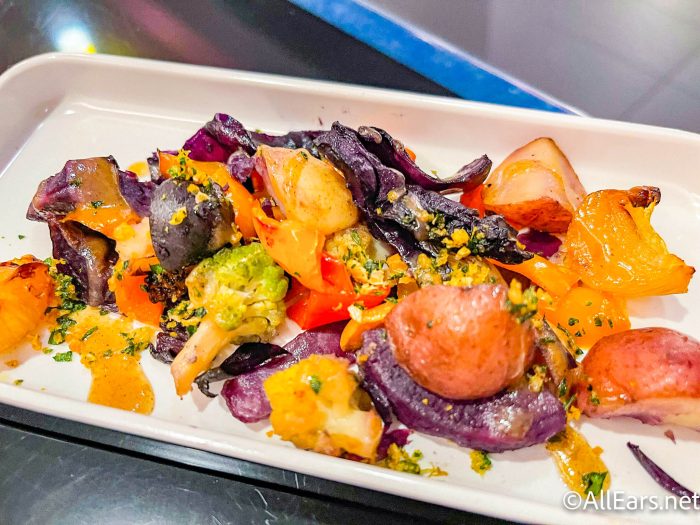 Or there's a choice for meat-lovers with the Pork and Cheese Takeaway with Black Spice Spread. This is essentially a ham and cheese sandwich on a cheesy bun. That cheesy bun was delicious! The Black Spice Spread was basically a strong mustard sauce.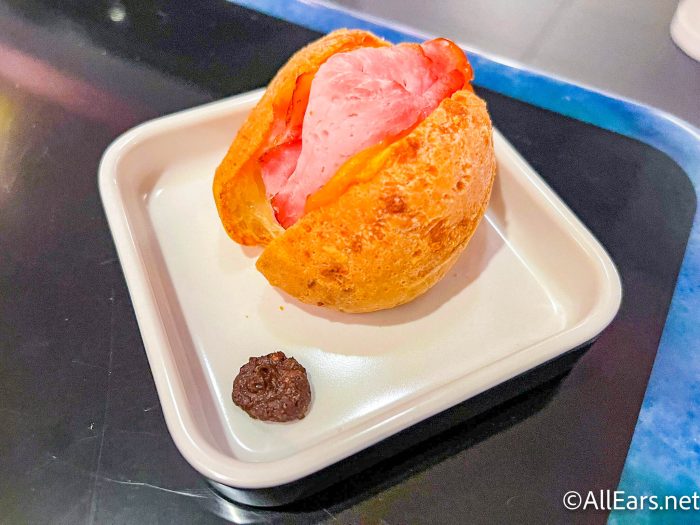 For a more elegant option, there's the Nori-Crusted Redfish with Mushrooms and Red Cabbage, which is served on a bed of cilantro rice. This fish didn't taste super "fishy." It was flaky, kind of like salmon, although it was less fishy than salmon. The charred outside was tasty as well, and we think this is a great protein dish if you're looking for a non-fried option.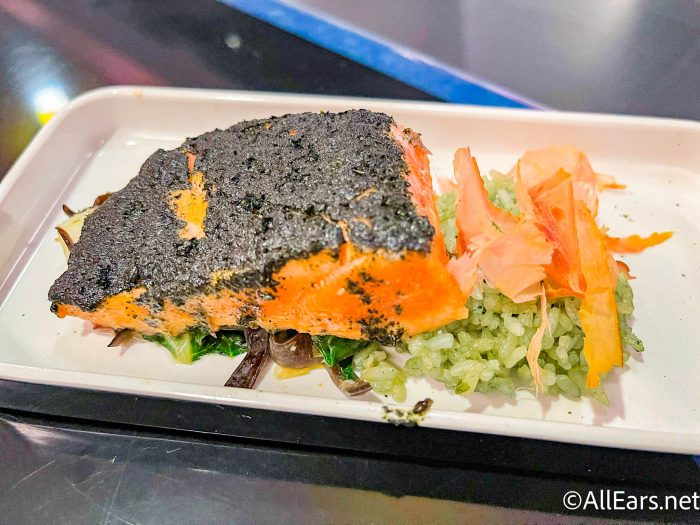 The Green Leaf Salad has Red Quinoa, Amethyst Croutons, a Parma-Cheese Round, and Creamy Chandrilan Vegetable Dressing. This is just a regular salad, but it was well-made and very tasty. The dressing was creamy and a little bit tangy.
One of our favorites was the Fire Melted Cheese Takeaway served with a Red Fruit Soup Dipper. Don't let the strange name fool you — this tasted just like a deliciously buttery bubble waffle grilled cheese with a tangy tomato-basil soup.
The Tip Yip Chicken with Noodle Cheese is a good choice for pickier eaters since it's essentially square-shaped chicken nuggets with mac & cheese (although the mac part of that is angel hair pasta instead of elbows). The sauce tasted more like real cheese than most cheese dips in Disney World, but it had a similar consistency to those dips.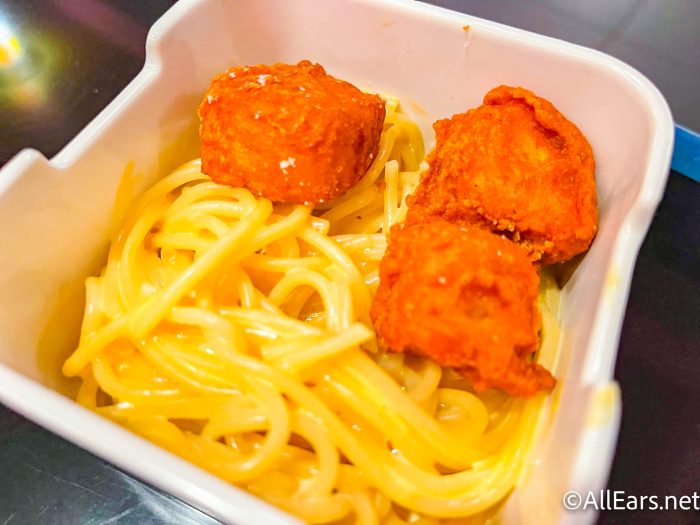 Another fairly basic dish is the Chandrilan Salad, which has Mushrooms, Kale Leaves, Olives, Squash, and White Berry Vinegar. There's also some quinoa in this salad. This was simple and good, and if you enjoy all of those vegetables then you'll like this salad.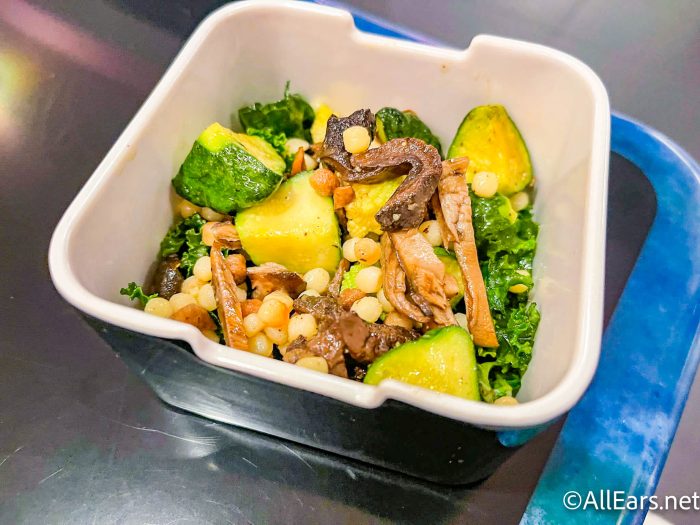 For dessert, we tried the Blue Bantha Milk Fruit Whip, which reminded us a lot of the mousse desserts from Satu'li Canteen in Disney's Animal Kingdom. This one tasted just like blue milk if it were transformed into a mousse.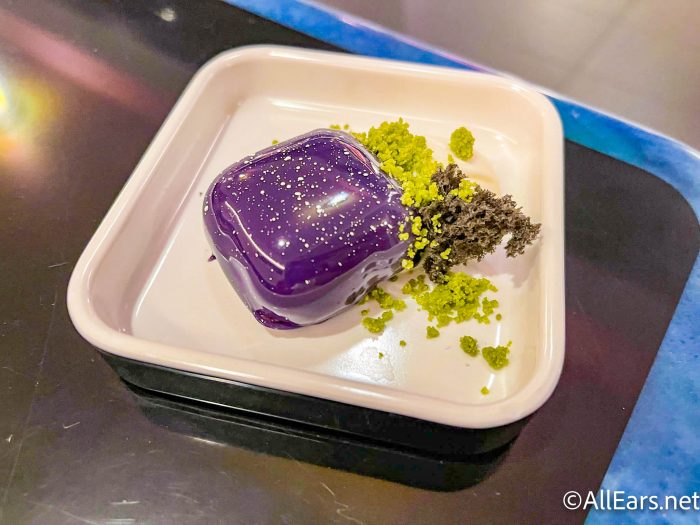 We also grabbed some Choco-Whip with a Hibiscus Meringue, which is a plant-based dessert. This dessert was like a rich chocolate mousse, although it was a bit thicker than other mousses we've had. You can taste some floral notes from that hibiscus as well.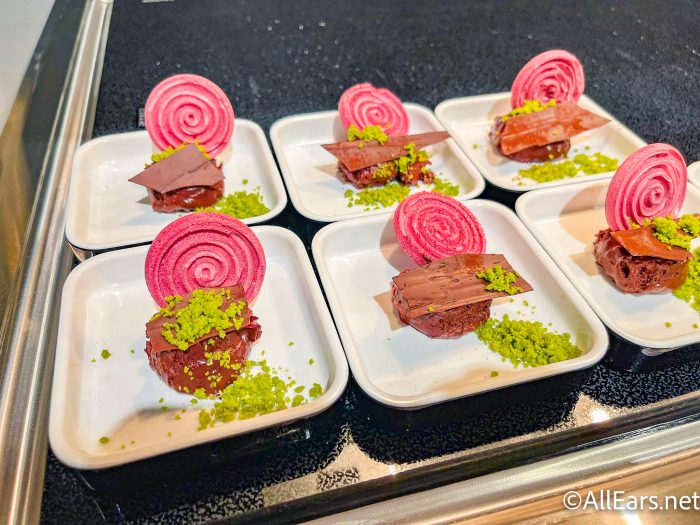 Finally, we tried the Amethyst Sweetbread (which is like a purple crinkle cookie). This is an ube-flavored cookie, and it was delicious! It was very soft (not crunchy) and we enjoyed that it wasn't too sickly sweet.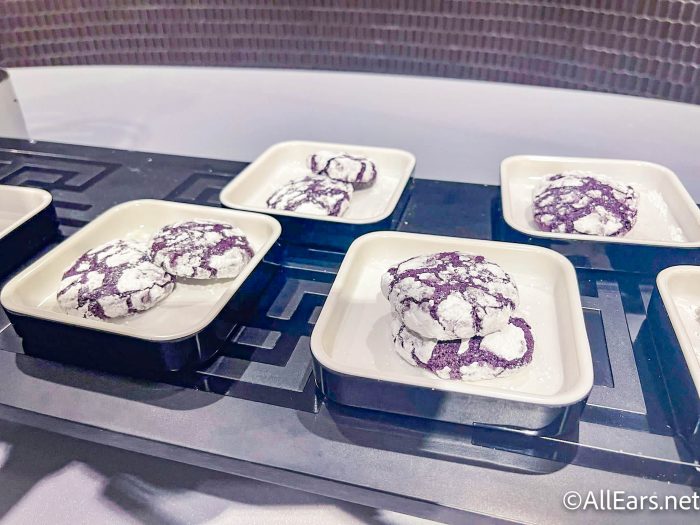 In general, there seems to be something for everyone at the lunch buffet. You can be a little more adventurous with the stew and flatbread options, or choose to keep things simple with Tip Yip (fried chicken) and salad.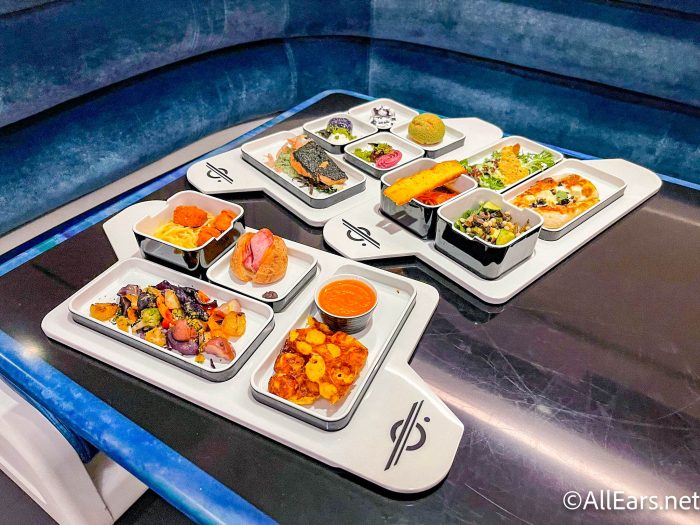 But whatever you do, don't pass on that bubble waffle grilled cheese!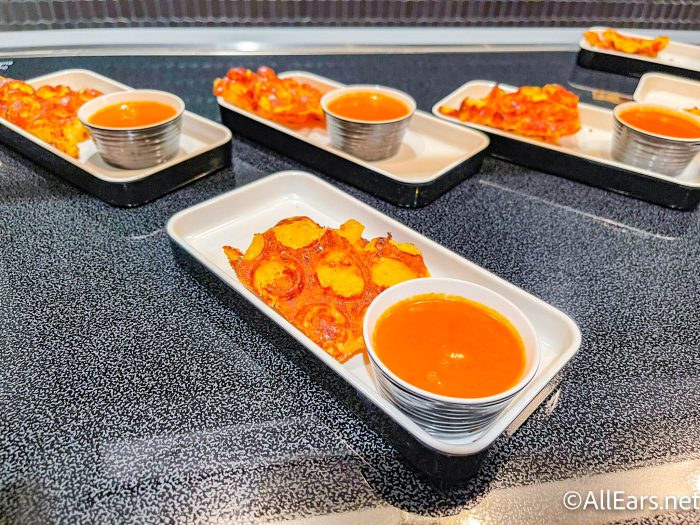 This buffet is different on Day 1 and Day 2 of your visit, and you can also choose to forego lunch on board on Day 2 and eat at Galaxy's Edge (or anywhere else in Hollywood Studios) during your excursion to Batuu. But there's also nothing stopping you from eating both in Galaxy's Edge and at the buffet!
Lunch (Day 2)
The lunch buffet is different on Day 2 than it was on Day 1. There were a couple of dishes that were available on both days, but the majority of the food was new to us on this day!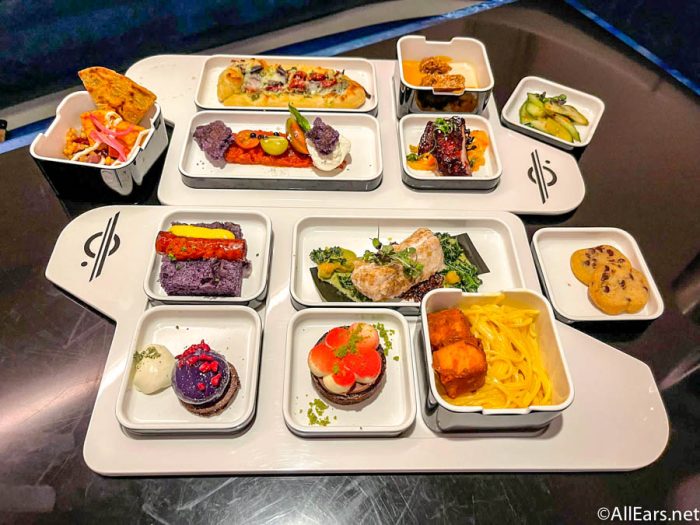 It is still a buffet, so you'll grab those trays and choose which items you want. Starting off, some of the dishes that are the same as lunch on Day 1 include the Sunflower Butter and Jelly Pod…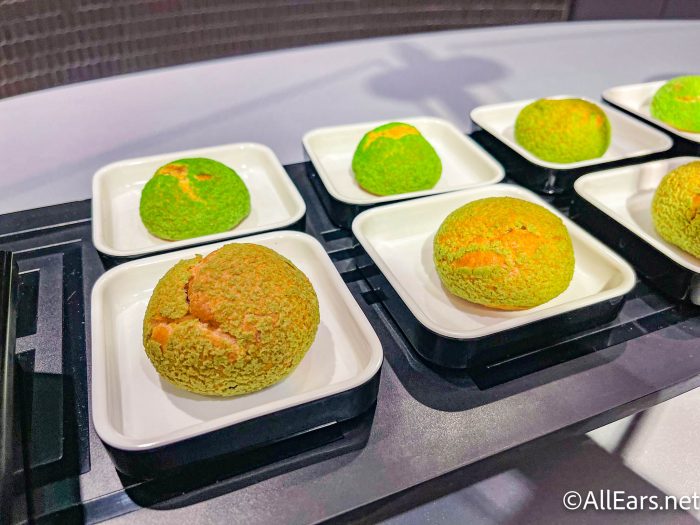 …and the Dipped Tip Yip Chicken with Noodle Cheese. But other than those, everything was new.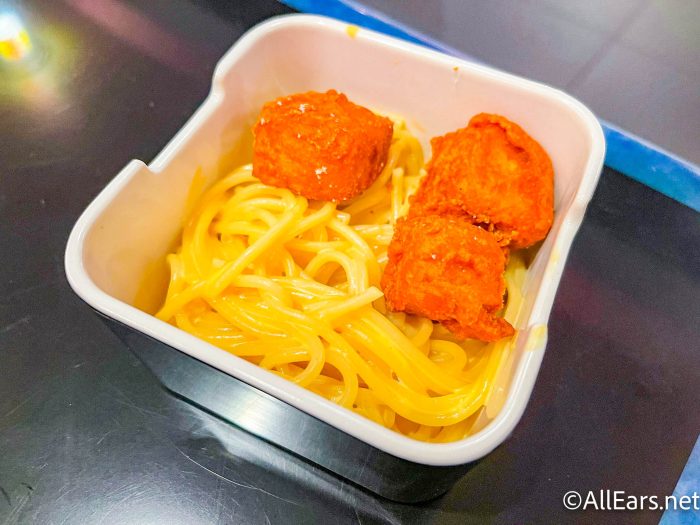 You could grab the Kaadu Rib Bites, which had a Sweet-and-Sticky Glaze and were served with Spicy Slaw. This dish was delicious. The tender meat came off the bone well, and the glaze had familiar flavors that you'd expect from a rib glaze. The slaw tasted like it had Asian-inspired flavors, and thought it went well with the meat.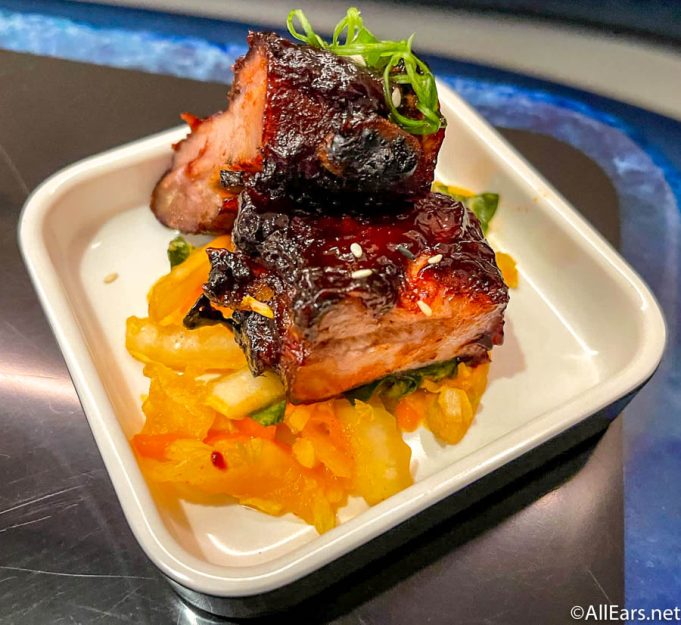 The Tamarind-Glazed Burra Fish came with Long Fruit Leaf, Braised Kale, Chickpeas, and a Curry sauce. This tasted much fishier than the Redfish (at lunch on Day 1), and it wasn't quite as flaky either.
There was still a flatbread option, although the one on this buffet was a Bantha Vinegared Herb-Sauce Coti-Cheese flatbread. This was one of our favorite dishes during this meal! The "Bantha" in this is beef, and all of the toppings on this flatbread went together very well.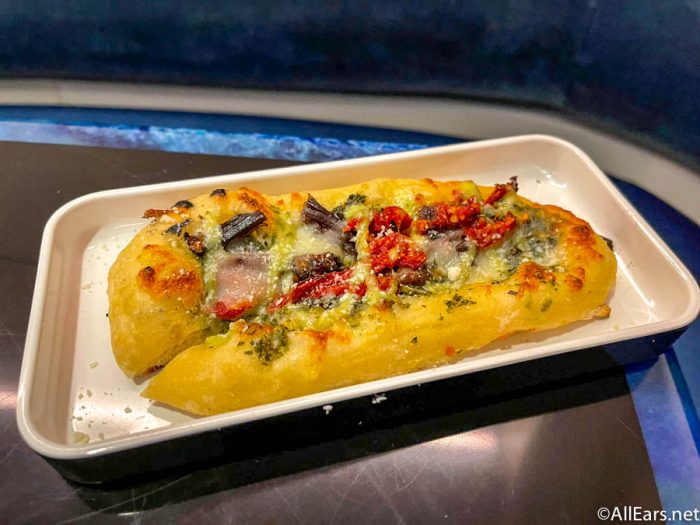 You can also get the Sweet Tuber with Spicy Batuu Curry. This looks like a granola bar in squash soup…and it tastes like that too. The bar itself tasted great (like a typical Nature Valley granola bar), and the butternut squash soup was also very tasty. Some of our group enjoyed the two together, and others preferred to keep them separate because the combination was a little unusual.
And there was a Blue Focaccia and Sausage Takeaway, which is topped with Red Fruit (tomato) jam and Aji Aïoli. This is basically a fancy hot dog, with tomato jam instead of ketchup and mustard aïoli instead of normal mustard. The hot dog was replaced with a sausage, which tasted very similar to the breakfast sausages. This is a fun option if you're looking for familiar flavors but also want to try more exciting dishes. It's not too far from a normal hot dog, but there is a slight twist on all of the elements.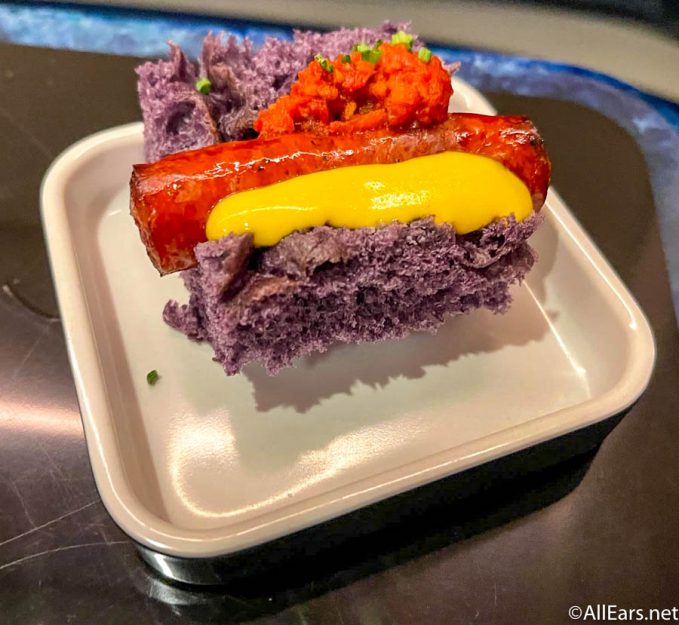 For a lighter option, you can get the Red Fruit Burrata, which has Balsamic Pearls and a Red Fruit (tomato) Jelly. This is basically a Caprese salad with fresh tomatoes, purple bread (which tasted like good dinner rolls), and mozzarella.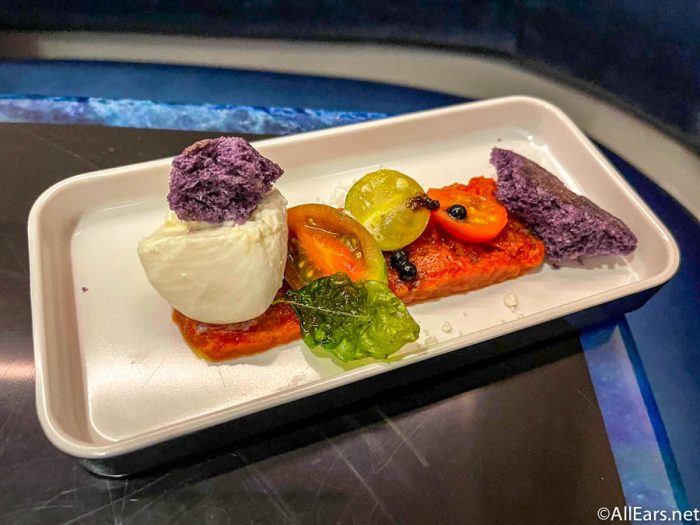 Next up was Chili-Spiced Cucumbers with Garden Grow Greens. We were a little disappointed in this dish, and we wanted more flavor out of the marinade. You could still get a chili flavor, though, and it was very light and fresh.
A plant-based option was the Marinated Seared Tofu, with Saffron Rice, Sumak, Aïoli, and Flaky Flatbread. The saffron rice was very tasty, and it went well with the olives. The cream sauce reminded us of Taziki sauce, although it was a little different. The tofu was crispy on the outside and soft on the inside, although we thought it could have used more flavor.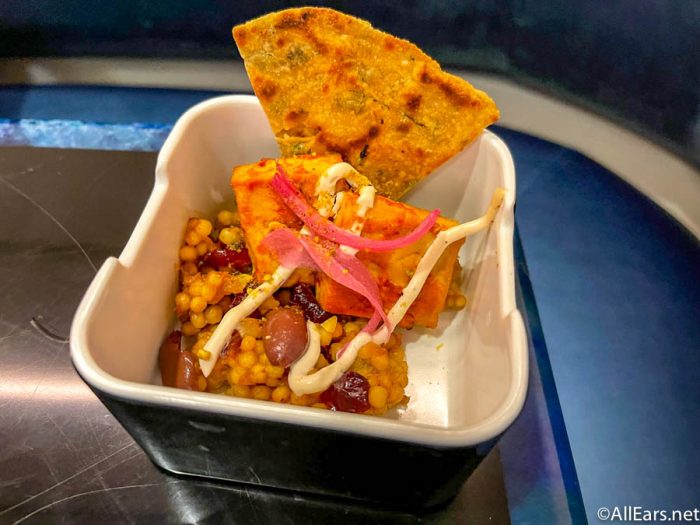 For dessert, you could get Daily Sweetbread (which was chocolate-chip cookies). They were soft and tasty, so it's a great familiar option.
There was also a Salted Caramel-Chocolate Cake, which is topped with buttercream icing. It's a pretty classic dessert, and the chocolate outweighed the salted caramel. It wasn't too sweet, but it still had great flavors.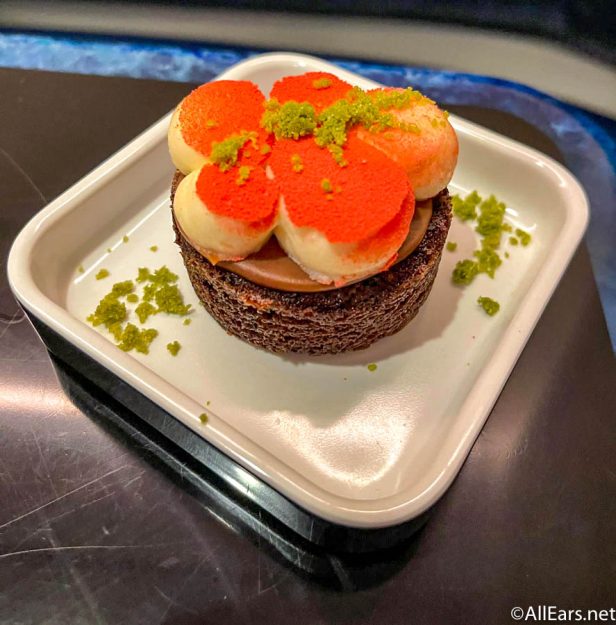 And you can also get a Cream of Jogan mousse dessert. The mousse had a fruity flavor to it, and this is definitely an Instagrammable dessert! The mousse is on top of a chocolate macaron, and there are chocolate rocks on top.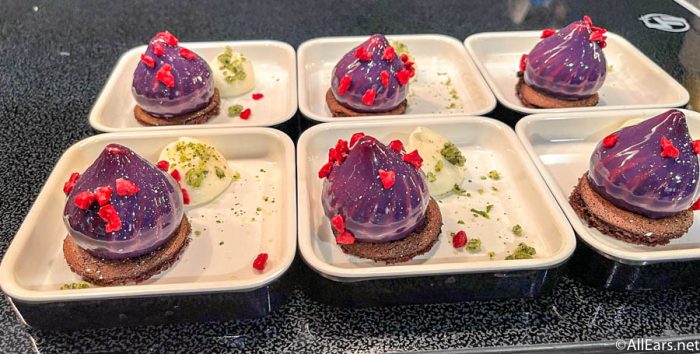 Dinner (Night 1)
During dinner, you'll be treated to food AND a show! Throughout your meal, Gaya will sing for various periods of time, entertaining all of the guests. And we can't forget about her backup performer, Ouannii! HIT IT!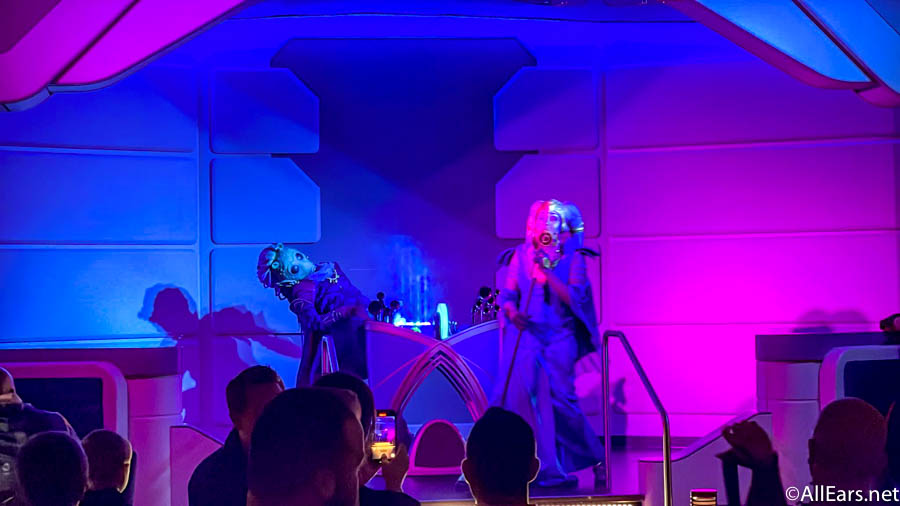 But they won't just be up on stage. You'll see Gaya and more walking through the dining room, interacting with guests and really making everyone a part of the show. You might even see some First Order folks get involved as interesting interactions unfold!
Or you might see a Wookiee or other characters run through the space. Remember that while dinner might seem like a separate thing to you, it's still very much a part of the overall story of the ship. It's all interconnected and you'll see all kinds of story moments unfold in front of you — so keep those eyes open!
Dinner is served family-style, and you can request more of a specific item if you really want it! For our night 1 dinner, we were seated at the Captain's Table (which we'll discuss more below) so just keep that in mind. But here we'll go over the items that all guests should have access to at dinner on night 1 (no Captain's Table necessary!).
During dinner, you can grab a variety of drinks, including some specialty alcoholic or non-alcoholic options. Keep in mind that any specialty drinks of this kind will be an additional cost.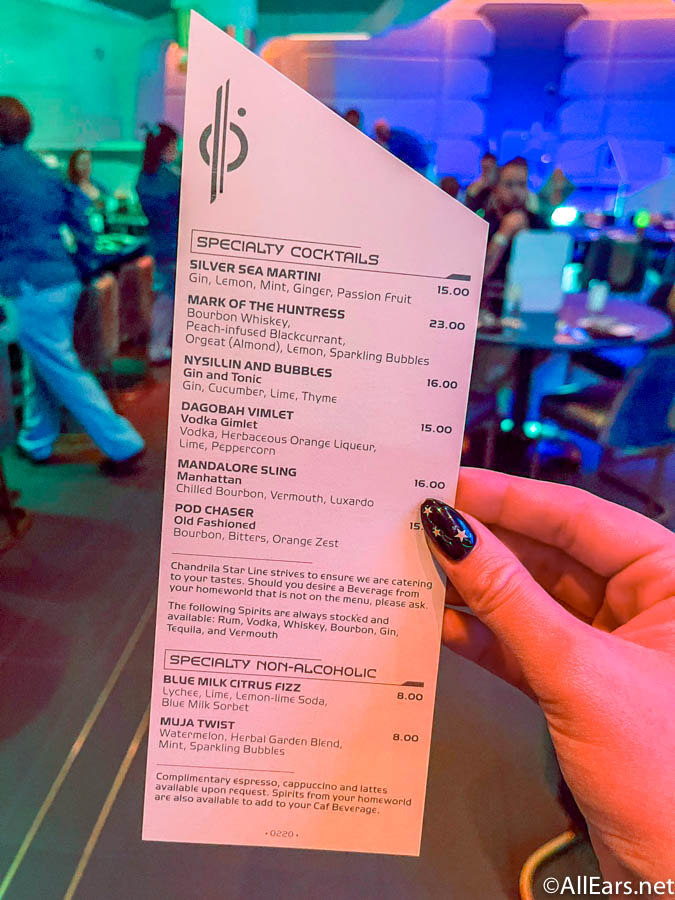 During our time there, we opted to try the Blue Milk Citrus Fizz, which is priced at $8 and is non-alcoholic. This drink is made with lychee, lime lemon-lime soda, and blue milk sorbet.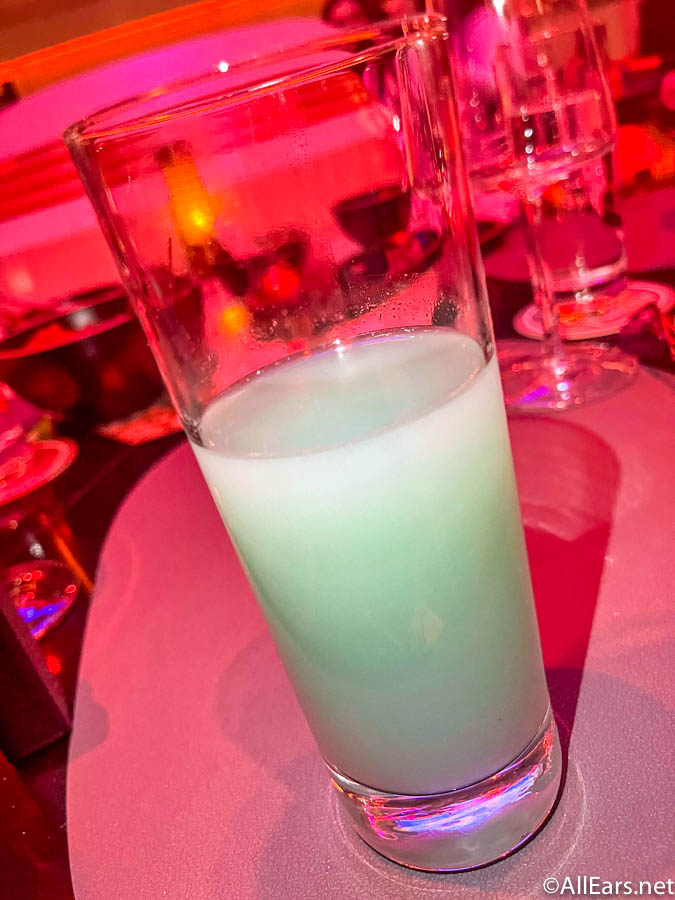 Next, it was time for us to dig into The Bento Experience. This course features 3 different spiral pan-seared steamed dumplings (essentially bao buns filled with different items). From what we experienced, two of these boxes was provided to us to share amongst our group of 3. The dumplings were also already cut up in half to make sharing easier.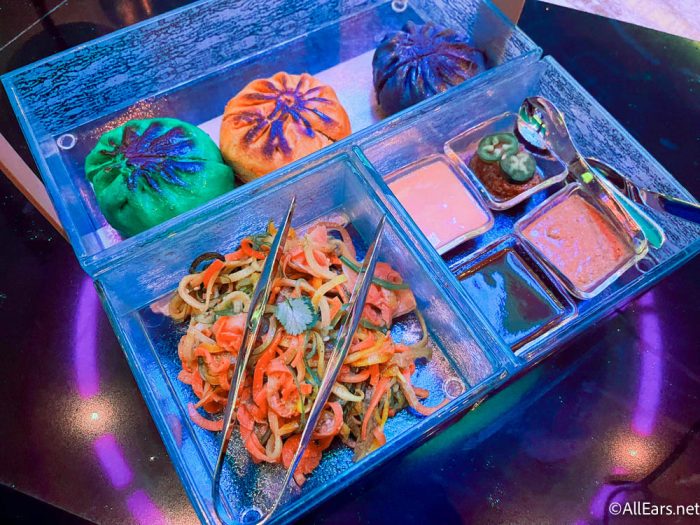 There were 3 different steamed pods available. The orange pod was the Tip Yip Chicken pod, which featured sweet-and-sour shredded chicken. The blue pod was the Bantha Beef pod, which is made with braised teriyaki beef. And finally the green pod was the Flora Vegetables pod, which features potatoes and curry.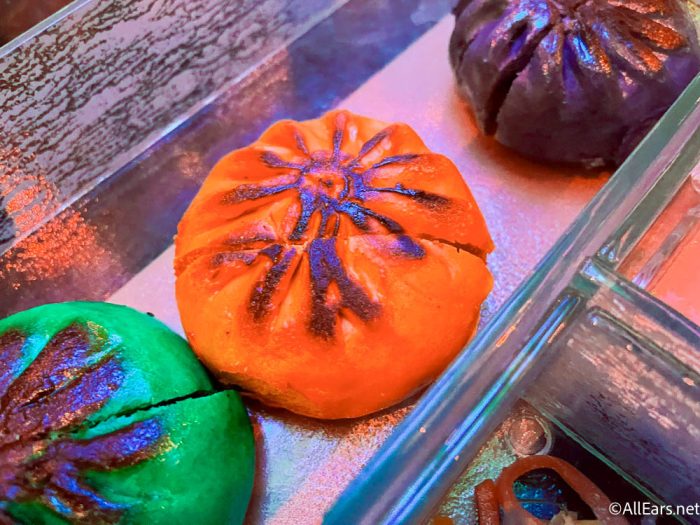 Here's a look at the inside of the pods! We thought all of these dumplings were very good. The beef pod and vegetable pod were our favorites, but all three had a lot of flavor and very soft buns.
But the pods weren't served on their own (as you can see above). They were served with a few different "interplanetary dipping sauces" for guests to try. The sauces included were the following: Kaadu Cream (described as sweet and creamy, like a Yum Yum sauce); Melahnese Curry (described as a yogurt dip, with a stronger curry flavor); Batuu Spice (a spicy, aromatic condiment with a lot of complex flavors that melded together well); and Barbecue-style (a Gochujang-laced sauce that tasted like normal barbecue sauce).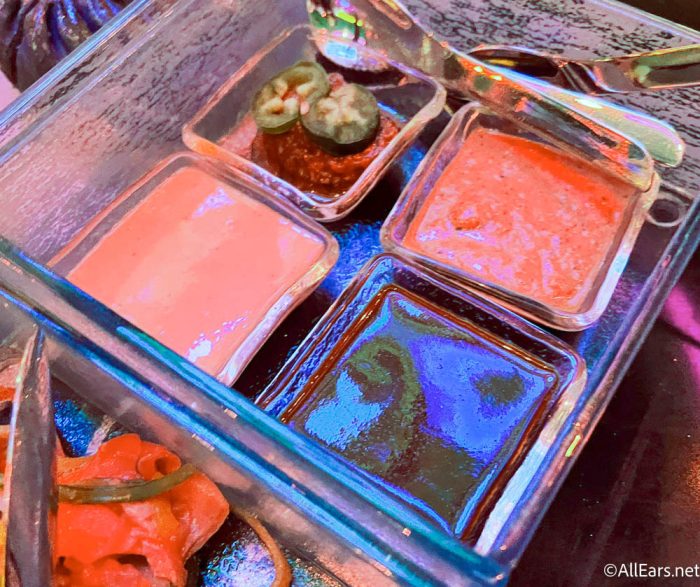 In addition to the sauces, the dumplings were served with a Flora Noodle Salad, which is made of chilled salad of yellow beets, diakon, onion, carrots, and white miso vinaigrette. It was nice to have the lighter salad together with the heavier flavors of the dumplings.
Next, it was time for the main course — the Chandrilla Chef's Selections! This course features a few meat options and sides served family-style for the whole group to share.
We'll start with the Bantha Beef Tenderloin, which is a Tamarind-glazed beef with crushed moon-rock potatoes. This was one of our favorite things that we had the entire time. The beef was super tender and delicious, and it had a lot of flavor. The potatoes served with it had some more interesting spices, but we think a pickier eater would still enjoy them.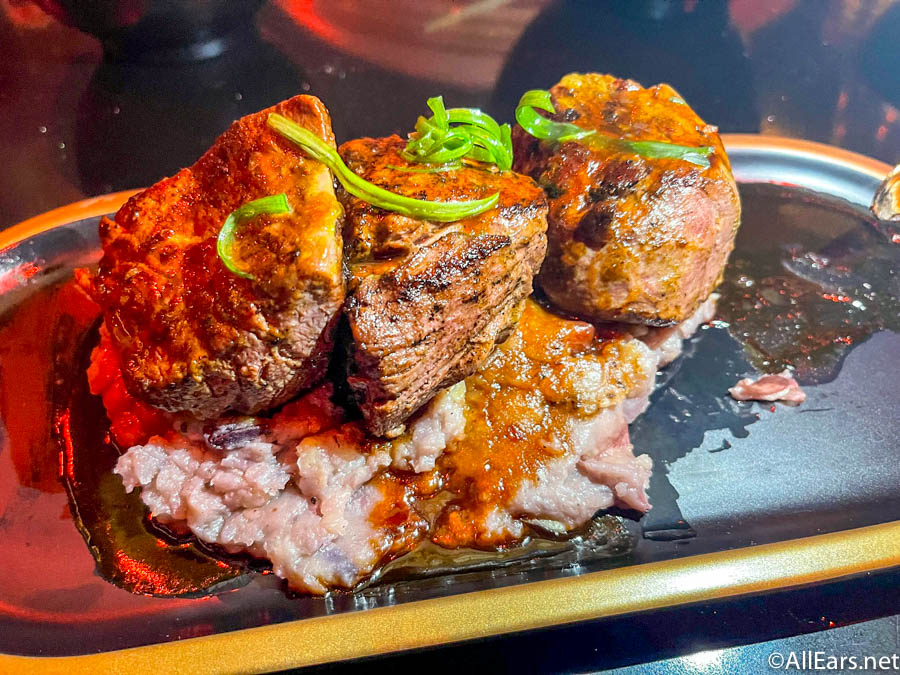 Then there's also Stewed Shrimp. This shrimp features lemon grass, lobster cream, and coconut-lime foam.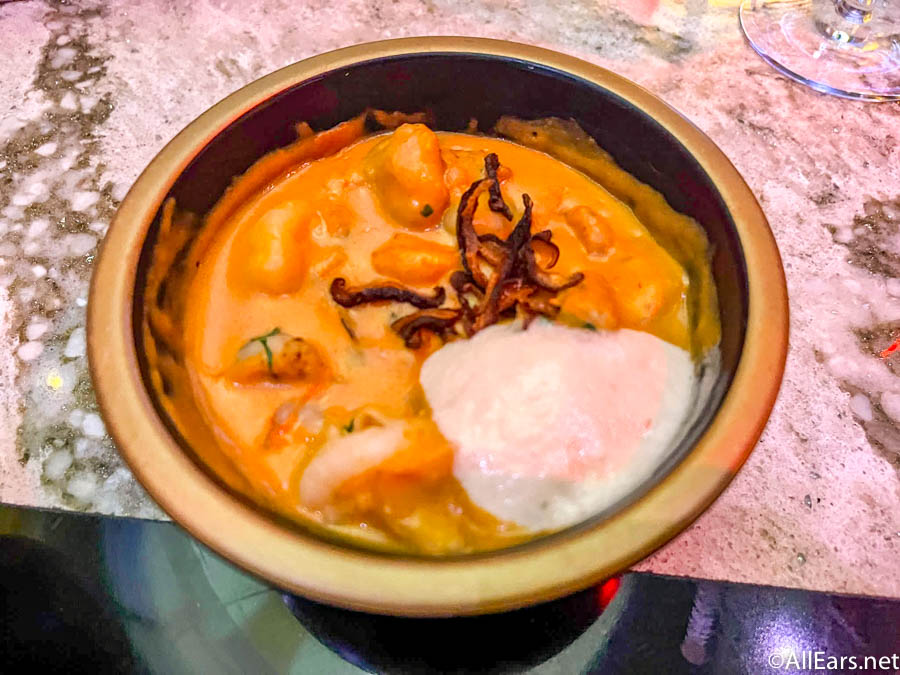 The table then got to try the Tip Yip Chicken, which is Menkooro Bourbon-glazed chicken with red peppers and sesame seeds. This chicken was really good, but you can get similar dishes at places like P.F. Changs. It wasn't anything super special, but it was still very tasty.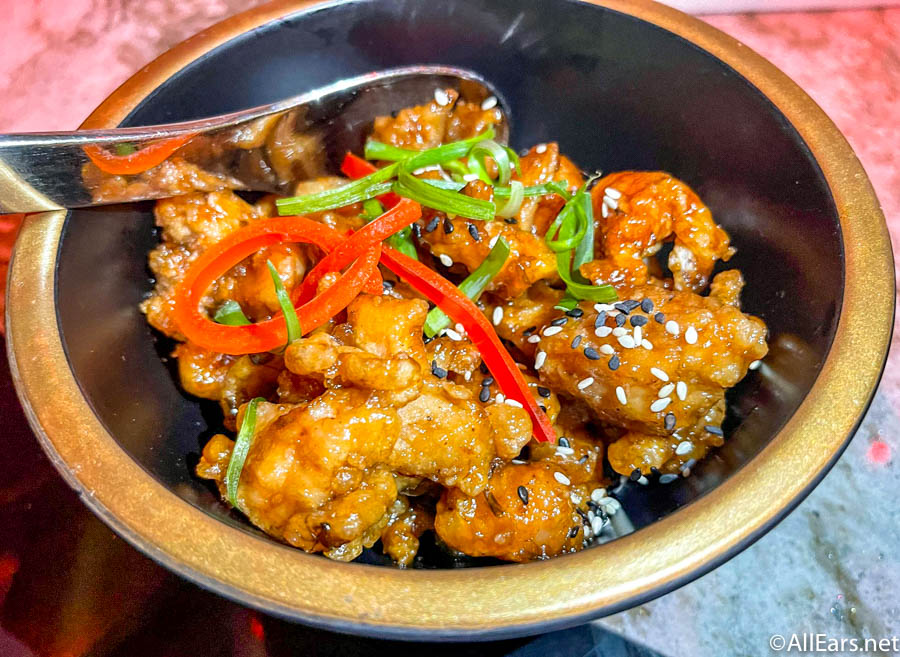 Aside from the meat and seafood options, this course also comes with some side options. First, there's the Green Herbed Fluffy Rice with a puffed rice crisp. This rice does have cilantro in it, so you'll probably want to avoid it if you don't like cilantro.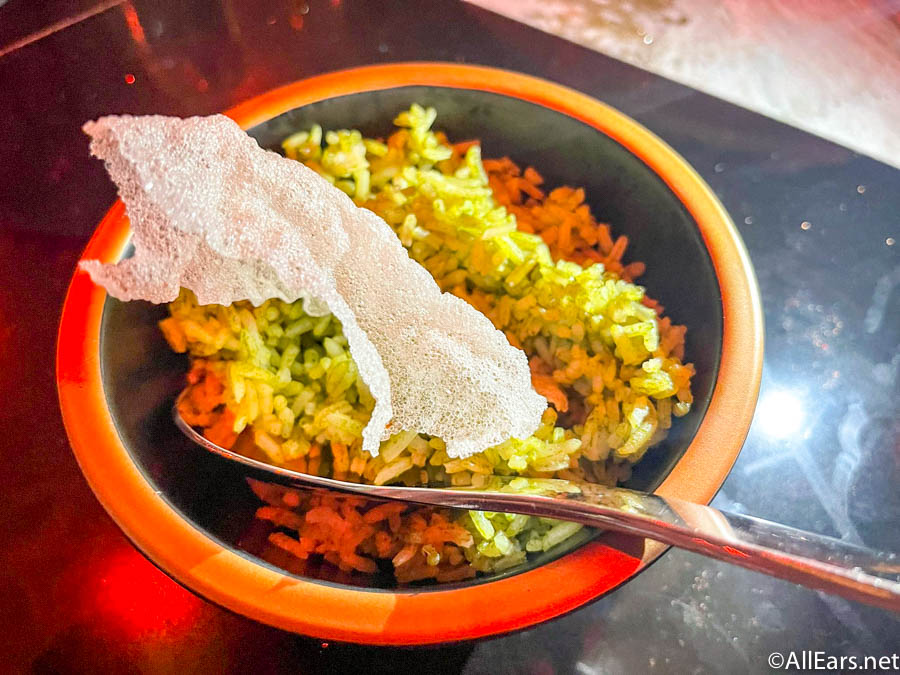 There are also some Surabat Spiced Flora. What is spiced flora you ask? Well it's vegetables with Harissa Spice, of course! These are fairly basic veggies, but the additional spice made them a little more interesting.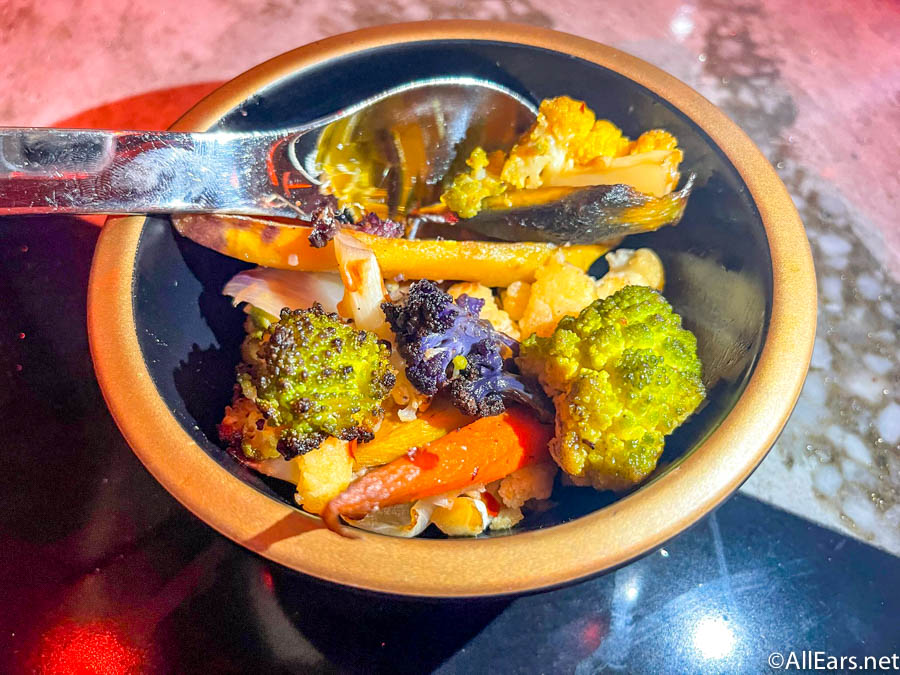 Finally, dinner ends with some dessert! During our night we got to try the Jogan Fruit and Caramel Whip. This was made with yuzu, passionfruit, and Cardellia Jelly.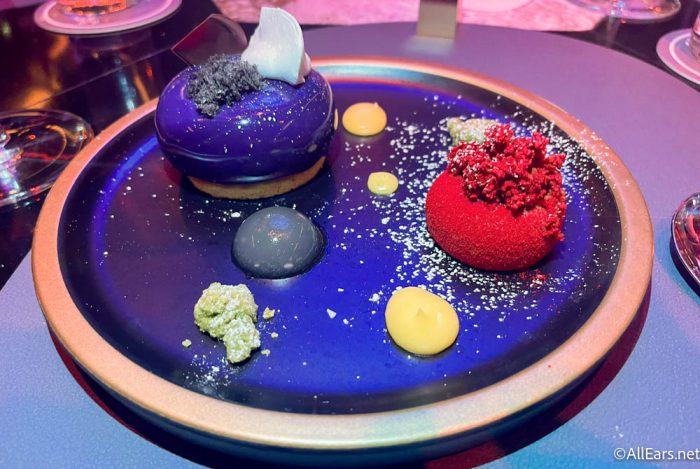 This dessert was tasty, but all of the mousse desserts were starting to run together (apparently there is a lot of mousse in space), and the flavors didn't stand out.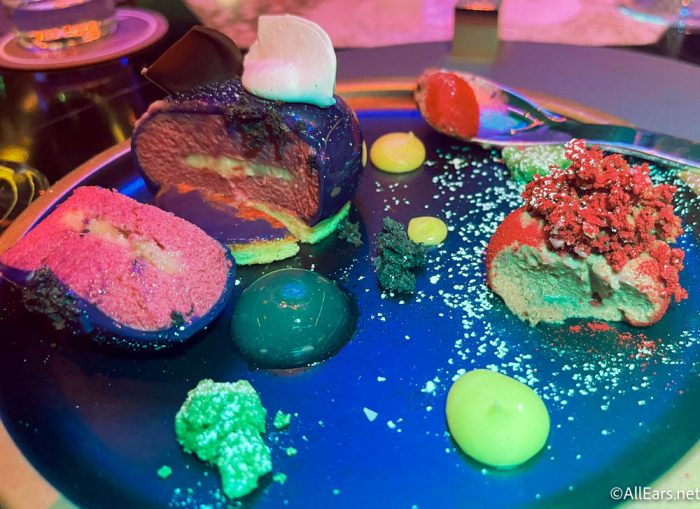 And that's a look at dinner for the adults on night 1! BUT we can't forget about the kiddos! During dinner, kids ages 9 and under can select from the Younglings Menu for their meal. The menu includes some appetizers, entrees, sides, and desserts for them to pick from.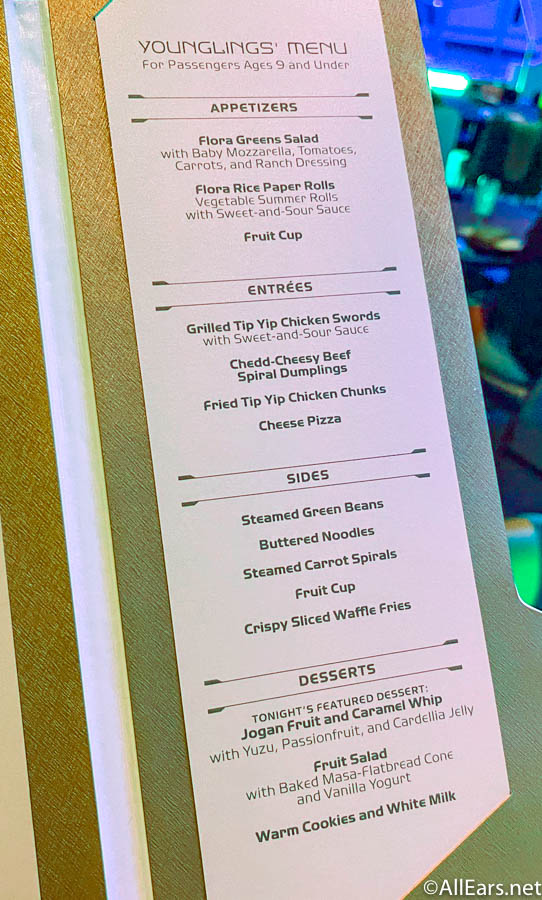 The appetizers include a Flora Greens Salad with baby mozzarella, tomatoes, carrots, and ranch dressing. 
There's also Flora Rice Paper Rolls. These are vegetable summer rolls with sweet-and-sour sauce. A fruit cup is also available for kiddos who want to grab that.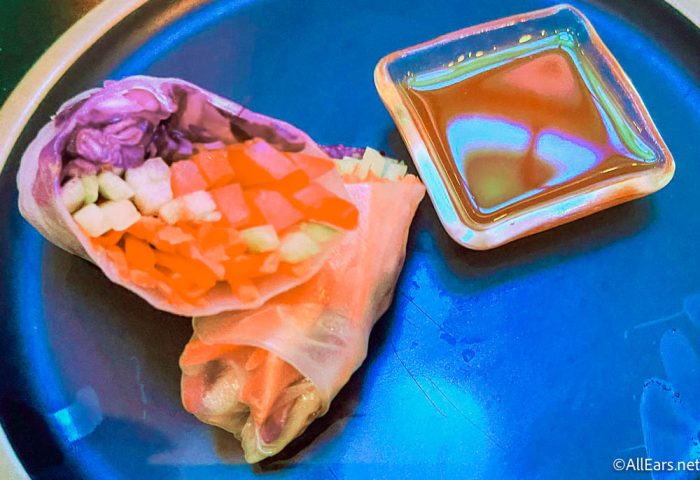 In terms of kids' entrees, there's a chicken option called Grilled Tip Yip Chicken Swords served with sweet-and-sour sauce (pictured in the center). There's also a Fried Tip Yip Chicken Chunks option (pictured to the left side of the plate), which were basically chicken nuggets. Or you can grab the Cheese Pizza (pictured to the right), which is basically Disney's standard quick-service pizza. Kids can also get some Chedd-Cheesy Beef Spiral Dumplings.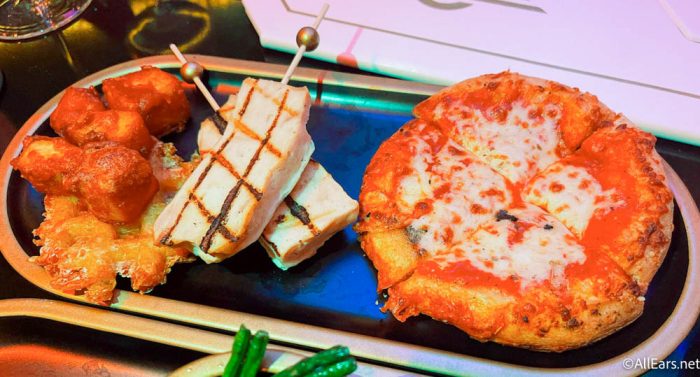 In terms of sides, there are steamed green beans…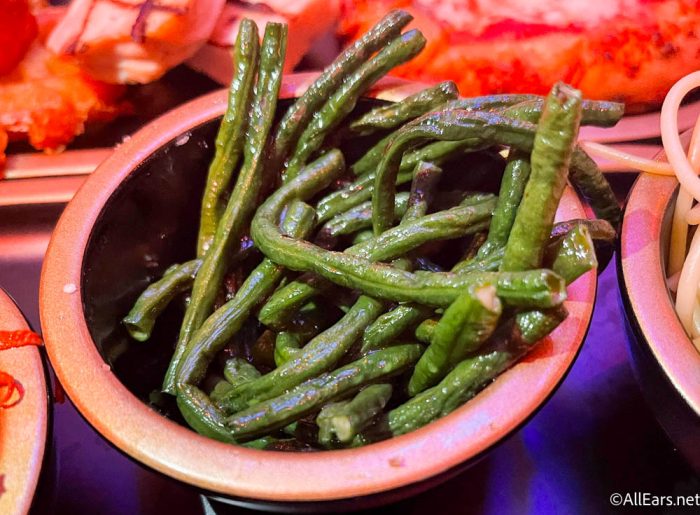 …buttered noodles…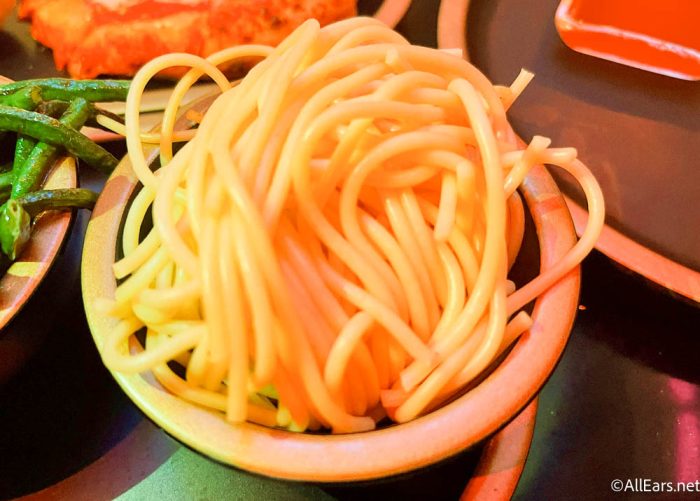 …steamed carrot spirals, a fruit cup, or crispy sliced waffle fries available.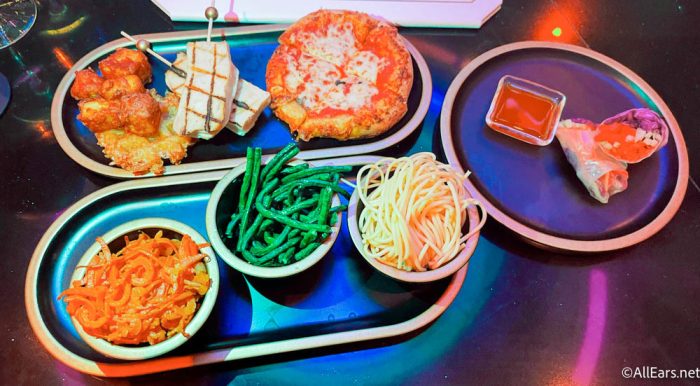 Turns out kids can eat quite a bit of different (but also some familiar) things in space!
For dessert, kids can pick from the Jogan Fruit and Caramel Whip (also mentioned above for the adults), a fruit salad with baked Masa-flatbread cone and vanilla yogurt, or warm cookies and white milk.
Dinner (Night 2)
Dinner on Night 2 of the Star Wars hotel is a bigger event than Night 1. For entertainment, Gaya and Ouannii are performing together, and there are other performances throughout the meal as well.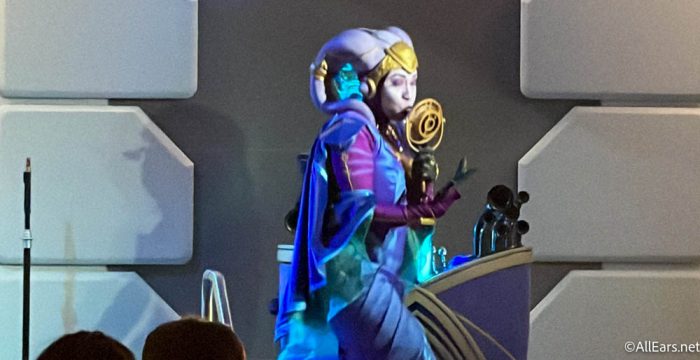 For example, a First Order Lieutenant and another character with a guitar joined in and sat with guests at their tables. Seating is assigned, but if you can ask for a table near the stage (or sit on the floor in front of the Captain's Table), those areas will have the best views.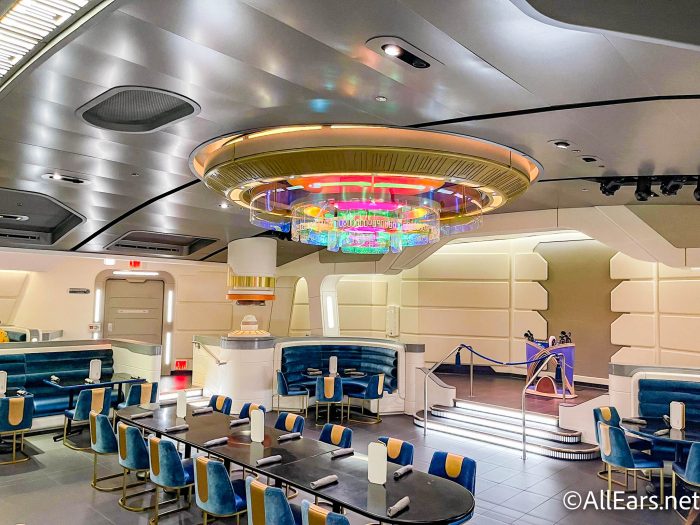 The dinner is a "Taste Around the Galaxy" multi-course meal. So you'll get to try dishes inspired by various worlds in the Star Wars universe, which is a very cool way to experience the story.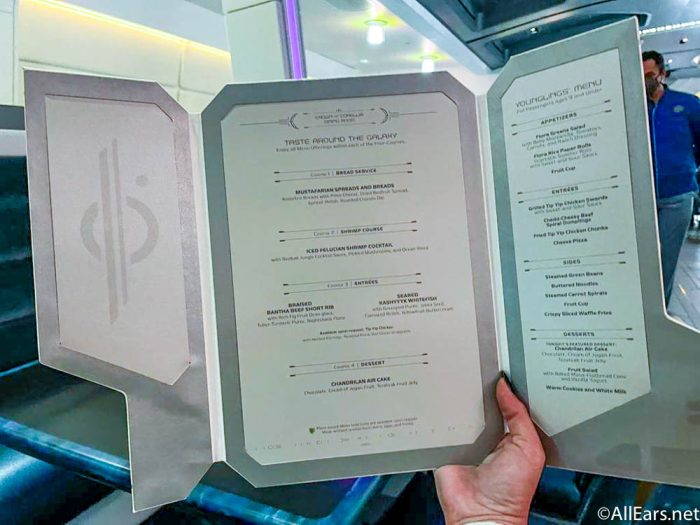 Someone will announce each dish and where it came from, and the lighting in the room will change to match the food.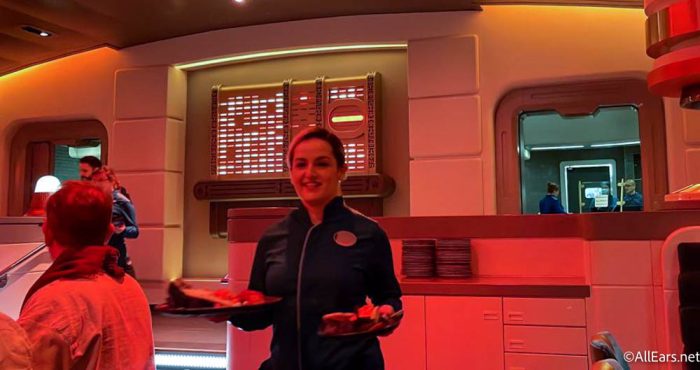 The first course is a bread service, which has Mustafarian Spreads and Breads. There is a Flatbread, Amethyst Bread, and Charred Cracker. For the dips, there was Pima-Cheese (whipped pimento cheese), Dried Redfruit Spread, Apricot Relish, and Roasted Chando Dip. The pimento cheese wasn't our favorite, but if you enjoy simple whipped cheese, you'll probably like this.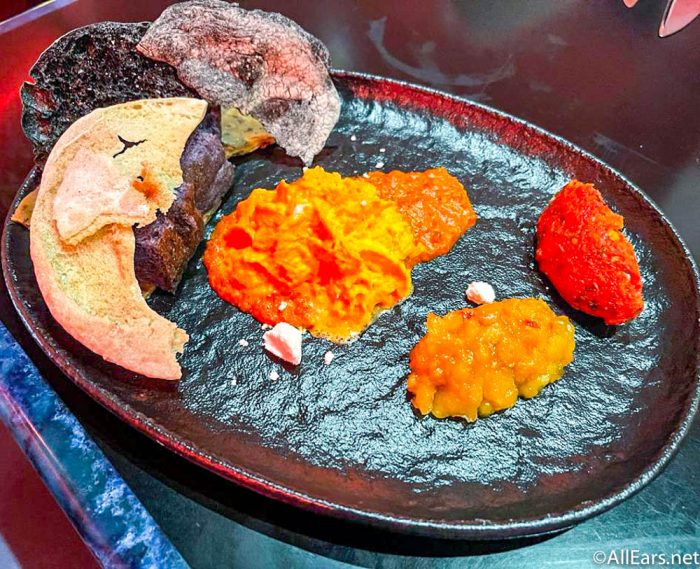 The shrimp course is Iced Blue Felucian Shrimp Cocktail. Does "blue shrimp" ring a bell? Disney released a promotional picture of this dish, and we have been intrigued ever since. The dish came out smoking (from dry ice in the display stand), and the fishy smell was very strong, even when it hadn't reached our table yet.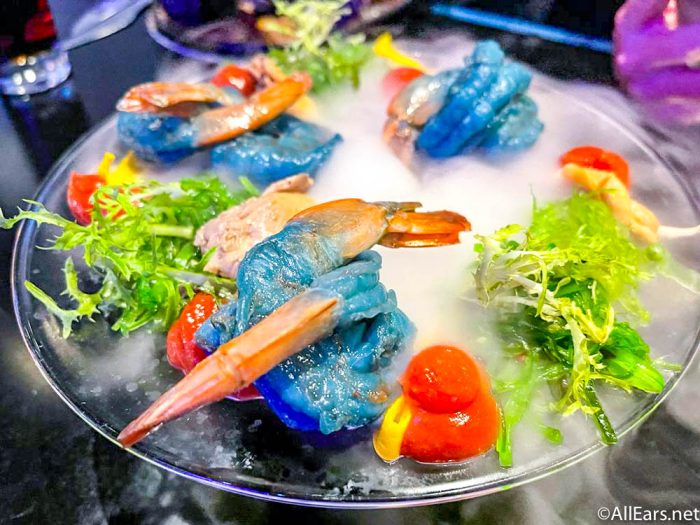 The shrimp is actually bright blue, and it's served with Redball Jungle "Cocktail" Sauce, Pickled Mushrooms, and Ocean Weed. The blue color comes from soaking the shrimp in a butterfly pea flower tea, so it's actually natural.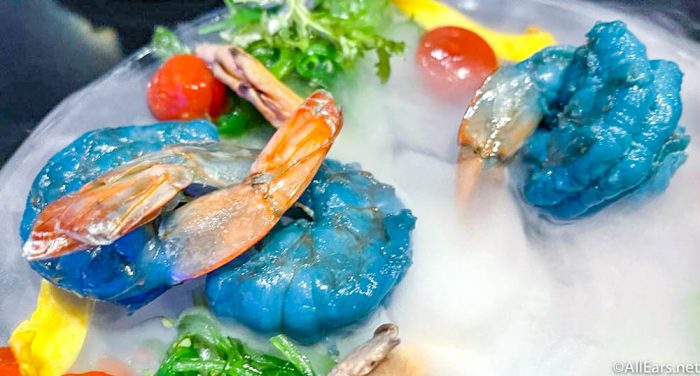 We had our reservations about blue shrimp…and we were surprised it mostly just tastes like shrimp cocktail! On its own, it's basically a large, juicy shrimp and shrimp fans at the table actually enjoyed it. It is recommended to eat it WITH the sauce and mushrooms, which we didn't find as compelling — it was too many unique flavors for one reporter. However, another LOVED the mushrooms on their own. That's the fun of space food — it's lots of mix and match!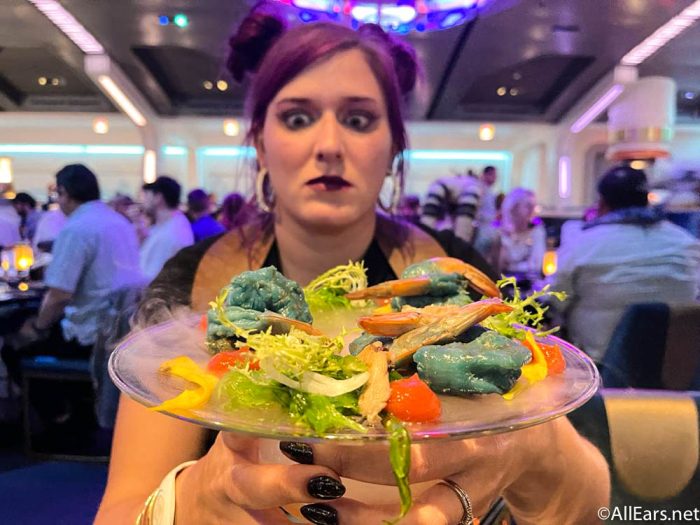 While the appearance and presentation of this dish was incredibly unique and really fun, the taste all comes down to if you like shrimp cocktail or not (and if you're brave enough to eat blue!) If you don't like a normal shrimp cocktail, you may want to avoid it — or just do it for the story. 😉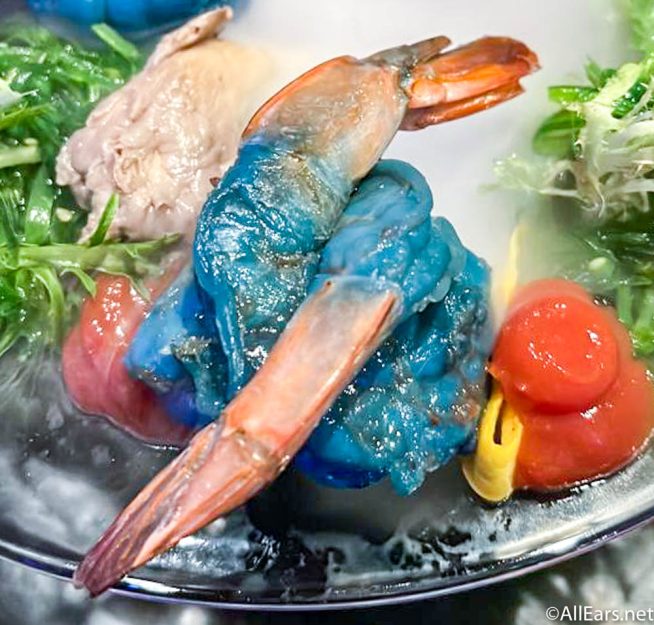 The rest of the entrées at this meal were significantly more normal (in appearance, anyway!). There were a couple of different options for the main course. The Braised Bantha Beef Short Rib comes with a Rich Fig Fruit Demi-glace, Tuber-Turmeric Purée, and Nightshade Flora. This was very good, and the accompaniments took it to another level.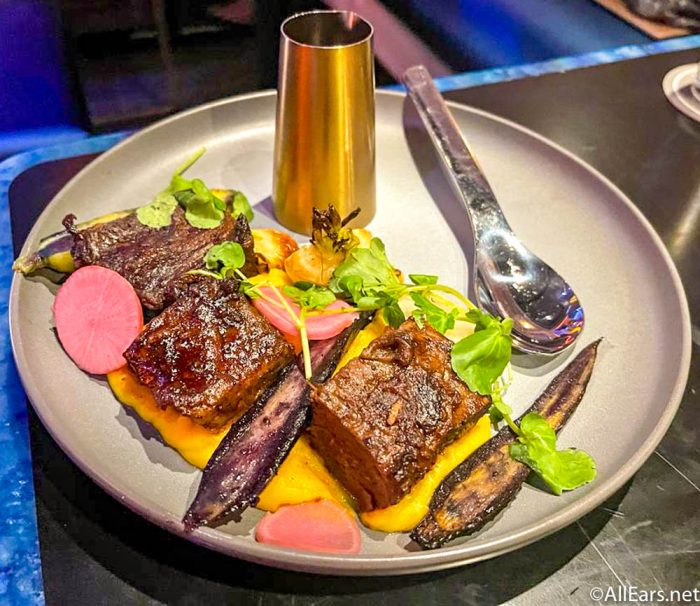 And the Seared Kashyyyk Whitefish is presented with Greenpod Purée, Jekka Seed, Cornseed Relish, and Yellowfruit Buttercream. This was one of our favorite fish dishes since the fish fell apart easily and the extra additions made the flavors more complex.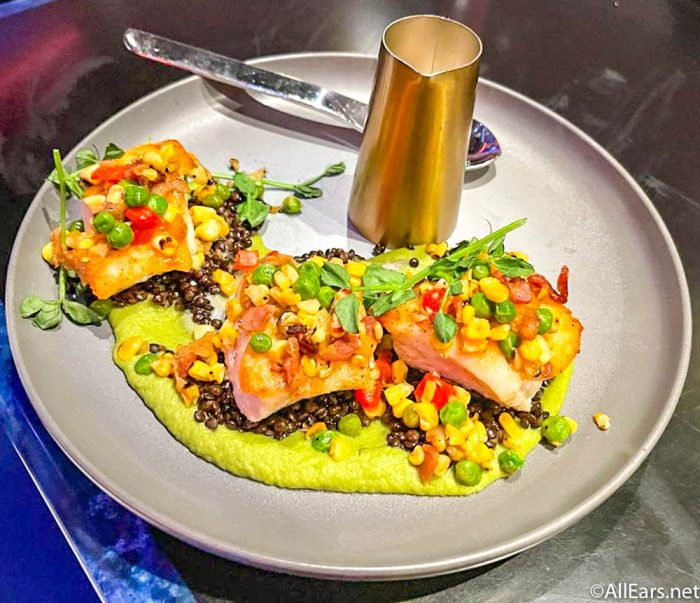 You can also request Tip Yip Chicken if neither of the main dishes sound particularly good to you.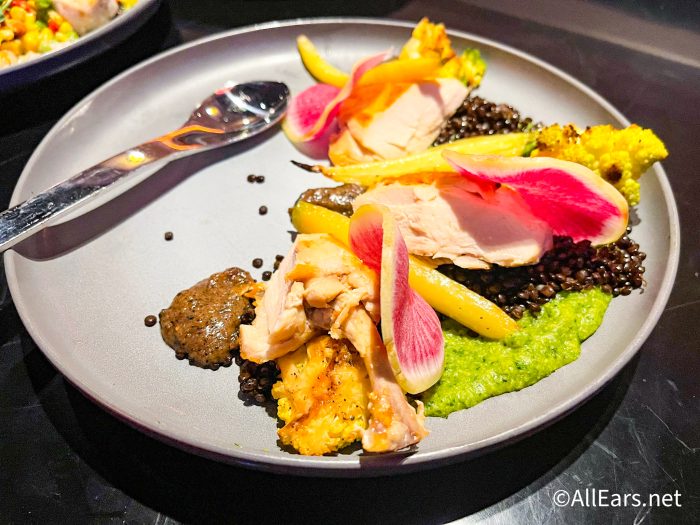 We enjoyed all of the entrées, but none of them was quite as good as the Bantha Beef Tenderloin from Night 1.
For dessert, you'll get the Chandrilan Air Cake, which comes with Cream of Jogan Fruit and Terateak Fruit Jelly. This cake was pretty tasty, and we especially enjoyed it together with that fruit jelly.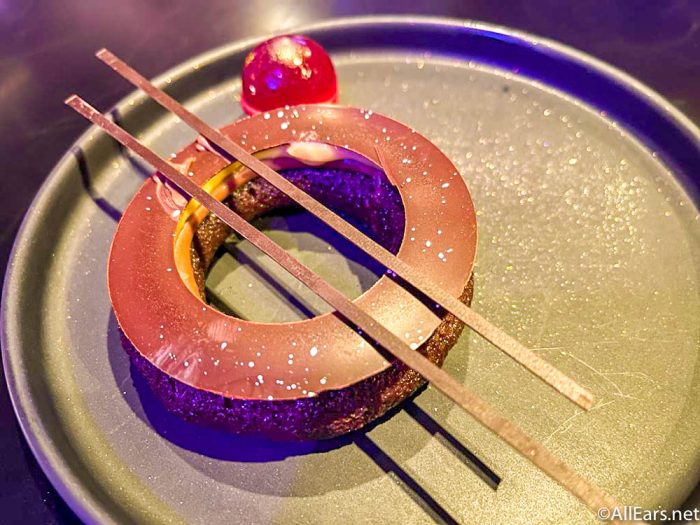 The cake is actually in the shape of the Chandrilla logo! The presentation was beautiful, and the cake itself was simple and good, although not really anything to write home about.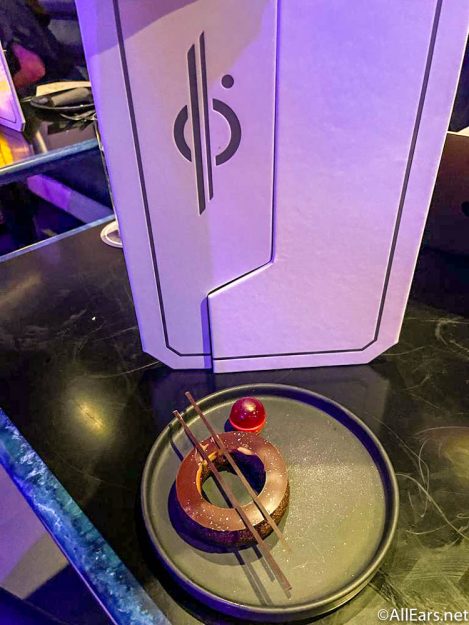 We also checked out the kids' menu during this dinner, and you'll never guess what we found!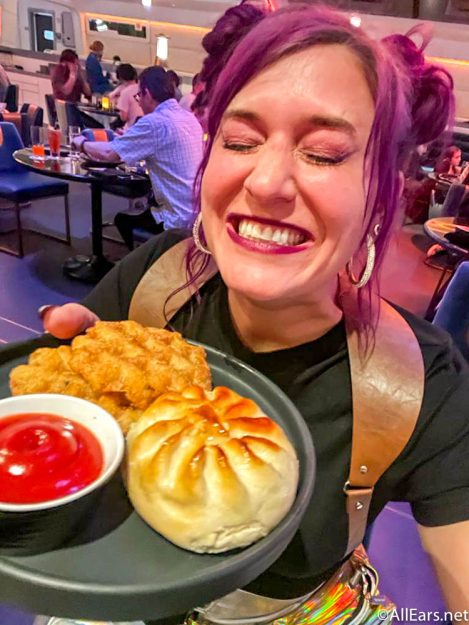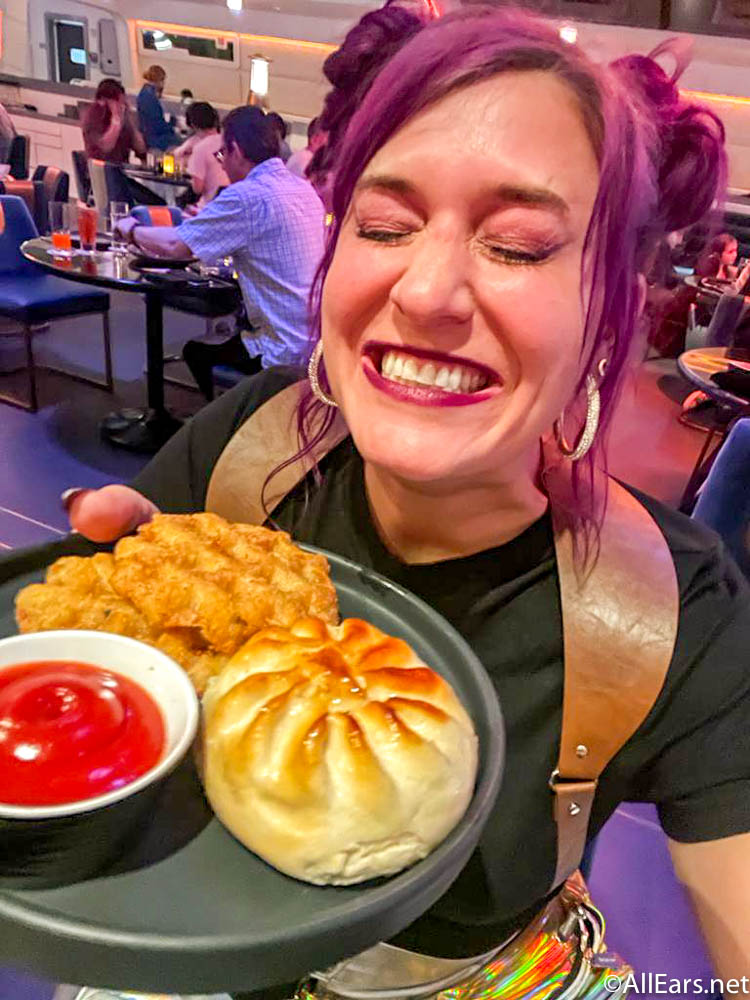 Cheeseburger pods!! This classic pod (also found at Satu'li Canteen in Disney's Animal Kingdom) is one of our favorite foods in Disney World. It comes with waffle fries on the side, which were actually huge, fried slices of potatoes (more like hashbrowns).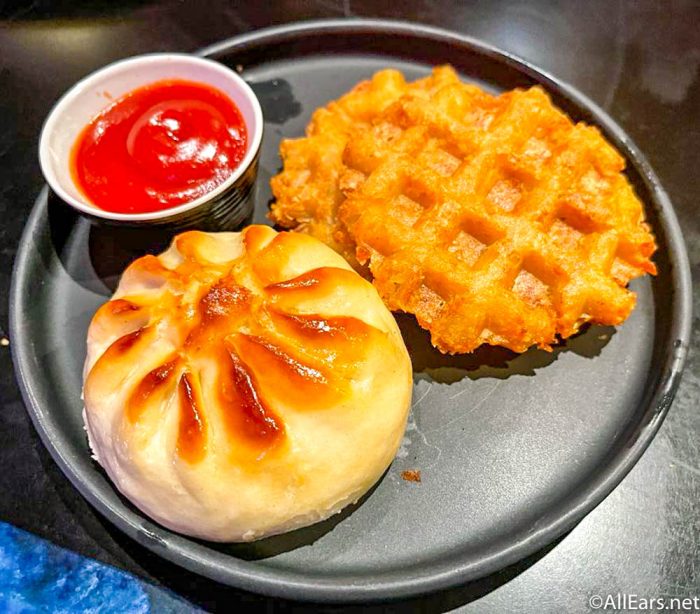 The cheeseburger pods tasted just like the ones from Satu'li Canteen, except they might actually be cheesier! If you're hoping to try this, ask your server if you can order off the kids' menu (even if you're not a kid). They may be able to accommodate your request.
Captain's Table
If you're looking to "plus" your stay at the Star Wars Hotel, you can add on the Captain's Table experience! This pretty exclusive experience is only available for a limited number of guests each night at dinner and costs an additional $30 per person for a single night.
Just keep in mind that it is one large table where guests from multiple parties sit, so you will be seated with guests from other parties outside of your own.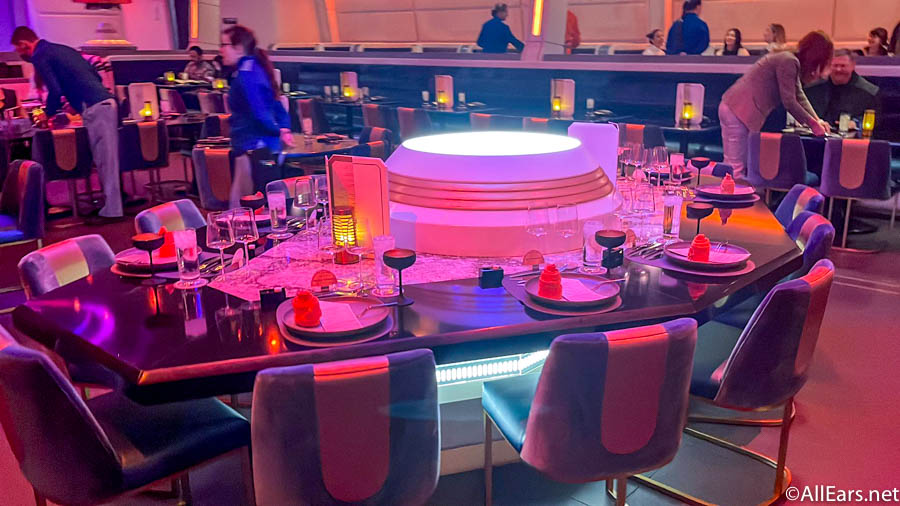 What's so special about the Captain's Table? Well, for starters, its location is unique. The Captain's table is located in the center of the main dining space, and a bit closer to the front, meaning you're in a great spot to observe and be a part of all the action!
It's also the Captain's Table, meaning you might just see the Captain herself stop by. And you'll get some extra courses and perks that other diners don't get (in addition to the regular meal).
For starters, diners at the Captain's Table get to wipe their hands with a special towelette!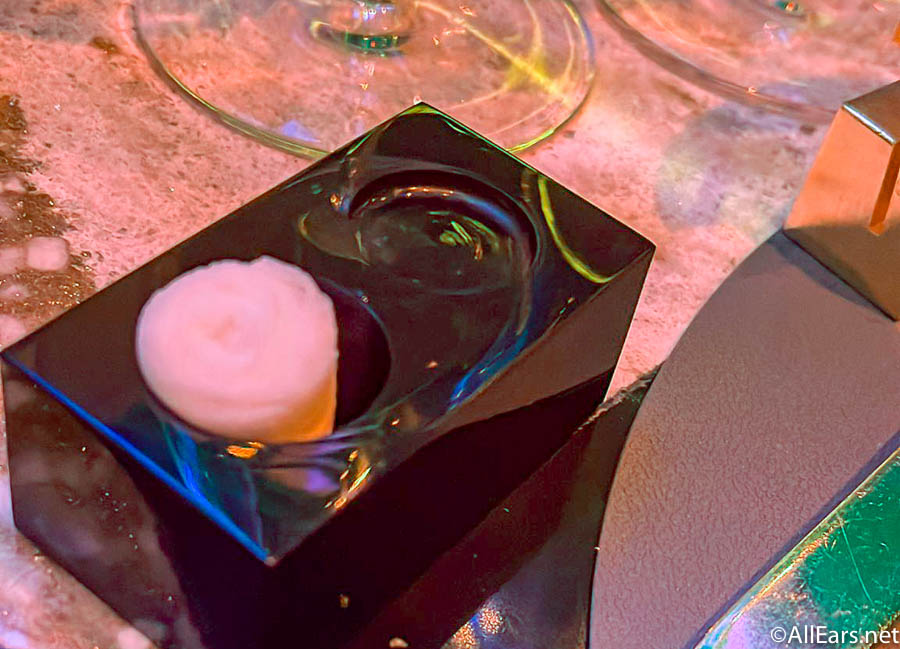 You'll place the little dried up towel in the water provided…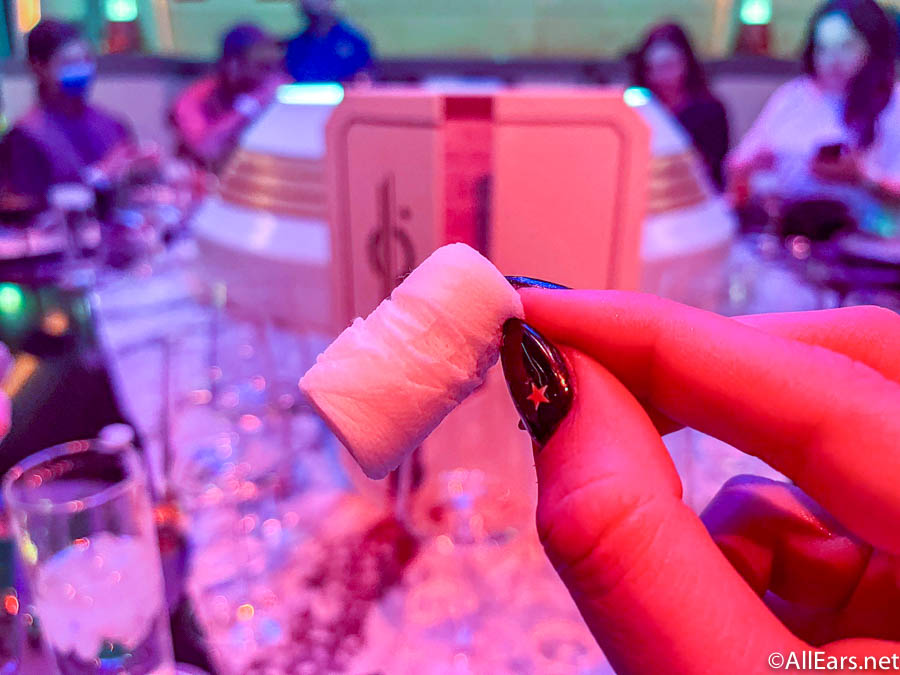 …and BAM! A space towel appears! You can then use this to wipe your hands before starting on your meal.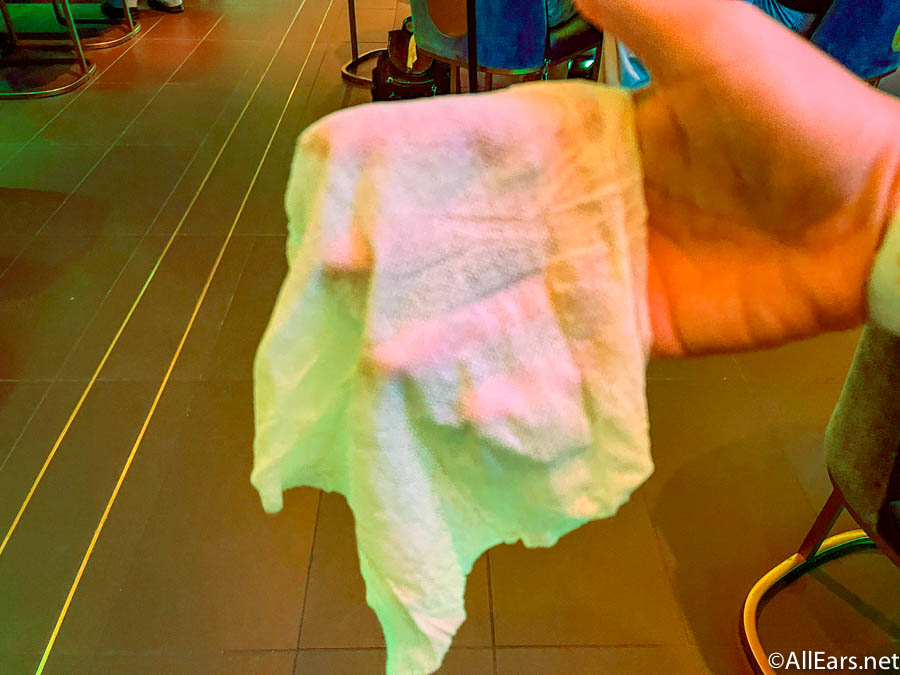 Speaking of your meal, the Captain's Table experience comes with a beautiful menu of its own.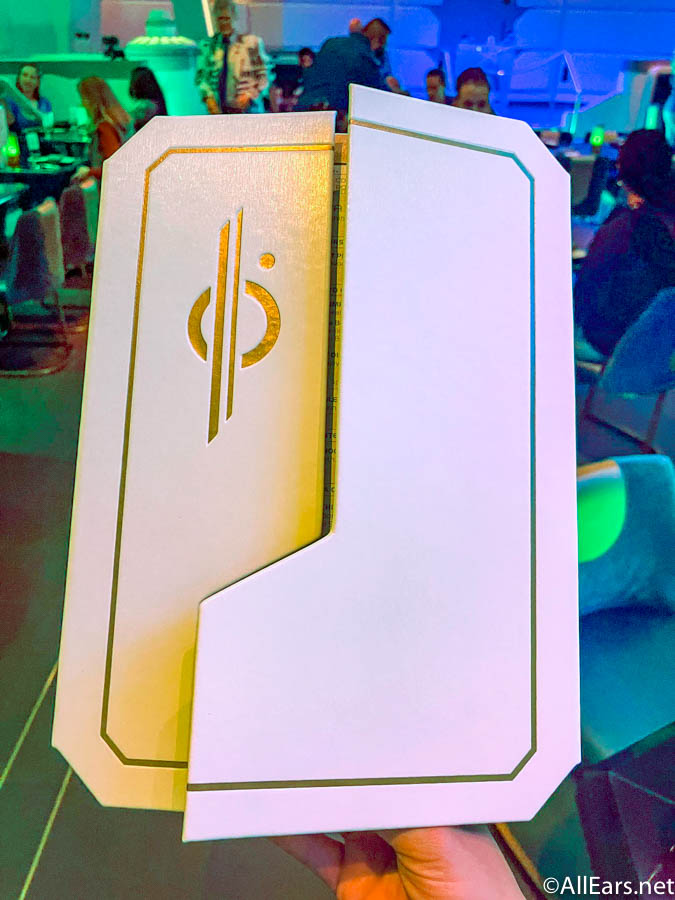 Once you open it up, you'll get to take a look at the unique options. The experience includes ALL of the same things regular diners get, PLUS some extras!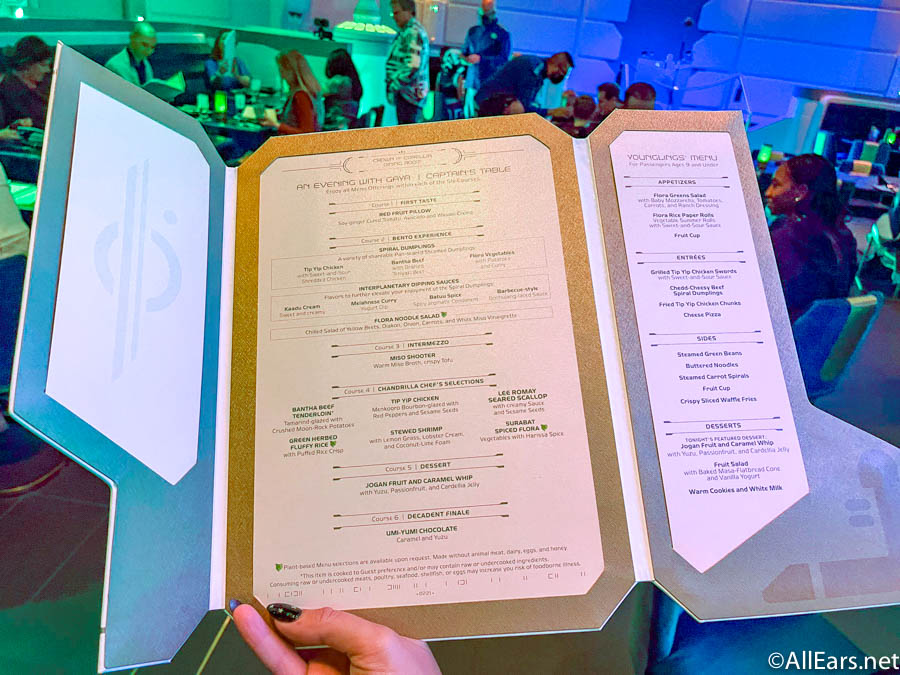 One unique thing about the Captain's Table is that you'll get some champagne.
You'll then be able to raise this up during the Captain's toast!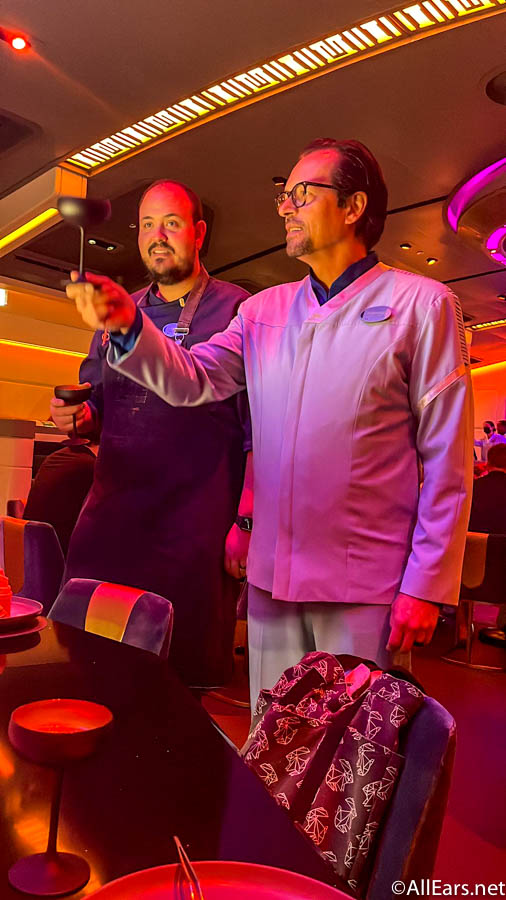 Another thing that is exclusive to the Captain's Table experience is a first course called the First Taste. This first taste (at least on our first night) was the Red Fruit Pillow, which features a soy-ginger cured tomato, avocado, and wasabi crema. We thought this appetizer was pretty good, and it reminded us of the flavors of a Caprese salad.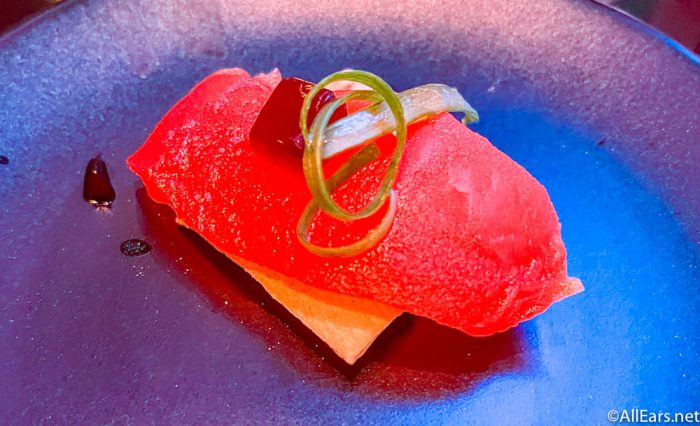 Also exclusive to Captain's Table is the Intermezzo (served between The Bento Experience and Chandrilla Chef's Selections). During our experience, the Intermezzo was a Miso Shooter, made of a Warm Miso Broth and crispy Tofu. The presentation was interesting, but the Miso soup inside wasn't our favorite. It tasted fine, but it didn't really "wow" us.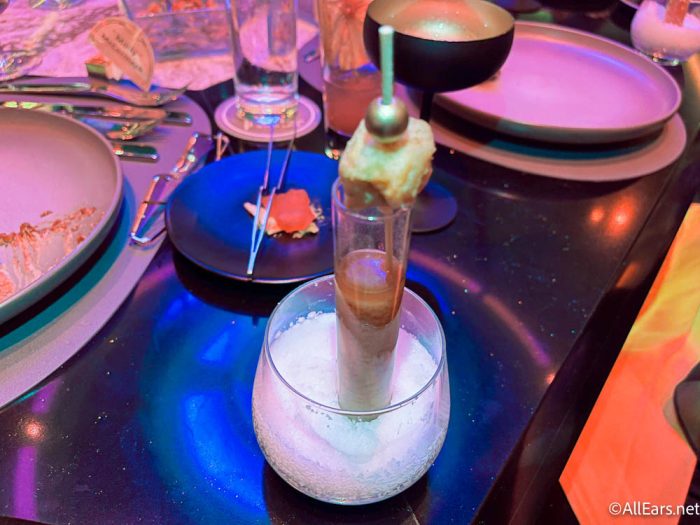 When it comes to the main courses (the Chandrilla Chef's Selections), those at the Captain's Table get an additional protein for the table to share — either a Scallop dish or a Lobster Tail.
During our trip, we got to try the Lee Rosemary Seared Scallops (again, these are exclusive to the Captain's Table). These scallops are served with a creamy sauce and sesame seeds. We thought the scallops were pretty good, but not super unique or interesting.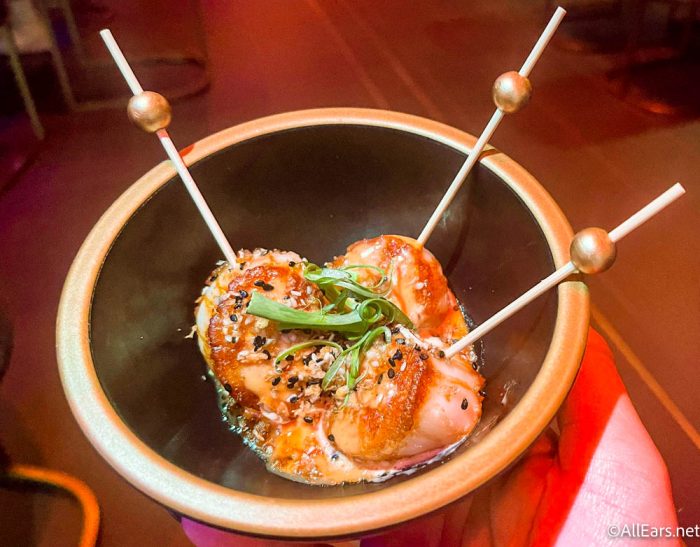 Captain's Table guests also get an additional dessert to go with their meal! For us, that additional dessert was the Umi-Yumi Chocolate with caramel and yuzu.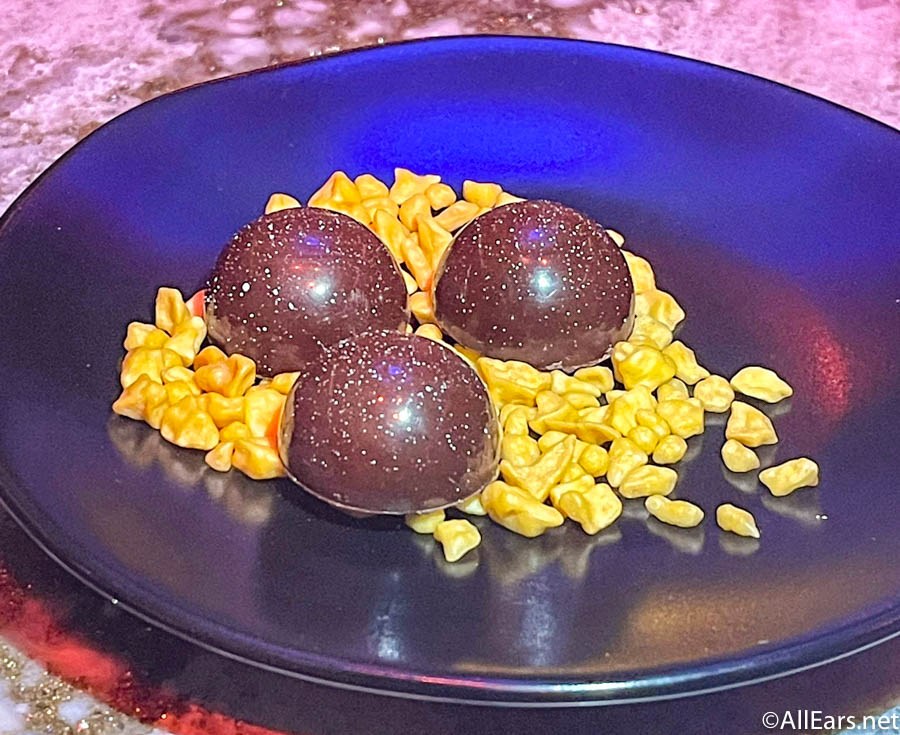 Here's a peek at what that looks like on the inside! When you cut the chocolate open, some green goo comes out. But don't let it put you off because this dessert tasted very good! We thought the caramel and yuzu tasted great together.
If you're looking to really try ALL of the food that the Star Wars Hotel has to offer, get prime seating for dinner (right in the middle of the action), and splurge just a bit — then the Captain's Table might be for you (but fair warning, seating is limited so you might find it VERY difficult to get a spot here).
Snacks
There were some snacks available all the time at this hotel, so you can grab a quick bite if you're hungry during an off-meal time.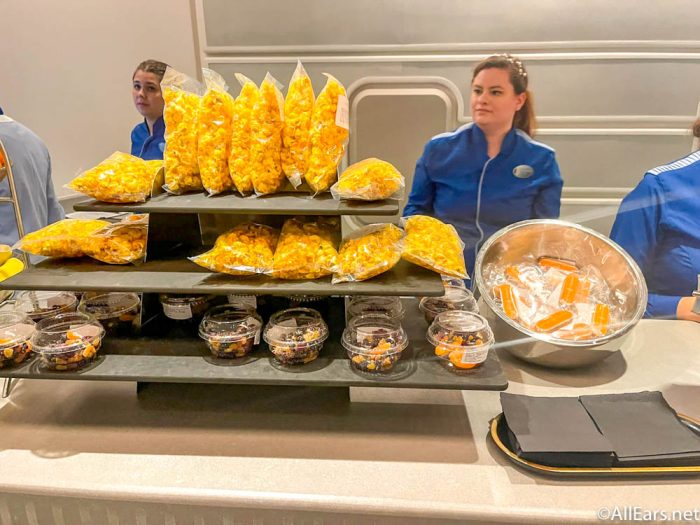 Blue and Green Milk were available in the Crown of Corellia Dining Room, so you could stop in during breakfast and lunch times to get your space milk fix. Even if it's not dinner or lunch time, just ask a Cast Member, and they'll probably be able to get you some.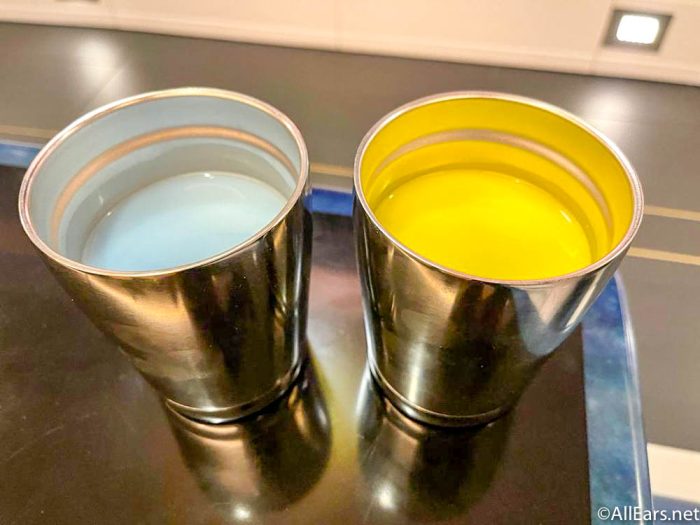 These milks taste very similar to the kind that you'll get in Galaxy's Edge, except they weren't quite as cold. Instead, they were closer to actual milk texture rather than the icee texture of the Galaxy's Edge milks.
There's a snack stand in the Atrium of the hotel, and it had various quick snacks available. Some of the snacks were the same on both days, but there were others that changed from day to day. On Day 1, there were some whole fruit options like bananas and mandarin oranges, Raspberry-flavored Rice Krispies…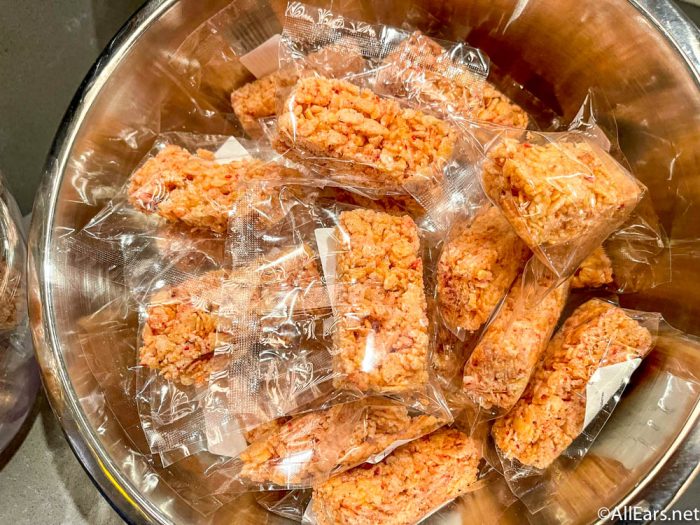 …Parmesan Cheese Crisps…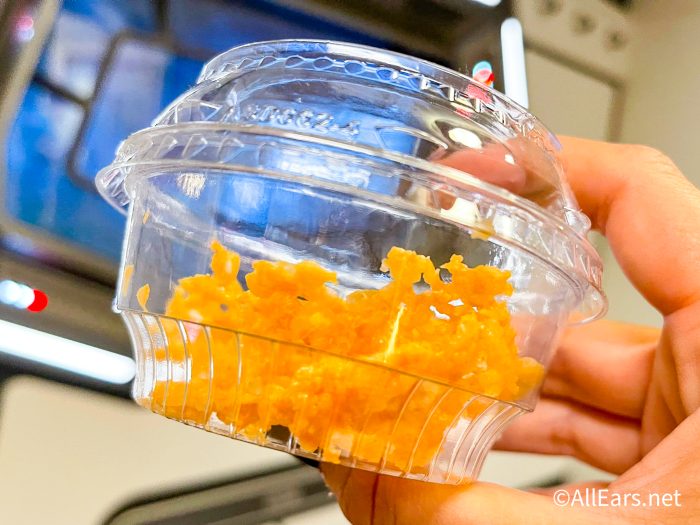 …Gormaandas Cake Bites (basically cake pops)…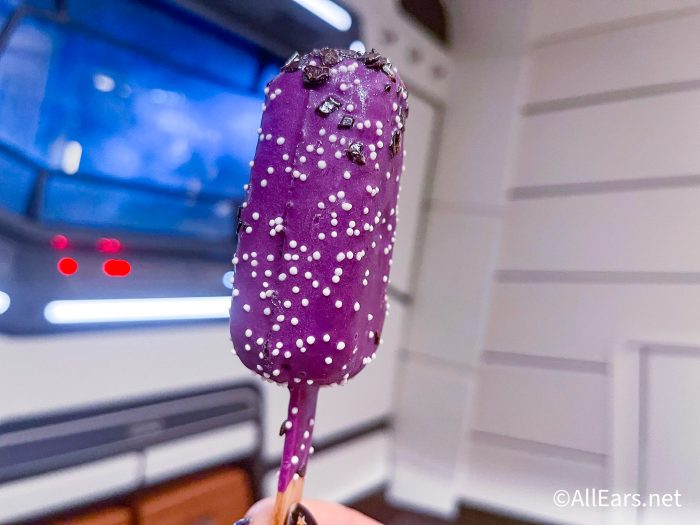 …Double Chocolate Cookies (these were a highlight!)…
…Crispy Cornbread Sticks…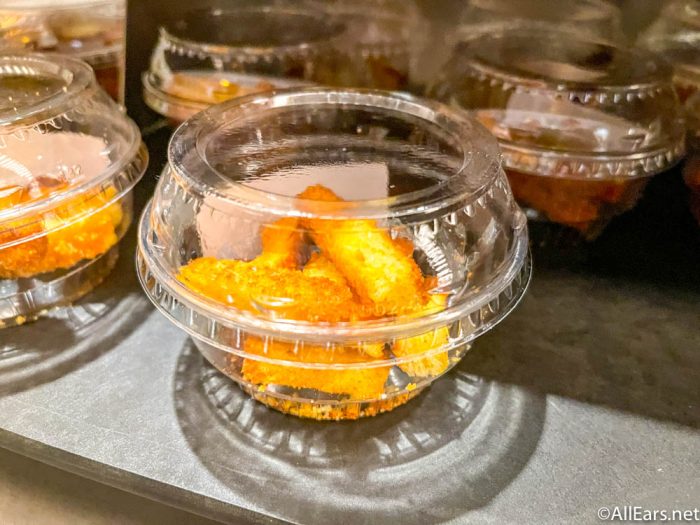 …and self-serve chocolate candy and trail mix.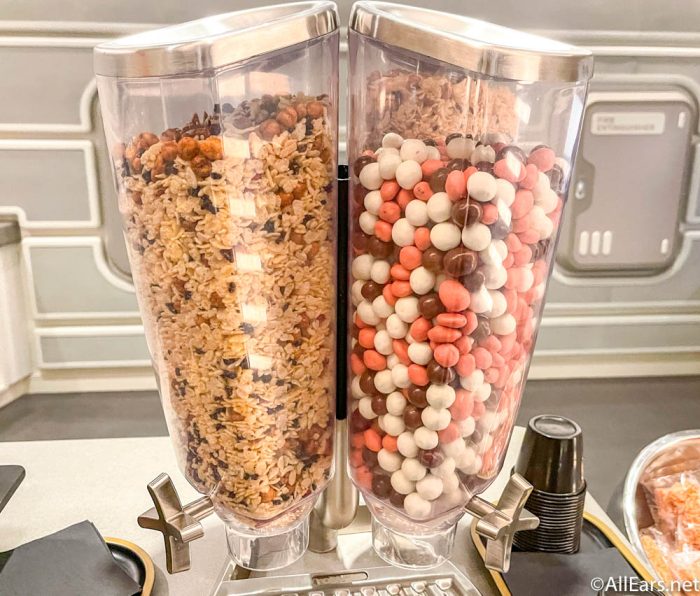 On Day 2, you could get cheesy popcorn…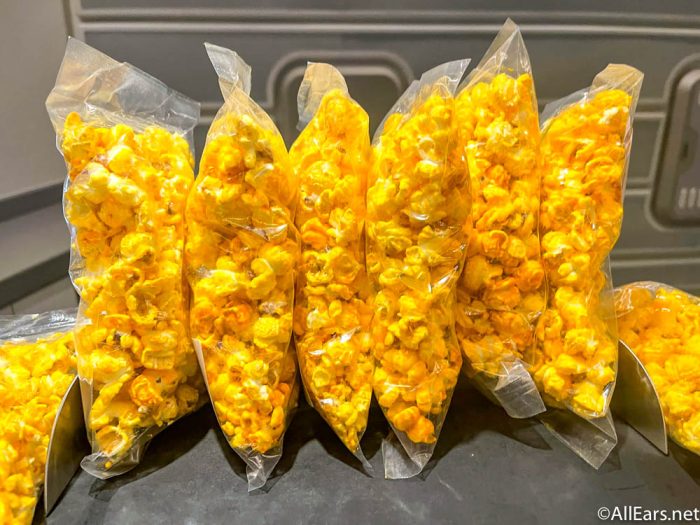 …and Asteroid Ball rice krispie treats. The Raspberry Rice Krispies from Day 1 were also still available here.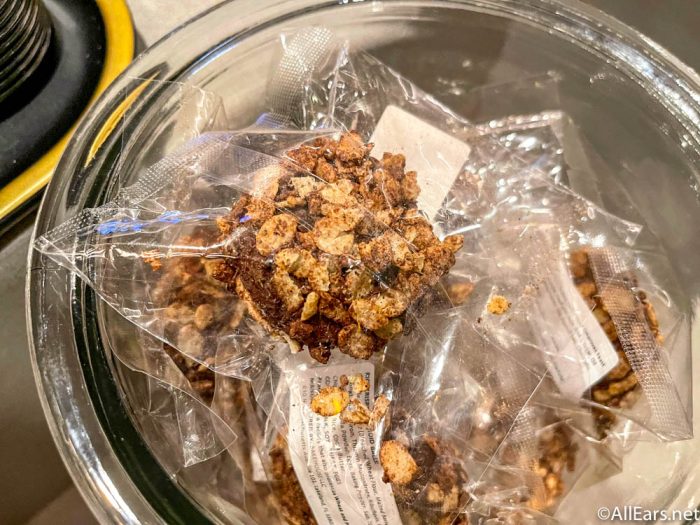 There were also options for whole fruit on this day as well.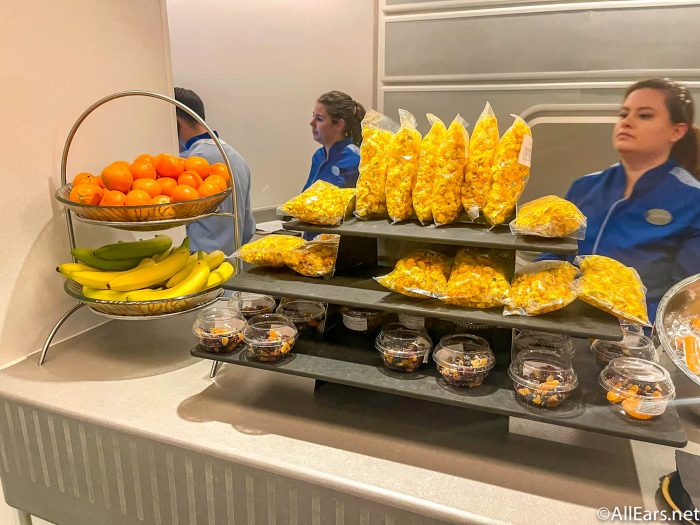 You could grab a little container of dried fruit…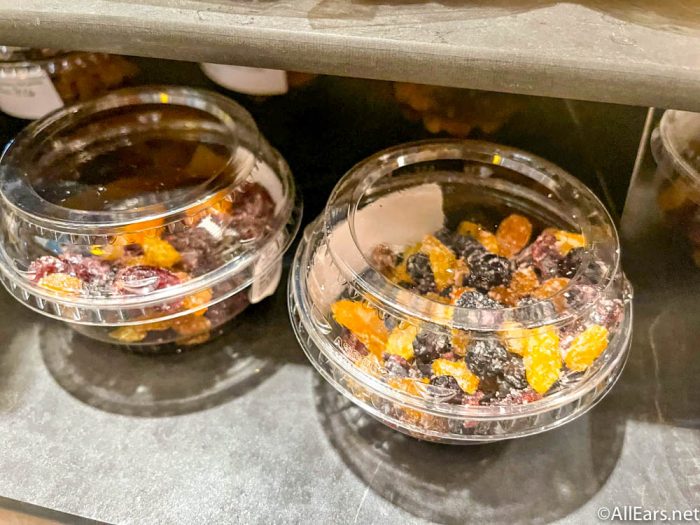 …or serve yourself some Goldfish crackers or trail mix.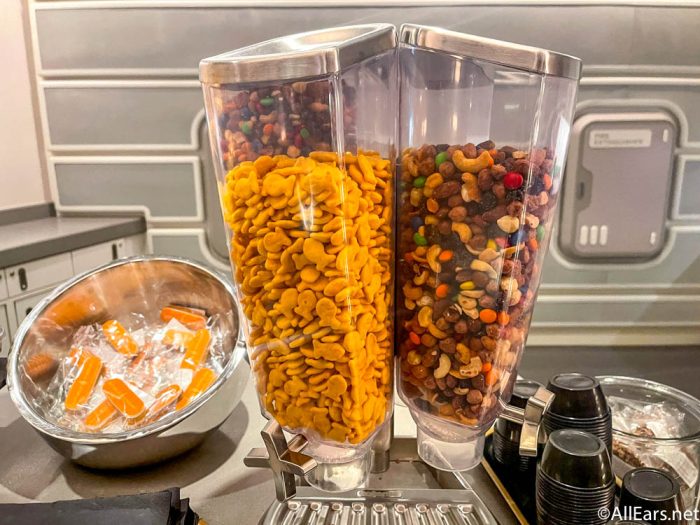 Finally, there were orange cookies with the Chandrilla Star Line logo on them.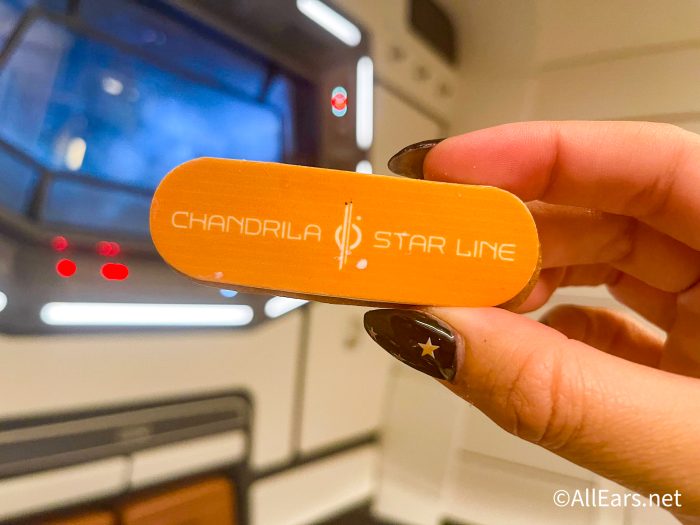 Sublight Lounge
The Sublight Lounge is where you can stop for drinks, a quick game of Sabacc, or just to chat with characters and guests. It's located on Deck 6 of the hotel, and it has a futuristic vibe like the bars you'll see in some Star Wars movies.
There's a bar along one wall and tables and booths throughout the rest of the room.
This is also where you'll find the only holo-Sabacc table on the ship. This is a popular game, so the table is usually full (with some people waiting to play). If you do want to play, plan to wait for a while before you get a seat.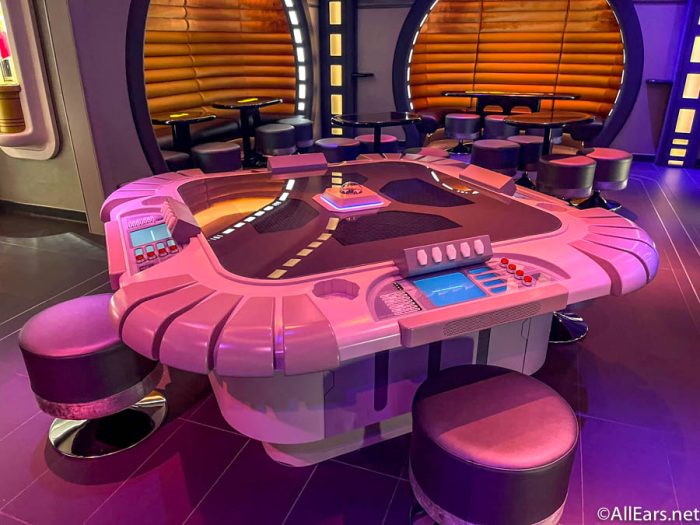 You can also play normal Sabacc (the non-holo version) on any tables in the lounge or Atrium of the ship.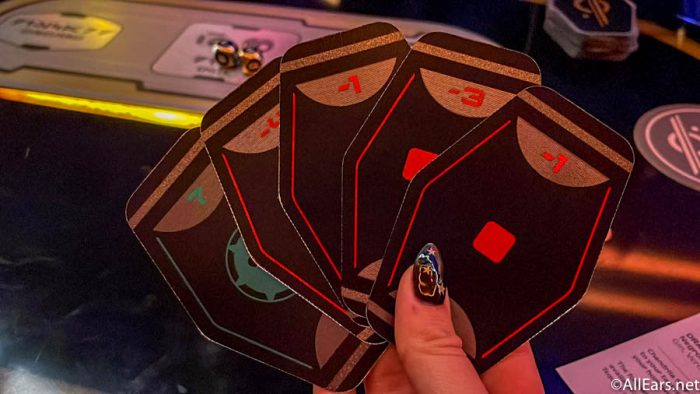 We mentioned previously that this lounge is open in the morning for grab-and-go breakfast, but later in the day (and late into the night) you can get drinks and bar snacks here.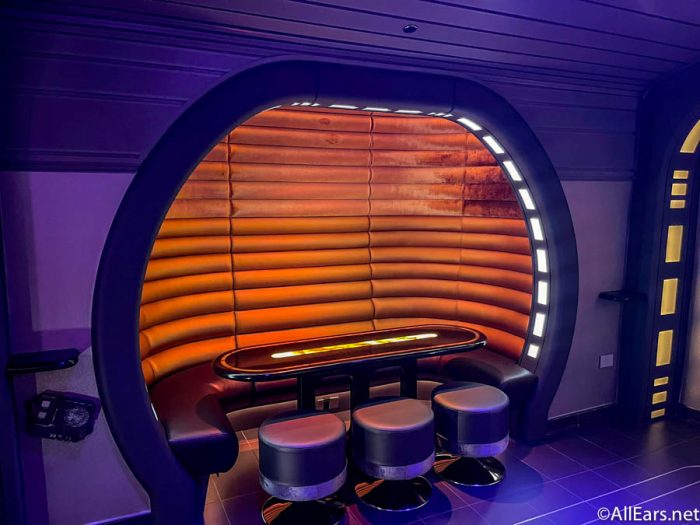 There are cocktails, mocktails, beer, and wines available. Note that the drinks will cost extra, but the snacks are free. We tried out the Yeruda Poison Spitter Drop mocktail for $7, which had limeade, yuzu sour, and Petrichor dispersion.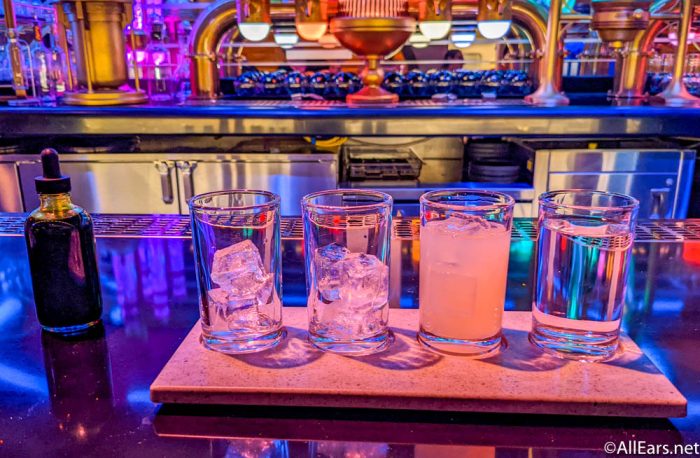 The Muja Twist mocktail was $8, and it had watermelon, herbal garden blend, mint, and sparkling bubbles.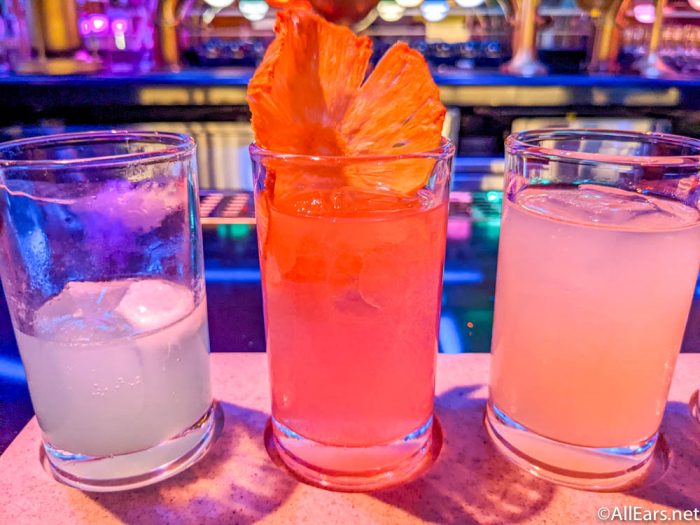 As far as cocktails go, we had the Hoth Icebreaker for $18, which has vodka, lemon, pure cane sugar, and lemon-vanilla foam on top.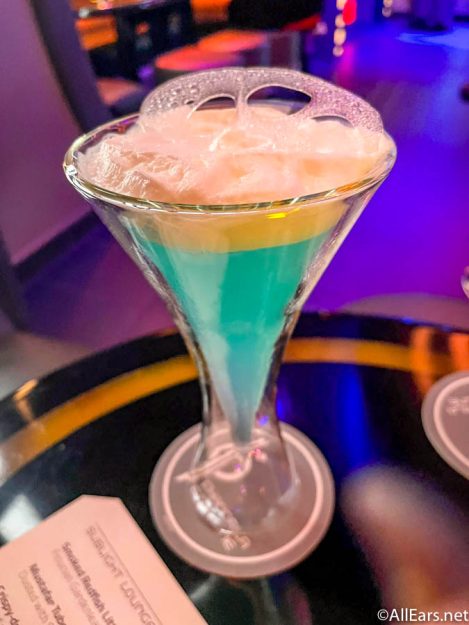 The Fiery Mustafarian was $17, and it was made with Anejo tequila, mezcal, lime, chili, stone fruit, and black salt. This drink is served with lava extract!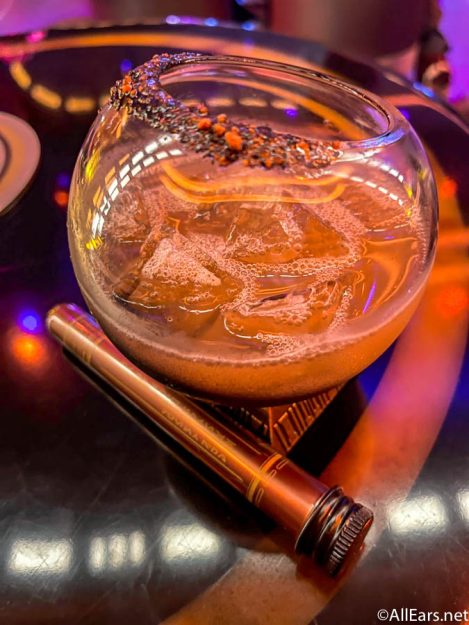 The Pod Chaser (for $15) is a lot like an Old Fashioned. It's made of bourbon, bitters, and orange zest.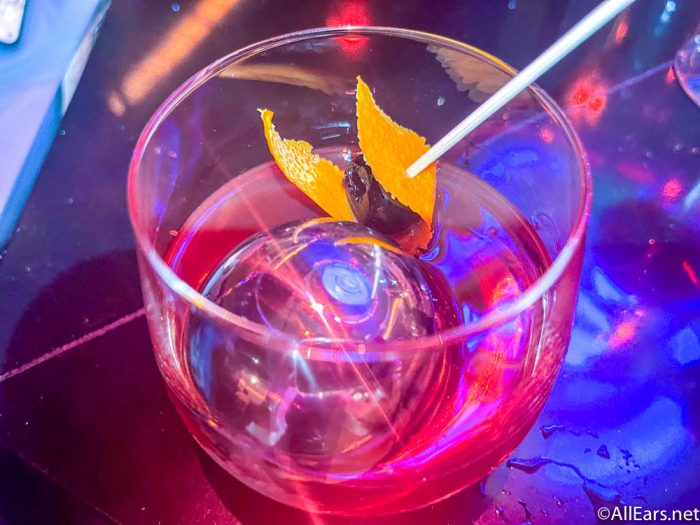 The final drink we tried was the Dagobah Vimlet for $15, which has vodka, herbaceous orange liqueur, lime, and peppercorn.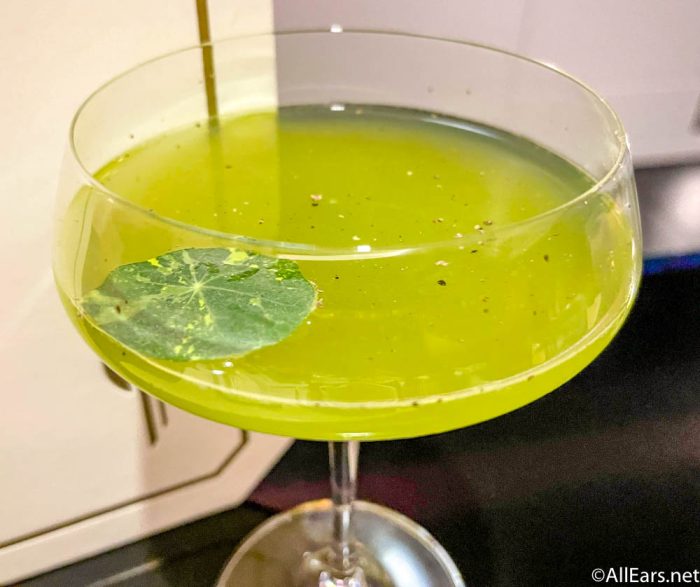 If you're looking for something to munch on, there are a few snacks available here as well. You can get the Felucian Snack Bites, Hummus and Quinoa "Meatballs," Smoked Cheese en Cloche, Little Flatbread, Crispy-dried Green Beans, Mustafar Tuber Chips, or Smoked Redfish Littletubes.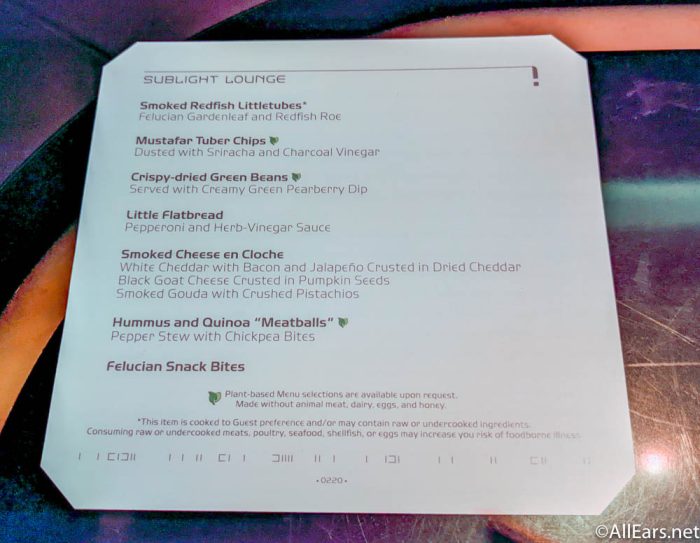 Remember that these are included in the cost of your trip! We thought the Smoked Redfish Littletubes had a strong fish flavor, but they weren't bad. If you enjoy seafood, you should give these a try!
The Mustafar Tuber Chips were a big hit with our reporters! They're thick chips that taste homemade, and they're dusted with sriracha and charcoal vinegar. This was one of our FAVORITE snacks on the ship. These are also a plant-based option.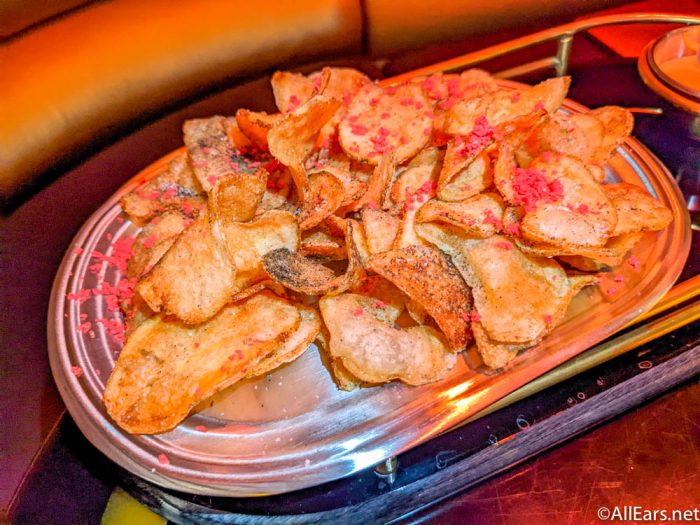 These come with a sriracha aïoli as well, which was also delicious.
The Crispy-dried Green Beans were pretty good as well, and we enjoyed them with the Pearberry (avocado) dip that came with them. These are plant-based as well!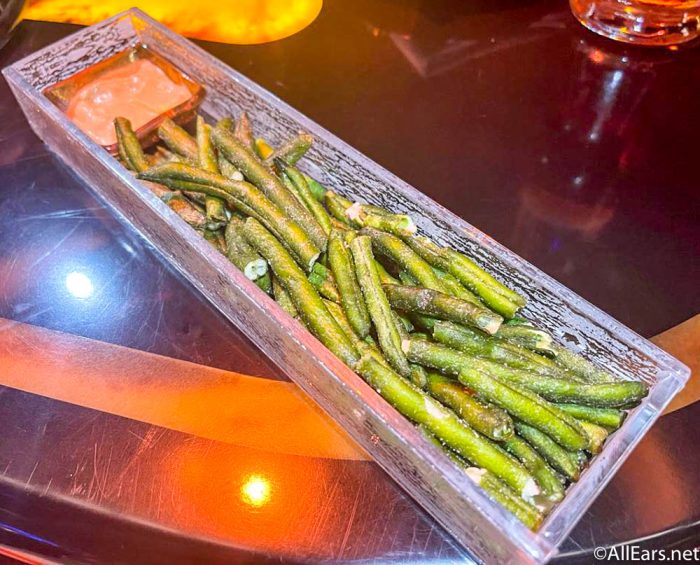 The Little Flatbread was essentially a pepperoni pizza, but it was very well done. The crust was crispy on the outside and soft in the middle, and all of the ingredients were flavorful.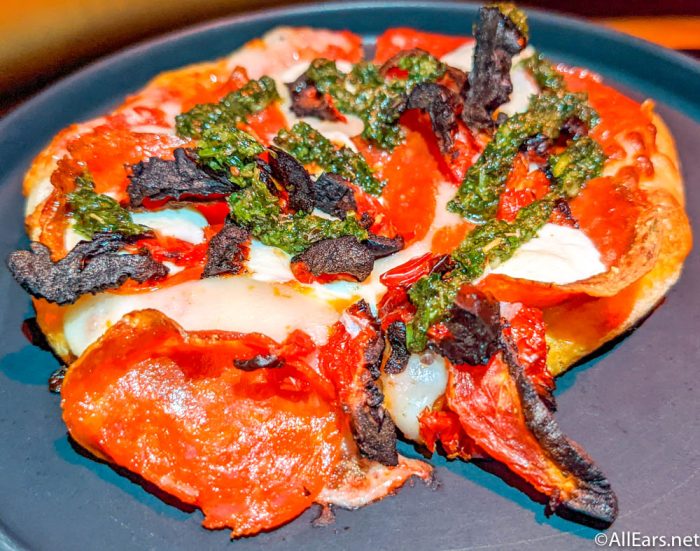 The Hummus and Quinoa "Meatballs" are plant-based, and they were pretty good as well! These weren't one of our favorites at the lounge, but that's mostly because some of the other dishes were just too good (we're lookin' at those tuber chips!). These reminded us a lot of falafel, so if you enjoy that then we think you'll like these.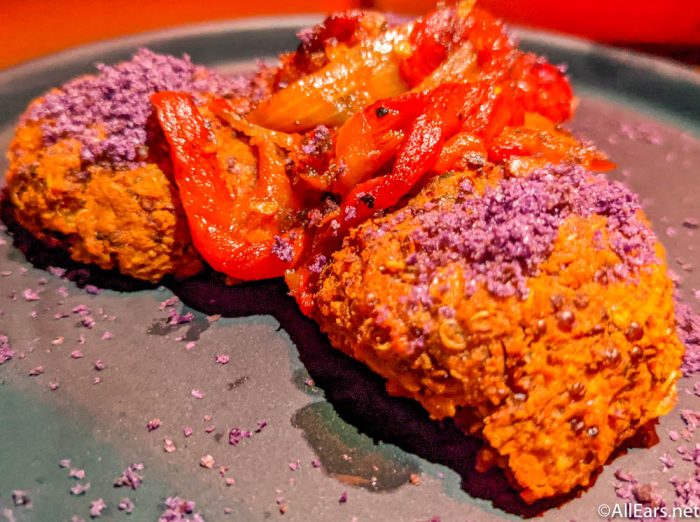 Finally, we tried the Smoked Cheese en Cloche, which includes a White Cheddar with Bacon and Jalepeño crusted in dried cheddar, a Black Goat Cheese Crusted in Pumpkin Seeds, and a Smoked Gouda with Crushed Pistachios.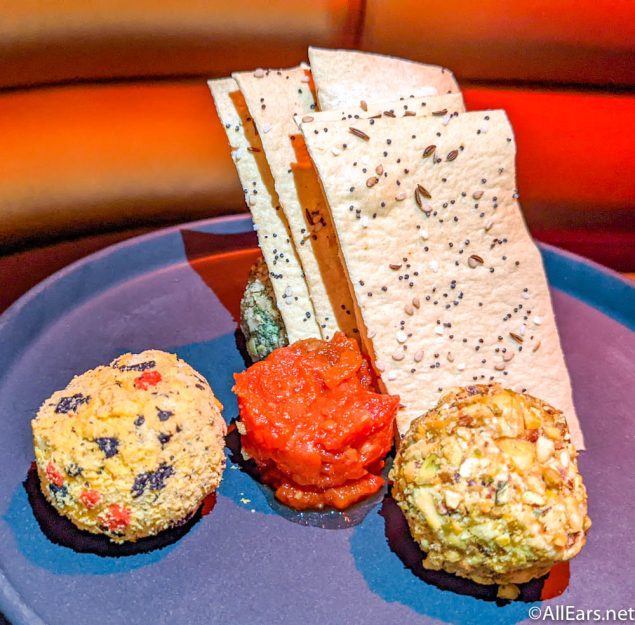 We're bringing you all the information about the new Star Wars hotel in Disney World, so stay tuned with AllEars for more updates and reviews of this experience!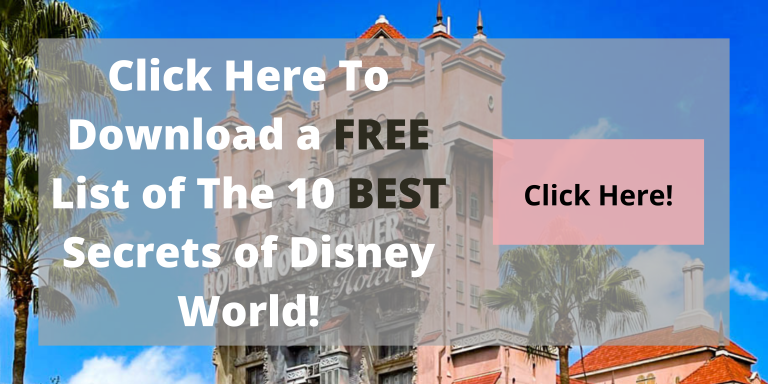 Which food would you like to try at the new Star Wars hotel? Let us know in the comments.
Disclosure: We were invited by Disney to attend a media event for Star Wars: Galactic Starcruiser, and later attended on opening day where we paid full price for travel, stay, and expenses. This did not affect our reporting of the event — our opinions are our own.