Are you ready to go into space?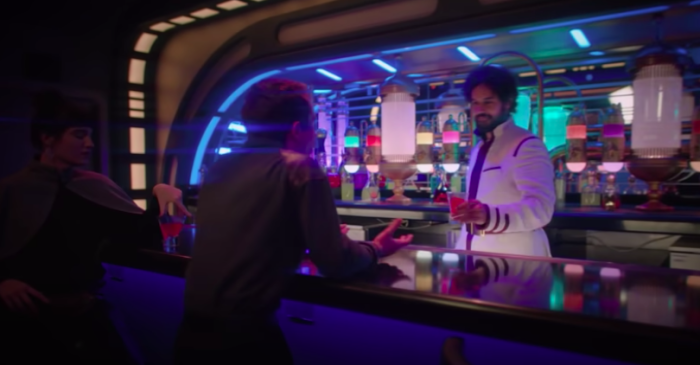 We're taking a trip on the Star Wars: Galactic Starcruiser, and you're invited! We'll be answering all your questions, eating ALL the food onboard, checking out all the entertainment, learning how to use lightsabers, and more. But for now, we'd like to give you a tour of our room on the Halcyon.
Technically, this is a star cruise, and our room is actually a cabin. The idea is that we're taking a luxury cruise through space that's going to get sidelined by a story that will put us smack dab into the middle of a Star Wars adventure. (There's even a love story happening onboard!)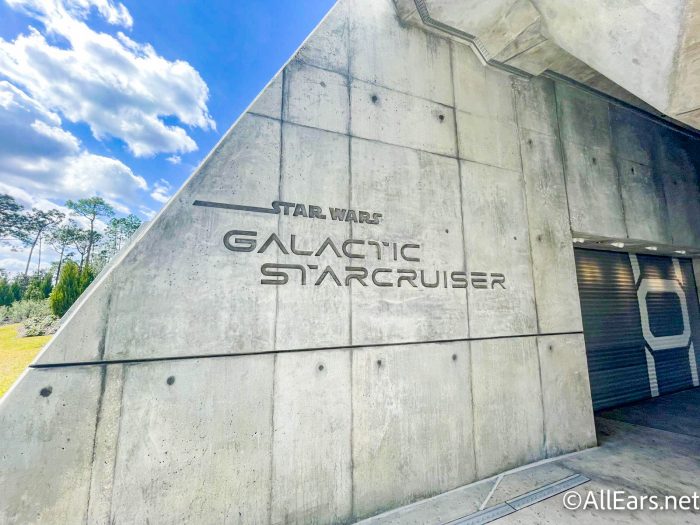 But when we're not running around the spaceship dressed up in our fun costumes, we'll be spending time in our rooms, which will have "windows" that look out onto space as we zoom through it. We've seen concept art, as well as a peek at the construction of the rooms, but what are they really like?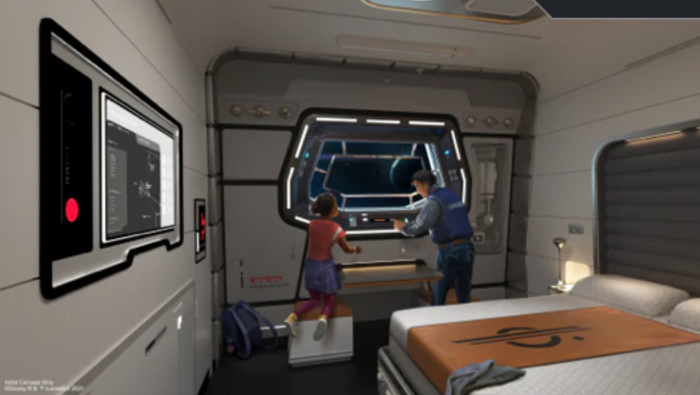 Standard Cabin
Let's check them out! There are three options for cabins: the Standard Cabin, the Galaxy Class Suite, and the Grand Captain Suite. We stayed in the Standard Cabin during our voyage, and we were pretty psyched. (I mean, who DOESN'T want to sleep on the space bunks?!)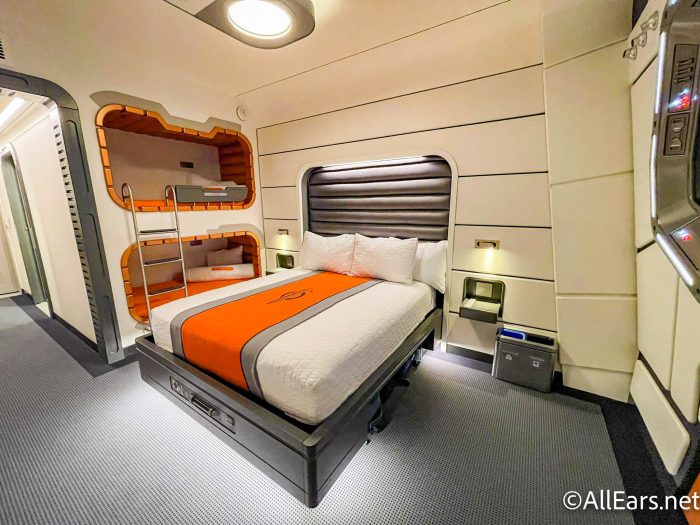 This room tour kicks off where any hotel tour would…in the hallway. Our hall was filled with doors to cabins just like a normal hotel. Although, the doors probably look a little different than what you're used to! You'll need to scan your MagicBand at a touchpoint next to your door to get inside, and then it slides open instead of swinging open!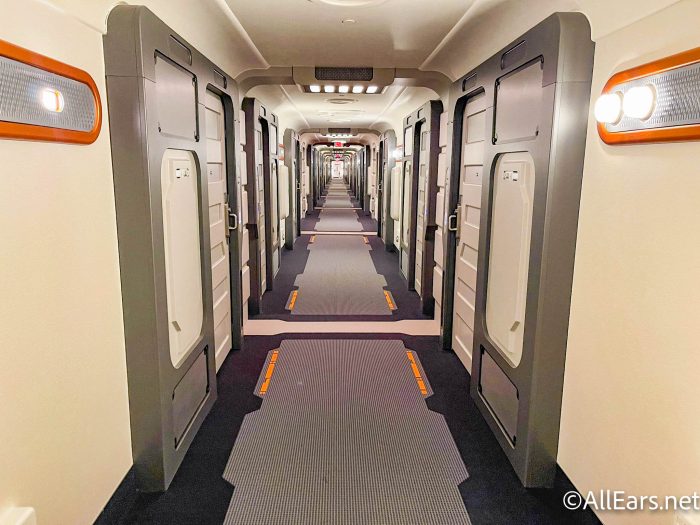 Once you enter the room, there's a small entryway. On one side, you have storage (including your wardrobe/closet space) and on the other side, there's the door to the bathroom.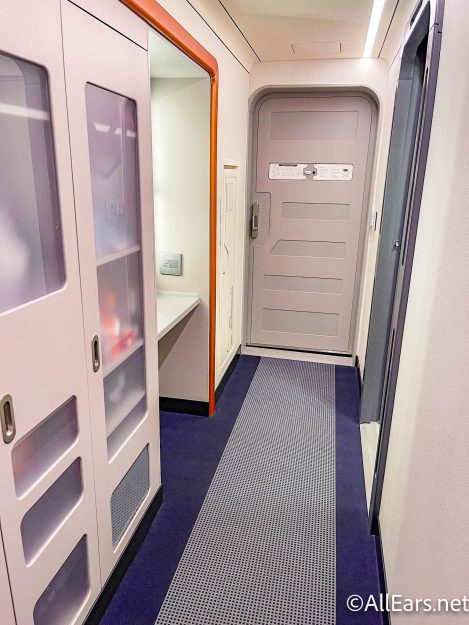 On the storage side, there's first a little alcove with a lit-up mirror, along with some fancy metal cups and a bottle of water. You can get this water refilled in the atrium.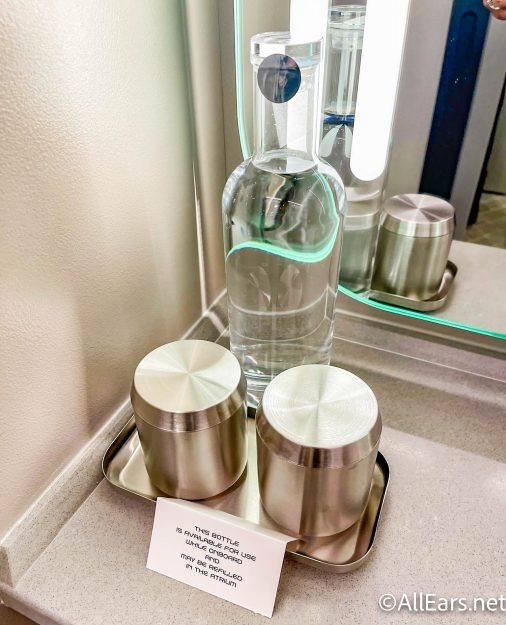 There's a shelf here along with some storage space underneath. This would be a good spot to get ready in the morning if the bathroom is occupied.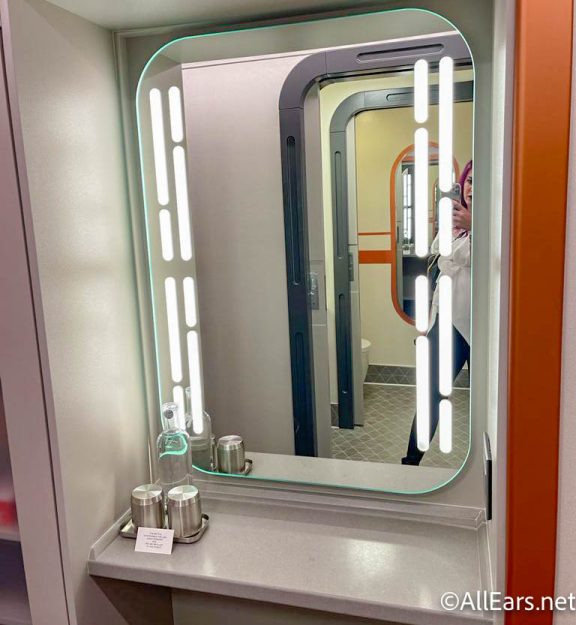 There are two separate closets to store all your belongings. The first one is made up of several shelves. The three large ones on top are open for your belongings.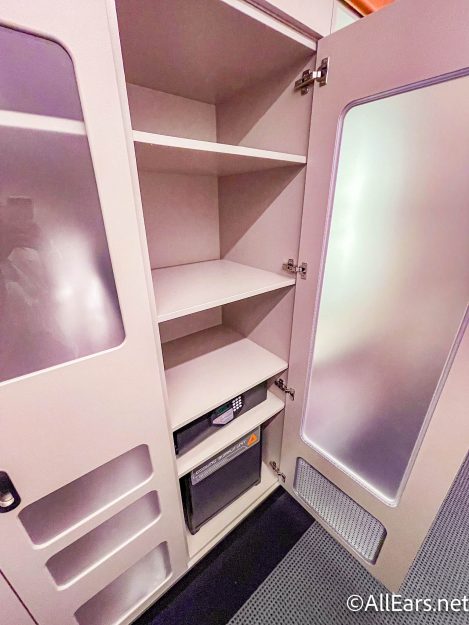 Below that, there's a metal safe to keep your valuables if need be…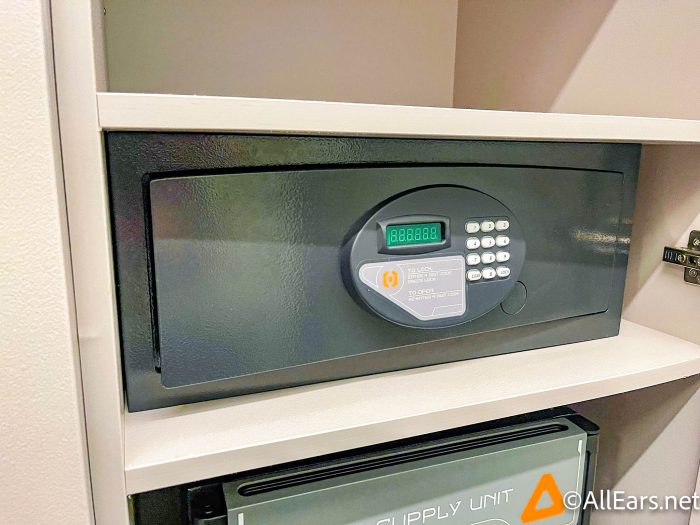 …and on the bottom, there's a small mini-fridge. When we say small, we mean it! This thing is pretty tiny. Apparently, it's a "Cooling Supply Unit" in space.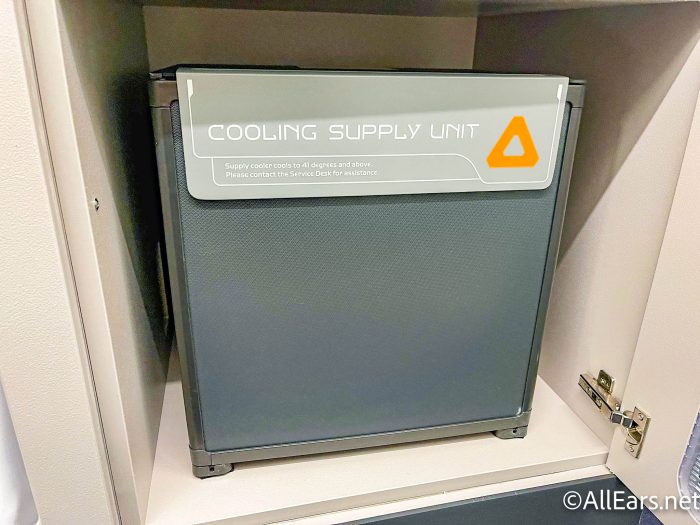 There are two shelves inside, so keep that in mind when packing your snacks.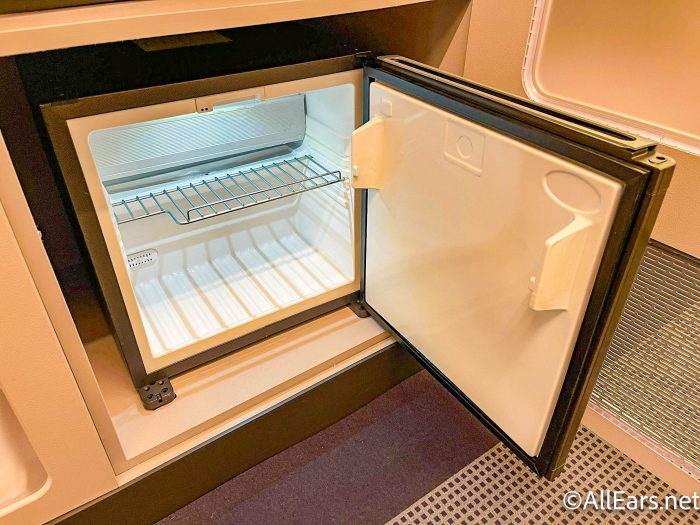 The second part of the closet/wardrobe has a hanging rack for your clothes. Inside, we found two Chandrila Star Line branded robes, as well as additional necessities for the beds. Note that this wardrobe is a bit on the short side, so long clothes would definitely be dragging on the bottom shelf.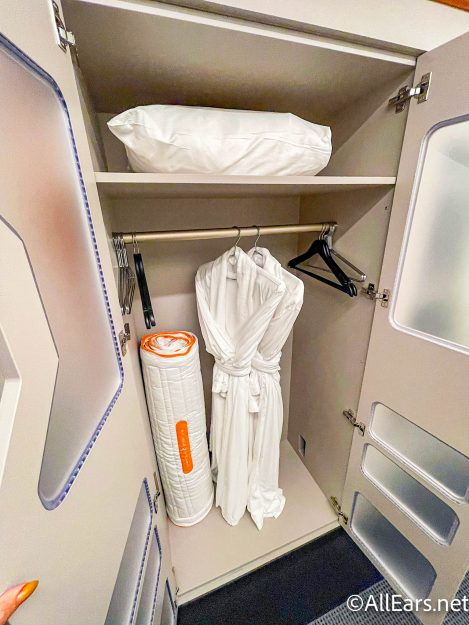 Jumping back over to the opposite side of the hallway, we have the bathroom. The door to the bathroom also slides open (apparently there are no swinging doors in space!) and the first part of the room includes the sink and shower.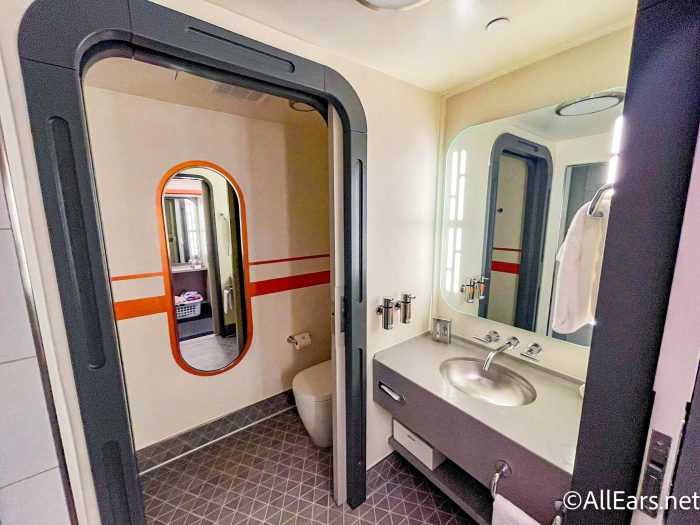 The sink and shower are on opposite sides of the first room, and we found several little amenities available to us. There's hand soap and lotion in dispensers on the wall by the sink, as well as some makeup remover wipes and face masks (like the spa kind, not the health and safety kind) in a container on the counter. The shower is also equipped with dispensers of shampoo, conditioner, and body wash. (It's all Disney's H2O brand, just like the other hotels.)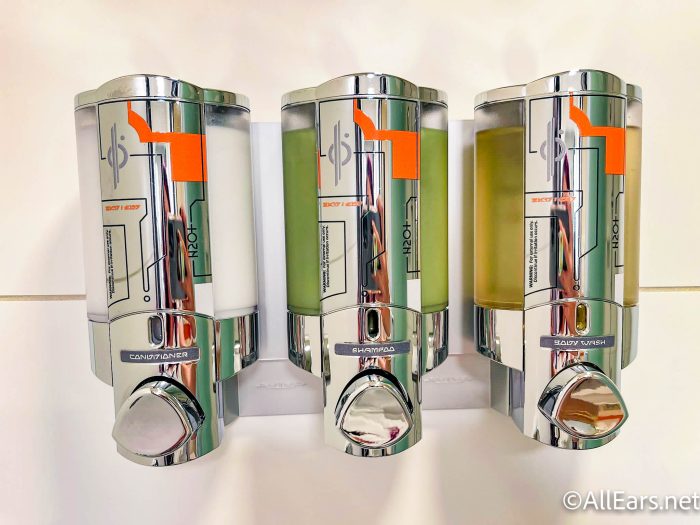 The shower itself is a pretty decent size, and it has a waterfall shower head in the ceiling. There's a frosted glass door that swings open and closed. (Hey, guess there ARE swinging doors in space!)
And then there's also a separate space in the bathroom for the toilet. You can close this off with a sliding door for a little privacy if someone else in your party needs to use the sink. Inside this room is a longer mirror, which is helpful if you're using this space to get dressed in the latest galactic fashions.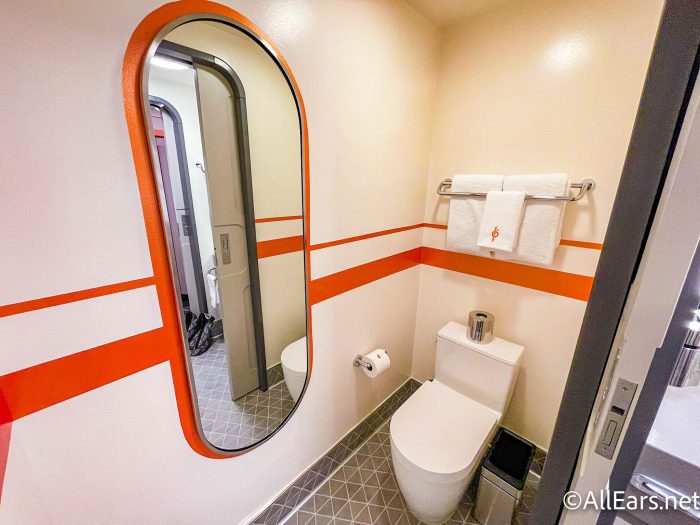 We also found some towels in here (in addition to some that were stored in the sink area). The towel bar is pretty far away from the shower, so you may have to get creative if you don't want to drip on the floor.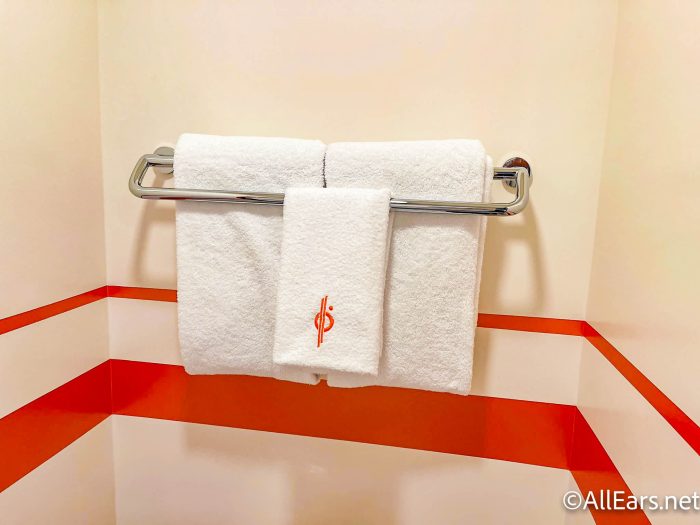 All in all, the bathroom isn't huge, so keep that in mind if you're traveling with multiple people — this room can sleep up to 5 adults.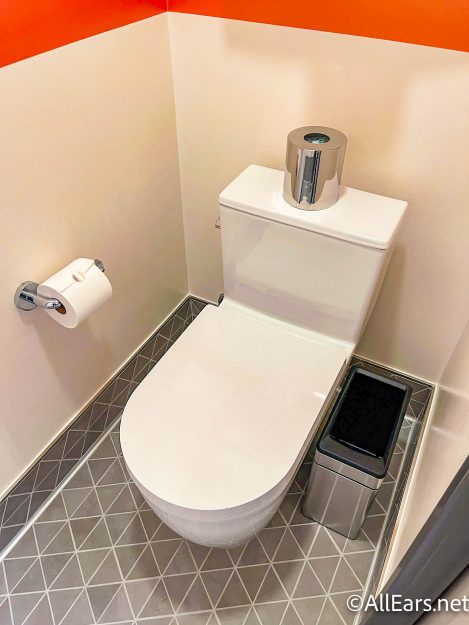 Once you get into the main living area of the room, there's a queen bed in the middle of the floor, as well as two berths (bunks), and one pull-down bed. Everything is outfitted in a very bold shade of orange.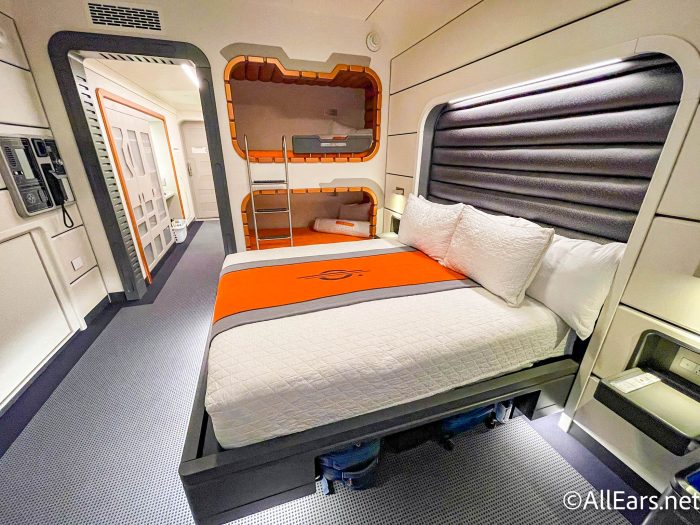 The queen bed has storage underneath — the perfect size to roll your suitcases under the bed and out of the way.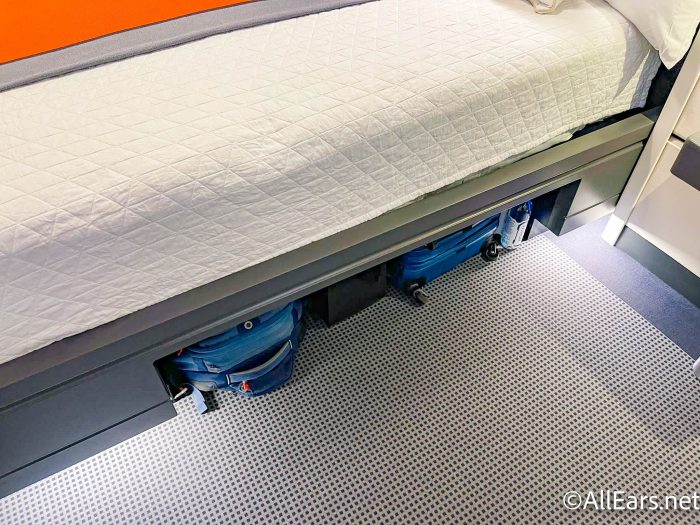 The bunks are made to fit full-sized adults, so most grown-ups should be able to sleep here if they so desired. The top bunk has a metal ladder and a partial safety wall to prevent you from rolling out in your sleep. (That's a fast way to put a damper on your vacation!)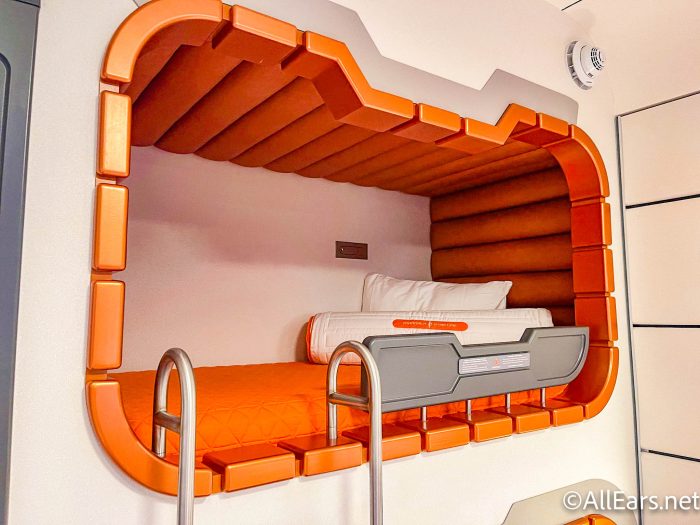 But we'll issue a warning here — there are NO sheets on this mattress! Each one comes with a Chandrila Star Line sleeping bag and a pillow instead (space camping?!). The mattresses themselves are also not the comfiest, as they're covered in vinyl. And unfortunately, there are no outlets or ports inside the bunks so that you can plug in your devices at night!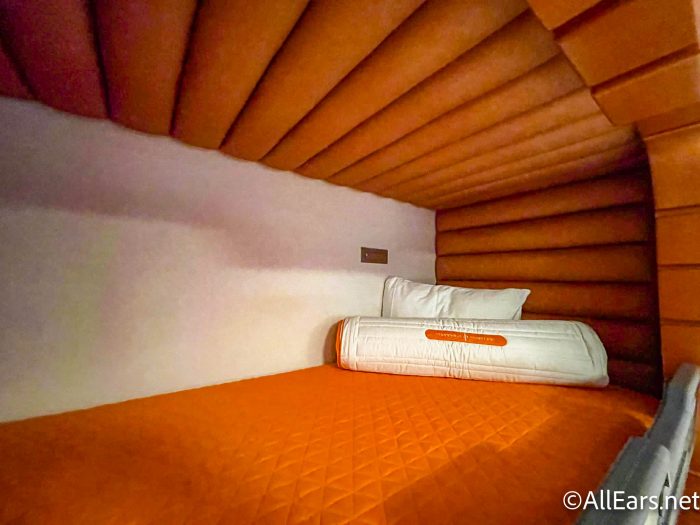 And that "sleeping bag" isn't like the thick and fluffy kind that you'd imagine using when camping. It's much thinner, but rolls out to fill the entire bunk.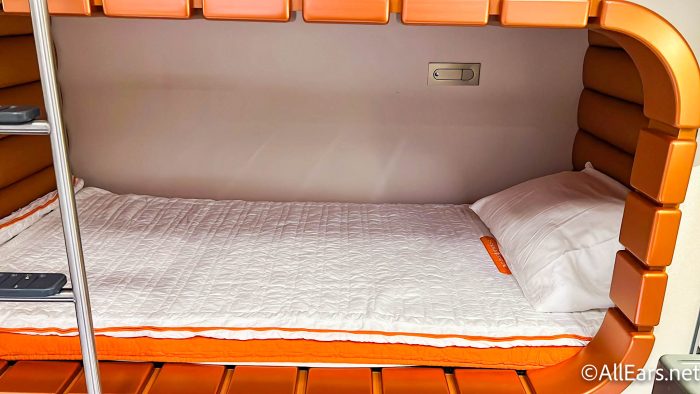 The pull-down bed is on the wall opposite the queen bed. It's big enough to fit an adult as well, although taller people may struggle a bit. Above the bed, there's a TV — how thoughtful of the Halcyon to include entertainment options that us Earth-dwellers are familiar with.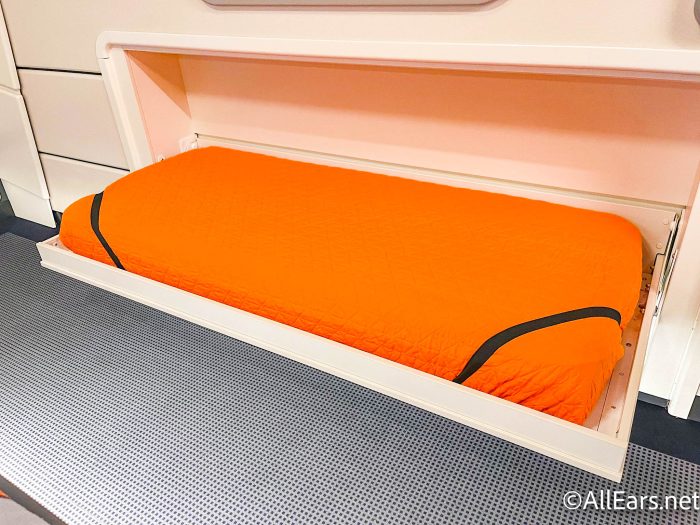 And on that same wall, we have our room's control panel. There are several features here, including a phone, the thermostat, and a way to interact with your room's personal droid!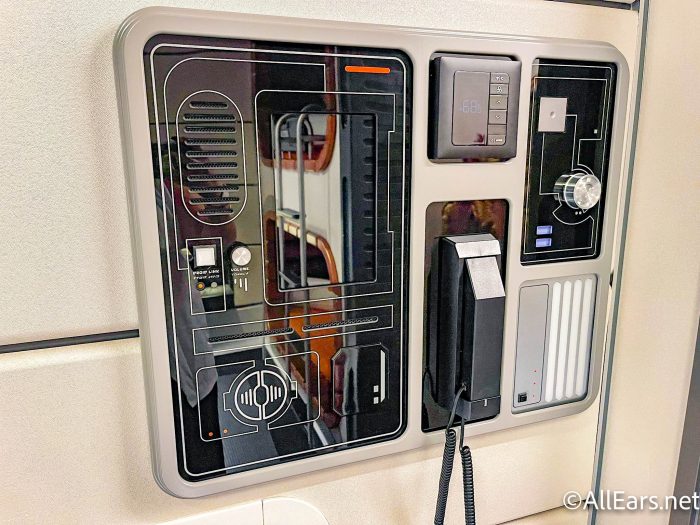 This is one of the most realistic-looking Star Wars touches in the room. D3-O9 recognizes certain voice commands and responds to your questions (well, some of them).
But one of the most highly-anticipated parts of the room are the "space windows." These allow you to look out into the galaxy where the Halcyon is flying and watch the ships and planets go by while you travel.
It's a little difficult to see the effect on camera, but they're very similar to the windows in the dining room at Space 220 at EPCOT. They're pretty cool when you turn out the lights in the room.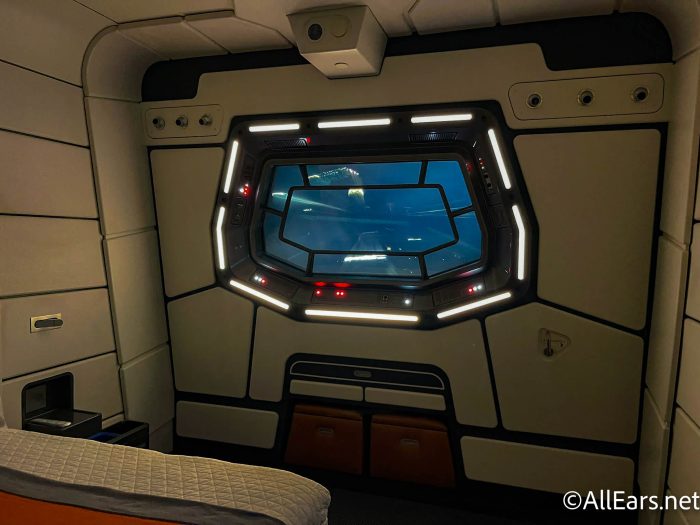 Below the window, there's a pull-out seating area. A small table slides out from the wall as well as two little orange stools. It's not the fanciest seating setup we've ever seen in a hotel room, but it saves space.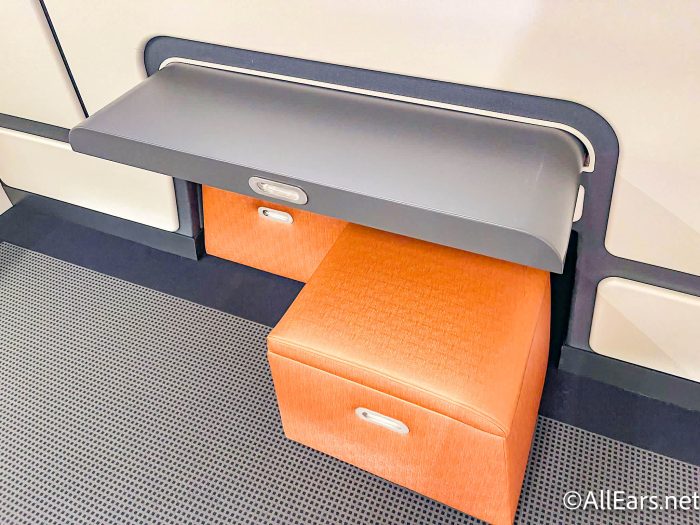 By the queen bed, there's a nightstand that unfolds from the wall. Inside are outlets for plugging in your electronics, as well as the remote for the TV. Each room also comes equipped with a trash and recycling bin.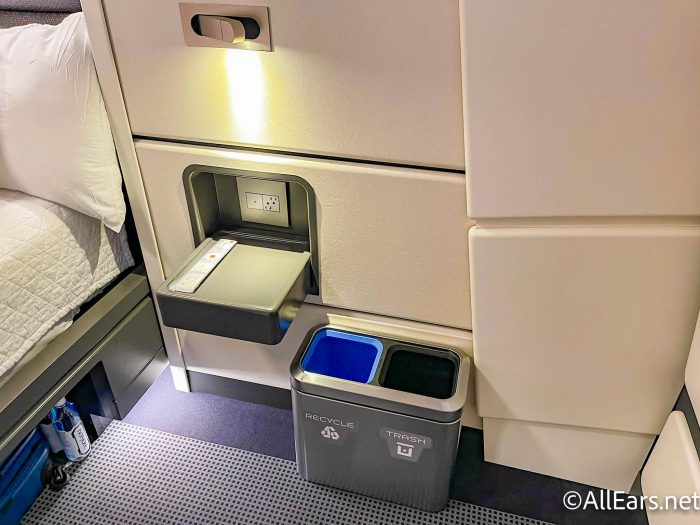 And when you get to the evening, you can change the lighting effects in your room. You can dim everything, leaving the under-bed lights on, or you can turn it all off. There's also a button under the window that closes it off if it's too distracting to go to bed.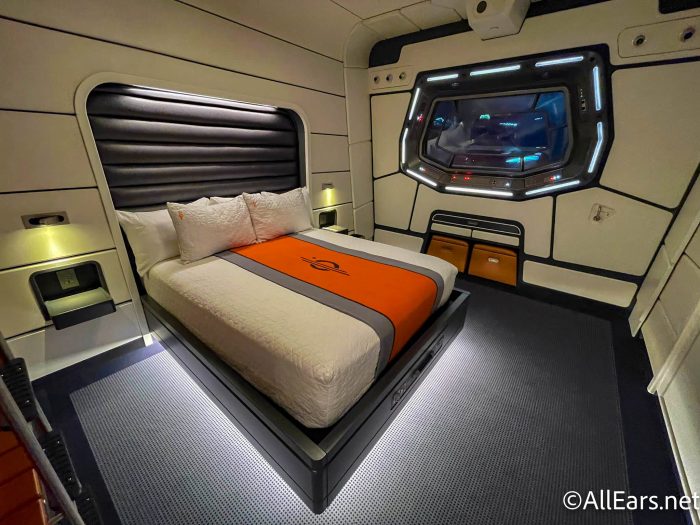 All in all, these rooms aren't massive, but they're well-themed and the features are very immersive. In case of emergency, there's a special hatch/door next to the window that allows you to get out of your room.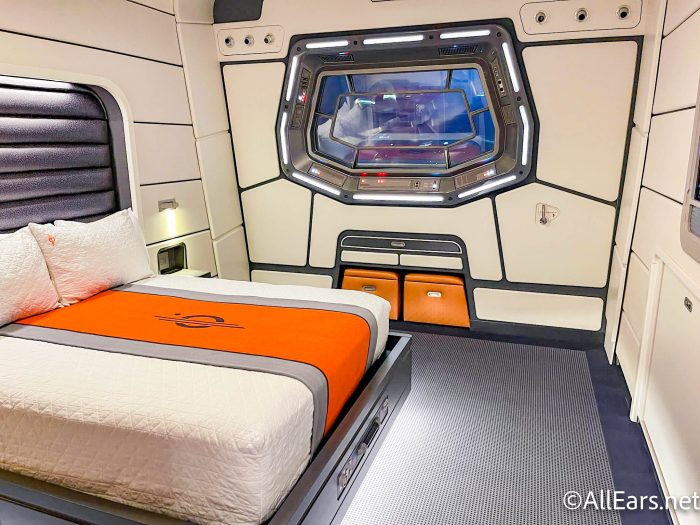 Galaxy Class Suite
The one-bedroom Galaxy Class Suites are a step above the Standard Cabins in both price and amenities. While they have many of the same features, they're more spacious, with an integrated seating area.
Each of these suites sleeps 4 passengers, with a queen bed and two separate pull-down beds that fit anyone from a child to a full-grown adult. One pull-down bed is located in the bedroom, while the other is in the seating area/living room.
These bathrooms are a bit larger than the ones in the regular cabins, and it's home to double sinks and a bigger vanity. This room had all the same toiletries included in the bathroom as the other one.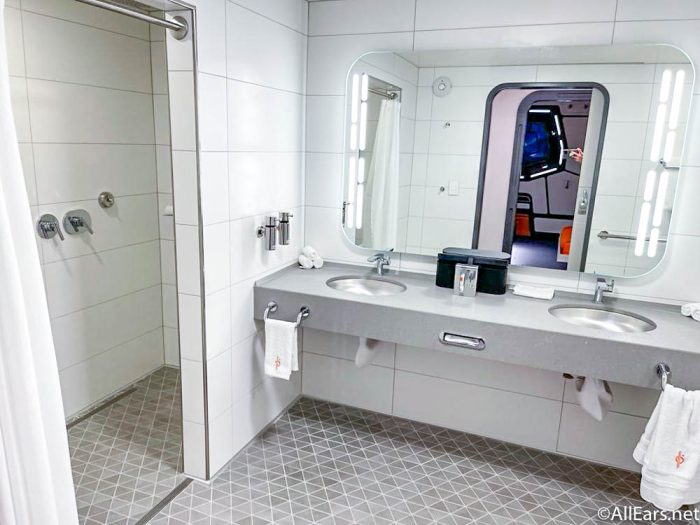 Back out in the living area, these suites come equipped with a kitchenette. There's a wide counter with some barstools for extra seating.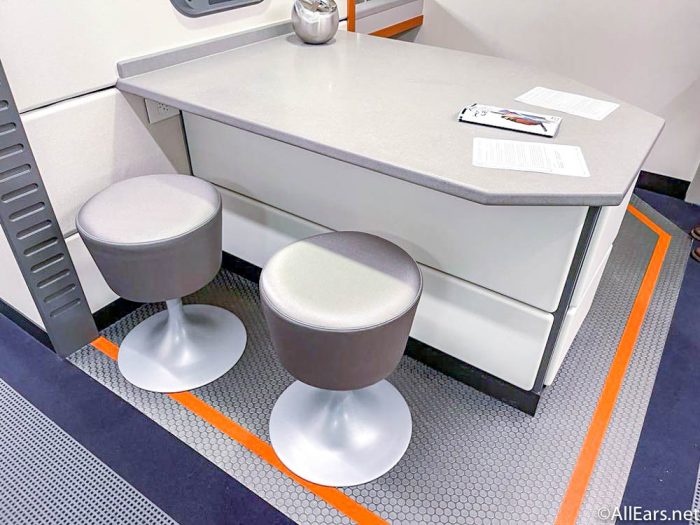 And behind the counter, you have another sink and some dishes, in case you need them. This room comes equipped with a larger mini-fridge than what the Standard Cabins have, so there's a bit more storage.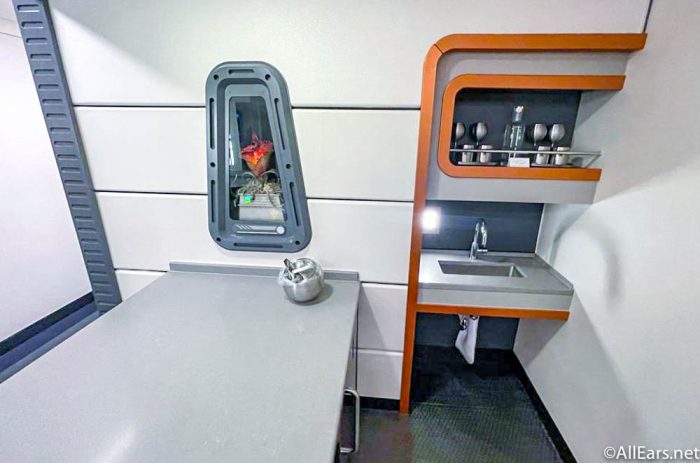 Since this room has a different configuration, the closets are in different locations. However, you've still got space available to hang your clothing, and there are extra pillows and covers for those sleeping on the pull-down beds. (Plus, more fluffy white robes!)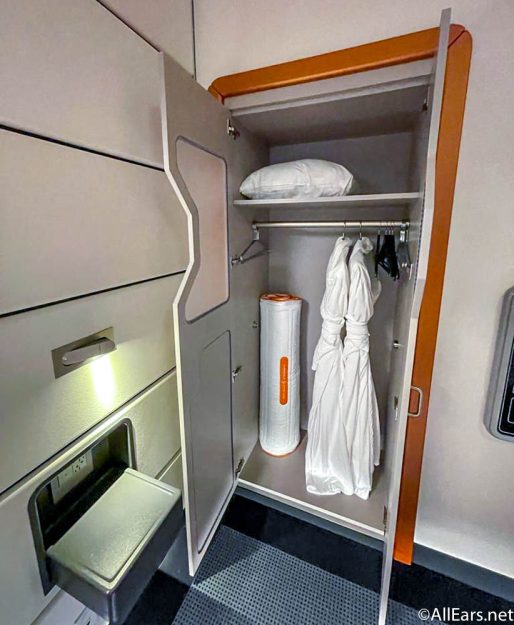 Other amenities you'll find in the Galaxy Class Suite include:
Mini refrigerator
Hair dryer
In-cabin safe
Phone with voicemail messaging
Interactive TV
H2O Plus® spa, bath, and shower products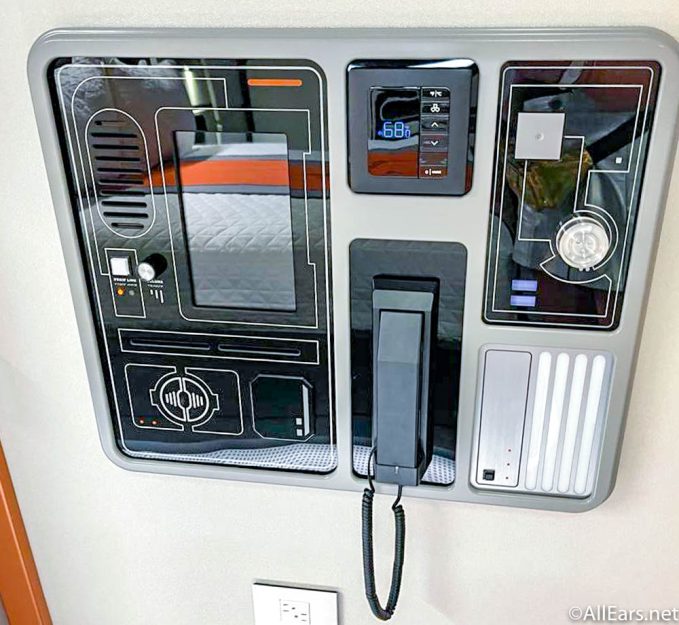 Grand Captain Suite
And if you really want to spring for luxury, you can stay in the Grand Captain Suite. These two-bedroom suites also come with an integrated living area. According to Disney,  they have "all the comforts of Standard Cabins plus a main suite with a double vanity bathroom, a second bathroom with a single vanity, a bar area, 3 windows with views out into space and a few extra Star Wars surprises."
These cabins sleep up to 8 passengers with two queen beds, two berths (bunk beds), and two pull-down beds for one adult each. As far as amenities go, they have:
Mini refrigerator
Hairdryer
In-cabin safe
Phone with voicemail messaging
Interactive TV
H2O Plus® spa, bath, and shower products.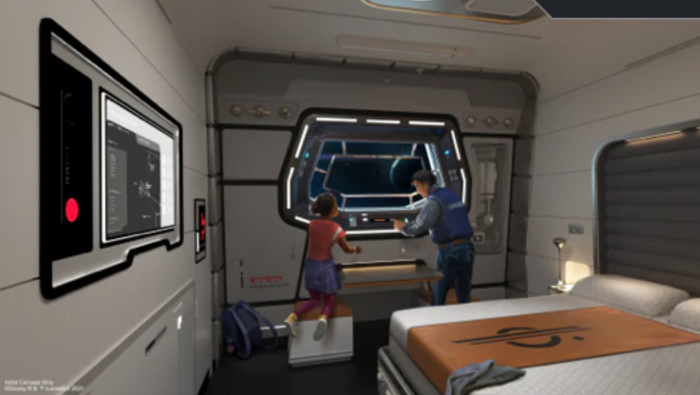 So that's what it's like living and sleeping in space. We'll continue to offer more details about everything onboard the Galactic Starcruiser, so stay tuned for more updates.
Join the AllEars.net Newsletter to stay on top of ALL the breaking Disney News! You'll also get access to AllEars tips, reviews, trivia, and MORE! Click here to Subscribe!

Have you booked a cabin on the Galactic Starcruiser? Let us know in the comments!
Disclosure: We were invited by Disney to attend a media event for Star Wars: Galactic Starcruiser, and later attended on opening day where we paid full price for travel, stay, and expenses. This did not affect our reporting of the event — our opinions are our own.