The Halcyon will be pulling into orbit around Disney's Hollywood Studios soon, and we couldn't be more excited.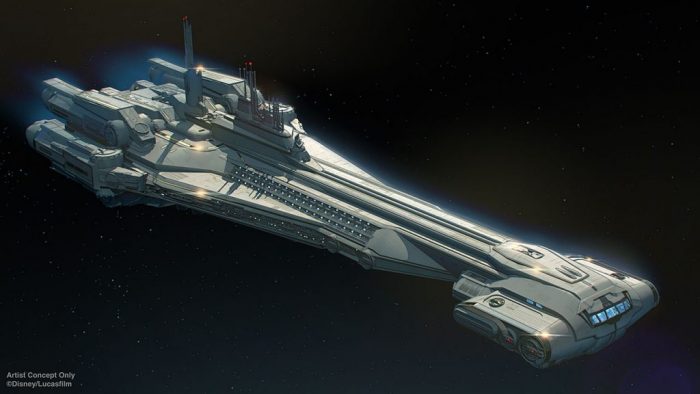 But while we haven't gotten any major new info yet, Disney seems to be prepping for a deluge of information about this brand new Star Wars Hotel in the coming months.The Star Wars: Galactic Starcruiser webpage recently updated with a widget inviting visitors to sign up for a mailing list to receive updates on the Resort. The widget is a bit unreliable at the moment, only appearing sporadically on desktop, but it's pretty consistent on mobile from what we've found.
We don't know what they're planning on sharing yet, since reservations are still a ways away from opening. We do know the opening timeframe for Starcruiser (see that here), but let's get to the good stuff: our questions about this epic Resort experience!
What's the Story?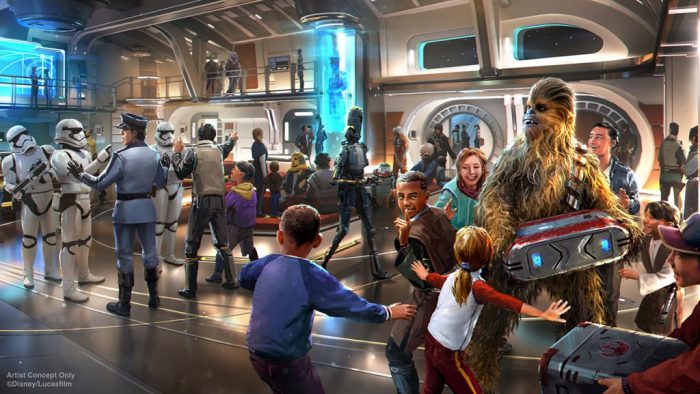 Galactic Starcruiser won't open up until well after The Rise of Skywalker is already streaming on Disney+, but it's set during the same time frame as Galaxy's Edge. The question is, how does this new experience fit into the saga? We know that guests will be travelling the galaxy, even finding a connection to the Force. We also know that the First Order will be attacking the entire ship at some point. But what we don't know is why?
We speculate that this seemingly innocent starcruiser is actually entangled with the Resistance, especially considering that, according to concept art, Chewbacca seems to be a passenger. What sort of mission is the Resistance trying to pull? And more importantly, how will we get involved?
Who Will Be Flying With Us?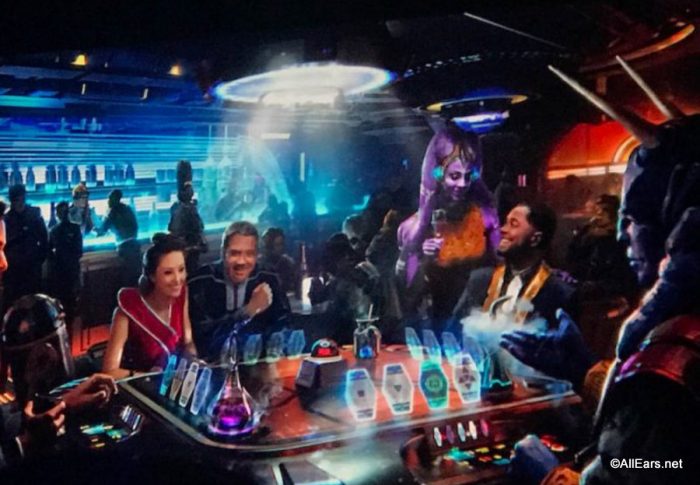 The concept art for the Galactic Starcruiser is filled with droids, twi'leks, and other Star Wars creatures, often seen interacting directly with guests. Now, Disney has been known to take creative liberties with concept art, but one thing that's currently lacking at Galaxy's Edge is aliens. Aside from Chewbacca, there are no aliens just wandering around the park. Everyone else is a human. This is honestly a practical consideration: applying realistic makeup and prosthetics is a step beyond what Disney currently does for face characters, and the crowds existing characters already draw make things a touch impractical.
However, Galactic Starcruiser is presumably a controlled environment. Crowds are limited, the climate is controlled, and Cast Members can vanish into a convenient backstage area if they need to tag out. Does this mean that we'll see some of those experimental designs, like working Droids and alien characters, when we first board the Starcruiser in 2021?
How is this all going to work?
We also don't know how this place is going to handle general Disney crowds. The closest analogue we have to an experience like this is a cruise, which is typically a closed environment. You need a reservation to board, and you can't get off until you're in port. The fact Disney is calling this a "two night adventure" implies that there's a cycling story. Guests board on designated "embarkation days", experience the storyline, and then disembark just in time for the next crowd. This also implies that Disney is limiting park time to just Hollywood Studios during the Port of Call day. Does this mean that the hotel will be totally locked off from general guests? Will people on the ship be able to see parts of Hollywood Studios other than Galaxy's Edge? What about the rest of the resort?
Moreover, will there be an option for anyone unable to afford the massive price tag to experience at least some of the experience? A signature dining location? An open house? We just don't know.
Until then, we'll just have to wait. If you're jonesing for more Star Wars, however, why not get your tickets for Episode IX, opening on December 20?
Let us know what questions you have about the Galactic Starcruiser in the comments, and don't forget to subscribe for more information as we get it!
Join the AllEars.net Newsletter to stay on top of ALL the breaking Disney News! You'll also get access to AllEars tips, reviews, trivia, and MORE! Click here to Subscribe!

Check out the latest on Star Wars: Galactic Starcruiser at the links below!