We're less than a month away from Walt Disney World's 50th Anniversary, and the 18-month celebration will be filled with special fireworks shows, new character interactions, and more!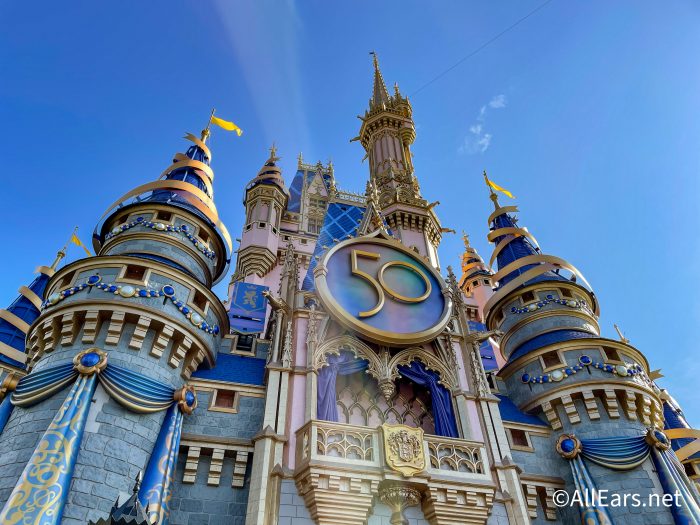 While we've already seen Cinderella Castle get a makeover, another big piece of the 50th anniversary arrived in Magic Kingdom this morning!
Earlier this year, Disney announced that they would be adding 50 golden Disney character sculptures throughout all four theme parks during the celebrations. The collection is called "Disney Fab 50" and features some of the most iconic Disney characters out there. Today, Disney debuted the first of these statues in Magic Kingdom!
Gold statues for the 50th anniversary have arrived in Magic Kingdom! pic.twitter.com/i2mAJy6iJG

— AllEars.Net (@AllEarsNet) September 9, 2021
You don't have to head too far into the park before you stumble upon the first of the new statues! The hub (which is right in front of Cinderella Castle) is now filled with SEVEN new character statues including the one and only Mickey Mouse…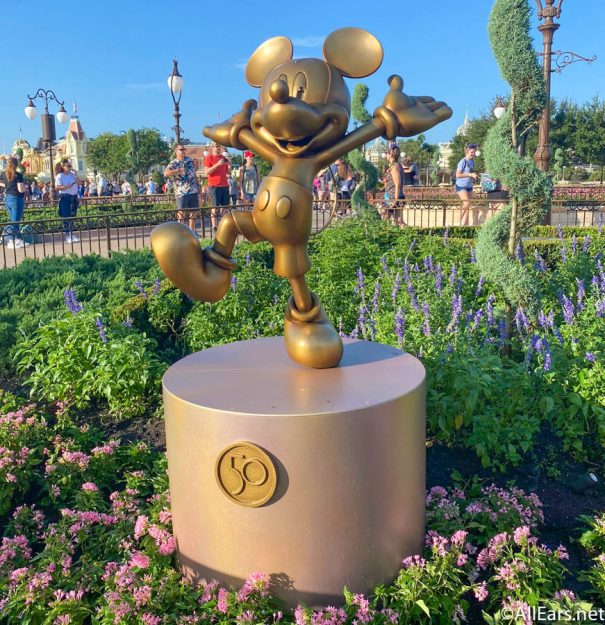 …Minnie Mouse…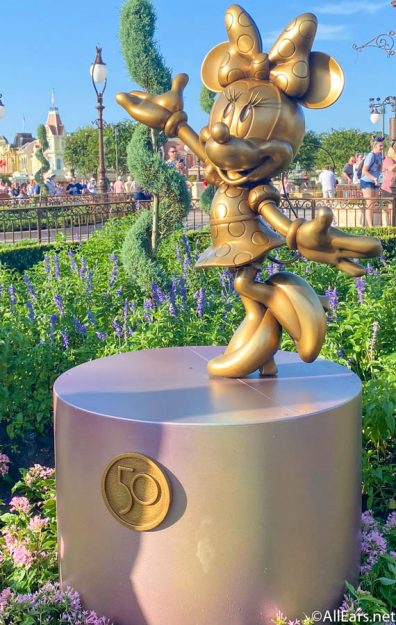 …Goofy and Pluto…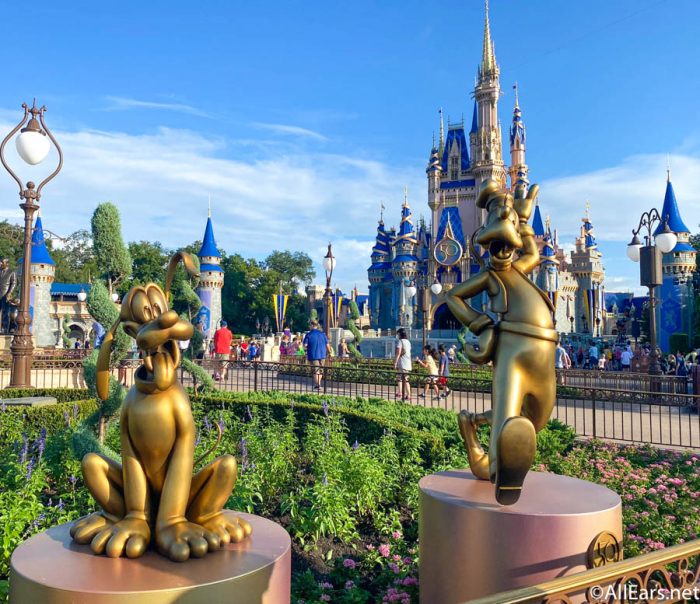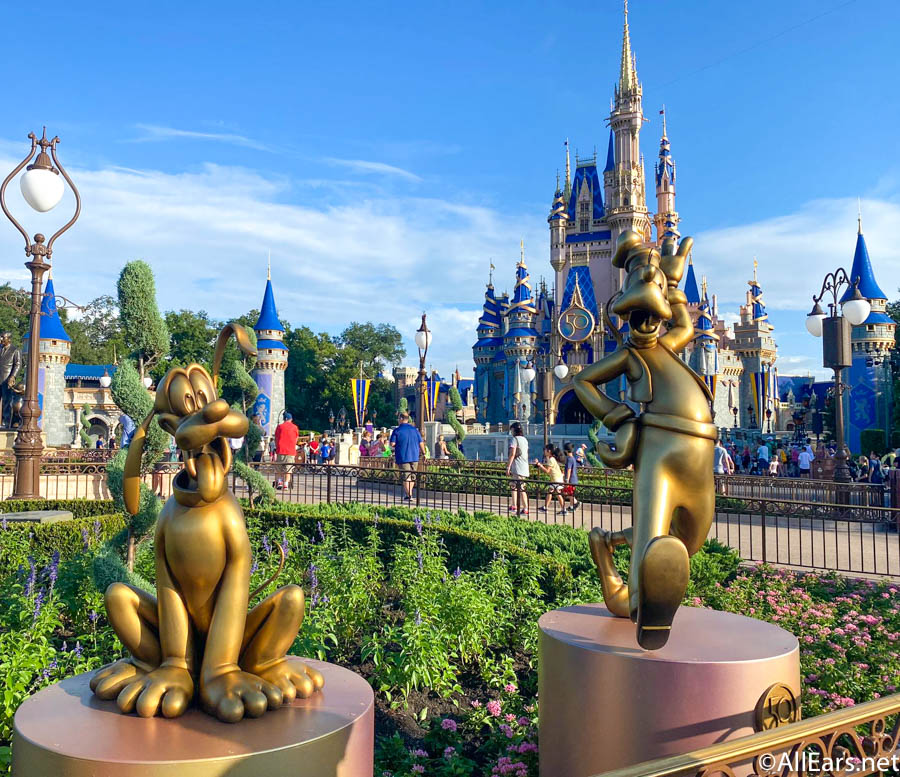 …Chip 'n' Dale…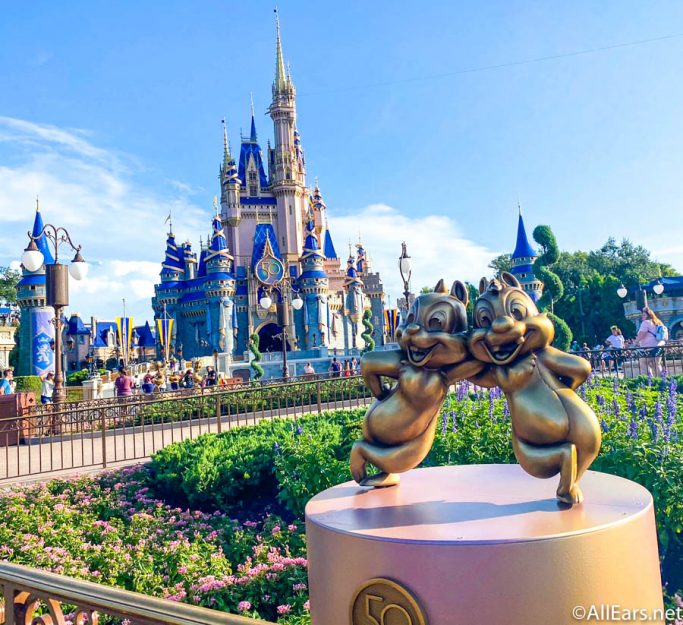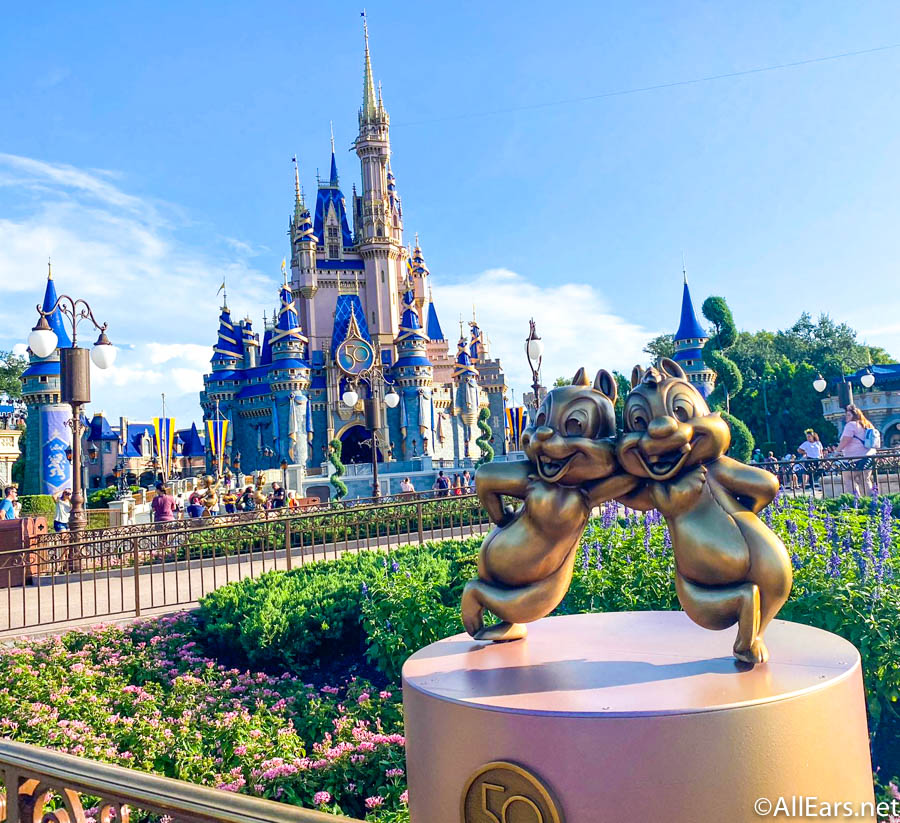 …and Donald and Daisy Duck!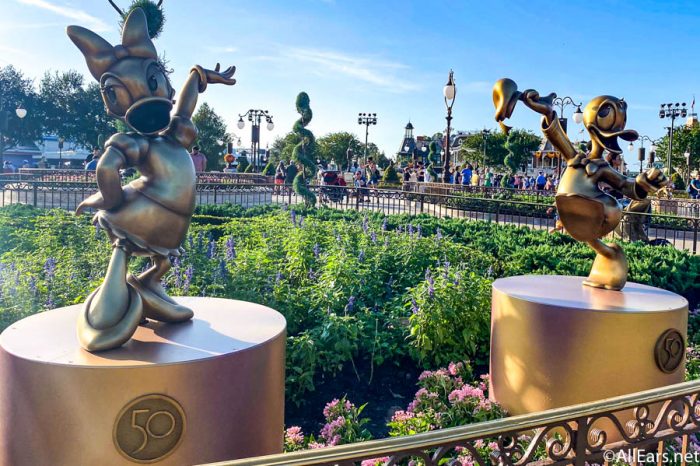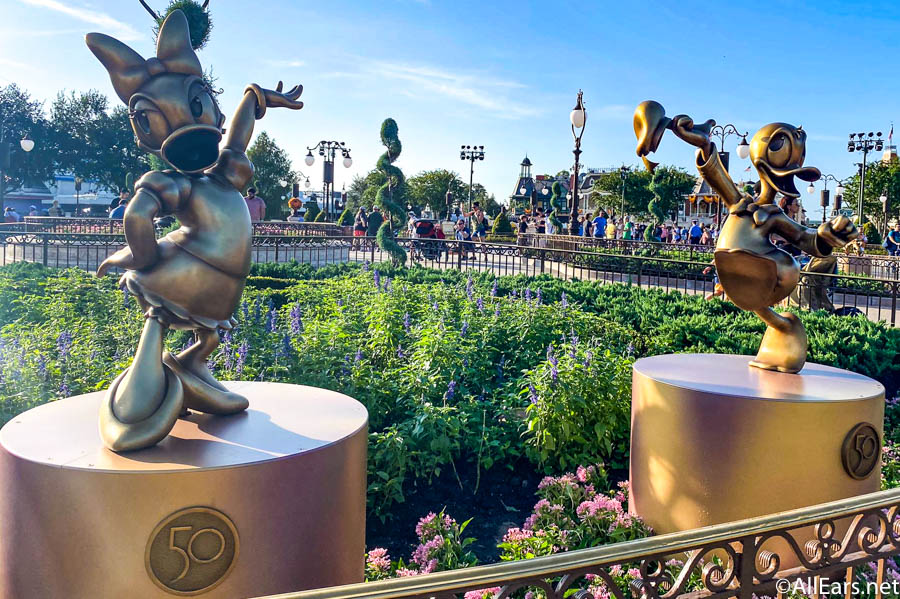 Plus, even Tinker Bell is hiding in the bushes near the hub on the way into Liberty Square!
You'll really have to keep an eye out for her because she's wayyy up in the trees, but just look for that golden 50!
You'll have to look up to find the Tinker Bell statue! pic.twitter.com/T1MCB0AlRj

— AllEars.Net (@AllEarsNet) September 9, 2021
And, on the other side of The Hub (near the walkway to
Cosmic Ray's Starlight Cafe
), you can spot the new Dumbo and Timothy Q Mouse golden statue!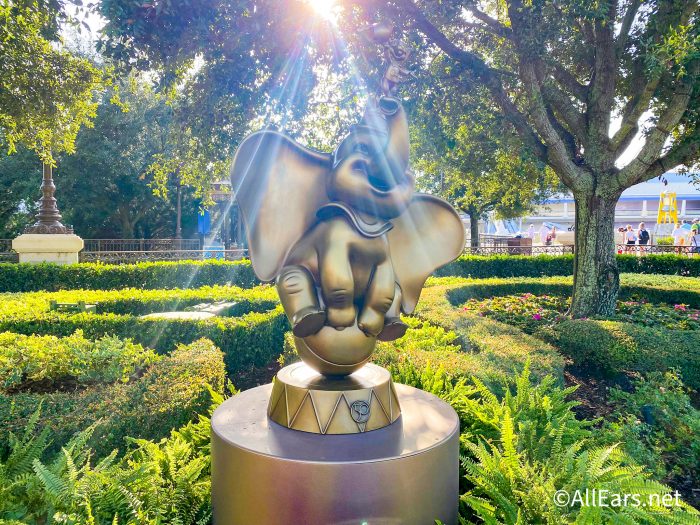 Look how cute these two are!
Dumbo and Timothy Q Mouse! pic.twitter.com/dzgaHsXRWN

— AllEars.Net (@AllEarsNet) September 9, 2021
As you go through the rest of the park, you can also spot a few more Disney pals already like Pooh and Piglet!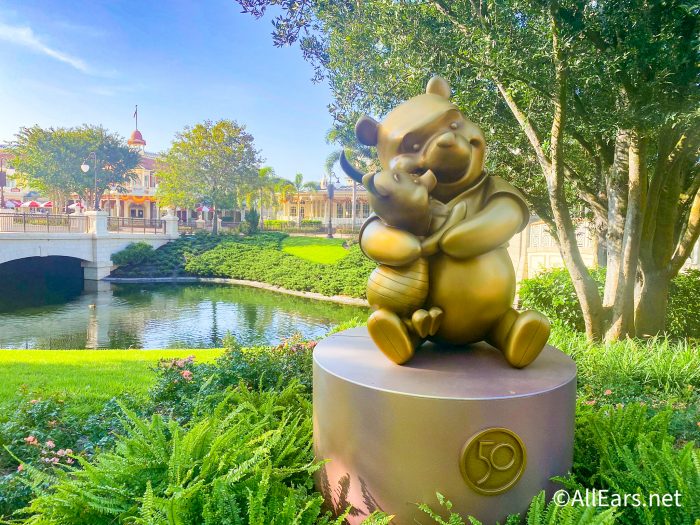 If these statues look pretty large to you, you're right! They're much bigger than the bronze character statues that used to be found in The Hub area (which were removed a few days ago).
Pluto and Goofy! pic.twitter.com/bFJiMnZpgV

— AllEars.Net (@AllEarsNet) September 9, 2021
And, even the platforms are the "EARidescent" color that Disney has been using for most of its 50th Anniversary decorations.
And we saved the cutest for last — Winnie the Pooh and Piglet! ♥️ pic.twitter.com/9a59WCaFm3

— AllEars.Net (@AllEarsNet) September 9, 2021
Don't mind if we just stand here and admire them all day.
And, of course, we've got Mickey and Minnie! pic.twitter.com/CpqaugWExO

— AllEars.Net (@AllEarsNet) September 9, 2021
Back at the entrance to the park, we found statues for Lady and the Tramp as well!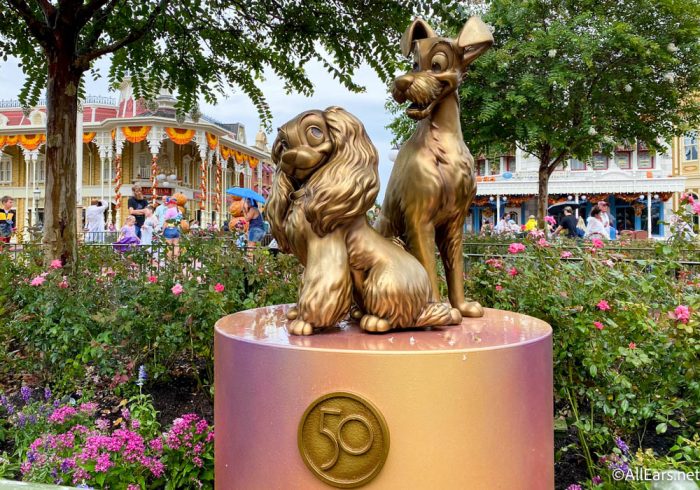 We headed over to Adventureland to see if we could find more statues, and sure enough, we spotted a few more! Abu was hanging out on the entrance to Adventureland sign, holding a gold "50" medallion.
Further in, we found Orange Bird hiding out near the Skipper Canteen restaurant. This one's a little tricky to find — look on the porch to the left of Skipper Canteen, and you'll find Orange Bird in the back next to the door!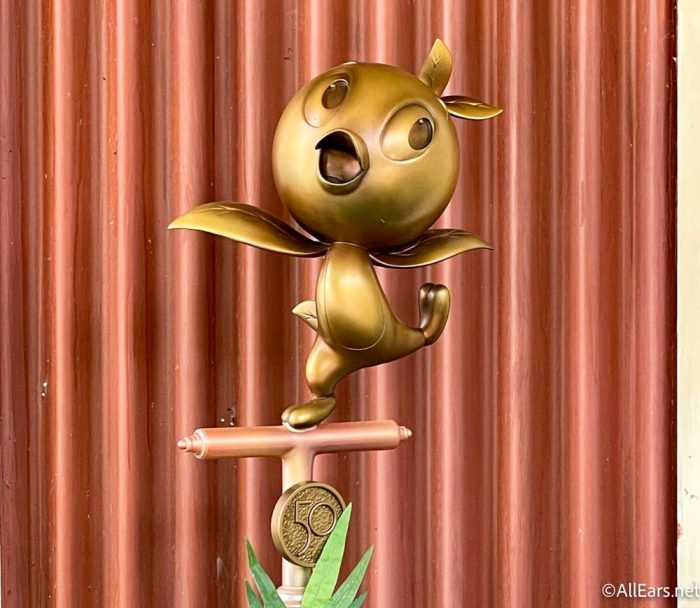 We found a few more in Fantasyland as well, including Cogsworth and Lumiere next to the archways near Prince Charming's Carousel. It looked like they were welcoming guests who were heading into Fantasyland towards Enchanted Tales with Belle and the Be Our Guest restaurant!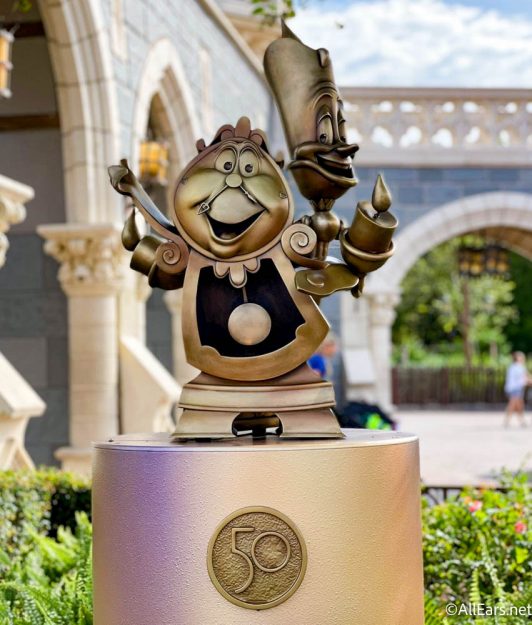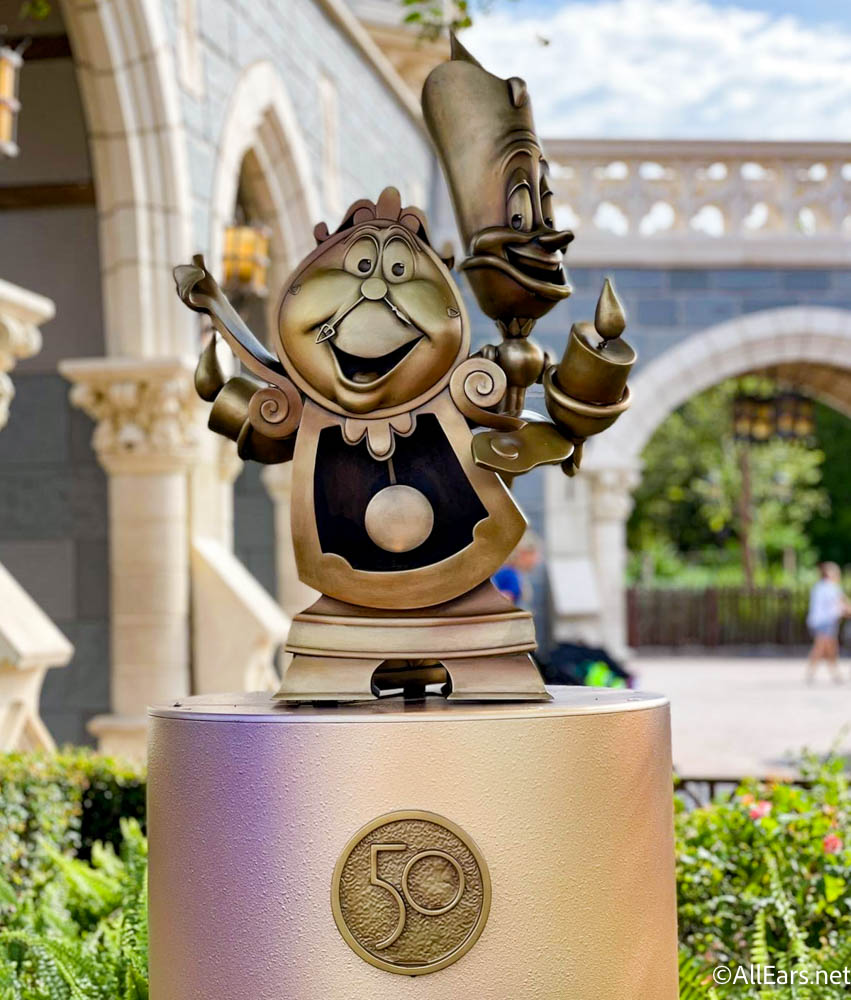 While we were in this area, we found Pinocchio as well, who looked like he was ready to start his Disney World day! Pinocchio was located by the Fantasyland archways as well, near the Pinocchio Village Haus.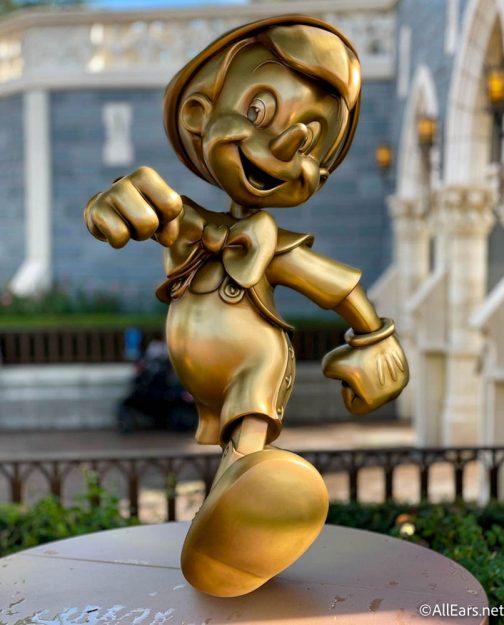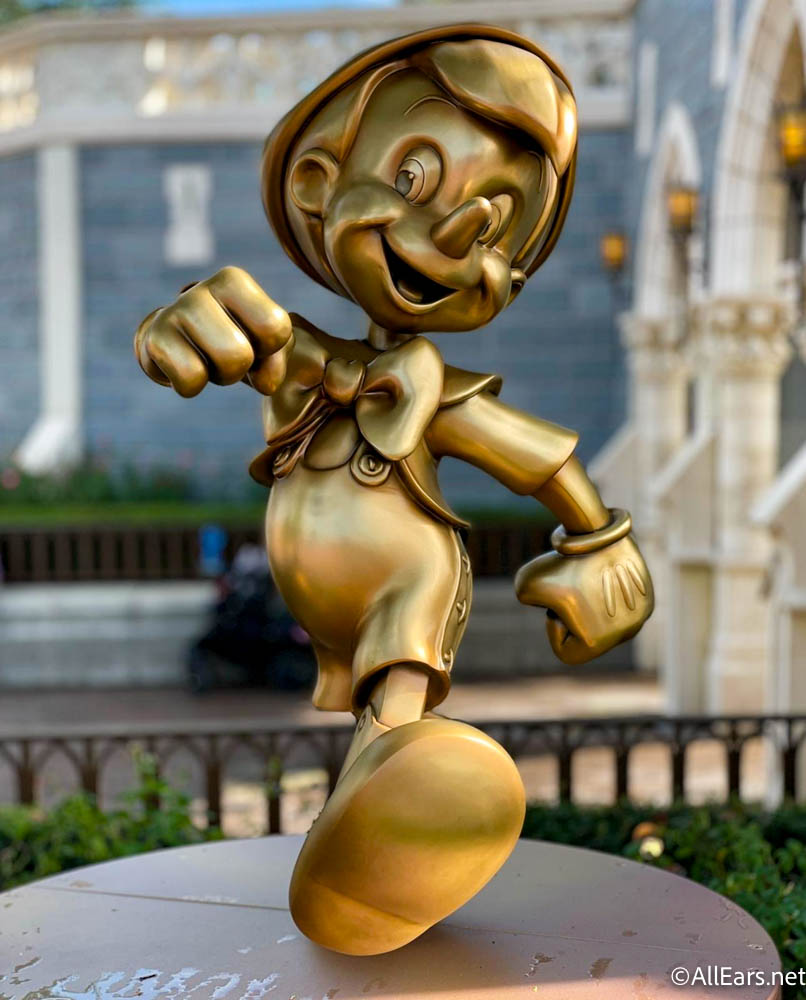 Over by the Mad Tea Cups ride, we spotted a couple of friends from Disney's Alice in Wonderland. The Cheshire Cat was tipping his ears in hello while he lounged on an EARidescent stand.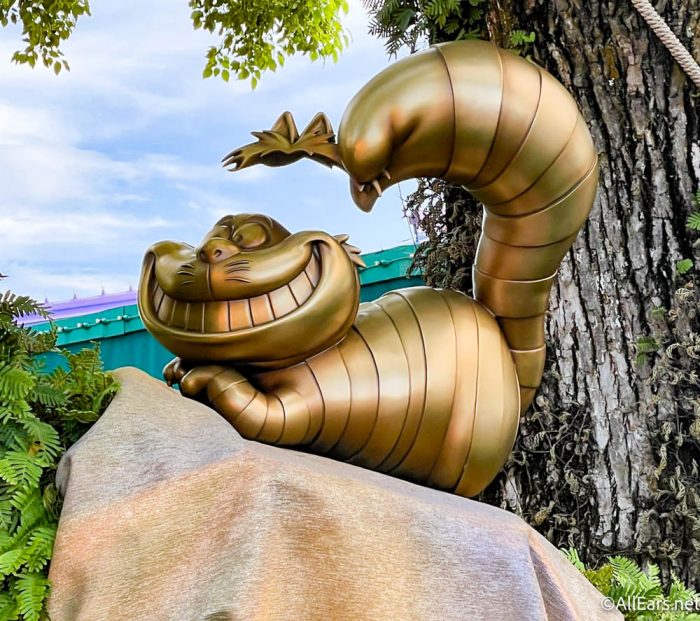 The Mad Hatter was there as well, sipping his cup of tea!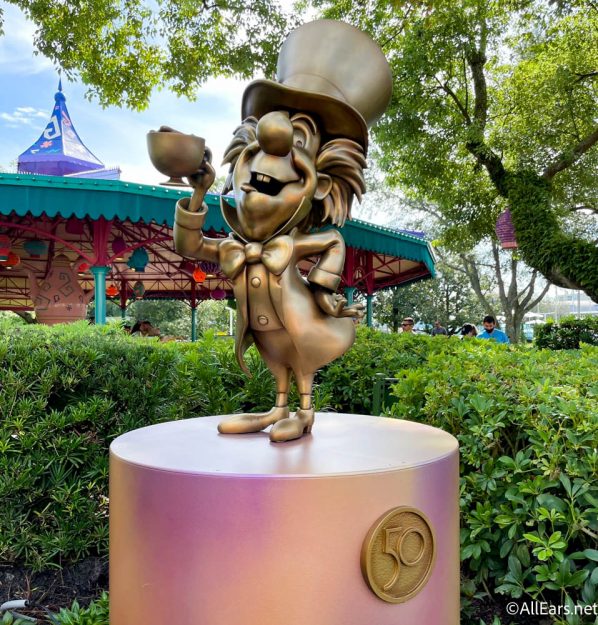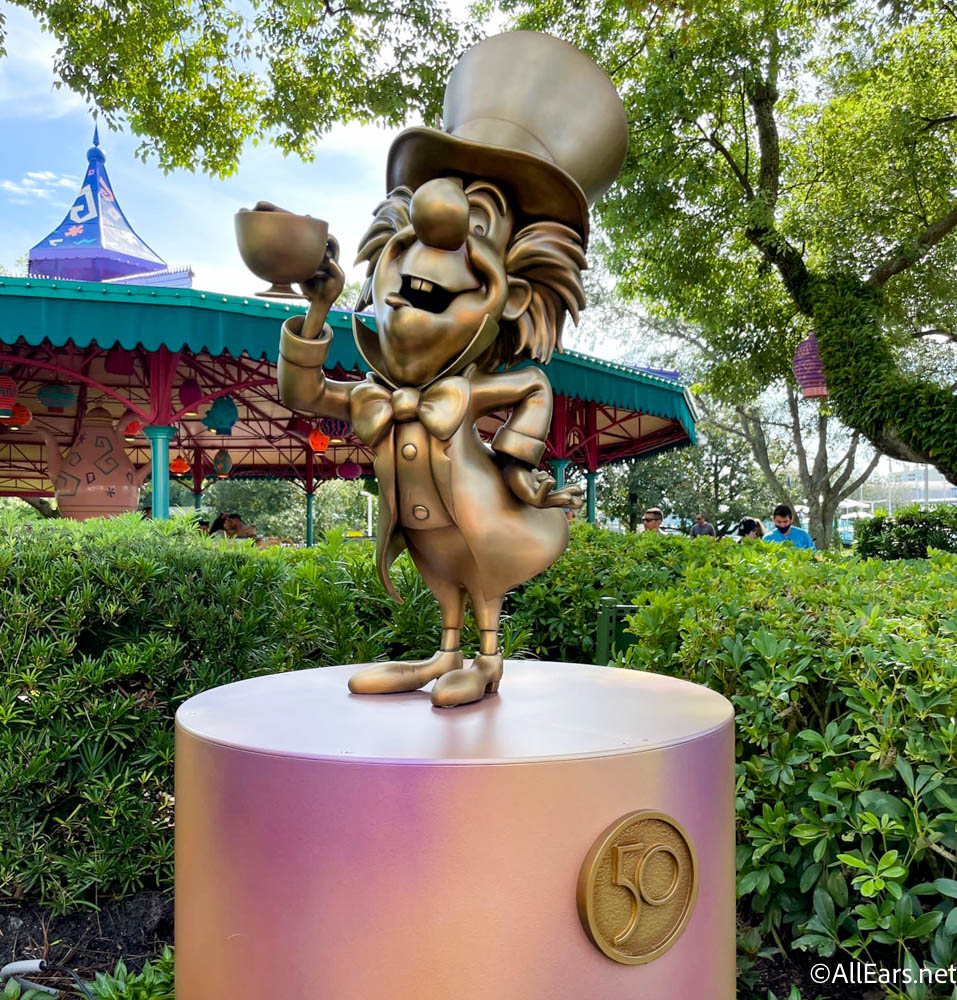 Over in Tomorrowland, we found the statue for Stitch on the famous Purple Wall. Stitch had a "50" medallion in his mouth that looked like it'd been torn out of the wall!
When Disney first revealed details about the Disney Fab 50 statues, they also mentioned that there would be "surprising ways you'll be able to interact with these beautiful sculptures." We have yet to see exactly what that will mean for these statues, but we'll be keeping an eye out for more information.
Chip n' Dale in front of Cinderella Castle! pic.twitter.com/oBVciPYEA7

— AllEars.Net (@AllEarsNet) September 9, 2021
Disney World also came out with a new video celebrating the statues' arrival in the Magic Kingdom!
With 50 total statues, we've got plenty more to spot throughout Magic Kingdom and all the other parks, so be sure to check back with us for the latest info on where to find them all!