Tell us if this sounds familiar: You go to Disney World, you're trying to decide what to have for lunch, and you settle on the same place you eat at every time. If it ain't broke, don't fix it, right?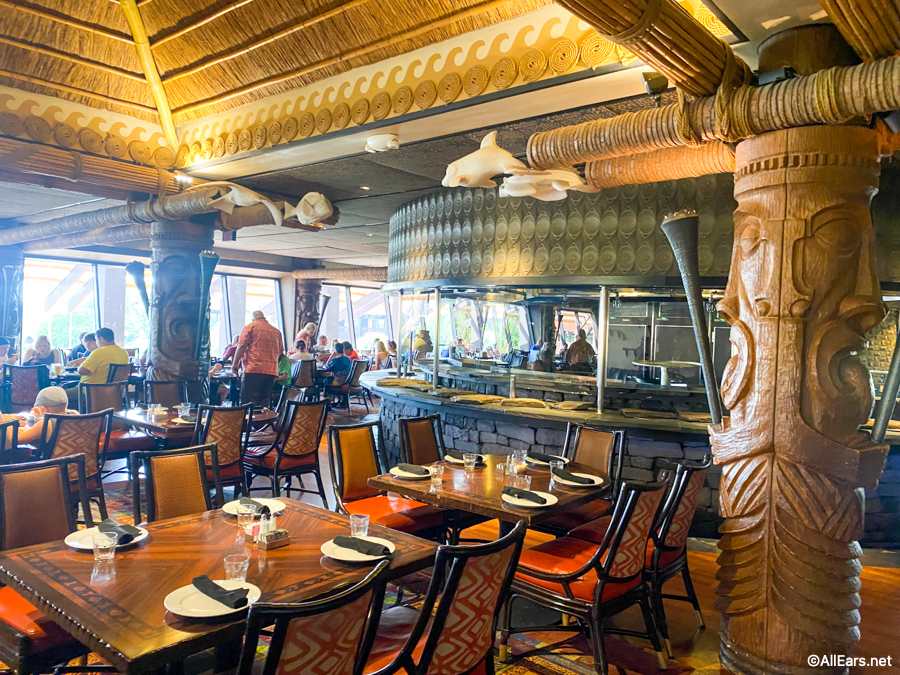 Or maybe this sounds familiar, too: You're a newbie trying to plan your upcoming Disney World trip, and all the dining reservations you've made are based around the restaurants you've heard mentioned repeatedly online.
Nothing's wrong with either scenario, but if you wanna shake things up on your next Disney World vacation and try some restaurants you don't hear much about, you may want to give these underrated restaurants a chance.
Raglan Road Irish Pub and Restaurant
Ragland Road Irish Pub and Restaurant is not your average Irish pub. This Table Service restaurant is located in The Landing area of Disney Springs. Though it offers up those traditional fried-and-greasy bar foods you may be used to when it comes to pubs, there are actually healthier options to choose from, too!
Some past favorites have been the Citrus Salmon Salad for $19, Vegan Pot Pies for $24, and Grilled Chicken Club sandwiches for $20. BUT if you do want that authentic pub experience, Raglan's got your back! Their burgers are MASSIVE, juicy, and stuffed-to-the-brim with different toppings; and you can bite into some wings if that strikes your fancy. Sounds like a good partner for a beer, right?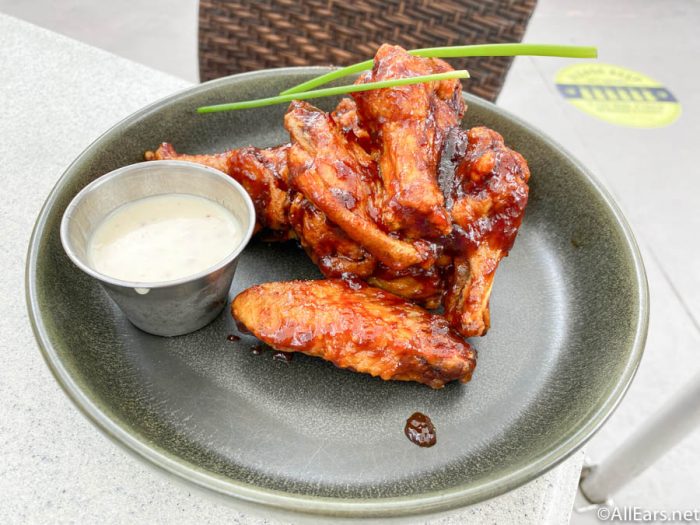 And let's not forget the LIVE entertainment! You can listen to the sounds of the Raglan Road bands play authentic Irish tunes AND you can clap along to the rhythm of the river dancers' fast feet. Performances happen on the Main Stage inside the restaurant on Monday through Friday from 5 PM to 10 PM, Saturday and Sunday from 12 PM to 10 PM, and on their outdoor patio daily from 6 PM to 10 PM.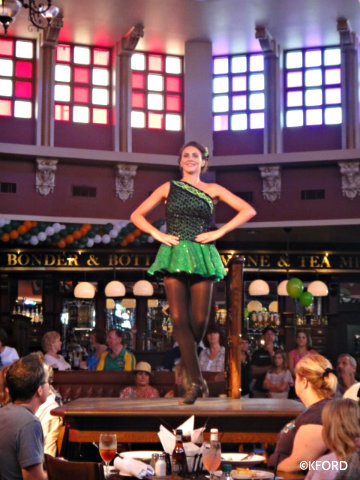 Disney Food Trucks
Do you need a quick bite during your Disney Springs shopping spree? Head on over to Exposition Park for the Disney Food Trucks! (Psst — that's on the West Side of Disney Springs, across from Disney's Candy Cauldron.)
These trucks are easy to pass by without a second thought because they're unassuming. A lot of Disney restaurants are over-the-top when it comes to theming and experience while these cute li'l trucks are just vibing off to the side.
But here's the truth of the Disney Food Trucks:- they not only have a variety of options to choose from that have pleasantly surprised us in the past, but they're also one of the more affordable dining options on property.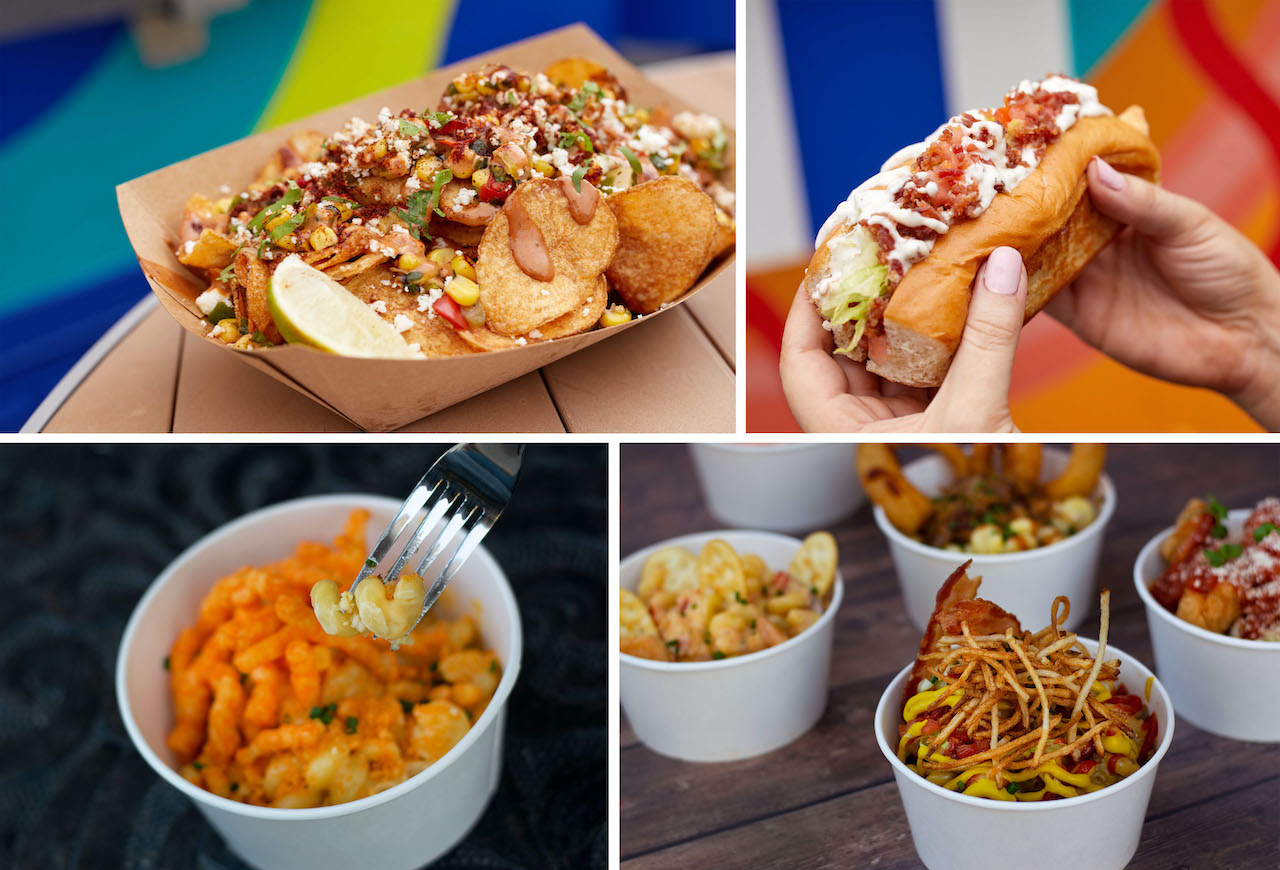 A few of the food trucks you might see are the 4 Rivers Cantina Barbacoa, Hot Diggity Dogs, and Mac & Cheese.
4 Rivers has unique Mexican-style cuisines — like the Taco Cone for $11.99. You get to choose your filling — Brisket Barbacoa, Chicken Tinga, Adobo Pork, Tri-Tip Steak (for $1.50 extra), or Roasted Sweet Potato — before it's topped off with shredded lettuce, guac, sour cream, Pico de Gallo, queso, cilantro, jalapeño, and a lime wedge. It's a portable taco salad! YUM!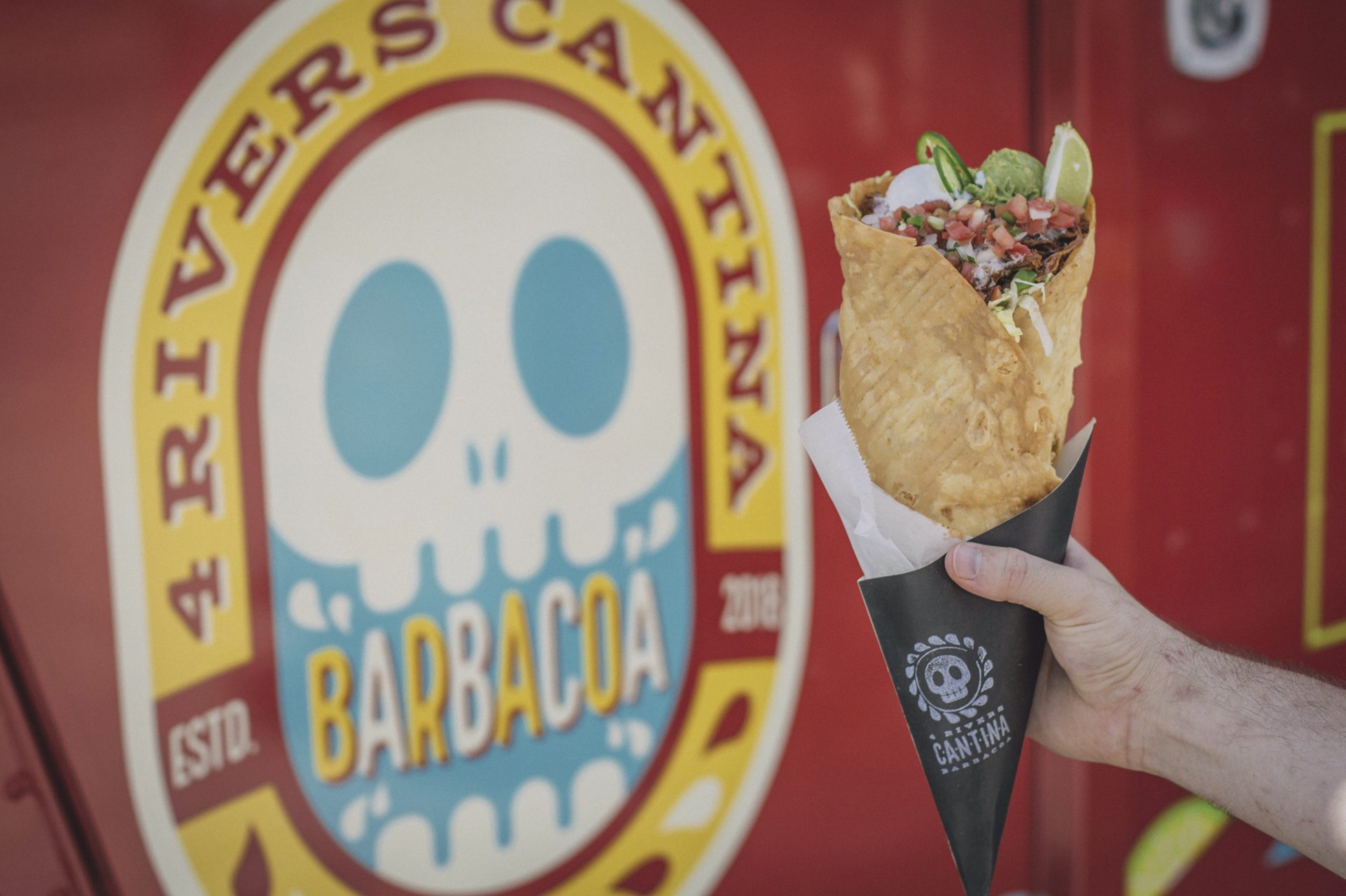 Hot Diggity Dogs is kind of wild, tbh. Sure, they've got your average, everyday hot dogs like the 1/6 lb Chicago Hot Dog for $11.75 — but they've also had some really *weird* secret menu items, too. Back in January, Hot Diggity Dog had a secret menu item called the "King Dog" — but you could only order it by saying the secret phrase: "Hot Dog, Hot Dog, Hot Diggity Dog!" After you said/sang the secret phrase, you'd receive this massive all-beef hot dog nestled in a French Toast and cereal-crusted bun. But most unexpected part was that this hot dog was topped in spicy peanut butter sauce, banana honey mustard, chipotle-berry preserves, and bacon bits!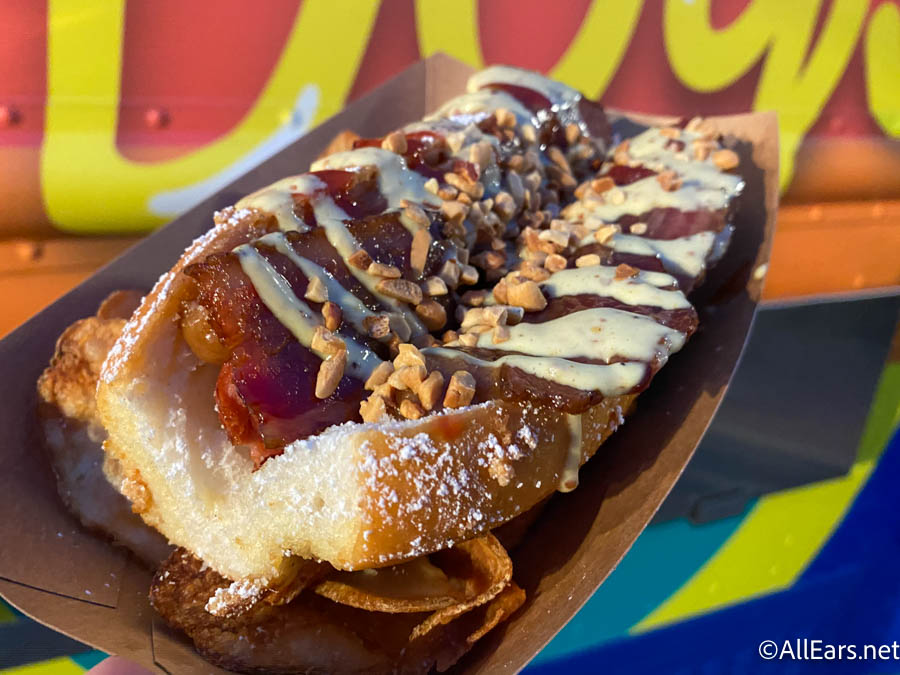 Lastly, the Mac and Cheese food truck has…Mac and Cheese. (I know, it's shocking.) But not the skimpy kind of Mac and Cheese you could find in a box at the grocery store. We're talking the nice, thick noodles coated with creamy-cheesy goodness. One of our personal favorites is the Shrimp and Lobster Mac and Cheese for $13, which not only comes loaded with plenty of sweet lobster meat and shrimp, but it's also topped off with even MORE cheese and has two buttery crackers you can crumble over the top of the dish to add a much-needed crunchy/salty texture.
Splitsville
If you have a free day outside the Disney parks and you're looking for something unique to do while staying on Disney property, Splitsville has bowling AND dining available. It's located on the West Side of Disney Springs across from AMC Theaters (which, now that we think about it,  is ANOTHER unique thing you can do on your break day from the parks)!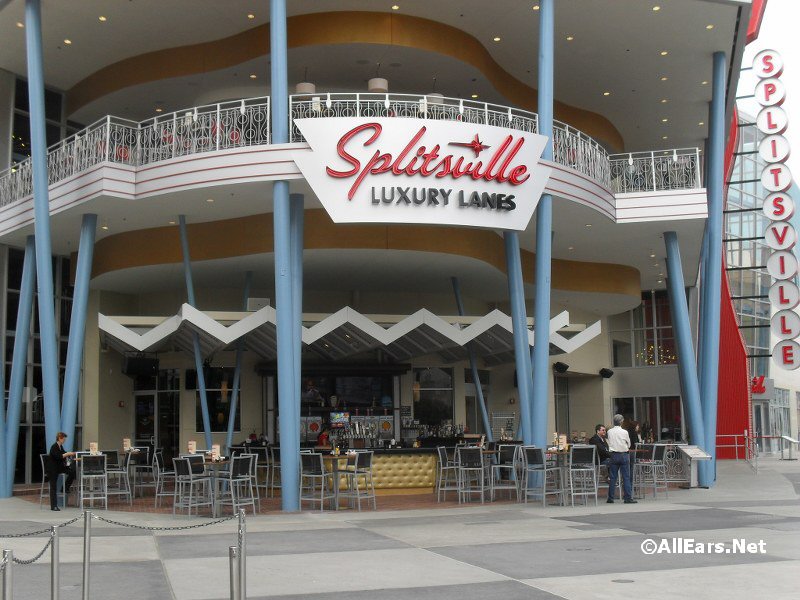 Splitsville's menu doesn't have food you'd find at any old bowling alley back home. Instead, they've got a whole variety of options — including so many different sushi options. If you're wanting some fresh veggies, the Veggie Rolls are $12 — an affordable price AND vegan-friendly! Or you can get a Grilled Avocado and Ahi Tuna for $17. (Sounds pretty fancy for a bowling alley, doesn't it?)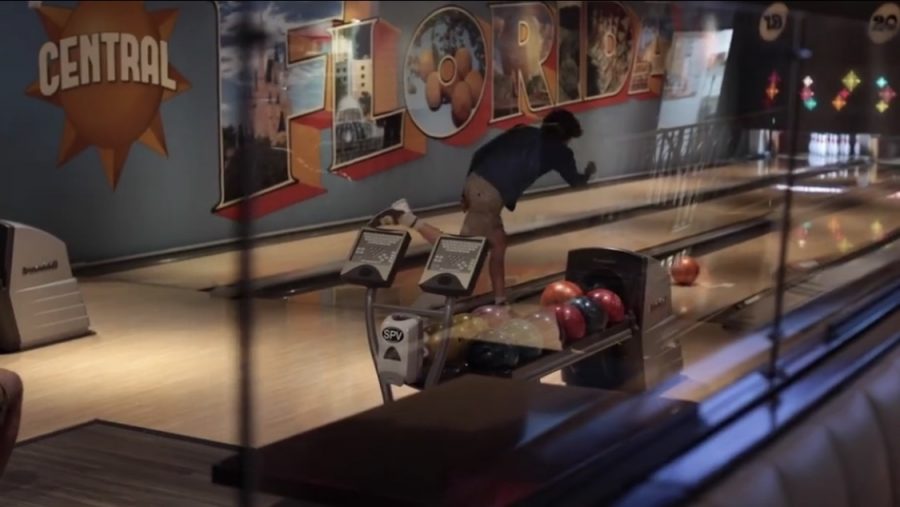 If you're not in the mood to bowl and you just want to nosh on some Splitsville food, no worries! You don't have to bowl to dine (and vice-versa)! (Though sushi and bowling *does* sound like a fun way to spend the afternoon —especially if it's raining and you need to hide indoors for a while.)
Plaza Restaurant
Plaza Restaurant over on Main Street, U.S.A., at Magic Kingdom is not a restaurant that calls attention to itself — usually because the Plaza Ice Cream Parlor creates more hype than the restaurant does. But this Table Service location offers up some cozy comfort foods and a cute vintage atmosphere to help you unwind after a busy morning of hitting up the rides.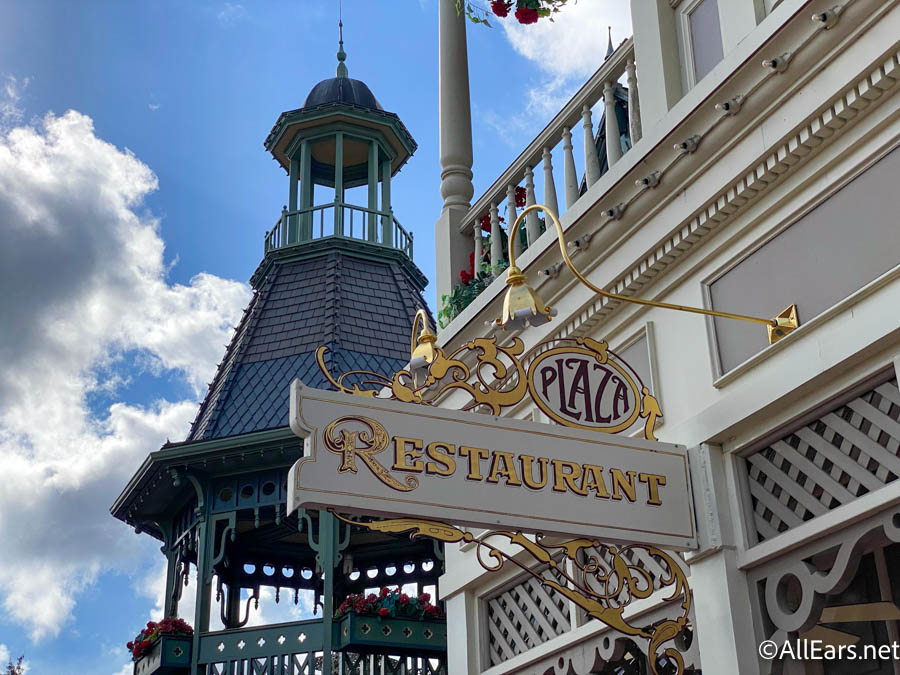 Plaza Restaurant is one of the more reasonably-priced table service restaurants in Magic Kingdom. It doesn't have a lot of options, but the ones it has currently are like "Mom used to make."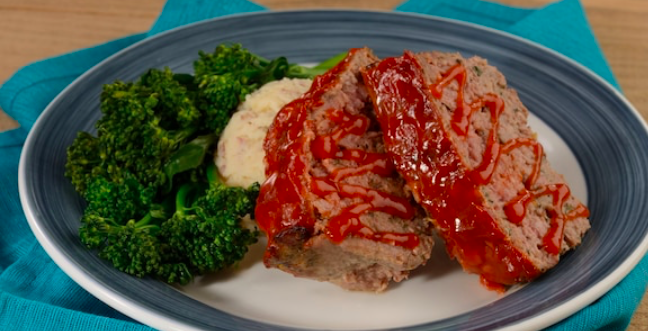 We're talking Home-style Meatloaf for $23, a Fried Chicken Sandwich for $21, and Chili appetizers for $9 — you know, the foods that make you feel all warm and nostalgic for simpler times.
Coral Reef
Coral Reef restaurant is sneaky! It's overshadowed by The Seas With Nemo and Friends and Sea Base Alpha attractions over in EPCOT. But it's there — over in the same location! And seafood lovers are really going to be so excited to find it.
The atmosphere alone is worth the visit. The restaurant is surrounded by 6 million gallon tanks filled with all different kinds of fish! How cool is that?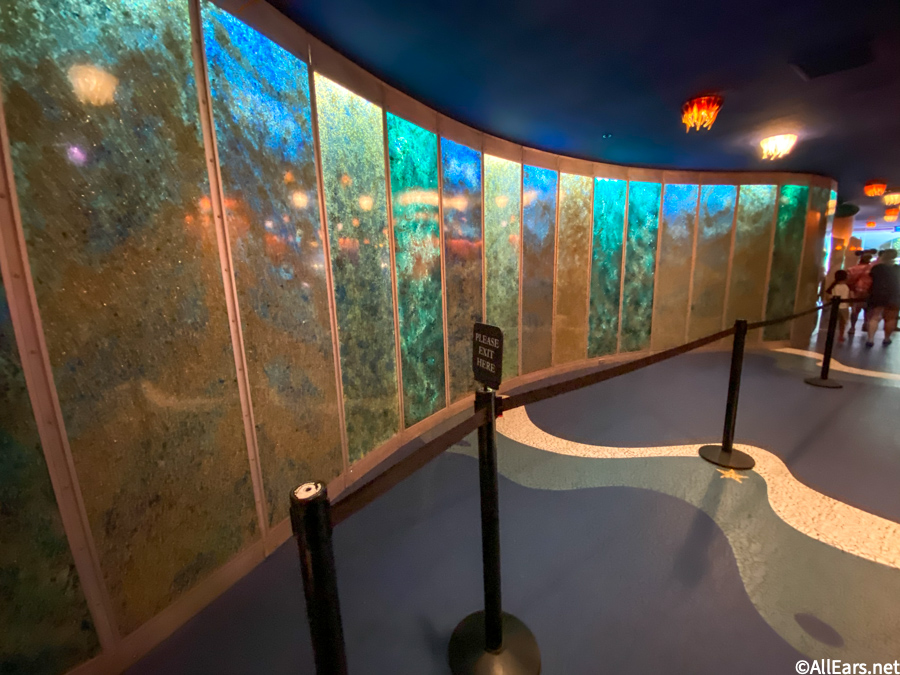 In the past, we've enjoyed noshing on the Shrimp and Grits for $30. The seared shrimp and cheesy grits are topped with corn succotash, Andouille sausage, and creole spices. We've also enjoyed the Seared Mahi Mahi for $31 that's served with a bed of jasmine rice, drizzled with coconut and cilantro-lime sauce, and topped off with Caribbean shrimp salsa.
Admittedly, this place has been a hit or a miss for us in the past,  but if you're looking for a lot of seafood options and you want to dine with the fishes, definitely give this place a chance!
Sunshine Seasons
Sunshine Seasons might feel like a mall food court, but really it's so much more! When you enter EPCOT's Land pavilion, you'll find the Sunshine Season's Quick Service location right away; its dining area takes up a LOT of space on the bottom floor of this building!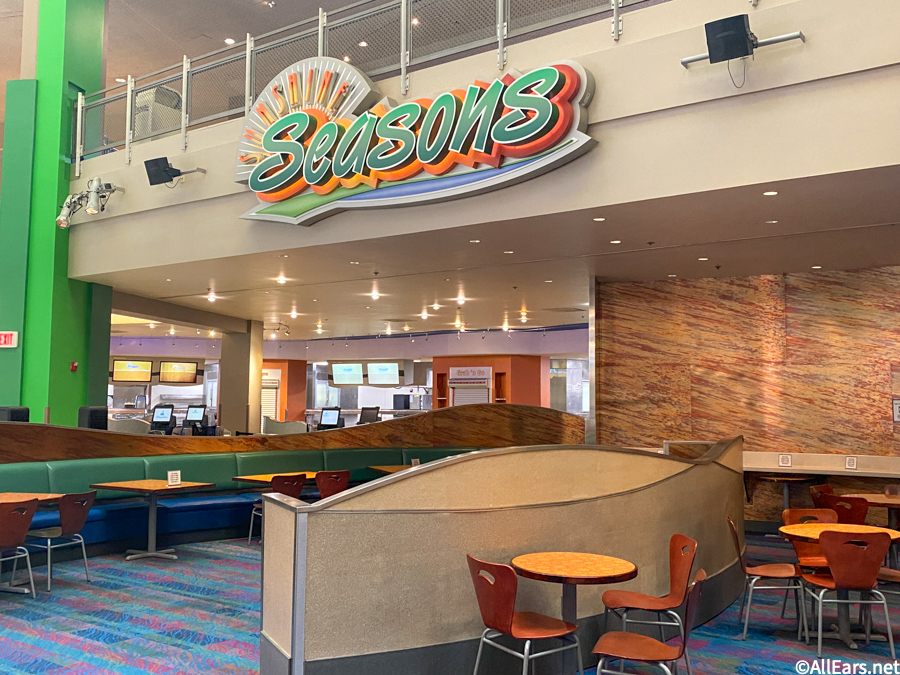 There are several different counters to choose from — including Asian Noodles, Sandwiches, The Grill (with several different meat options), and Kids Meals.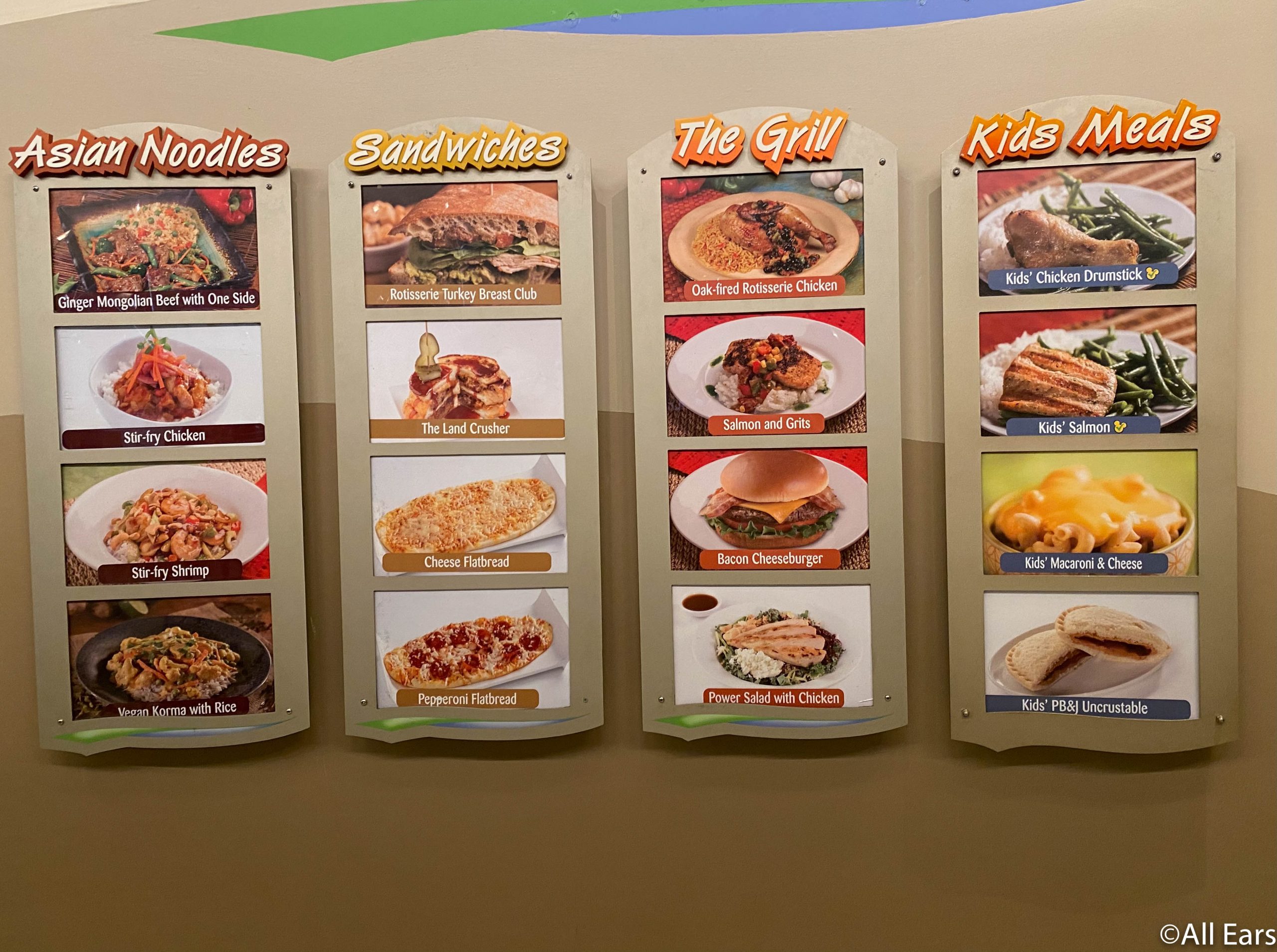 Sunshine Seasons is a good option for travel parties who have different tastes OR for party members who can be rather picky. PLUS, Sunshine Seasons is super close to two stellar EPCOT rides — Soarin' Around the World AND Living with the Land!
Backlot Express
If you can't convince your travel party to get a little adventurous and try a Ronto Wrap in Star Wars: Galaxy's Edge, then Disney's Hollywood Studios' Backlot Express might be a safer choice.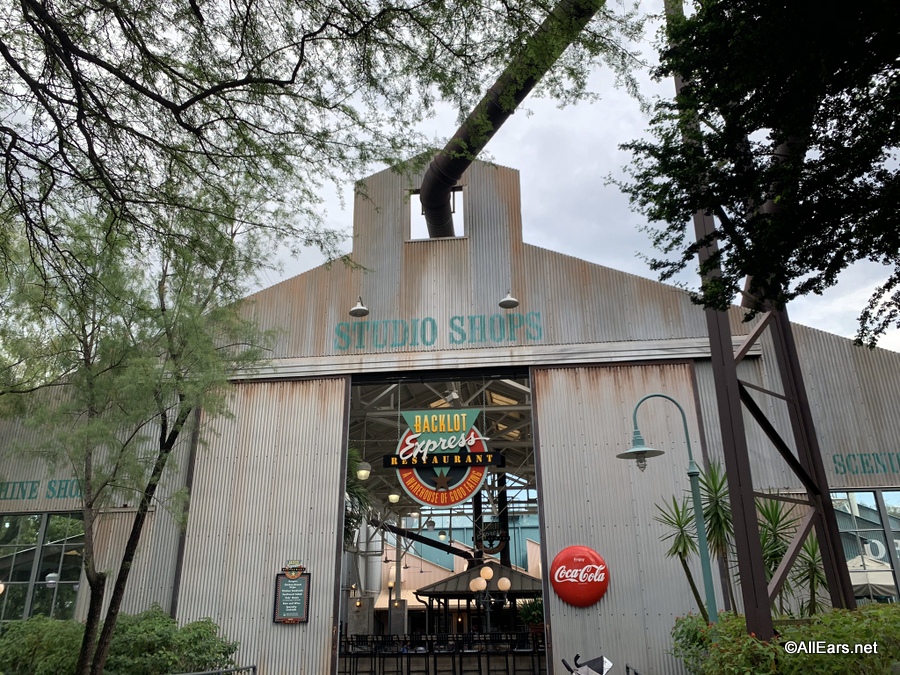 Backlot Express is a Quick Service location at Echo Lake. (That's the section pretty close to the old Star Tours ride.) It's easy to look over because it's not as visually-pleasing on the outside as some of the other restaurants around the property, but the theming inside the restaurant is just as immersive as the other Hollywood Studios restaurants — you just have to give it a chance!
As it turns out, Backlot Express is themed to be the back of a movie set. You'll find scattered props, performance notes, stage costumes, and many other behind-the-scene artifacts.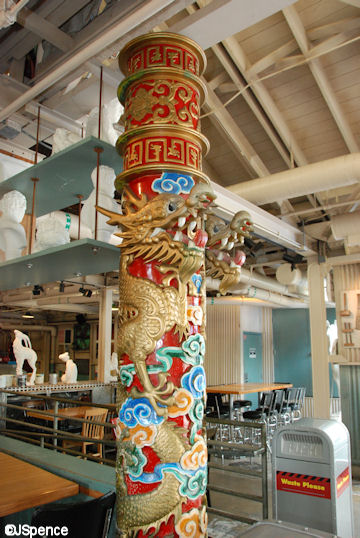 And let's not forget to talk about the actual FOOD. The menu here is pretty straightforward with some items we've found pretty tasty in the past. A previous favorite of ours is the Cuban Sandwich for $11.99. It's filled with roasted pulled pork and sliced ham — and it's super cheesy, thanks to all that Swiss cheese. Plus, it's got a nice tart kick from the mustard and pickle.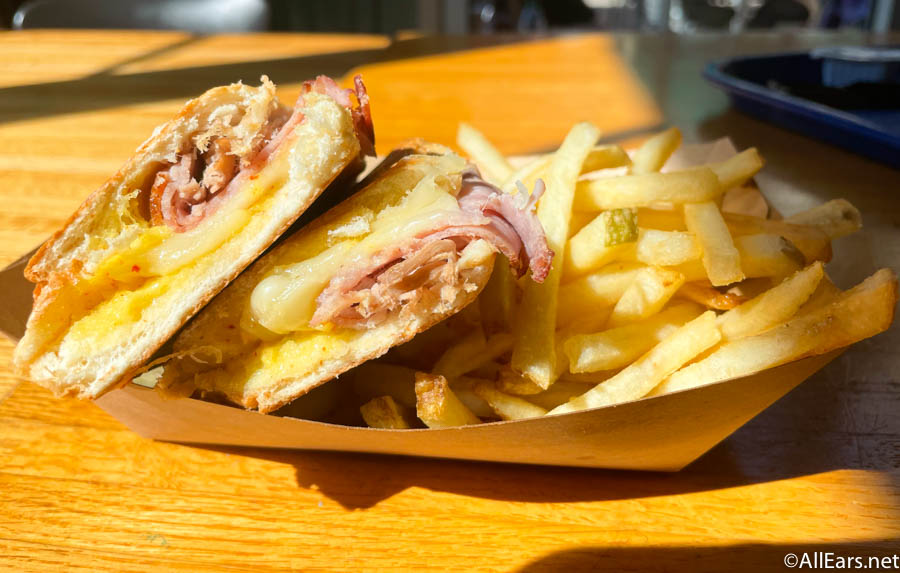 The thin-cut fries that come on the side of the entrees are crispy and salty. We could probs eat five trays of those alone, if there wasn't so much else to snack on in the Parks… .
Mama Melrose's Ristorante Italiano
A lot of people look down on Mama Melrose's Ristorante Italiano at Disney's Hollywood Studios because it's…not had the greatest reputation in the past. BUT there are a handful of guests who love coming here for all their pasta/Italian food needs — including a handful of our reporters!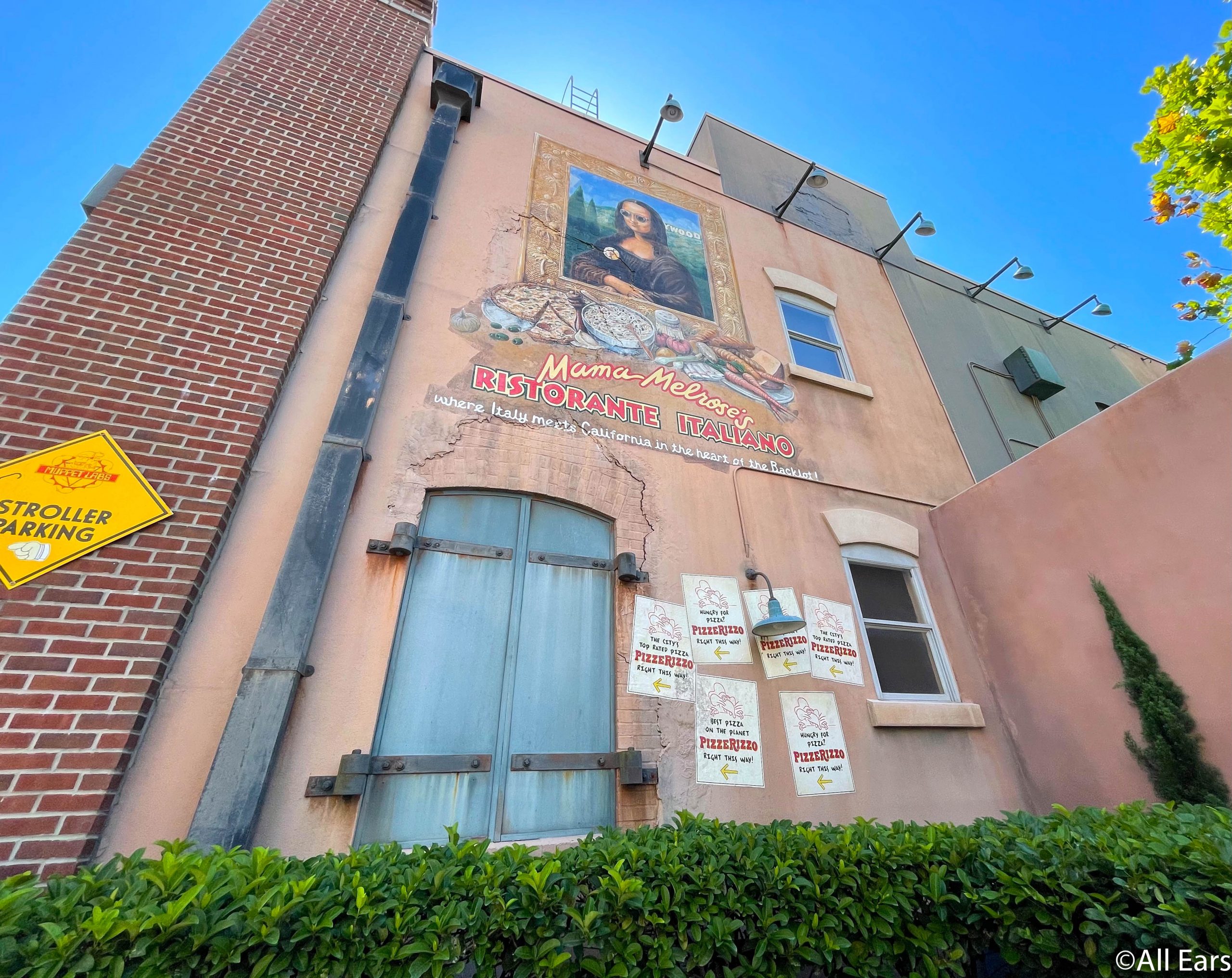 First off, this Table Service atmosphere is classy with lots of fairy lights draped from the ceiling. (We're a sucker for strings of lights — they just brighten up a room so well, y'know?) Some food options you may want to consider trying are the Margherita Flatbread for $15, the Plant-Based Minestrone for $8, or Mama's Italian Pasta for $19. Plenty of folks rave about the strip steak here, too!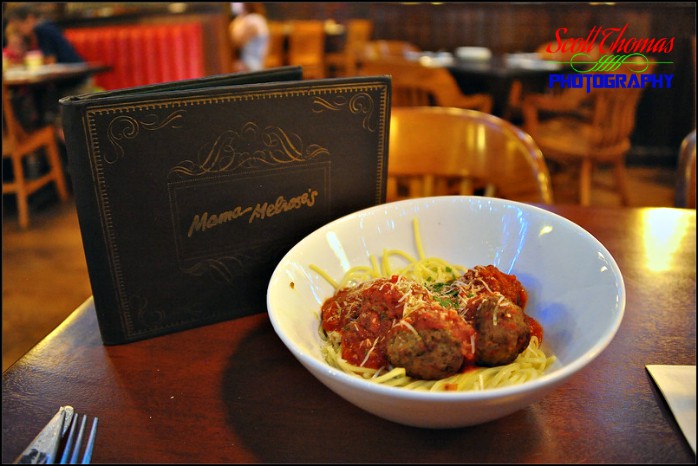 If you're a fan of Italian cuisine and have to choose between ordering here or, say, Tony's Town Square Restaurant over at Magic Kingdom, we'd recommend this one.
Eight Spoon Cafe — Animal Kingdom
Ah, yes, another cheesy noodle place. Why would mac and cheese ever be underrated? In the case of Eight Spoon Cafe over at Disney's Animal Kingdom, the Quick Service walk-up window is underrated because guests forget it exists.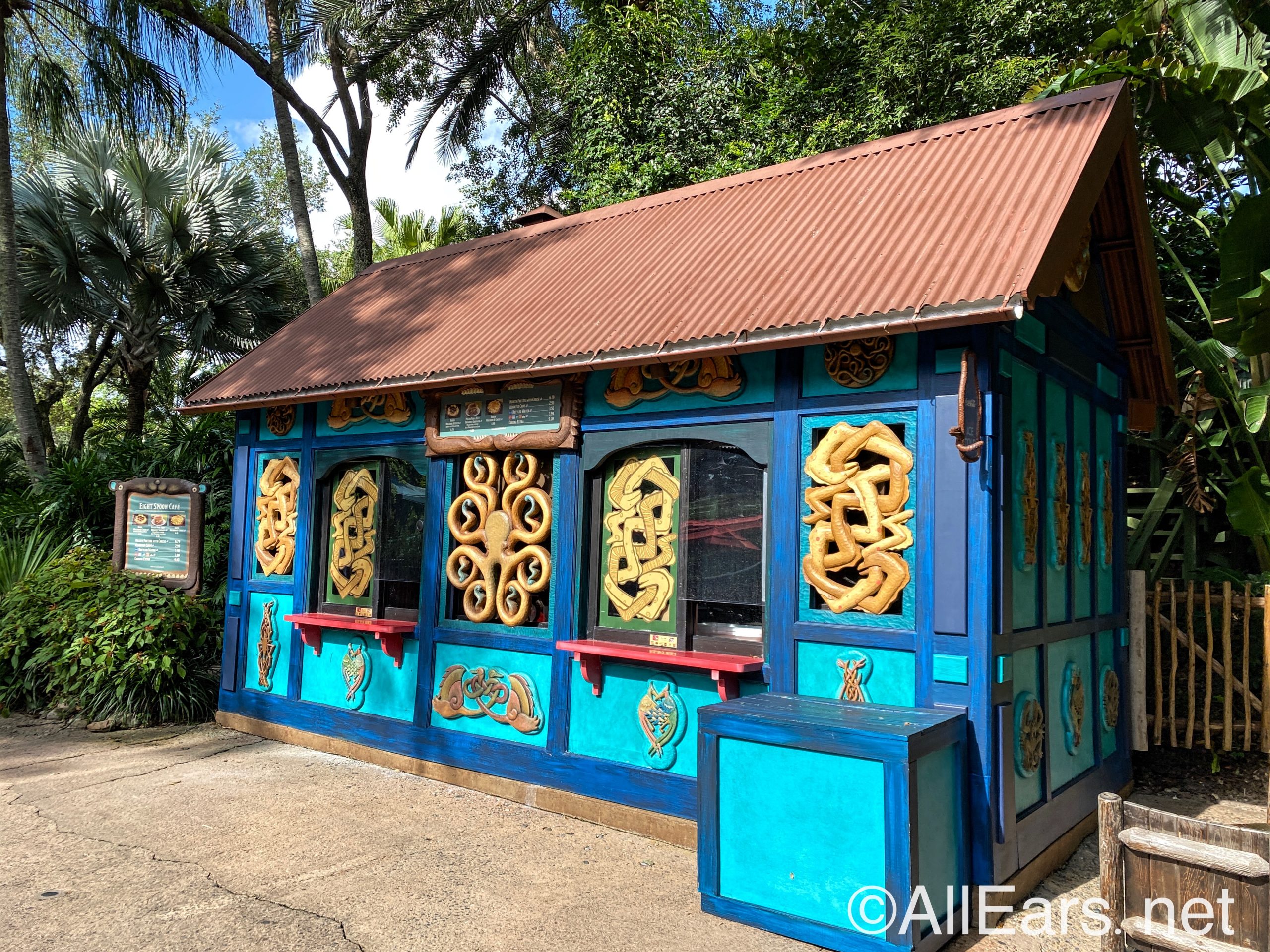 Eight Spoon Cafe is located over on Discovery Island, and currently, it's only open between 10:30 AM to 5:00 PM.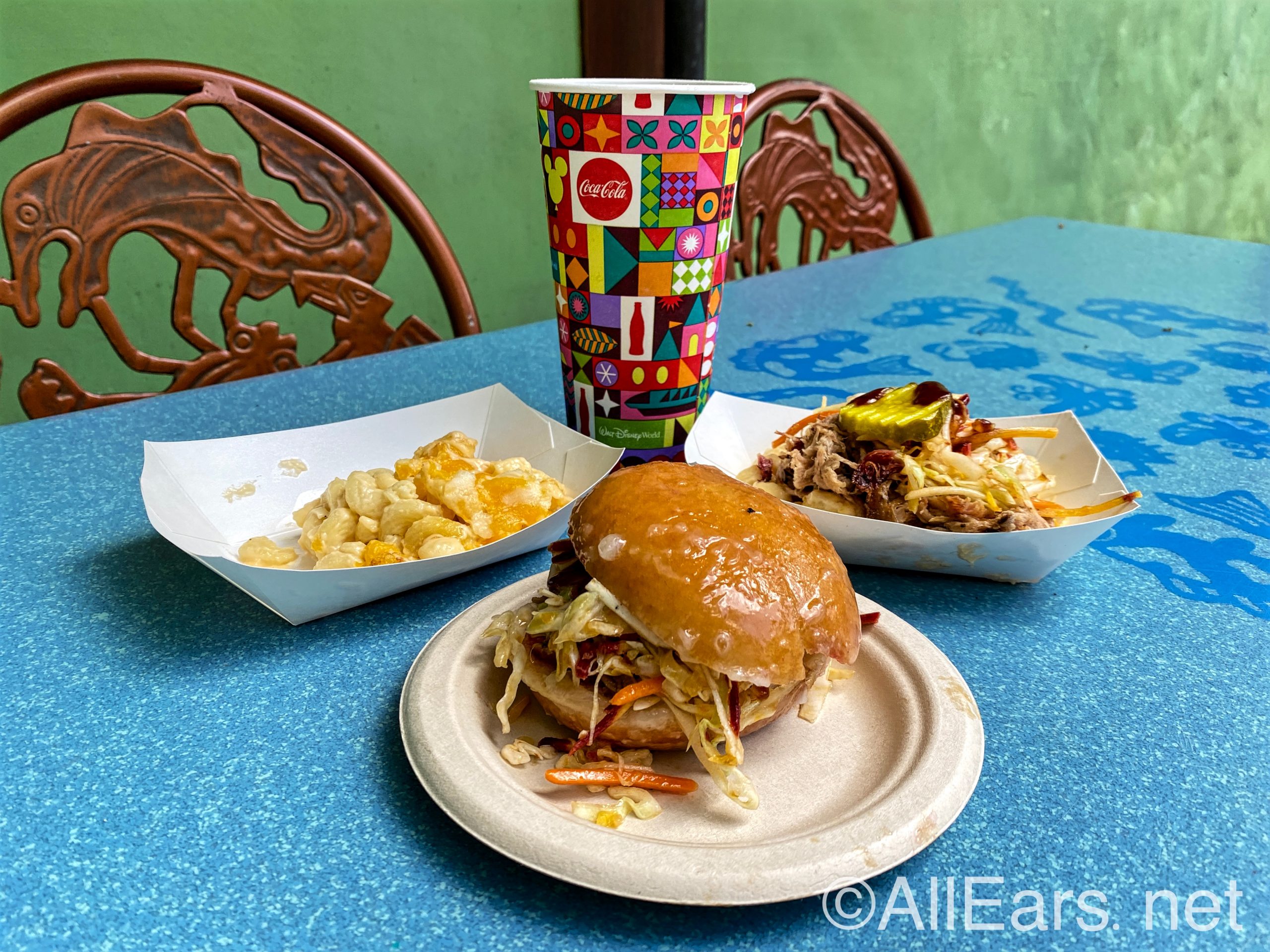 This booth is tiny in size but mighty in flavor — it serves up quite the mac and cheese goodness! You can purchase a Baked Macaroni and Cheese snack bowl for $4.49! Say whaaaaaa? (The booth's not the only thing tiny about Eight Spoon Cafe. All their portions are snack-sized! So you may want to get a couple!)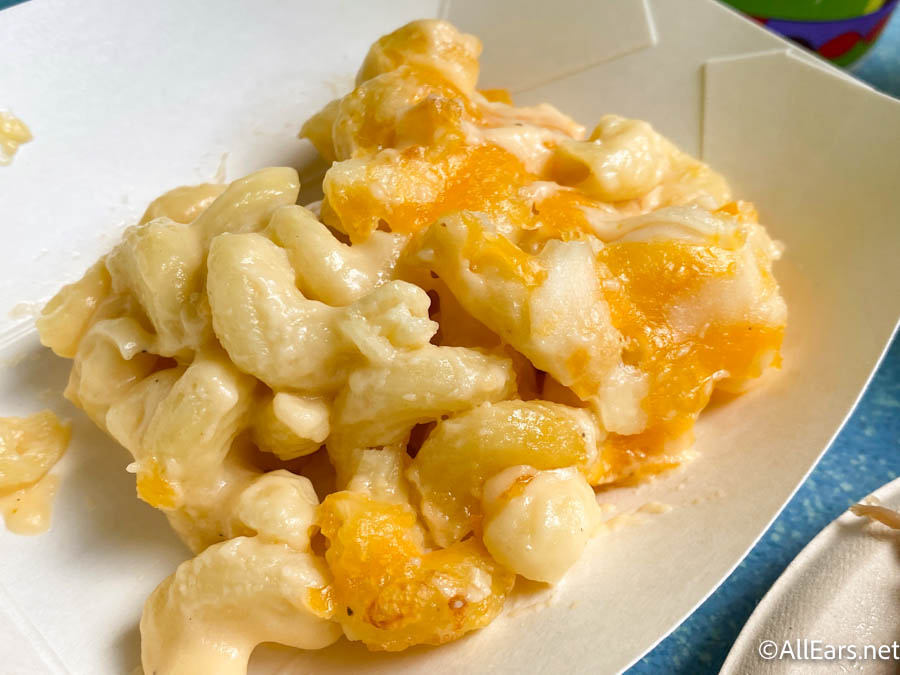 You can add pulled pork added on top for $6.79. So savory and flavorful and, most importantly, cheesy!
Join the AllEars.net Newsletter to stay on top of ALL the breaking Disney News! You'll also get access to AllEars tips, reviews, trivia, and MORE! Click here to Subscribe!

What Disney World restaurants do you think are underrated? Let us know in the comments below!