The snack game at Walt Disney World is strong and pretty much always changing. No matter what time of day, no matter where you find yourself in the World, you can order up something tasty to please almost any palate.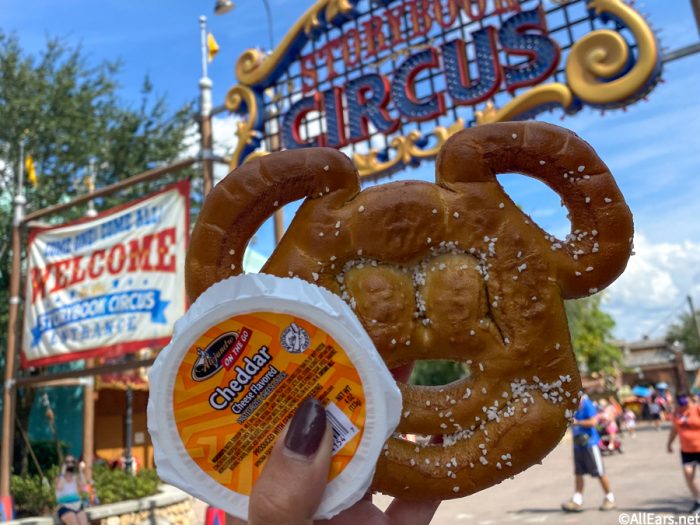 Over the years that we've been eating our way through the parks, we've found some very good and some very…let's just say different kinds of snacks. Today, we're talking about those snacks that veer way off the beaten path.
 Are You Brave Enough To Try These Snacks at Disney World?
The King Dog
We're kicking off our weird food list with none other than one of the CRAZIEST hot dogs we've tried at Disney World. Over at Hot Diggity Dogs Food Truck in Disney Springs, they serve up hot dogs that are loaded with toppings.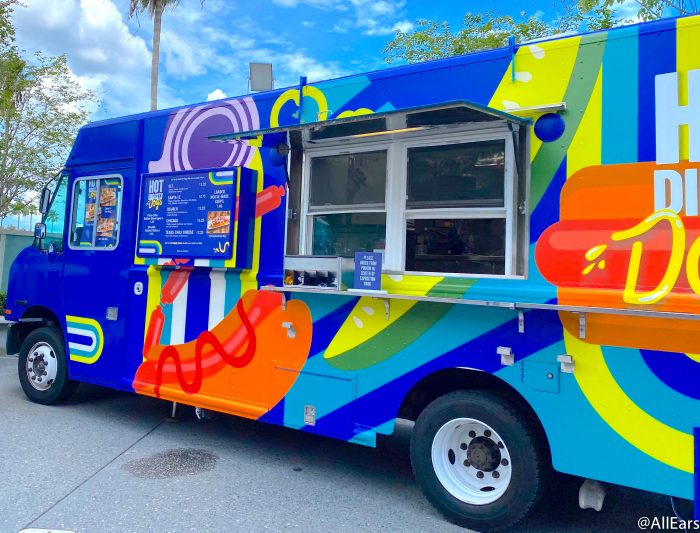 But The King Dog takes toppings way over the top. It is an all-beef hot dog in a French toast batter-dipped and cereal-crusted bun, topped with a spicy peanut butter spread, banana honey mustard, chipotle-berry preserves, and pieces of Billionaires' bacon.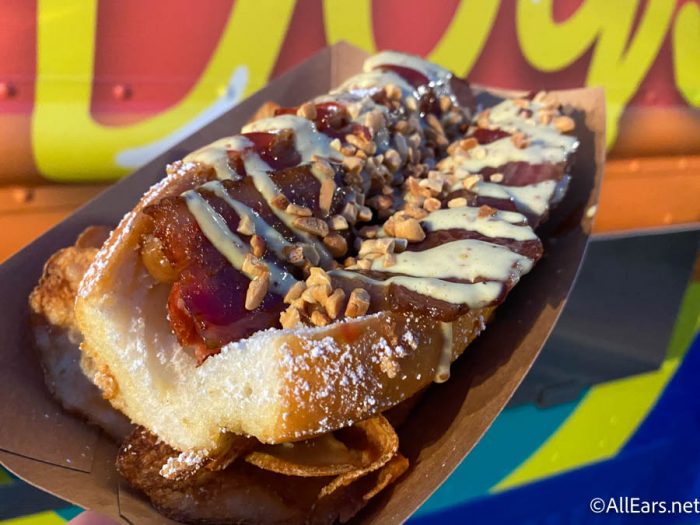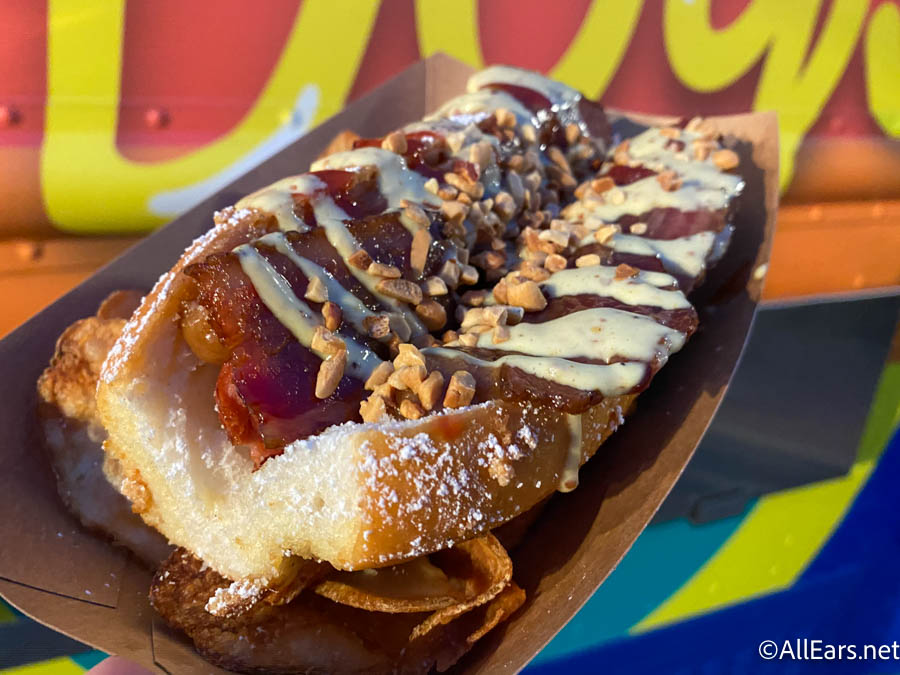 It's really the mixture of all the toppings that makes this one for adventurous eaters. Separately, it all sounds delicious, but together..? It's a lot!
This item started out as a secret, and you had to sing a song to earn yourself the chance to try this hot dog, but not anymore! You can find this on the menu with a side of chips and a drink for $11.75.
Fuzzy Tauntaun
For the next outrageous Disney snack, you're going to have to travel to a galaxy far, far away. Oga's Cantina is the local bar on the planet of Batuu in Star Wars: Galaxy's Edge at Disney's Hollywood Studios. It's become a must-visit spot and is known for serving up a seriously wild menu of cocktails and concoctions.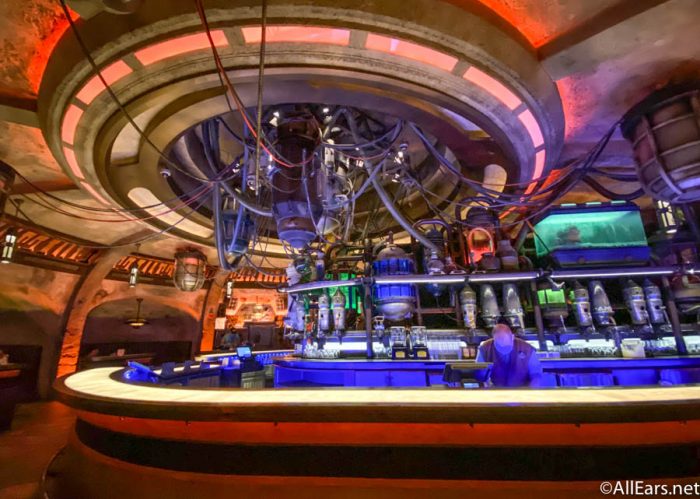 Perhaps the most talked-about drink and one that you need to really feel adventurous to try is the Fuzzy Tauntaun. This cocktail is made with Cîroc Peach Vodka, Bols Peach Schnapps, and Simply Orange topped with tangerine and pure cane sugar — basically a Fuzzy Navel. Sounds good, right? But what you may not know is that this drink will make your mouth go numb — seriously!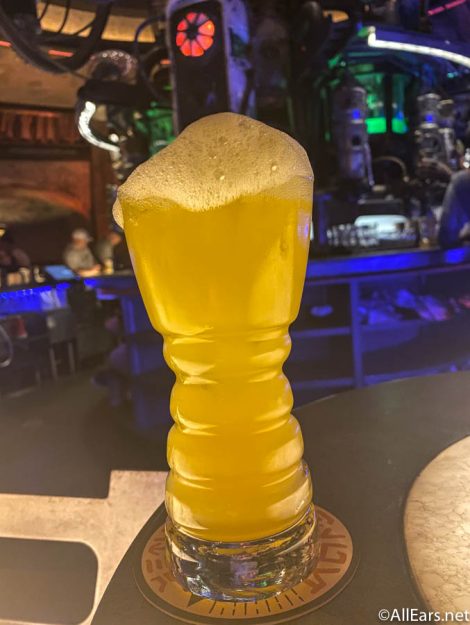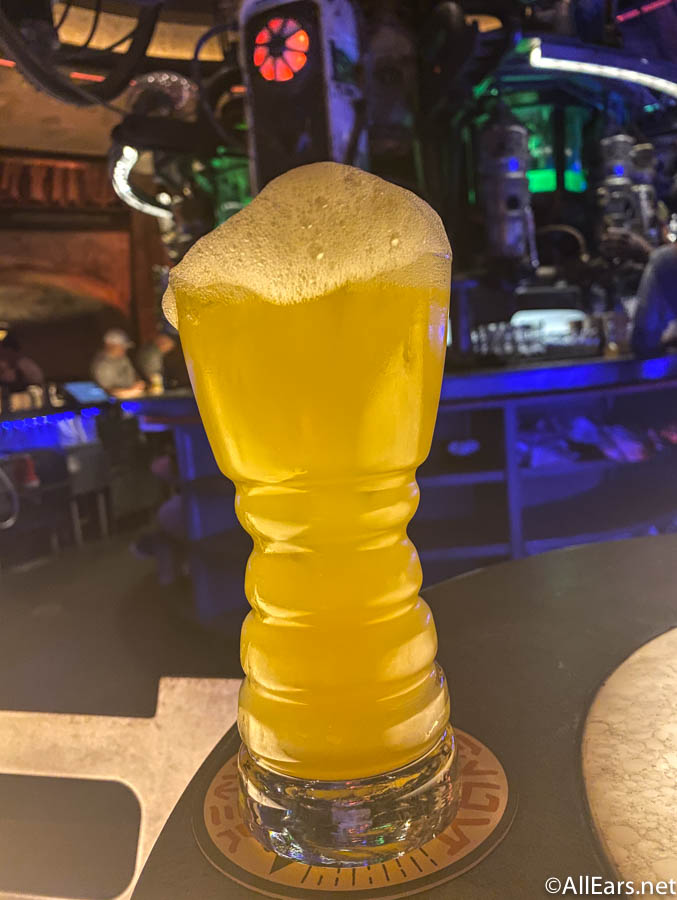 The "buzz button foam" on top is made from an edible Szechuan flower that is said to be a natural painkiller. As such, it makes your lips numb while you sip! The sensation doesn't last that long, and it makes for a fun story from your galactic travels. Oh, and we should probably mention that we think the cocktail tastes delicious!
Crunchy Crabs
Okay, this one might be the cringy-est snack on the list if you're not one for adventure eating. Over in EPCOT at the Japan Pavilion, you can find Crunchy Crabs in a bag at the Mitsukoshi Department Store.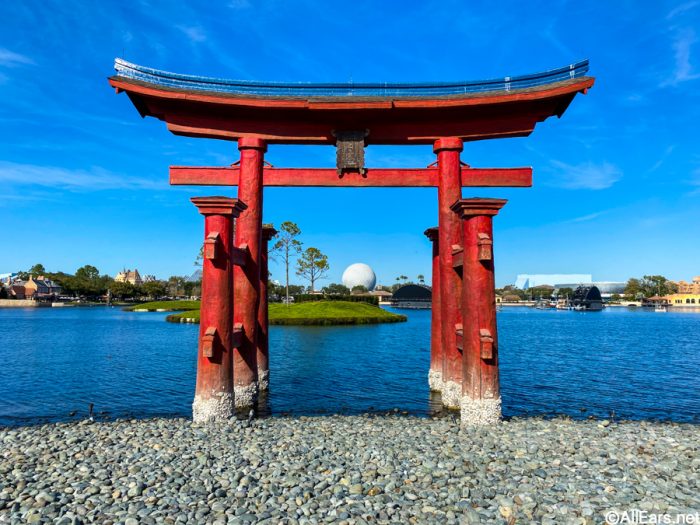 Yup, that's right, crab shells and all! The dried crabs are coated in sugar, starch, soy sauce, and mirin but that's never been enough for us. This one is for seriously adventurous eaters who are willing to pay Disney prices to give this a try.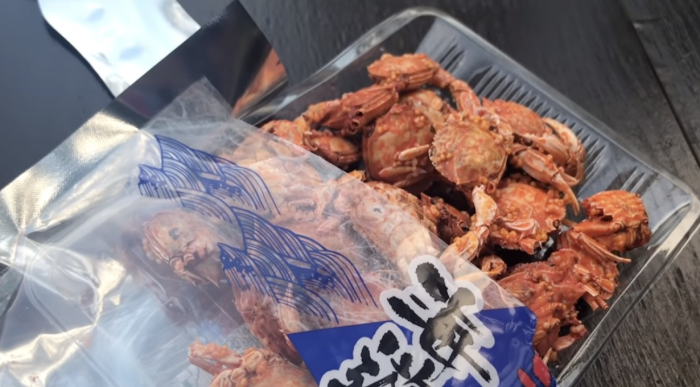 If you give this one a try, you deserve a badge or something because this is for VERY brave souls.
Escargot
Now for the  Disney snacks that you need to be visiting at just the right time to try! First up is the escargot — snails! If you're willing to try the crunchy crabs then this should be a breeze for you!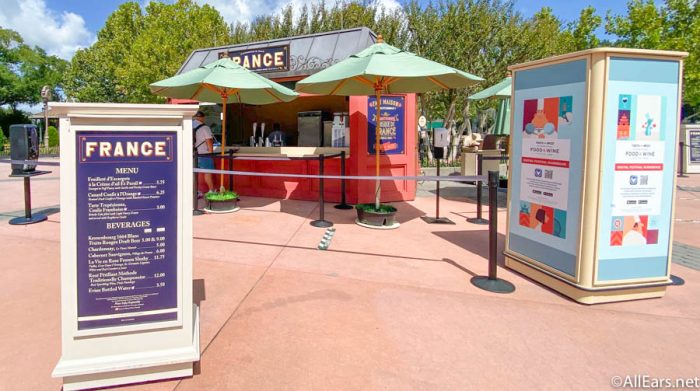 Escargot has been a seasoned visitor at the France Pavilion in EPCOT during the Food and Wine Festival. It tends to show up on the menu in different forms, but always involves snails and garlic. In 2020, the Feuilleté d'Escargot à la Crème d'Ail et Persil was Escargot in Puff Pastry with Garlic and Parsley Cream Sauce.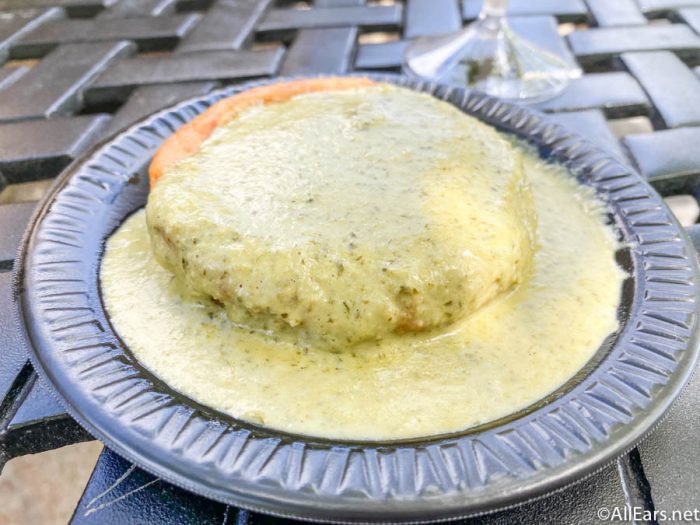 If you're willing to get over the idea of eating snails (or if you like them), you might love this! The dish is coated in the garlicky cream sauce, and that's mostly all that you taste. It's really not bad, and then you have bragging rights forever because you ate escargot!
Mezcal With Grasshoppers
Now THIS one is really worth bragging about if you're willing to give it a try. Over in the Mexico Pavilion at EPCOT, La Cava Del Tequila is one of the most adventurous places to drink at Disney World.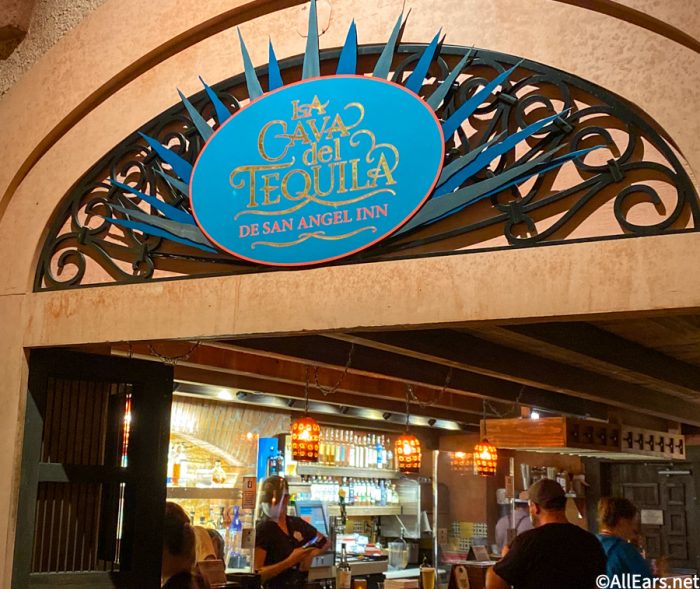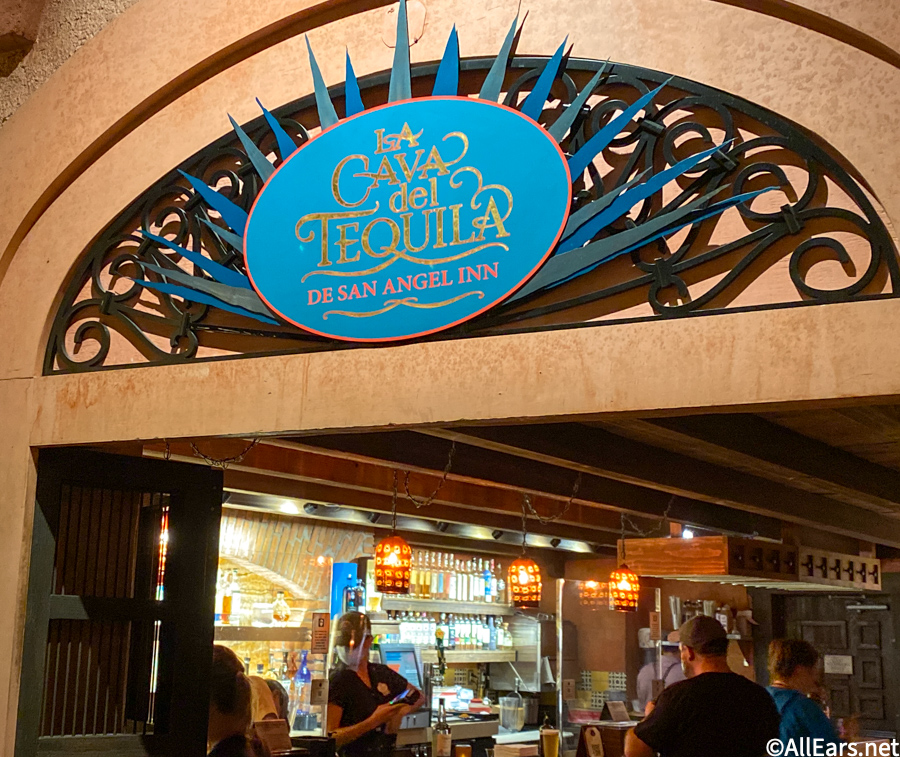 On very special occasions, the bar will serve up some special edition Mezcal and pair it with an orange slice and crunchy seasoned grasshoppers. Mmmmmm, salted insects!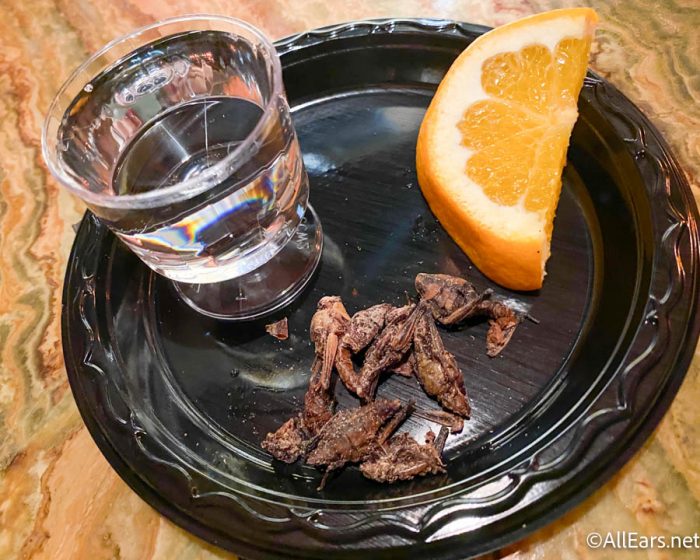 If you don't mind chowing down on some bugs, the saltiness from the grasshoppers and tartness from the orange pair really well with the strong mezcal. But being brave enough to try this comes at a price. Because the grasshoppers pair with some limited-edition booze, the price point is on the higher side.
The mezcal and grasshopper pairing tends to show up for special anniversary events, or you can make a reservation for the La Cava Del Tequila Experience being offered at the bar.
Spicy Cookies (& Cake)
This last one is a VERY limited-time offering at Disney World, but adventurous eaters might want to watch for this one to return! Over at Disney Springs, the wildly popular Gideon's Bakehouse put the fire in our deep love for cookies during the month of February.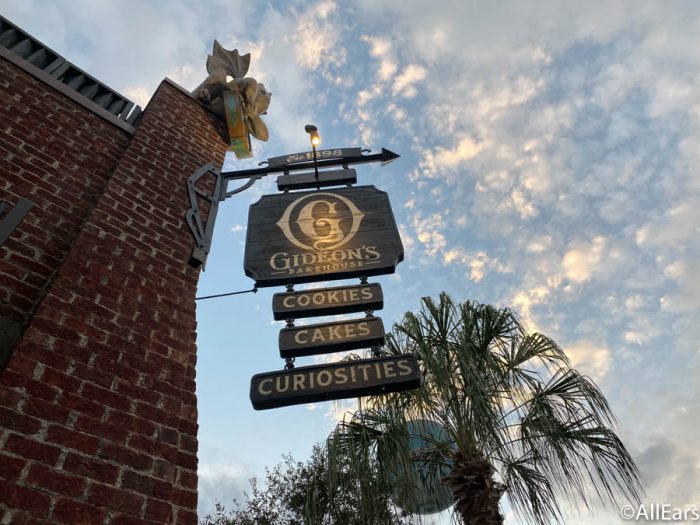 For one month only, they served up cookies that come with a kick! For the somewhat brave souls, there was the Eternal Flame Cookie which is a dark chocolate cookie laced with ancho, cayenne, and cinnamon, topped with chocolate-covered cherries.
Even more adventurous eaters can try the Eternal Flame EXTRA Spicy Cookie that is the same as the original cookie but has EXTRA HEAT and is sprinkled with red sugar crystals on top. The ingredients don't lie; your mouth is left with a fiery afterglow.
Gideon's didn't stop there; they crafted a spicy cake, too! The Eternal Flame Double Frosted cake was a three-Layer Chocolate Cake covered in Maraschino Cherry Buttercream and Chocolate Fudge Buttercream mixed with Ancho, Cayenne, and Cinnamon. Plus, the outside had pieces of Dark Chocolate Cookie Wafer Crumbs.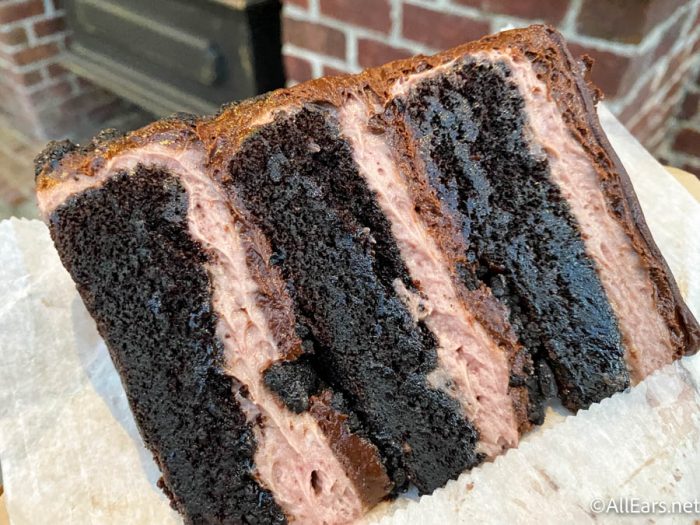 The cake is the less extreme version of spice because the cherry buttercream balances out the flavor. So if you're feeling very cautious about giving a spicy dessert a try, this is still adventurous but you might like it more!
If you don't mind spice, then these are some seriously delicious desserts that are definitely worth the wait whenever they return!
There you have it! All of the craziest foods we've found at Walt Disney World. If you're an adventurous eater, or just want to earn some bragging rights, these are some must-try Disney snacks!
Join the AllEars.net Newsletter to stay on top of ALL the breaking Disney News! You'll also get access to AllEars tips, reviews, trivia, and MORE! Click here to Subscribe!

Have you ever tried any of these adventurous snacks? Let us know in the comments!