Now that all four Walt Disney World theme parks have reopened, you might be ready to hop on over to the Parks to pick up some of your favorite snacks! Maybe you have an itch for a Cheshire Cat Tail at Cheshire Cafe or Corn Dog Nuggets from Casey's Corner that you're trying to scratch.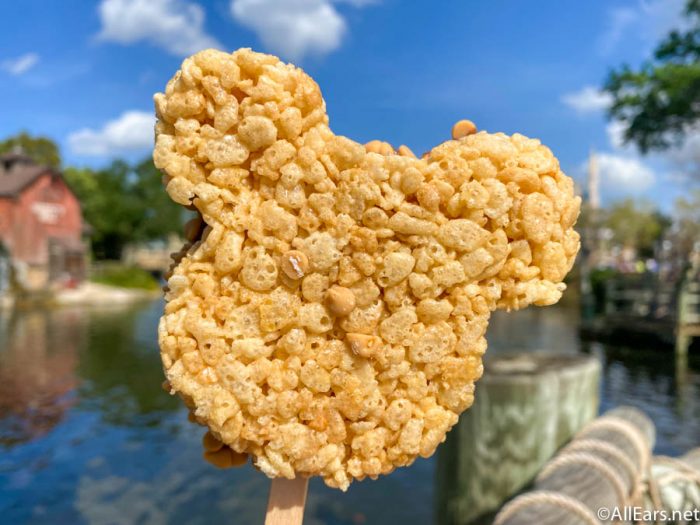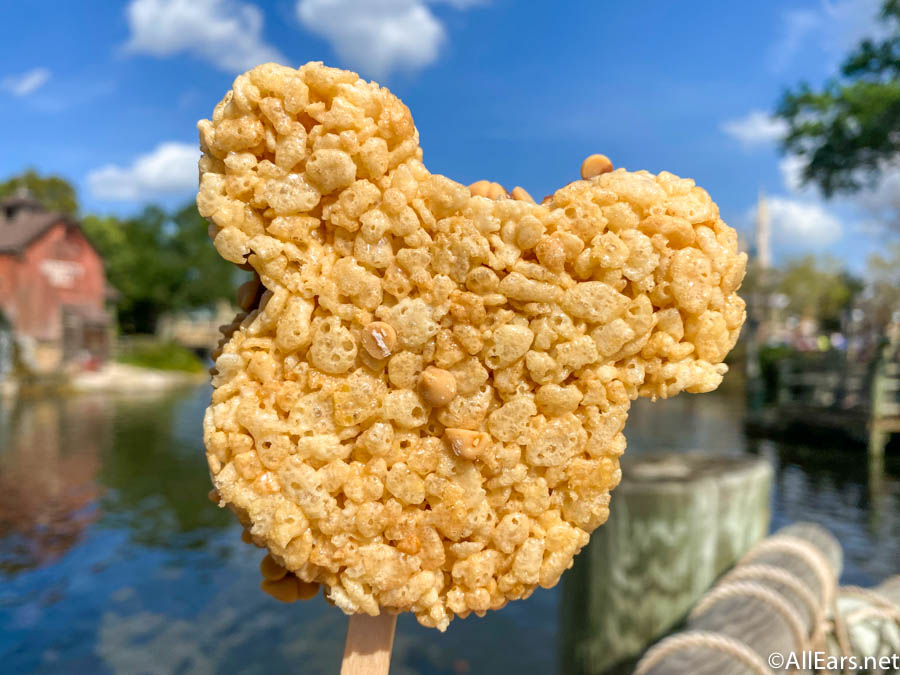 If you have a particular snack in mind, know that, right now, you might need to pick something else at times. You see, certain restaurants haven't quite reopened yet, so your favorite goodie might be M.I.A. for a little while.
But don't fret — there are plenty of awesome snacks available right now! Here are our favorites from each Park!
Magic Kingdom: Pineapple Dole Whip
What would Disney World be without Pineapple Dole Whip — one of man's greatest inventions! We have a feeling Disney World would've been in some hot water if they didn't offer this frozen treat as soon as the Parks reopened! After having to do without Pineapple Dole Whip for many months on end, guests were eager to get their hands on one A.S.A.P.! We know we were! 😉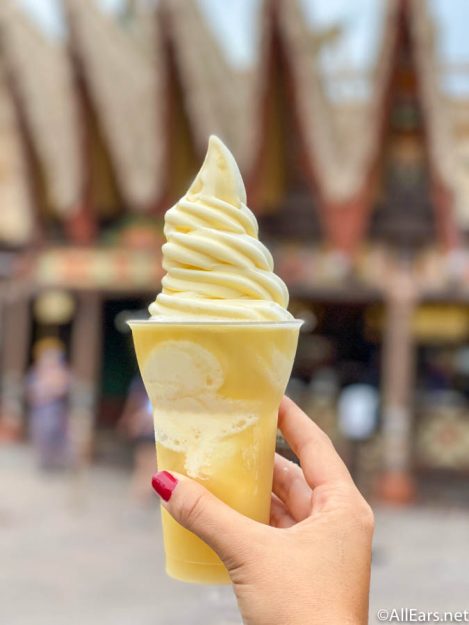 While you can grab a Pineapple Dole Whip at various locations throughout Disney World, we always have to have one at Magic Kingdom. You can get it served in a cup at Aloha Isle in Adventureland for $4.99 or, for $1 extra, turn your soft serve Dole Whip into a float with some yummy pineapple juice.
Disney's Hollywood Studios: Wookiee Oatmeal Sandwich Cookie
What do you get when you take two freshly baked oatmeal cookies, sandwich them together with a fluffy whoopie-pie cream filling, and dress them up with a milk chocolate bandolier? You get a Wookiee Cookie — a tasty treat themed after the one and only Chewbacca from Star Wars!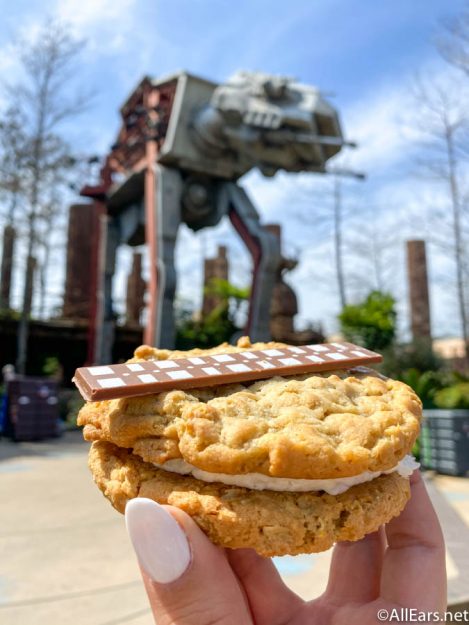 We think the big guy would totally approve of this cookie doppelganger! The Wookie Oatmeal Sandwich Cookie came out last year right around the same time Star Wars: Rise of Skywalker premiered in theaters. So far, the mighty tasty treat has managed to stick around, and you can still find it at Backlot Express for $5.99.
Disney's Animal Kingdom: Colossal Pretzel
What goes well with a five-minute wait to ride Flight of Passage? How about a Colossal Pretzel?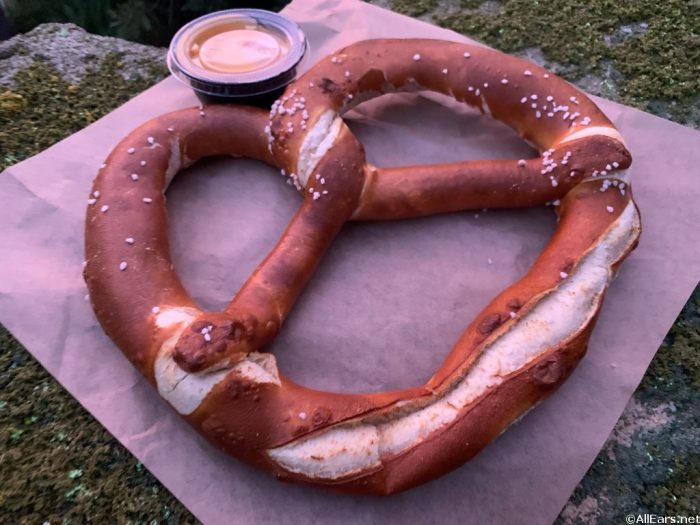 This behemoth of a Bavarian soft pretzel is served with a Beer Cheese dipping sauce for extra-deliciousness. You'll find this doughy creature lurking at Pongu Pongu in Pandora: The World of Avatar for $10.49.
EPCOT: Street Corn Funnel Cake at The Funnel Cake Stand
There are more snacks than we know what do with right now at EPCOT. That's because a Taste of EPCOT International Food and Wine Festival is currently underway with over 20 food booths scattered throughout the World Showcase!
Some of EPCOT's permanent kiosks like to get in on the festival fun, too! This year, we're going totally gaga over this new Street Corn Funnel Cake from the Funnel Cake Stand in American Adventure. It's got all the flavors of a traditional funnel cake mixed with elote, a style of Mexican sweet corn that's typically roasted, then topped with cojita cheese, cilantro, cumin, crema, and paprika.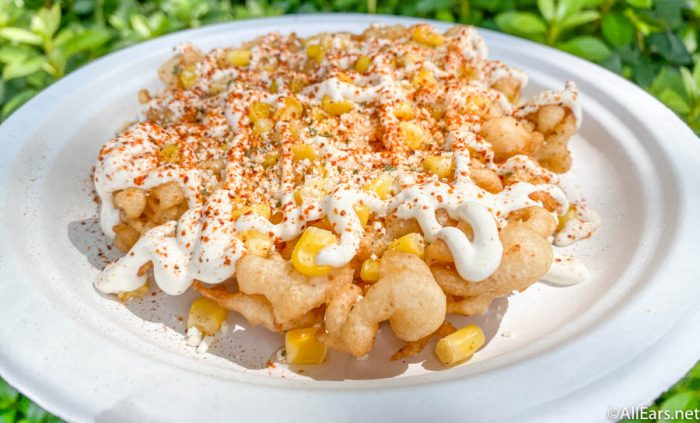 Since a Taste of EPCOT International Food and Wine Festival is a bit of a mash-up itself (the festival incorporates elements of EPCOT's Flower and Garden Festival as well as Food and Wine), we thought this snack was a great representation of EPCOT in its newly reopened state. We found the Street Corn Funnel Cake at The Funnel Cake Stand in the American Adventure Pavilion for $9.
Tell us which snacks you've had since being back at the parks in the comments below!