Since theme parks have been reopening, we've experienced the good, the bad, and the awesome while we've visited them.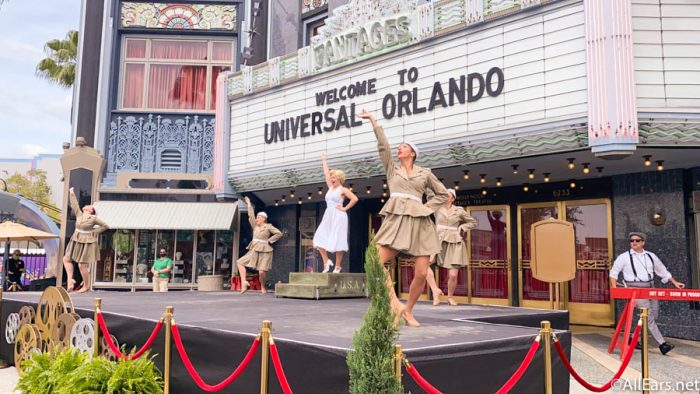 Although Disney World has been setting plans in place for when the parks welcome guests again in July, Universal Orlando and SeaWorld have been shaking things up to make guests' experiences as incredible as they were pre-closures.
However, since theme parks are adapting to the new ways of life, we've been extremely impressed to see some of the creative (and effective) measures that places like Universal Orlando and SeaWorld have taken in the parks. And, there are a few things we've seen that we would love to see Disney World implement when they reopen!
Characters, Music, and More!
While we already know that fireworks and character meet-and-greets aren't taking place at Disney World, or any of the theme parks, Universal Orlando has still found ways to entertain guests during their visits.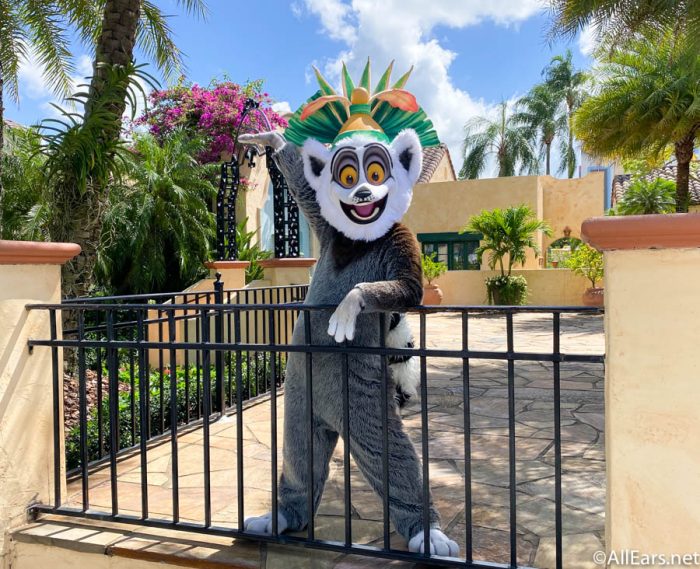 On our trips to Universal, we loved the fact that we could still watch shows like Hogsmeade's Frog Choir and the Blues Brothers by standing on designated "dots" that distanced guests from one another.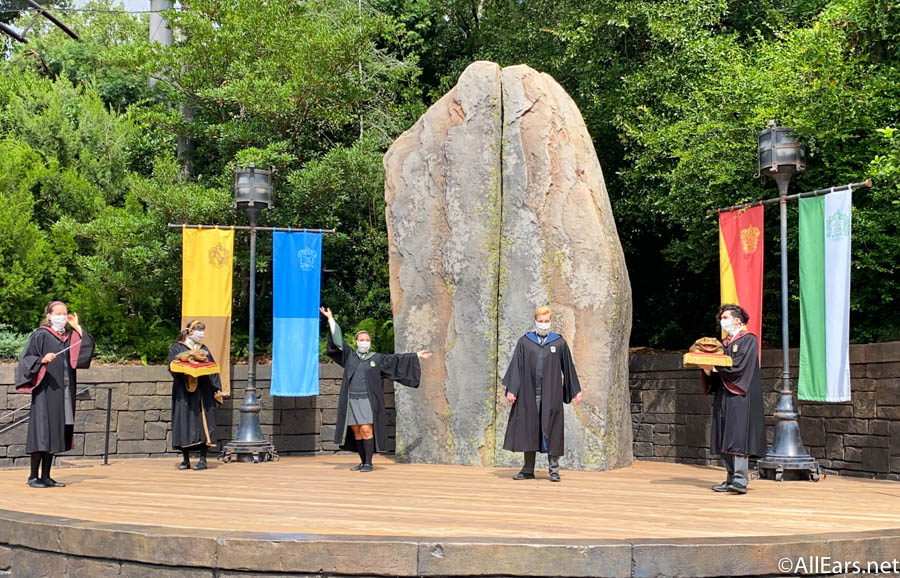 But, the best part about the entertainment at Universal Orlando has been the mix of characters at the Character Palooza during the day. Although you can't walk up and hug your favorite characters, you can still snap a photo in front of them or wave to them like you would during a parade!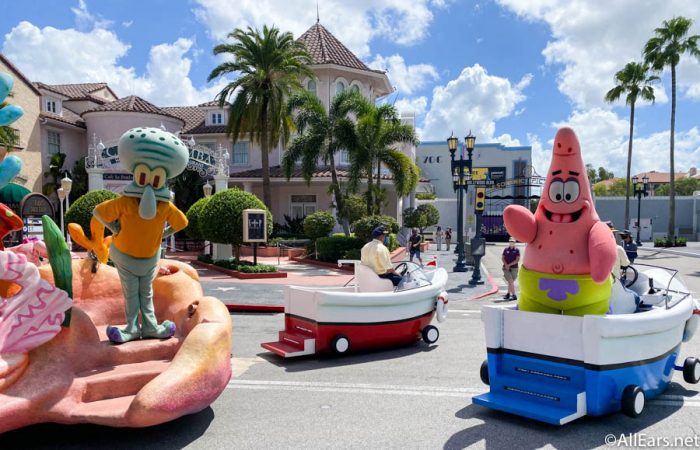 The characters all have their own unique ways of adapting to the new "meet-and-greet style." The Grinch threw away our kisses…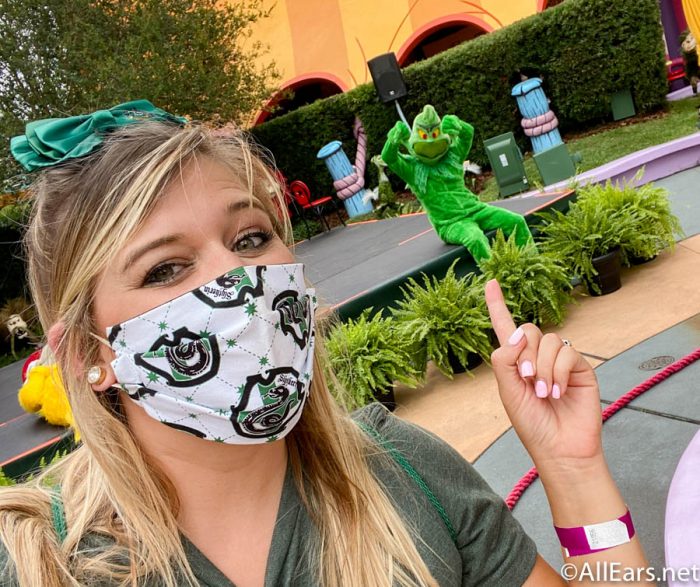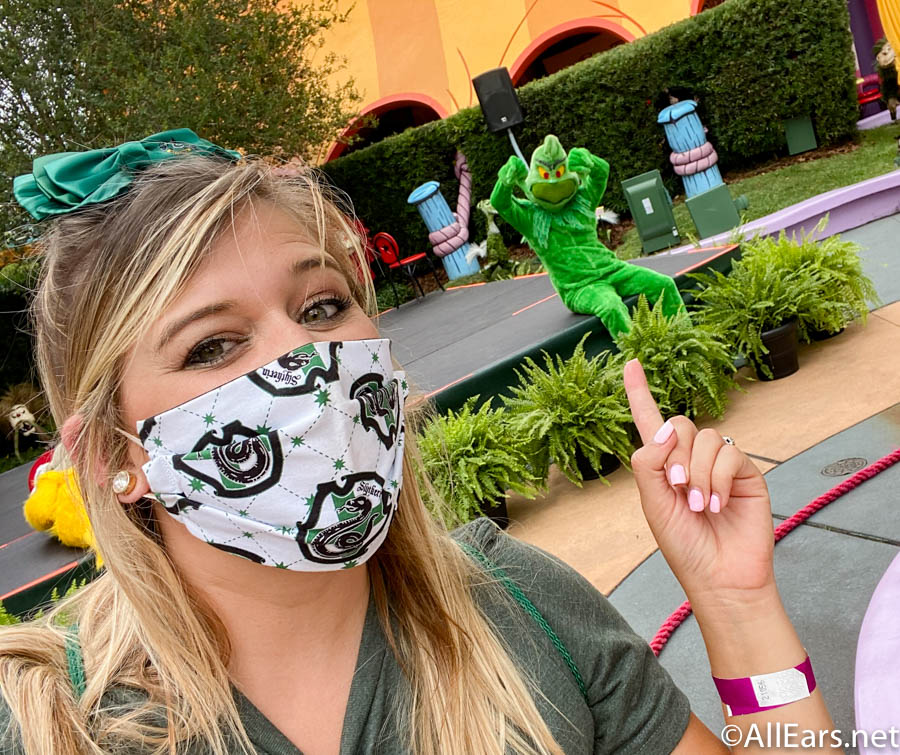 …Beetlejuice was confidently rocking his pinstripe suit…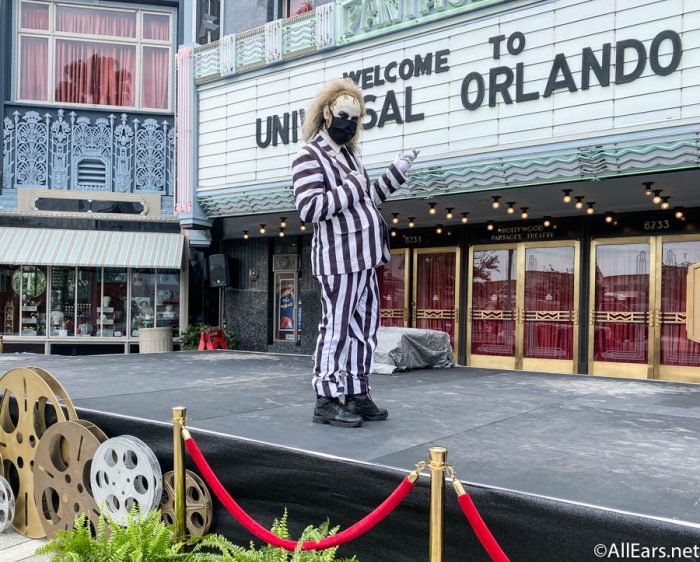 …and Doc Brown has realized that maybe he doesn't want to go Back to the Future after all (at least not to 2020, he said).
While character interactions may be different, they were still joyful and put huge smiles on our faces! Shanghai Disneyland has been using some of the same interactive elements, and we are hopeful we will see Disney World utilize some sort of "Character Palooza" to spot unique characters and have wonderful experiences, even without the normal character meet-and-greets.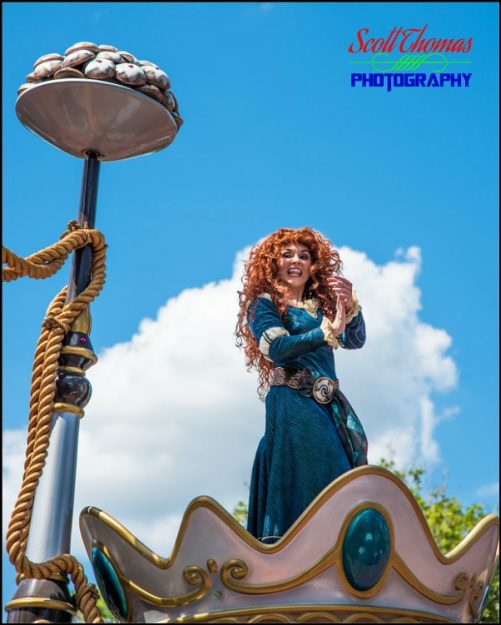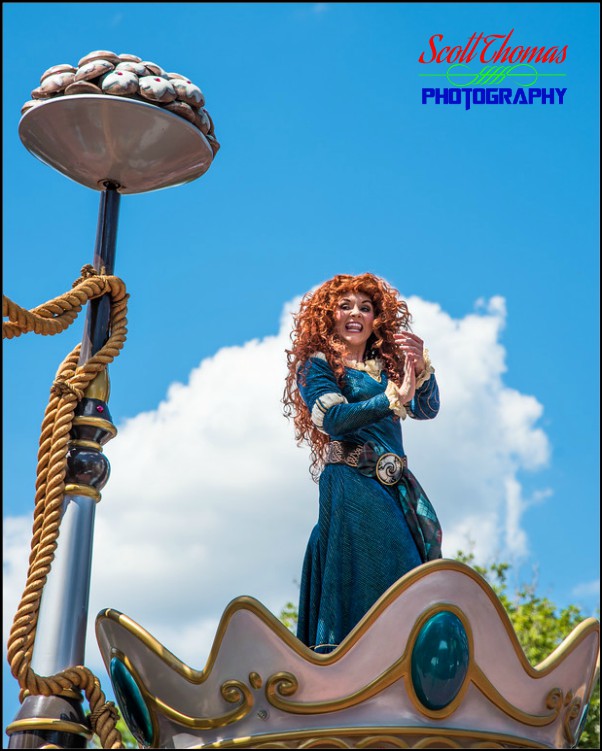 Annual Passholder Perks
On top of the free merchandise in the parks, Universal Orlando has announced that it will have a separate Annual Passholder parking area as well as a designated Passholder entry point for a limited time.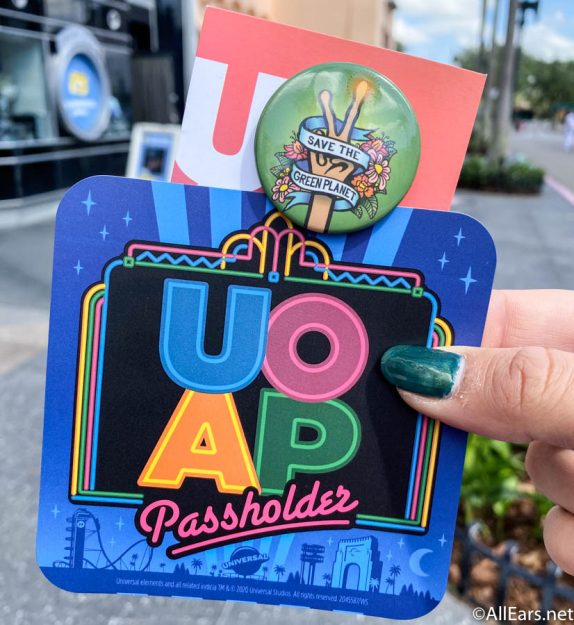 Although Disney has had a Passholder line to enter the parks before, a specific parking area would be a great benefit to the guests returning to the parks. Since there are multiple attractions and experiences unavailable at this time, Annual Passholders would still be able to receive entrance perks (even if they can't use all of the benefits they've previously had).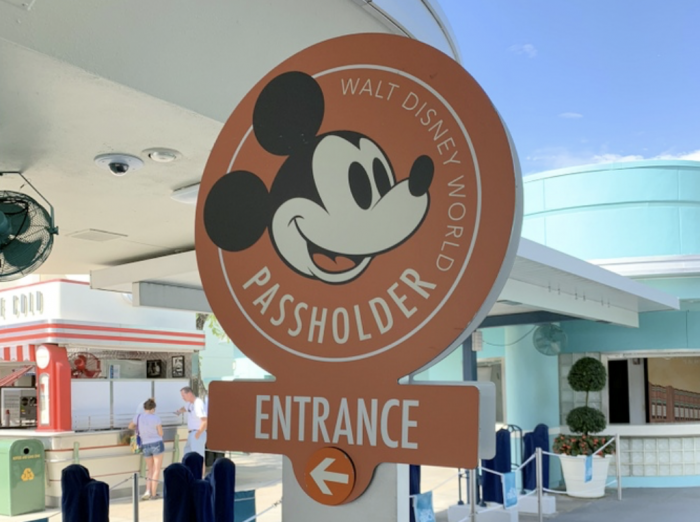 Crowd Control Flags
Although Disney World may not be conducting entertainment with huge crowds at first, SeaWorld's entertainment used the same stadium-style seating. However, there were social distancing measures in place with sections blocked off to keep the large crowds at a reduced capacity.
Although there were a few problems with guests distancing themselves from one another, SeaWorld put Team Members in place to guide guests out of the arena in an organized and safe way.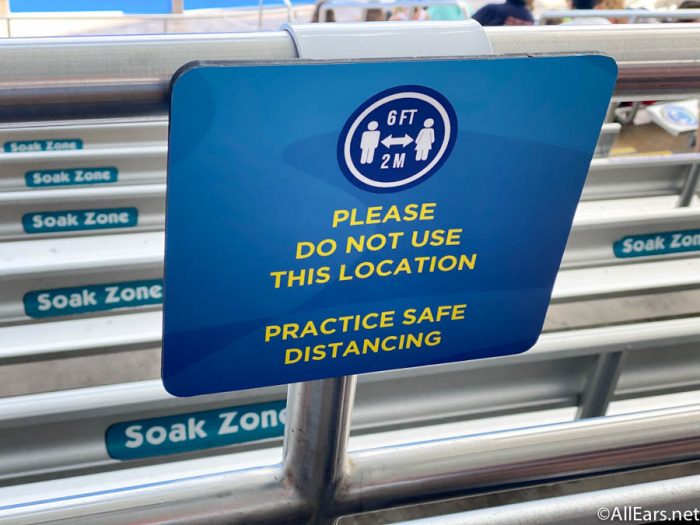 Team Members would stand with colored flags to direct one or two sections at a time to the exit before moving on the the next seated area. Guests would stay seated until they were called, which majorly reduced the traffic flow when guests were exiting.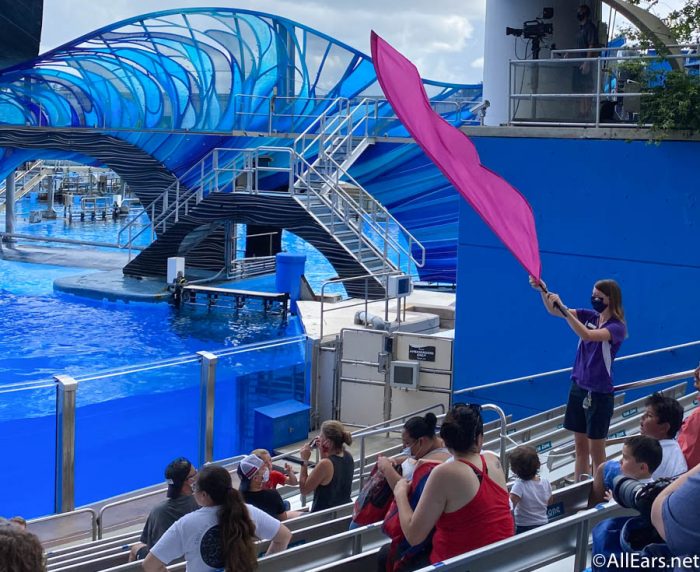 Although we're not sure when parades, fireworks, or other entertainment will be back in Disney World, this may be a helpful way to efficiently guide guests out of the park or an attraction so crowds are distanced.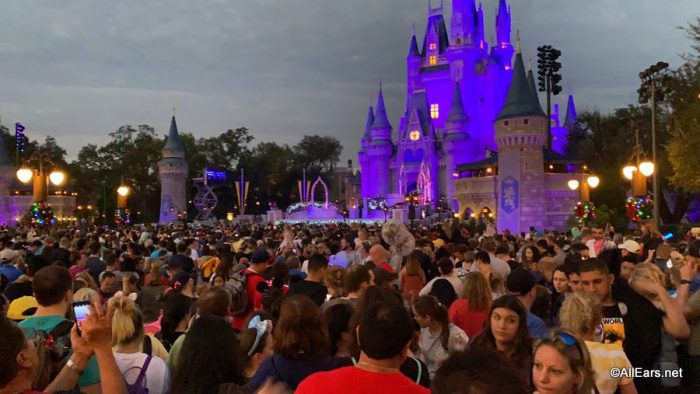 Team Members to the Rescue!
Although there weren't that many Team Members out in SeaWorld, Universal Orlando was a hub for helpful people to answer questions and provide information! Team Members were situated all throughout the parks to assist guests with any inquiries or problems that they encountered.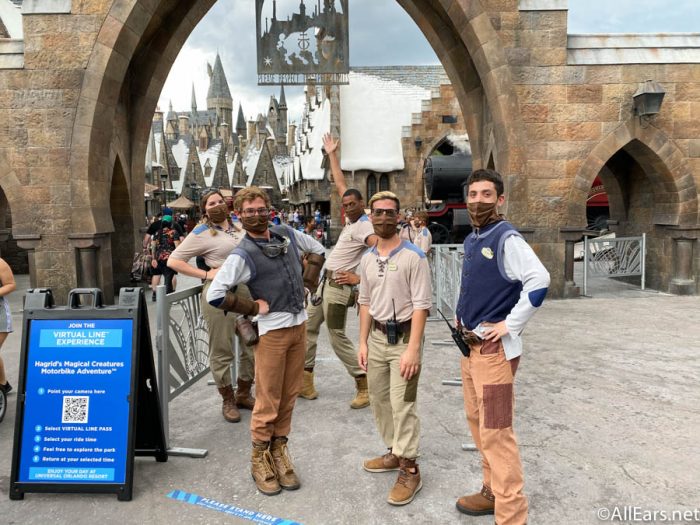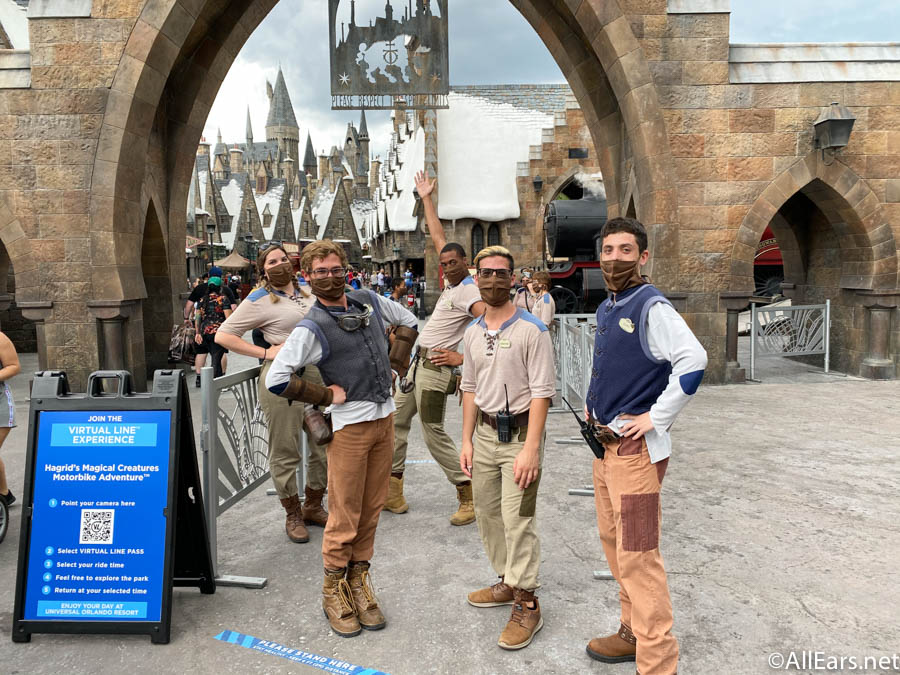 When the Virtual Queue or Mobile Order had issues, Team Members were still there to help guests find an answer (even if the new system was a bit confusing). And, when we lost our mask, Team Members helped us find the nearest place we could purchase one so we could continue to safely explore the parks.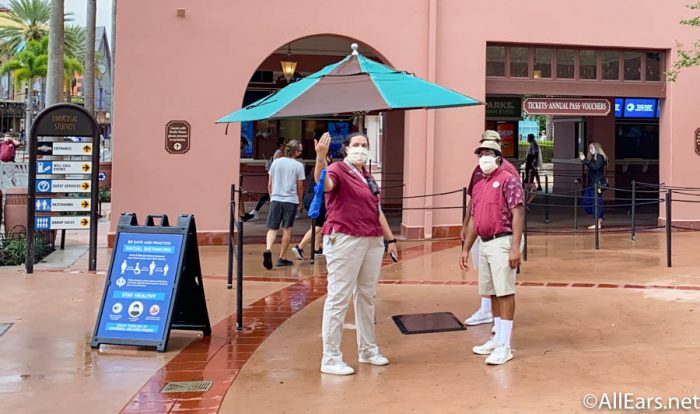 Although Disney Springs already has multiple Cast Members out and about to help guests, it would be a tremendous benefit to have employees available to assist people at all points along the way (especially since there are four entire parks to consider).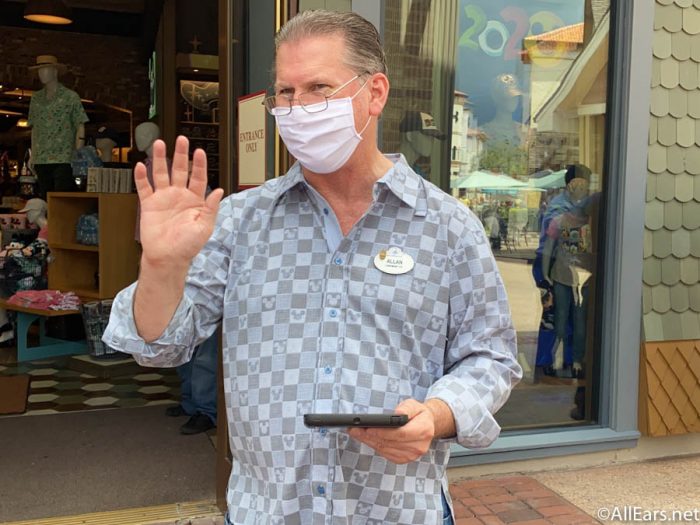 We know that Disney World already intends to bring their "social distancing squads" in the parks as well, so we are interested to how everything is implemented.
Going Virtual in the Parks
While we've experienced park apps, online reservation systems, and more in the past, we thought that the move towards a more virtual environment was actually one of the best thing Universal Orlando could have done.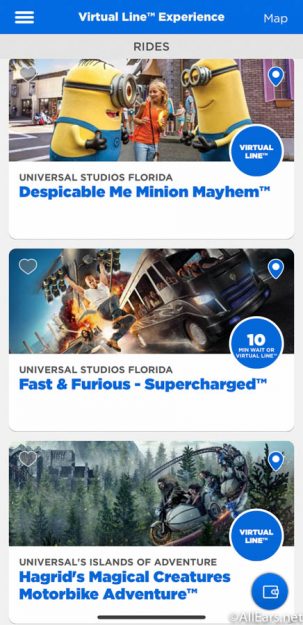 We felt like we could spend more time around the theme parks instead of waiting in line for things since the crowds were somewhat condensed due to the use of Virtual Lines and Mobile Order. We found that the wait times for attractions were shorter…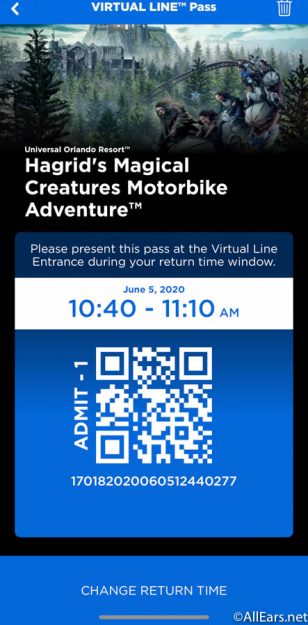 …and Mobile Order moved a lot quicker once the parks got a hang of it during the first week. As Disney World moves towards Virtual Queues at stores in Disney Springs and some changes in the Mobile Order system, we hope that this expands parks-wide to add some extra magic (and give less wait times) when the parks officially reopen.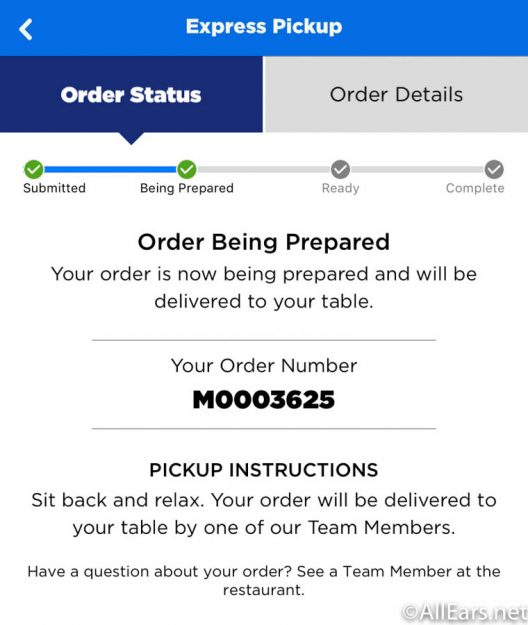 As Disney World gets ready to reopen to guests, we look forward to seeing ways that the parks will be incorporating plenty of safe, yet interactive, ways for guests to experience all of the magic once again. Now that we have been two the reopening of two other major Orlando theme parks, we are intrigued to see what different elements Disney will implement when they reopen!
What is your favorite thing you've experienced in Florida theme parks so far? Let us know in the comments below!